by Linzee McCray
Certified Master Knitters take knits to the next level, dedicating countless hours to mastering their craft.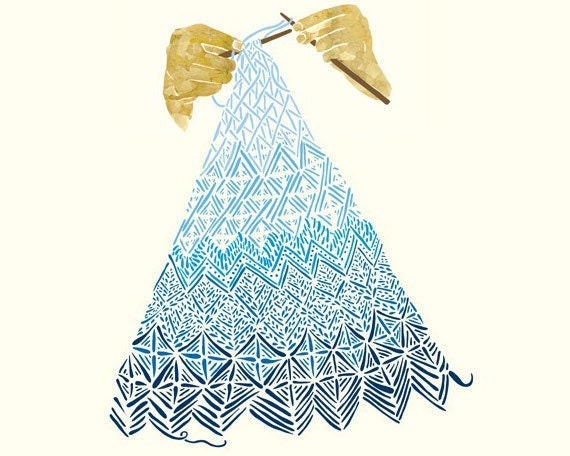 Like many who enjoy working with their hands, I find it hard to resist trying something new. The result is closets that bulge with half-finished crocheted afghans and woven twig baskets. I bounce from embroidery to photography to sewing, and the "jack of all trades, master of none" adage clearly applies: my skills are respectable, but hardly expert. Lisa Wilcox Case is just the opposite. Case is a certified Master Knitter, a designation that requires countless hours to earn. Her notebooks, filled with carefully constructed samples of lace, buttonholes, entrelac, ribbing, and intarsia, exemplify her command of the craft. Lisa learned to knit when she was 12. "I vividly remember my first project, a sweater of iridescent, teal yarn that would probably have melted if it got close to a fire," she says. "I laboriously knit the first three inches and something was wrong and my mom said to start over. I just bawled."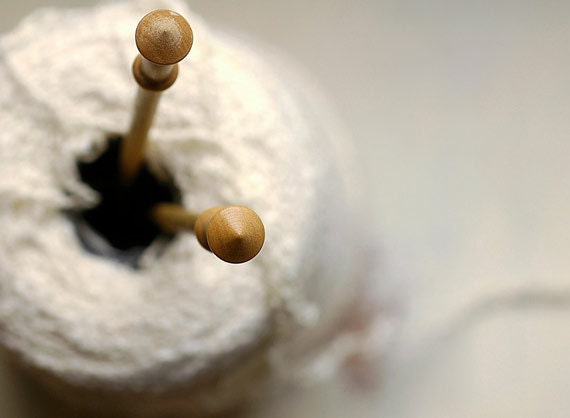 %3Cp%3E%3Ca%20href%3D%22http%3A%2F%2Fwww.etsy.com%2Fshop%2Fabbeyroadphotography%22%3EAbbey%20Road%20Photography%3C%2Fa%3E%3C%2Fp%3E
Despite that setback, knitting struck a chord. Her needles kept clicking through high school, college, her first career as a librarian, and her second as an endodontist. In 2007, Lisa decided to give the Master Knitter certification program a try. Certification as a Master Knitter is granted by
The Knitting Guild Association
(TKGA), a nonprofit dedicated to advancing the craft. "We're an educational organization and this is a way to recognize people who have mastered a broad scope of knitting," says Debby Johnston, the TKGA Member Programs Coordinator. The program, started in 1987, requires knitters to produce samples, answer questions, and write brief reports. "You have to be able to take constructive criticism because very few pass the first time — the average person has to rework some samples," says Johnston of the evaluation process. "But those who pass [to date 268 hand knitters and 17 machine knitters] can hang their hat on that title — if they want to design patterns for magazines or a yarn company, the certification provides credibility. And I do think, no matter what your field, that people like to be recognized by their peers." Taylor Friese, a college senior who started knitting at age 8, hopes to parlay certification into teaching. She's completed the first of three levels of the TKGA Master Knitter certification and is also pursuing the
Craft Yarn Council's Teacher Certification
.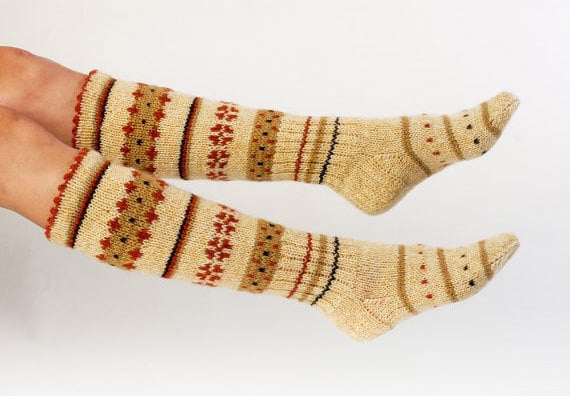 %3Cp%3E%3Ca%20href%3D%22http%3A%2F%2Fwww.etsy.com%2Fshop%2FCozyLT%22%3ECozyLT%3C%2Fa%3E%3C%2Fp%3E
"Teaching makes sense because I care so much about knitting and want to share it with others," she says. But the personal challenge is equally important. "When you do something a lot it can get boring, and you need something to get your spark back," says Taylor, who takes her knitting everywhere she goes. "Certification is a way to prove to yourself that you're good at something. And the bragging rights are nice, too." Lisa, who earned the Master Knitter title in 2010, especially appreciates that it taught her to reexamine her knitting. "When I first started I thought 'This will be a piece of cake!' and knit seven swatches in a single evening," she says. "Then I thought about how it would look through the eyes of an expert, which was a revelation. It forced me to critically evaluate my own work, something I really hadn't done for the 40 or so years I'd been knitting." She re-knit all seven swatches.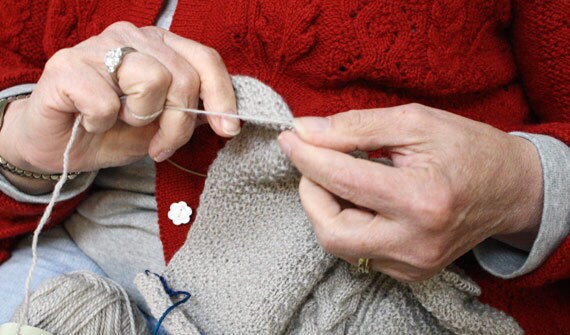 Lisa%20Wilcox%20Case%20knitting%20(while%20wearing%20a%20sweater%20she%20also%20knit).%3Cp%3ELinzee%20McCray%3C%2Fp%3E
Lisa also appreciated learning multiple ways to accomplish a single task. "Most people know one way to make a button hole and one way to cast on," she says. "This forced me to expand my repertoire and gave me more tools to use in making things, making them fit, and customizing them, resulting in a much nicer garment." Taylor, who looks forward to completing the TGKA course after completing college in May, knows that credentials aren't for everyone. "You don't need to be certified to be a master knitter, but a well-crafted object is so rare nowadays and fully learning a craft is amazing," she says.