Turn your home into an eclectic, cozy cocoon you'll never want to leave with these maximalist decor tips and ideas.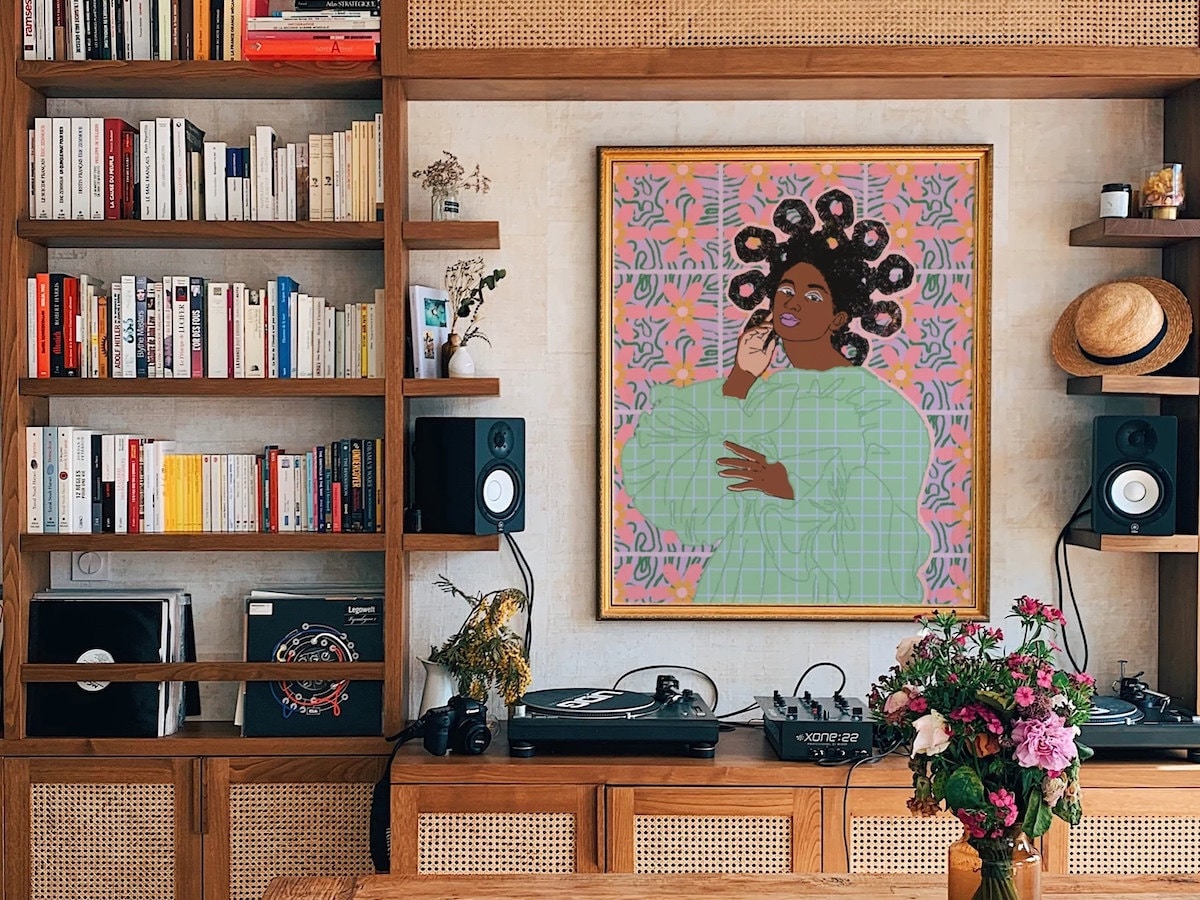 If the popular minimalist mantra of "less is more" sounds like a lackluster way to live, odds are you might be a maximalist at heart. Minimalism and maximalism decor styles are polar opposites, but they have one thing in common: The core value of only adding things to your home that you absolutely adore and that make you feel like you.
While a restrained, ultra-discretionary approach to design is most commonly associated with minimalism, it also applies to maximalist decor—except that if you're a maximalist, you want to look around your house and spot all kinds of treasured mementos everywhere you look.
The maximalist mindset: Personality, not perfection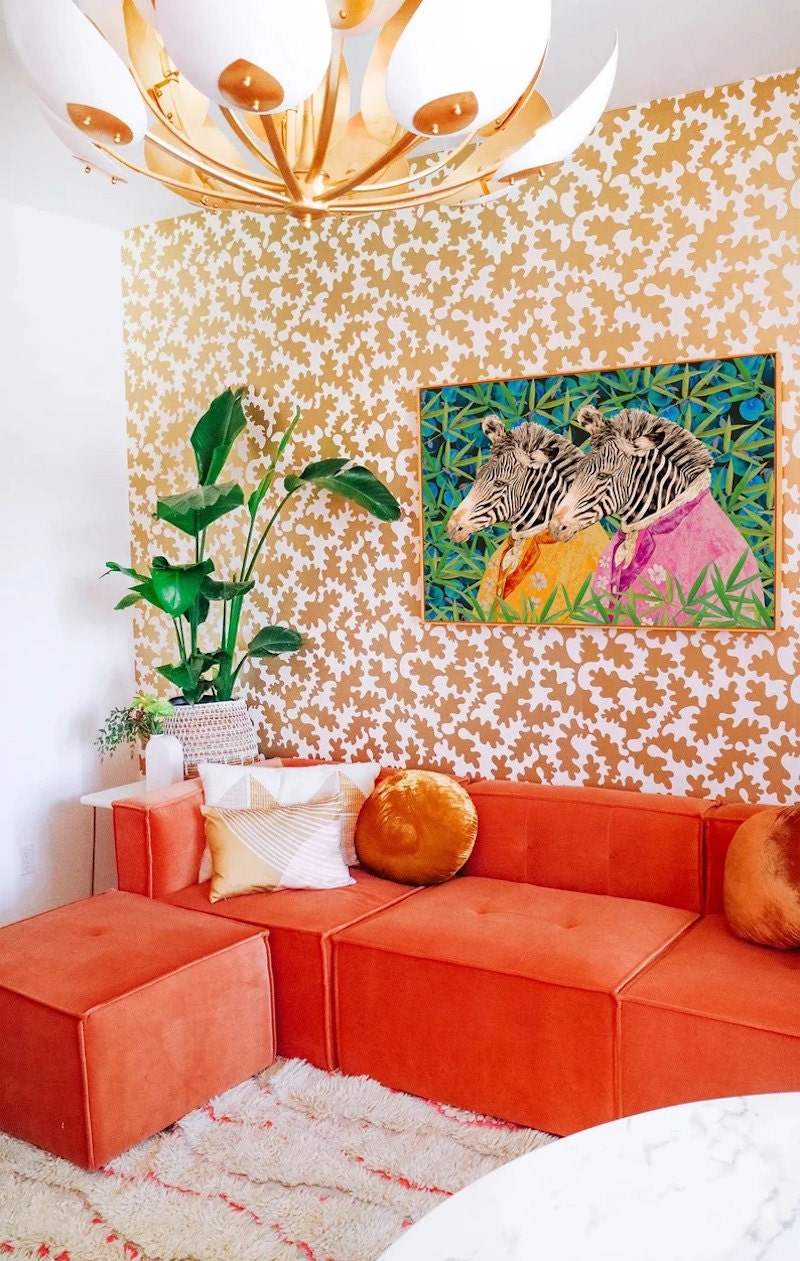 SHOP: Twin zebra wall art from Animal Crew, from $28
Since your home is likely already brimming with things you love, you're well on your way to mastering maximalist interior design. But one of the biggest challenges around mastering maximalist decor is how to create some consistency in your rooms when your tastes in colors, patterns, decor, furniture styles, and design periods are all over the map.
Happily, it's all pretty simple if you boil it down to a few overarching design concepts behind maximalist style, which we've done here. Pick the ones you find valuable, and apply them to your own space however they fit best. Maximalism is the ultimate expression of everything that brings you joy, so happy shopping!
Store with style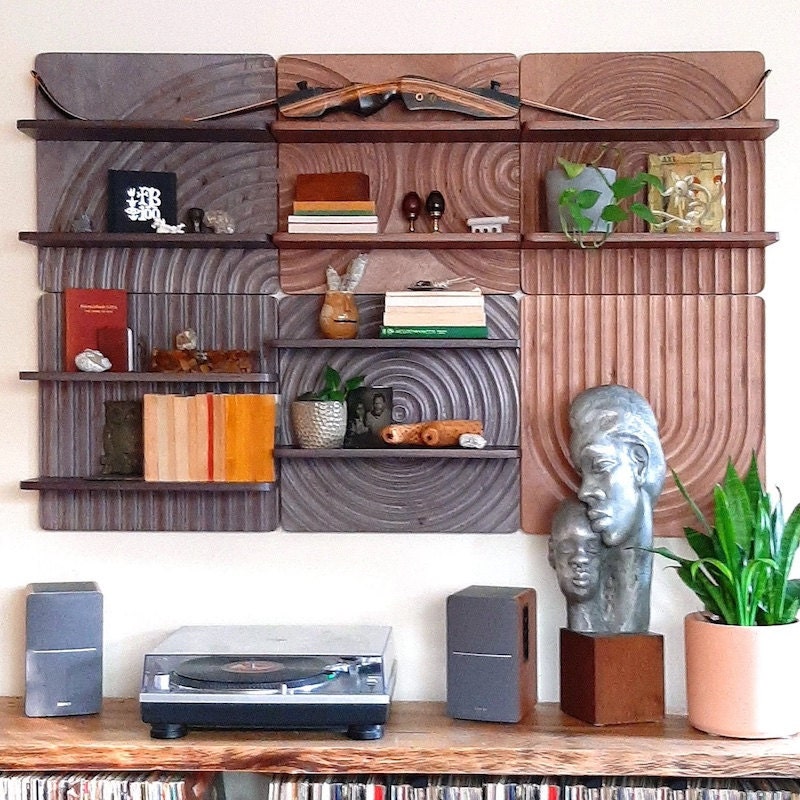 SHOP: KARVD wall shelf from KARVD Walls, $139
If you're a natural-born maximalist, you probably already have more than one collection of random things that mean a lot to you—Victorian tea cups, tiny paintings, cozy handmade blankets, antique bells.
Instead of tucking these precious collections away, bring them into the daylight where they'll double as decor. That's the spirit of maximalism. And you can fit more treasures into a tiny space with smart storage solutions like hexagon floating shelves and oversized baskets brimming with blankets.
Freestanding shelves, cubbies, and curio cabinets offer plenty of surfaces that allow books, bric-a-brac, and other belongings to have a forever home.
Think vertically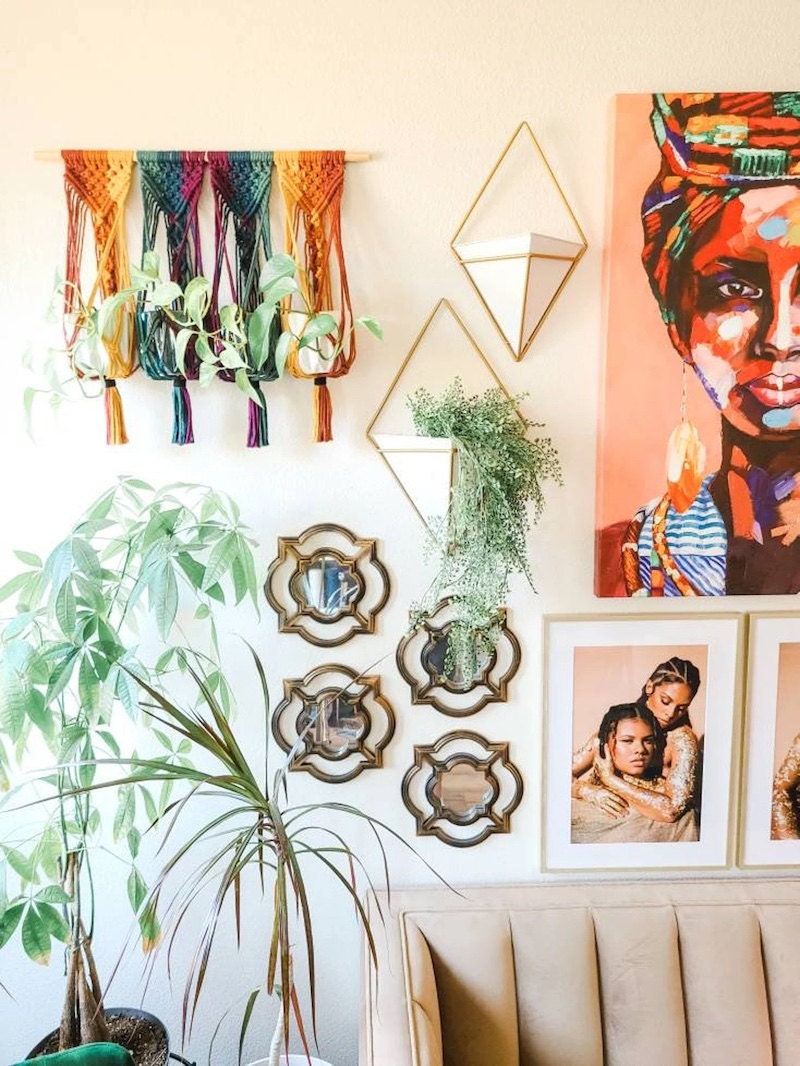 SHOP: Macrame plant wall hanger from Sweet Home Alberti, $79
Large walls in your home are prime real estate for displaying all of the unique artwork, bits, and baubles that make your heart beat a little faster. Harmonious patterns and a balanced color palette help tie everything together and give your home a sense of calm and order amid the glorious, eye-popping lawlessness.
Whatever you have, hang it all up gallery-style, then stand back and squint your eyes—more important than whether your wall art and hang-able collections "go together" is creating overall balance with a lovely mishmash of sizes, imagery, textures, colors, and patterns. Does anything stand out that feels off-balance? Maybe one side of the wall has too much blank space compared to the other side, or one corner feels heavier than another. If it looks good to you, consider it a smashing success!
Need one or two more pieces of cool stuff to fill a gap? Get inspired by these funky maximalist finds from Etsy shops.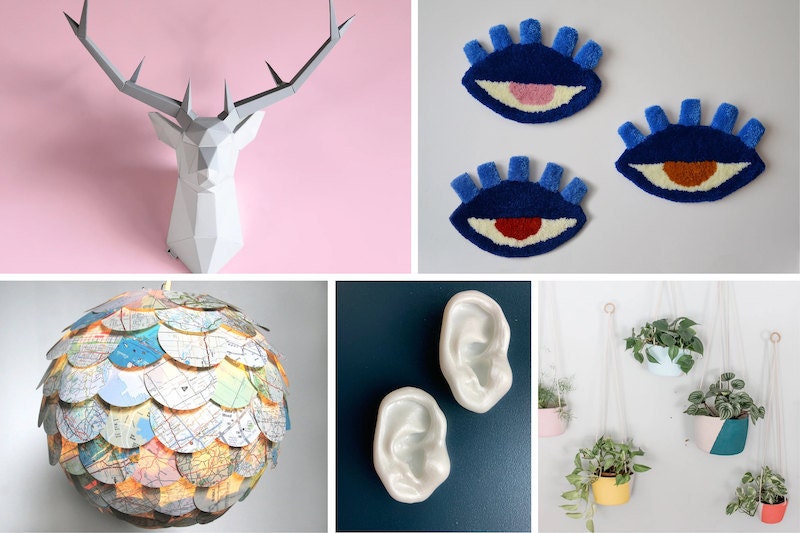 Trade wall art for wallpaper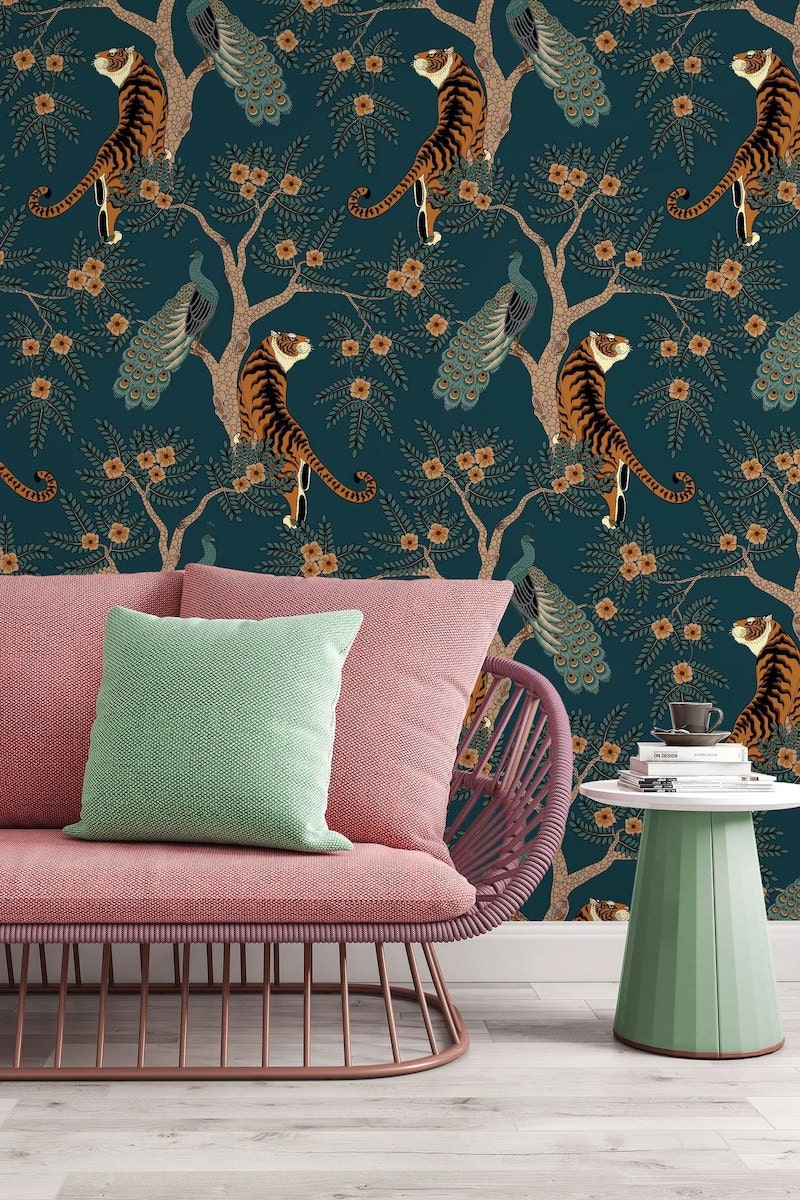 SHOP: Tiger and peacock wallpaper from Los Angeles Wallpaper, from $57
Outrageously extravagant wallpaper is an enthusiastic maximalist interior design statement on its own. Peel-and-stick wallpaper, murals, and decals are made to be removable—no heat gun and scraper needed! The hardest part of installing these maximalist designs is picking the best wallpaper for your space.
Whatever style of wallpaper you choose, strive for overall balance between the paper and the colors and patterns you use in the room:
If the wallpaper is extra-busy, keep the room decor on the simpler side.
If the paper is composed of just a few colors, choose one to serve as the primary color in the room, and bring in the others as accents.
If the wallpaper is a veritable smorgasbord of hues, pick out one or two of the brightest for larger items in the room, and choose a couple of the darkest for accents—or vice versa.
If the wallpaper is very dark—that's a sign you're drawn to moody maximalism—keep anything that goes on the wall or lives next to it on the lighter side—strive for contrast so both the wall and the things in the room stand out.
Mix patterns mindfully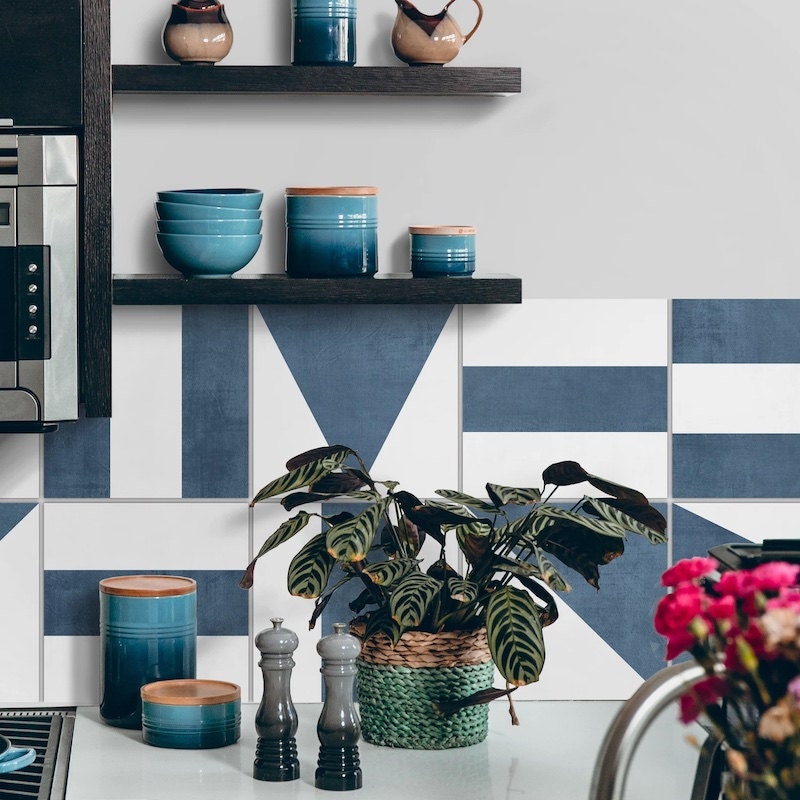 SHOP: Peel and stick backsplash tiles from Home Art Stickers, from $36
Patterns add dimension to color and depth to decor, and for many maximalists, mixing them is where the magic happens. Here are some general rules of thumb to consider when pairing patterns:
Combine patterns that have similar or complementary colors or tones.
Incorporate patterns of varying sizes into your decor.
Blend complex patterns with simple ones.
Use solid colors to help anchor a mix of patterns—or to highlight a single, magnificent one.
Maximalism interior design embraces any number of different materials, furniture styles and sizes, and textile types and textures. It turns a blind eye to design periods, movements, and styles. Only decide whether you can live without it—not whether it'll match your sofa and curtains.
Ultimately, when it comes to balancing color and pattern in a maximalist room, if it looks good to your squinty eye, and you love it, you've pulled it off perfectly.
Let your style evolve
Your inner world changes across space and time. Allow your interior design style to evolve with you—as passionately as you collect the things you love, allow yourself to let them go if the romance fades. Take stock periodically to rearrange or cull your collections to make room for new and emerging obsessions.
And remember: Maximalism in home decor is about self-expression—not perfection. Be you, have fun, take risks, and when in doubt, default to what your eye and your heart find pleasing.
Explore more design inspiration to make your space your own: