Go behind the scenes to see how the designer transforms hand-painted artwork into interactive wallpaper patterns—and discover her pro decor tips.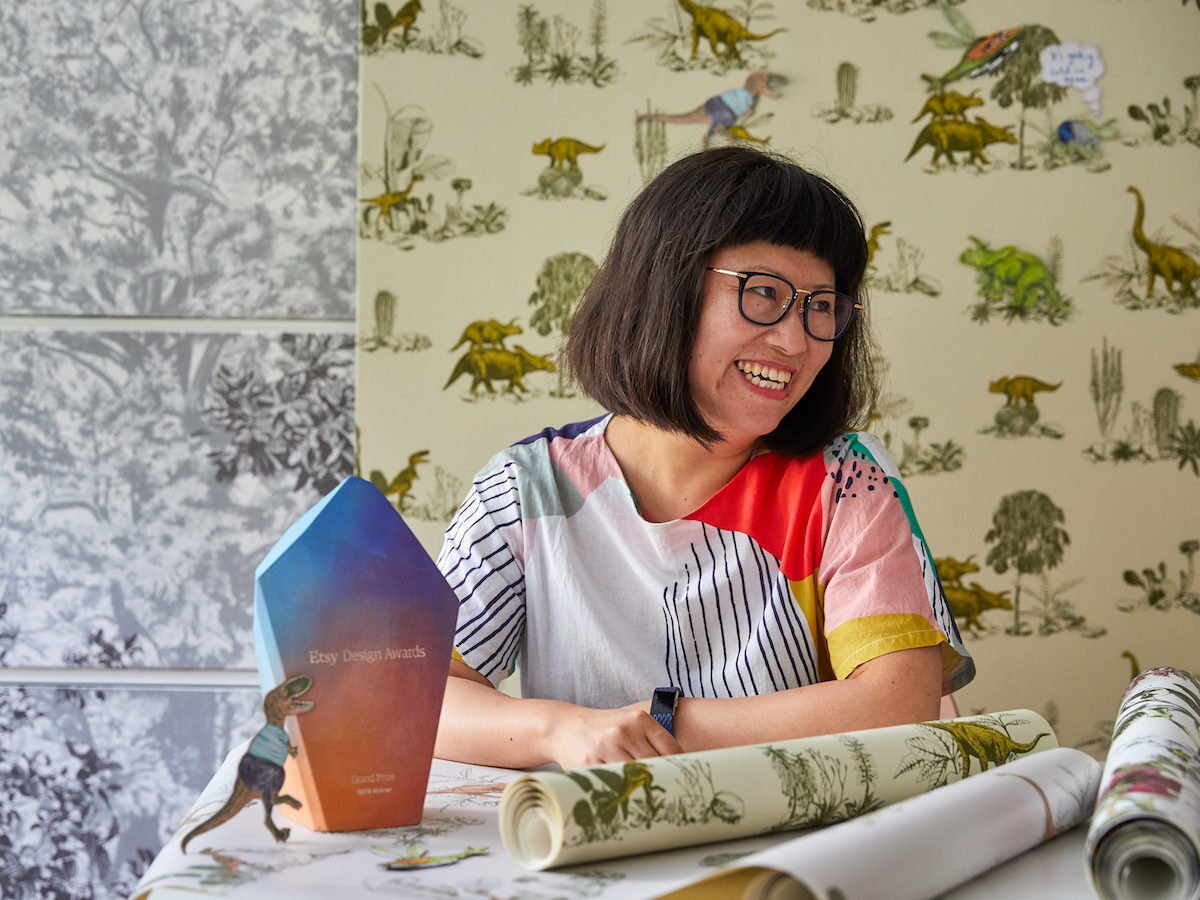 Every so often, a product comes along with a design so captivating it stops you in your tracks and beckons you to reach out and touch it. That's precisely the idea behind Sian Zeng's enchanting magnetic wallpaper, which is not only stunning to look at, but also playful and interactive. With its fairytale-inspired illustrations and quirky cast of movable magnetic characters, it's no surprise Sian's best-selling dinosaur pattern captured the judges' wildest imaginations as a finalist in this year's Etsy Design Awards, and today, we're thrilled to announce the London-based artist has been named the $15,000 Grand Prize Winner.  
"One of the reasons why I love the Etsy community so much is because of the way creativity comes alive in the products," says Etsy Trend Expert and Design Awards judge Dayna Isom Johnson. "Sian's wallpaper is an incredible example of how sellers can use their imaginations to transform everyday items into something completely innovative and unexpected."
Combining her signature poetic painting style with a modern, magnetized lining, Sian's whimsical wallpapers create aesthetically pleasing backdrops for adventure and play, inviting kids and adults alike to get hands-on with their room decor and express themselves through the movement of magnets. "Our paper encourages people to tell their own stories," Sian explains. "I really want them to interact with the wall and see what they come up with."
We caught up with Sian in her southeast London studio to get a peek into her process and discover the inspiration behind her winning design. Click play to go behind the scenes with Sian, then read on to learn a few of her pro wallpapering tips and shop the award-winning Sian Zeng collection.
It feels like wallpaper is having a big comeback moment. Why do you think that is?
Wallpaper has always been a statement piece that brings character and personality to a space, and I love how it enables people to really make their homes their own. For me, it's another way to create paintings that can be hung on walls. But with wallpaper, you can cover an even larger area, and set the tone and mood of an entire room. 
What I really love seeing right now are the fresh approaches designers are taking to the traditional medium, which are partially due to the arrival of new technologies, such as digital printing. It has freed up the number of colors and sizes designers can create, so many of us are getting experimental with our work.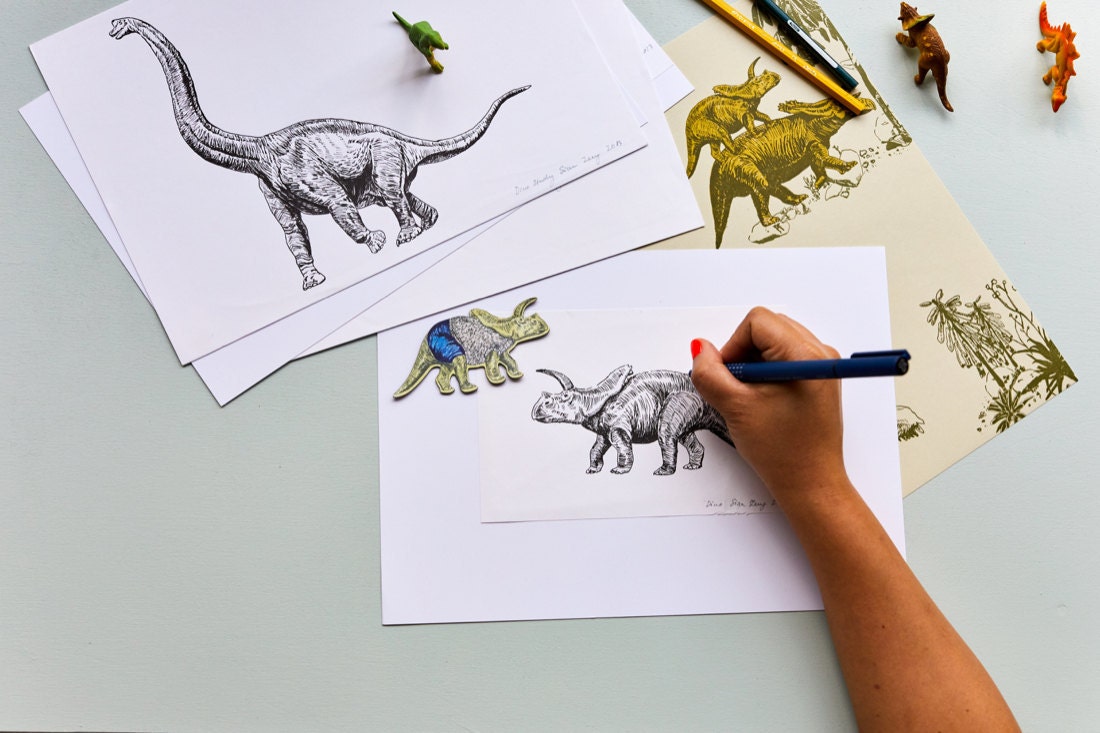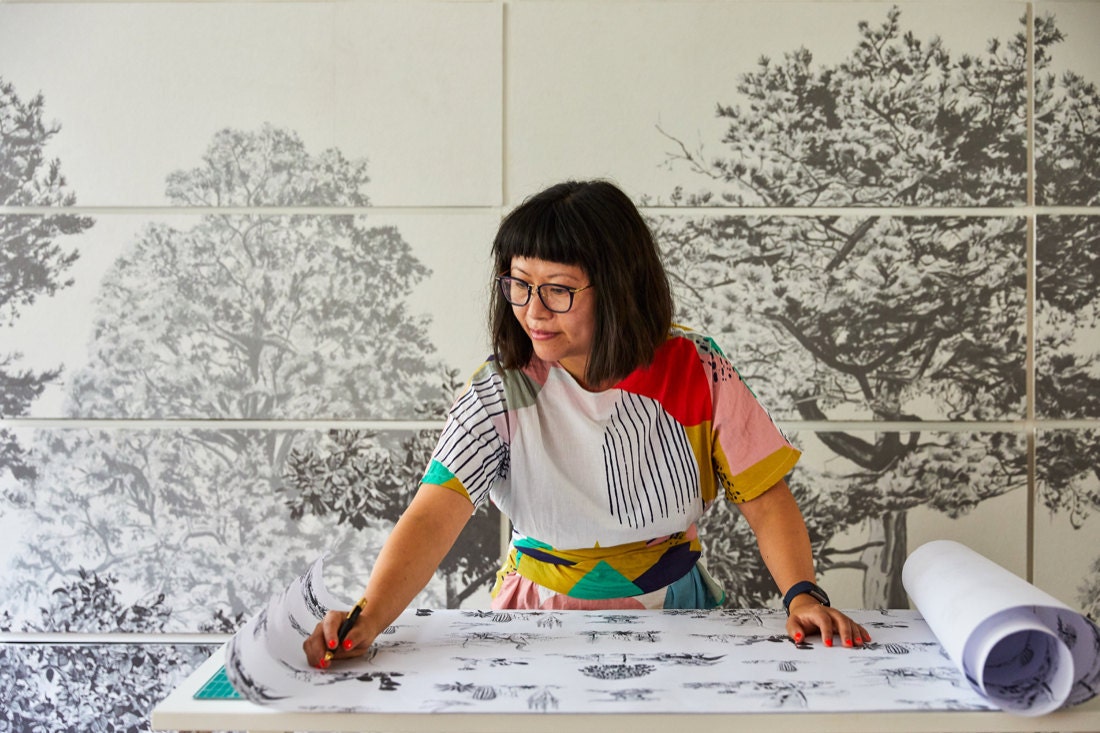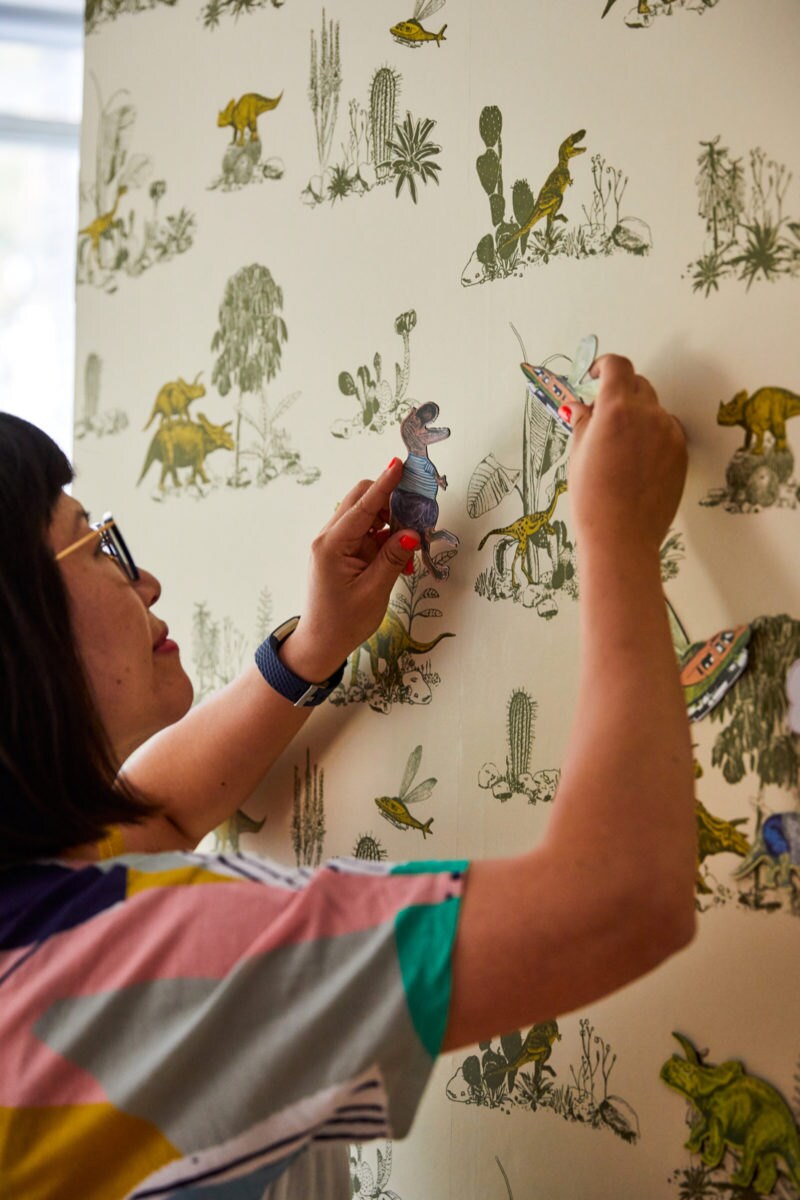 What are some things to consider when picking out wallpaper?
I always recommend obtaining a sample and testing it in the intended space before making a decision. This will give you a good sense of the color of the wallpaper in your chosen light environment as well as the scale of the pattern and its suitability in your home.
Any insider installation tips?
One of the biggest mistakes people make is to assume that the corners of their rooms are square or absolutely vertical, which is almost never the case. If you were to hang your wallpaper starting in a corner, you would most likely find your paper runs askew. To remedy this problem, you'll need to create a true vertical line as a place to start hanging. To ensure your wallpaper appears straight, the best place to begin is at the focal point of the room or in the middle of the wall and proceed outward from there.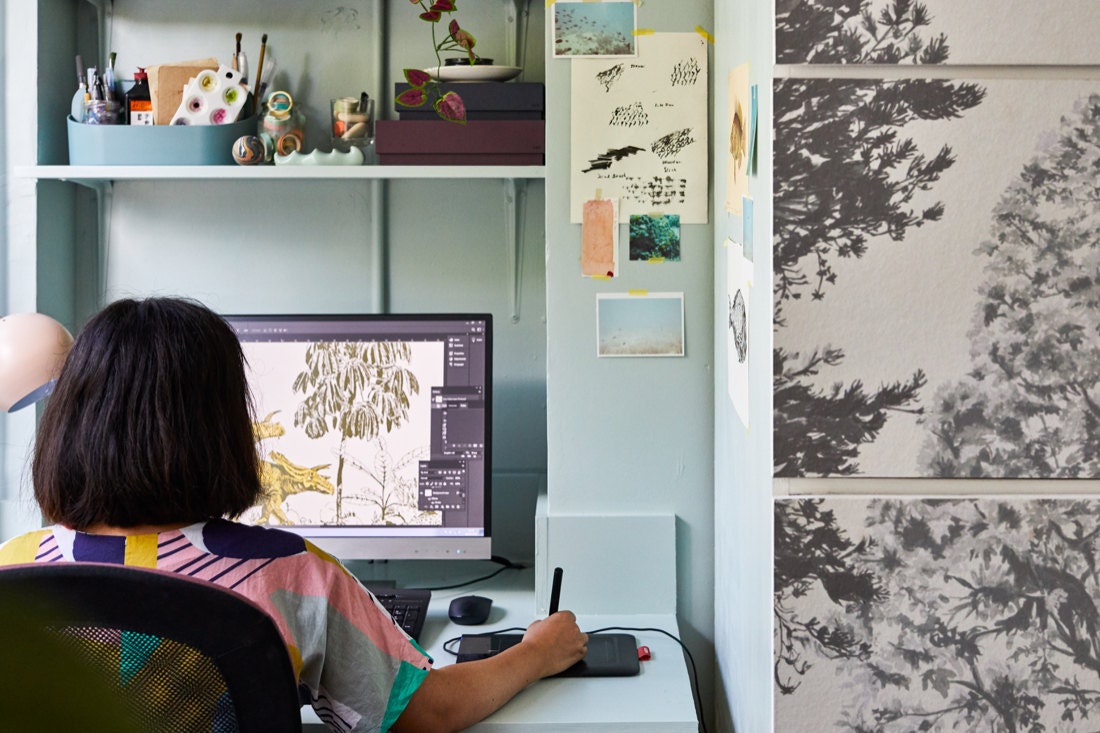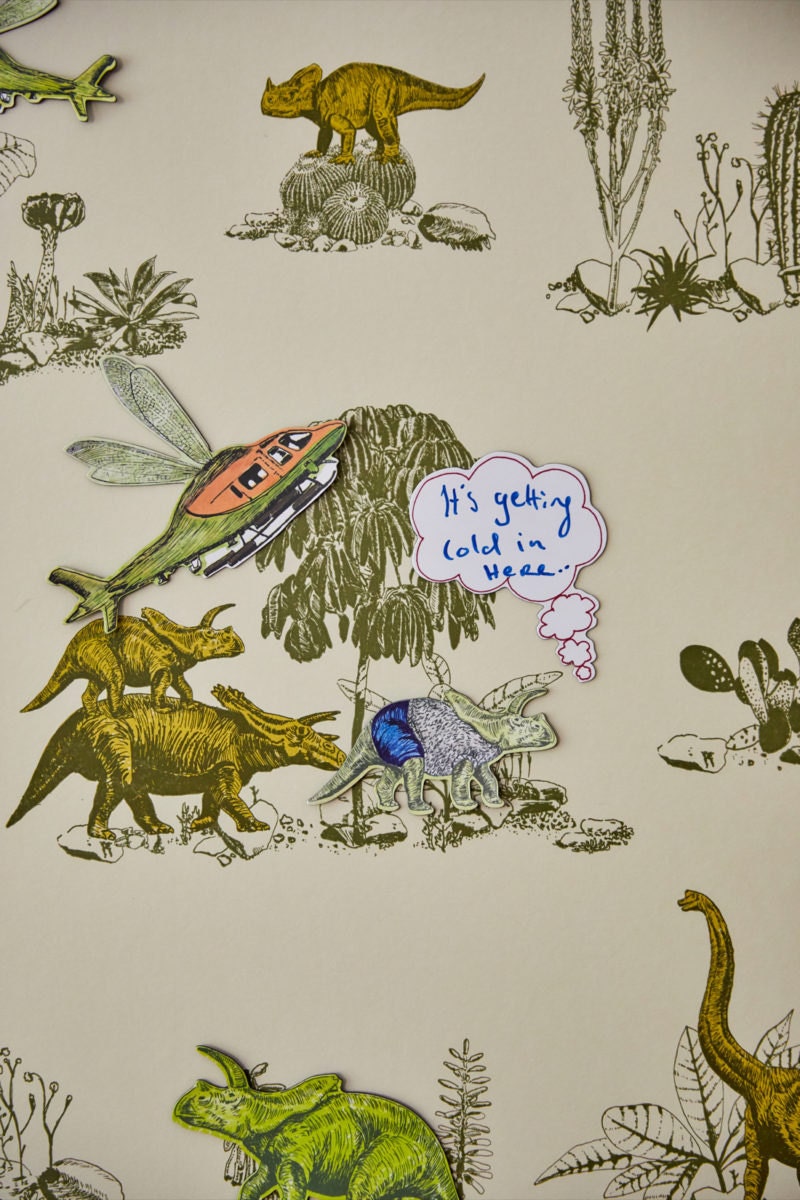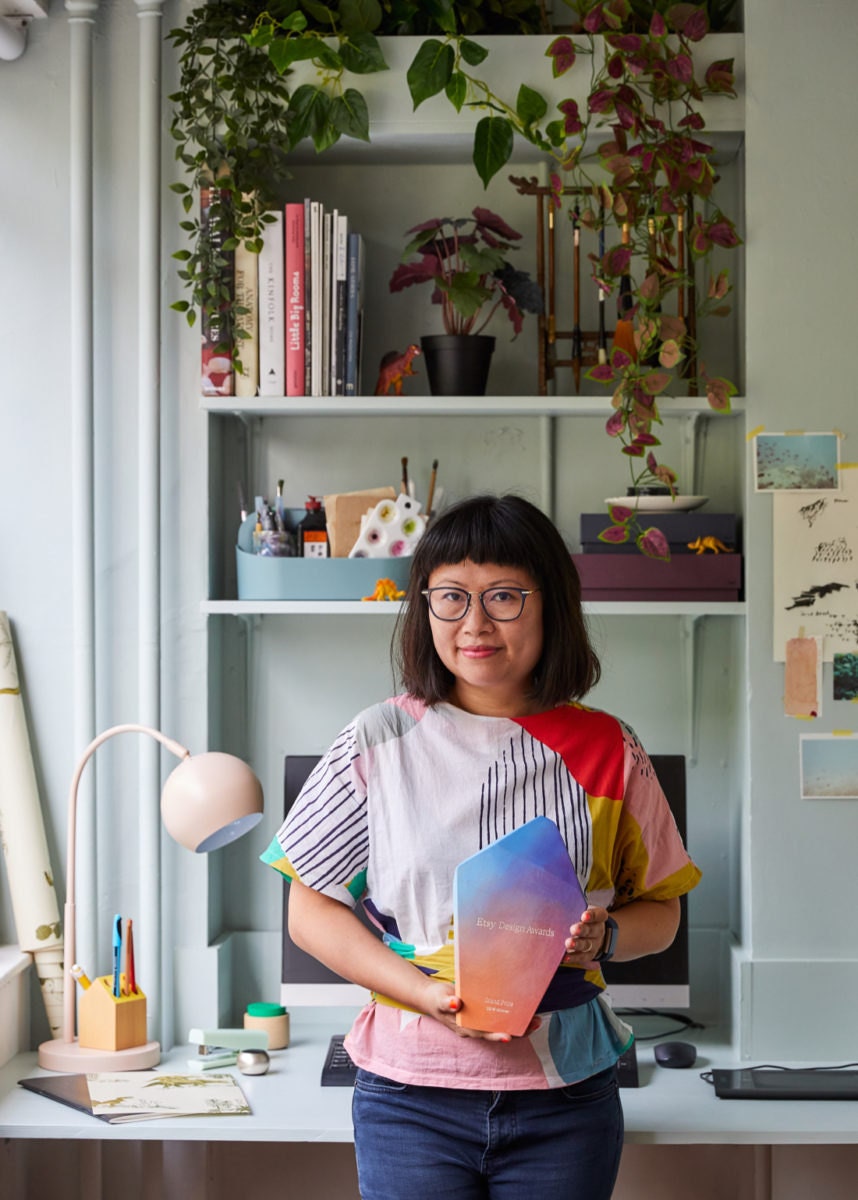 What are some of the most creative ways that you've seen buyers use your wallpapers? 
I've seen buyers cover the front of their drawers with my wallpaper and varnish it to make it last. I've also seen my wallpaper cut into smaller pieces and placed into individual frames before being hung on the wall. Some of our customers like the immersive feeling that comes from covering the entire room. Others prefer an accent wall and keeping the rest of the room fairly minimal.
All our wallpapers are available as magnetic or non-magnetic, so people can choose what works best for their homes. What some people tend to do is to make one wall magnet-receptive, and then the other walls just classic wallpaper. This gives people flexibility budget-wise as well. But in general, it's a very personal choice. It's completely up to you and how you want your home to look and feel.