One writer's outsize fascination with scaled-down objects.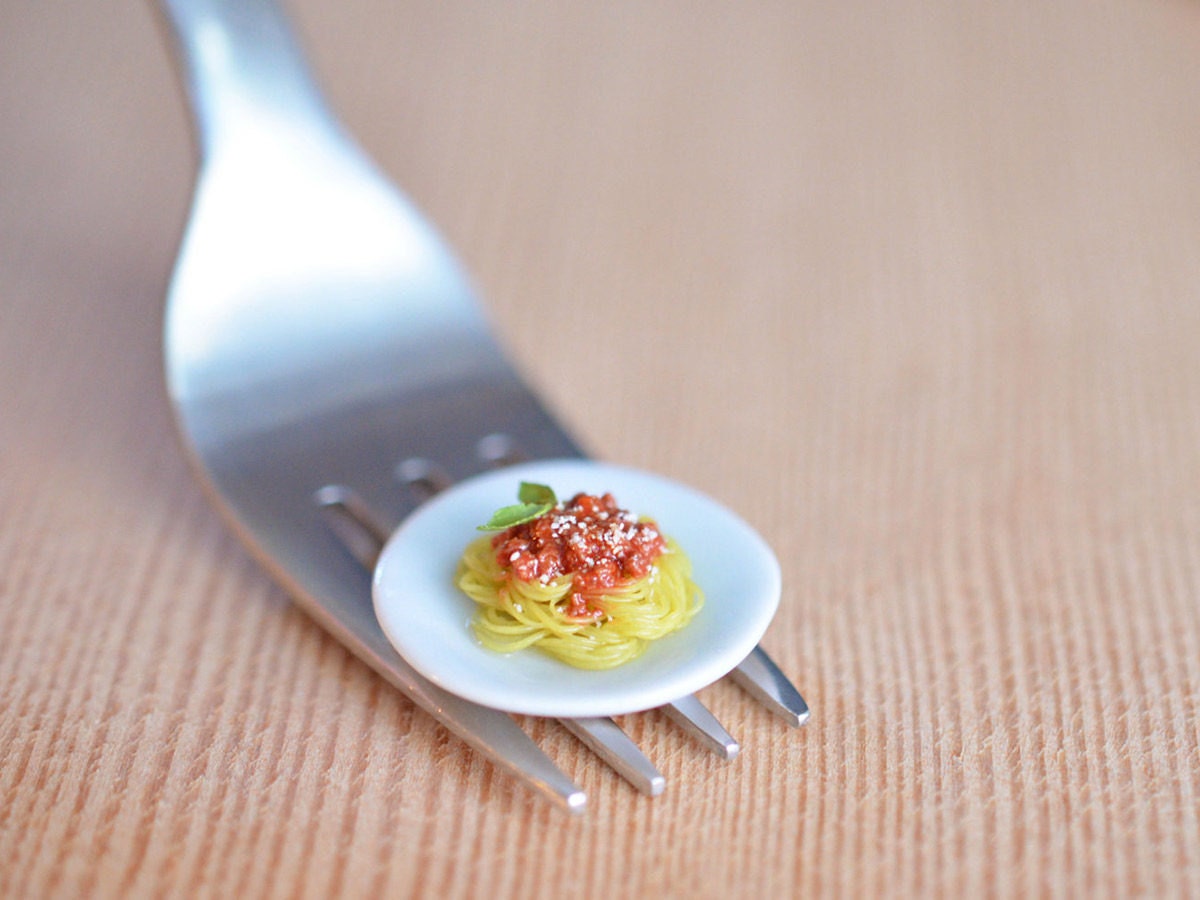 I've loved miniatures for as long as I can remember—they're practically entwined with my DNA. In 2012, I launched
@dailymini
as a way to showcase everything tiny to the world at large, and discovered that I wasn't alone in my admiration. Minis delight the masses because they're readily recognizable, universal objects—simply shrunk down, with impossible detail achieved through impeccable craftsmanship. We all speak the language of miniatures: "Well, that's just unbelievable. And adorable." Whether you gravitate toward microscopic fake food or unthinkably small pottery, one of the eight shops below is sure to give you a little thrill.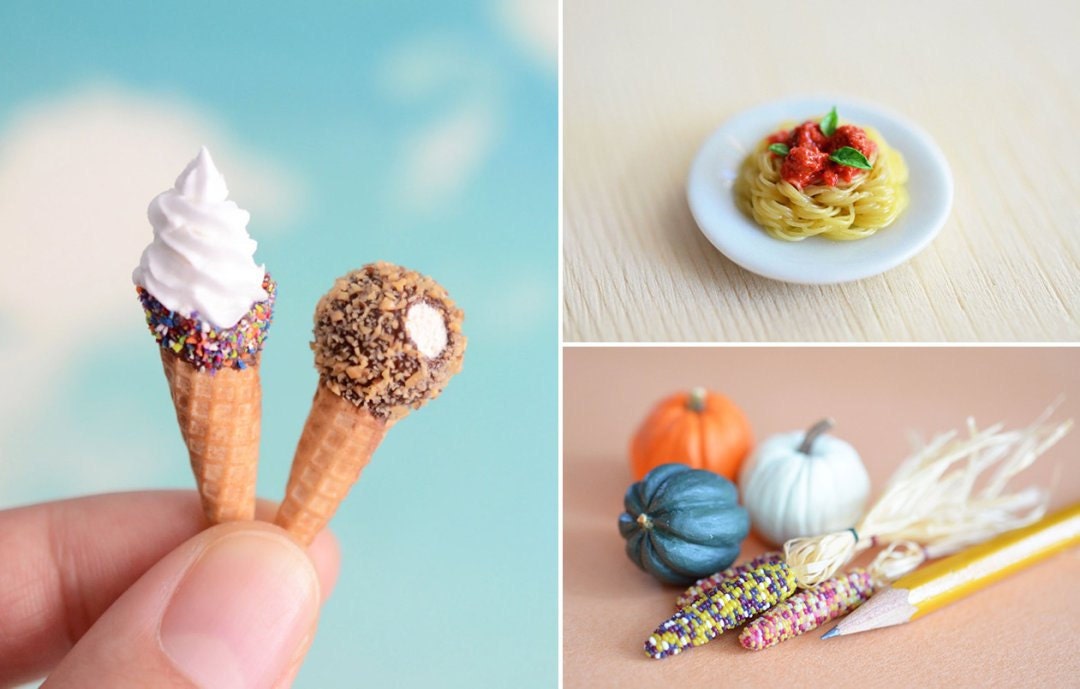 >
Carb lovers, come on down!
Fatal Potato
founder Leah's expert handling of clay is evident in her miniature ice cream creations, delectable strands of pint-size pasta, and minuscule kernels of corn. I'm a big fan of her style and was impressed to learn she creates minis in her spare time between industrial design studies at the
Rhode Island School of Design
. Her ice cream bars are perfect for anyone with a sweet tooth, or for your favorite summer adventure partner.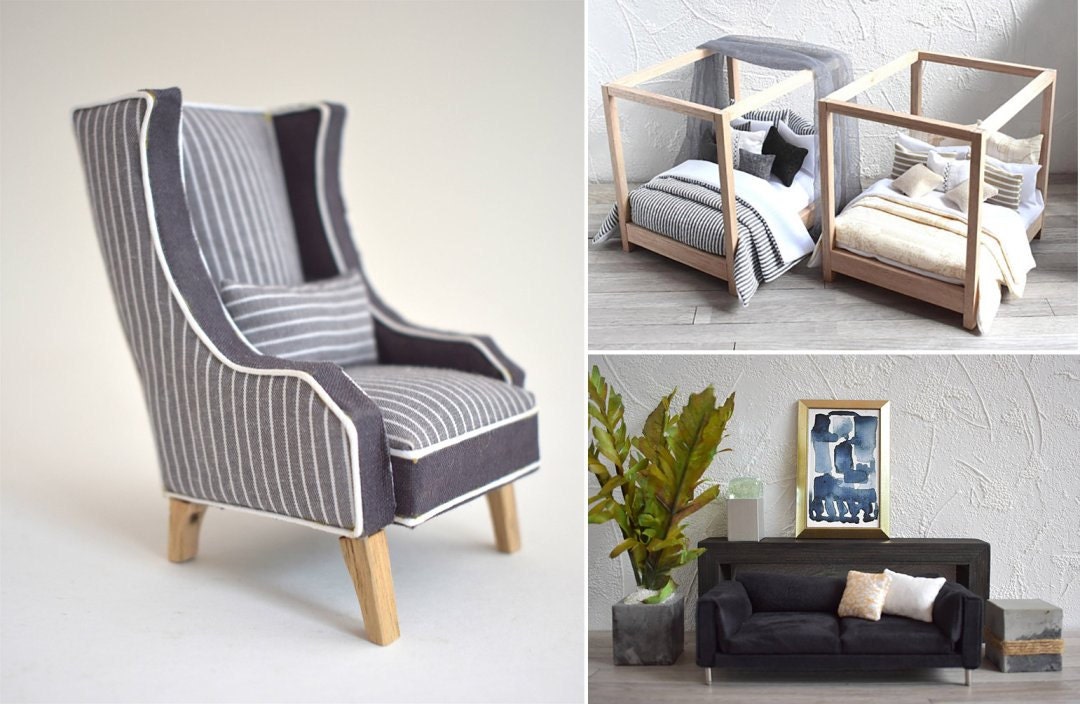 >
For the modern maven in search of bold accents,
Mad Missy Minis
founder Mel Sebastian's furniture sets and accessories may be right up your alley. This Australia-based fine artist is known for her sophisticated and contemporary creations in 1:12 scale (a common notation that signifies a one-inch-to-one-foot ratio). Having studied art history for years, I especially love her unique spin on pop art and abstract art miniatures. Peruse the decor in her shop to gain inspiration for your dollhouse—or your regular-sized home.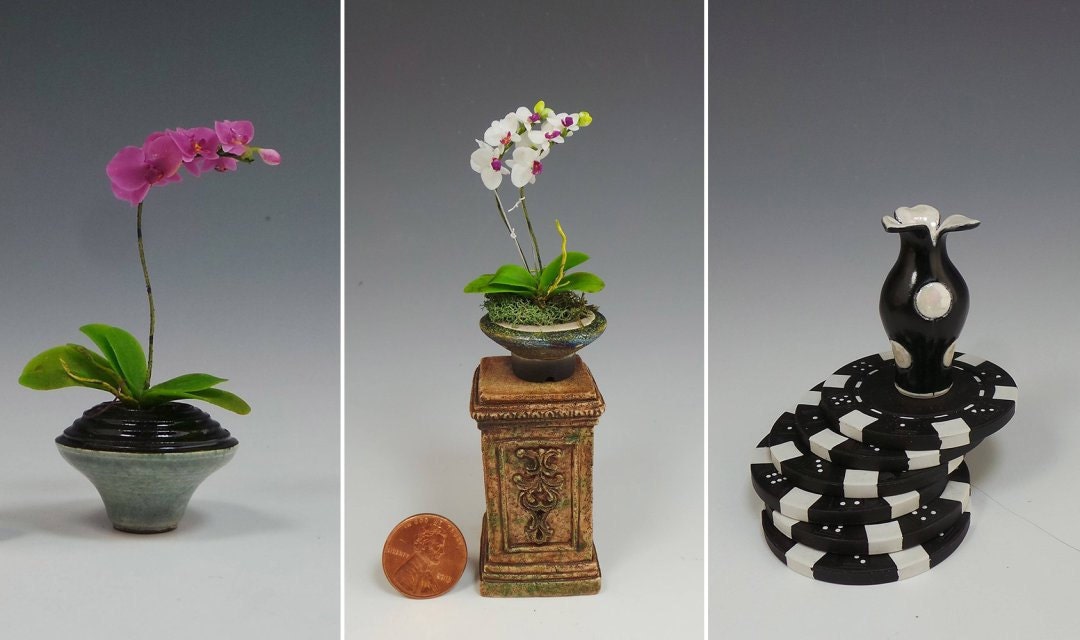 >
My favorite types of miniatures are functional, so it's no surprise
Susan Van T
's on this list: She's a member of the
International Guild of Miniature Artisans
recognized for her adept handling of clay. Her wheel-thrown (!) porcelain pottery sculptures can brighten up any tabletop, display shelf, or dollhouse scene. (It's up to you to decide whether to put a real or fake flower inside.)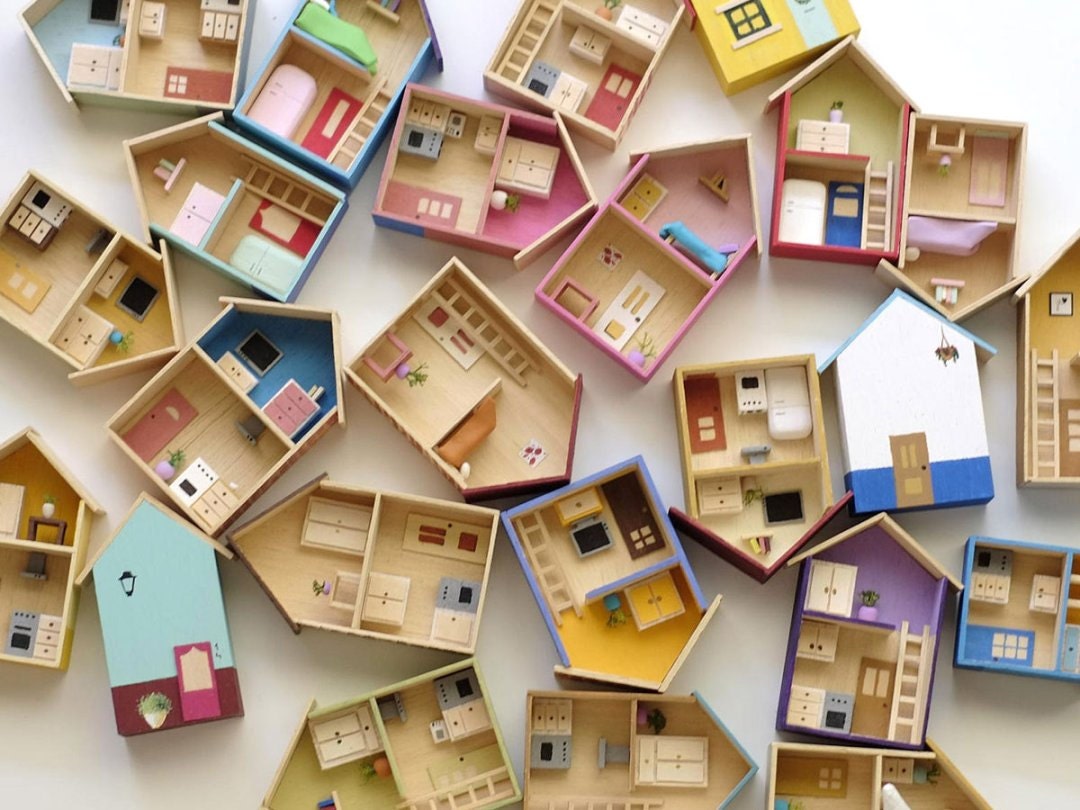 >
With their clean, uncluttered interiors and whimsically painted facades (detailed to evoke everything from breezy beach cottages to Scandinavian-chic dwellings), these charming model houses from Marina Paredes of 
Prettymodels
 manage to inspire wanderlust and the urge to nest all at once. From her studio in Spain, Marina dreams up each sweet scene, then paints the wooden house with vibrant colors and designs. I'm especially drawn to her tiny homes because they're ready to go: already artfully colored between the lines and deftly decorated with an interior designer's keen eye.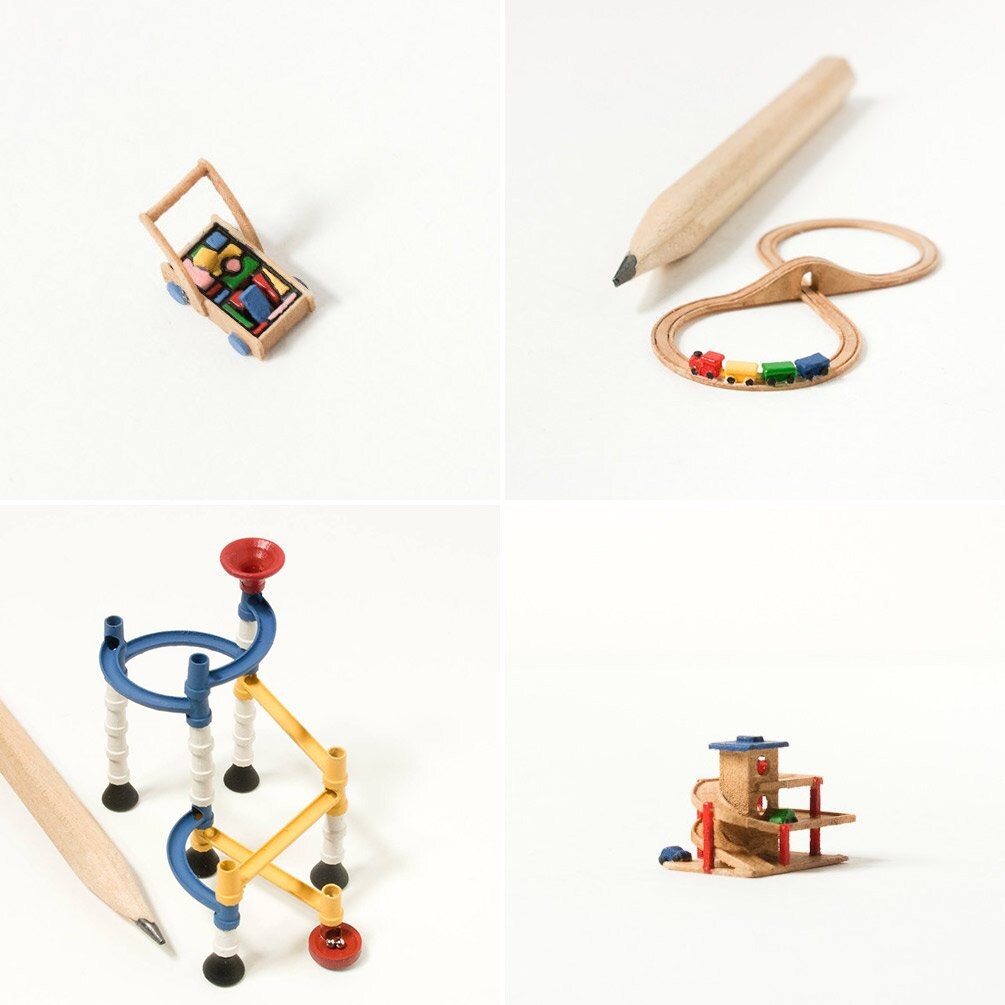 >
At 1/12 and 1/48 the size of their kid-friendly counterparts, these miniature toy models are most certainly not for children—but will undoubtedly induce a childlike sense of awe in anyone who sees them. Skillfully 3D-printed and carefully hand-painted in the Netherlands by
PiCTOSO
creator Sander, these plastic marvels mimic wood quite successfully, and would make a great addition to a playful diorama—or even a toy-themed terrarium.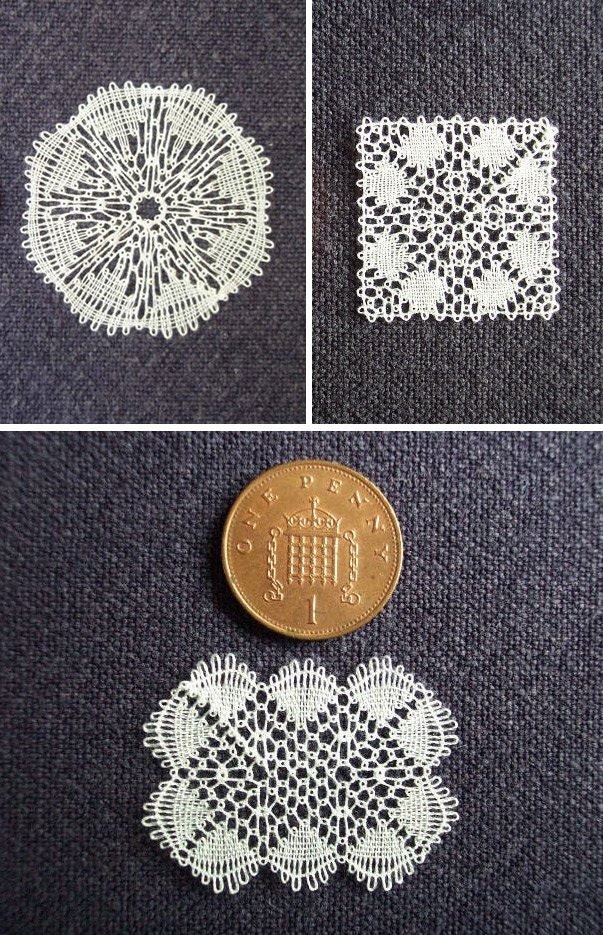 >
It doesn't get any more delicate than bobbin lace—in miniature. Fashioned using braiding and twisting techniques, these doilies may be dainty, but they're by no means fragile. UK-based 
Suzy Riley's
 1:12 lace accents and other accessories make timeless additions to any dollhouse room (period or otherwise). And if you're searching for a sweet little something to adorn your workspace, look no further!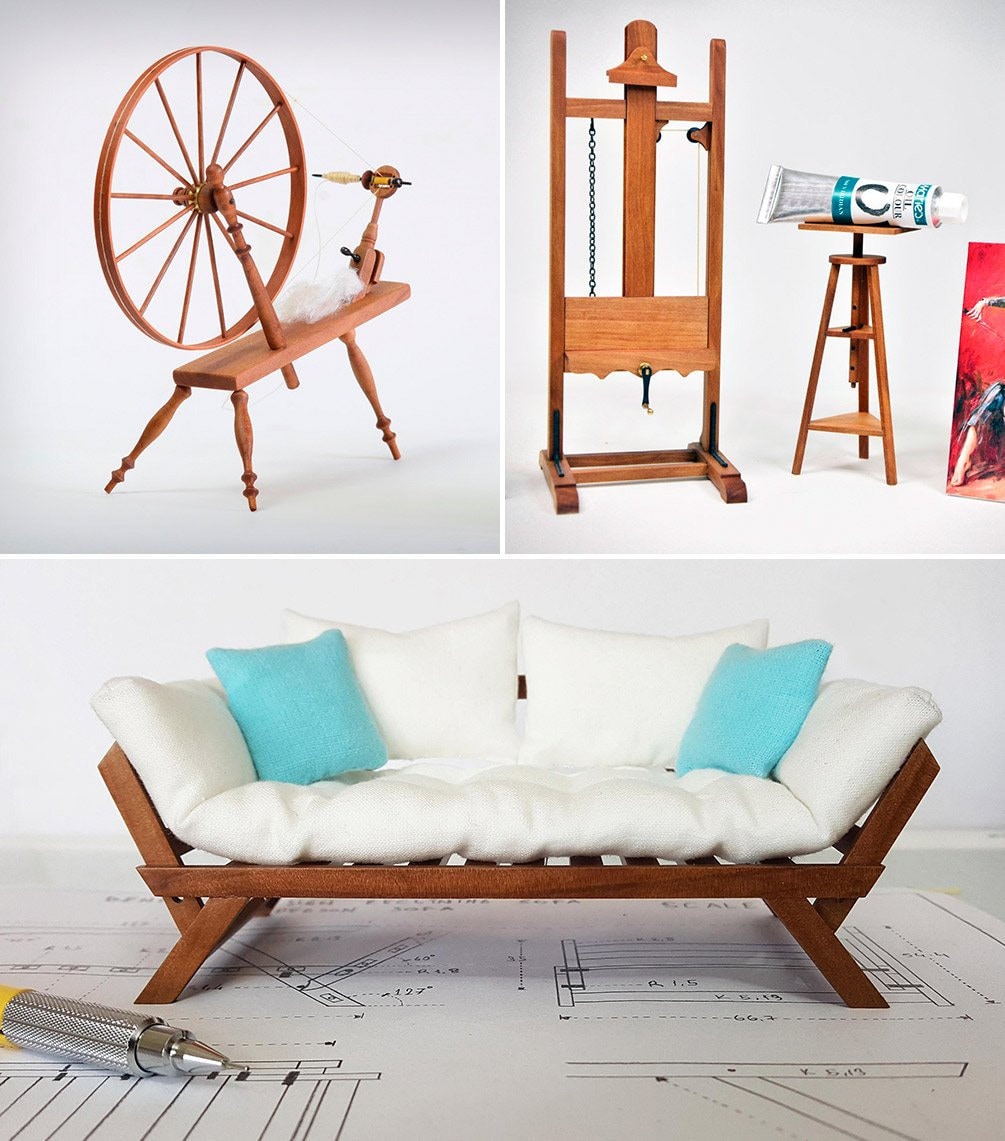 >
For miniatures collectors with a creative bent, these workshop furnishings from
Boutique Miniatures
—spinning wheels, drafting desks, easels and more—will surely spark your interest. Turkish designer Fatih Karalar brings more than 20 years of experience to his craft, specializing in fully functional miniatures. That's right: These mechanisms really twist, turn, bend, and move just like the real things. No small feat, if you ask me.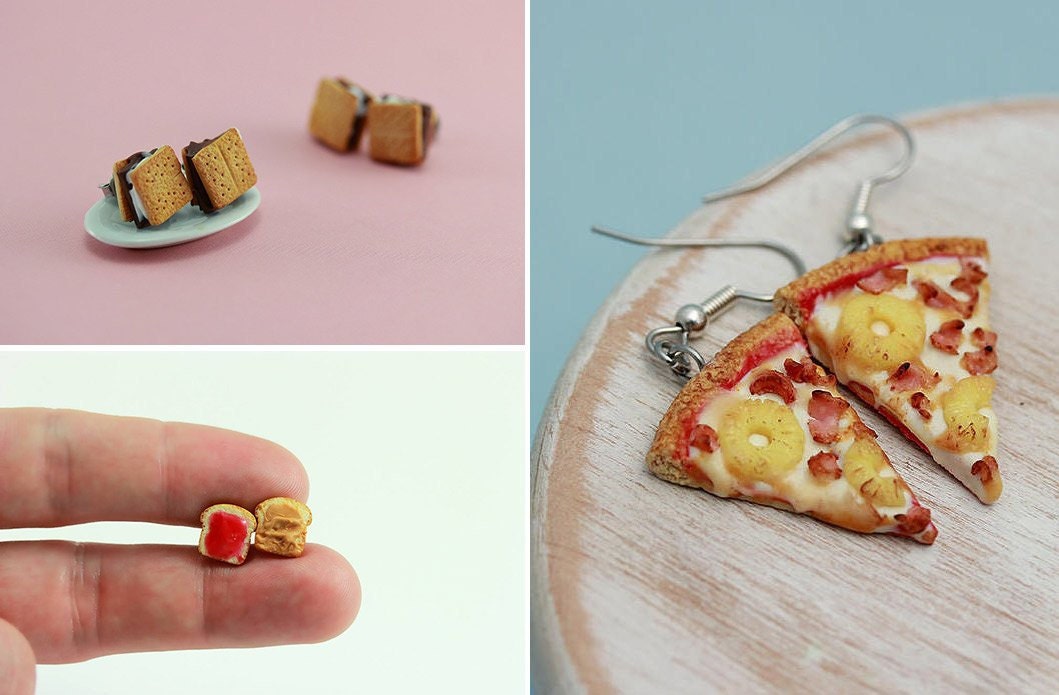 >
Wearable food miniatures? Don't mind if we
do(nut)
. Set and costume designer
Shay Aaron
is a true talent out of Tel Aviv who's been making minis for years now. His impeccably crafted small-scale work features holiday favorites, comfort food, and bite-size snacks galore. Wear them as earrings, rings, necklace charms, or keychains, or select your favorite hardware-free mini to adorn your desk, dresser, or doorframe.