Elegant, classic, and beautifully crafted, these minimalist wedding dresses deliver major magic.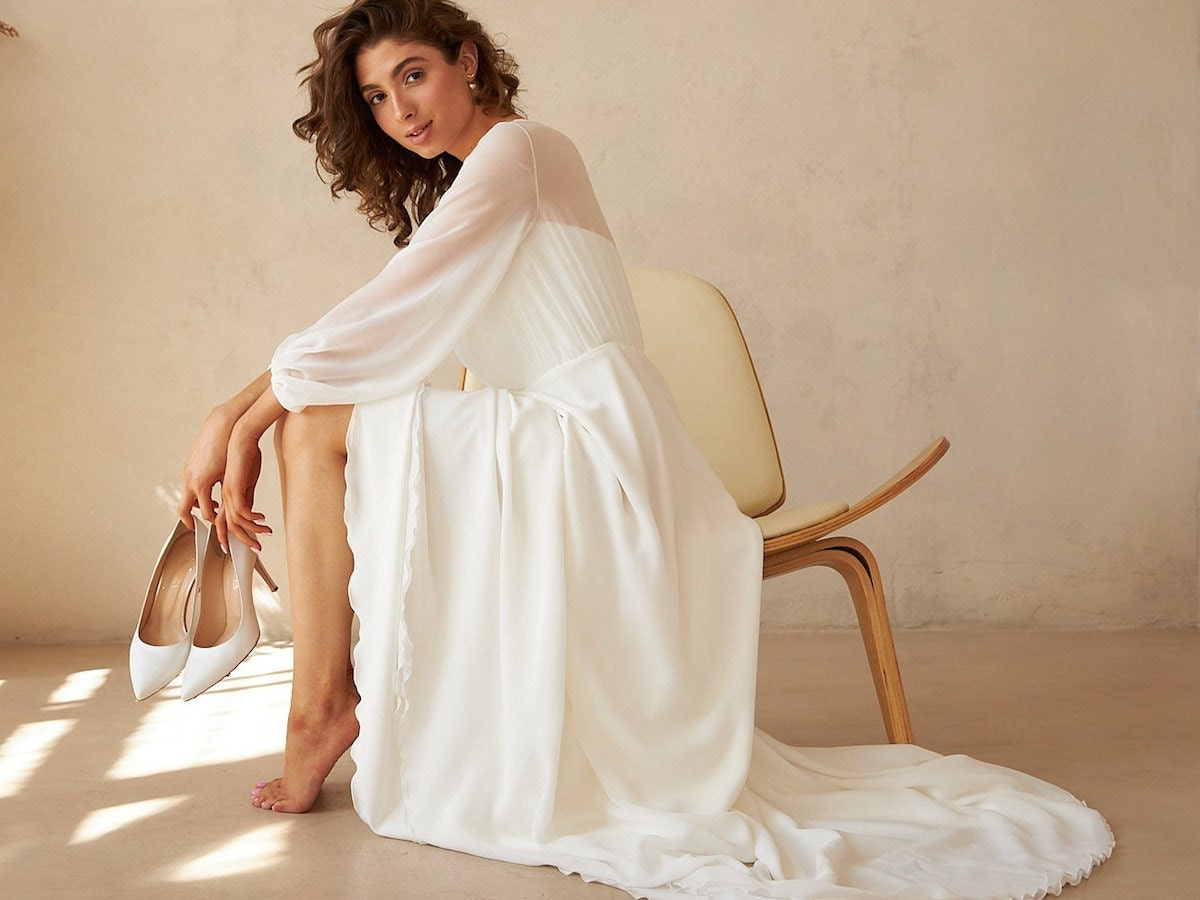 All over the world, brides-to-be are focusing less on what tradition dictates, and more on doing whatever they like. Being their most authentic selves is at the forefront of their minds, and if that means doing something different and opting for a sleek and chic minimal wedding dress over layers of crinkly organza, then so be it. After all, it's their day and they should be free to express themselves and their love however it feels right!
But just what is a simple or minimalist wedding dress? You may be surprised to find there's quite a range! A minimalist wedding dress might be a little less poofy than a traditional princess gown, but it could also be shorter or have fewer frilly embellishments. Most importantly, a simple wedding dress can still be totally glamorous and jaw-dropping. In fact, when it comes to wedding dresses, less is often more. To dial up the drama, today's brides are opting to pair their minimalist wedding dress with breathtaking bridal accessories like bridal capes and letting the details do the talking.
As proof that a simple wedding dress can be gasp-inducing, exude romance and elegance, and make you feel like royalty on your most precious day, we've rounded up some of the best simple wedding dresses on Etsy, handcrafted with great care and love by designers all over the world. What's more, the list includes several one-of-a-kind minimalist wedding dresses under $500—and even some under $200!
See our picks for the best minimalist wedding dresses:
Minimalist Boho Wedding Dresses | Minimalist Long-Sleeve Wedding Dresses | Simple A-line Wedding Dresses | Short & Simple Wedding Dresses | Simple Backless Wedding Dresses
Read on to discover an extraordinary selection of simple, minimalist wedding dresses that perfectly embody your vision for your special celebration.
Minimalist boho wedding dresses
These charming, boho-chic wedding dresses are a beautiful blend of romance and simplicity.
1. Boho lace gown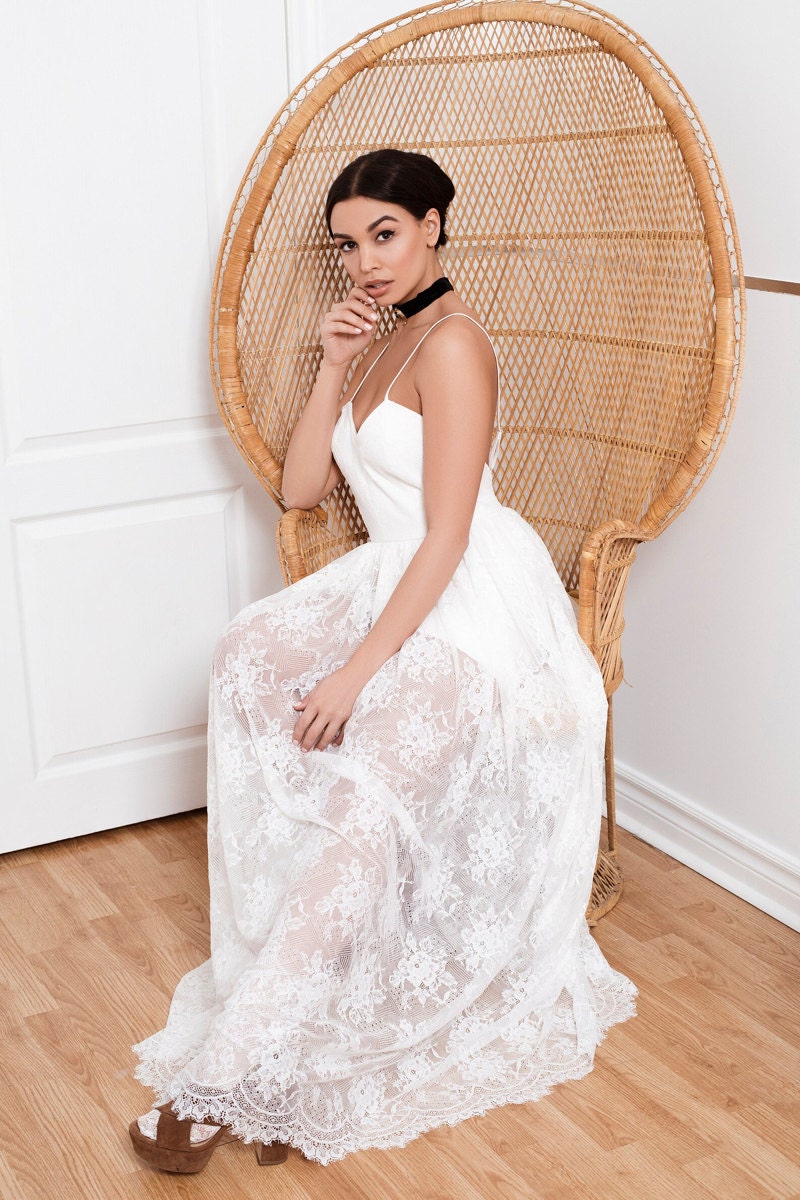 SHOP: 'Della Rose' lace wedding dress from Jordan de Ruiter, $259
If ever there was a gown to swan down the aisle to, this is it. With its long and flowy floor-length lace overlay on top of a sateen mini skirt, and striking V-neck décolleté, this beautiful boho-take on a simple wedding dress is perfect for a summery, outdoorsy wedding. It's lined with cotton for ultimate comfort, and has adjustable straps, too. "Absolutely beautiful," raved one happy shopper. "The lace is so perfect and soft, the dress was much lighter than I expected which is amazing."
2. Ivory lace wedding dress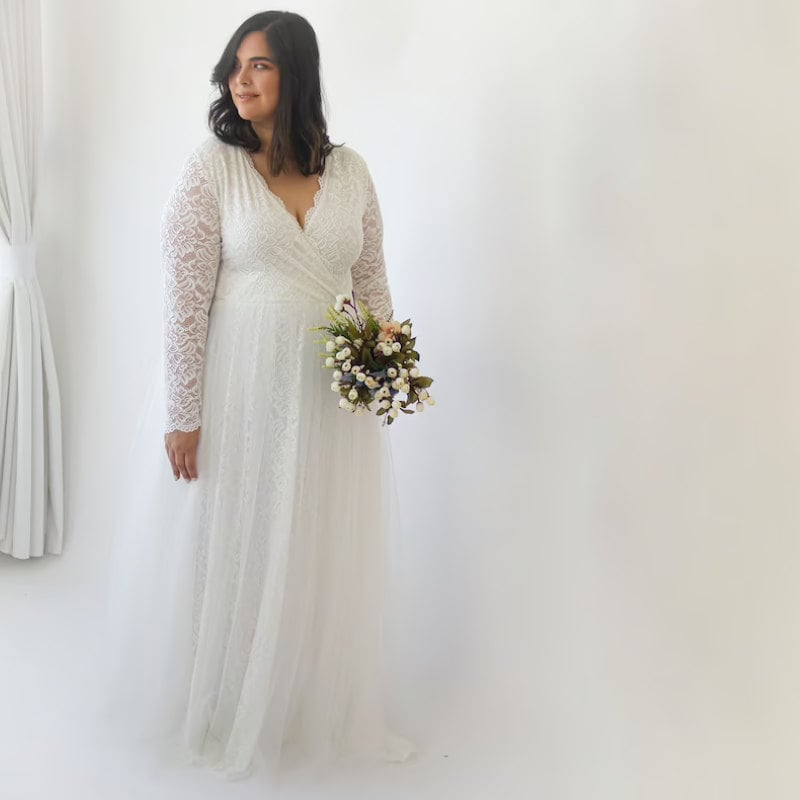 SHOP: Ivory long-sleeved lace tulle wedding dress from Blush, from $489
A mix between the classic and modern, this gorgeous gown is one of the best simple wedding dresses you can find under $500. Chic and affordable (though the stunning detailing—from the scalloped sleeves down to the luxe lace layers—would tell you otherwise), the dress has a comfortable stretch, too—the trifecta for looking and feeling fabulous on your big day.
3. Minimal sheath wedding dress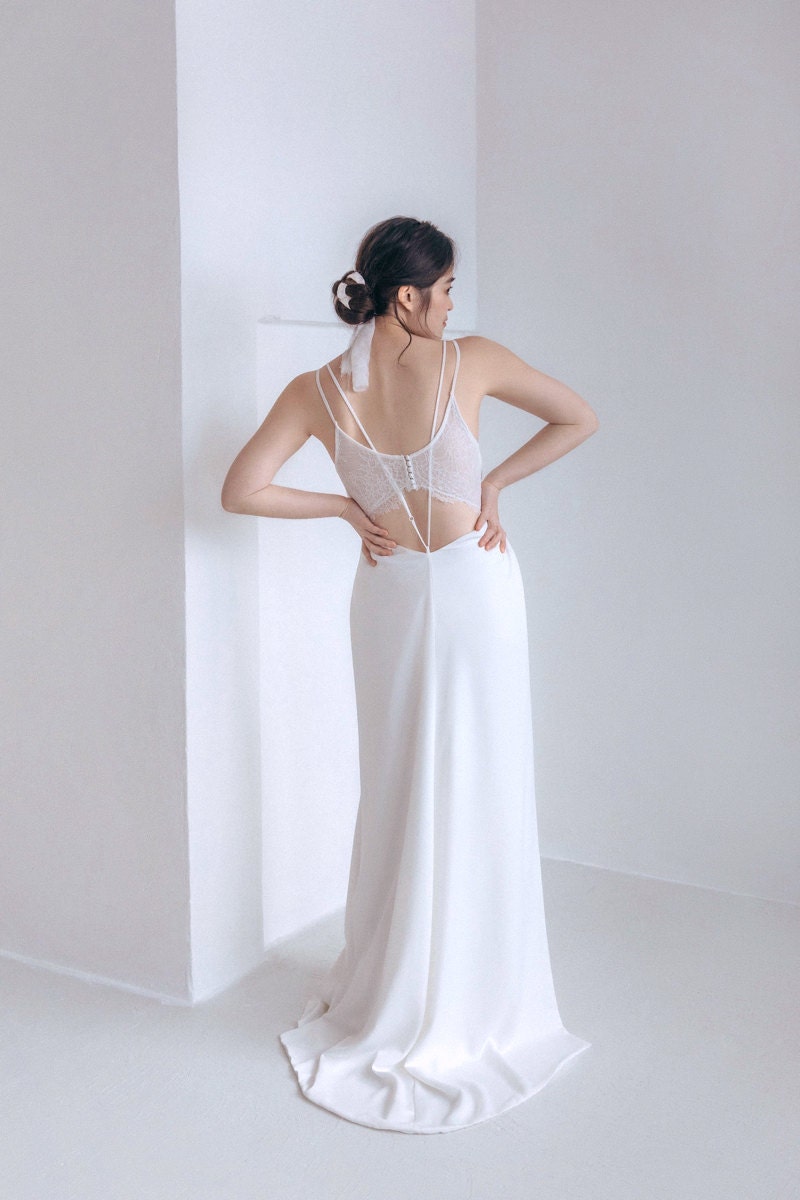 SHOP: Chic French lace sheath wedding dress from Elyn Tang Bridal, $930
It may be minimalist, but this exquisite wedding dress is far from simple. The satin crepe skirt culminates in a sweeping train, and the French lace bodice boasts a low keyhole and button opening at the back, plus an elegant twist detail at the bust that's just chef's kiss. Even better? This dress can be configured to two different looks, meaning there's no need to buy a second gown if you had your heart set on changing up your look throughout the course of the evening. The seller also offers custom sizes, colors, fabrics, and embellishments.
4. Silk slip wedding dress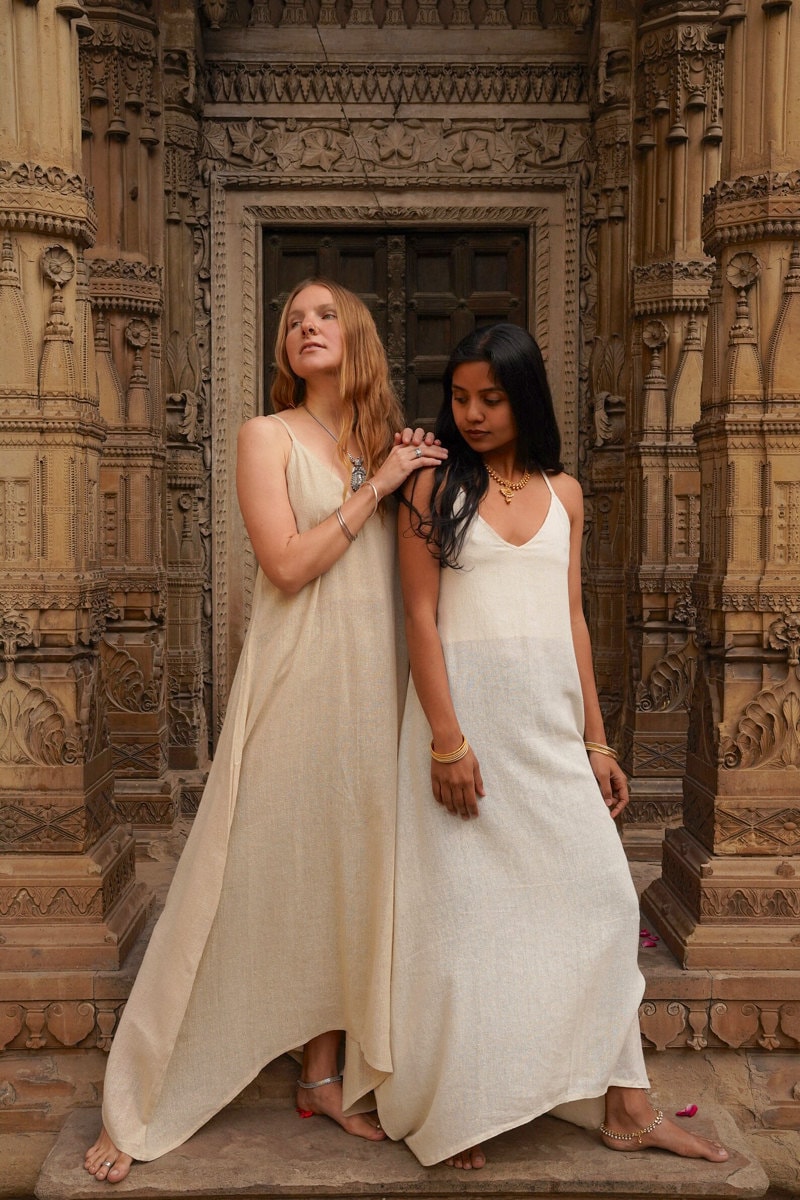 SHOP: Raw silk dress from Kashi Kahani, $100
Available in beige or off-white, this extremely affordable and minimalist wedding dress will make it look like you waltzed straight out of a fairyland. Hand-loomed from raw silk in a small shop in Varanasi, India, this ethereal dress comes down to the floor, and has an extra lining at the bust. In terms of comfort, this practically weightless simple wedding dress is about as airy as you can get. Ideal for a beach or outdoor wedding, this is the dress you need if you'd rather just concentrate on having a good time, and looking très chic in the process.
Minimalist long-sleeve wedding dresses
While most classic wedding dresses commonly come without sleeves, these unique long-sleeved options offer that little extra something.
5. Modern wrap dress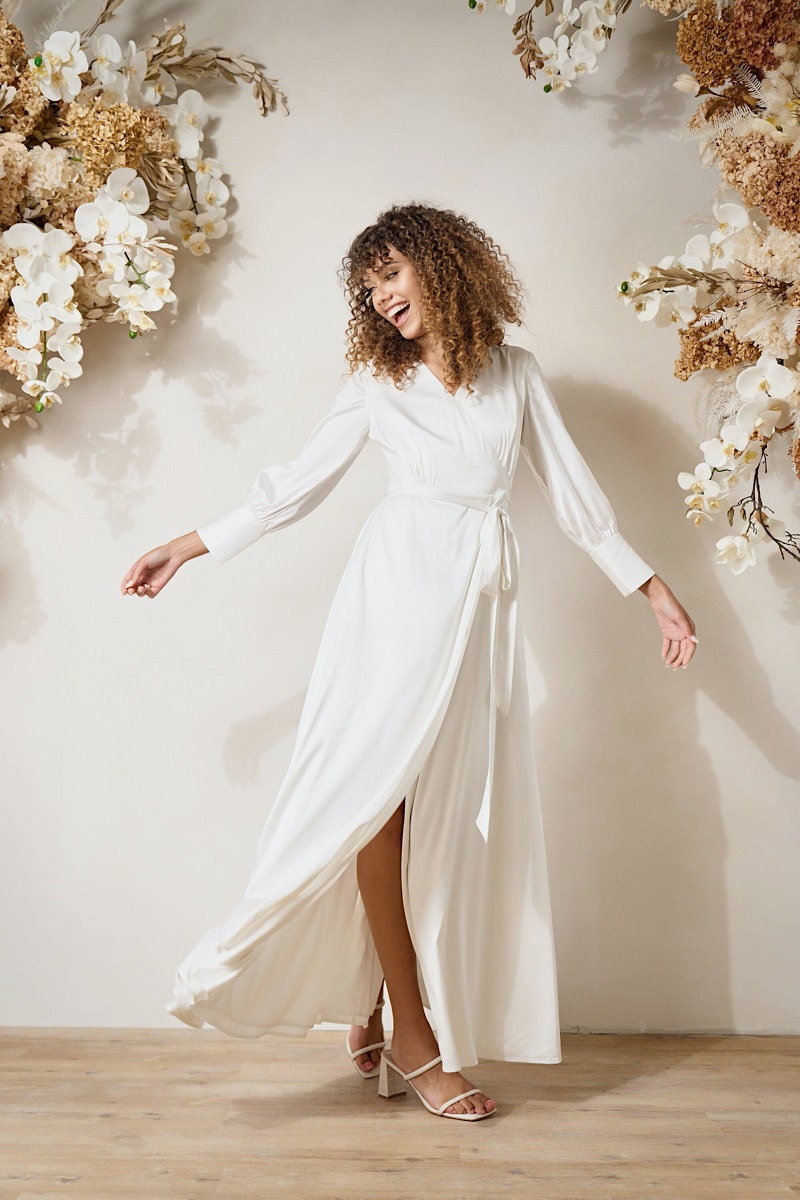 SHOP: 'Carina' bridal wrap dress from By Catalfo, from $607
Simple, or simply wonderful? The 'Carina' dress is both! Available in custom sizes, this long-sleeved minimalist wedding dress features a super comfortable wrap-around design with an elegant belt, and is made from a premium matte charmeuse material. The dress, which customers say has "great quality material and craftsmanship", is available in any color you like, and—the cincher—it even has pockets! If you've been looking for simple elegant wedding dresses, this is the perfect option for the modern bride.
6. Chiffon wedding dress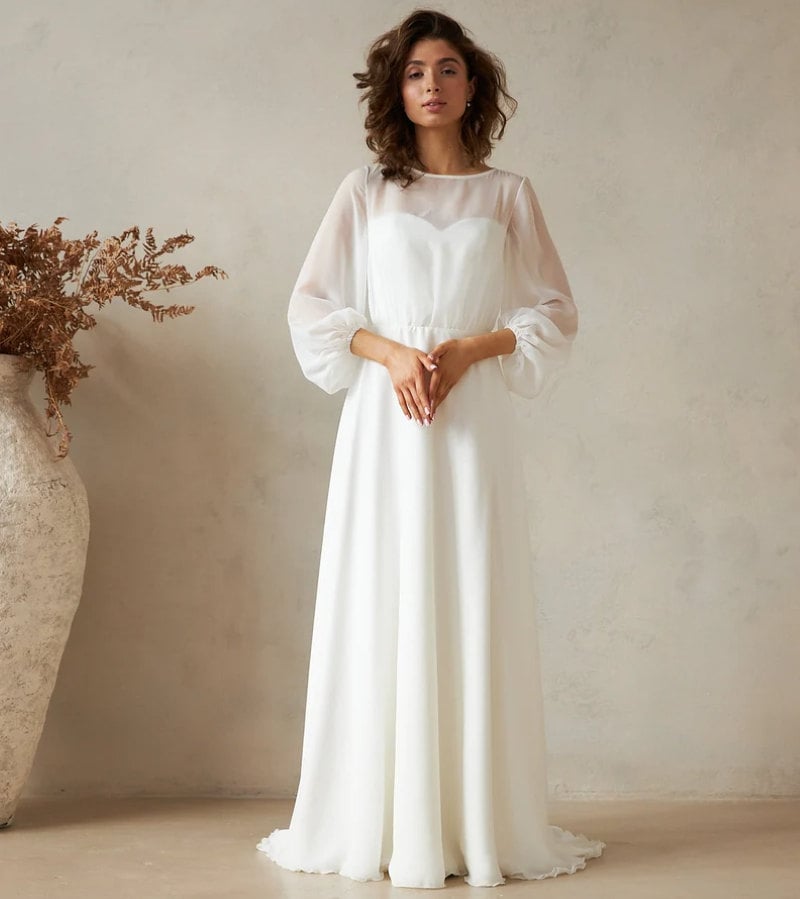 SHOP: Boat neck chiffon wedding dress from Lily Marks Brand, $388
Once you've managed to pick your jaw up off the floor, let us tell you about this absolutely stunning-yet-simple wedding dress. The 'Brie' begins with a long and flowy A-line skirt and a beautiful heart-shaped bodice, which is then draped in lightweight chiffon that elegantly extends right down to its plethoric full-length sleeves. (BRB, swooning.) "Am so happy with the dress," reads one customer review. "It is so well made; very clear the seller took a lot of care into getting all the details of the dress perfect."
7. Linen wedding dress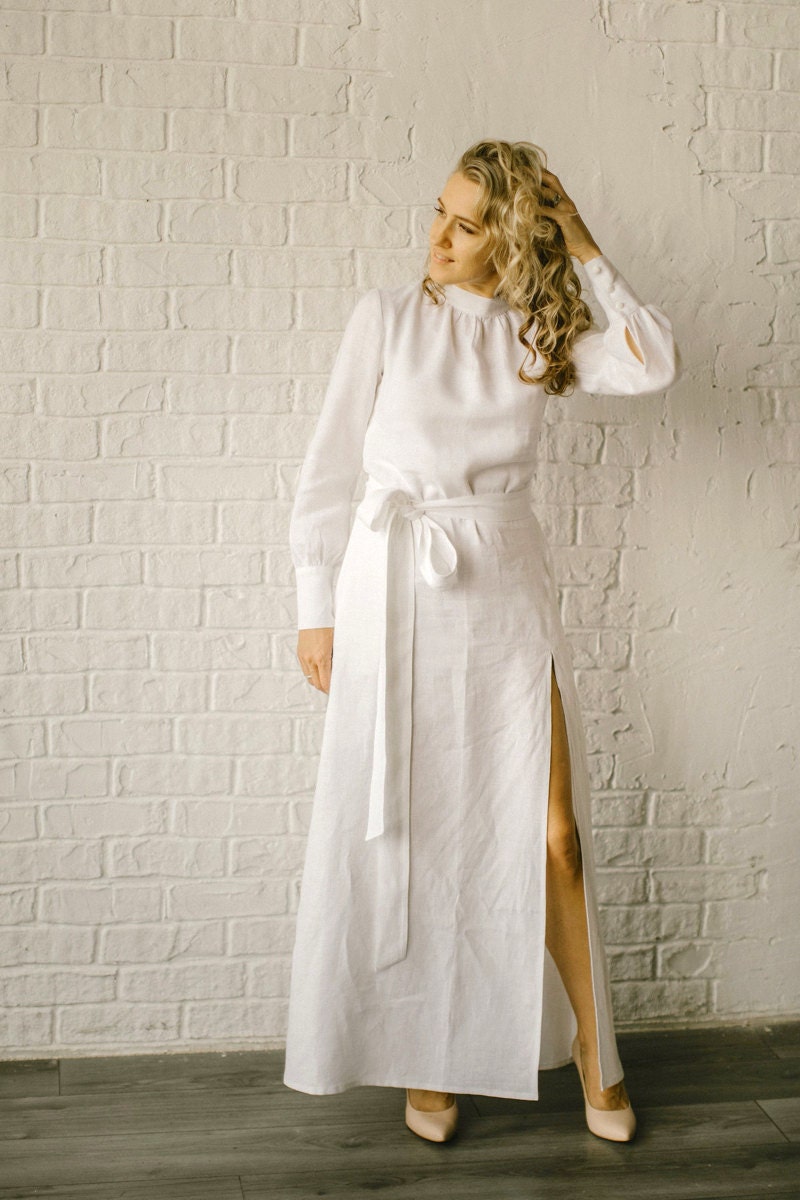 SHOP: Long-sleeved linen wedding dress from Linen Wedding Dresses, $450
If you're after a phenomenally unique wedding dress that will get tongues wagging in the best possible way, opt for this linen wedding dress. That's right! Handcrafted in Lithuania—world-famous for its top-quality linen—this long-sleeved number boasts a high neckline and a dramatic thigh slit, and even comes with a belt and pockets. For something even more out-of-the-norm, the seller can make this dress for you in a selection of 19 colors, including bright lavender, moss green, or cloudy sky blue.
8. Wedding dress with balloon sleeves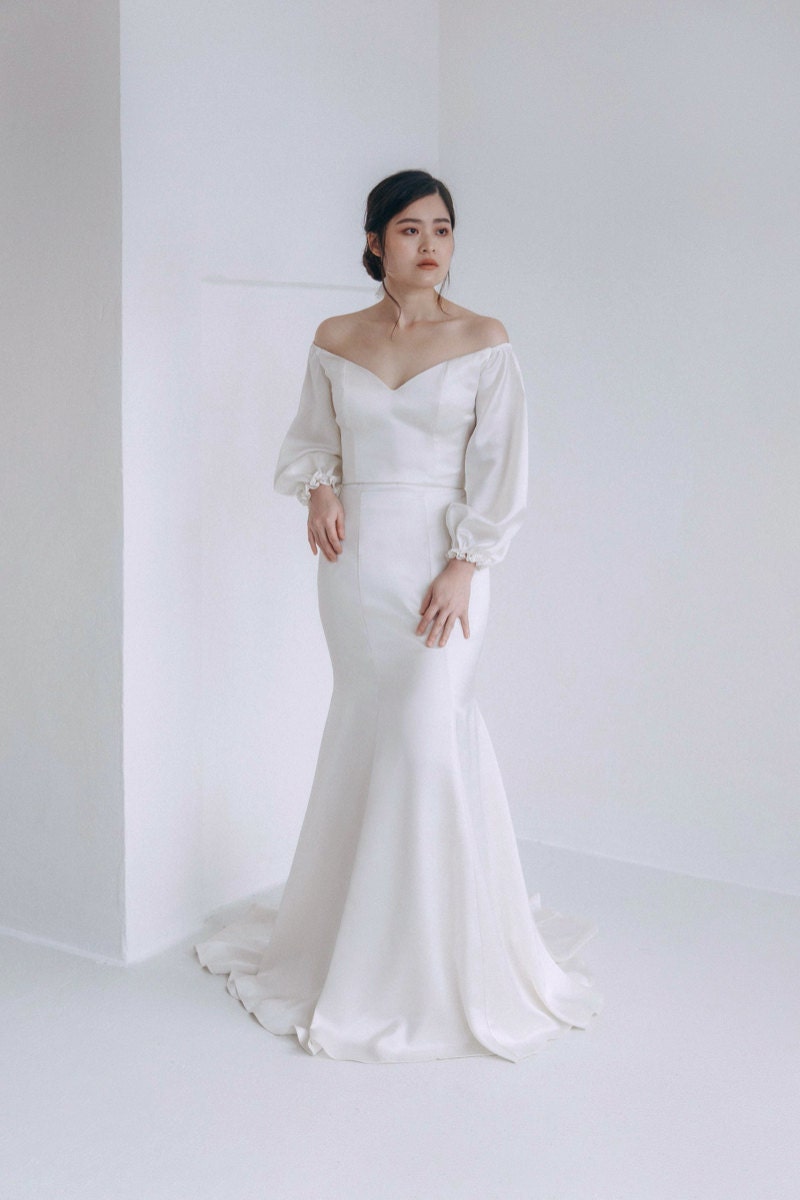 SHOP: Two-piece dress with balloon sleeves from Elyn Tang Bridal, $710
We can't decide whether the star of the show on this classy, satin two-piece minimalist wedding dress is the off-shoulder bodice with sweetheart neckline, the balloon sleeves with ruched and elasticated wrists that enable you to wear them up or down, or the high-waisted trumpet skirt with its magnificent train. We're settling on the carefully thought-out combination of all of these factors that make this simple wedding dress a stunning year-round option.
Simple A-line wedding dresses
To bring out your inner Audrey Hepburn (arguably the most glamorous of them all), simple A-line modern wedding dresses are the way to go.
9. Maxi tulle wedding skirt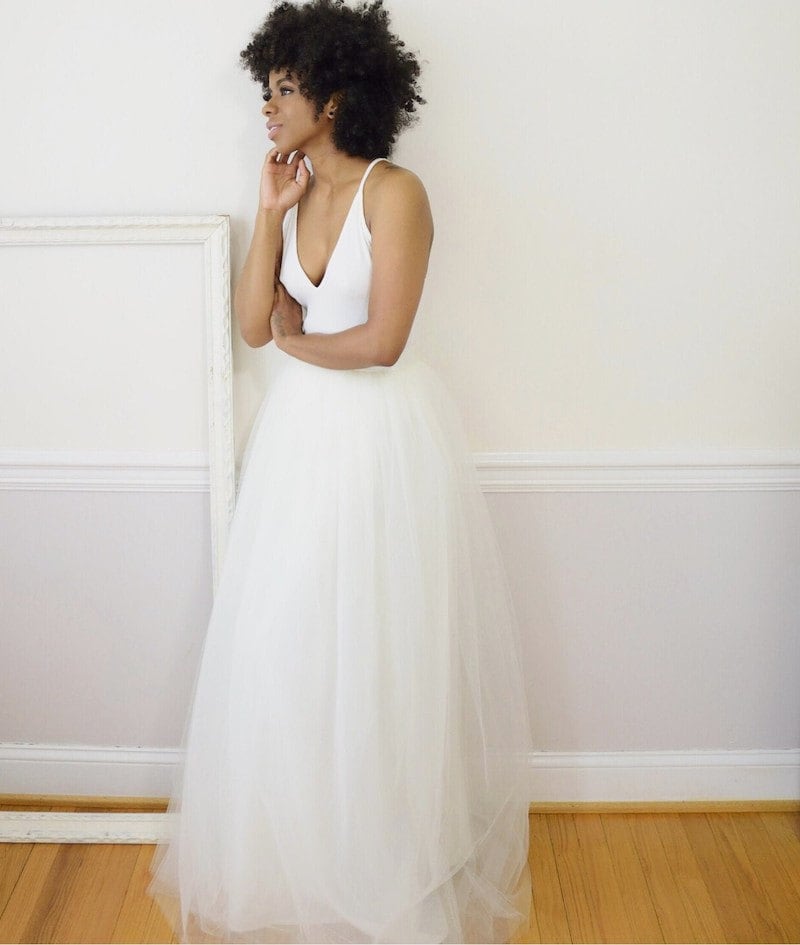 SHOP: Handcrafted floor-length tulle skirt from The Lotus Bloom Co., $206
If you want a minimal wedding dress but still want to look—and feel—like a princess on your wedding day, we're not about to let you compromise. It's your day and yes, you can have it all! Paired with a simple top, whether a vest, bodice, or corset, this affordable and regal floor-length A-line tulle skirt with matching satin waistband will give you that minimal-yet-made-up look you're after. "It is absolutely perfect," wrote one shopper, and another raved, "I love this skirt and never want to take it off!"
10. Satin maxi wedding dress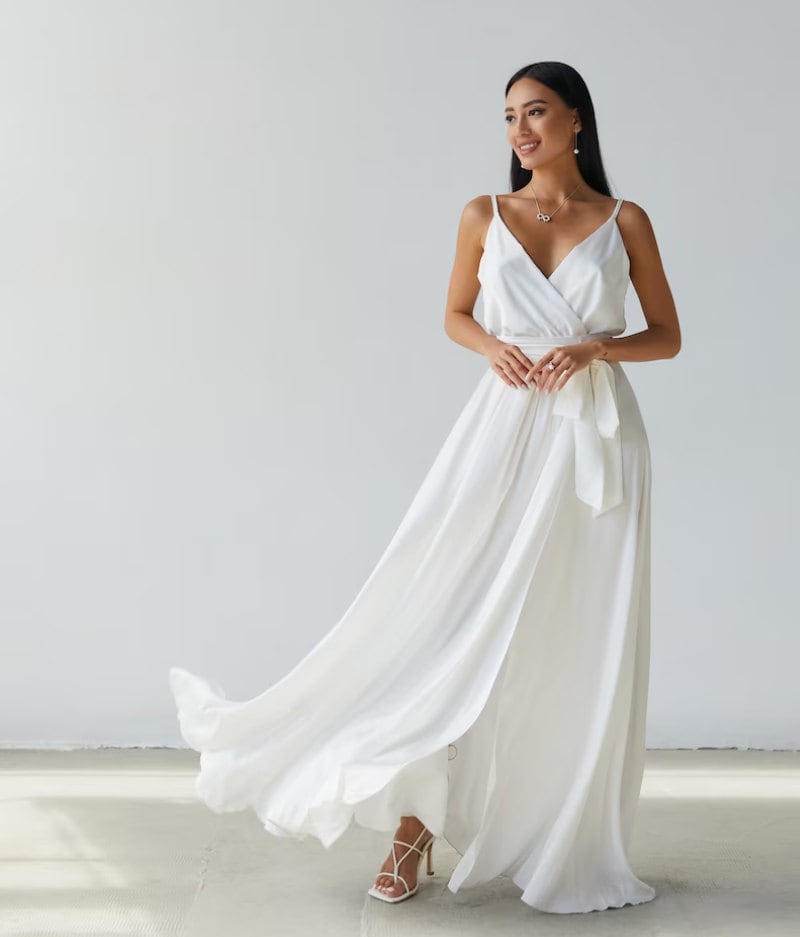 SHOP: White satin maxi dress from Mayleen Studio, $136
If we had to choose something that's just as stunning as this breathtaking satin wedding dress, we'd have to say it's remarkably low price tag. Also wow-worthy? Its cleverly constructed wrap-around design which features adjustable straps, an elastic waistband, and a self-tie belt, allowing for the perfect fit without having to visit a tailor. The flowing A-line skirt is giving us goddess vibes and, for a wedding dress under $150, you simply can't go wrong with this exquisite option.
11. Empire-waist modern wedding dress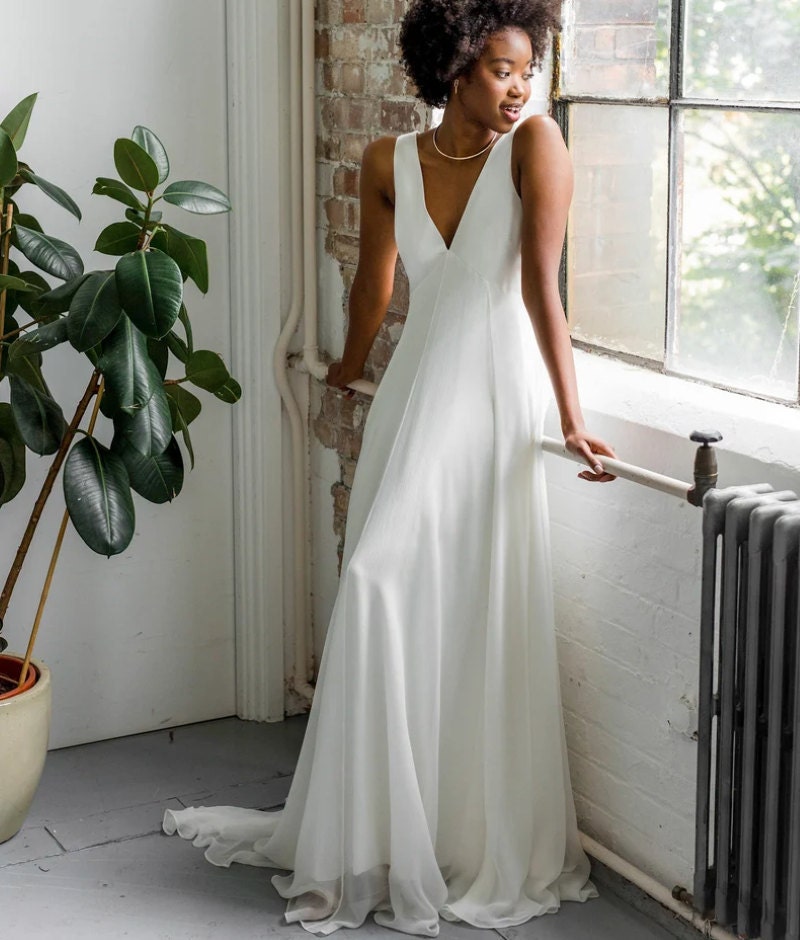 SHOP: Ethereal silk wedding dress from Bibiluxe, from $1,071
With its plunging V-neckline, long, flowing train, and a silky texture that's as ethereal as it is minimal, the 'Issa' wedding dress might be simple, but it's far from ordinary. If you want to spruce it up, the streamlined design of this handmade wedding dress allows you to really go to town on those beautiful bridal accessories. You can even opt to add the 'Bex' bridal cape or the 'Hollis' lace bolero from the same seller, which match beautifully.
12. Goddess wedding dress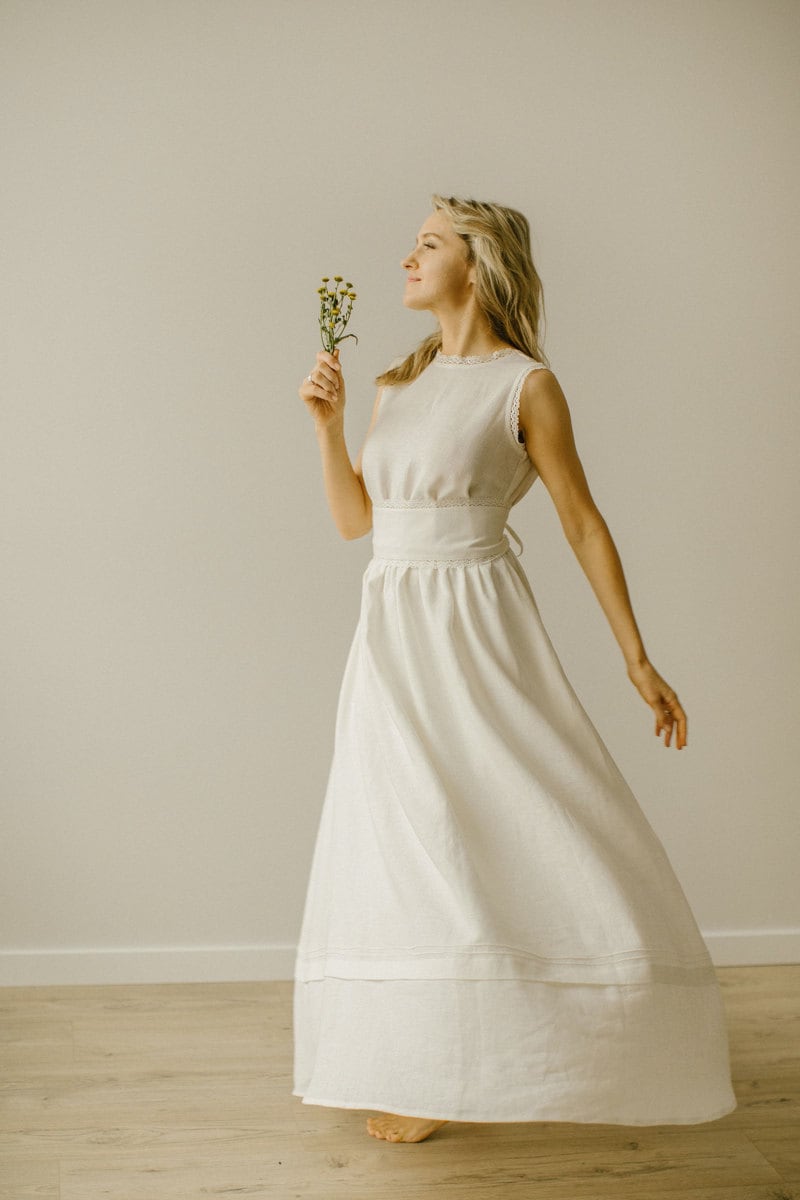 SHOP: Handmade linen wedding dress from Linen Wedding Dresses, $485
Whether you're going for "Greek goddess" or another mythological beauty, this boho A-line dress will make you look like the stuff of folklore. Hand-sewn to measure from softened linen, the dress features a wide belt, a ruffled waist, a V-shaped plunge back, and a delicate lace trim on the neckline and sleeves. Top off with a dainty floral tiara and a bountiful matching bouquet.
Best short and simple wedding dresses
A short wedding dress might not be considered the norm, but it sure is the best way to showcase your fun personality (and your gorgeous gams). Also known as tea-length (skirts that end somewhere between the knee and ankle), these beautiful modern wedding dresses are not only stunning, but they'll ensure you remain comfy while dancing the night away.
13. Crop top and tulle skirt wedding combo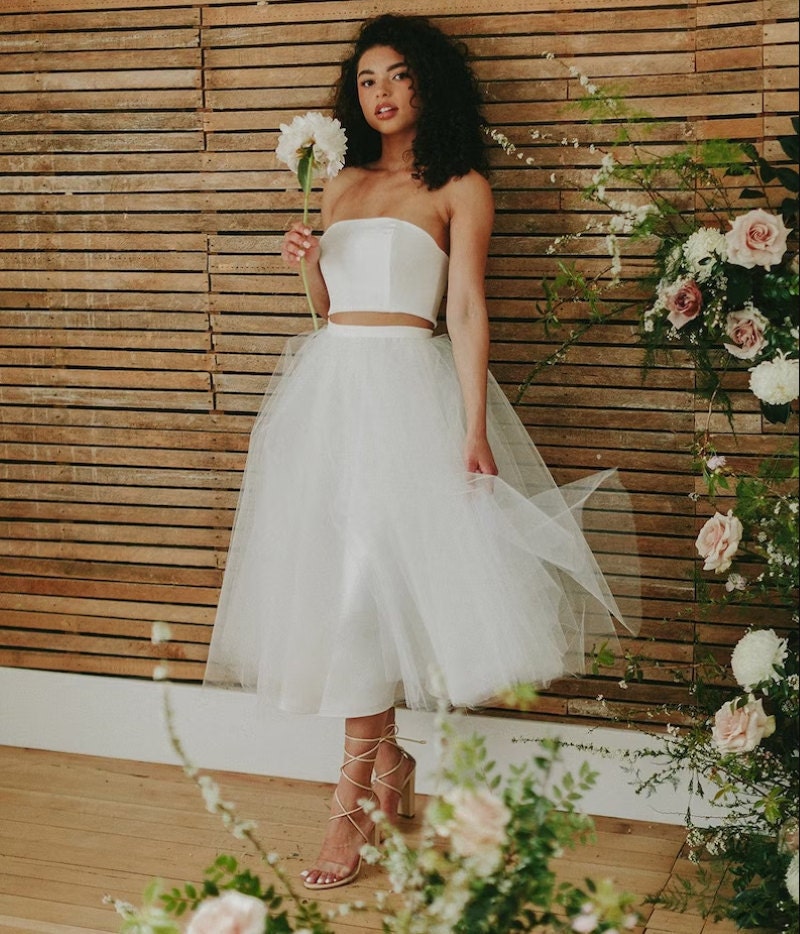 SHOP: Two-piece ballet crop top and tulle skirt from Cleo and Clementine, $1,380
Consisting of a silk-lined satin crop top with boning in the seams to give it structure, and a full circle calf-length layered tulle skirt, this gorgeous two-piece wedding set is giving serious Odette from Swan Lake vibes. Since the neck and arms are left bare, the possibilities for accessorizing are endless! Not to mention, with the shorter hemline, your beautiful wedding shoes will proudly be on full display.
14. Vintage-inspired linen dress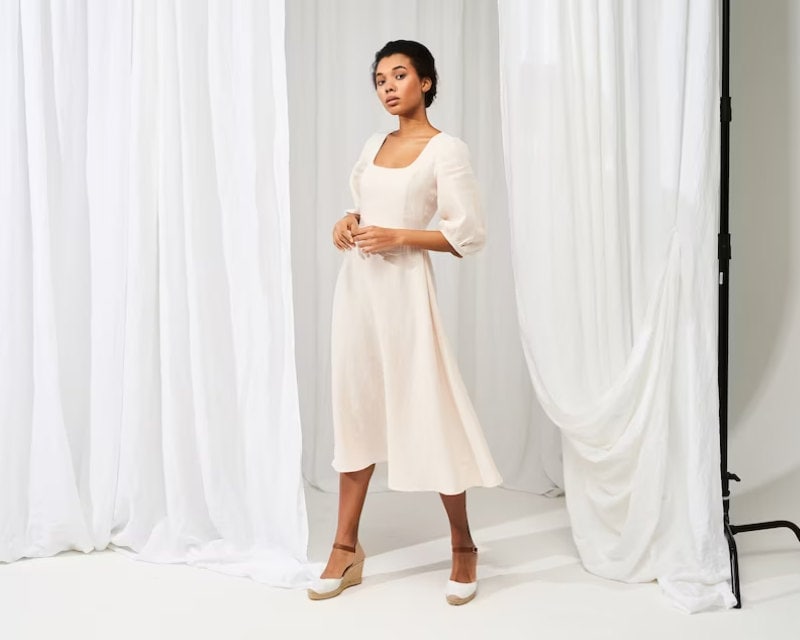 SHOP: Linen puff sleeve dress from Linen Handmade Studio, $137
Though it's simple in design, the details of this affordable wedding dress—unique square neckline, puffed sleeves, A-line skirt—are what make it a special pick for any minimalist bride. As well as ivory and beige, the soft linen fabric comes in an array of brighter colors if you fancy yourself something even more eye-popping. One buyer review reads, "It's absolutely perfect! I'm sort of shocked. It feels like it was tailored just for me… I can't believe how beautiful it is. 100% worth the money!"
15. Asymmetrical linen wedding dress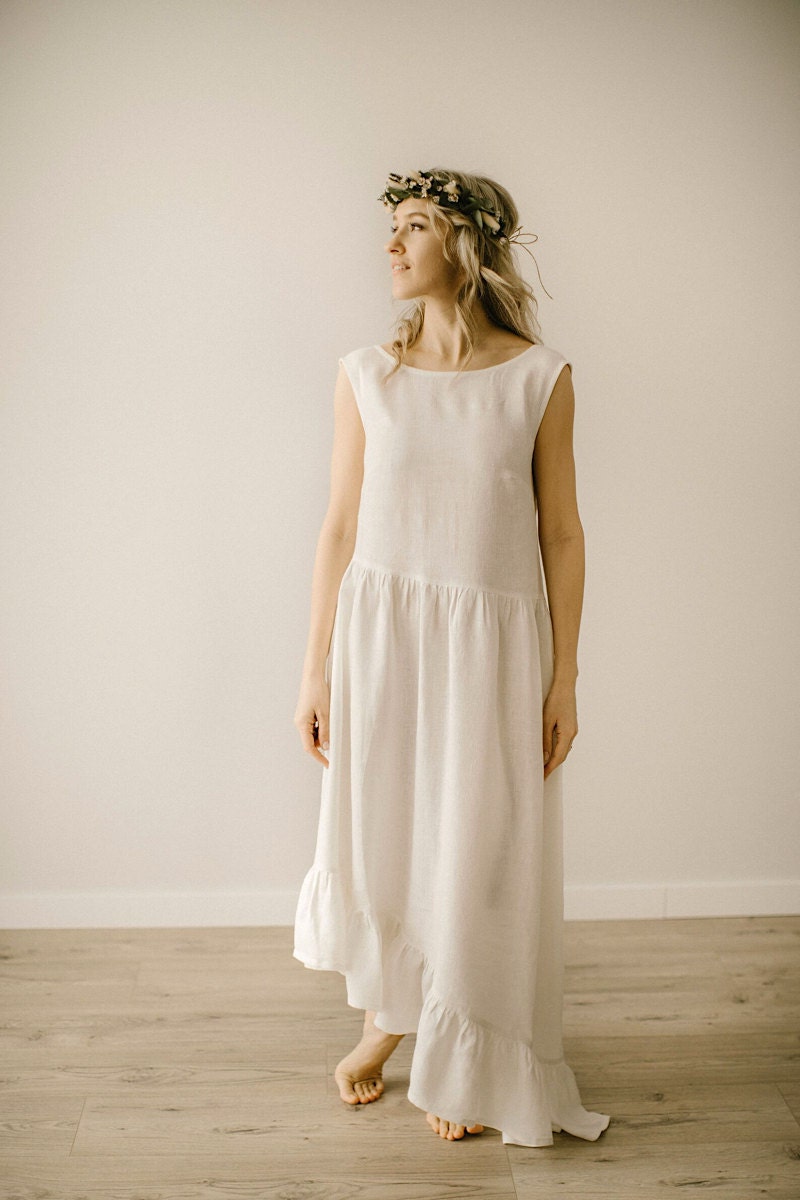 SHOP: Linen asymmetrical wedding dress from Linen Wedding Dresses, $450
Calling all nature-loving brides: This asymmetrical linen wedding dress was made just for you! With its comfortable and loose fit, flowing skirt with ruffled hem, and open back, this handcrafted beauty is the perfect option for a beach, boho, or minimal wedding. If you've always imagined yourself as an effortlessly nonchalant or perhaps barefoot bride, add this simple wedding dress to your cart immediately. As an extra perk, this dress can easily be repurposed and worn after the big day, giving you extra bang for your buck.
16. Tea-length wedding dress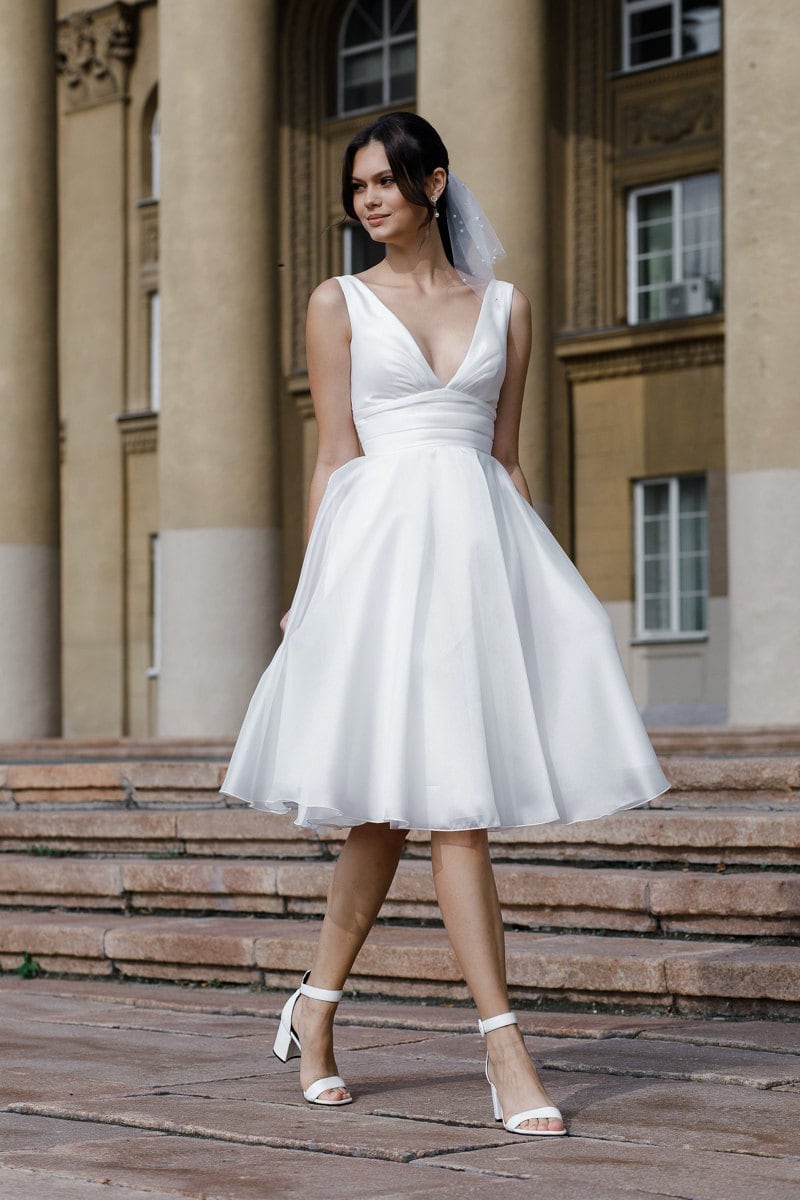 SHOP: 'Mollie' short wedding dress from Lily Marks Brand, $334
Here to prove that a short wedding dress can still be sophisticated is the tea-length "Mollie" gown. Timeless and glamorous, this alternative minimalist wedding dress features a plunge neckline with an elegantly cinched waist and a flared skirt. "Exceeded all my expectations," begins one customer review. "A beautiful high-quality dress with only minor alterations that had to be made, otherwise it fit perfectly. So happy with it."
Simple backless wedding dresses
For modern wedding dresses with a lot of wow, these stunning backless gowns are guaranteed to take the air out of the room as you walk down the aisle.
17. Unique silk gauze wedding gown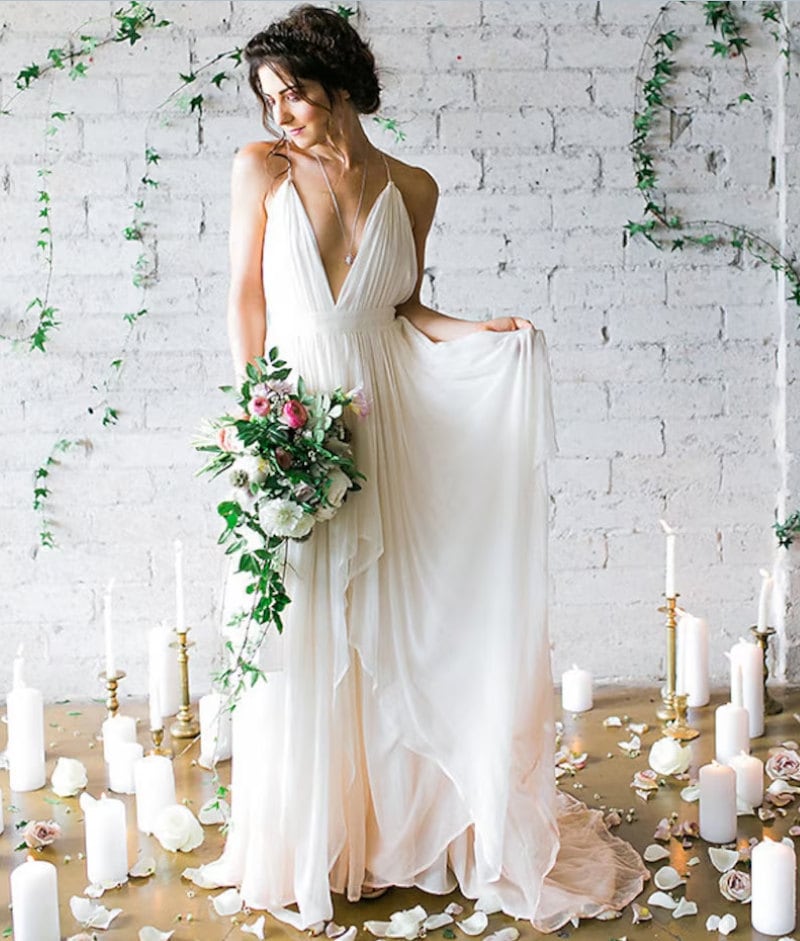 SHOP: Silk gauze ombre wedding dress from Cleo + Clementine, $3,200
Technically considered a minimalist wedding dress, this staggering beauty would not look amiss at even the fanciest shindig. This made-to-order marvel is skillfully hand-dyed and features cascading layers of silk gauze and charmeuse with asymmetrical hemlines that give it body and a whole lot of character. Its deep-plunge bodice, barely-there spaghetti straps, and backless design make it a major showstopper.
18. Crepe wedding dress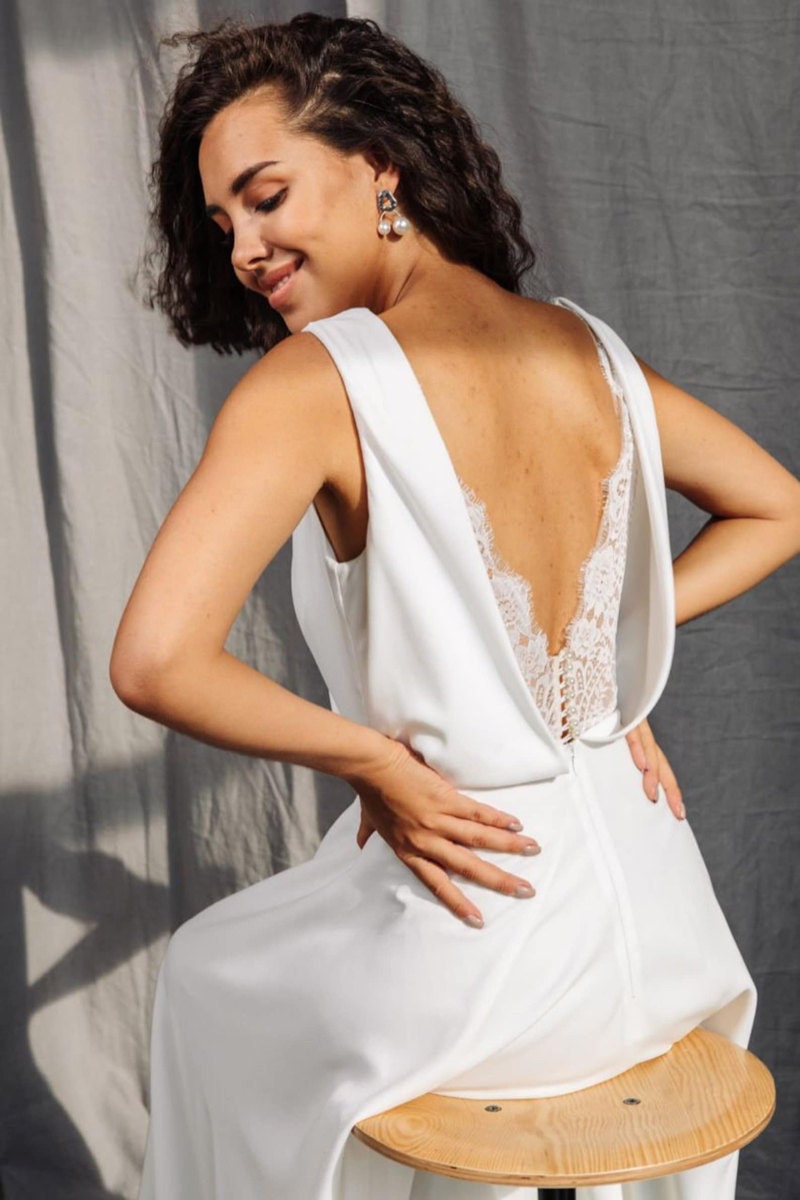 SHOP: Wrap wedding dress with open back from Lily Marks Brand, $339
Although it's unquestionably gorgeous from the front, the back of this simple wedding dress is where the magic happens, where a delicate floral lace underlay embellished with pretty pearl buttons peeks out from beneath a deep V. "It fit wonderfully," wrote one shopper who praised the seller's attention to detail and helpfulness. "I enjoyed that I could really move around well in it… The quality and workmanship is great." Another happy bride wrote, "The dress is just a dream! It fits great and looks just like it does in the photos."
19. Minimalist slip-style wedding dress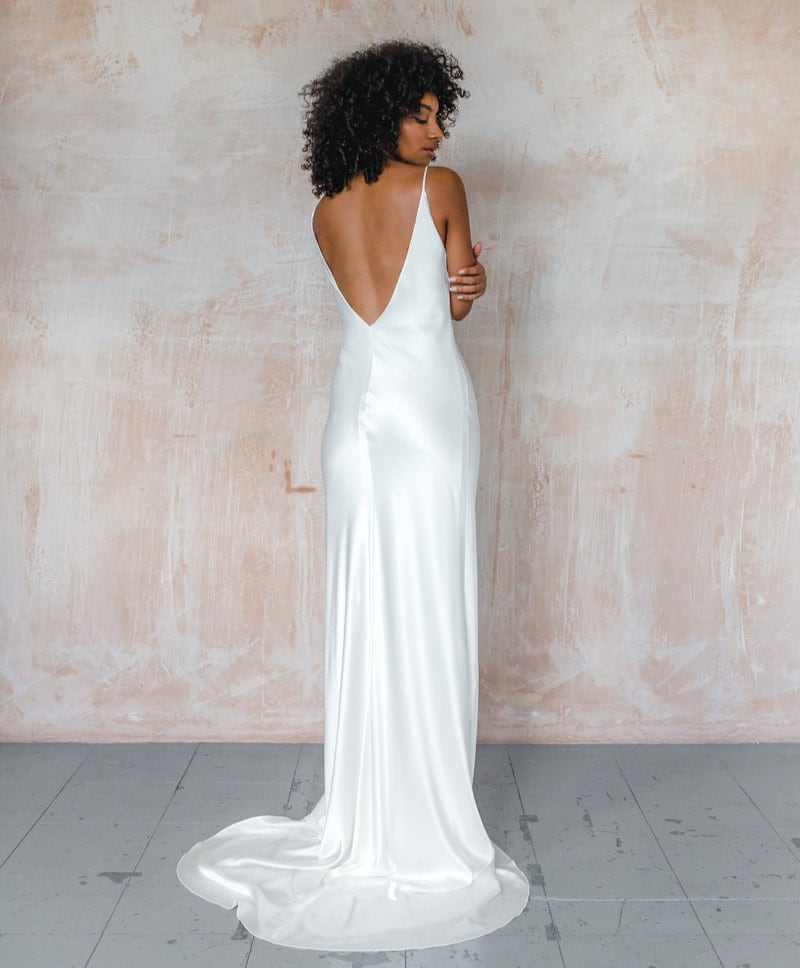 SHOP: 'Bronte' silk wedding dress from Bibiluxe, from $673
Just because you're after a minimalist wedding dress, that doesn't mean you don't want all eyes on you on your special day. Enter the 'Bronte'—a beautifully simple silky floor-length gown with an elegant train and a breathtaking open back. It's available in a choice of three delectable fabrics—pure silk, satin crepe, or viscose satin—and is designed to drape flatteringly over your figure. This versatile dress can suit any type of wedding theme, and pairs wonderfully with bridal accessories such as capes, boleros, gloves, and veils.
20. Open-back halter wedding dress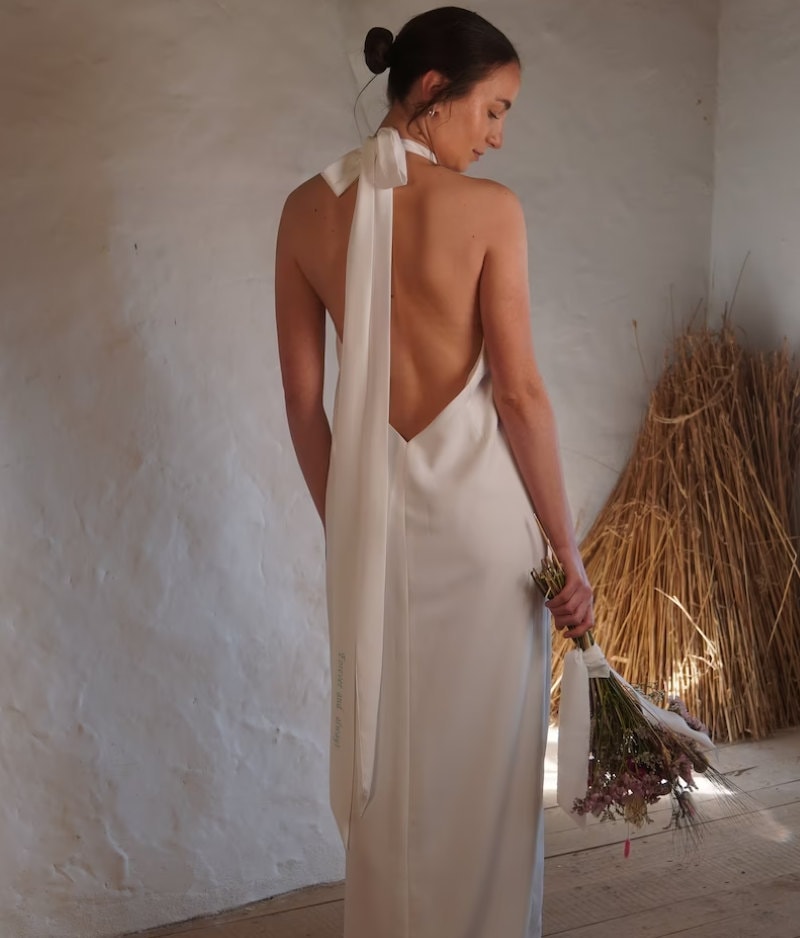 SHOP: Low, open back halter dress from The Boho Bride, from $693
If form-fitting outfits aren't your personal style, there's no reason your wedding dress shouldn't follow suit. With its light and airy design, this loose halter neck wedding dress will keep you comfortable and make you look like a million bucks. We're totally living for the halter's long straps that—once tied into a bow at the nape—hang loosely down the bare back. As an extra special touch, the seller can even embroider meaningful details—initials, names, or your wedding date—onto the neck tie. Swoon!
Is it OK to have a simple wedding dress?
Yes. Absolutely! Whether you mean "simple" as in "affordable" (you most certainly don't need to break the bank, or go into debt to have the wedding dress of your dreams) or "simple" as in "minimalist," Etsy shops offer lots of beautiful wedding dresses that are still incredibly stunning. From backless and long-sleeved minimal wedding dresses, to short and simple, classic wedding dresses, you'll find exactly what you're after here. In addition, many of these small-shop owners also offer customization so you can get your minimal wedding dress crafted to your exact liking.
How do we pick the best minimalist wedding dresses?
As Etsy Journal editors and contributors research and curate shopping guides for some of the best-loved items on Etsy, we thoughtfully consider the creativity, customization, and craftsmanship that go into each product. We also consider buyer reviews, item ratings, and customer service, and tap the expertise of our in-house merchandising and trends experts to uncover high-quality finds for every budget. You can find more information about each item in the seller's listing details and can take a look at their individual shop policies and reviews, too.
Related links
Beautiful Backyard Wedding Ideas Non-Traditional Engagement Rings: Exquisite Designs for Modern Brides The Best Bridesmaid Dresses to Say "I Do" To