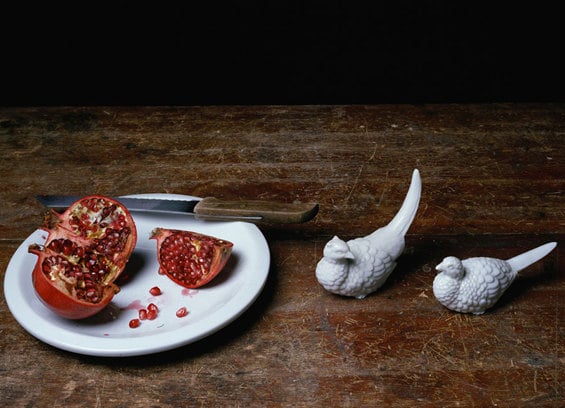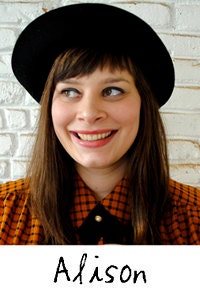 Still life's reputation has long been sullied by heavy-handed, novice renditions of lopsided bananas and static flower bouquets. However, it wasn't always as such. The medium's long and illustrious history reached its morbid zenith in 16th and 17th century Belgium and Holland, where the interplay between light and dark washed over solemn still lifes of skulls, wilting flowers and decaying fruit. (A little insight into the symbolism behind these objects: "Skulls functioned as a reminder of the certainty of death; rotten fruit symbolizes decay like aging; bubbles, smoke, watches, hourglasses and musical instruments symbolize the brevity of life.") The grim Vanitas style of painting translates to "emptiness" in Latin and was intended to evoke the "meaninglessness of earthly life and the transient nature of vanity." Needless to say, these compositions are thoughtful, if not the most optimistic. The darkness is only equal to the light.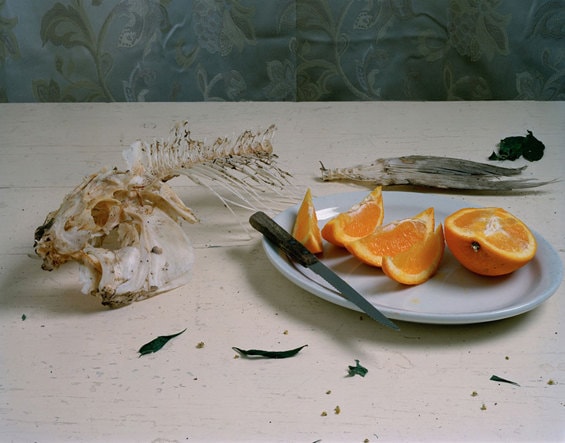 Still Life With Fish and Orange Slices
More recently, photographer Justine Reyes has brought new life to the seemingly tapped still life medium through the lens of her camera. Her painterly compositions, sumptuous lighting and unusual couplings are provocative memorials to her own history. She says:
"All of the objects are things that I've owned for a very long time and things that had belonged to my grandmother. Pairing objects that belonged to my grandmother with my own possessions speaks to the concept of memory, familial legacy, and the passage of time. Both the decomposition of the natural (rotting fruit and wilting flowers) and the breakdown of the man-made objects reference the physical body, life's impermanence, and the inevitability of death. My work examines identity, mortality, and the longing to hold on to things that are ephemeral and transitory in nature."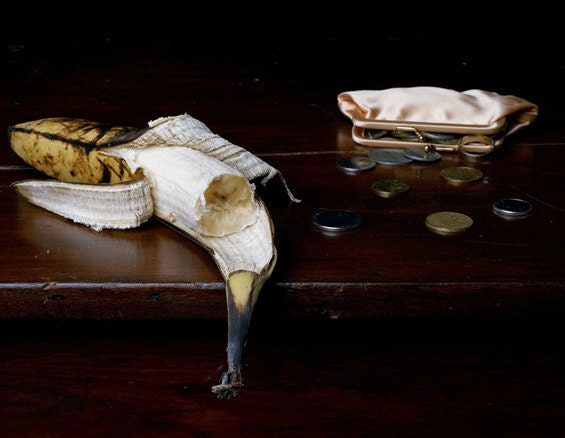 Still Life With Bananas, Purse and Change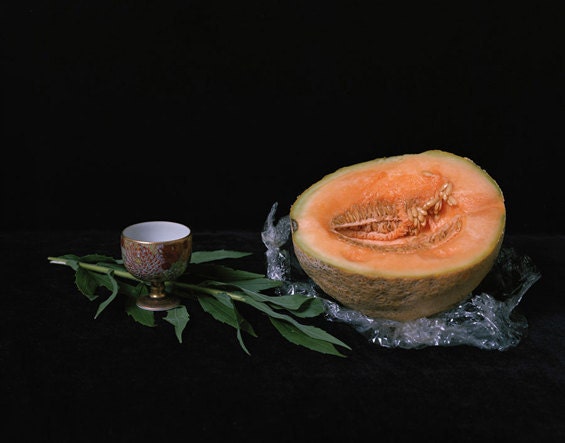 Still Life With Cup and Melon
However, Reyes is not the only one reinventing the medium in a deeply personal manner that also pays respect to art history. Etsy artists are having their own revival in the space between animate objects and mortality. Here are a few pieces reminiscent of Vanitas and Reyes's work.

Muse along with (clockwise from top left) Not So Fruity by artystew, No. 30 Light Bulb by jacksonrobinson, Three Quince in Autumn Light by ajawin, Still Life Pomegranate by HouseofSixCats, and Pomegranate and Glass by BorisG.
What's an overlooked artistic style that needs to be revived? Leave it in the comments!