Channel your earthy glow with the stunning, forest-inspired stone that's enjoying a major moment.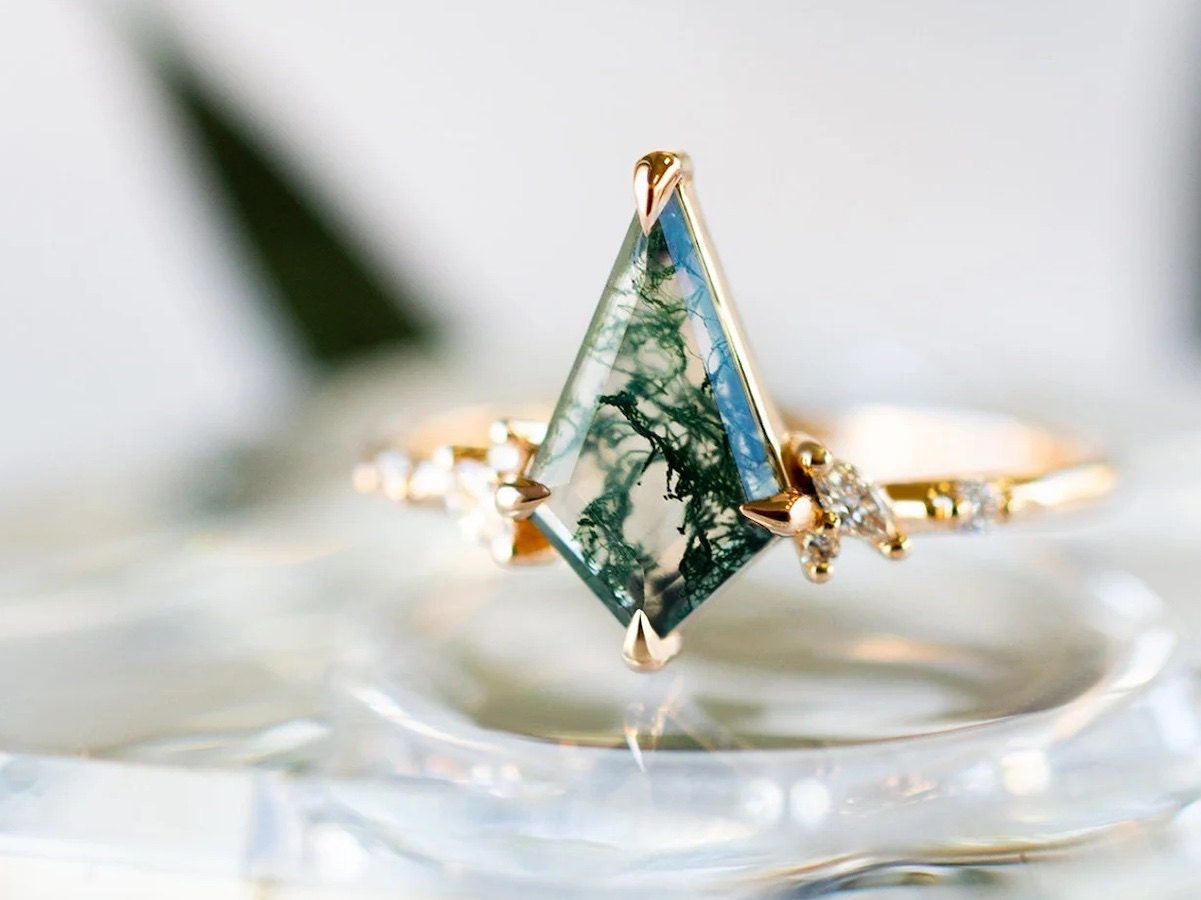 Whether you're an equal-opportunity jewelry lover with a penchant for natural gems or a card-carrying crystal collector, you've probably noticed: moss agate is the stone of the moment. Cementing its place in our hearts and jewelry boxes, this increasingly sought-after sparkler is composed of a milky quartz flecked with mesmerizing emerald wisps that resemble carpets of moss and fern fronds along the forest floor. With its beautiful earthy vibe, moss agate is as elegant as it is evocative, making it an excellent choice for outdoorsy folks with an ever-growing lineup of house plants, as well as those who just want to add a touch of greenery to their wardrobe.
Moss agate may be enjoying a present-day popularity boost, but the stunning semi-precious stone has been turning heads for centuries. Believing that it would bring a bountiful harvest, Victorian European farmers hung moss agate on the horns of their cattle and tree branches as a good luck talisman, and in other cultures, moss agate has been traditionally associated with emotional tranquility, new beginnings, and abundance. Sold? Us too—and we've taken the liberty of rounding up a few of our favorite pieces. From gorgeous green gemmed necklaces to radiant rings, read on to discover moss agate jewelry designed to dazzle.
Moss agate necklaces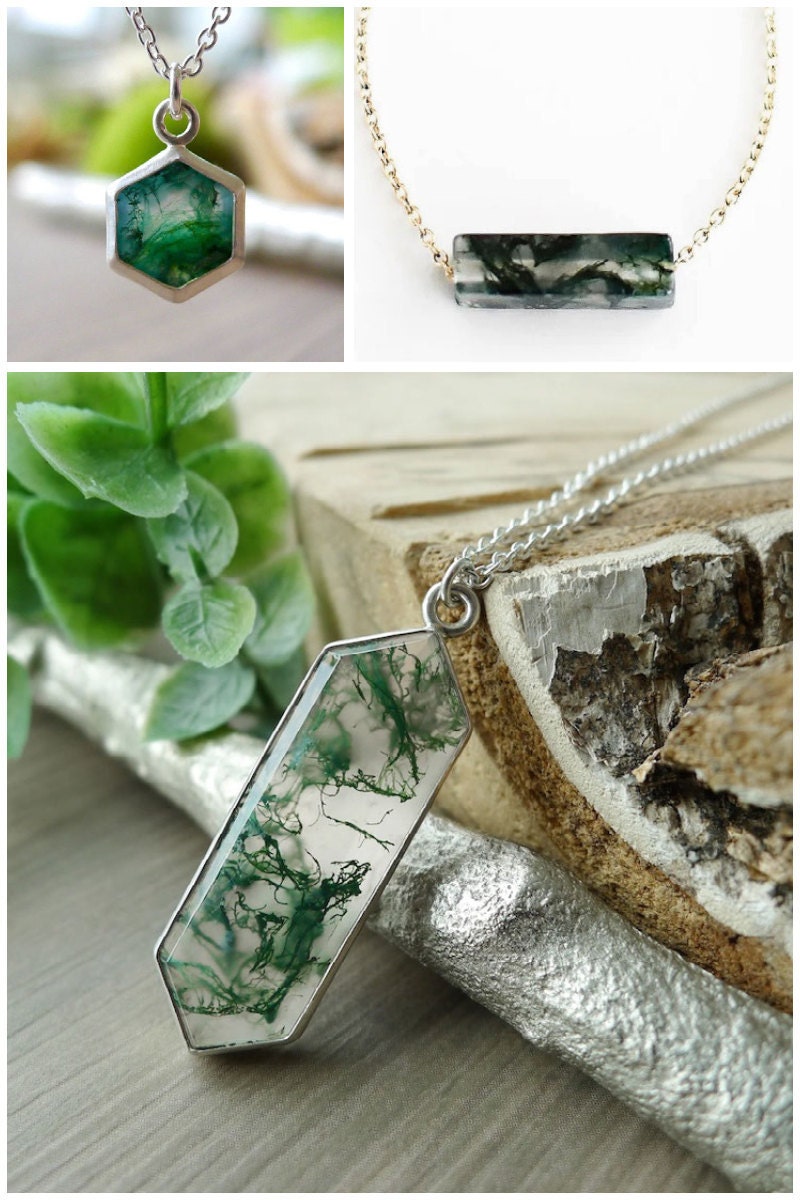 SHOP: Sterling silver necklace with hexagon moss agate pendant from Silver Moose Arts, $52; moss agate gemstone bar necklace from SWSS, from $40; steep-cut moss agate necklace from Silver Moose Arts, $73
These simple pendant necklaces show off the vast array of colors and textures moss agate has to offer, and they're ready to be worn on repeat. Layer with topaz, tiger's eye, or ruby to hone that jewel-toned glow, or go full forest-fantasy with an emerald crushed velvet dress and a set of leafy earrings.
Moss agate earrings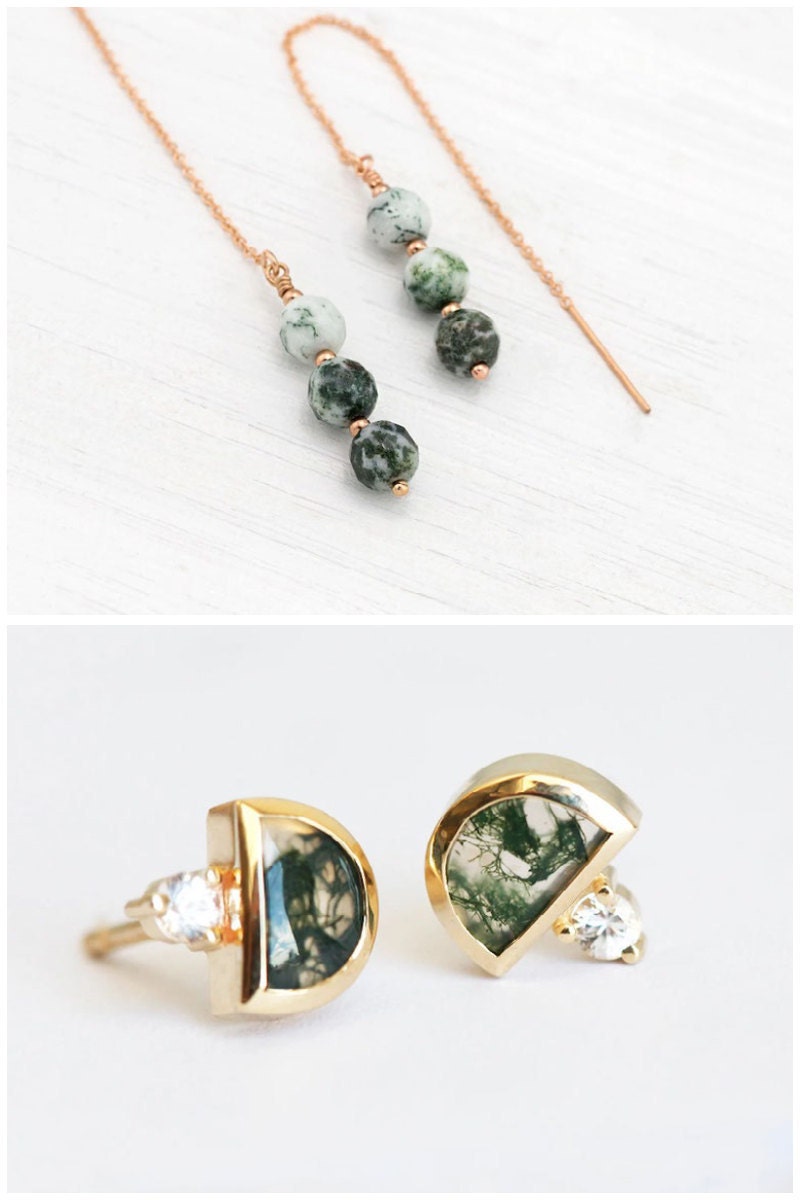 SHOP: Dainty moss agate drop earrings from Delezhen, $52; moss agate studs from MinimalVS, $700
Whether you're a dangle earring darling or strictly wear studs, these super-special moss agate earrings work equally well as the finishing touch for an upscale cocktail party ensemble, or paired with jeans and a tee as you dash to the café for your morning cup. If you're lucky enough to have multiple piercings in your lovely lobes, curate a maximalist masterpiece by adding in huggies and ear cuffs for an ear party that's sure to stand out.
Moss agate rings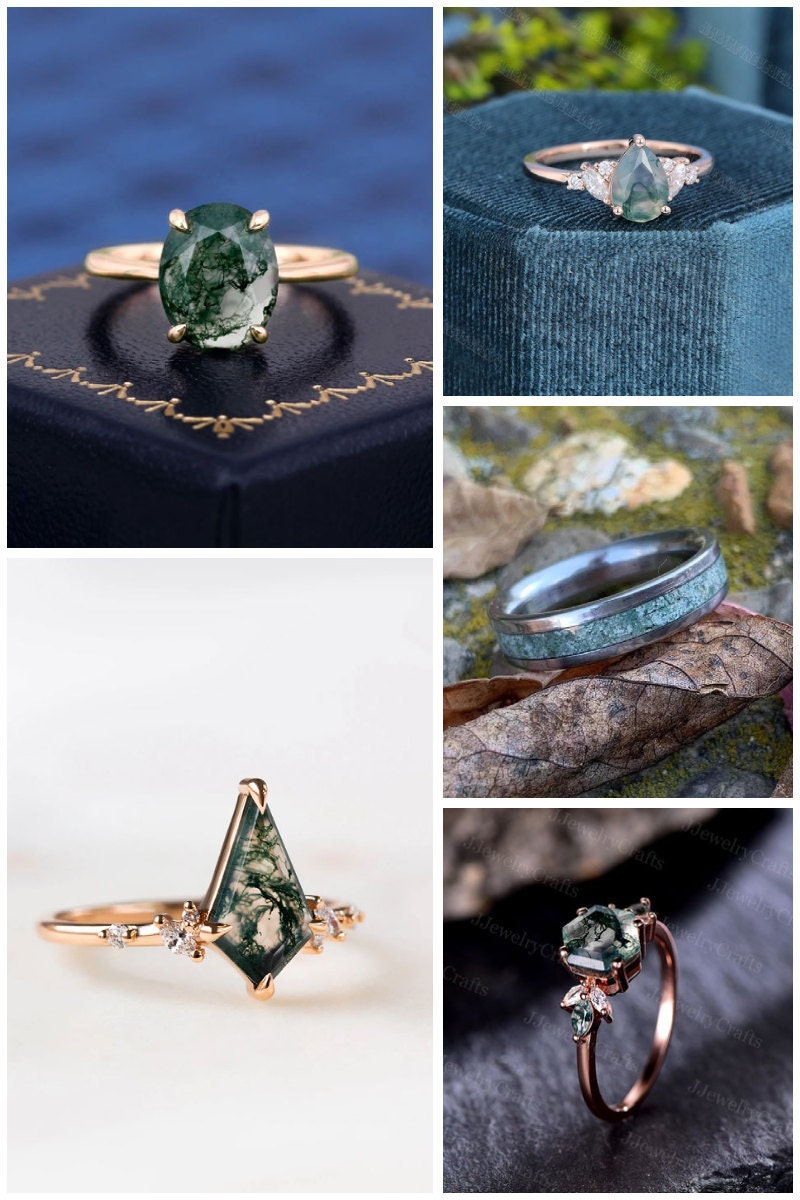 SHOP(clockwise from top left): Oval-cut solitaire moss agate ring from Stuart Treesr, from $135; pear-shaped moss agate engagement ring from Mele Jewelry US, from $519; moss agate wedding band from Rob and Lean, $180; rose gold hexagon moss agate ring from J Jewelry Crafts, from $139; kite moss agate engagement ring from Hiddenspace Jewelry, from $1,900
Moss agate may look dainty and delicate, but don't be fooled—this stone is tough. Formed largely from weathered volcanic rocks, moss agate ranks at about a seven on the Mohs hardness scale, so it can stand up to daily wear—and would even make a brilliant nontraditional engagement ring! These rings hold their own as the stars of the show, but also pair beautifully stacked with other gemstones like moonstone, amethyst, and carnelian.
Plus, our other favorite woodland-inspired trend: enchanted forest decor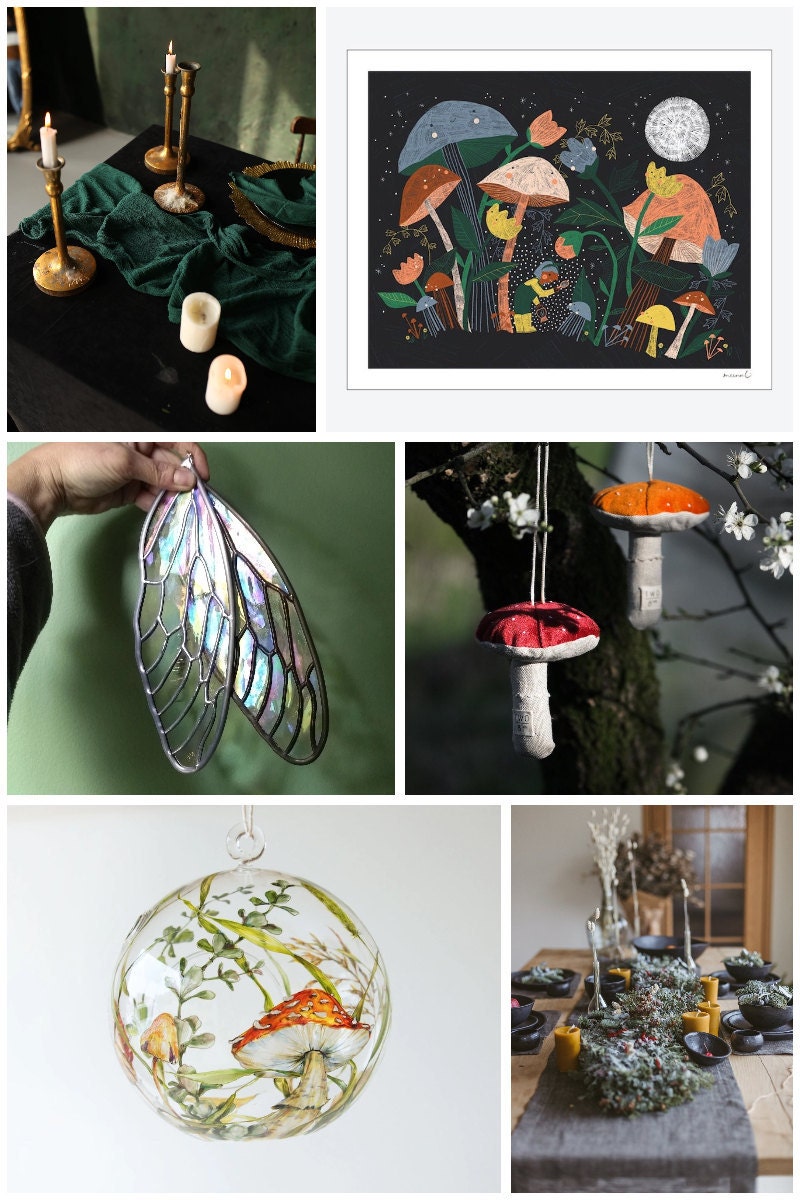 SHOP (clockwise from top left): Emerald green gauze table runner from Lovely Heart Things, from $11; smiling mushroom canopy print from Meenal Patel Studio, from $32; velvet toadstool decorations from two 8ths, $20 for a set of two; speckled dinnerware set for four from Mr. Bowl Ceramics, $564; hand painted forest glass globe from Yevgenia Davidoff, $275; iridescent stained glass insect wing sun catcher from Living Glass Art, from $55
Now that you're rocking earthy elements in your jewelry game, why not add a few to your home? Combine rich, nature-inspired tones like emerald green and midnight blue with shimmery touches inspired by the iridescent wings of luna moths and beetles to turn your space into a festive fairytale forest that's sure to keep you grounded year-round.