Express your heartfelt thanks to Mom on your special day with these sweet and sentimental wedding gifts for the mother of the bride.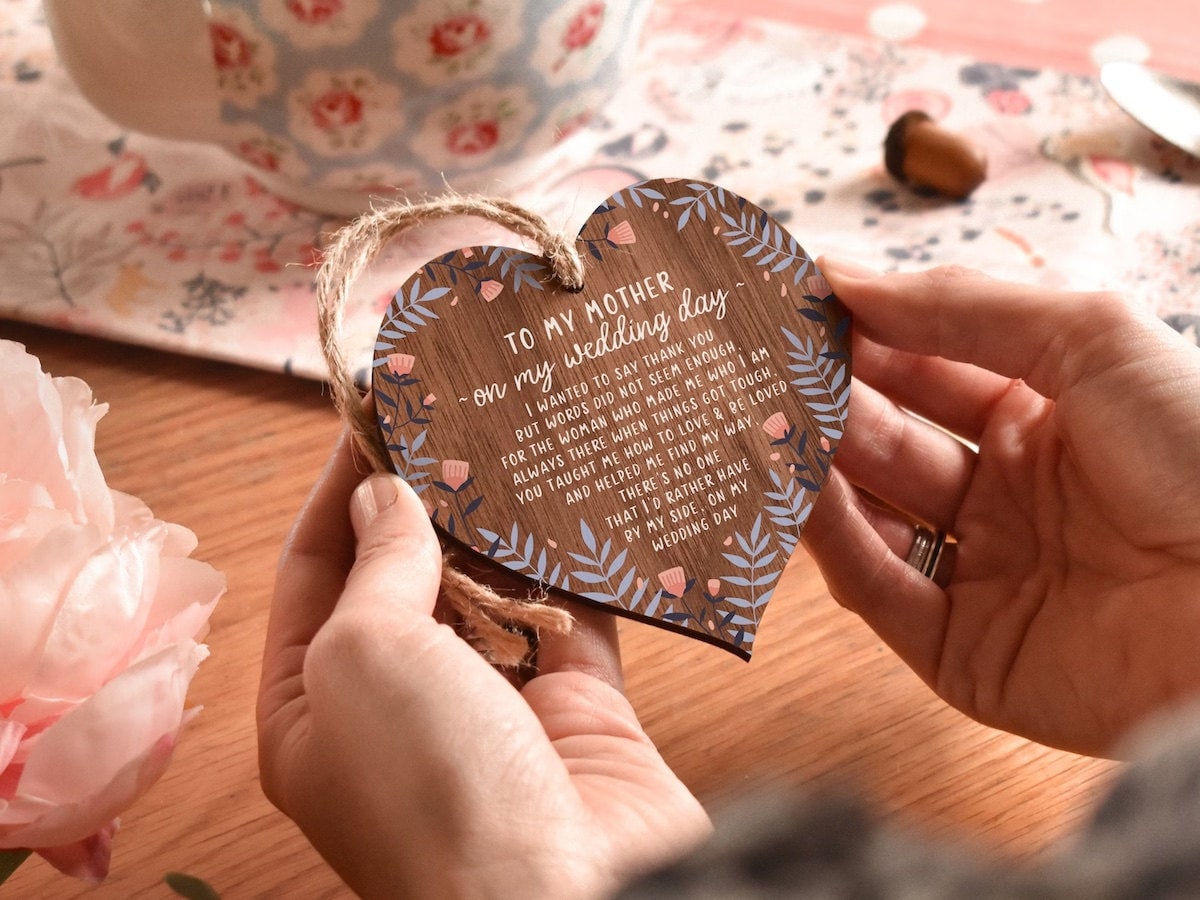 It may be the loving couple's big day, but the event will also be a major moment for the mother of the bride. Watching her little girl get married will certainly be pulling at her tender heartstrings, so it's only fitting that this wonderful woman be gifted with something special and memorable to commemorate her daughter's wedding.
You'll likely have a long pre-wedding to-do list, including finding the best bridesmaid's gifts, dresses, invitations, and sorting out your registry, so we've put together this helpful list of the very best mother of the bride gifts to help you check one thing off your to-dos. These wonderful presents include personalized gifts, keepsakes, and jewelry items that the main gal's mom will love and cherish forever.
1. Embroidered handkerchief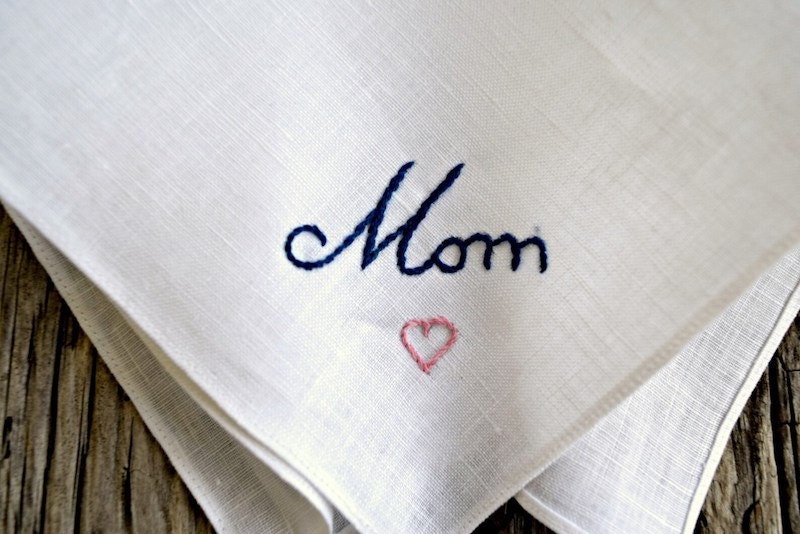 SHOP: Personalized wedding handkerchief from Broiderie Stitch, $28
If you're trying to avoid welling up, it might be best to skip this surefire tear-jerker. This delicate handkerchief can be adorned with "Mom" and a heart, but the seller welcomes custom requests, too, if you've got a special nickname for Mom or another heartfelt message to include.
2. Hand-stamped mother of the bride keychain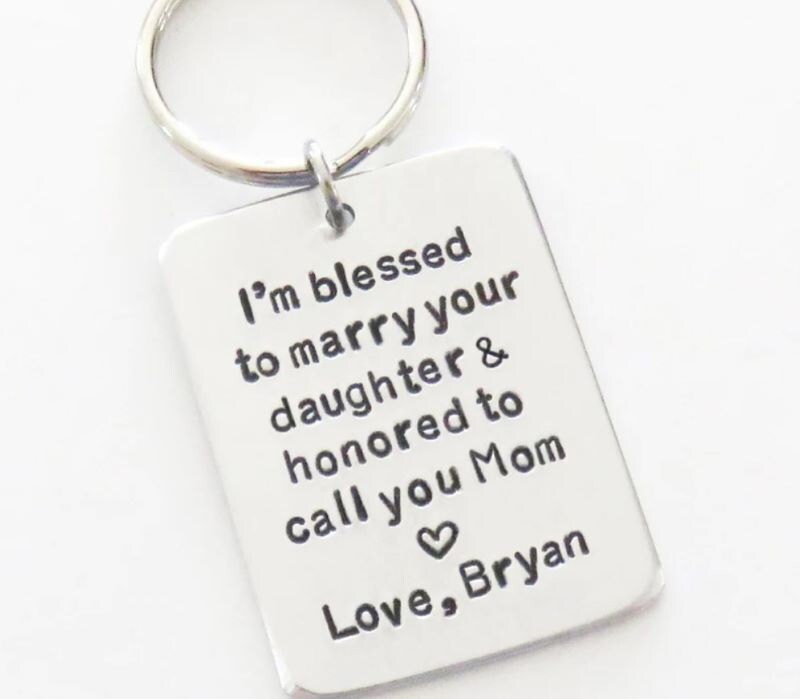 SHOP: Mother of the bride gift from groom from Belvidesigns, $36
The groom will undoubtedly also want to thank the mother of his bride for raising such a treasure (that's you!), and this keychain which features a sentimental message is something the bride's mother can always carry with her. "It's so sweet," wrote a happy customer. "I can't wait until we give it to my mom! She's going to love it! Not to mention, it's practical."
3. Floral monogram clutch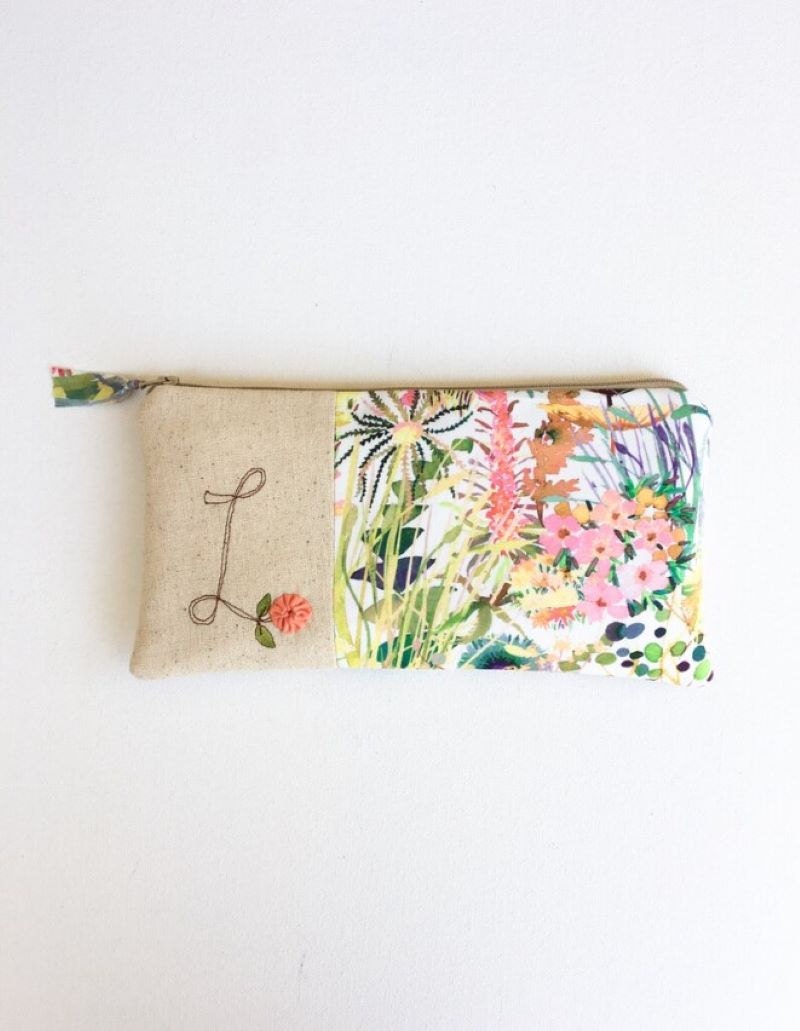 SHOP: Personalized floral initial purse from Mama Bleu, $49
This beautiful floral monogrammed clutch is a convenient and useful gift for the mother of the bride, and can be utilized on the big day, as well as on many other future occasions. The purse is made from premium linen and a printed cotton fabric, with a coordinating fabric lining the inside. The embroidered flower is made from free-motion hand-stitching, and the monogram is the seller's own personal handwriting, as opposed to a computer-generated font, which makes this item even more unique and special.
4. Heart-shaped keepsake box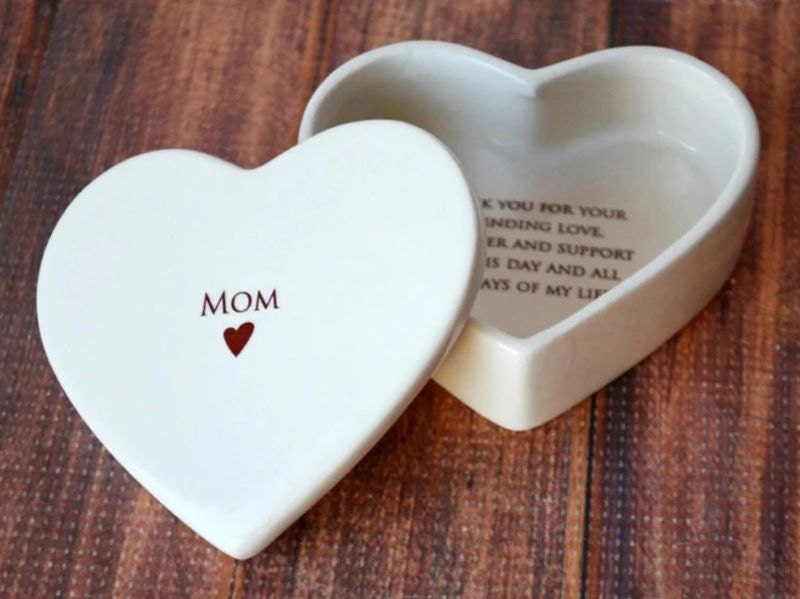 SHOP: Heart box for mums from Susabellas, $55
Sure to find a permanent and loving home on your mother's bedside cabinet or vanity, this pretty and useful keepsake box hides a special, personalized message on the inside, that your mom can read whenever she wants to remember your big day. "Absolutely amazing," one customer wrote. "Fast shipping, excellent communication. I was able to personalize the keepsake box to exactly how I wanted it and I couldn't be happier. Such a meaningful gift."
5. Mother of the bride tote bag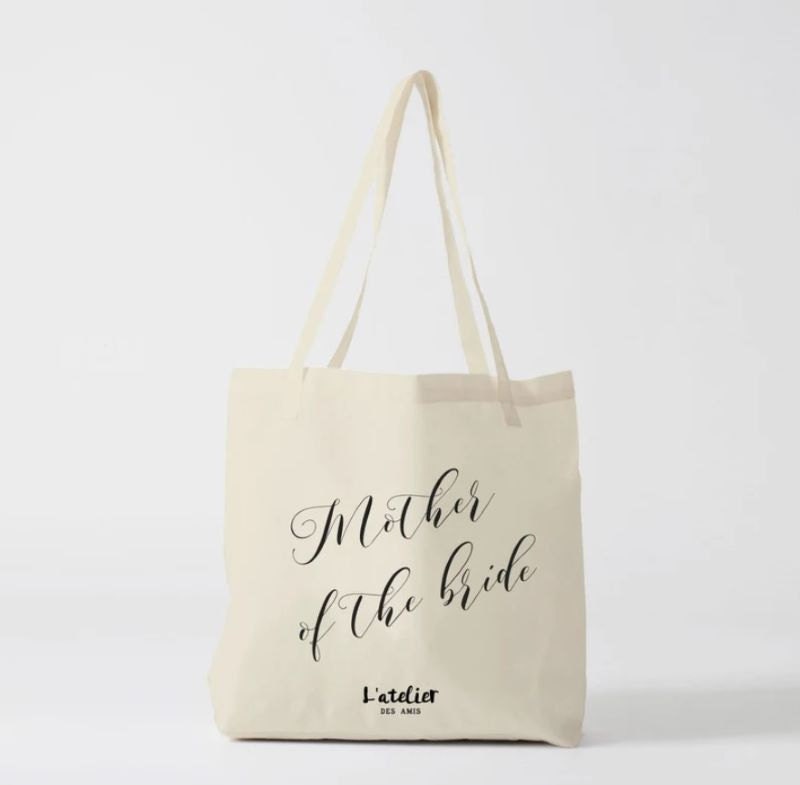 SHOP: Canvas tote bag for mother of the bride from L'Atelier Des Amis, $14
For a cute and fun mother of the bride gift option, this 100% unbleached cotton tote is adorable and practical, and is sure to get plenty of use. Made in Reims, France, the bag is made from chlorine-free material with non-toxic ink, and can be further personalized for your big day.
6. Mother of the bride candle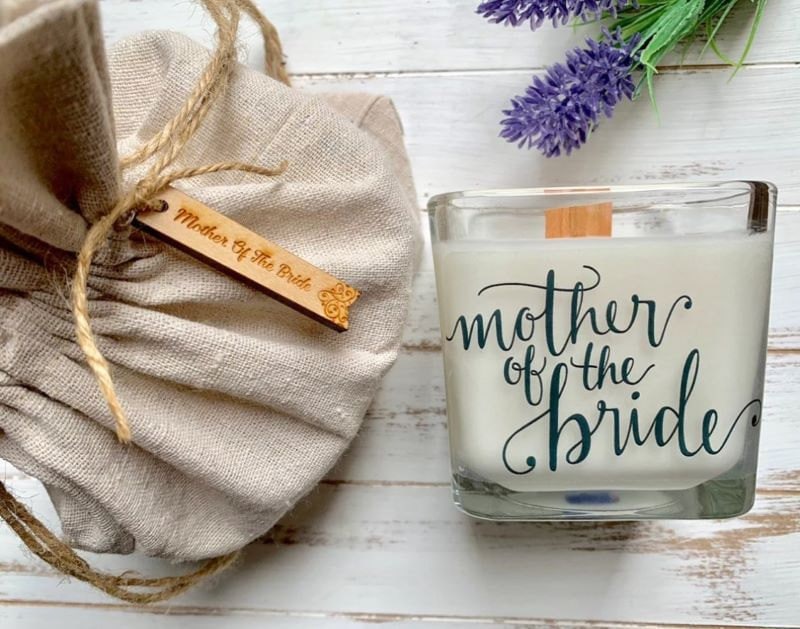 SHOP: Personalized candle from The Shabby Wick, from $30
This soy wax candle comes in a thick and sturdy glass jar and, according to customers, "smells wonderful." It comes packaged in an attractive linen gift bag with a wooden tag, and the seller offers options for personalization. "This is a beautiful candle with a nice fragrance," wrote one buyer. "The glass and candle are high quality. The inscription is perfect with the seller's professional layout of the message. Exceeded expectations!"
7. Personalized ring dish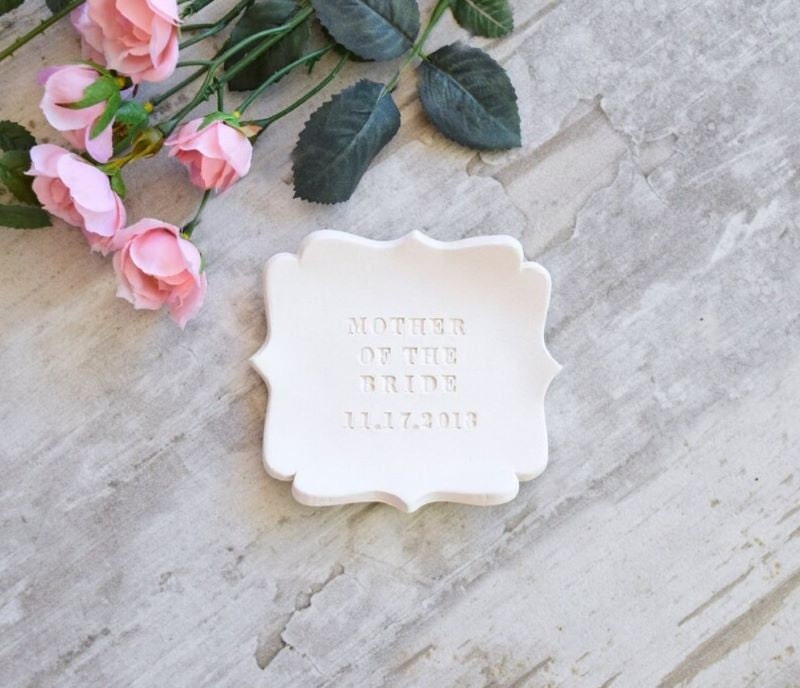 SHOP: Personalized pottery for mother-in-laws from Prima Pottery, from $35
This exquisitely crafted handmade ceramic ring dish is available in both mother of the bride and mother of the groom varieties, with the option to add your wedding date, too. The dish is a petit four-by-four inches in size, and can either have a golden clear gloss, white gloss, or golden clear matte finish.
8. Ombre pink mother of the bride pouch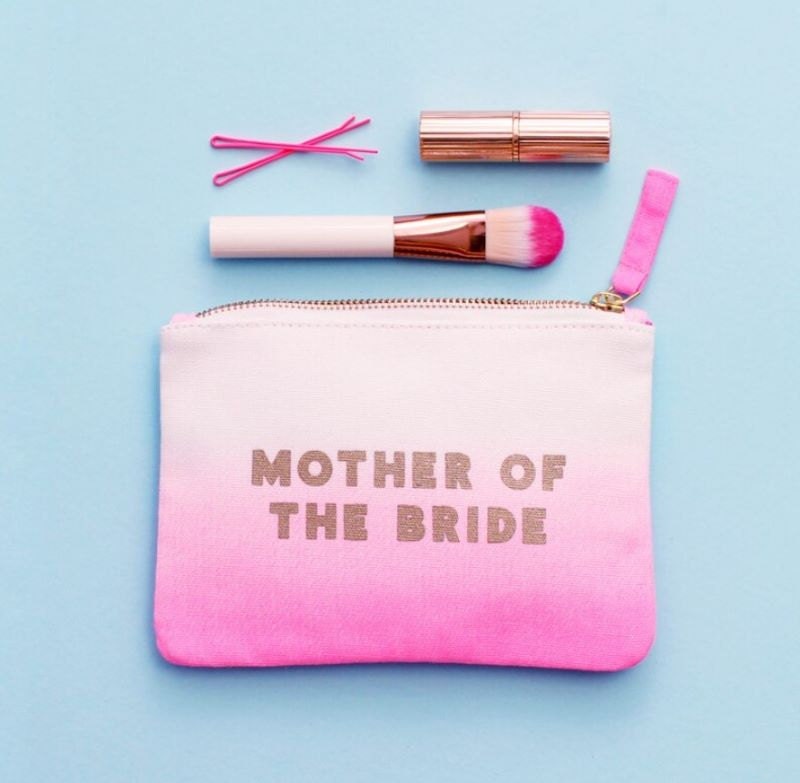 SHOP: Mother of the bride makeup bag from Alphabet Bags, $7
Cute and affordable, this canvas mother of the bride makeup bag with zipper provides a fun pop of color to brighten up your mom's day. "I love these bags," wrote a happy buyer. "I bought them for the whole bridal party including mothers. Just perfect for putting little bits in."
9. Personalized mother and daughter wedding portrait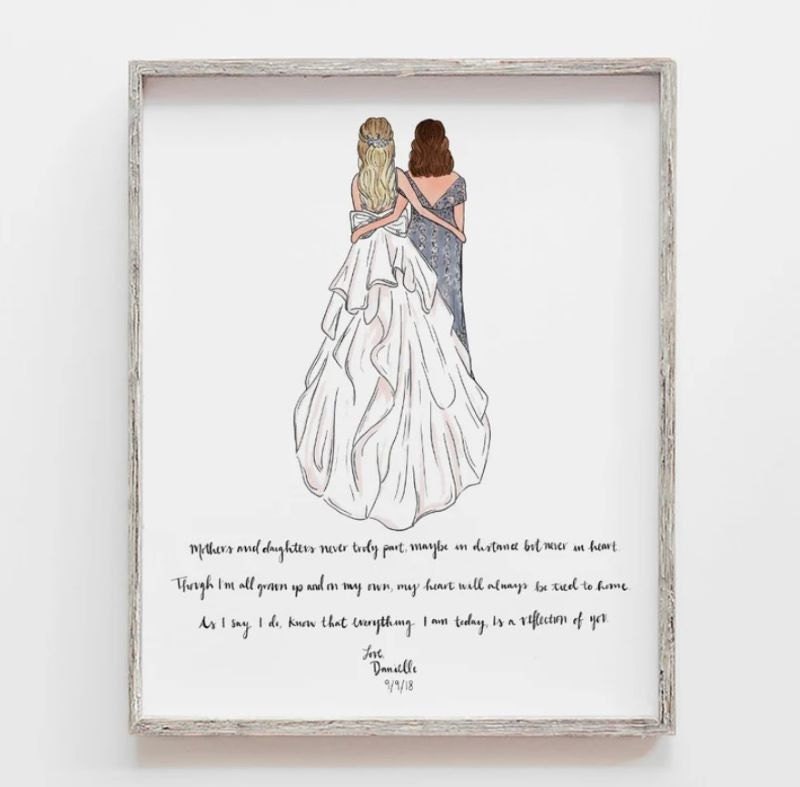 SHOP: Custom mother and daughter on wedding day drawing from JesMarried, from $119
You'd better have the tissues at the ready when you present your mom with this personalized mother of the bride piece of artwork, and you can opt to add a special message at the bottom to further ramp up the sentimentality. One happy bride wrote, "This is such a special gift… I was so excited to have this made for my mom since she'd been invaluable to me throughout the wedding-planning process and just because we are so close… Gifting my Mom this before the wedding made for some priceless pictures and video!"
10. Wedding day card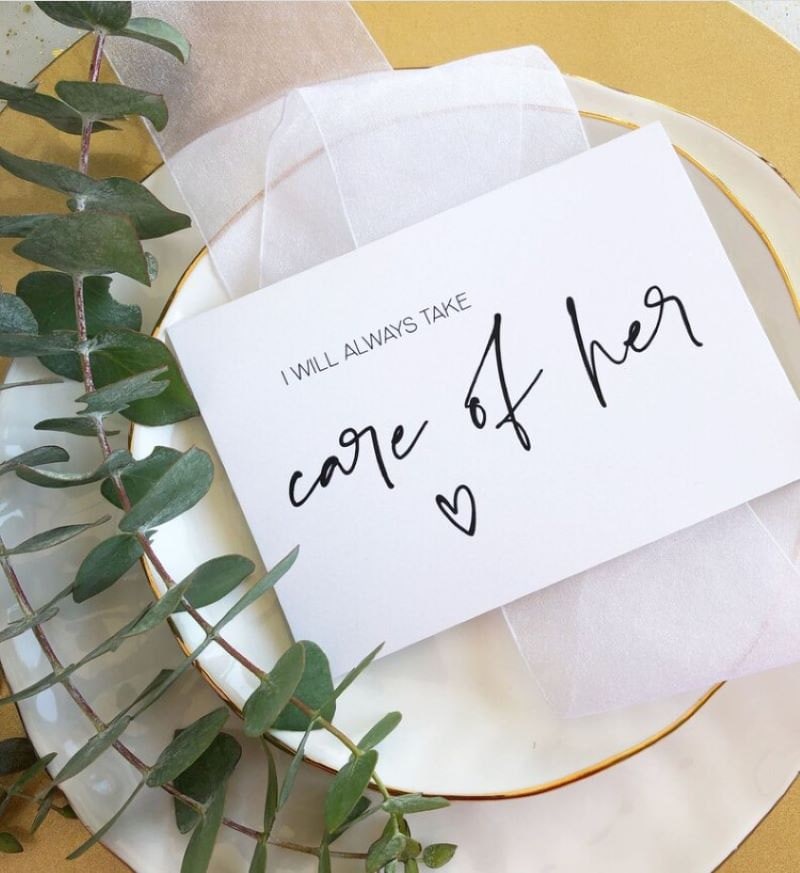 SHOP: 'I will always take care of her' card from Coco Press Designs, $5
These charming cards made to be given by the groom to his in-laws are handcrafted in sunny Perth, Australia, but despite being so far away, many customers praise the speedy international shipping. The seller offers a choice of seven envelope colors, and one happy customer wrote, "The paper is very nice quality and suitable for different types of pens. No bleeding. The text and exterior of this card is beautiful and just as described."
11. Wooden heart keepsake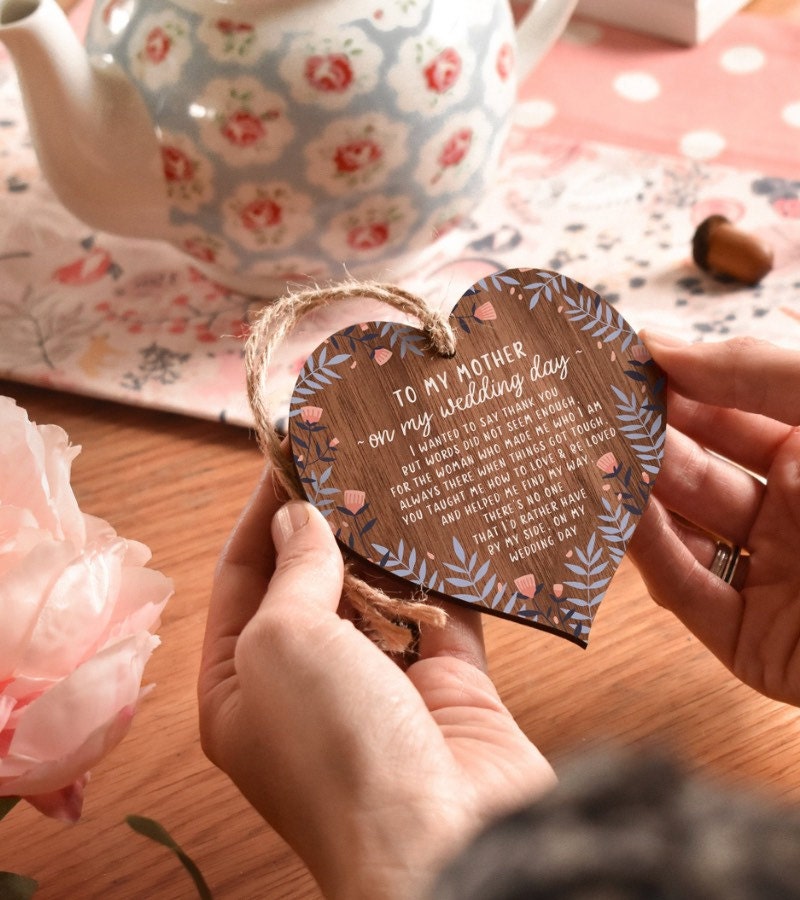 SHOP: Hanging heart shape keepsake from Manta Makes, $9
Inscribed with a meaningful message of love and appreciation dedicated to your mom, these handmade heart-shaped keepsakes make for lovely wall hangings or display pieces for anyone who loves the rustic or traditional style. With over 950 customer reviews, this affordable walnut wood gift is a much-loved item and a guaranteed hit.
12. Handmade pearl wedding necklace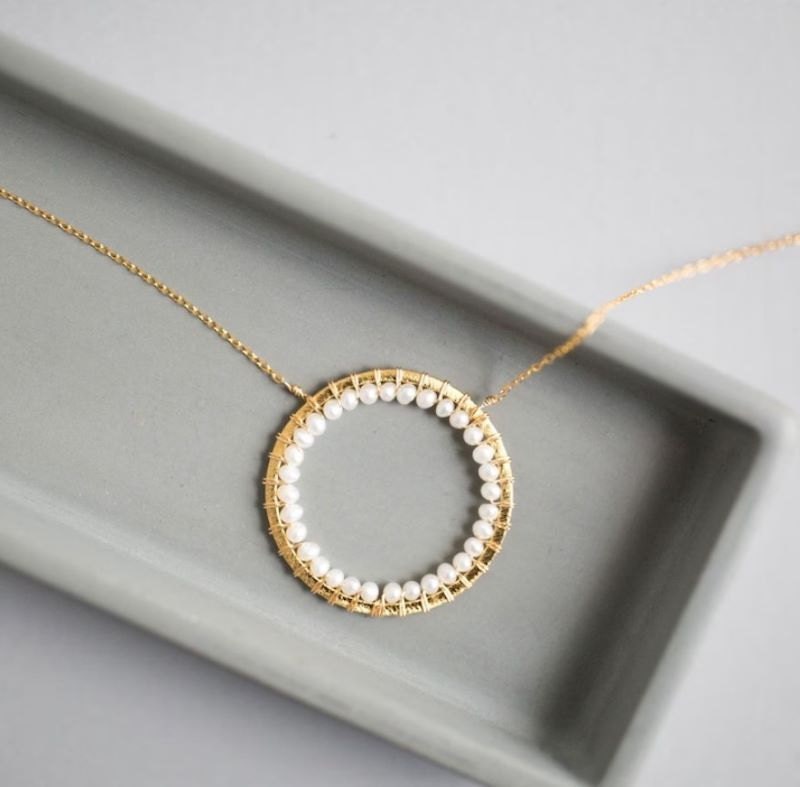 SHOP: Handmade necklace with freshwater pearls from Parken Jewelry, $70
You might want to gift this freshwater pearl pendant necklace to your mother on the morning of the big day, because as soon as she sets eyes on it, she'll want to put it on immediately. Thankfully, this sophisticated 14K gold plated, .925 Italian silver number makes an elegant addition to any mother of the bride dress.
13. Nordic hand-picked tea blend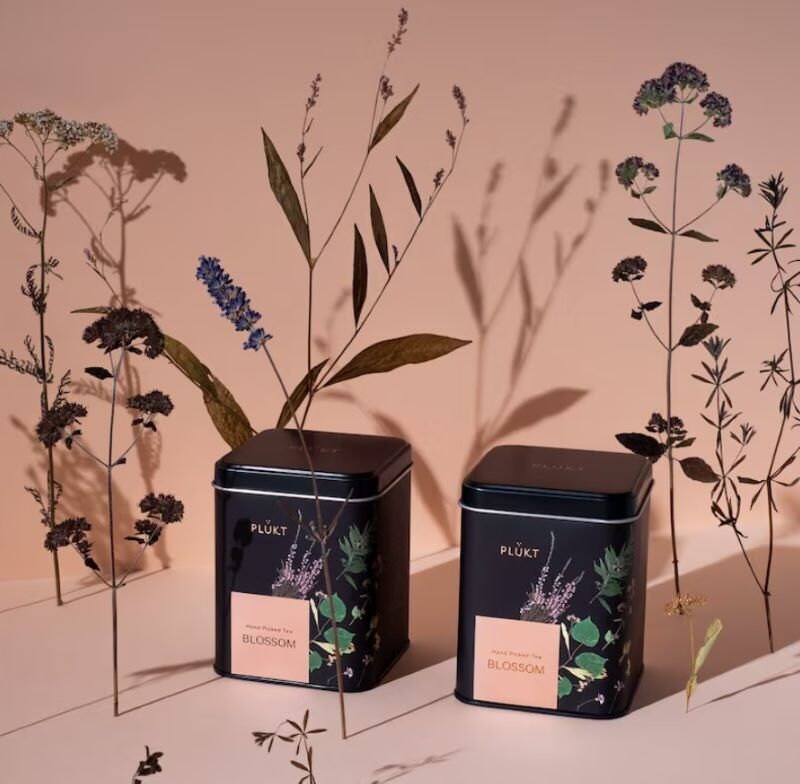 SHOP: BLOSSOM tea from Plukt Tea, $15
If your mother is a tea lover, she'll be absolutely thrilled to receive this gorgeous tin box filled with a floral tea blend in either loose leaf or biodegradable pyramid tea bags. This energy-boosting tea has a light and sweet taste, with aromas of calendula, echinacea, peppermint, and fireweed, and the container it comes in is a keeper. One customer described, "Lovely tea in beautiful packaging. It made an excellent gift!"
14. Custom mother of the bride mug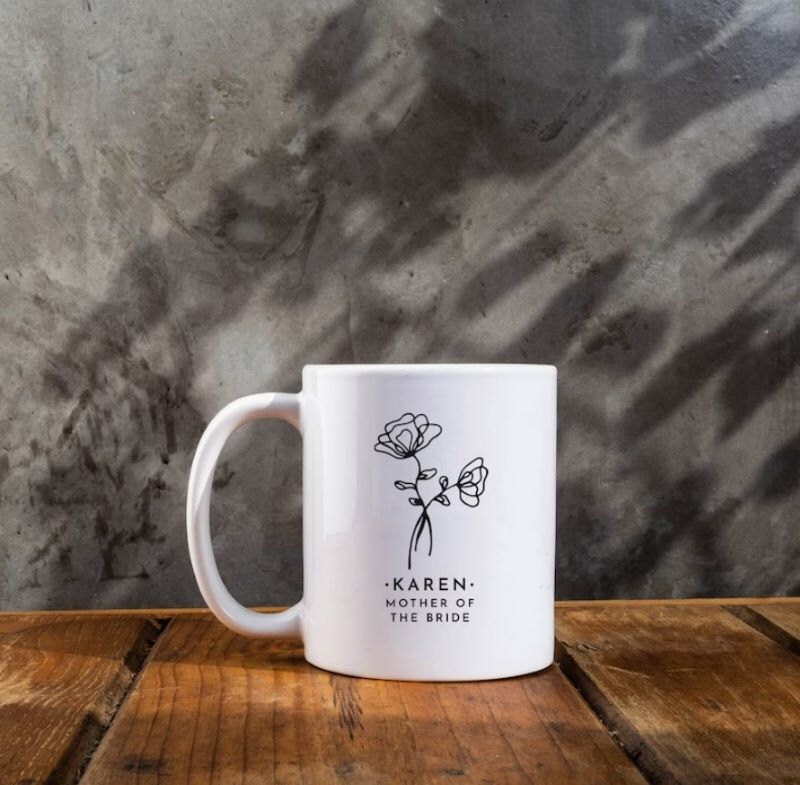 SHOP: Ceramic mug for mother of the bride from Aluna Design Co, from $29
A personalized mug for the mother of the bride is one of those much-utilized gifts that keep on giving. Available in four different mug designs, including a glass mug and a black-rimmed camp mug, users describe them as "fabulous quality," "absolutely beautiful," and "lightweight." One buyer wrote, "They exceeded my expectations. Definitely my new favorite mug!"
15. Glam mother of the bride earrings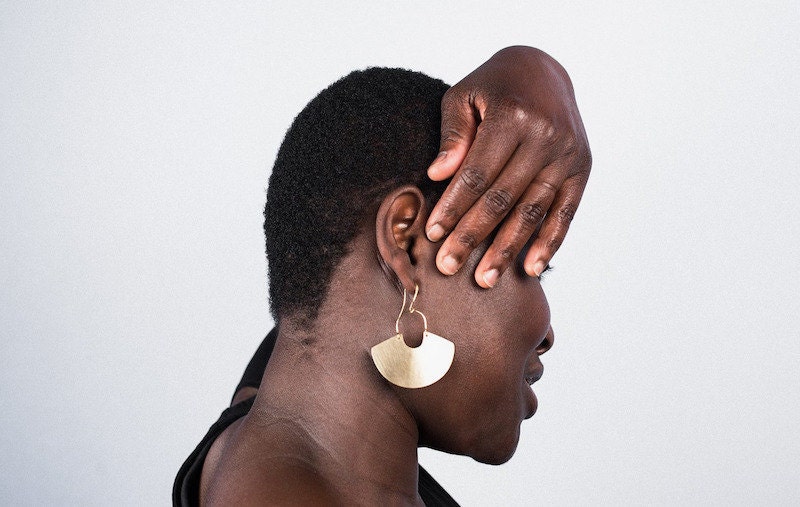 SHOP: Goddess shield earrings from Enarmoured, $120
Mom's likely planning a special look for the big day, too, and these stunning-yet-simple brass half-circle earrings will help her pull her outfit together. Just big enough to make a statement without stealing the spotlight, these earrings are praised for their lightweight construction in buyer reviews.
16. Acorn locket necklace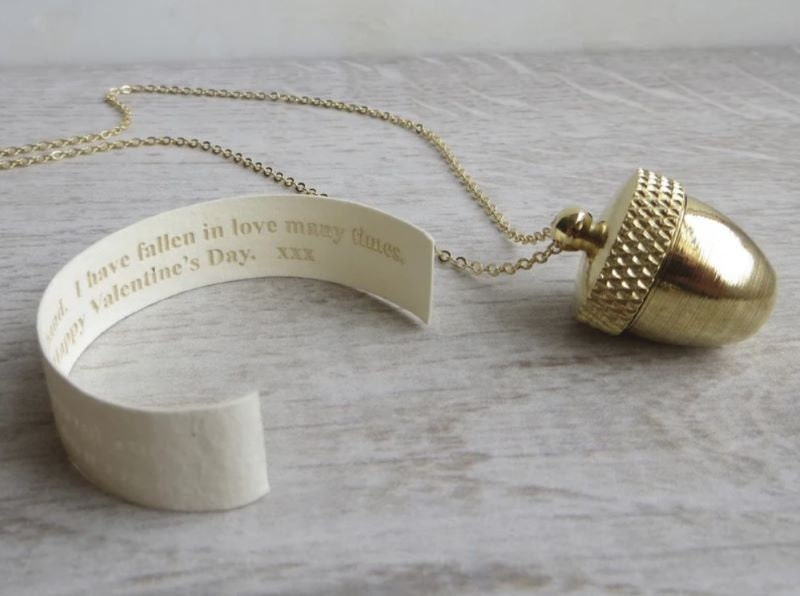 SHOP: Secret message acorn locket necklace from Gracie Collins, $58
A twist on the classic and much-loved locket necklace, this 14K gold filled acorn pendant is personalized by hand in a small shop in the town of Lewes, UK, and can house a thoughtful personal message from you to your mom. You can also add your own mini trinkets, like a small photograph, for instance, as the locket seals securely and is water tight.
17. Mother and daughter necklace set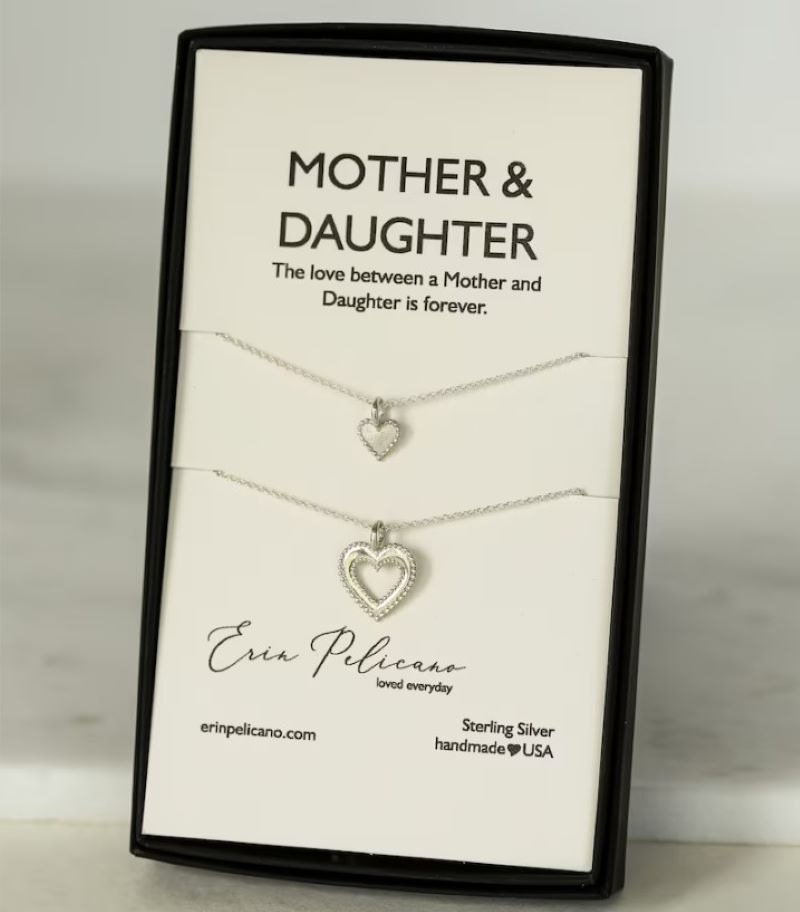 SHOP: Mother and daughter jewelry set from Erin Pelicano, from $295
Two lovely sterling silver necklaces come in this set—one for you, and one for your mother—that comes lovingly packaged with a moving message. The seller offers personalization, and one customer wrote, "Absolutely beautiful. I bought this for my mom for her birthday, and had both our birthstones put on it and our initials engraved on her part. I LOVE it… Great quality. Would highly recommend this gorgeous keepsake jewelry set!"
18. Embroidery floral heart patch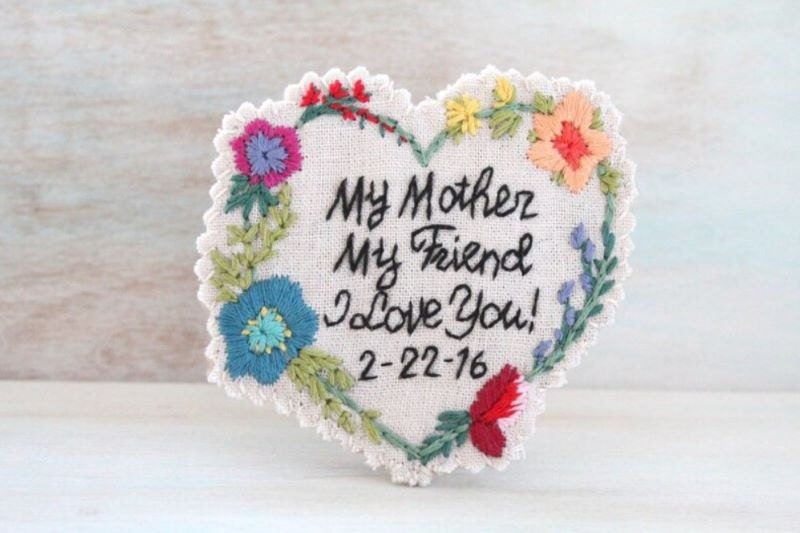 SHOP: Hand stitched embroidery heart patch from Sew Happy Girls, $110
What a wonderful way to show your mom just how much you love and appreciate her. Hand-stitched in North Carolina, this embroidered patch can be fully customized to your liking, and makes a tender keepsake your mother will adore. One bride-to-be wrote, "This patch is a beautiful piece of art that I cannot wait to give my mother on my wedding day."
How do we pick the best mother of the bride gifts?
As Etsy Journal editors and contributors research and curate shopping guides for some of the best-loved items on Etsy, we thoughtfully consider the creativity, customization, and craftsmanship that go into each product. We also consider buyer reviews, item ratings, and customer service, and tap the expertise of our in-house merchandising and trends experts to uncover high-quality finds for every budget. You can find more information about each item in the seller's listing details and can take a look at their individual shop policies and reviews, too.