Remind Nana just how wonderful she is with these Grandma Mother's Day gifts, made especially to recognize her unique role as grandma, mom, and friend.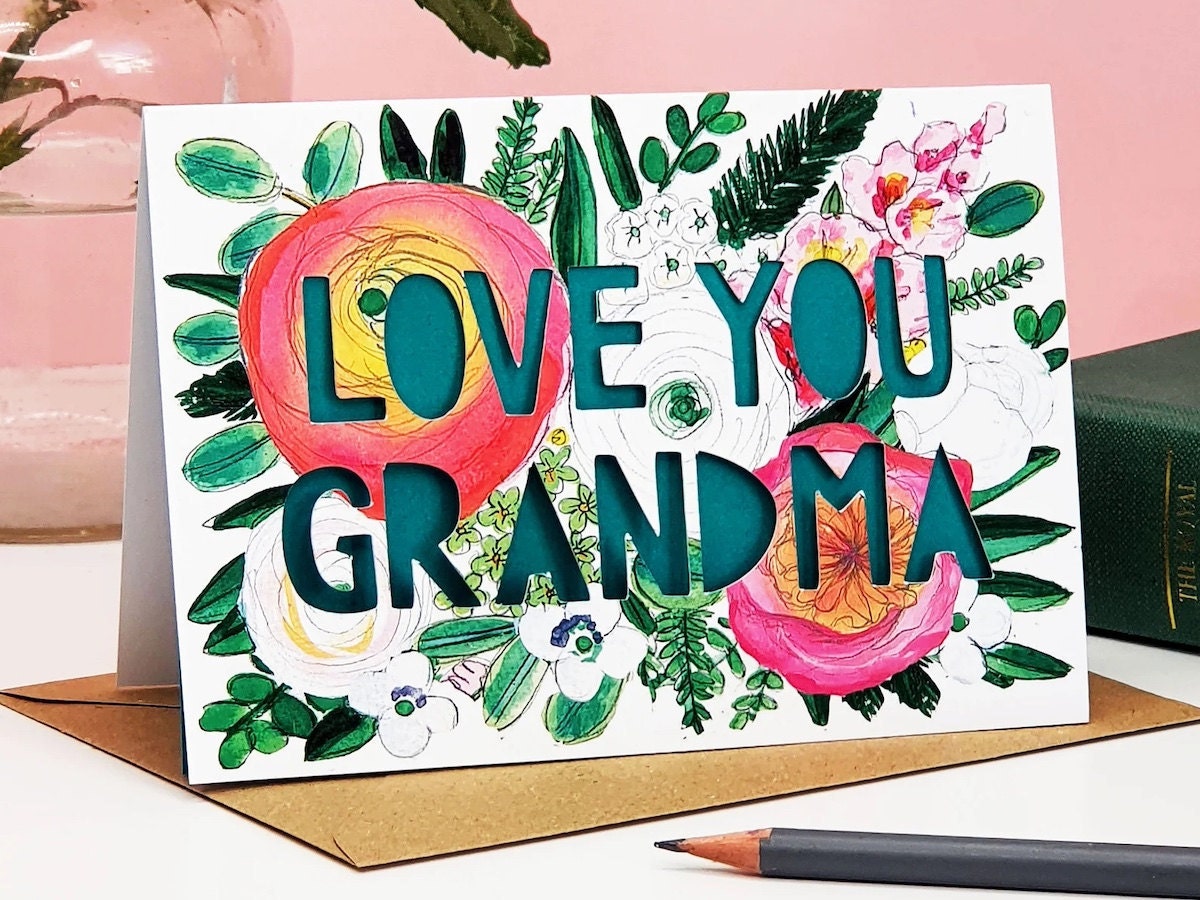 When making a list of amazing women to shop for this coming Mother's Day, wives, sisters, and, of course, moms top the list, but there's one group of lovely ladies that deserve all the praise and attention on this noteworthy occasion, too: grandmothers!
As the women who raised our parents, and most likely had a strong hand in our own upbringing even if it was just warm cookies every time you visited, grandmas can surely be celebrated every day. This Mother's Day for grandma will be extra memorable with a meaningful gift crafted especially for her. Express your gratitude and remind her just how special she is with these thoughtful keepsakes gifts to grandma on Mother's Day.
1. "Best grammy ever" necklace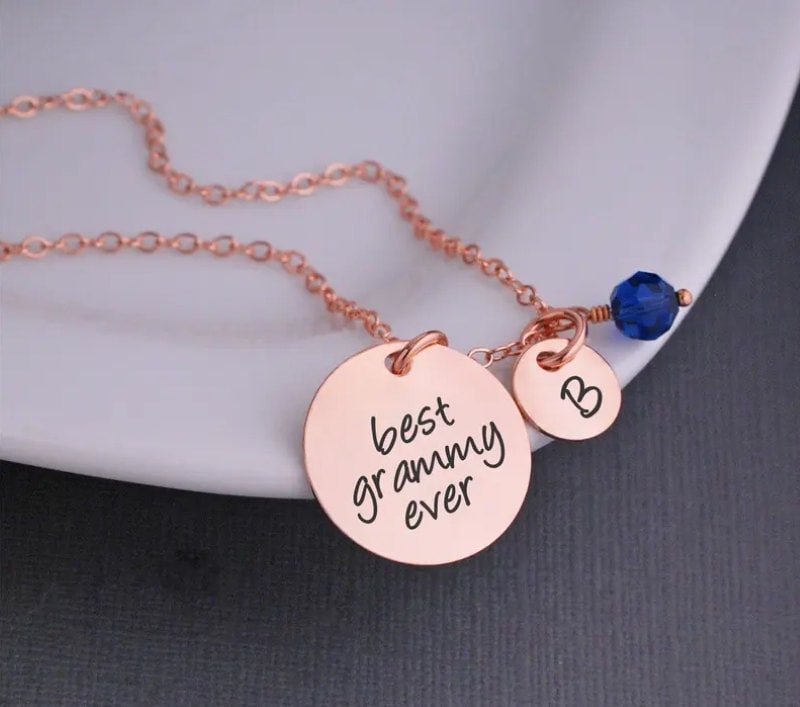 SHOP: Grammy necklace from Love, Georgie, from $42
Available in sterling silver, or 14K gold fill in yellow or rose hues, this attractive necklace is designed to make any grandmother feel like the "best grammy ever". You can add up to eight charms which could either be the birthstones and initials of her kids and grandkids, or a mix-and-match of both.
2. Personalized birthstone bangle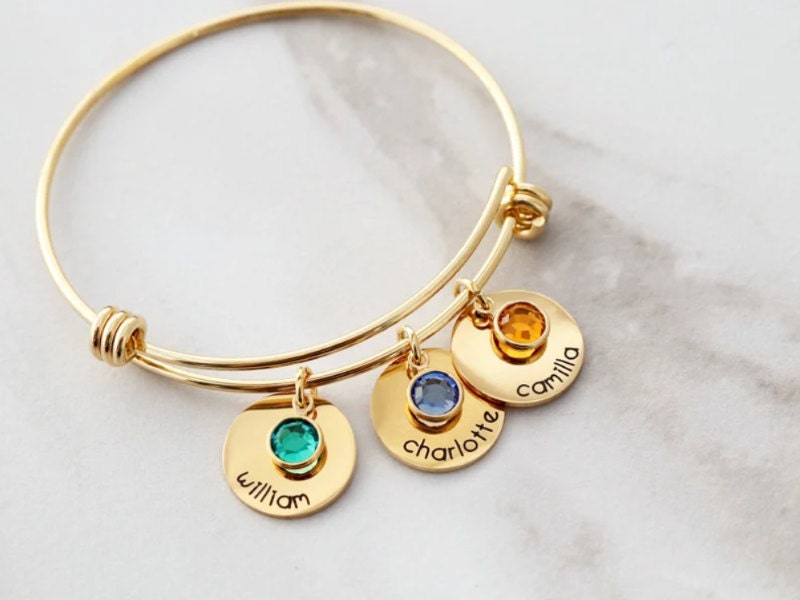 SHOP: Birthstone bracelet from Tom Design, from $34
This lovely piece of jewelry is the perfect way for Nana to have her grandkids "with her" wherever she goes. It features the birthstones and names of her beloved little ones (even if they're not so little anymore), and it comes in either stainless steel silver, or electroplated yellow or rose gold.
3. Generations necklace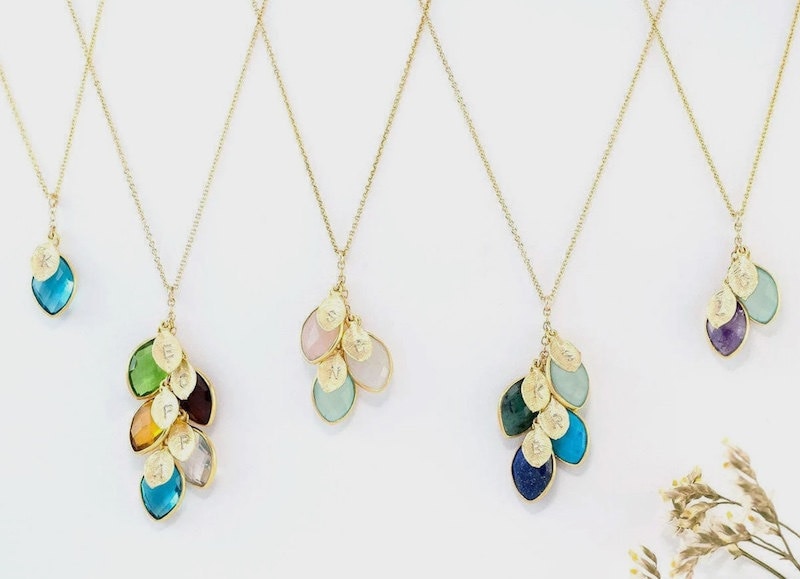 SHOP: Custom birthstone necklace from Delezhen, from $35
Handmade in a small shop in Massachusetts specializing in personalized crystal jewelry and Mother's Day gifts, this beautiful and meaningful birthstone and initial necklace will add a touch of glitz and glam to your grandma's everyday look.
4. Personalized "Good Morning" teaspoon
SHOP: Personalized teaspoon from The Smile Emporium, $11
While it may not be possible to greet your grandmother every single day, these quaint stainless steel, and dishwasher safe spoons are an affordable and thoughtful way to say "Good Morning Nana" while she makes her first cup of tea or coffee of the day.
5. Personalized recipe pie pan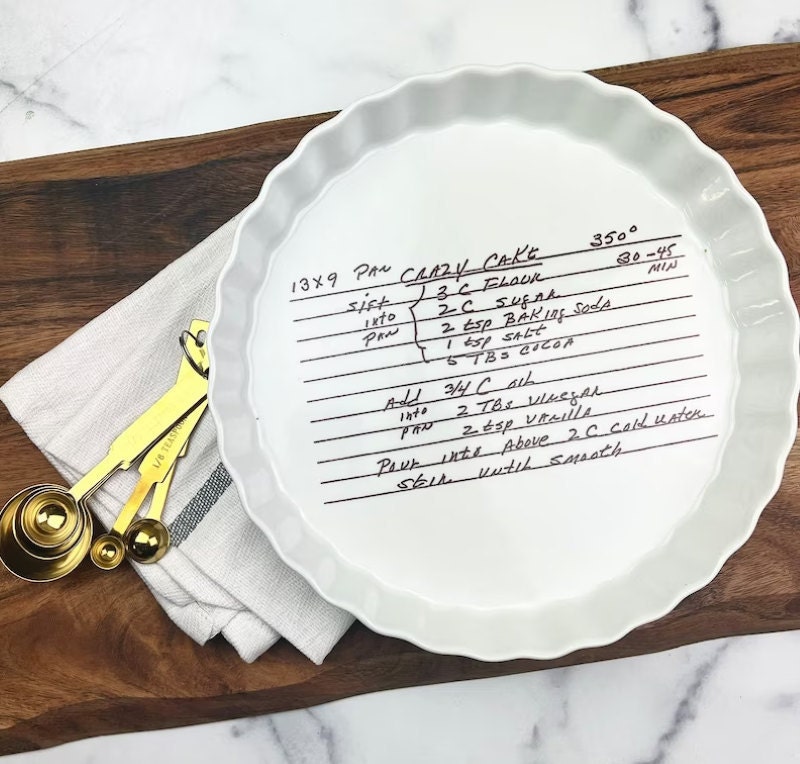 SHOP: Family recipe pie pan from Prairie Hills Pottery, from $75
Although she probably knows all her recipes by heart, Grandma's face will certainly light up as soon as she lays eyes on this charming handmade ceramic pie pan. It can display a family recipe of your choosing—perhaps your grandmother's, or even her own mother's—in the original handwriting.
6. Handmade patchwork wooden card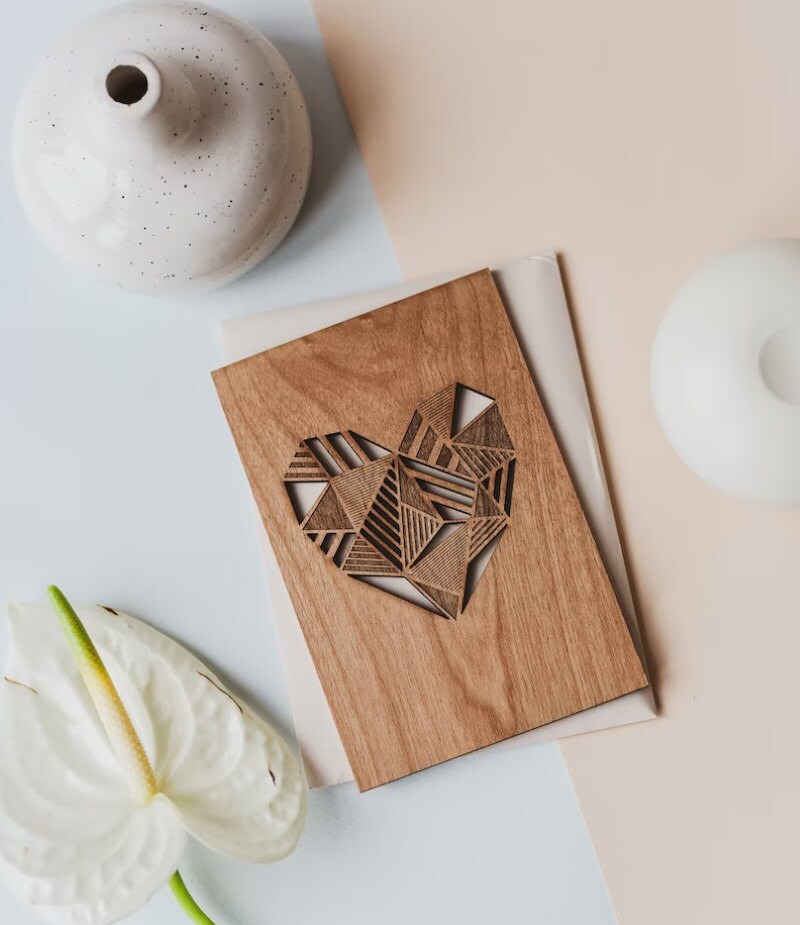 SHOP: Patchwork wood card from Hereafter, from $15
For a more original Mother's Day card that Grandma will want to keep forever, go for this patchwork heart option with hand cut geometric shapes. You can get a personal message laser cut in a type font on the back of it, or, for a more personal touch, have your sentiments inscribed in your own handwriting.
7. Grandma's recipe kitchen towel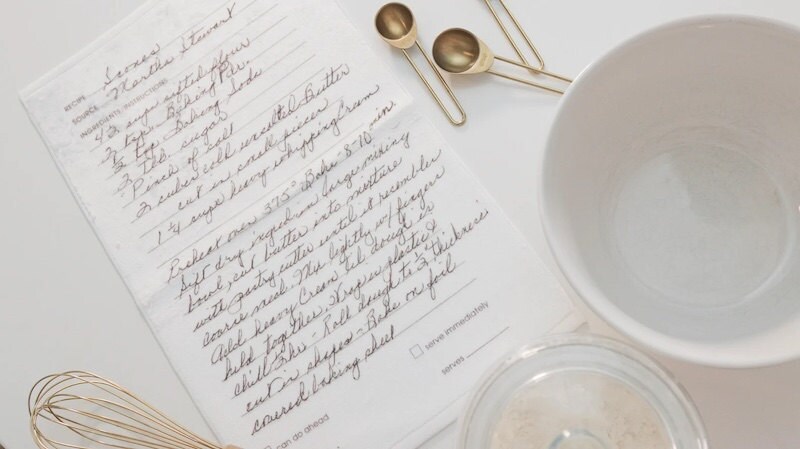 SHOP: Custom printed kitchen towel from By Cuddles, $15
Practical, thoughtful, and sentimental, this gorgeous microfiber polyester and terry cotton tea towel is a thoughtful and practical Grandma Mother's Day gift. One of the many positive buyer reviews reads, "It is nice and soft and the print is absolutely perfect. This isn't your ordinary tea towel… it's much nicer."
8. "Love you Grandma" paper cut card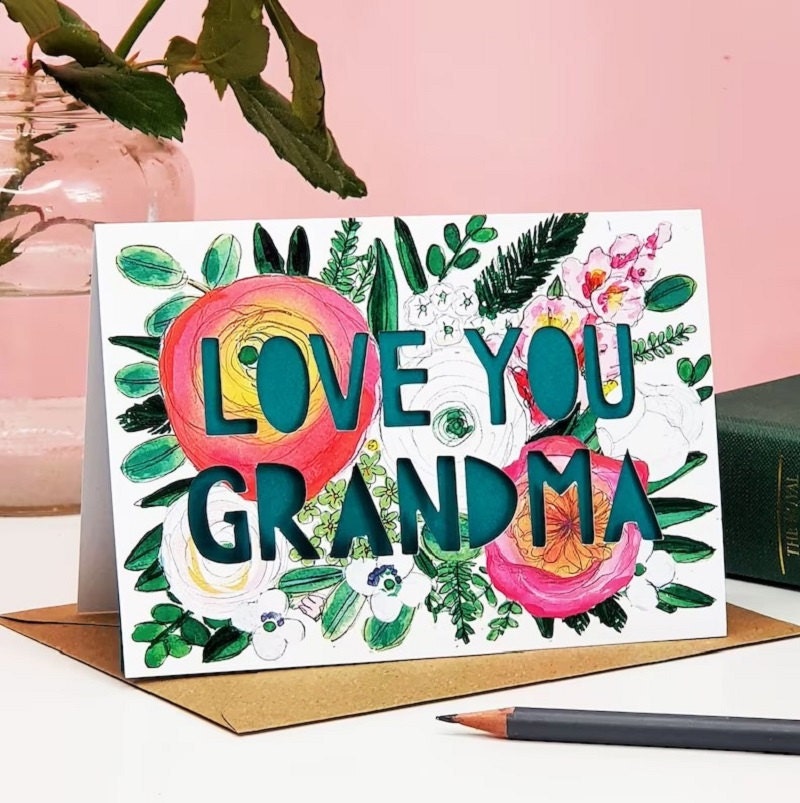 SHOP: Paper cut card to grandma from Miss Bespoke Papercuts, $7
This happy and colorful greeting card tells Grandma just how much she is loved in a big, bold, and beautiful cut-out font that's accompanied by vibrant watercolor florals. If you're running short on time, the seller even offers to send the card to Nana directly.
9. Personalized leather bookmark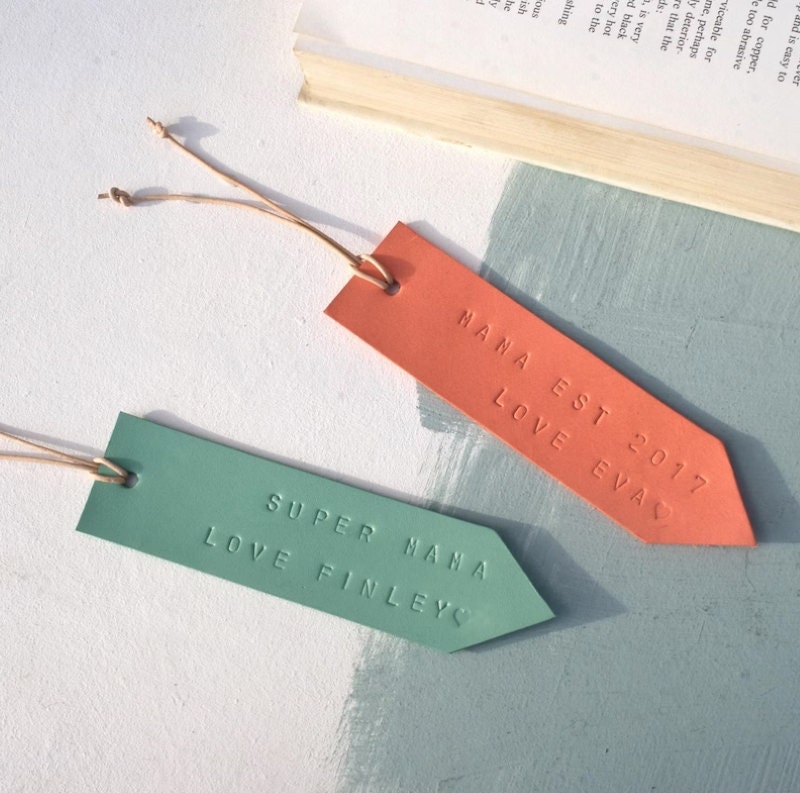 SHOP: Handmade leather bookmark from Swag and Tassel, $18
Elegant, reasonably priced, and super practical, these handmade leather bookmarks are ideal for any book-loving grandma. Whether she uses it in her current read, or to mark a recipe in a beloved cookbook, this personalized option is sure to get plenty of use.
10. Personalized gardening tools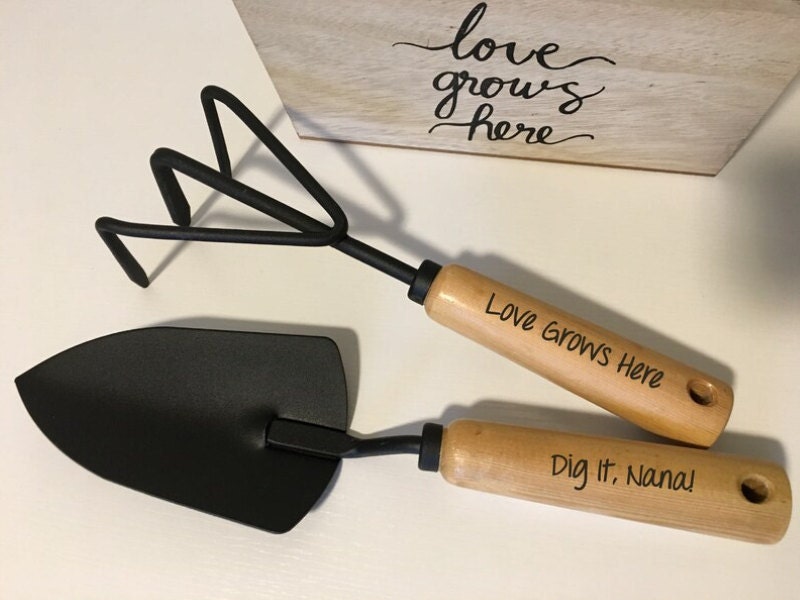 SHOP: Engraved trowel and cultivators set from All About Impressions, $42
This personalized Grandma Mother's Day gift is made with strong steel and durable hardwood, includes a hand trowel and a hand cultivator, and can be engraved with a personal message. A five-star buyer review reads, "They are absolutely beautiful. The engravings are well done and look nice. The tools are heavy duty and can be used to actually garden."
11. New grandma keychain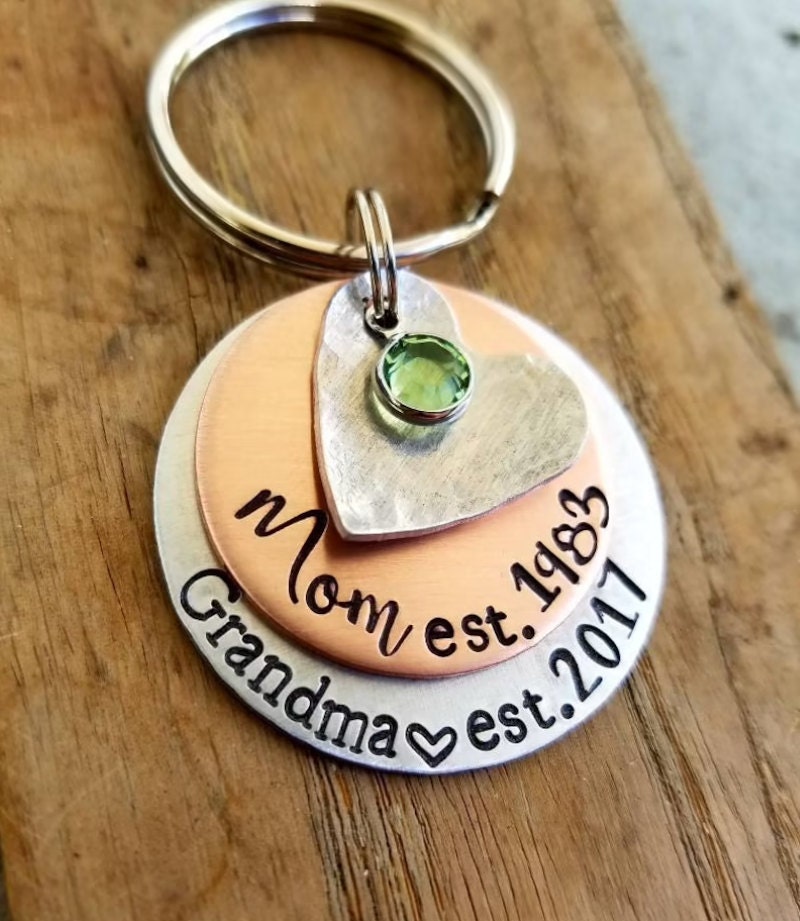 SHOP: Personalized keychain for new grandma from Stanley Winked, $36
For a Mother's Day gift for a new grandma, this keyring may be small on size and price, but it's big on meaning and sentimentality. Inscribed on its copper and aluminum discs are the years that represent the best days of her life: the date she became a mom, and the date she became a grandma!
12. Family tree birthstone keychain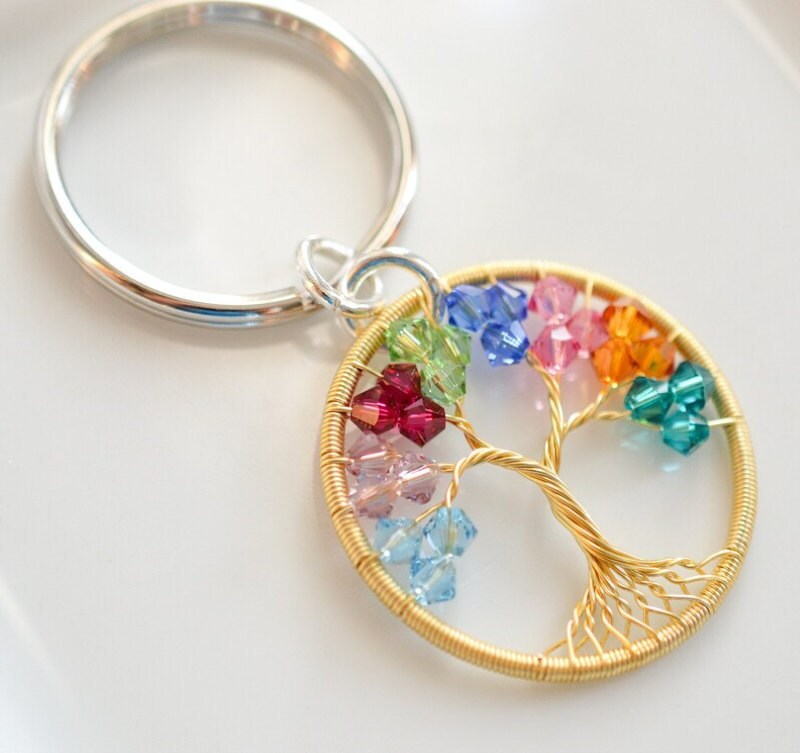 SHOP: Gold family tree keychain from Millstone Accessories, from $25
For those larger families with many grandchildren, it might be quite the task finding Mother's Day gifts for grandma that incorporate the whole crew, but this simple and pretty family tree keyring can fit up to 24 birthstones on its "branches", each one representing a child or grandchild. "I have had so many compliments on how dainty and pretty they are," wrote one happy customer.
13. Wooden family wall plaque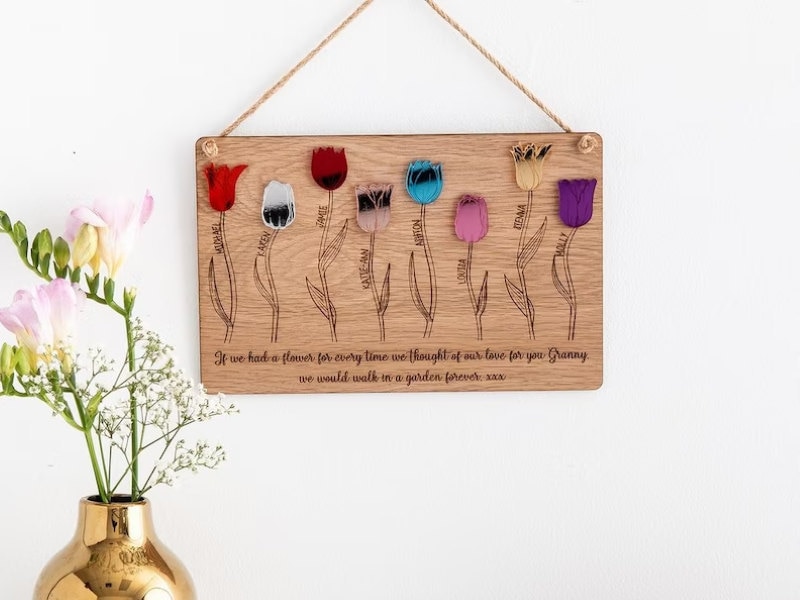 SHOP: Personalized tulip family wall plaque from The Bespoke Workshop, $25
Handmade at a small workshop in the market town of Stroud in England, this exceptional piece of wooden art will take pride of place on Grandma's wall. Eight detailed and different colored mirrored acrylic tulips are embedded within the wood, and the names of the family members, along with a personal message, can be engraved on it.
14. Generations wall art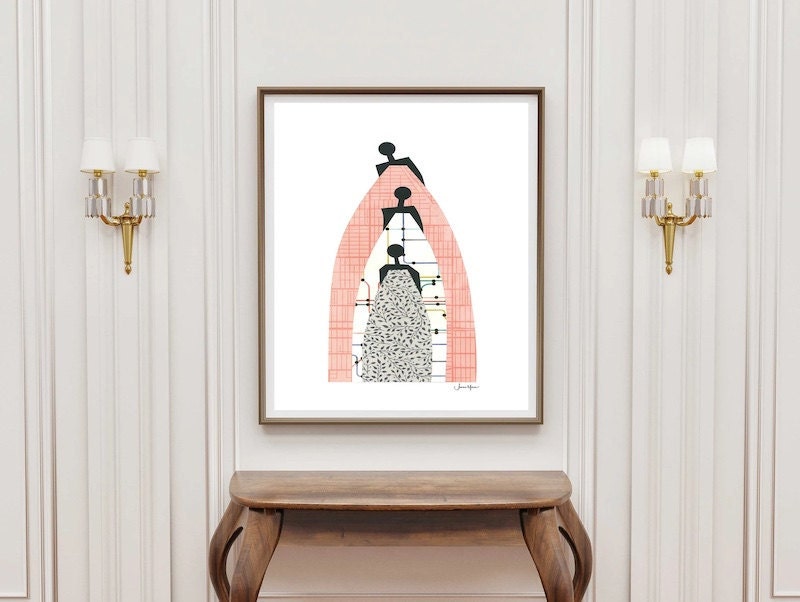 SHOP: Printable ancestors wall art from LouLou Art Studio, $25
If you're on the hunt for last-minute Mother's Day gifts to grandma, add this stunning piece of wall art to your cart immediately. Since it's a digital file, it will arrive in your inbox as soon as you complete the purchase, and you can arrange for it to be printed and framed, before presenting it to Grandma on Mother's Day.
15. Reading pillow with handle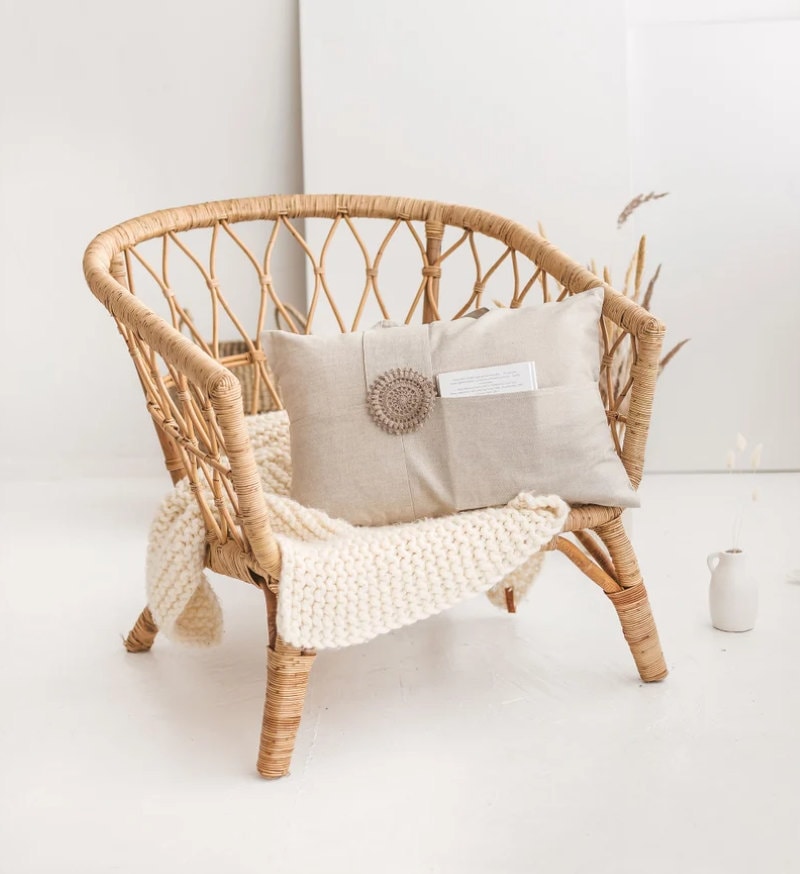 SHOP: Reading pillowcase with handle and pockets for books from Eledita Designs, $51
For a more unique Mother's Day gift to Grandma, opt for this wonderful cotton and wool pillow case. With two pockets that can be used for books, a phone, or water bottle, and a handle so she can carry it easily to her favorite reading chair or the porch swing, this impressive gift is a bookworm grandma's dream.
16. Custom bread bag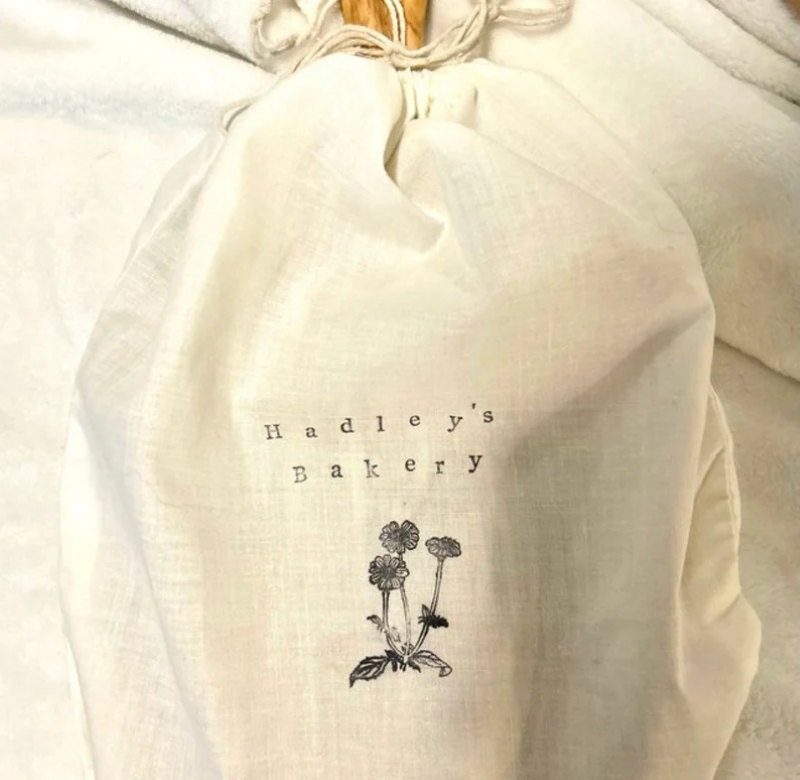 SHOP: Personalized linen bread bag from Puckett Creative, from $22
If Grandma is an avid baker, she'll love this personalized cotton bread bag that's available in seven sizes and with various stamped designs on the front. One of the several hundred rave reviews reads, "Great quality, love the unique look of the stamped lettering. So delicate and simple."
17. Kids artwork apron for Grandma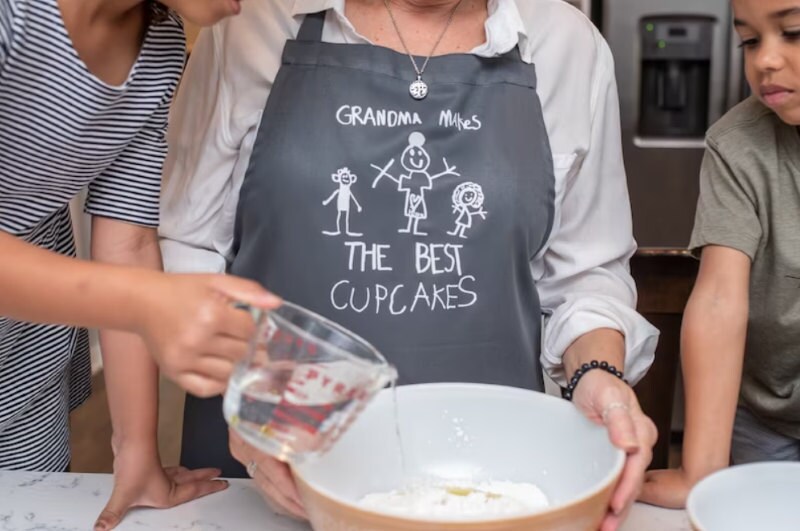 SHOP: Personalized apron with grandchild's artwork from Olive & Pip, $34
This personalized apron that showcases your children's original artwork is a clever way to get the kids involved in their Mother's Day gift to grandma. It comes in slate gray or hot pink, and the wording and artwork can be printed on it in a choice of four colors.
18. Personalized grandparents and grandkids art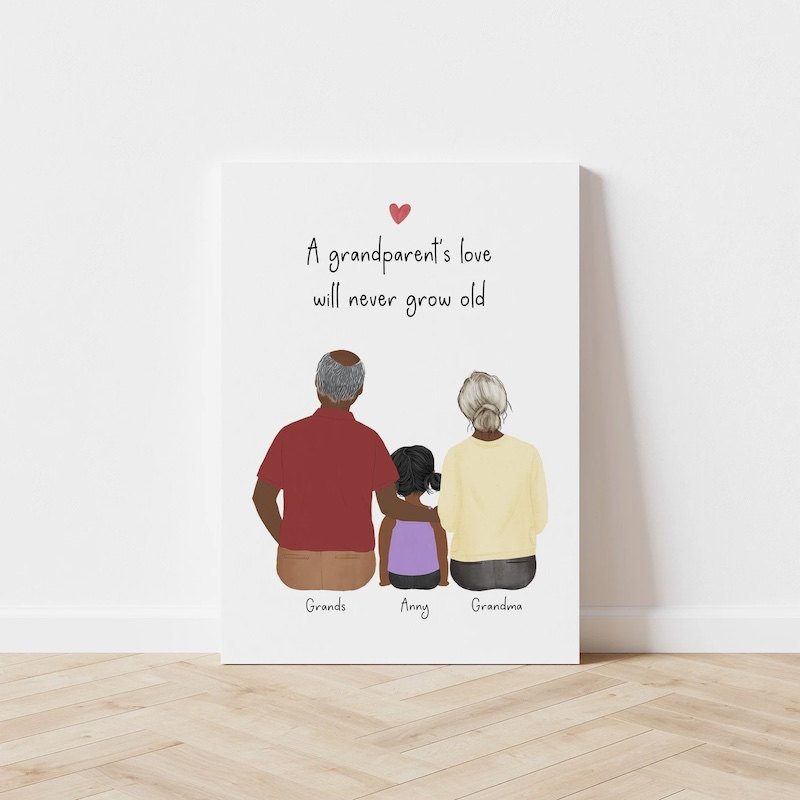 SHOP: Customizable grandparents wall art from Catia Creative, from $25
Expect some waterworks when you gift Grandma with this personal piece of artwork. It features a back view of the grandparents with up to six grandchildren, and each person's clothes, hair, and skin color can be customized to look exactly like the family member being represented.
19. Handprints wooden cutting board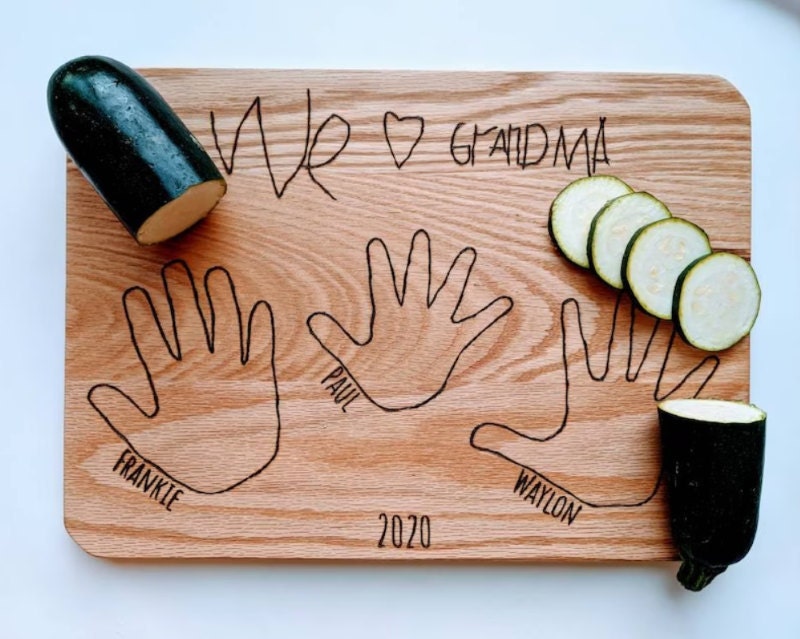 SHOP: Cutting board with grandchildren's handprints from The Potted Geranium, from $119
Not only will Grandma love receiving and using this thoughtful wooden cutting board that displays the children's handprints, but the kids will also greatly enjoy helping to make a meaningful gift for their sweet Nana. "My mom absolutely loved her Mother's Day gift," reads one customer review. "I was blown away [by] how they were able to perfect my son's hands… Definitely exceeded my expectations. Worth every penny."
20. Personalized "nanny" photo keyring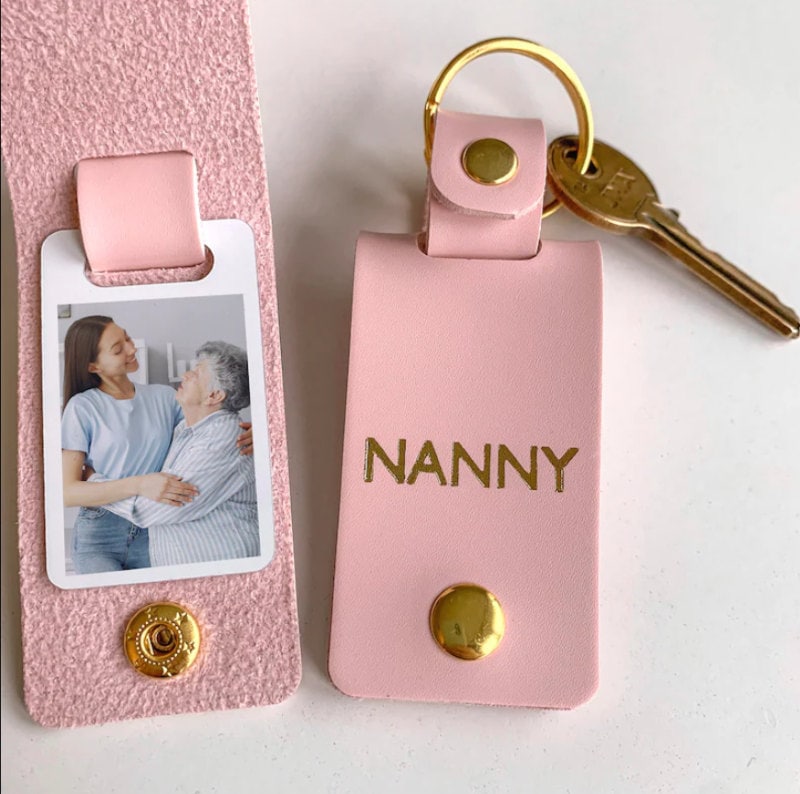 SHOP: Vegan leather photo keychain from Silvy, $22
A good Mother's Day gift for grandma doesn't have to break the bank, as evidenced by these lovely personalized leather keyrings. They come in six colors and can be debossed or embossed with gold foil. One buyer wrote, "Simple ordering process and careful, efficient delivery… Really beautiful and the photo [is] clear. Our Mum/Nanna loved it."
How do we pick the best Mother's Day gifts to Grandma?
As Etsy Journal editors and contributors research and curate shopping guides for some of the best-loved items on Etsy, we thoughtfully consider the creativity, customization, and craftsmanship that go into each product. We also consider buyer reviews, item ratings, and customer service, and tap the expertise of our in-house merchandising and trends experts to uncover high-quality finds for every budget. You can find more information about each item in the seller's listing details and can take a look at their individual shop policies and reviews, too.