Learn the fascinating story (and canny marketing) behind the gorgeously swirled colors of these collectible pieces.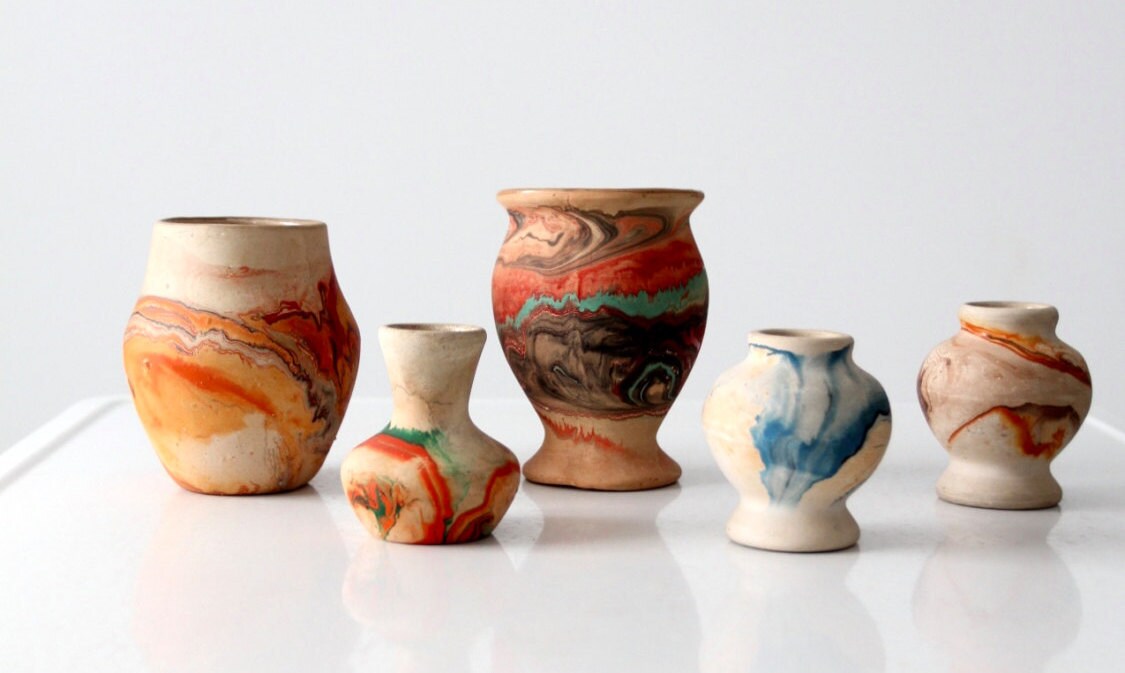 In my travels, I often come across small pottery vase with marbleized decorations in warm, earthy colors. Known as
"Nemadji Indian pottery,"
 the bright, swirling designs of this distinctive pottery were created with a single goal in mind: to catch a tourist's eye. These cannily marketed goods played on an implied link to Native American handicraft and served as generic "Indian pottery" sold everywhere from the Grand Canyon to the Alamo and beyond during the 20th century.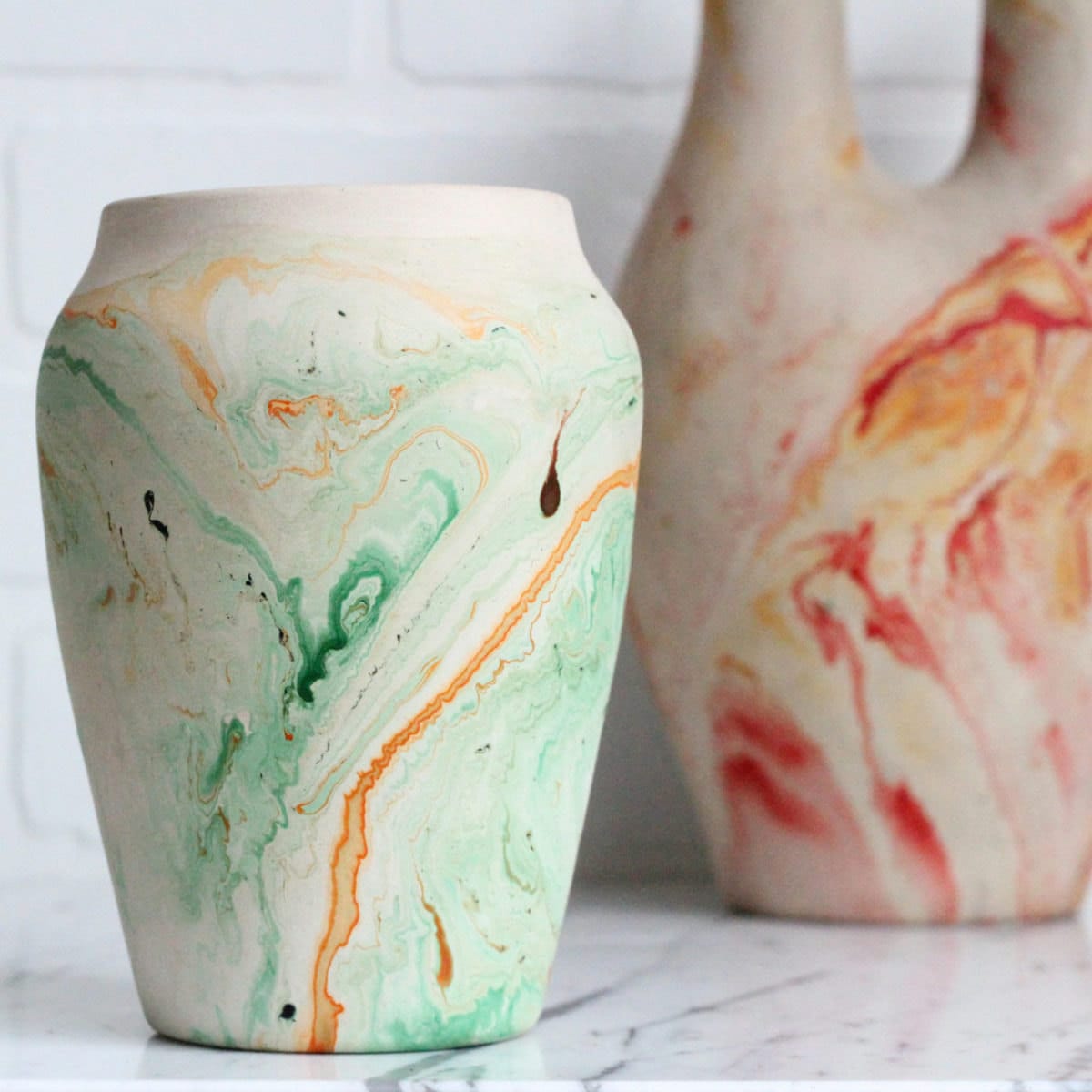 Nemadji Tile & Pottery Co. of Moose Lake, Minnesota, began producing their swirled pottery in 1929. A distinctive product and clever marketing were the roots of their success. The name "Nemadji" is an Ojibwe word meaning "left-handed," but was easily misunderstood to be the name of a tribe. In the information sheet that accompanied their pots, Nemadji stressed that their wares were made with the same clays and shapes used by Native Americans. The connection of this marbled style of decoration with Native American production was more assumption than fact, but Nemadji was happy to encourage the idea. In reality, Eric Hellman, a Nemadji employee and Danish immigrant, came up with the idea to decorate the vases using simple house paint.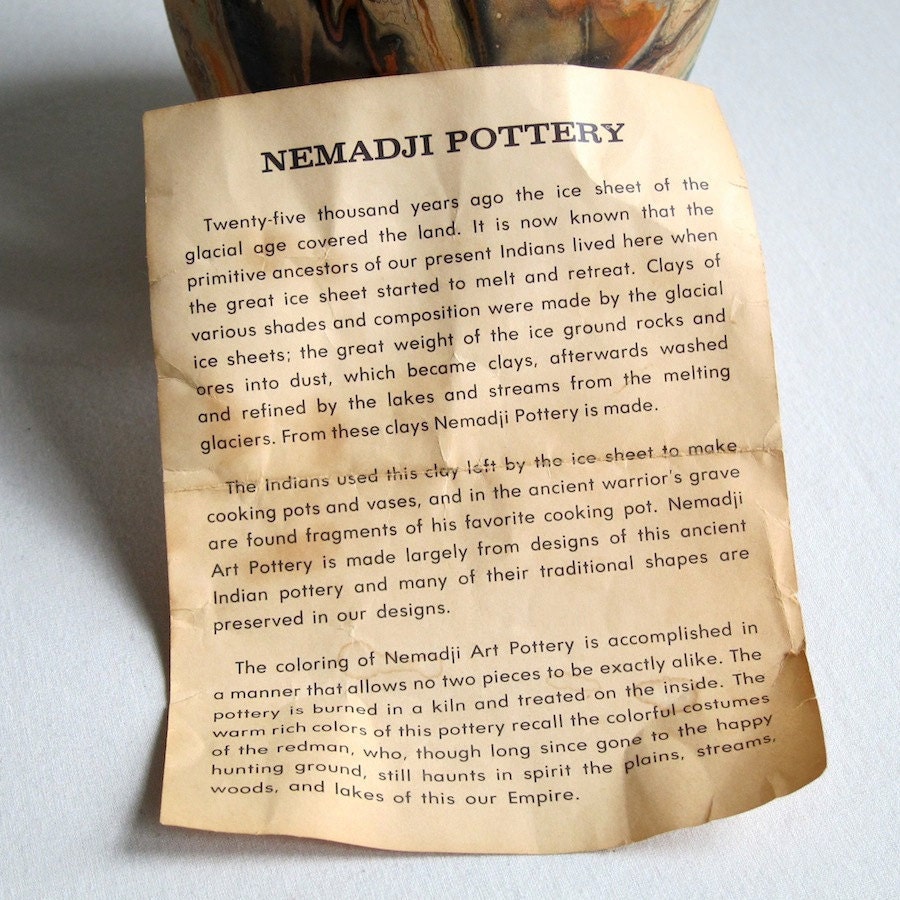 %3Ca%20href%3D%22http%3A%2F%2Fetsy.me%2F2bBeSms%22%3EBarking%20Sands%20Vintage%3C%2Fa%3E
Though early pots were hand-thrown, most
Nemadji pottery
was molded from either a colored or white clay, fired and left in a bisque (unglazed) state. Different colored paints were floated on top of a vat of water and a small bit of vinegar was added to help separate the paints.
Using a technique similar to marbling paper
, the fired vase was hand-dipped into the water and swirled in the floating colors. The pieces did not have to be refired and dried quickly, creating uniquely decorated pots every time.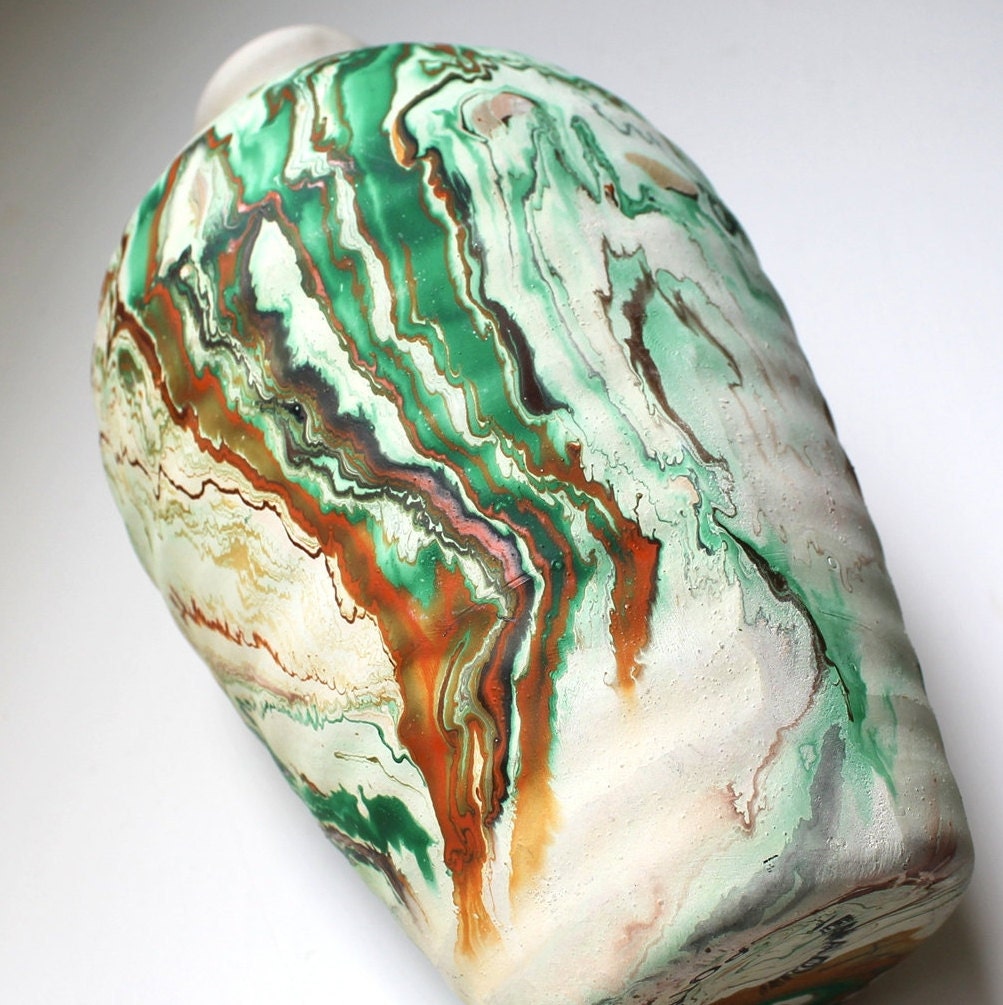 Nemadji was certainly not the first manufacturer who decorated pottery with a marbled effect. English agateware, mochaware, European ceramics in the 19th century and some Japanese ceramics as far back as the 16th century all used swirled clays or glazes to approximate the rich veining of marble. In the late 1920s, firms such as Niloak of Arkansas and Desert Sands Pottery of Nevada made vessels of colored clays swirled together to create a marbled effect. Popular for more than 70 years, Nemadji finally ceased production in 2001. 
Today their pottery is plentiful and relatively inexpensive
, making it easy for collectors to make groups of earthy brown, sunset red or sky blue vases.