Get the scoop on the top kid-friendly, parent-approved picks that are capturing little imaginations—and saving the day in a big way at home.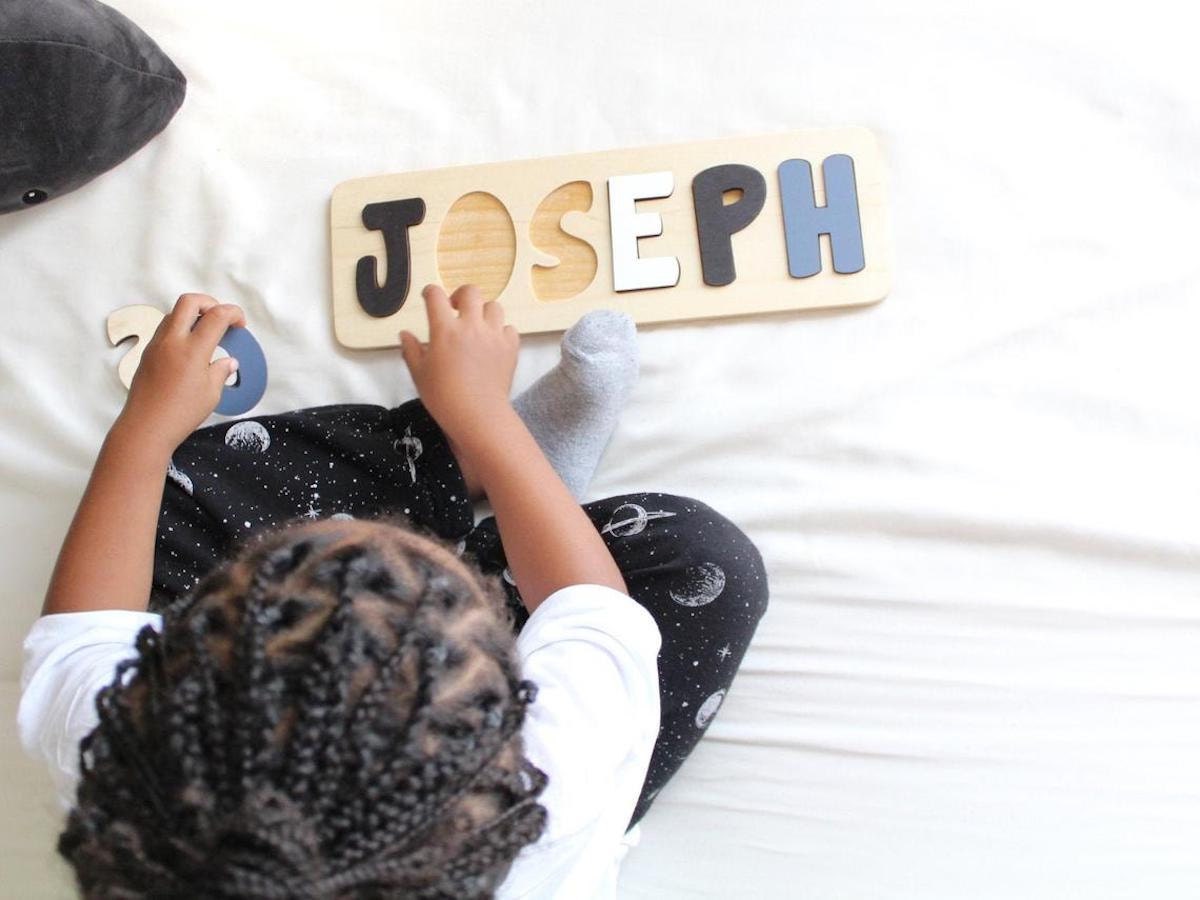 These days, parents are working harder than ever to juggle it all, so we're here with a little assist: five ingenious ideas to help your kiddos stay happily occupied at home—so you can find and savor those all-too-rare moments of calm. "Though having fun may look a little different this year, it's still attainable," says Etsy Trend Expert Dayna Isom Johnson. "It's all about getting creative and using a pinch of imagination to add delight to your daily routine." From camp-reminiscent craft projects like tie-dye to truly inspiring play rooms (indoor swing set, anyone?), these fresh, playful kids' trends are sure to keep boredom at bay, and that's a promise both children and grownups can get behind.
'90s nostalgia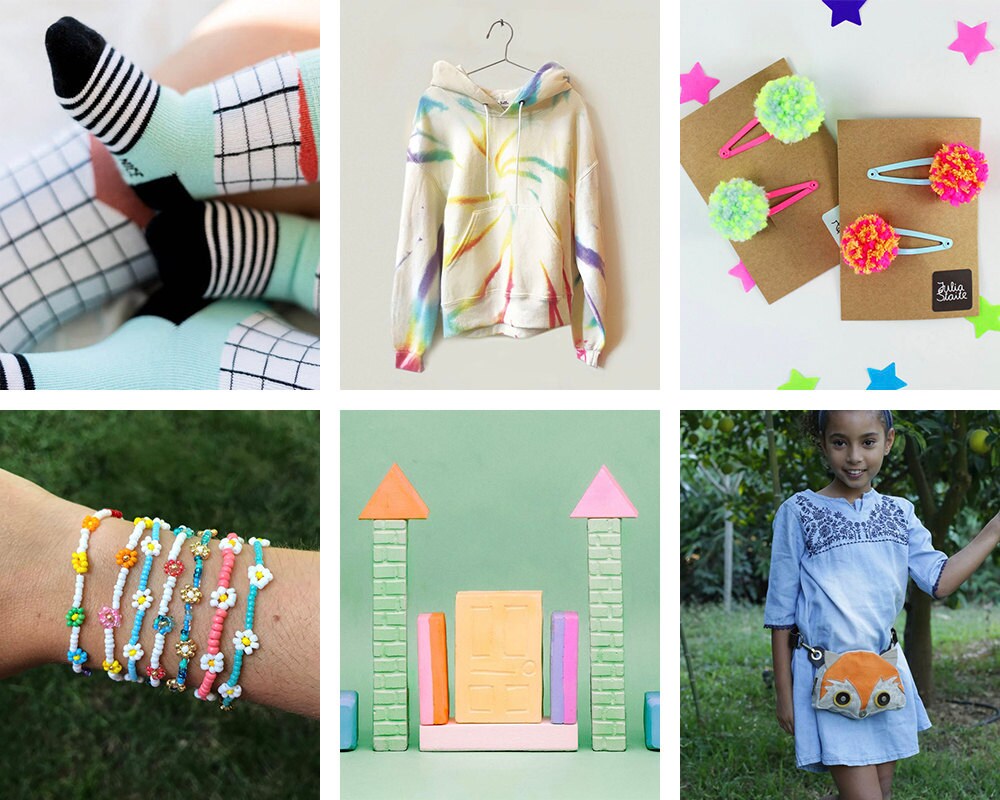 If a summer of cancelled day camps and altered travel plans has taught us anything, it's that there's magic to be found in less-structured days. "If you're a '90s kid like me, you're no stranger to the decade's laid-back charm," Dayna says, "and you're definitely going to see that go-with-the-flow attitude reflected in the clothes, decor, and games making waves with today's youth." Tie-dye is leading the pack, both as the vibrant print of choice for kids' apparel and masks and as a hands-on activity they can do outdoors. "You can also get into the '90s spirit by revisiting simpler pleasures like jump rope, friendship bracelet-making, and drawing with sidewalk chalk," says Dayna. Decked out in daisy-chains, neon colors, and fanciful fanny packs, your mini-me will feel like the coolest kid on the block.
Play space upgrades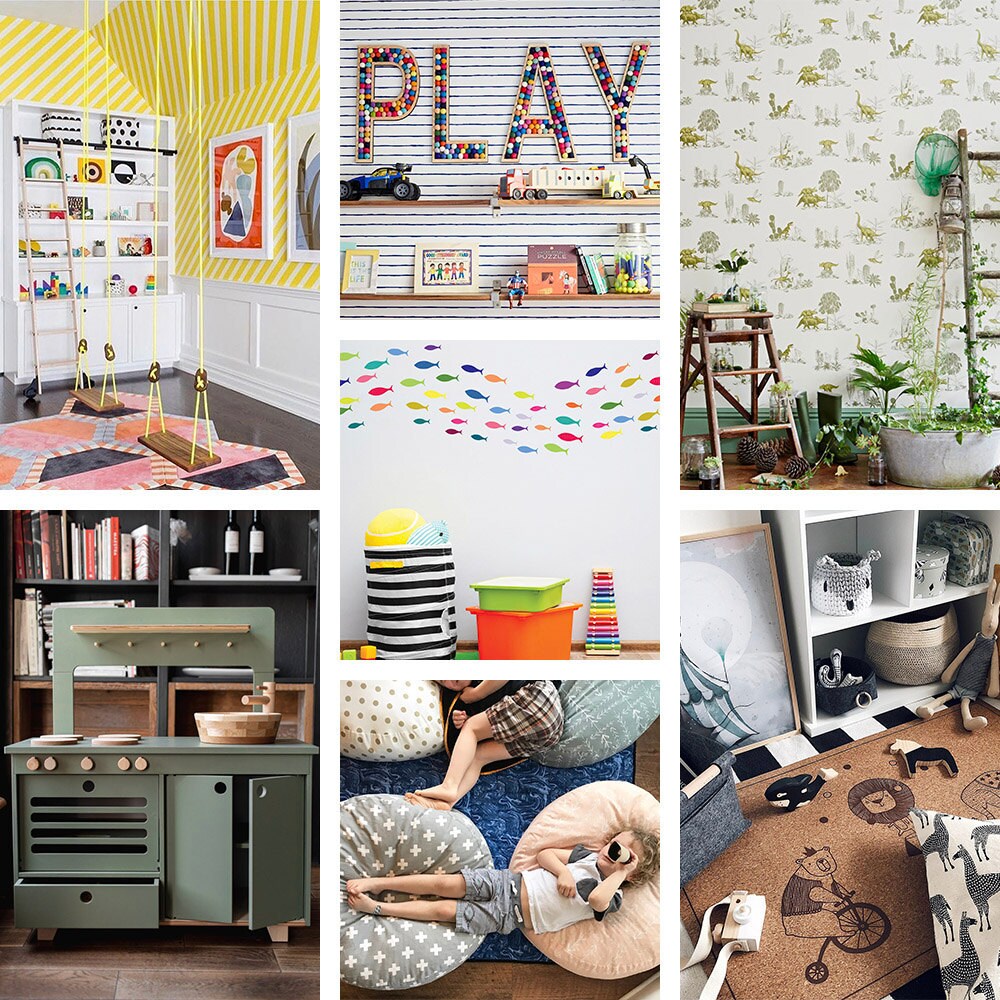 Just because it's the highest-trafficked zone in your home, this typically toy-cluttered spot doesn't have to look the part. "As we inch toward cooler days that'll require moving activities inside, families are updating their play spaces to give children a nook of their own that still fits with Mom and Dad's style," says Dayna. Working with a small area? Tasteful space-savers like floating shelves and woven bins can craftily contain the mess. Or, if room allows, super-inviting seating like oversized floor cushions—and even indoor swings!—will give kids a special place to sit (or kick their feet!) and daydream. To get little ones in on the furnishing fun, have them help pick—and stick—decorative wall decals in playful patterns. "Kids are loving cartoon dinosaurs, and mid-century–inspired fish motifs will appeal to the young and young at heart," says Dayna.
Quiet time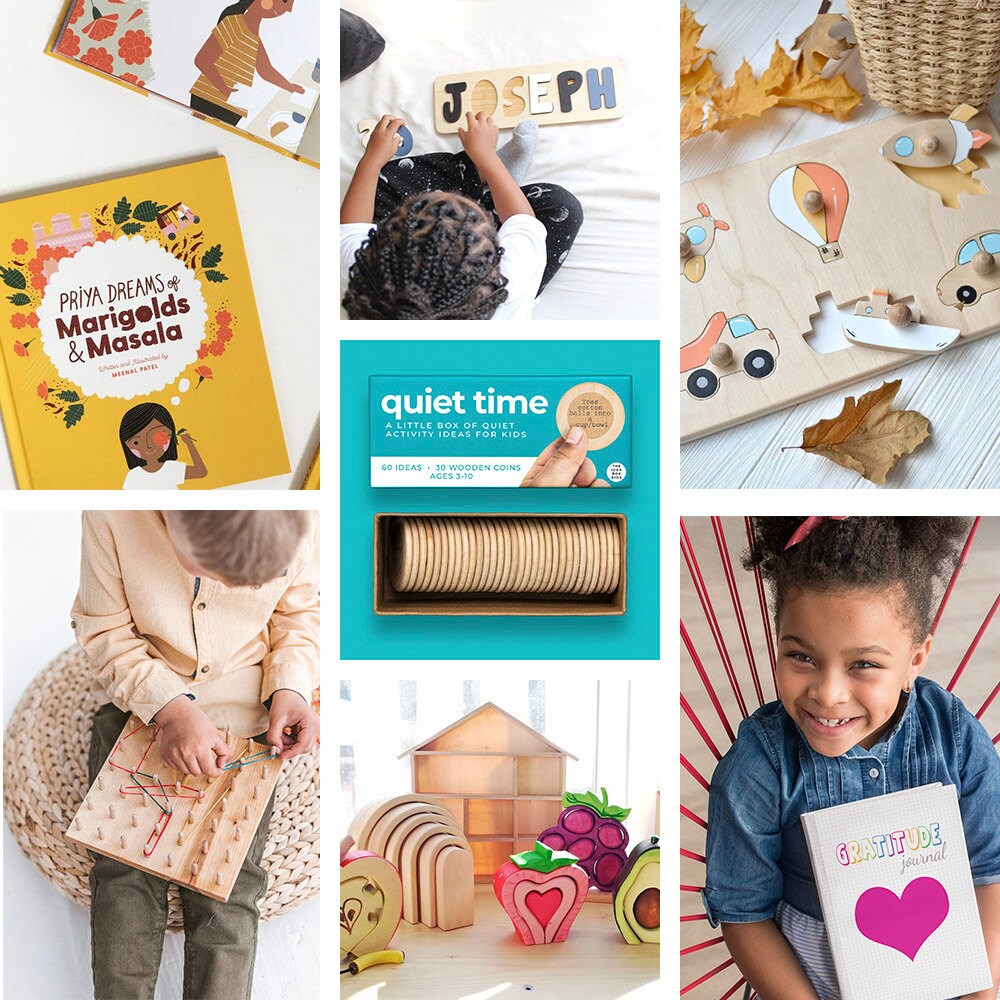 Raise your hand if you could use a little breather! "Encouraging kids to practice mindfulness is a great way to steal a little quiet time for yourself and create calm for the whole family," says Dayna. To slow things down, set them up with soothing solo pursuits like gratitude journaling, personalized puzzle play, and absorbing activity books. Look to soft, natural materials and serene neutral hues when creating a cozy reading nook or meditation corner. And if homeschool is on the horizon this fall, consider setting up a designated space to decompress between lessons.
Kid-friendly crafts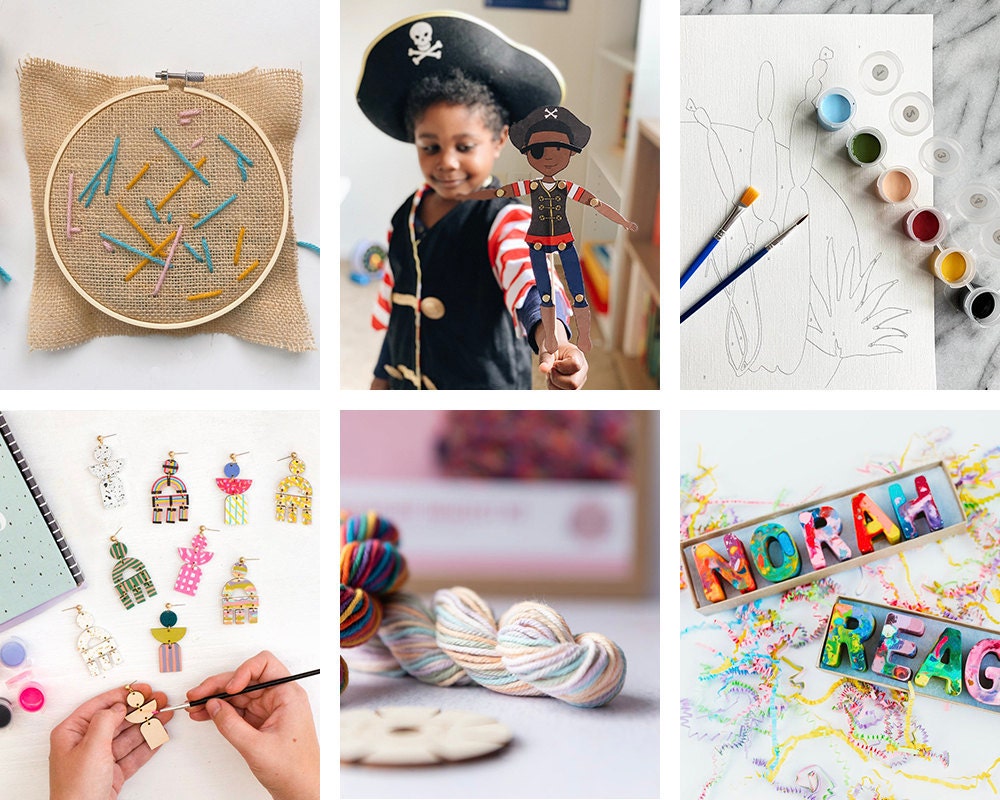 It seems like everyone's exploring new hobbies these days, and kids are no exception. "Crafting is a fun, creative alternative to screen time, and helps kiddos transition between the school day and extracurriculars," says Dayna. Keep little hands busy with a range of options, from only-on-Etsy twists on simple art supplies (like swirly personalized name crayons), to more elaborate projects designed to captivate young minds for hours. "Etsy sellers make original DIYs for every type of interest, from sewing kits and stitch practice for mini fiber aficionados to paint-by-number kits for budding Picassos," says Dayna. "Creativity for the win!"
Little helpers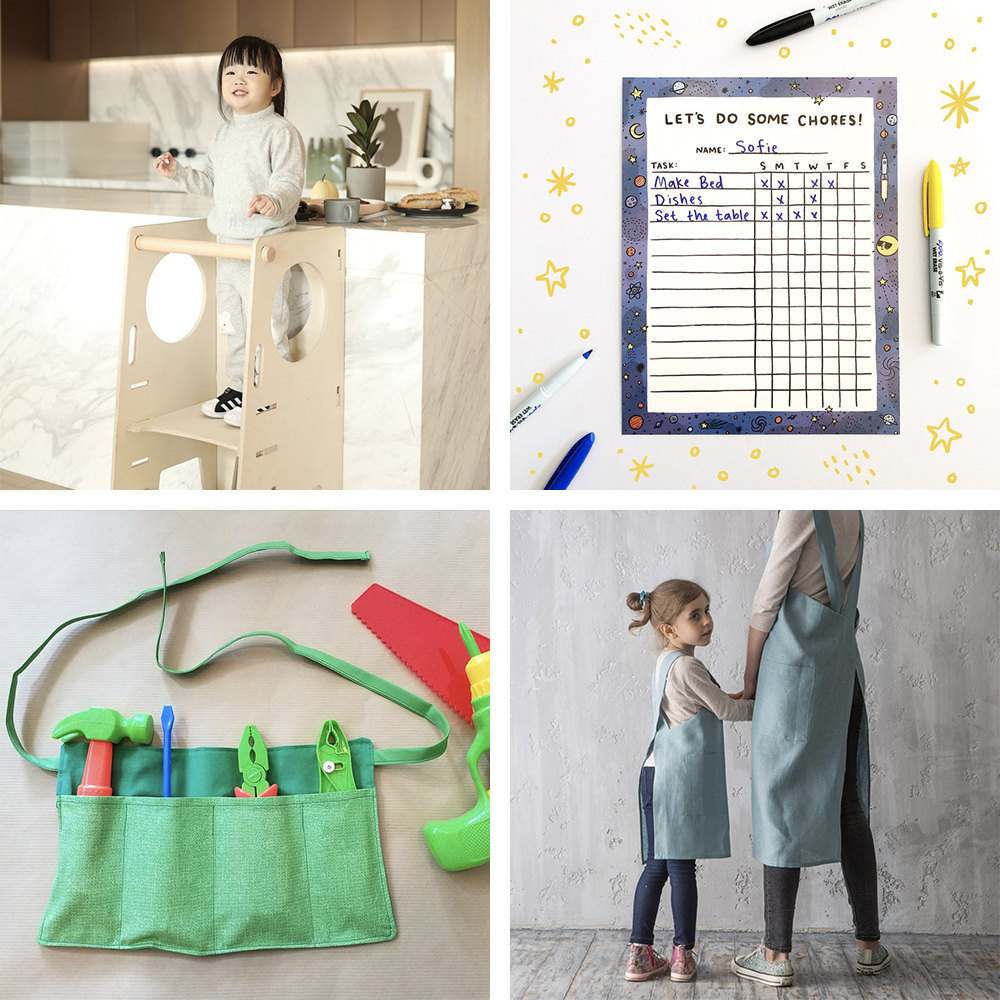 Who said tidying up can't be fun? Whether it's drying the dishes, raking leaves, or baking a cake for a favorite neighbor, we've all got a to-do or two that could use an extra hand. "Why not get the kids involved and excited to help around the house?" asks Dayna. Turn your mini-me into a super-cute sous chef with matching aprons for the whole fam, or help build their fix-it skills with a tiny tool belt. Then tack up a kid-sized chore chart, and transform each completed task into a gold-star worthy accomplishment. Before you know it, they may just be begging to vacuum and fold the laundry, too. (Hey, stranger things have happened!)