These modern engagement rings feature non-traditional designs, alternative gems, and incredible craftsmanship.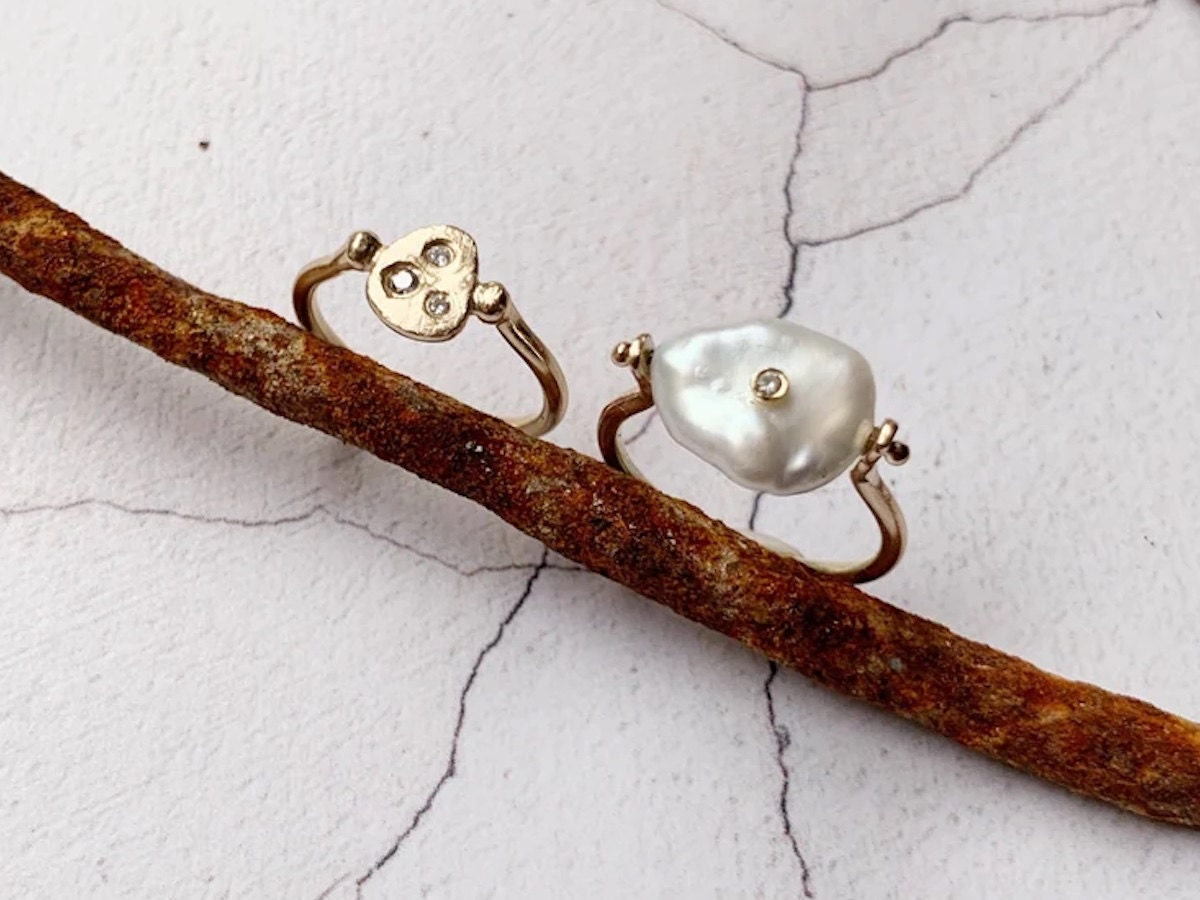 Your love is one-of-a-kind, so when it's time to make things a little more official with one very important question, only the most unique engagement rings should make the list. Take it a step further and look for a modern design with delicate yet dramatic details that make for a stunning setting.
These days, there are no real rules to selecting the best engagement rings, it's all about your personal preferences. And small shops on Etsy are delivering on this promise with exquisite, non-traditional engagement ring designs that are handcrafted especially for their lucky recipient.
As you shop for a modern engagement ring, look for statement-making stones like moss agate, sapphire, and moonstone. Gold, silver, and platinum are solid choices for the band, but non-traditional brides are opting for non-traditional rings made from tungsten, titanium, and even wood. With an array of different gem settings highlighting non-traditional cuts, the jewelry designers on Etsy have an assortment of special, handcrafted engagement rings to fully encapsulate your distinct personality.
Any one of these picks from our list of modern unique engagement rings is sure prompt onlookers to glance at your ring finger and say, "That's so you!"
1. Customized two-stone engagement ring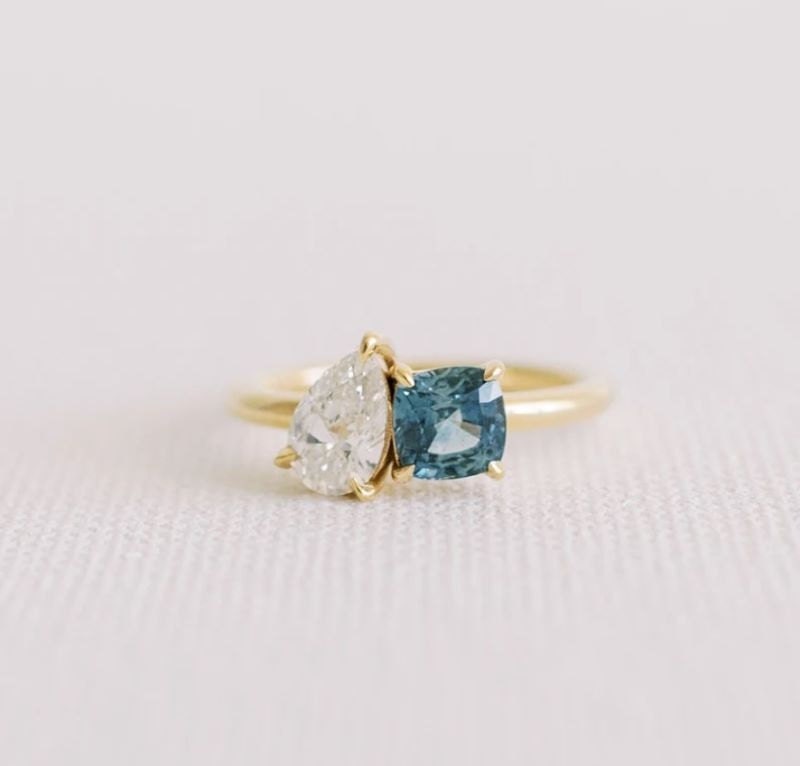 SHOP: Modern toi et moi engagement ring from Brockton Gems, from $4,700
A non-traditional nod to the concept that it's the two of you forevermore, this two-stone engagement ring setting referred to as "toi et moi" in French, meaning "you and me." This modern engagement ring design, with a pear-shaped diamond and square sapphire set on a 14K gold, white gold, or rose gold band, is undeniably astonishing. You can choose from five diamond sizes, and six sapphire colors, including teal, pink, and green.
2. Rustic pebble ring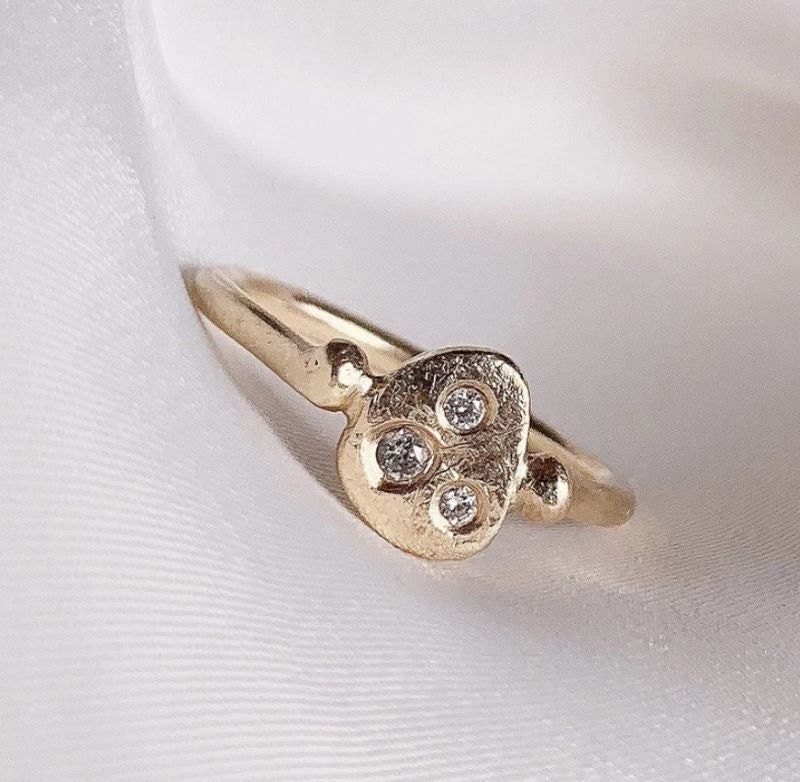 SHOP: Pebble ring in sustainable recycled gold from Rebekah Ann Jewellery, $579
Brilliantly emphasizing the shiny precious metal, this unique gold engagement ring, with three dainty yet dazzling diamonds, is a genuine rustic find. Shipped from the seaside town of Brighton in England, UK, the flat shape of this ring makes it perfect for comfortable, everyday wear—just the kind of qualities you want in an engagement ring you're not planning to ever take off.
3. Geometric rutile quartz ring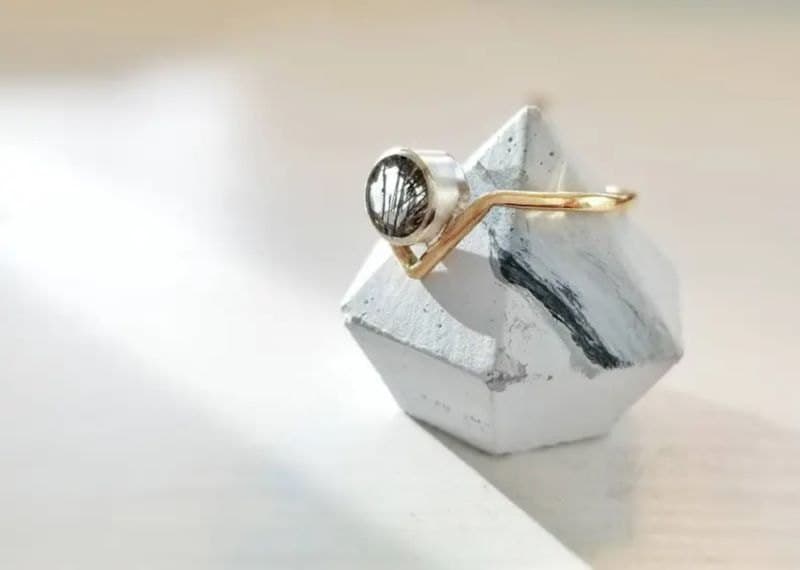 SHOP: DIADEM ring from Lana Betty, $118
For an affordable engagement ring option with a very modern touch, opt for this mixed metal and rutile quartz piece. The band can be gold-fill or silver, and there are seven gemstones available—including labradorite, moonstone, and amethyst—if you'd prefer to replace the quartz.
4. "Olivia" opal and diamond ring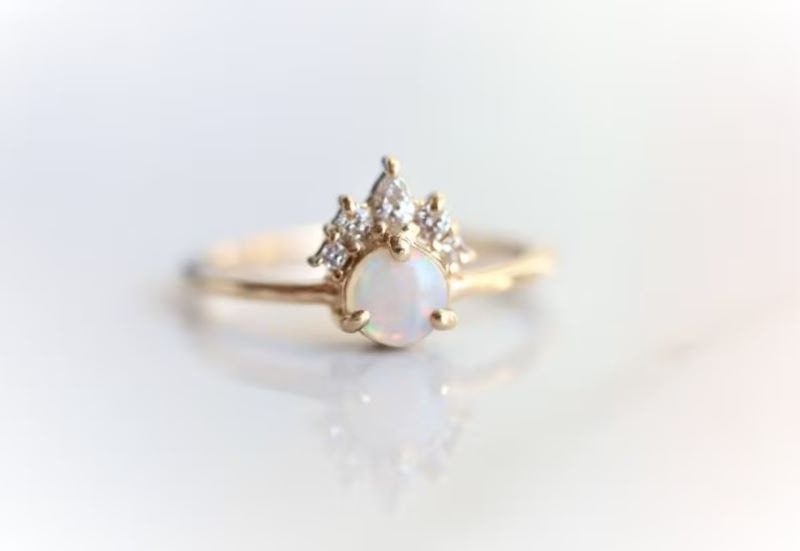 SHOP: Opal and diamond engagement ring from Emi Conner Jewelry, from $390
The "Olivia" is a beautifully iridescent modern engagement ring featuring a pearly opal crowned with five sparkling diamonds. This handmade ring is made with recycled materials, and one thrilled customer wrote, "Absolutely love my ring. Was bought as an engagement ring, and I've had so many compliments. It's so different and stunning."
5. Rose cut and marquise diamond engagement ring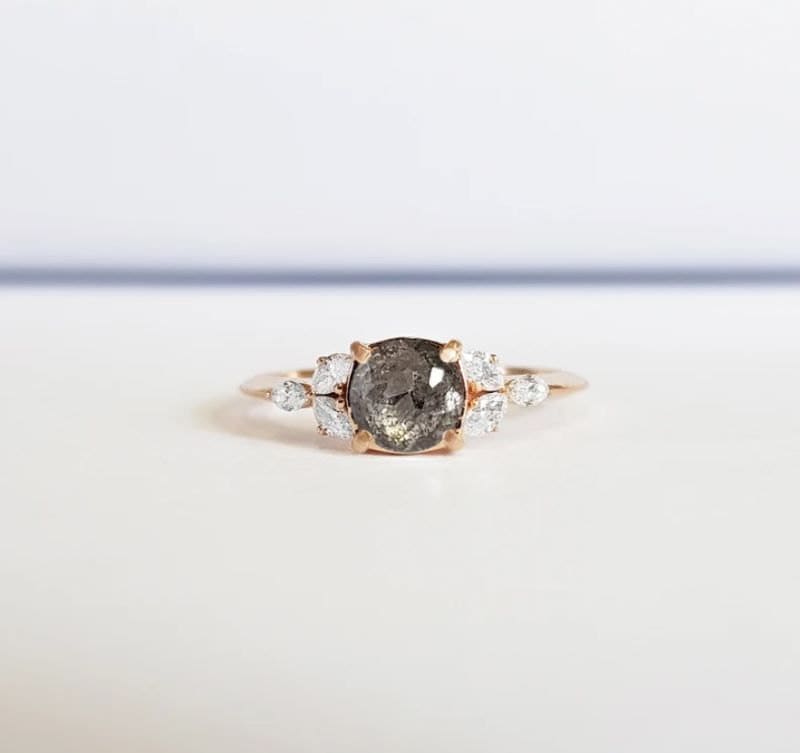 SHOP: Salt and pepper rose cut diamond engagement ring from Aardvark jewelry, from $1,916
This exquisite engagement ring features a solo dark diamond, elegantly surrounded by six smaller white marquise diamonds on either side. Buyer reviews expressed that the resounding answer when popping the question with this modern unique ring was a triumphant "YES!" and one customer wrote, "While dark, in the right light and angle the diamond reveals a little galaxy-like array."
6. Botanical yellow gold wedding ring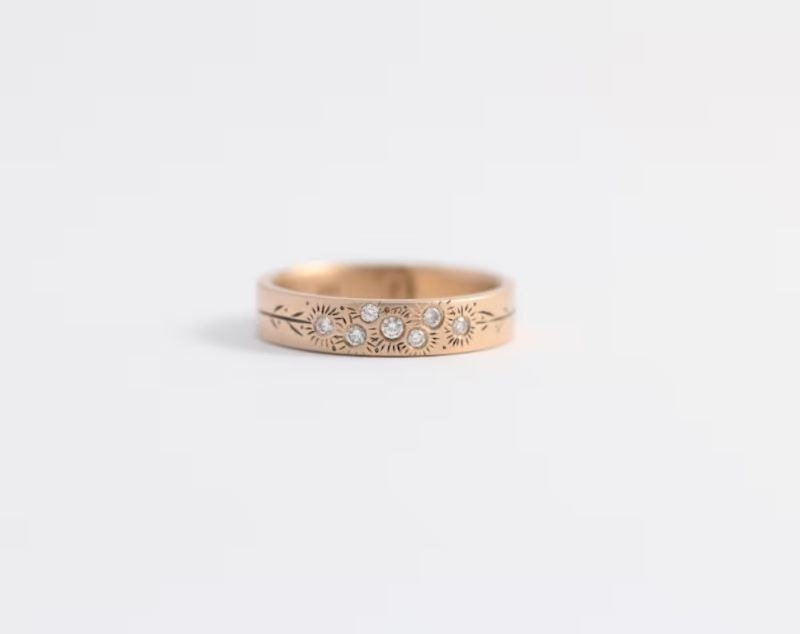 SHOP: Gold ring with recycled heirloom diamonds from Ash Hilton, from $995
Whether worn alone, stacked with a thin wedding band, or used as a non-traditional wedding ring, this botanical-inspired modern engagement ring is made with yellow gold and adorned with recycled heirloom diamonds. "My partner absolutely loved it!" wrote one customer who bought this for their (now) fiancé. "It ticked all the boxes by being handmade and comprised only of recycled materials… It's slim enough to be used everyday and not too flashy, while also having a unique and perfectly etched design."
7. Salt and pepper diamond engagement ring
[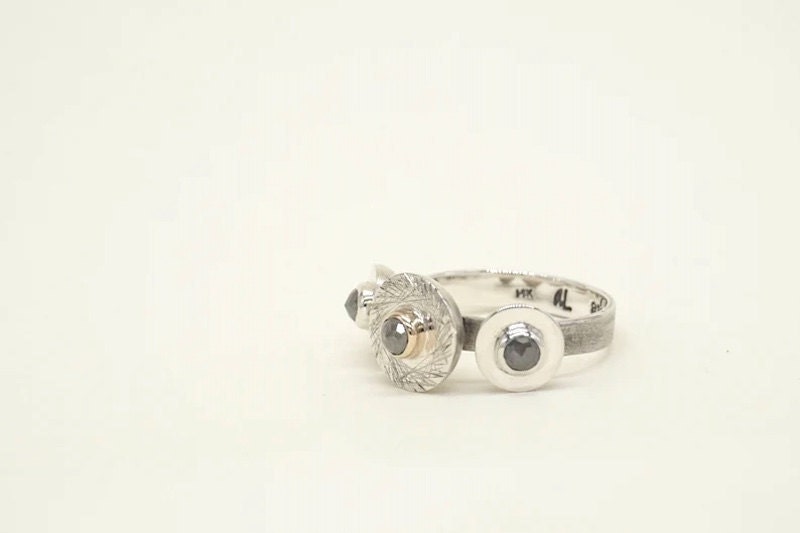 ] SHOP: Salt and pepper diamond engagement ring from Aleishla Jewelry, $450
Striking in both the face-on and profile views, this salt and pepper diamond engagement ring is perfect for the boho bride. This one-of-a-kind ring is a size 8, and features darkened details in the silver band, with three dark diamonds weighing in at a total carat weight of 0.98. It's a beautiful and affordable option for anyone looking for an engagement ring under $1,000.
8. Diamond mountain ring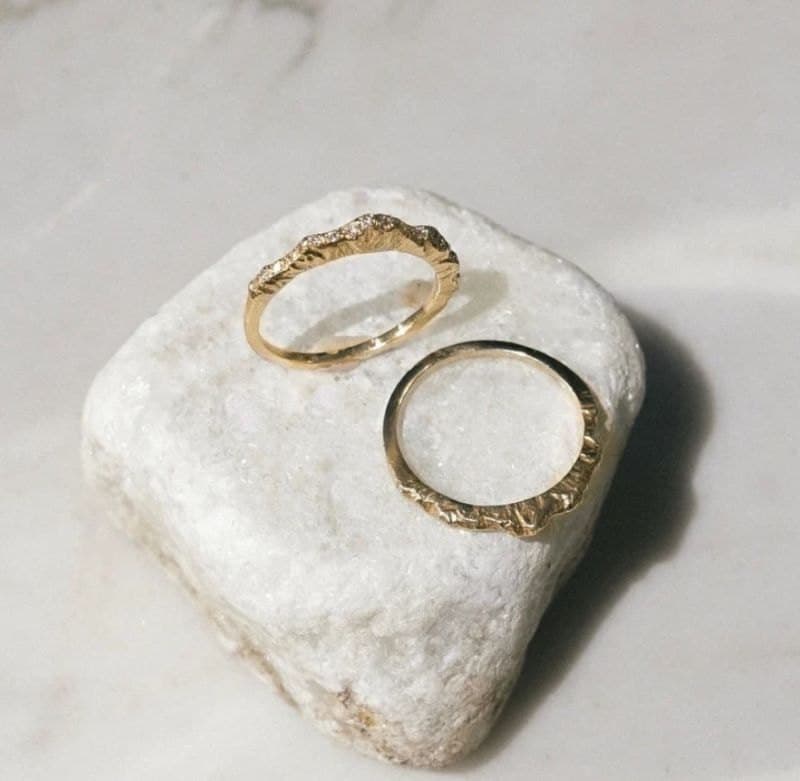 SHOP: Nature engagement ring from Everli, from $475
The "peak" of non-traditional engagement ring style, this beauty incorporates an original mountainous design with diamond-encrusted hills. Buyer reviews call it the "perfect ring" and "absolutely gorgeous," and praise the seller's professionalism and care, as well as the super fast shipping.
9. Statement cluster engagement ring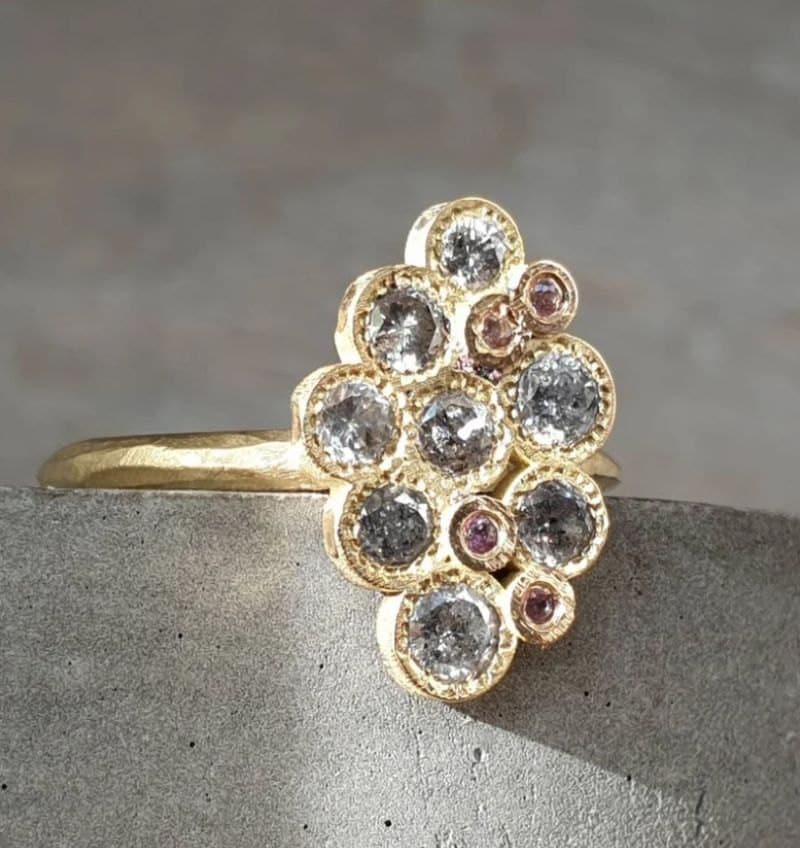 SHOP: 18k gold ring with salt and pepper diamond and 4 pink sapphires from CJbijoux, $1,460
When it comes to choosing a modern, unique engagement ring, you don't need a massive rock to make a major statement, as showcased by this salt and pepper ring that's oozes wow-factor. Featuring a cluster of diamonds totaling 1.6 carats in weight, and four beautiful pink sapphires embedded in an 18K gold band, this one-of-a-kind Edwardian ring design can be customized to your exact size.
10. "Firenze" square diamond pave ring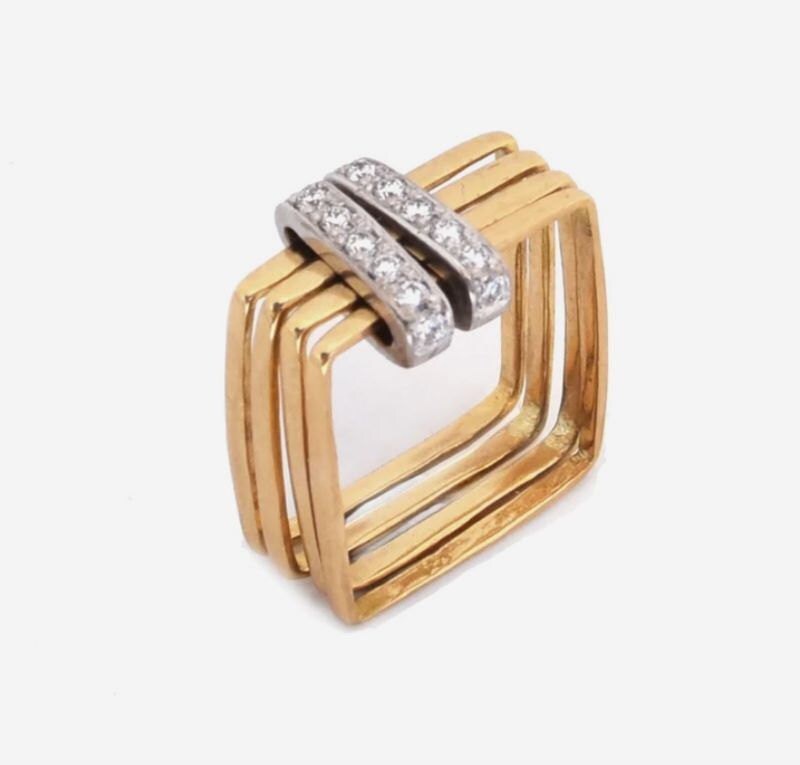 SHOP: Diamond pave double bar engagement ring from Florence handmade, $2,355
Handmade by a contemporary jewelry designer in Sydney, Australia, this diamond-wrapped modern engagement ring raises the bar on non-traditional wedding rings. One buyer review calls it "an absolutely stunning ring." The happy shopper, "The concept embodied a feminine and masculine persona that I wanted to come through for my partner. She absolutely loved it. It couldn't have been a better choice to fit her hand and to start our lives together!"
11. Stacked ruby engagement ring set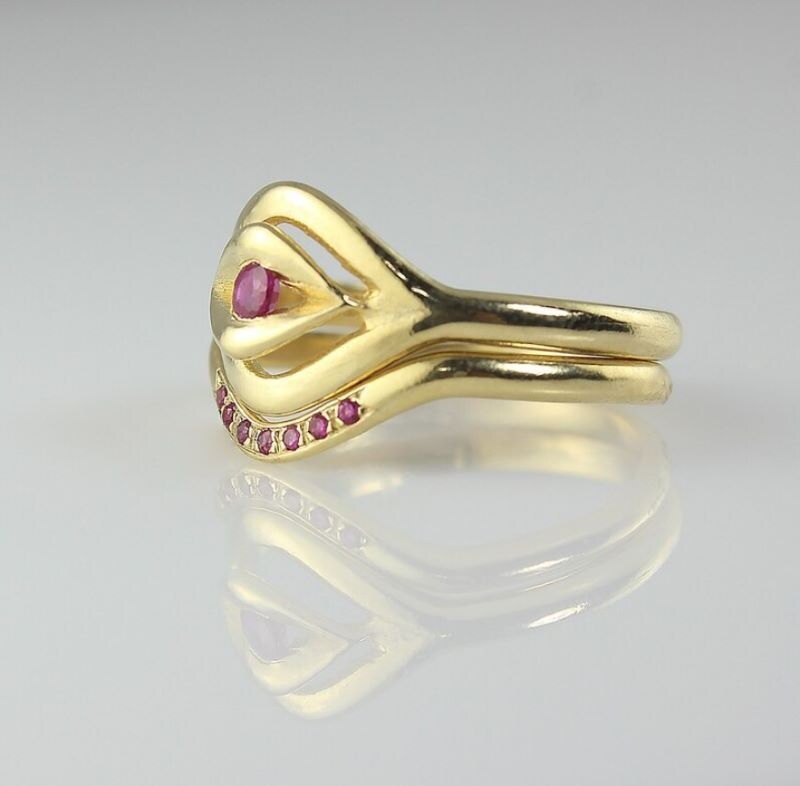 SHOP: Gold ruby stacked ring from Etty Gold Design, $808
This non-traditional engagement and wedding ring duo is the perfect pairing of modern rings. This ruby-set design is also available with diamonds, and you can add a second curved, non-traditional band if you'd like to pair one on either side of the engagement ring. This small shop can also engrave a personal message, name, or date inside the band.
12. Modern pearl and diamond ring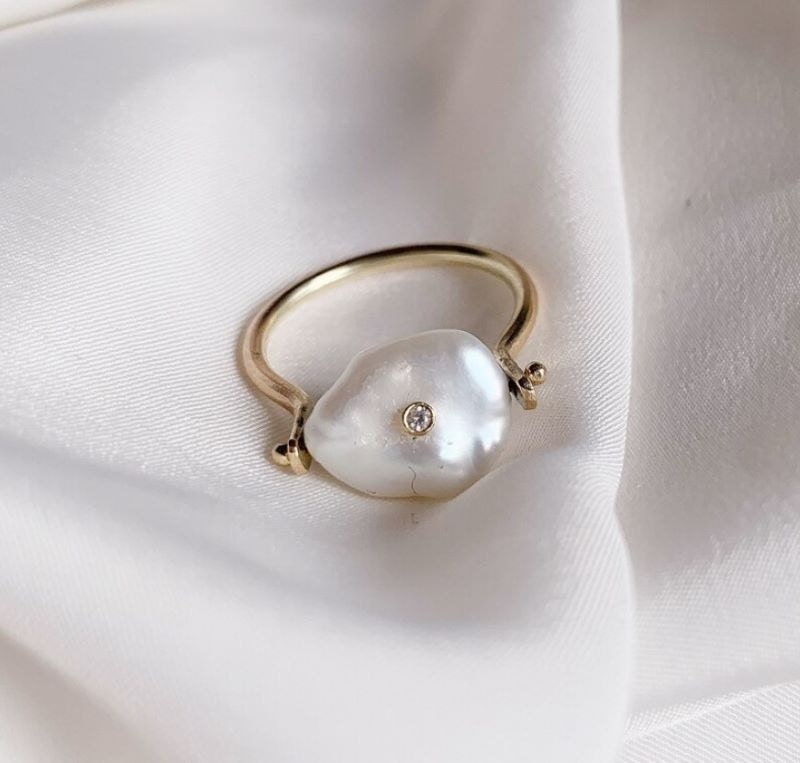 SHOP: Baroque pearl and diamond ring from Rebekah Ann Jewellery, $489
Attractive, unique, and just the right size to make a statement, this modern engagement ring is actually two rings in one: The asymmetrical pearl gem can pivot to display an embedded small diamond. Handmade in Brighton, UK, using upcycled gold grain that the seller forges and forms into a band, each of these non-traditional engagement rings is completely one-of-a-kind.
13. Modern crown-set diamond ring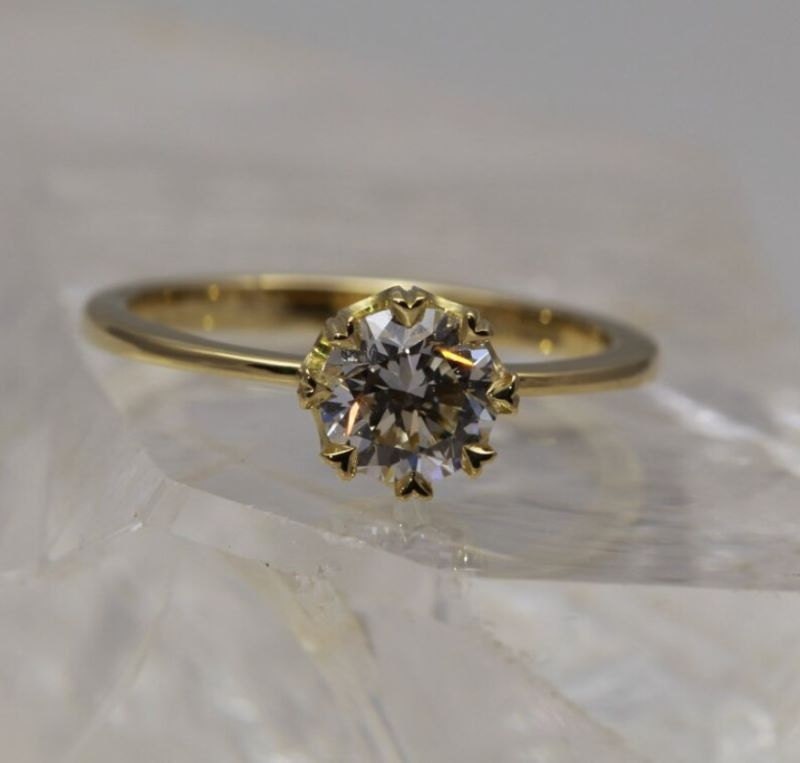 SHOP: Crown-set diamond engagement ring from Jacqueline & Edward, from $2,095
A traditional solitaire engagement ring gets a modern twist in this half-carat crown-design. For the stone, you can choose either a recycled, or lab-grown diamond, or a moissanite diamond look-alike that's made from silicon carbide—a much more affordable alternative that can't be differentiated from the real thing with the naked eye.
14. Pivoted princess-cut diamond ring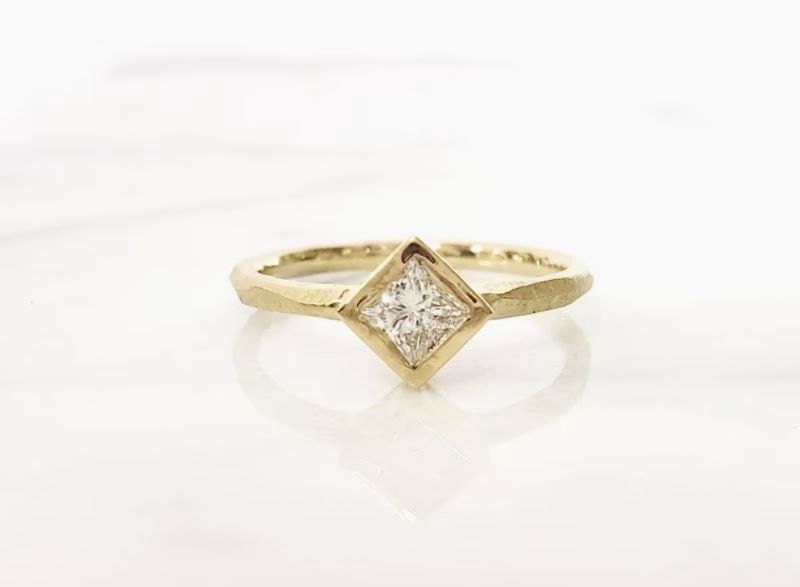 SHOP: Square diamond solitaire engagement ring from Sheena jewellery, from $2,800
Handcrafted with love in Montreal, Canada, by a mom of three boys, this dainty square-cut, bezel-set diamond engagement ring is ideal for anyone who wants a modern engagement ring with a minimalist vibe. The diamond is a half-carat, and the band can be smooth polished, or textured for a non-traditional feel, in a selection of golds.
15. 14K gold geometric bridal set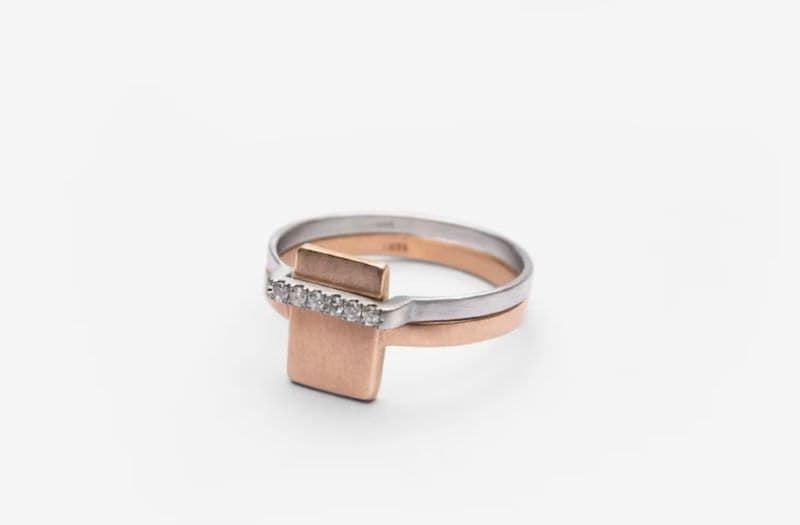 SHOP: 14K solid gold engagement ring and wedding band from Inbar Alezraki, from $723
This ring set is described in buyer reviews as "stunning," "simple but elegant," and "perfect" by happy shoppers, and we wholeheartedly agree. With six diamonds weighing .06 carats each, the two included rings fit perfectly together, deceptively looking like one beautiful, modern engagement ring. You can choose from yellow, white, or rose gold, in either 14K or 18K to get the exact look you want.
16. Black square onyx diamond ring set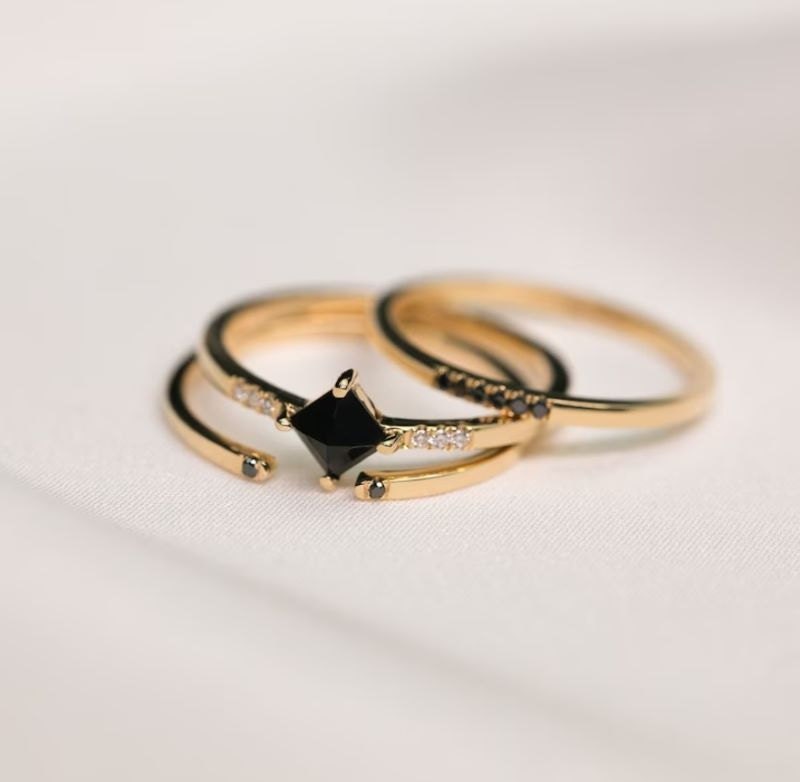 SHOP: Black diamond stacking ring set from Purplemay Jewellery, from $820
Not one but three black onyx and diamond encrusted rings are included in this modern solid gold stacking set. Each ring perfectly complements the other, although they can easily be worn separately, too. "I had been looking for a unique design for a while and these are perfectly my style," wrote one buyer. Another added, "These rings are absolutely divine… They are so dainty and glittery. I am in love."
17. Modern kite-shaped agate engagement ring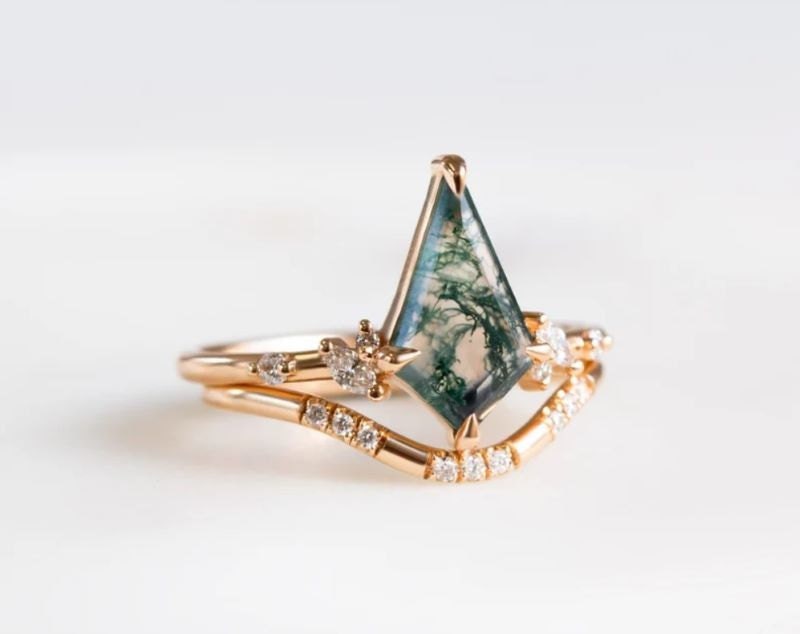 SHOP: Kite-shaped moss agate diamond ring from Hiddenspace Jewelry, from $1,900
Did we save the best for last? It's hard to choose, but this kite-shaped green gem is moss agate, our current jewelry obsession. The "Mikaela" is designed and handcrafted in Los Angeles, CA, and it comes with a matching diamond band which, though optional, perfectly hugs the non-traditional engagement ring. The designer is happy to accommodate requests if you prefer a different gemstone, but this green beauty is giving us serious heart-eyes.
How do we pick the best modern unique engagement rings?
As Etsy Journal editors and contributors research and curate shopping guides for some of the best-loved items on Etsy, we thoughtfully consider the creativity, customization, and craftsmanship that go into each product. We also consider buyer reviews, item ratings, and customer service, and tap the expertise of our in-house merchandising and trends experts to uncover high-quality finds for every budget. You can find more information about each item in the seller's listing details and can take a look at their individual shop policies and reviews, too.