by Rachel Mosely
Discover our five favorite ways to wear November's warm, radiant, and totally autumn-approved birthstone.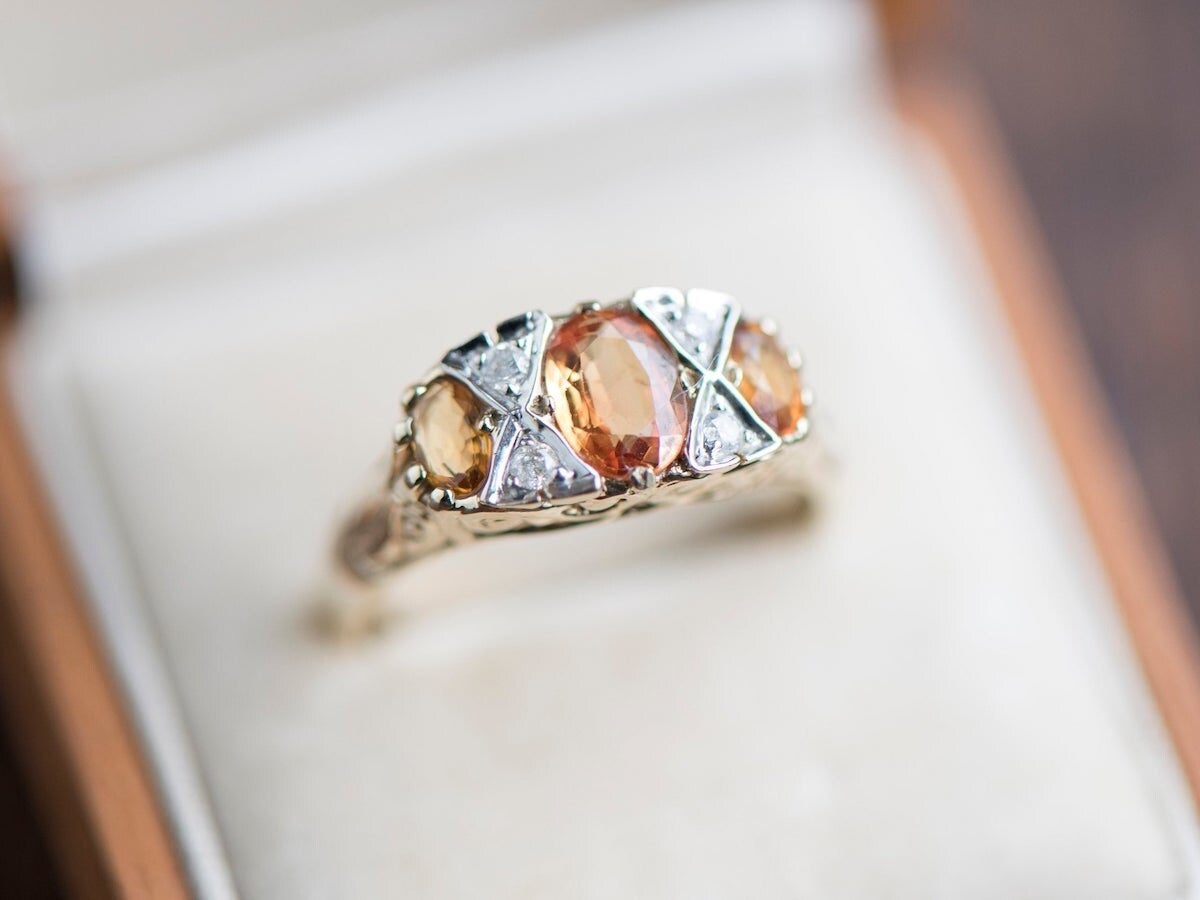 A carpet of crunchy golden leaves. The last few fiery moments of a saturated sunset. A piping hot mug of your favorite spiced cider. With its quintessentially autumnal yellow-orange hue, it's hard to imagine a more fitting birthstone for November than showstopping citrine. The perfect complement to a jewel-toned fall wardrobe, this luminous gem adds a pop of warmth and radiance to any ensemble. Get your glow on with our lineup of stunning citrine picks below.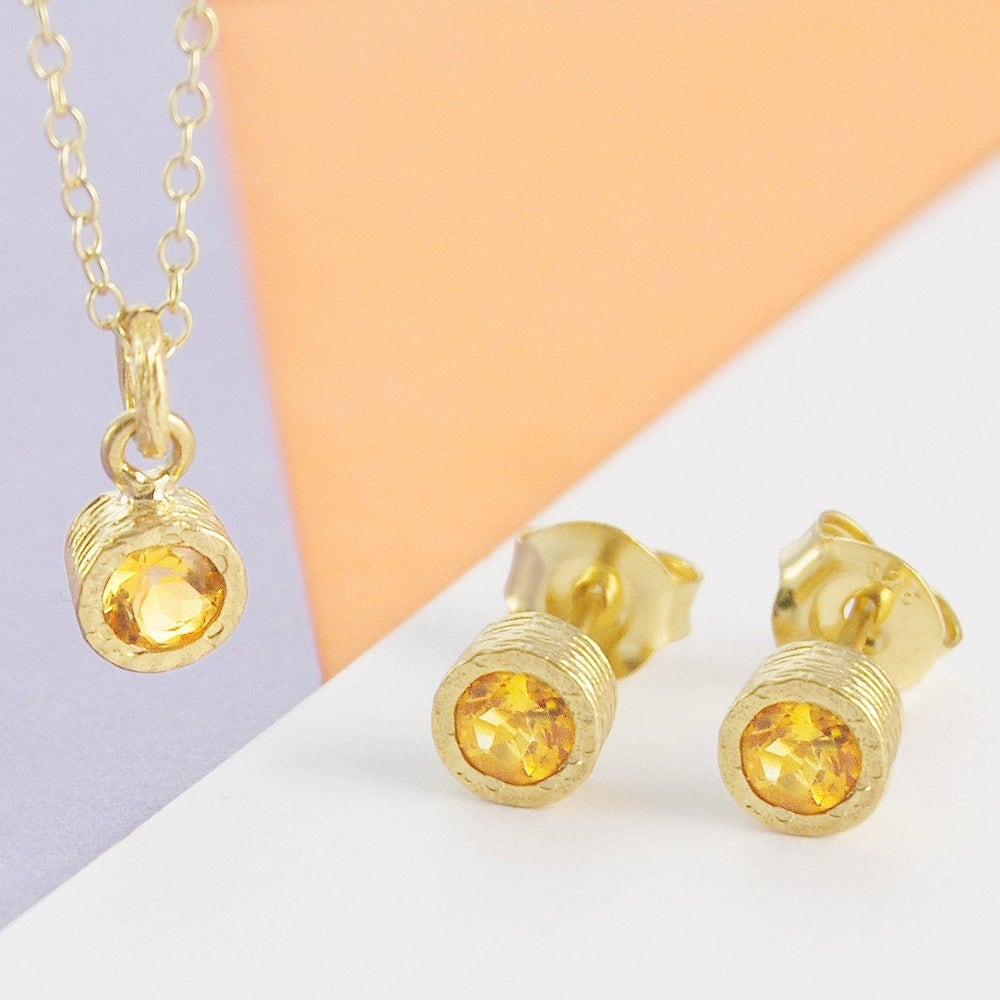 Classic enough to please even the most old-school jewelry collector, this gift-worthy citrine set stands out for its subtly textured setting, which beautifully reflects the light. Take home the necklace or studs separately, or scoop up both and prepare to dazzle.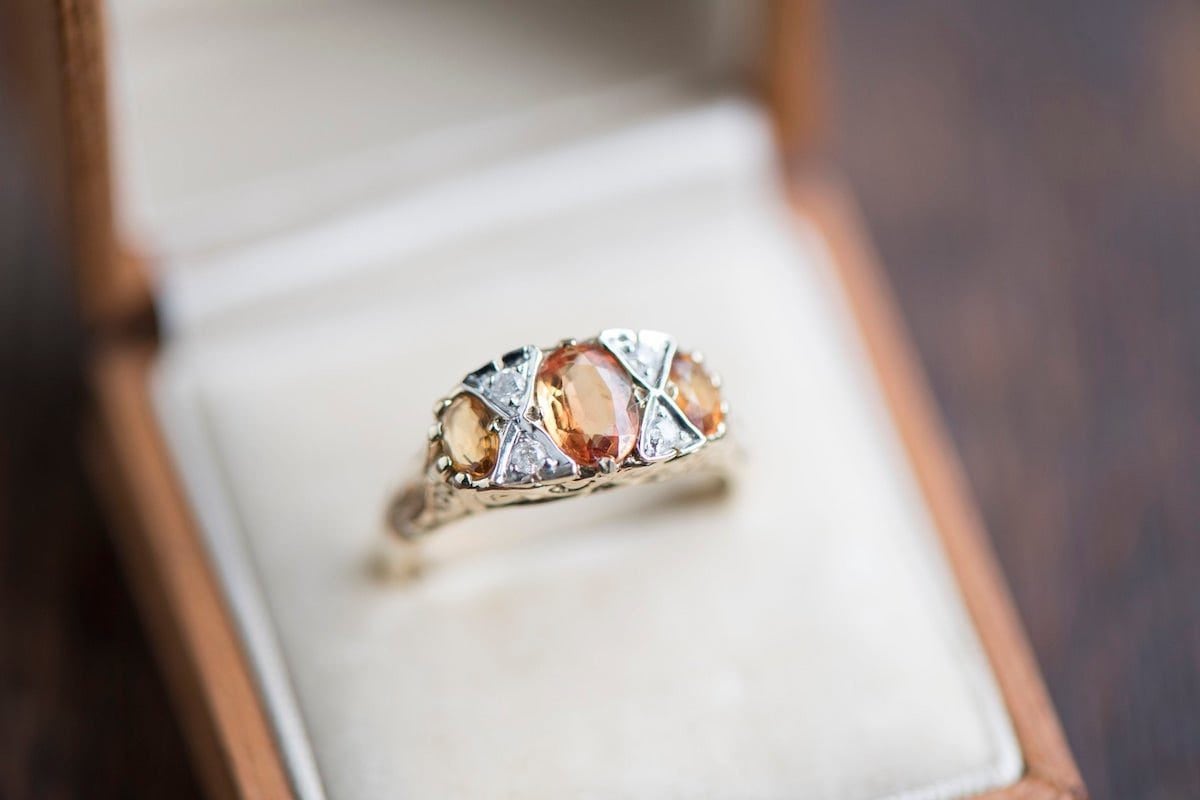 From the base of its intricate gold filigree band to the tip of its Art Deco-inspired setting, this vintage citrine and diamond cocktail ring exudes elegance. And thanks to the extra-durable combination of stones (citrine and diamond both clock in among the toughest gems around) this instant heirloom also happens to be well-suited for everyday wear.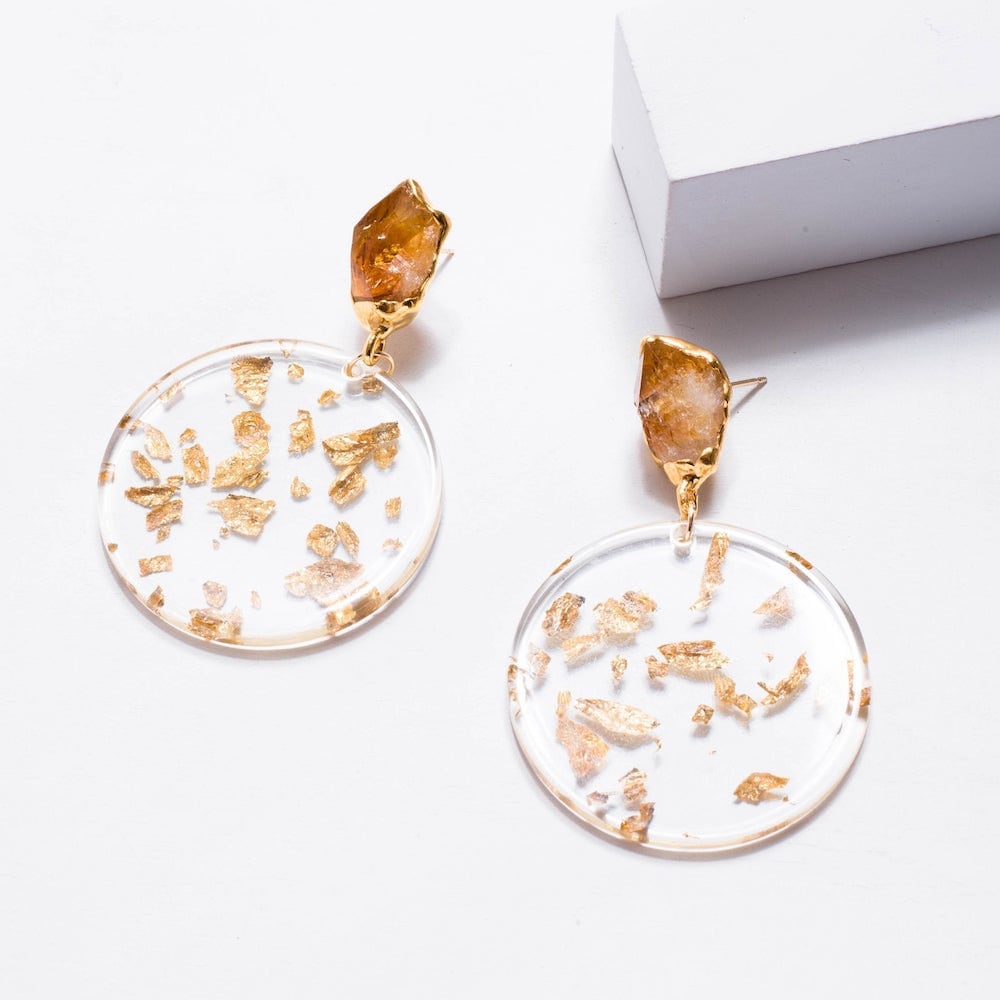 A smattering of suspended gold leaf flakes may lend these acrylic drop earrings a dreamy snow-globe effect, but the luxe raw citrine slabs anchoring each statement-maker radiate a decidedly toasty vibe.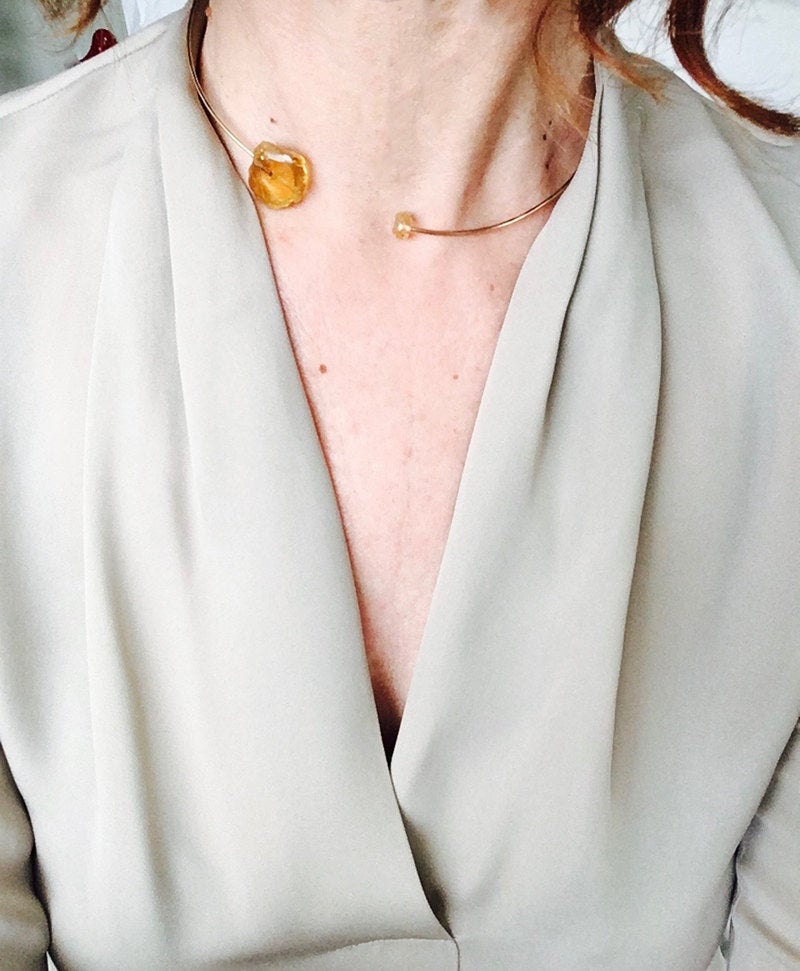 Put a sophisticated spin on any outfit with this sculptural take on the '90s accessory that's made a roaring comeback. Featuring two distinctive citrine stones (one larger and unfinished, the other smaller and finely faceted) this asymmetrical choker is available in a gold-filled, sterling silver, or brass finish.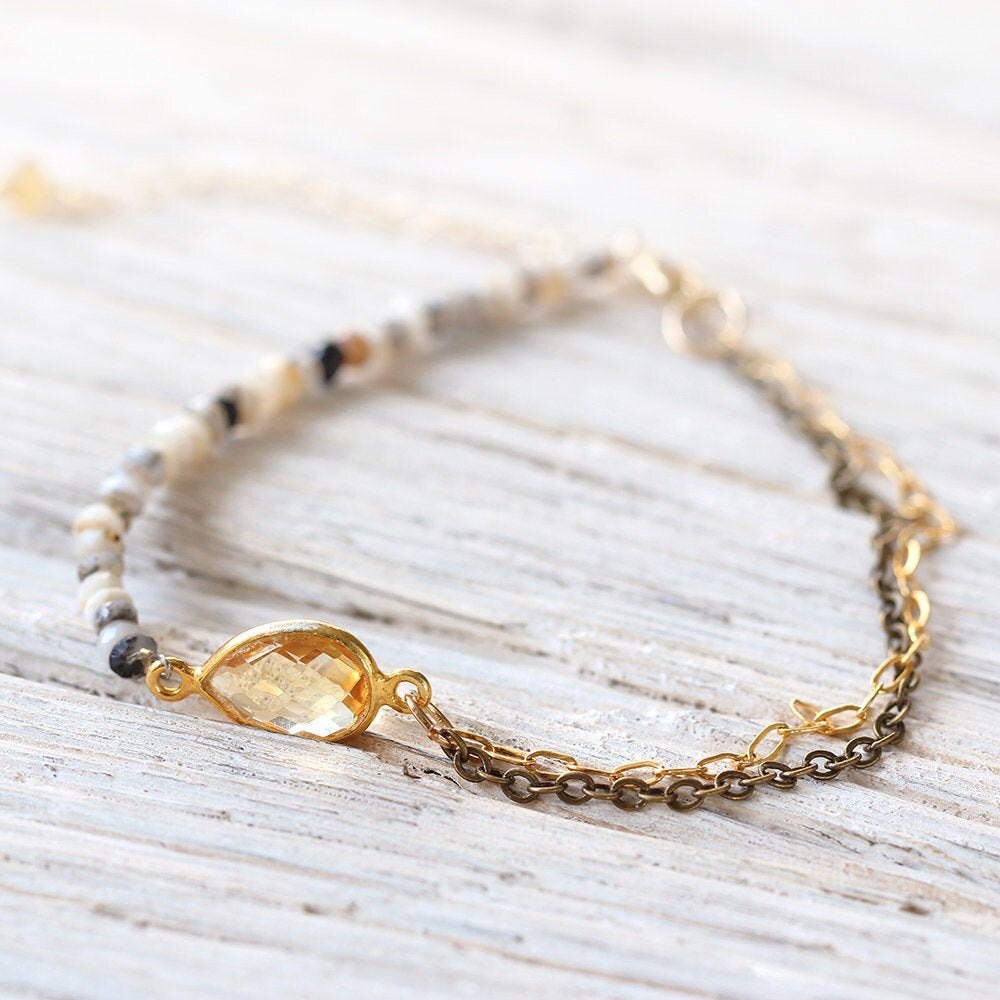 October and November are two peas in an autumn pod, and opals and citrines—their respective birthstones—make an equally dynamic duo. Case in point: this dainty bracelet, comprised of a multi-hued string of petite opals, a mixed-metal pair of chains, and last but certainly not least, a brilliant citrine centerpiece.
Citrine at home
Warm up your abode with amber glass accents and golden textiles.