by Jackie Buddie
A botanical painter with a love of lush colors shares the piece she's most proud of, plus the work from a fellow artist that's caught her eye.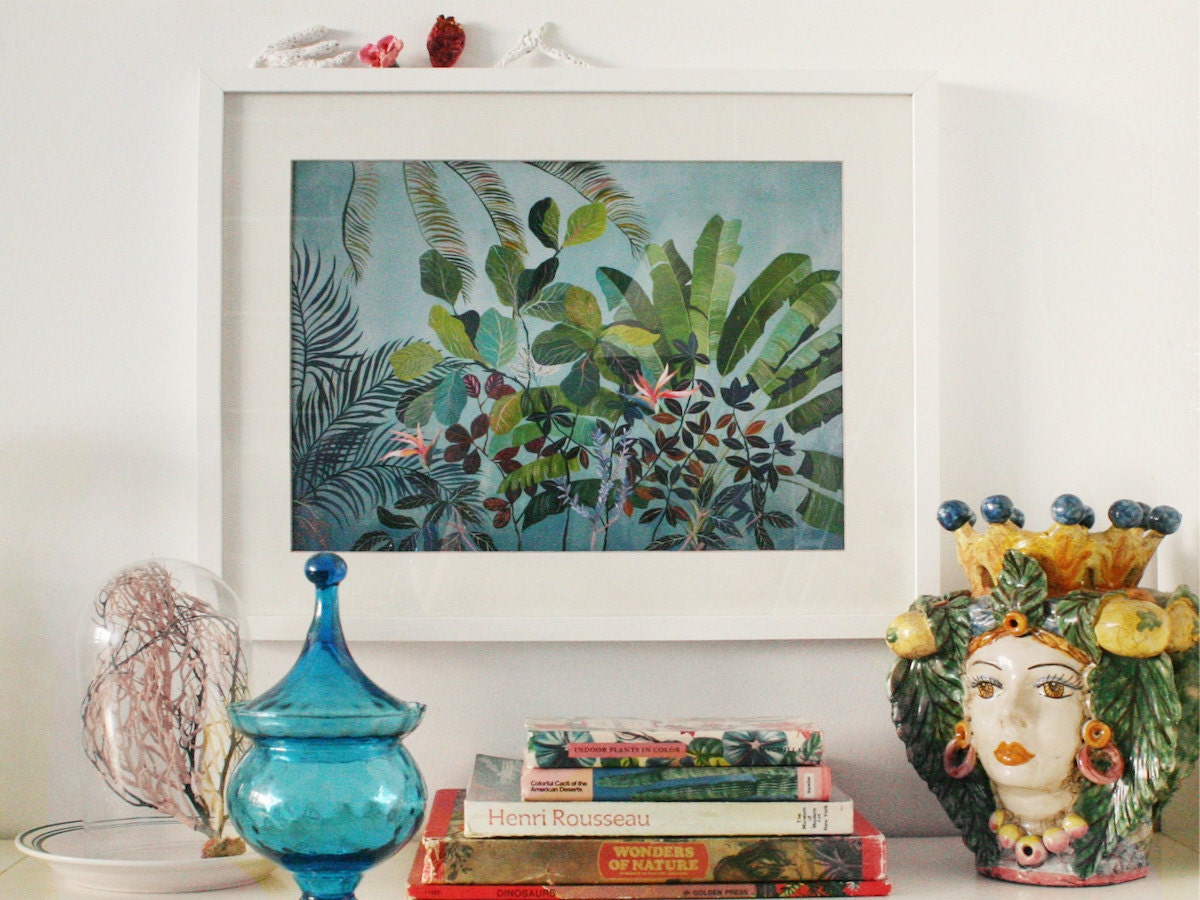 In our One of Mine, One of Theirs series, we tap our seller community to share the finds they're loving most—from their own shops and from those they admire.
One of mine: a serene tropical scene
Good news for all you budding gallery wall curators: If you're looking to reinvigorate your space with some fresh wall art, the lush botanical prints from Art and People are bound to be a natural fit. Inspired by Mother Earth's splendor, painter Laura Garcia Serventi creates colorful scenes bursting with robust plant life, instantly transporting you to your own sunny oasis. "The world of plants fascinates me, and botanical gardens are one of my favorite places to visit," explains the Argentine-born artist. But of all the vibrant designs in her collection, you might be surprised to learn that Laura's current top pick is actually one of her moodier, more muted pieces—specifically because of the artistic challenge it presented when she first painted it.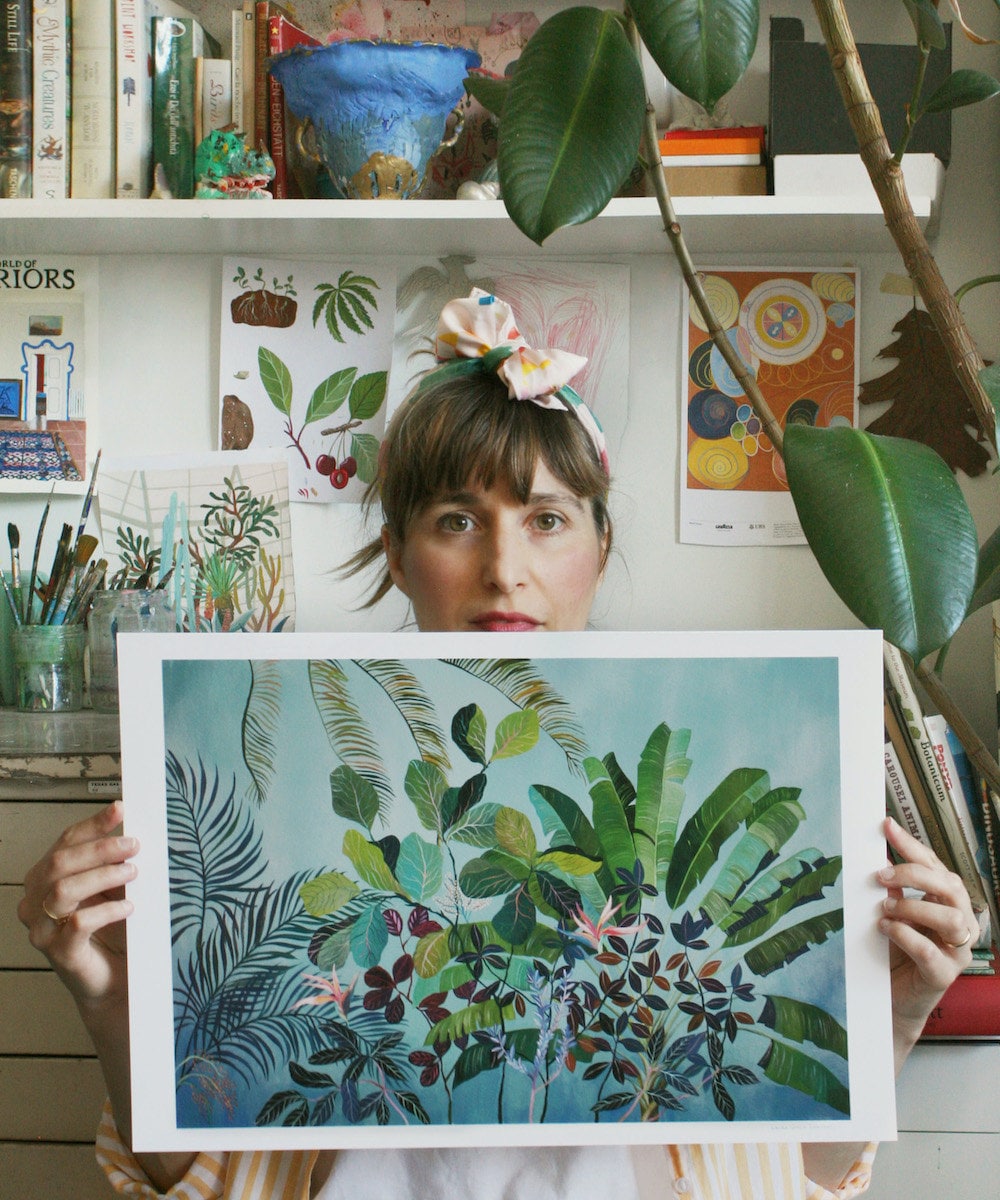 The tropical print 'Birds of Paradise' began as a custom order, which Laura spent two weeks painting in her signature color-rich style. But ultimately, it turned out the vivid hues weren't quite what her client had in mind. "I saw only one option: to do a whole new painting from scratch—this time with a more desaturated palette," Laura says. "I have to say, I ended up loving the second version more than the first." Featuring a hazy blue backdrop, small bursts of pink blossoms, and delicately veined Madagascar palm fronds, the finished piece is now a lasting reminder of the beauty that can come through collaboration.
One of theirs: a playfully patterned greeting card
Still, when Laura shops for herself, she can't help but be attracted to a prismatic pop of pigment—and, of course, a healthy dose of plant life. Recently, she's been swooning over the work of fellow illustrator Mimi Kim of Clap Clap. "There's a simplicity about her aesthetic that I really love," Laura says. "I find it modern and bold. It touches me and just makes me happy. I also love how she introduces animals in her paintings in a pattern-like design."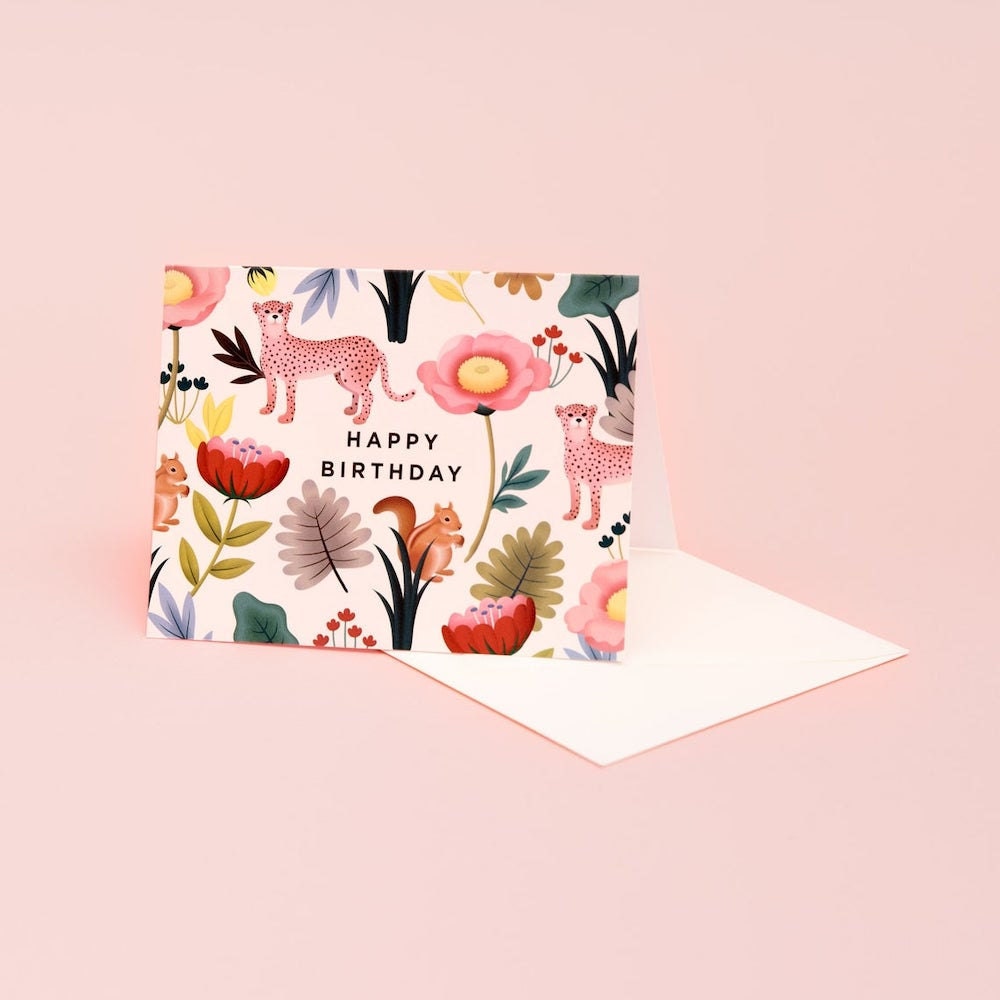 Currently catching Laura's eye? A birthday card decorated with a rainbow of flora and fauna. "This card would be perfect for a dear friend, it's just so lovely," she says. "I could also envision a selection of her cards framed in a children's room, maybe standing on a display shelf. I think they would look so beautiful."