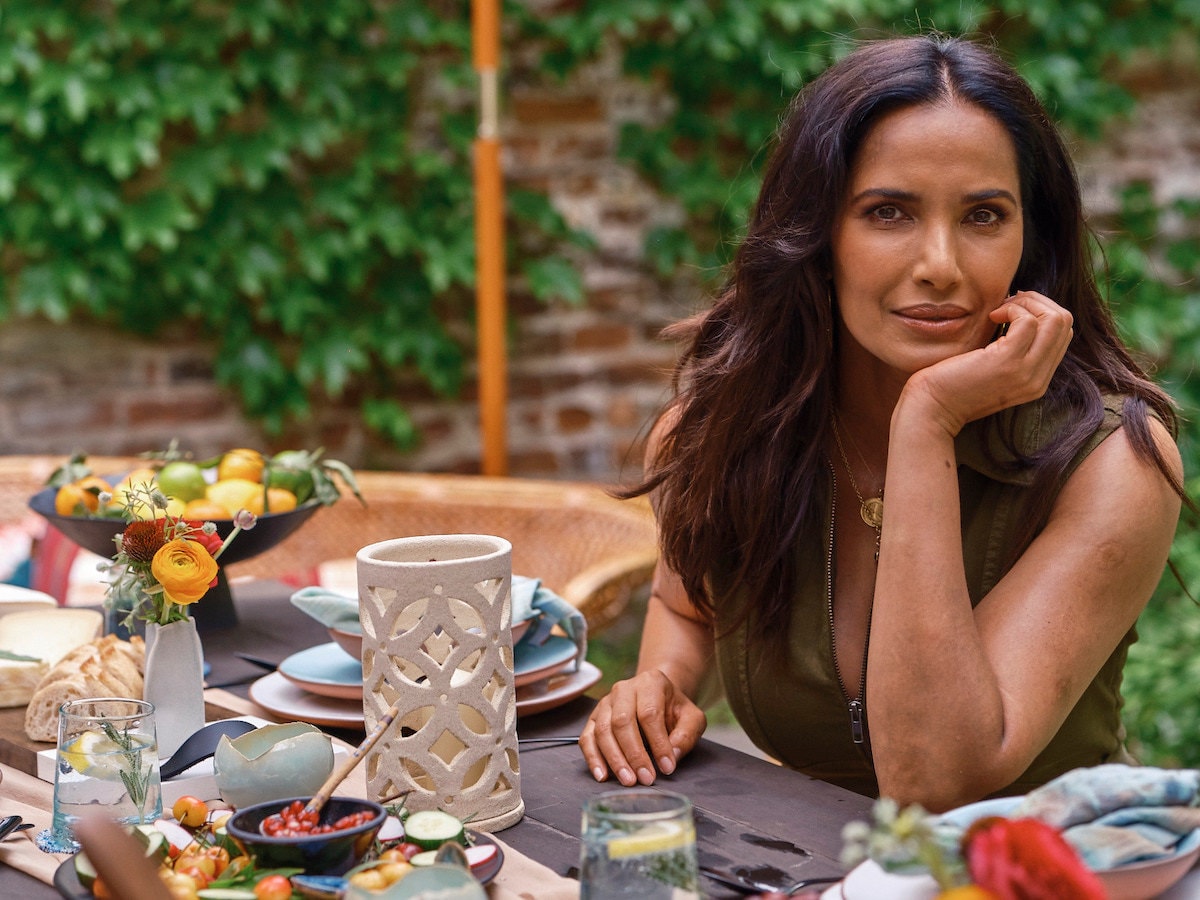 In The Etsy Edit, we go behind the scenes with some of our favorite tastemakers to explore their inspirational spaces and enviable style.
"What I enjoy most about food is that it brings people and communities together," says Emmy-nominated TV host and culinary expert Padma Lakshmi. "When I'm entertaining, I want every piece on the table to be just as meaningful and impactful as the food, company, and conversation itself."
Shop Padma Lakshmi's Etsy Edit
From color-blocked cutting boards and showstopping serveware to personalized gardening tools for growing your own ingredients, Padma's perfect recipe for outdoor dining includes one-of-a-kind, handmade items that combine to create a warm and welcoming space for breaking bread—whether it's an extra-special occasion or routine weeknight supper. The cherry on top? "I love knowing that every item in this Etsy Edit supports independent entrepreneurs," she says. Scroll on for a sampling of her picks, then be sure to shop the full Etsy Edit in time for your next alfresco affair.
For the kitchen: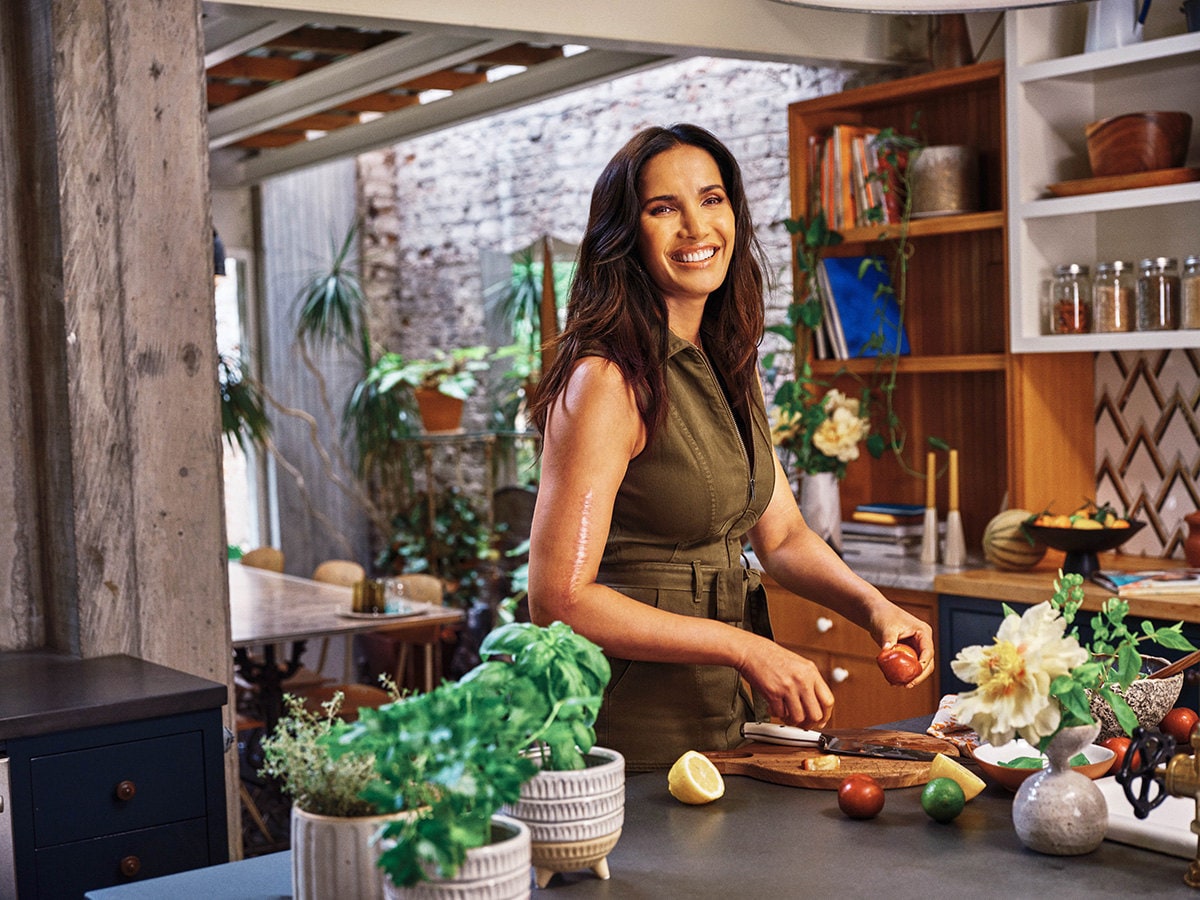 Dazzling cruets for drizzling
"My style is colorful and eclectic without being too fussy," Padma says. "I selected a lot of blue and green accents (like these blown glass cruets) to pop against the wood. We know from mother nature that those colors go well together: green from the trees and blue from the sky."
Pattern-splashed spoon rests
Stoneware spoon rests with intricate patterns will hold your cooking utensils and your sous chef's gaze, all while keeping your summertime pasta sauce from sullying the countertops.
A sculptural serving bowl
"I love this blue serving bowl because it's so beautiful and organic looking, almost like a rock that was just cut in half and carved out," Padma says. "The juxtaposition of the rough jagged outside and the smooth, periwinkle interior is stunning."
A terracotta curry pot
Built from pure unglazed clay, this terracotta curry pot blends form and function—holding its own in the oven and out on display.
A constellation cutting board
Chop, dice, and mince among the stars (even if you're not on Top Chef) thanks to the engraved constellation motif on this handmade cutting board, which comes in your choice of maple or walnut.
For the table: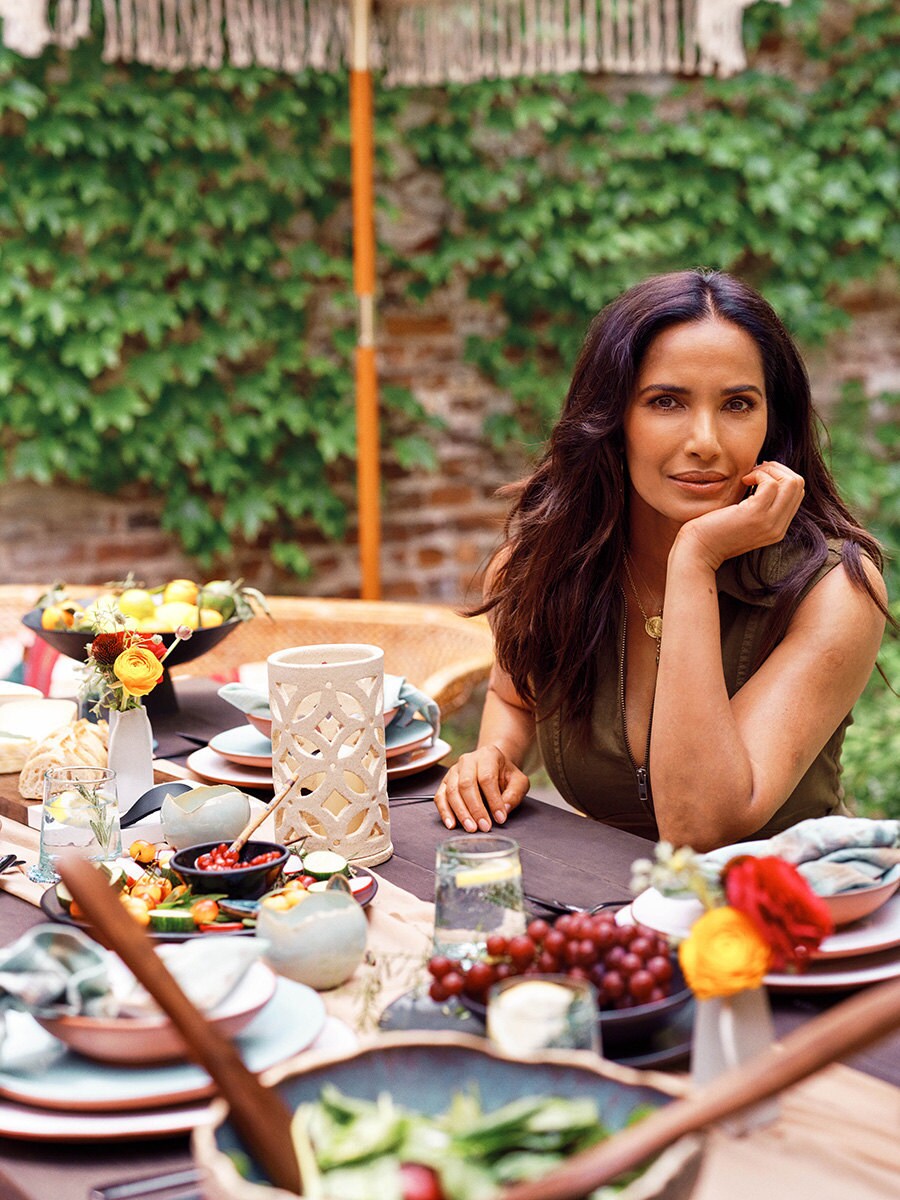 Minimalist plates in pleasing hues
Smooth ceramic plates in organic shapes and earthy colors will provide the perfect understated backdrop for whatever's on your menu—and multiple sizes mean there's a dish for every course: appetizer, entree, and dessert.
A rustic stoneware pitcher
Whether you're pouring lemonade or a little splash of sangria, this matte glazed pitcher will get the good vibes flowing.
Hand-blown glassware
Made in Morocco from recycled beer and wine bottles, these eye-catching glasses complement a range of tabletop color schemes and come in a small gathering-friendly set of six.
A family-sized serving tray
With ample room for cheese, crackers, cold cuts, and more, this 24-inch serving tray is also easy to carry outside thanks to two sturdy leather straps. Styling tip: Add blooms and a bud vase to turn it from snack plate to centerpiece, just like that.
Tie-dye table linens and knotted napkin holders
Cloud-colored cloth napkins pulled through ceramic napkin holders dress up your outdoor dinner table, making it feel special and reducing paper waste in the process.
For the outdoor seating area: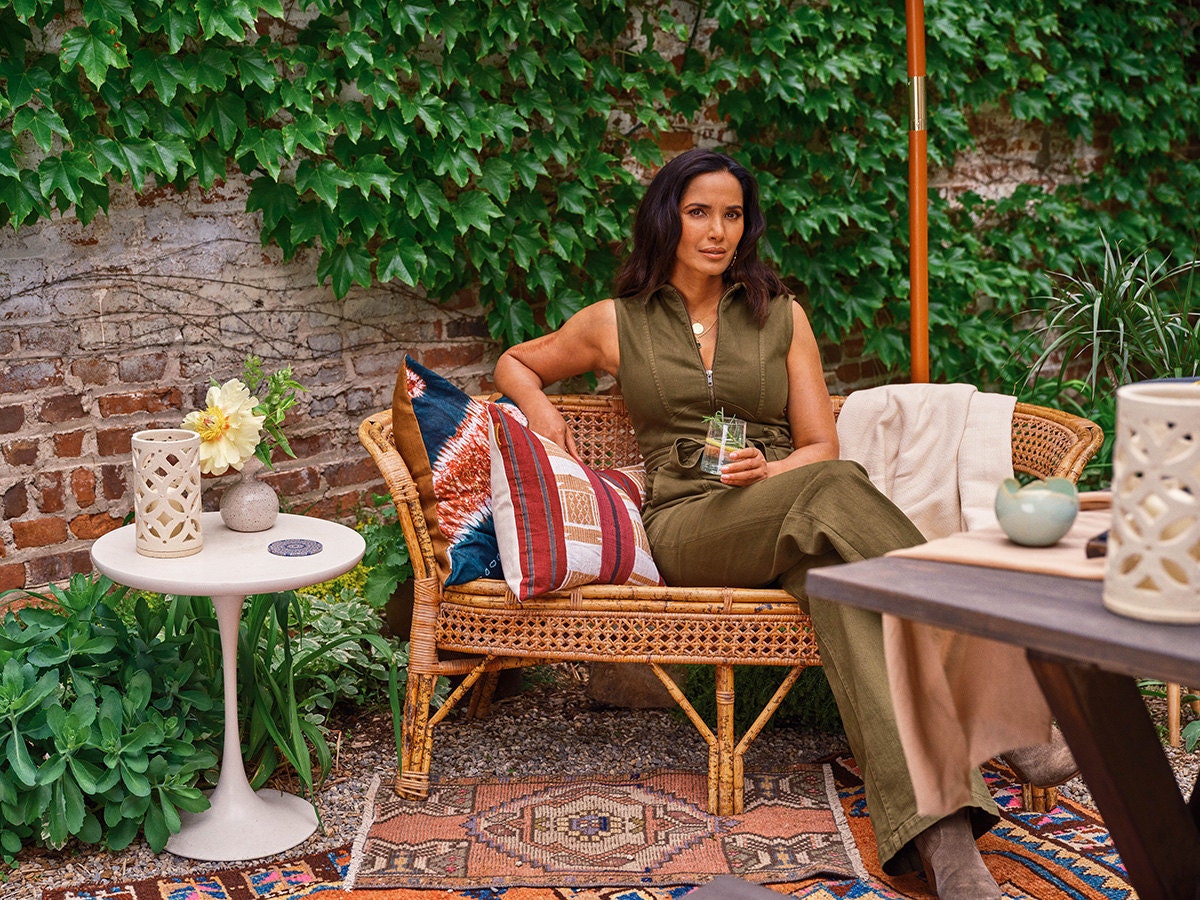 An eclectic collection of pillows and a soft cotton throw
Padma's tip for staging your outdoor seating setup? "Make sure you're thinking about how things feel rather than just how they look." Case in point: Cozy patterned pillows provide cushion against hard edges and a cool cotton throw adds a touch of softness to wicker patio furniture.
Festive lighting
Keep the conversation going even after the sun sets with candle-powered cutout ceramic lanterns and tea light holders in serene colorways.
A macramé umbrella and vibrant vintage rug
"I love contrasting jewel tones with natural materials," Padma says of her outdoor decorating aesthetic, which marries statement pieces like a colorful vintage rug with a more neutral crochet macramé umbrella.
For the garden: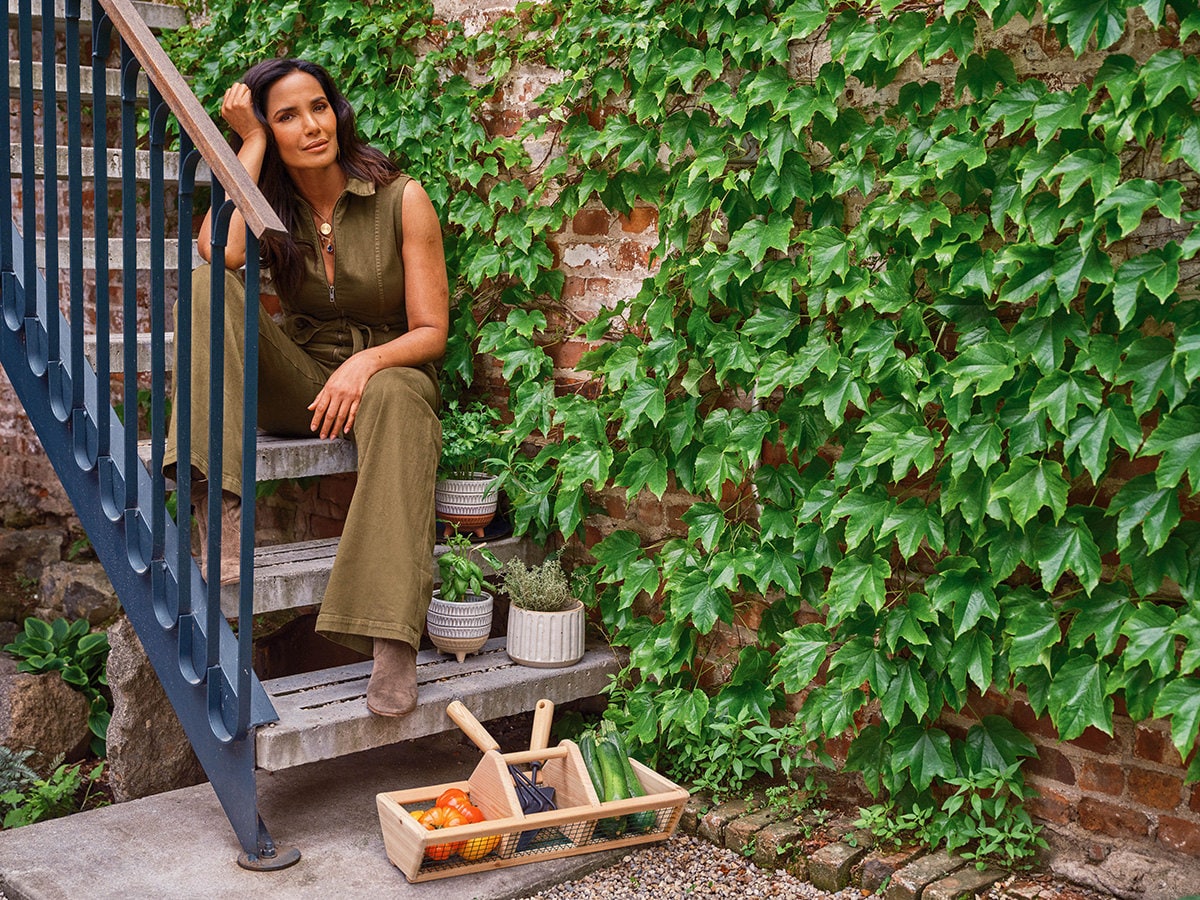 A hand-built basket for your bounty—and tools to boot
Gather home-grown veggies for your next batch of gazpacho with a streamlined cedar basket and sturdy steel planting tools. (Bonus: Both come with the option to add customization so they feel extra you.)
Herb markers crafted from recycled copper
Upcycled from electrical wiring, these rustic hand-stamped herb markers will help you tell your thyme from your tarragon when you're plucking sprigs for meal-prep, like Padma.
Planters with personality
Your precious herbs deserve a special place to unfurl their aromatic leaves, and these textured pots and speckled planters will give them room to grow while adding a little pizzazz to your yard.
Shop more of Padma's favorite Etsy finds:
What can we say? She has great taste.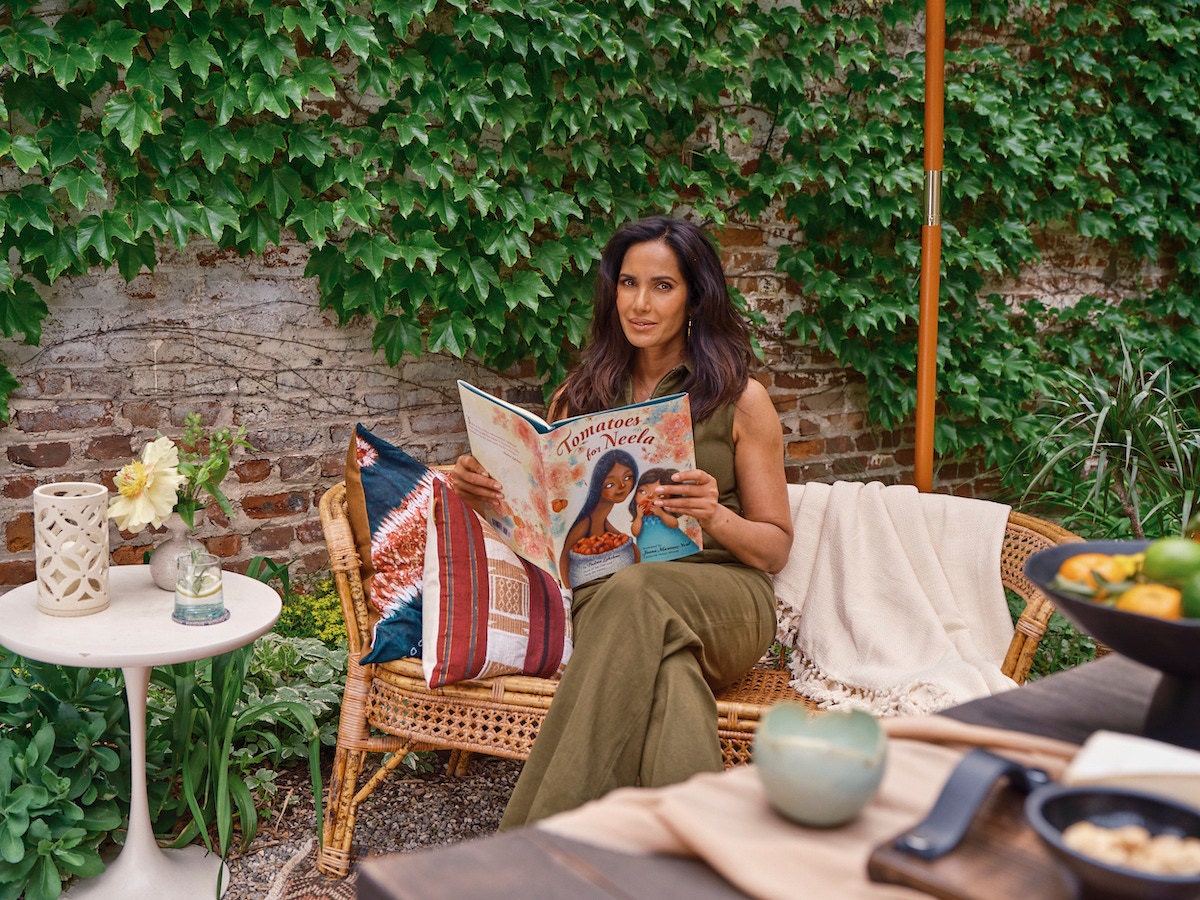 Besides cooking and decorating, how do you express your creativity?
Getting my thoughts on paper is invaluable and I've always loved food writing. In fact, I recently wrote a children's book called Tomatoes For Neela to teach kids where their food comes from and how to determine what's in season.
What are your go-to herbs to grow at home?
Basil, mint, rosemary, and thyme grow in my garden like wildfire. I'm also nurturing two curry plants at the moment—my dad grows them in California and sends them over.
Favorite foolproof recipe for a casual summertime gathering?
Sautéed calamari with checca. It's so easy and quick to make that it's perfect for a summer cocktail party when you don't want to stand in front of the stove the whole time. It's healthy, delicious, and full of protein.
Favorite topic of conversation at the dinner table?
I always ask how couples met. I like getting to hear both sides of the story—it's funny to hear how each side differs!
Photographs by Justin Chung.