Discover beginner-friendly ideas and exact steps for hosting a fun sip and paint night with friends.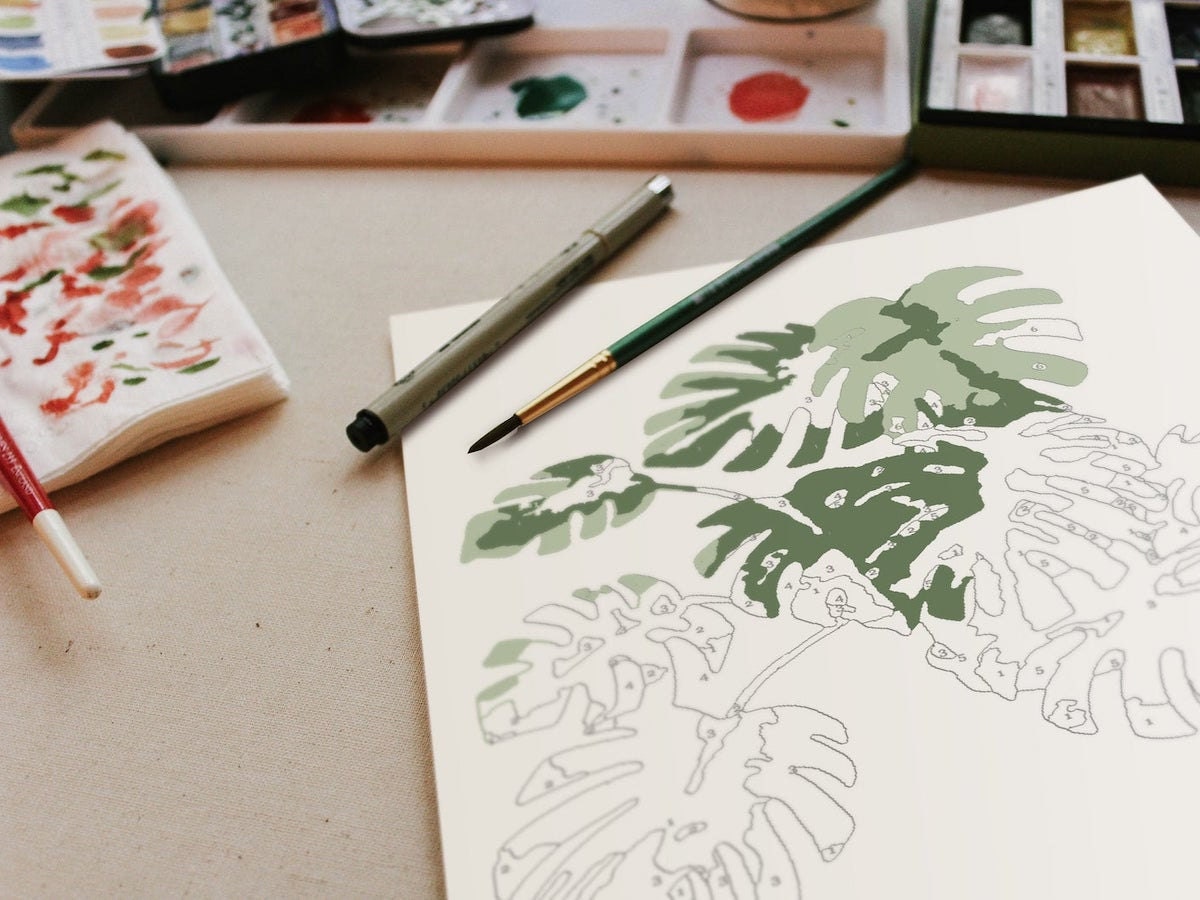 Around here, we always get a burst of creative inspiration when our Instagram feeds light up with a friend's #sipandpaint night post; the growing trend of group painting just does it for us. So we were extra-excited to learn that the originators of the similarly themed #ladiesdrawingnight phenomenon, a trio of crazy-talented artists, illustrators, and designers who began posting the products of their own social drawing sessions back in 2012, had joined forces to document their experiences inside a beautiful softcover book: Ladies Drawing Night: Make Art, Get Inspired, Join the Party (Chronicle Books, $27.50).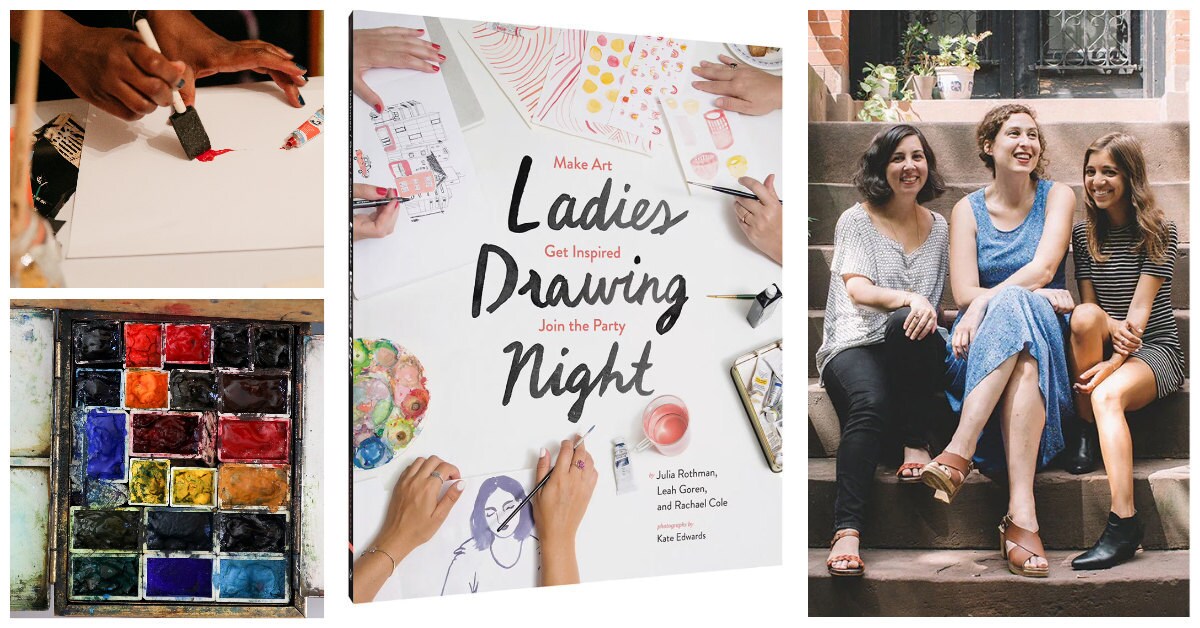 In the book, Julia Rothman, Leah Goren, and Rachael Cole give us a glimpse into some of their favorite themed painting and drawing nights, sharing their serendipitous discoveries and hands-on insights alongside recommendations for materials and detailed guidance for approaching each paint night theme in your own communal draw-a-thon.
Why plan a sip and paint night?
Whether you plan a couples art night at home or a ladies paint and sip night accompanied by plenty of wine, connection and fun are the bywords of the night. Julia, Leah, and Rachael make a compelling case for hopping on this particular bandwagon, whether you and your friends are artistically inclined or not. "These evenings are set times for us to relax, chat and explore new ideas outside of our day jobs," Julia says. "We offer each other suggestions, share supplies, and there is no judgment among us, even if our drawings don't always turn out perfectly! These nights also give us a chance to catch up with each other and talk about what's going on in our lives, and we always have snacks and wine to help us along. Each night ends with us feeling inspired and recharged, if a bit sleepy!"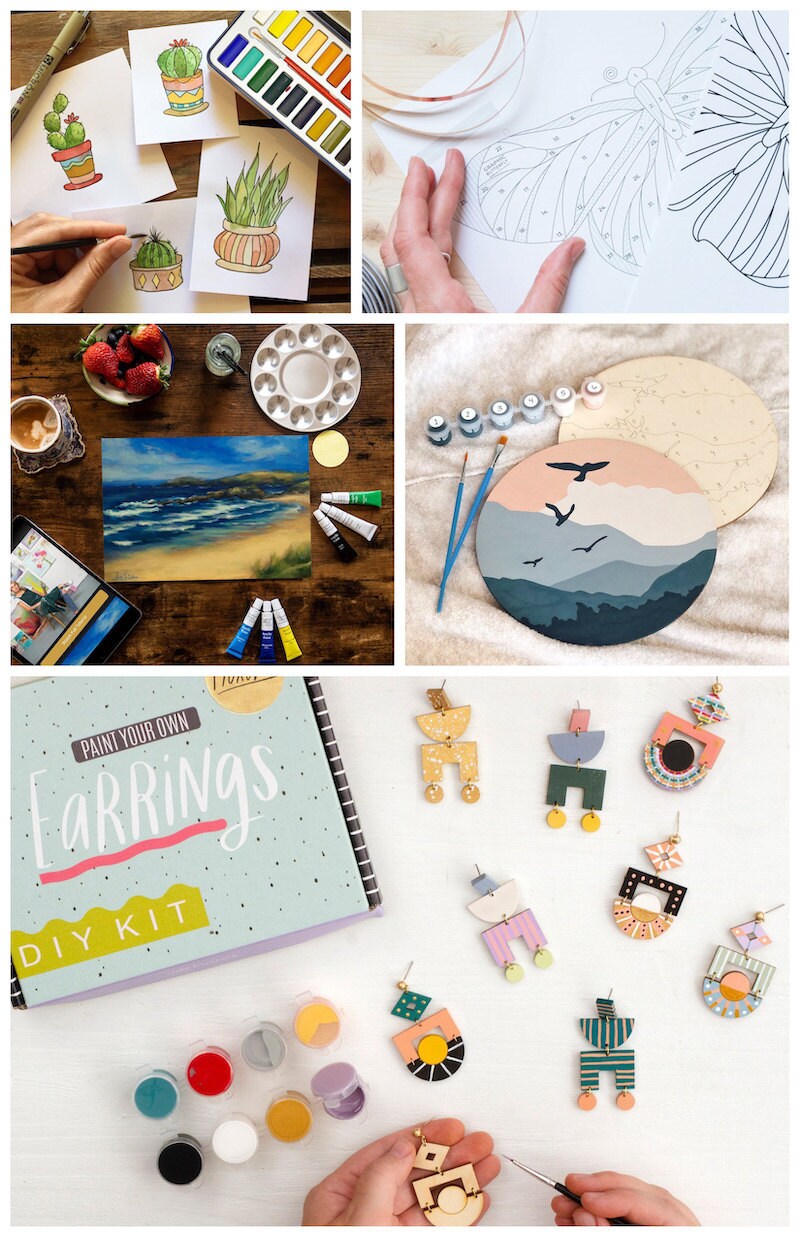 How to plan a paint night party
Planning your paint night doesn't have to be complicated—figure out a few of the logistics, then it comes down to deciding what to paint (and sip). Start here: 
Send out your sip and paint night party invites. 
Assess the seating situation. For small gatherings, your dining room table might suffice, while larger gatherings might require a few folding tables for additional seating. 
Use large tablecloths to protect your table and floors.
Opt for stemless wine glasses for the sipping portion of your painting evening to prevent unexpected spills. 
Consider investing in tabletop painting easels if this is a regular ladies night event. 
Purchase a blank canvas for each RSVP, or ask guests to bring their own. 
Stock up on paint brushes and water-based paints (easier to clean up than other painting styles), or paper and crafting materials that match the theme for the night. 
Don't forget the wine! Essential to any paint and sip art night is a supply of wine—Vinho Verde or Sauvignon Blanc are both crowd pleasers.
Five themed ideas for a paint and sip night
The last step to a memorable art night? The right theme. To help you get started—and ease any amateur's intimidation—Julia has dreamed up five beginner-friendly sip and paint night ideas just for you. "We often pick a theme for our own evenings," she says. "It can be loose or very specific, but without one, we'd often say to each other, 'I don't know what to draw tonight.' It's also a fascinating way to see how artists interpret ideas differently."
Build a still life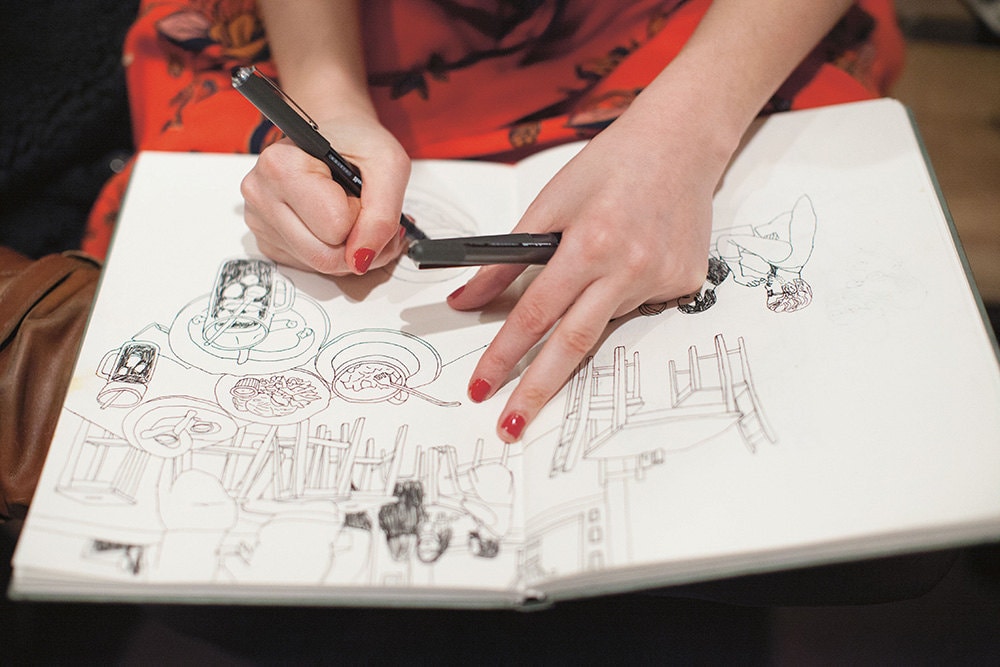 "Ask each attendee to bring along an object of their choice," Julia says. "Place each item in the middle of the working space in an appealing grouping where the objects interact from every angle. Seat the guests around the objects so they each have a different point of view. What's exciting about this exercise is that everyone brings an object they would like to draw, and that varies greatly between people, forcing you to render objects you don't normally draw. It also opens up many conversations about why each person chose their objects."
Create cut and pass art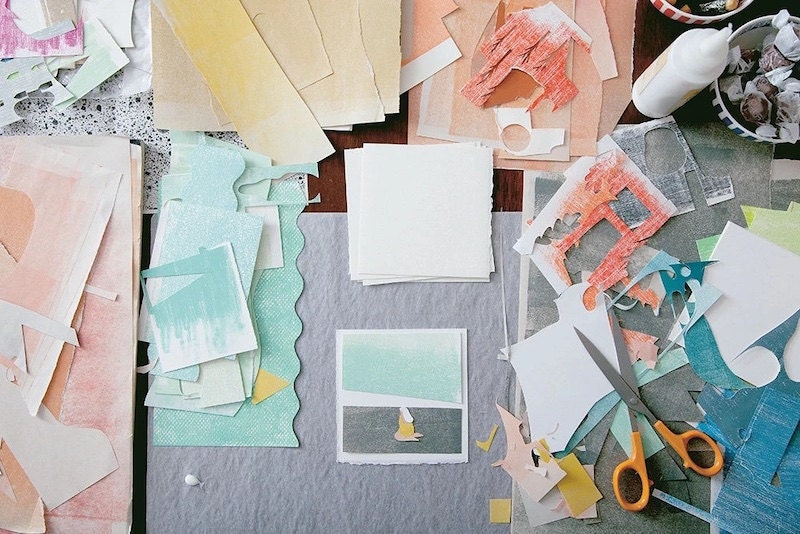 "Each participant brings a range of papers of all kinds (colored, gridded, magazine pages, old tickets, etc.) and places them in a pile in the middle of the table. Then everyone starts cutting shapes out of the papers and placing the cut shapes into another pile. Once all the paper has been cut, each guest starts using those pieces to make collages. It will be inspiring to work with shapes you didn't cut."
Try painting abstract art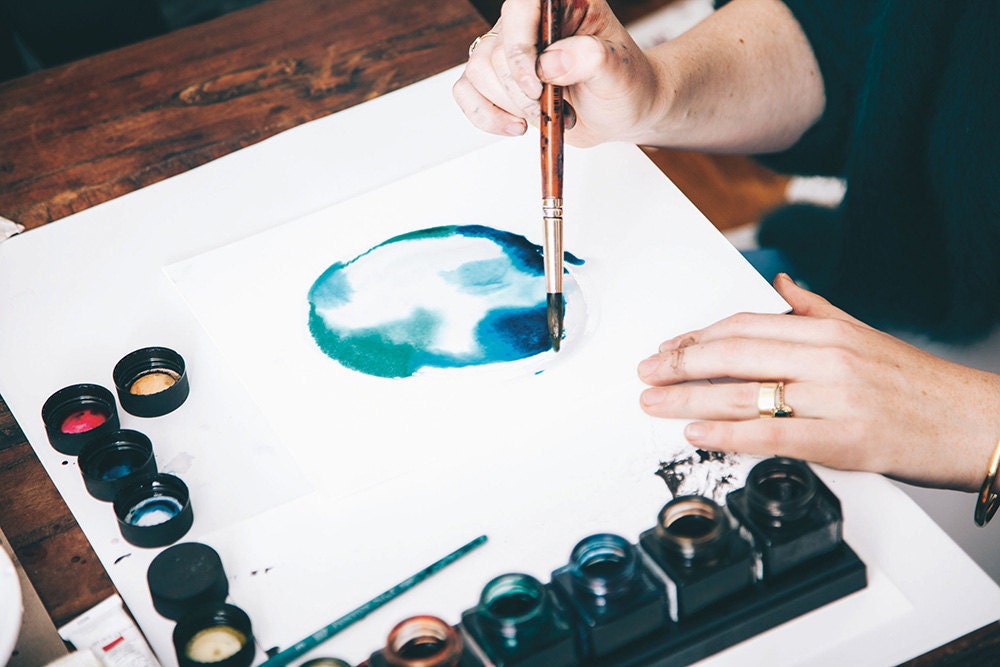 "Often we are very concerned with representing our real world, so it's good to force yourself to just think about shapes or lines once in a while. While depicting a figure or space correctly is often the first concern, now composition, color, and mark-making take priority. We suggest working on a few drawings at once—this way, none is so precious and you can go back and forth between each of them with fresh eyes to see what would make them better."
Paint unconventional portraits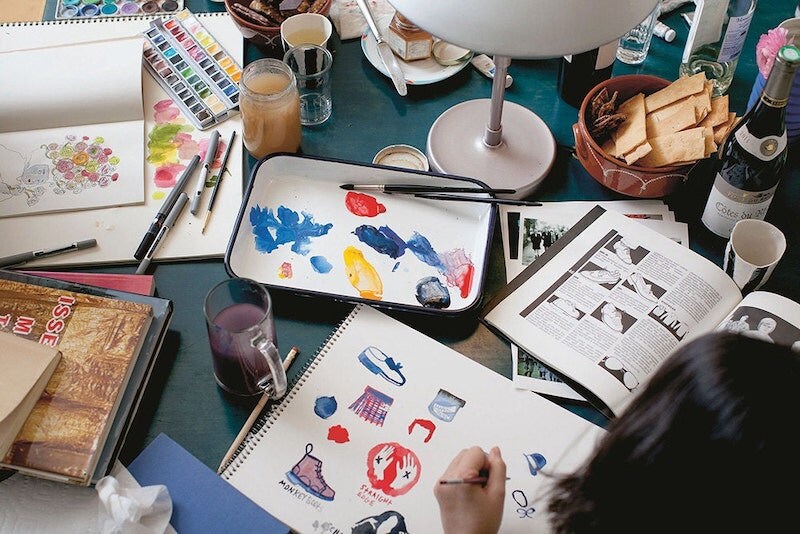 "Create a portrait of yourself or someone else by drawing objects that represent them. This could be the clothes they wear (all of your dad's hats) or things they own (the dishes in your grandmother's cupboards), or things they like to do (your own paint brushes, things from your bag, things in your bedroom). You can learn a lot about someone by looking at their stuff, and this is a neat way to document it."
Collaborate in a big way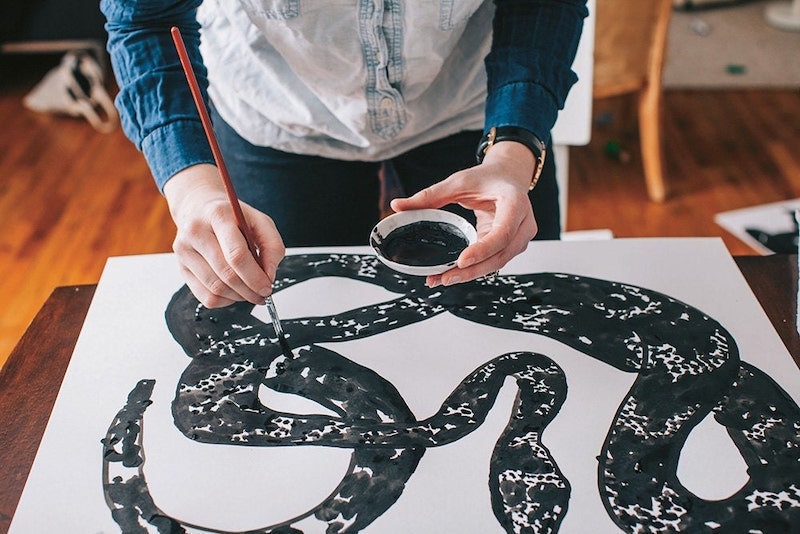 "If you have the space, it's always beneficial to work outside the usual paper size and make giant drawings—and when you are all contributing to one artwork, the space gets filled more quickly. Keep the palette limited: We like to use only black ink, so that it all feels cohesive even though everyone's style is different. And scale up your brushes so your line weight is much bigger. We suggest buying a roll of paper and working on the floor; that way you can stand up and look down on it when you want to review the progress. Don't be scared to add to each other's work and build upon it."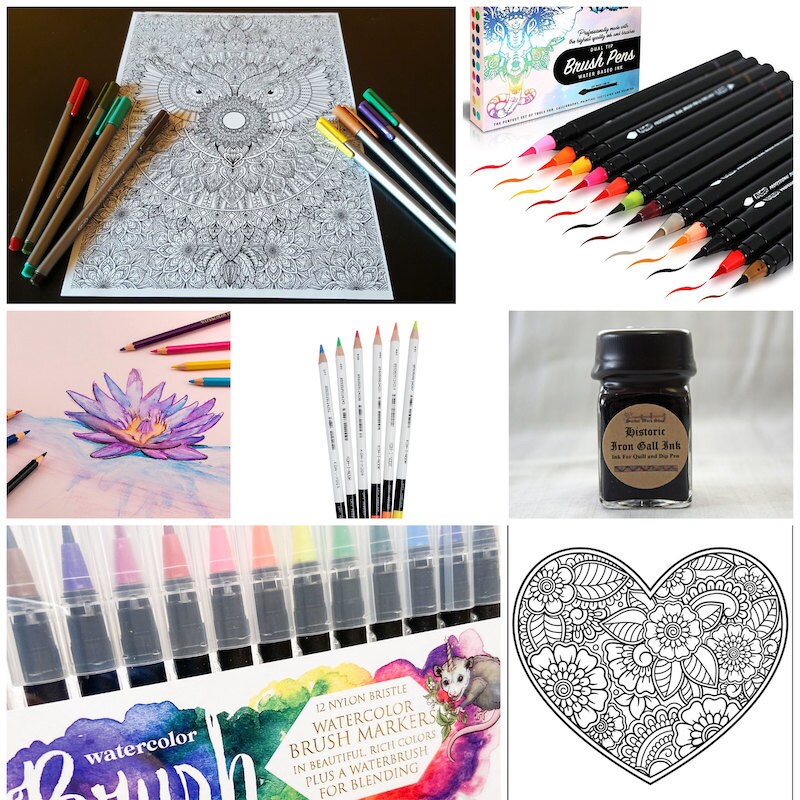 Want more creative inspo for a group? Try easy embroidery kits or unique crochet ideas.
Except where noted, all photos by Kate Edwards, courtesy Ladies Drawing Night: Make Art, Get Inspired, Join the Party by Julia Rothman, Leah Goren and Rachael Cole, published by Chronicle Books, 2016.