When it comes to comeback classics, the pearlcore trend is here to stay. Here's how to style this timeless gem throughout your wardrobe and home.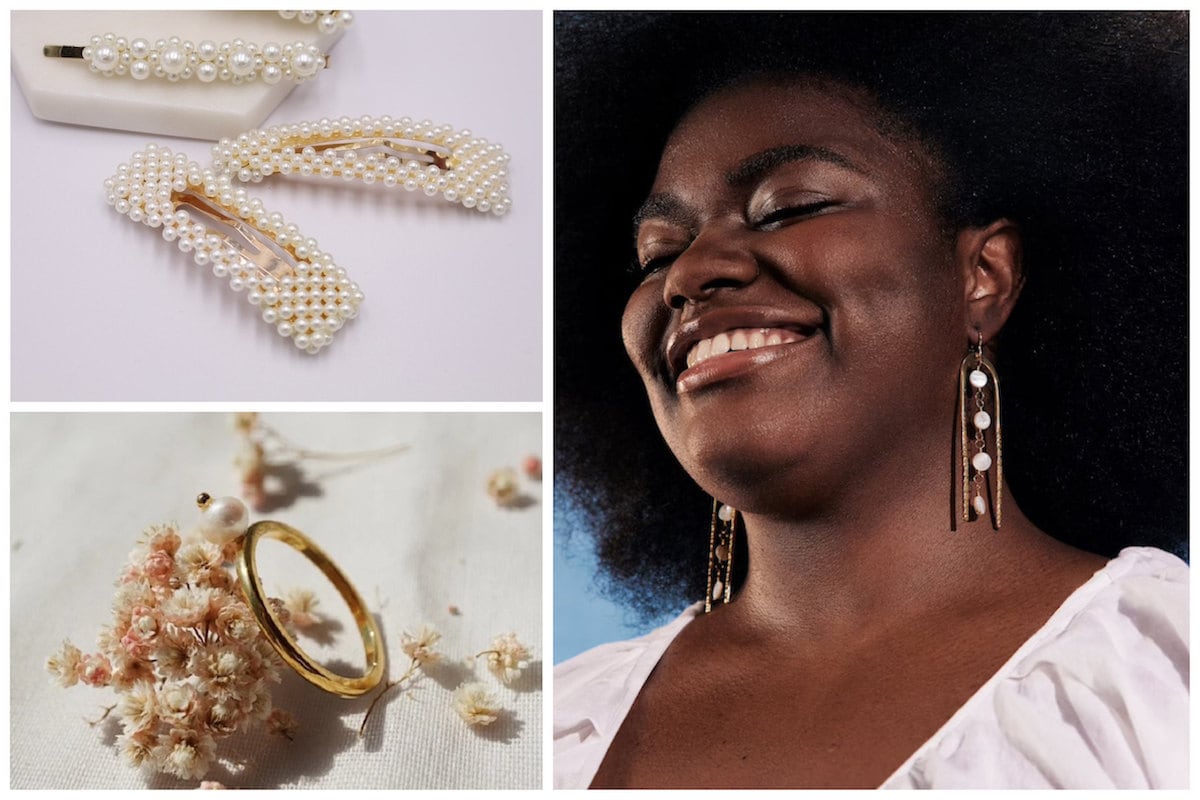 This classic gem never really went out of style, but has most definitely made a major resurgence as of late, and Etsy sellers are answering the cry for the classics with timeless designs that make it easy to wear the pearlcore trend everyday. More than simply donning a single strand of pearls, pearlcore is all about making the most of unexpected accents—from embracing the asymmetrical beauty of freshwater pearls to taking inspiration from the stone's natural radiance and infusing that iridescence throughout your home.
A quite literal symbol of intense transformation, pearls determinedly evolve over the course of anywhere from months to years as a response to an irritant making their way into a mollusc. Their resilience—and brilliance—grows over time until they enviably emerge as a symbol of elegance and resilience. Whether it's incorporating the pearl trend into your wardrobe and jewelry or throughout your home, here's how to nail the pearlcore trend.
Pearlcore hair accessories
No longer just for bridal beauties, pearlcore hair accessories are perfect for everyday wear. These picks are handcrafted by independent sellers who personally select each understated gem that's woven into these clips and headbands.
1. Pearl hair clips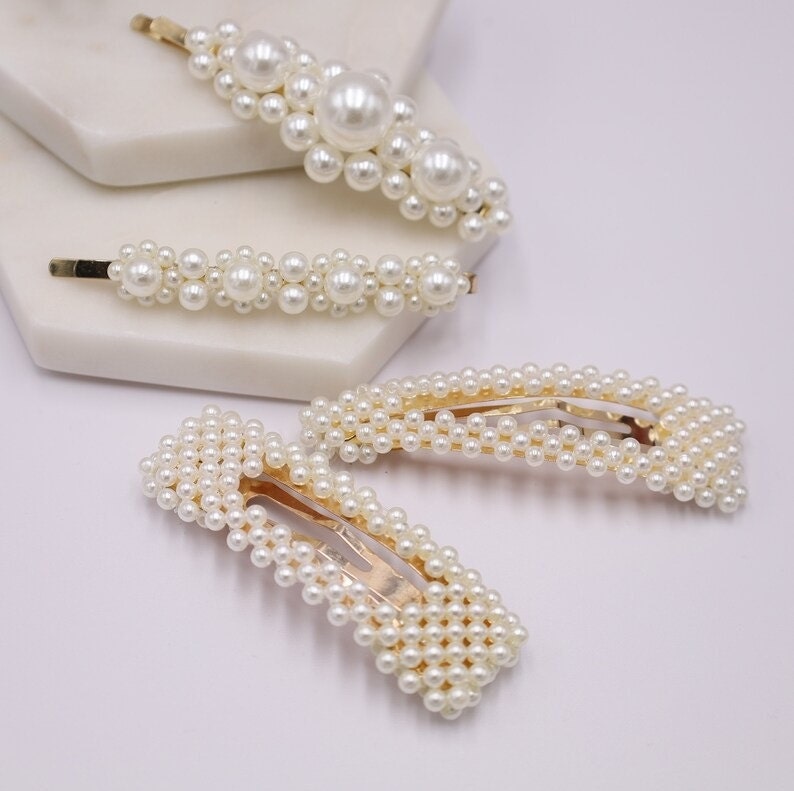 SHOP: Large snap pearl clip from Symila Accessories, $15
These large and affordable snap hair clips are effortless to use and look good in practically any hairstyle. Four pearl hair accessories with gold-color finished alloy are included in the set; two large snap clips, and two large pearl bobby pins. "Beautiful and high quality hair clips," expressed one buyer. "A lot bigger than I expected, but held strands of my hair very well… So elegant looking."
2. Large pearl hair tie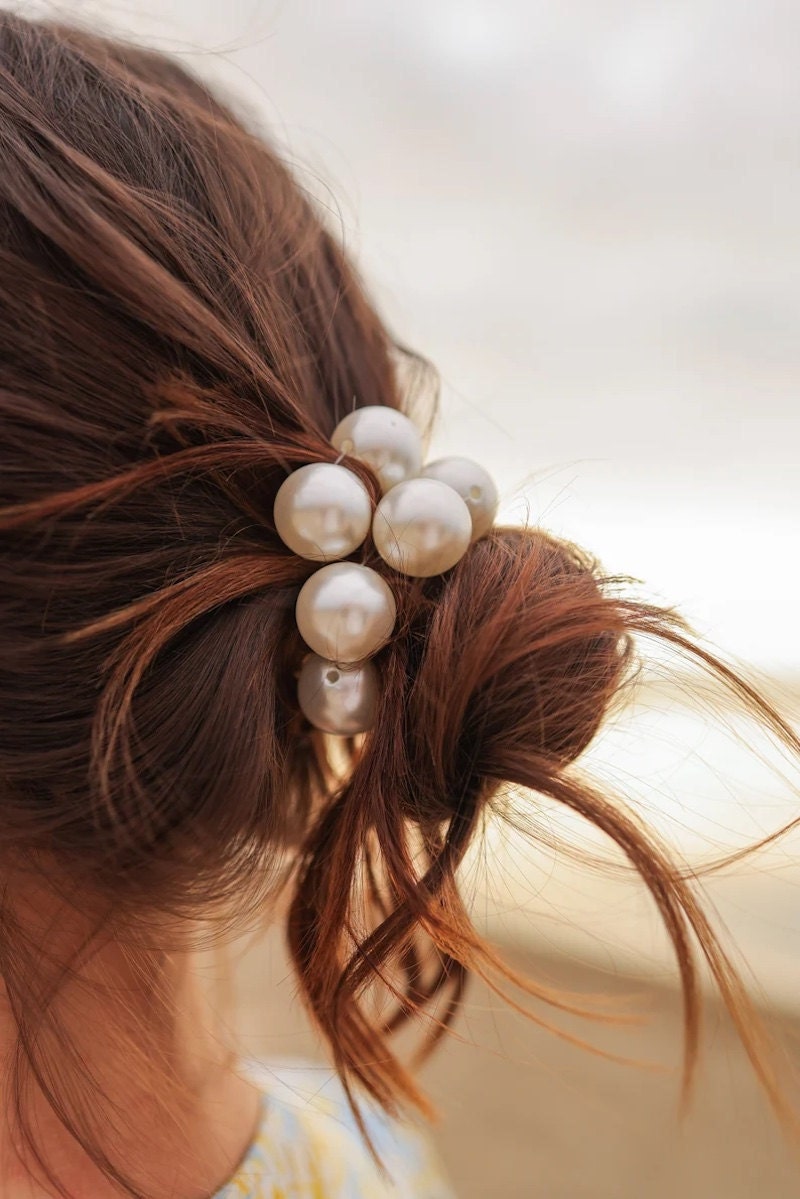 SHOP: Pearl scrunchies from Lovy Atelier, $10
If you often put your hair up in a convenient yet practical ponytail, this large pearl hair tie is the perfect way to elevate that look into something special. Buyers call it "classy," "very beautiful and very solid," and complimented the seller on their "great customer service."
3. Freshwater pearl hair clip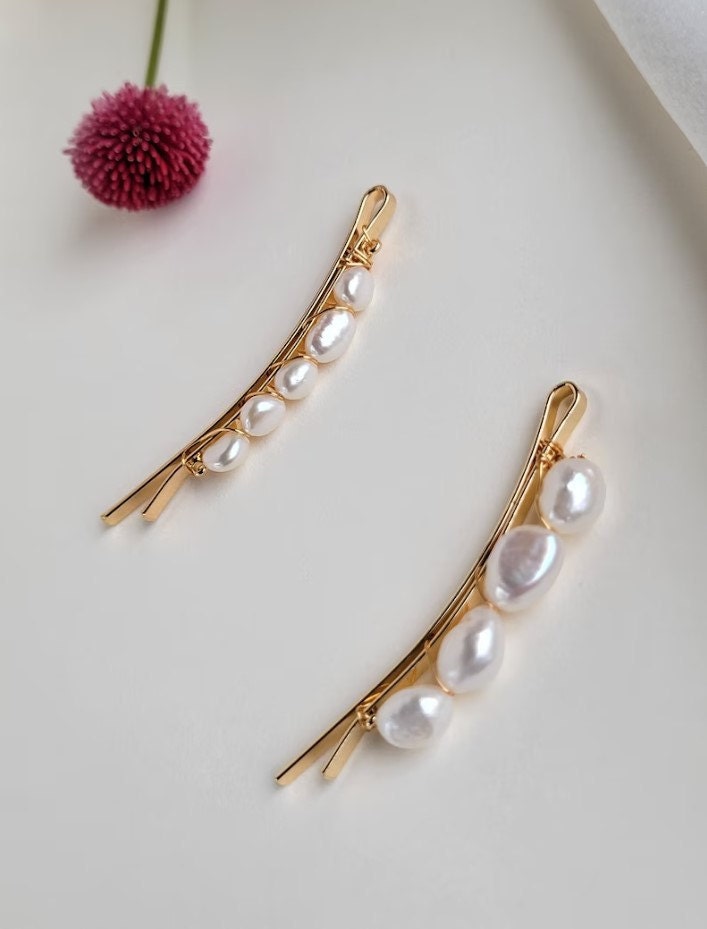 SHOP: Handmade Baroque pearl hair clip from Lings Pearls Studio, $10
Made with real freshwater pearls, these delicate Baroque hair accessories feature a 14K gold filled clip, too. Buyers can choose from either four or five pearls to adorn their clip, and buyers say that it is "gorgeous, classic looking," and "as beautiful as in the photos."
4. Pearl matador headband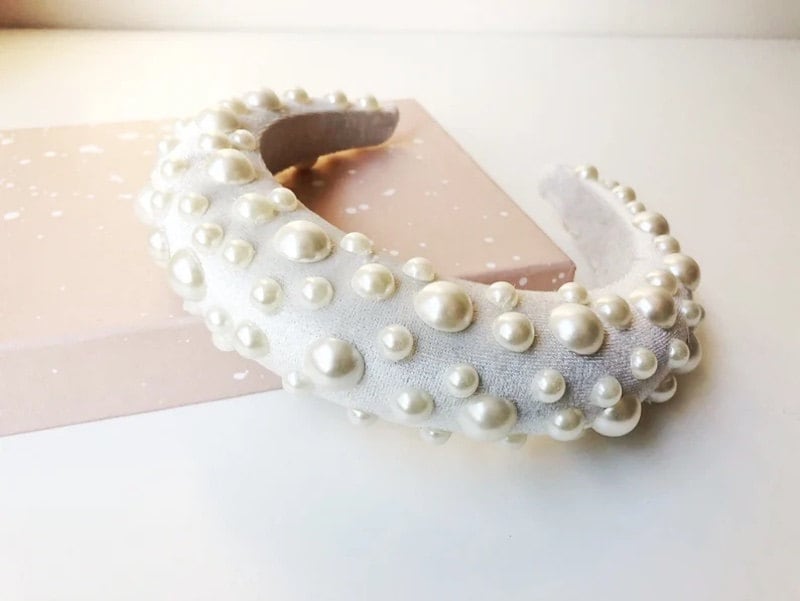 SHOP: White pearl velvet padded headband from Mina Sena Design, $55
This stunning white pearl and velvet matador headband turn everyday errands into the ultimate maximalist moment. Lusciously soft and comfortable to wear, this pearl headband looks just as good with an up-do as it does when you wear the hair down. "I love this headband," wrote one thrilled shopper. "It is special. Very flattering and very elegant; the white velvet combined with the color of the pearls gives a very beautiful luminous effect to the face."
Unique pearl earrings
Whether you prefer pearl studs or hoops, adding a unique pair of pearl earrings into your daily style is one of the best ways to exude subtle and understated elegance.
5. Modern pearl earrings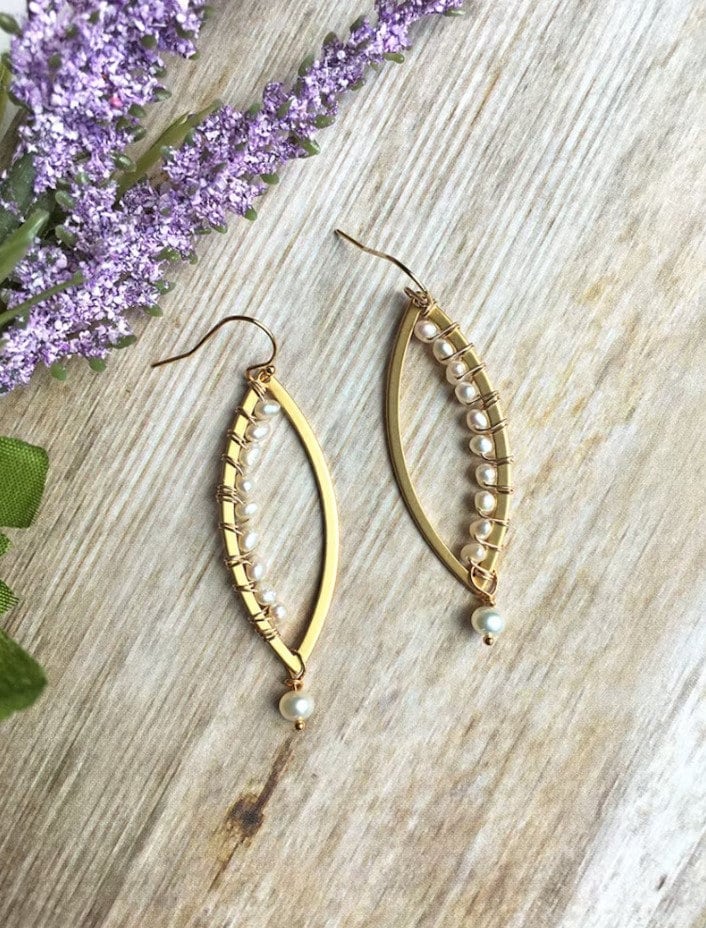 SHOP: Handmade quirky pearl earrings from Laura Stark, $51
Handmade in the designer's small shop in Oregon, these boho-inspired 14K gold-fill and pearl earrings are unique and quirky, yet timelessly sophisticated. They have a 2.25-inch drop, and one customer wrote, "Honestly, they look gorgeous online, but what you get in person is even more stunning! I can't wait to wear them on my wedding day."
6. Pearl drop hoops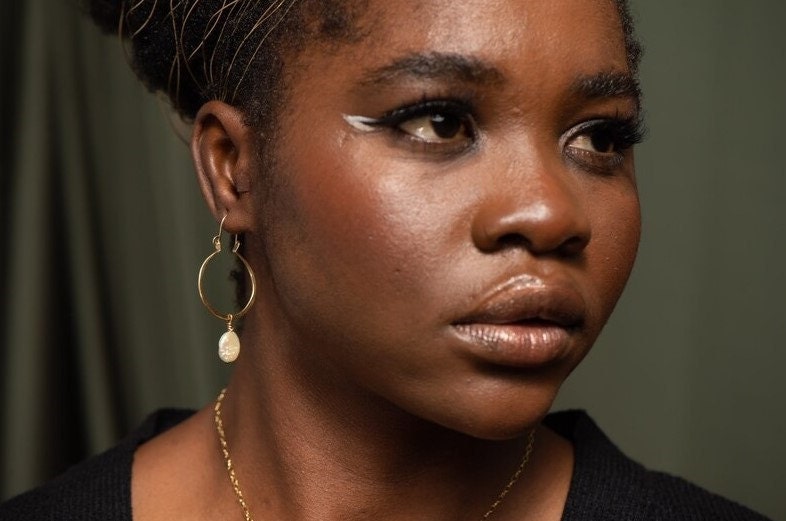 SHOP: Tina pearl earrings from Candid Art, $89
Simple, sophisticated, and just as perfect for a night out on the town as they are complementing a chic day-look, these hand-forged pearl hoops each feature a freshwater pearl dangling from a 14K gold-filled hoop. The seller also offers a matching pearl necklace if you want to complete the look.
7. Beaded pearl circle earrings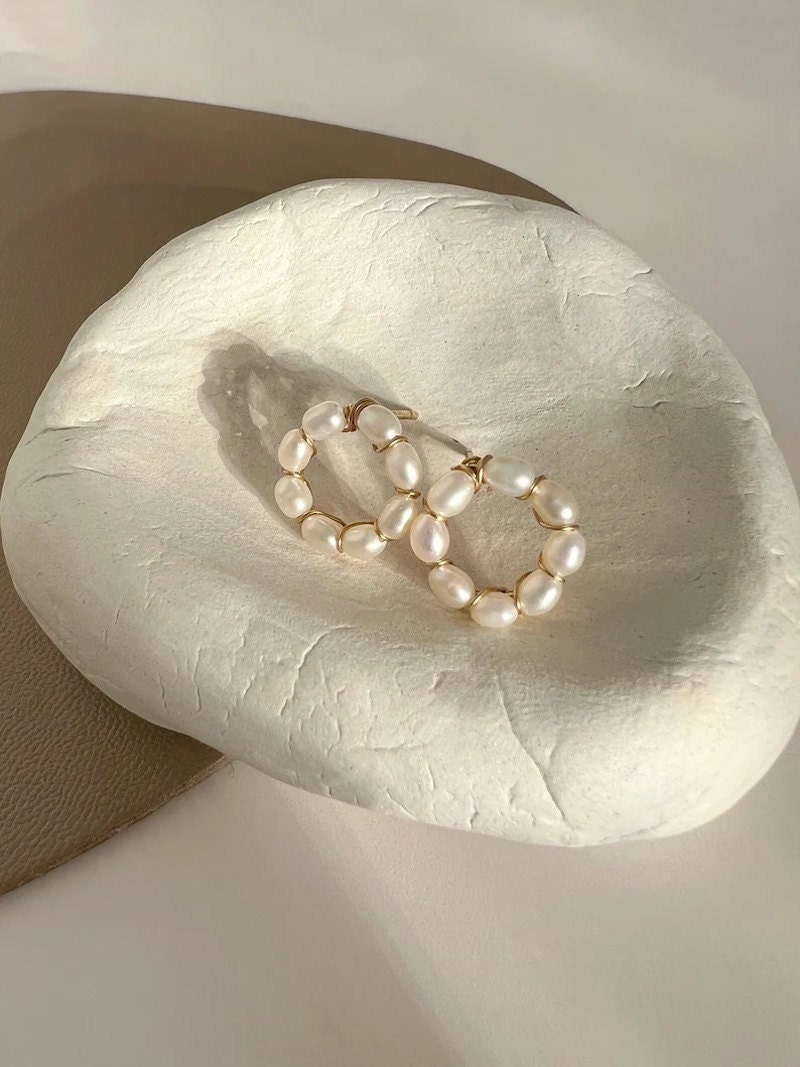 SHOP: Circle pearl stud earrings from Drea Studio, $40
Classic pearl studs get a circular upgrade in these sideways hoop earrings. Made from all-natural freshwater pearls, each hoop is ever-so-slightly unique.
8. Freshwater pearl drops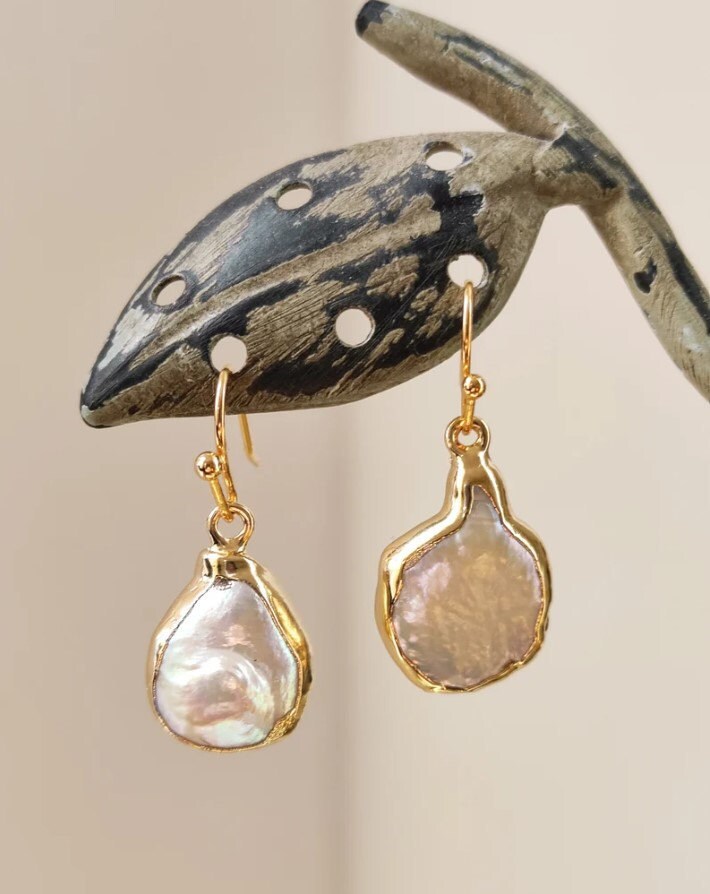 SHOP: Freshwater pearl earrings from Nathelier Barcelona, $34
Called "beautiful," "very well made with quality materials," and "absolutely gorgeous" by several enthusiastic shoppers, these 18K gold-plated freshwater pearl drop earrings feature raw pearls that fully encompass the Baroque aesthetic. Buyers also noted that the items come "lovingly packaged," and praised the speedy delivery, too.
9. White stick pearl statement earrings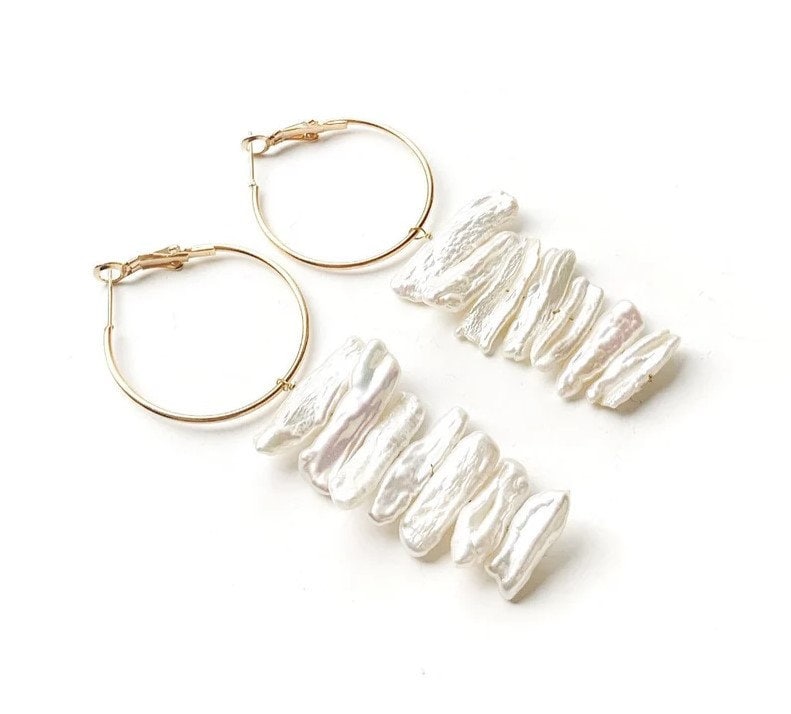 SHOP: White stick pearl earrings from Emily Koscik Designs, $25
If you simply can't get enough of pearlcore (we hear you!), these statement earrings can showcase your obsession in the most elegant way. Their geometric style and the natural stick-like shape of the pearls give them a boho look that pairs well with both formal and casual attire. "Very striking and beautiful," expressed one buyer. "I got compliments all day the first time I wore them."
10. Small pearl hoop earrings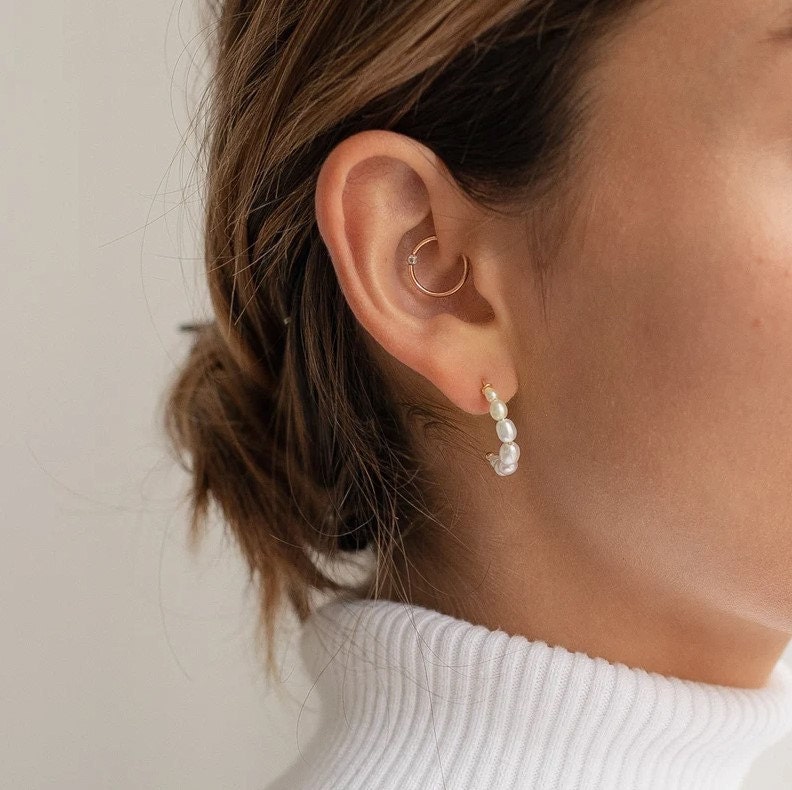 SHOP: Pearl hoops from Caitlyn Minimalist, $19
Simple and minimal, yet offering a little bit more than a pearl stud, these affordable beaded pearl hoops are available in either a sterling silver or 18K gold finish. One happy buyer was given these dainty earrings as an anniversary present, as pearl is a traditional third anniversary gift.
11. Mother of pearl drop dangles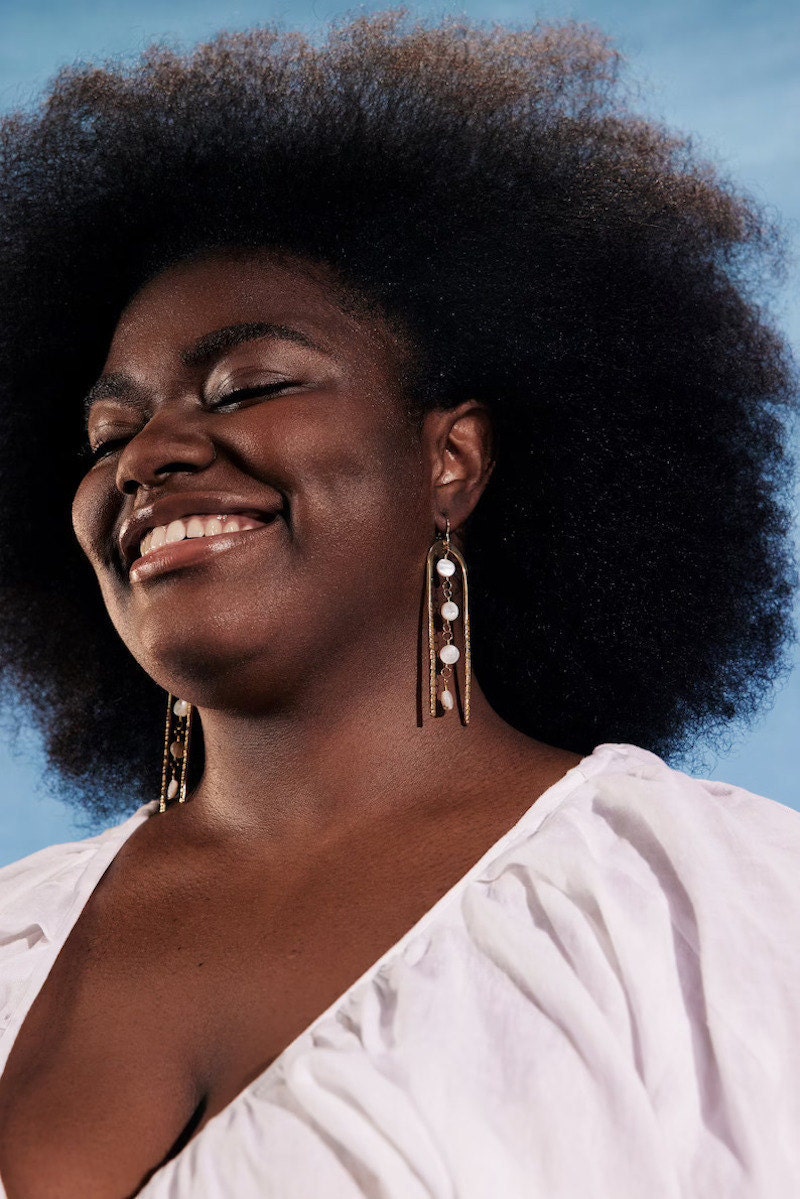 SHOP: Mother pearl dangles from Aleishla Jewelry, from $56
To perfect your evening outfit or complete your wedding guest look, these striking recycled mother of pearl dangling earrings will really make an impression—the trendy pearlcore way. Available in either brass, or sterling silver, and the option to add 14K gold-fill hooks, shoppers call them "a must-have," "good quality," "beyond gorgeous," and one buyer raved about wearing them on her wedding day.
Best pearl necklaces
Making an amazing gift idea (even for yourself!), a good pearl necklace can make any outfit go from drab to fab as soon as it's put on.
12. Boho keshi pearl necklace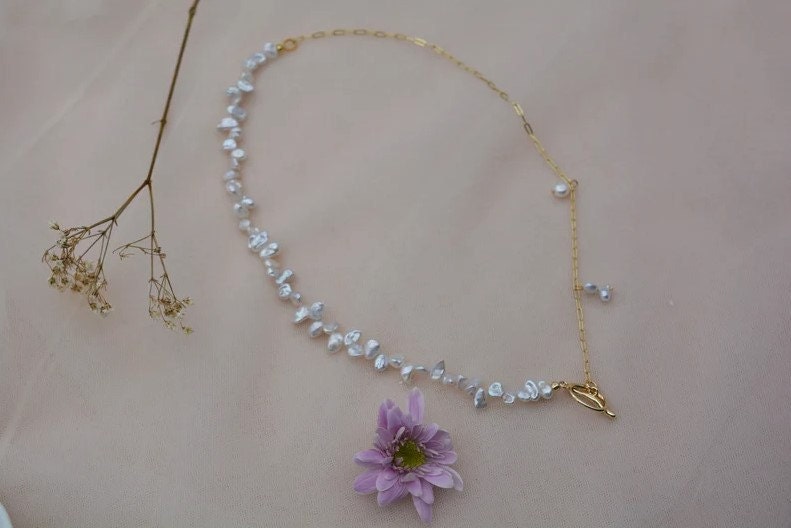 SHOP: Boho necklace with keshi pearl from Lufy Design, from $31
A twist on the classic pearl necklace, this boho number features a spectrum of asymmetrical keshi pearls for a more organic look. It comes in three lengths, and is handcrafted in the seller's studio in Hamburg, Germany. Customers say that the seller is "super friendly and customer-oriented" and that shipping was pleasantly swift.
13. Dainty pearl layering necklace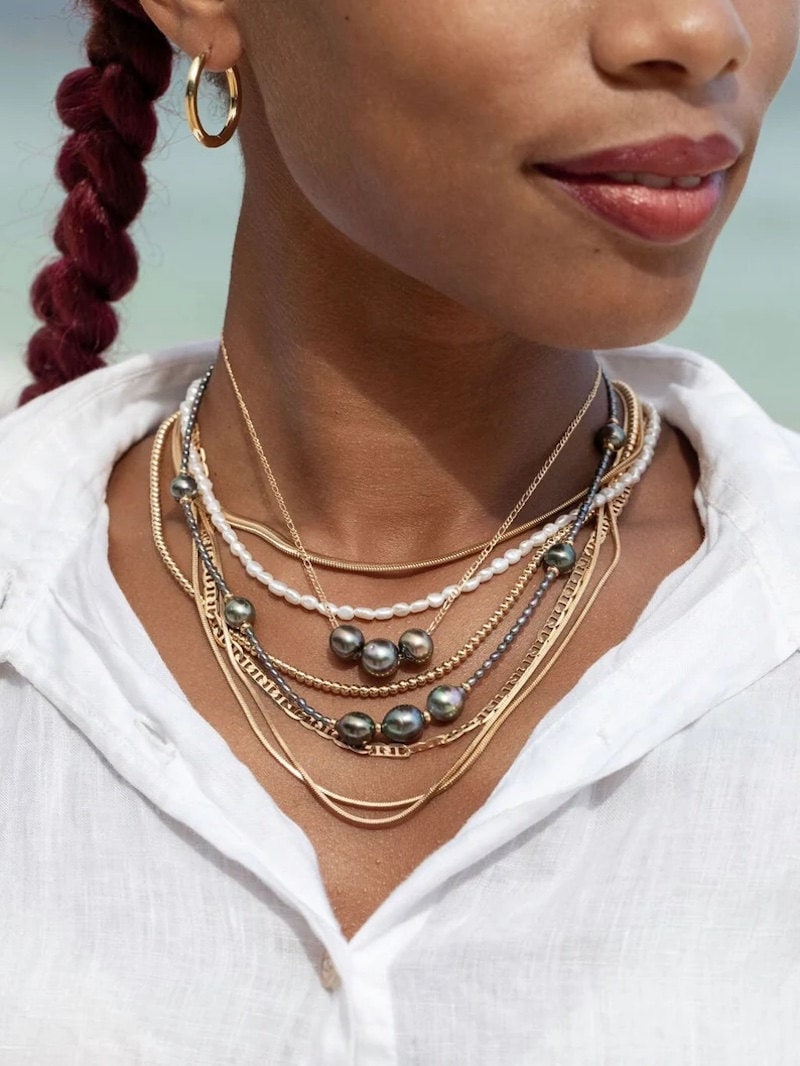 SHOP: Dainty pearl necklace from Ke Aloha Jewelry, $45
Whether worn alone, or layered along with other necklaces, this dainty pearl necklace is sure to rake in all the compliments. This exquisite piece is handmade in Makawao, Hawaii, and one buyer praised the quality, writing, "I was impressed with the quality, packaging, and details."
Best pearl accessories
From bags, shoes, and other must-have pearl-adorned accessories, the talented creators on Etsy are re-imagining this timeless gem in the most creative ways.
14. Lobster beaded pearl clutch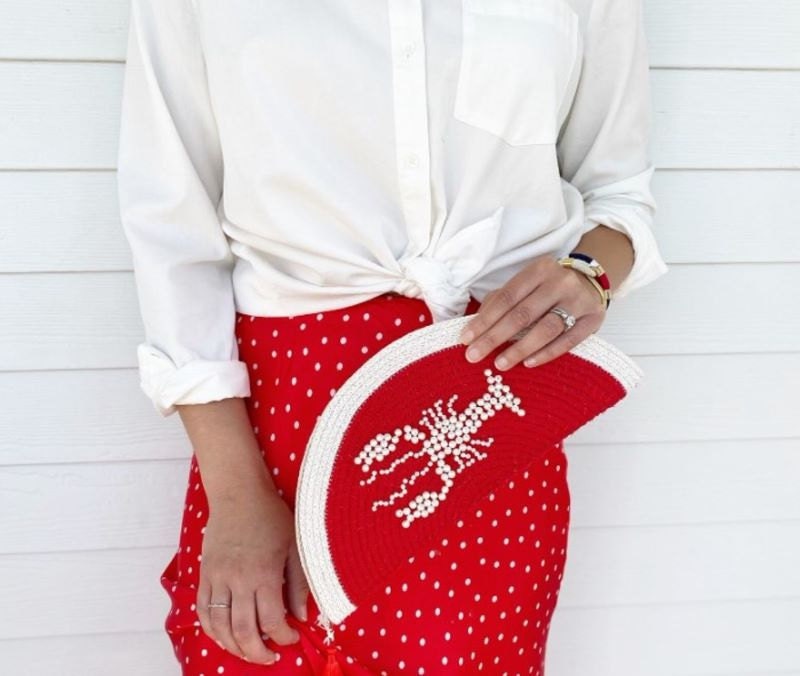 SHOP: Bobby the pearl lobby clutch from Sewcialite, $165
This quirky little clutch is equal parts cute and practical. Handmade using woven rope and red fabric, the clutch features a beaded pearl lobster design on the front, and a red tassel on the zip. One customer enthused, "LOVE this handmade clutch! The details are amazing. Will be so great for summer outings—and I already know I'll receive many compliments on it!" The bag is also available in blue. Did we mention this cool crustacean has his own name from the seller, too? Hi, Bobby the Beaded Lobster!
15. Pearl platform sneakers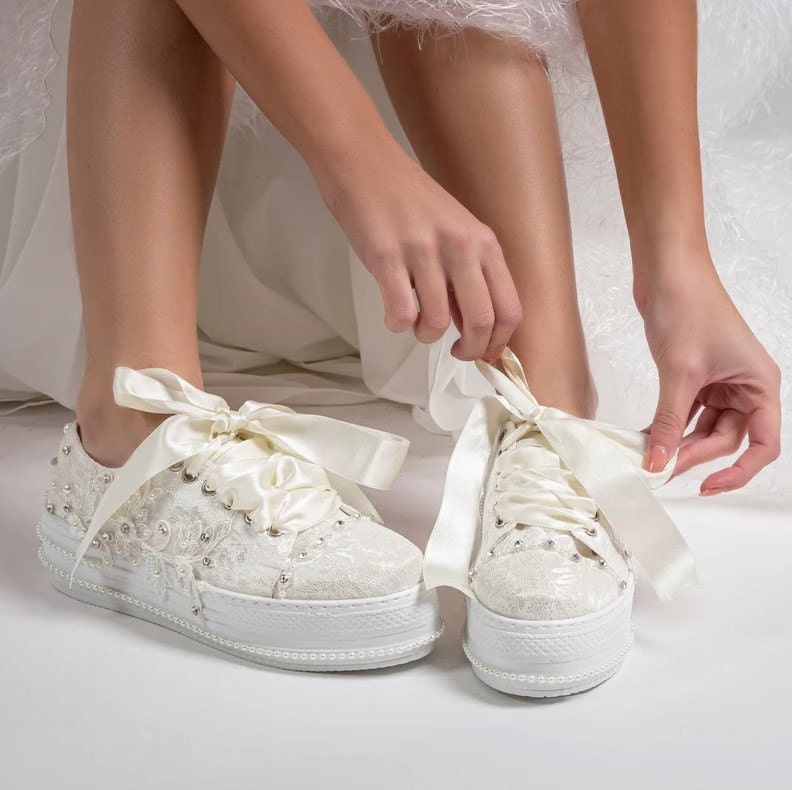 SHOP: Pearl platform sneakers from Milli Haute Couture, $124
Hand decorated in Thessaloniki, Greece, these comfortable and romantic sneakers are embellished with white lace, satin ribbon, and pearls. Available in sizes US 7–10, these shoes are special enough to be worn on your big day and then transition right to the honeymoon sightseeing. "The delivery was super fast, and I'm just thrilled by the shoes," wrote one customer. "They are super comfortable and beautiful, and the size fit perfectly!"
16. Pearl cuff bracelet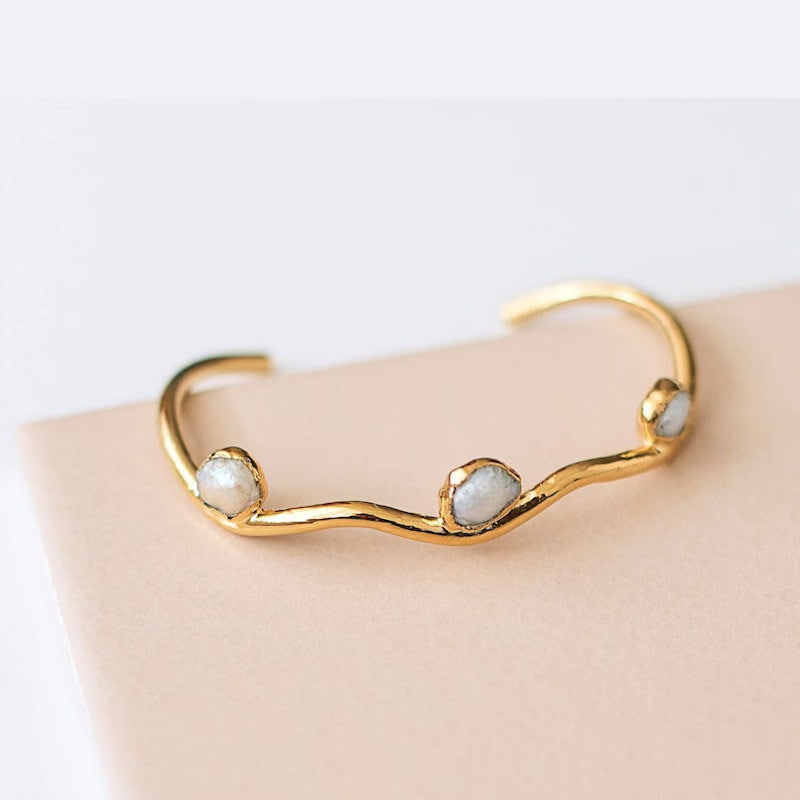 SHOP: Freshwater pearl cuff bracelet from DANIBARBE, $111
The seller cites the beauty of the ocean as the inspiration behind this graceful wavy bracelet. The Baroque iridescent freshwater pearls embedded in a recycled 14K gold-plated nickel-free metal give the bracelet a unique and elegant look. The bracelet is slightly adjustable thanks to the mildly malleable metal, and one buyer who bought it for their other half wrote that it's "very beautiful, and it looks even better in person."
17. Dainty pearl ring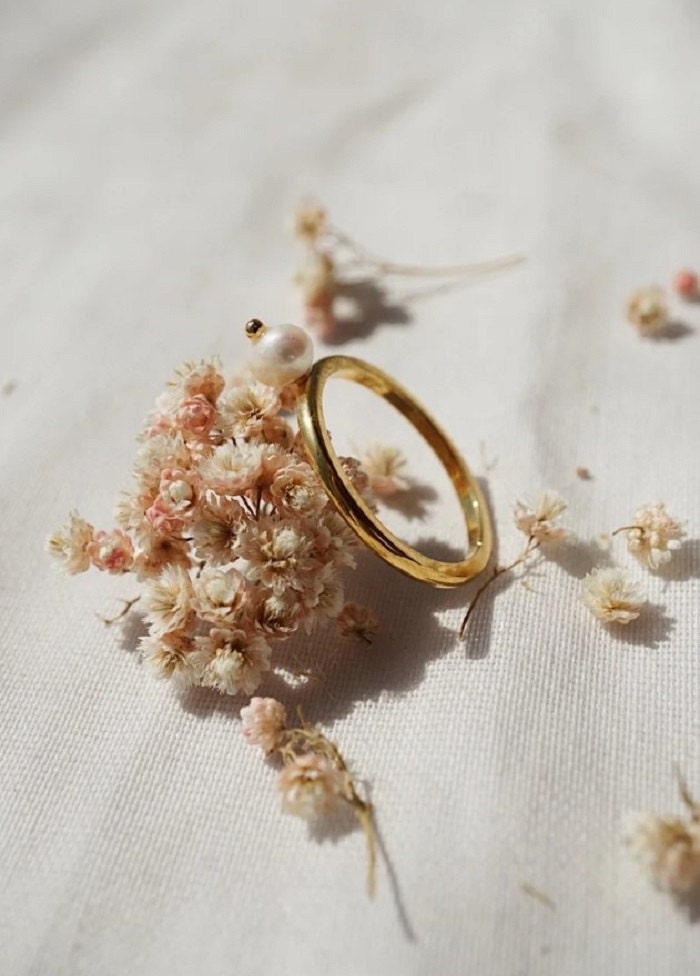 SHOP: Avery ring from Foe & Dear, $35
As an excellent foray into the pearlcore trend if you're just getting started with these iridescent stones, this dainty ring features a single 3mm genuine freshwater pearl on a thin 14K yellow gold-plated brass band. Designed and handmade in Vancouver, Canada, customers call it "great quality" and "beautifully made, minimal, and chic."
Pearlcore home decor accents
Bring a bit of old-timey Hollywood glamour to your abode with these winning pearl home accessories and delightful decor finds.
18. Waterfall bubble chandelier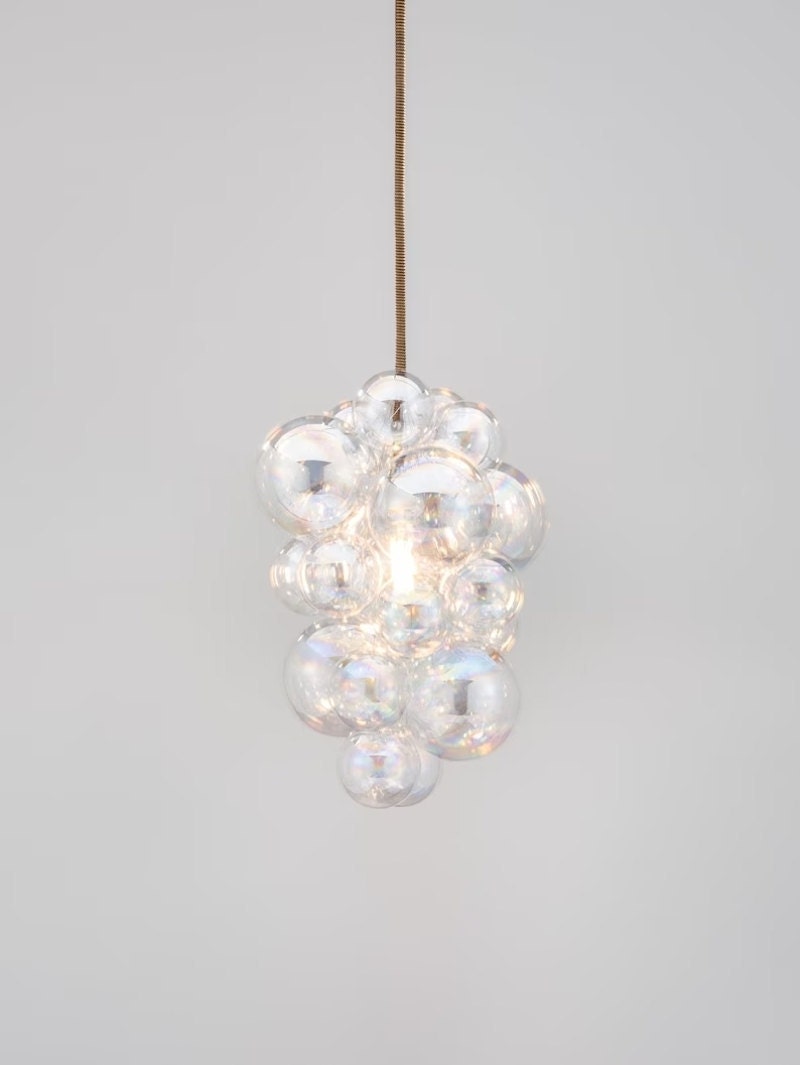 SHOP: The iridescent waterfall chandelier from The Light Factory, $977
The pearlescent orbs in this waterfall bubble chandelier are hand blown glass bubbles of various sizes. The cord is available in a selection of leather or rope colors, and you can choose from five canopy finishes. "The craftsmanship is wonderful," beamed one happy buyer.
19. Pearl napkin rings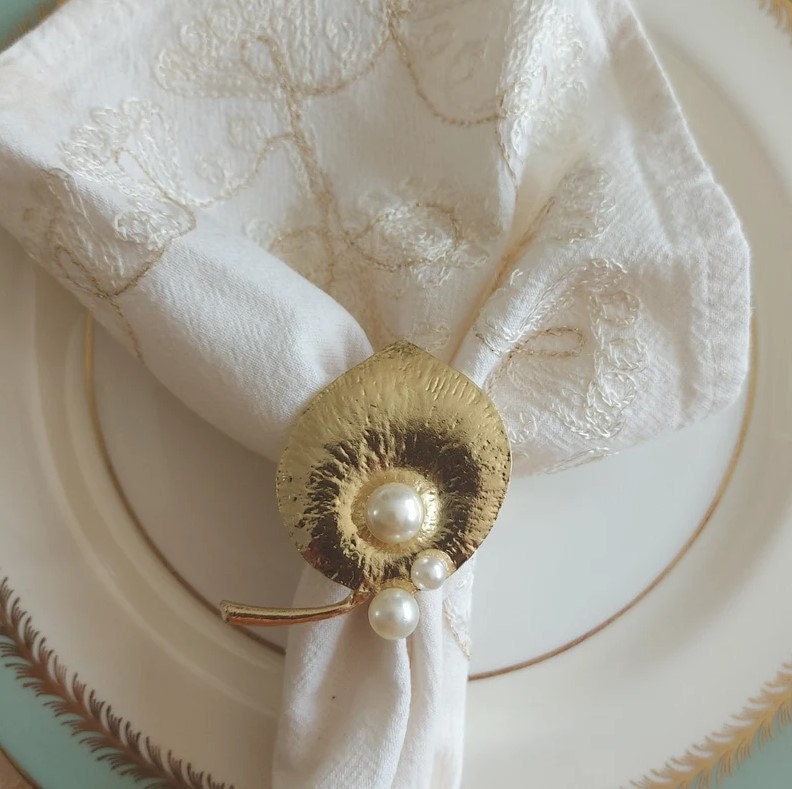 SHOP: Gold leaf and pearl drops napkin ring from Ninlil Chic, $40
To bring a dash of flair to the dinner table, wrap your napkins in these gold leaf and pearl drop napkin rings. Expertly handcrafted from zinc alloy, gold plated, and polished to perfection, each ring has three embedded pearls, and there are four included in the set.
20. Geometric white bowl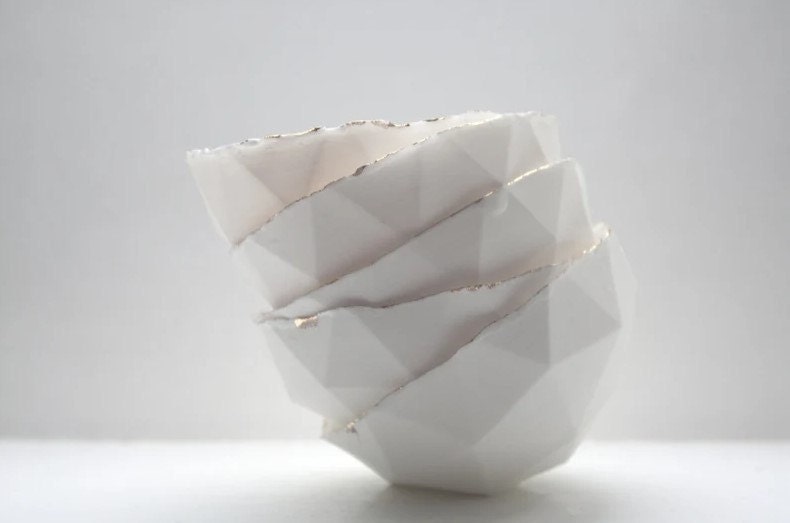 SHOP: White ring dish from Made by Manos, $53
Made from Parian porcelain from the island of Paros in Greece, this geometric polyhedron white bowl resembles the iridescent finish of freshwater pearls. Made in London, the bowl, which can be used as an ornament or a ring dish, has a trim decorated with real gold, and customers praise the fast shipping even though it's sent from the UK.
How do we pick the best pearlcore trend items?
As Etsy Journal editors and contributors research and curate shopping guides for some of the best-loved items on Etsy, we thoughtfully consider the creativity, customization, and craftsmanship that go into each product. We also consider buyer reviews, item ratings, and customer service, and tap the expertise of our in-house merchandising and trends experts to uncover high-quality finds for every budget. You can find more information about each item in the seller's listing details and can take a look at their individual shop policies and reviews, too.