Scent, taste, and memory are inextricably linked, which is one reason this historic cake recipe (the secret ingredient: perfume!) is so intriguing.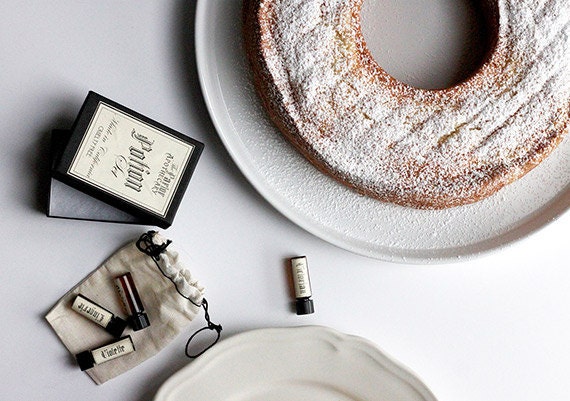 Sarah Lohman is a historic gastronomist. She recreates historic recipes as a way to make a personal connection with the past, as well as to inspire her contemporary cooking. You can follow her adventures on her blog, Four Pounds Flour. In the Kitchen Histories series, Lohman combs Etsy for items that speak to America's culinary past.
I explore historical recipes because I believe they reveal a part of our culinary past, while at the same time leading me down a path of unknown culinary adventures. Jessica Reed, owner of
By Reed
, explores the past through cakes, slice by delicious slice.
I first met Jess years ago, when she ran a Valentine's Day event in a bookstore, making treats from a vintage cookbook called
Venus in the Kitchen: Or, Love's Cookery Book
. She served "Fritters of Elder-flower," "Marmalade of Oranges and Red Carnations" spread on shortbread hearts, and gin infused with celery root, fennel and star anise. I knew I had met a kindred spirit. Recently, I joined her at her Brooklyn apartment and sipped tea at her kitchen table while she assembled the ingredients for her latest cake experiment.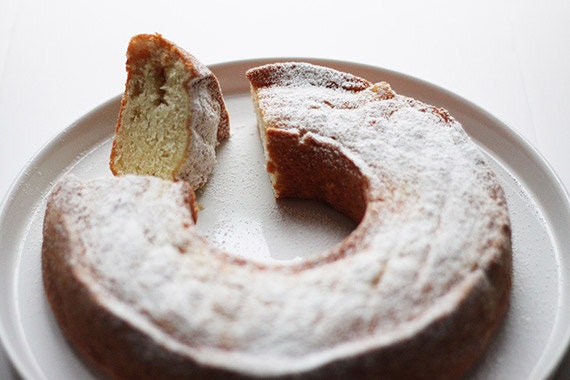 Jessica Reed
"Cakes have stories," she told me, as she reached for a pan off a high shelf. More than a cookie or a brownie, cakes connect us to memories: of celebrations, traditions, or of the people who made them. They had special historical significance, too. Before modern technology brought us electric mixers and gas stoves, cakes were so complicated and technically difficult, they were the measure of your accomplishment as a homemaker.
"You were considered a good mother if you could bake a cake," Jess said, tying on her apron. "There are issues of family, feminism and history all wrapped up in this baked good."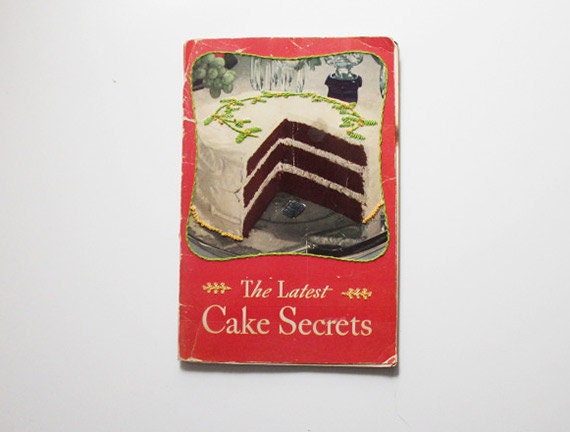 Jessica Reed
Jess has become known for her 
embroidered vintage cookbooks
, the covers embellished with thread highlighting the black and white photographs and retro graphic design. Each is one of a kind and touched by Jess's hand. She has also lovingly crafted a slip-on cover for a first edition of her favorite book,
Victorian Cakes
by Caroline King, a memoir about a family growing up in Chicago in the late 19th century.
Jess mentioned a recipe from
Victorian Cakes
that I begged her to try with me: Perfume Cake. King wrote: "Perfume Cake was a sort of sport...invented by our daring big sister and eaten with a certain delightsome awe by all who knew its secret, which was after all a simple one, merely that of substituting a few drops of Mother's best perfume for the usual vanilla or almond extract."
This cake recipe was too exciting to resist. We scoured Etsy for an appropriate perfume. King said her favorites had been Violet, New Mown Hay and Jockey Club and, with those in mind, we choose a sampler from
The Parlour Apothecary
. Four little vials came beautifully packaged, and after smelling our selections, I wanted to wear them all — but to bake with, we decided on one appropriately named Victorian Spirit, a creamy blend of vanilla, apricot and amber.
Now, here is our disclaimer: the perfume was clearly labeled FOR EXTERNAL USE ONLY. Perfumes are not made for eating. We took a risk as part of a wild experiment, but I do not endorse consuming this perfume (or any other)! We used a very, very small amount in our cake.
The cake recipe itself is similar to an angel food, but the addition of butter makes the texture dense and moist. When Jess cut the warm, ethereal-smelling cake out of the pan, it was time for a taste.
We each took a tentative forkful of the spongy cake. When my mouth closed on it, I first found it pleasant. Then, the aftertaste set in: bitter and soapy. Perhaps we had used too much perfume? Still, we ate the whole slice, and each saved another for the next day to see if the flavor would mellow overnight. Instead, it worsened. In fact, it was so terrible I spit it out, letting the bite of cake drop from my open mouth into the trash: "Blaaaag!"
Perfume cake was not a success in execution. But the idea of it still inspired us: there is room in the world for more flavors of cake than vanilla, almond and the occasional lemon!
Herbal Alchemy
offers unusual extracts in unique vintage bottles: 
pistachio
,
blackcurrant tea
, and
chocolate mint
, among others. And you don't have to look too much further to find beautiful bottles of
kumquat
,
lavender
and
rose
extracts, any of which would enhance the adapted recipe below.
Perfume Cake
Adapted from
Victorian Cakes
by Caroline B. King Recipe by Jessica Reed
1 stick unsalted butter, softened 1 1/2 cups sugar 1 1/2 cups all-purpose flour 1/2 cup cornstarch 1 1/2 teaspoons baking powder 1/2 teaspoon kosher salt 1/2 cup milk 6 whites from large eggs, at room temperature 1 1/2 teaspoons uniquely flavored extract, or more or less to taste
Preheat the oven to 350 degrees. Liberally butter a 10-inch, 12-cup tube pan.
Sift together the flour, cornstarch, baking powder and salt. Set aside.
Measure the milk and add the flavoring. Set aside.
Cream the softened butter with the sugar until fluffy. On low speed or by hand, mix in the dry ingredients in three parts, alternating with the fragrant milk, beginning and ending with the dry. Set aside.
Whip the egg whites to a stiff peak. Gently fold into the cake batter, mixing thoroughly but with a light hand.
Spoon batter into the pan, smoothing the top.
Bake 30-35 minutes until the top is lightly browned, edges are pulling away from the pan, and a tester comes out clean.
Dust liberally with powdered sugar.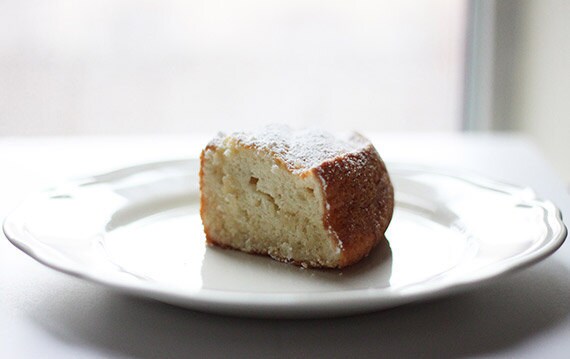 Jessica Reed
To learn more about Jessica and her work, follow her blog Cake Walk and pick up a copy of The Baker's Appendix, her handy reference booklet and a must for every home baker.