From classic monogrammed leather wallets to custom-etched glassware, we've rounded up extra-unique personalized gifts for every dad and budget.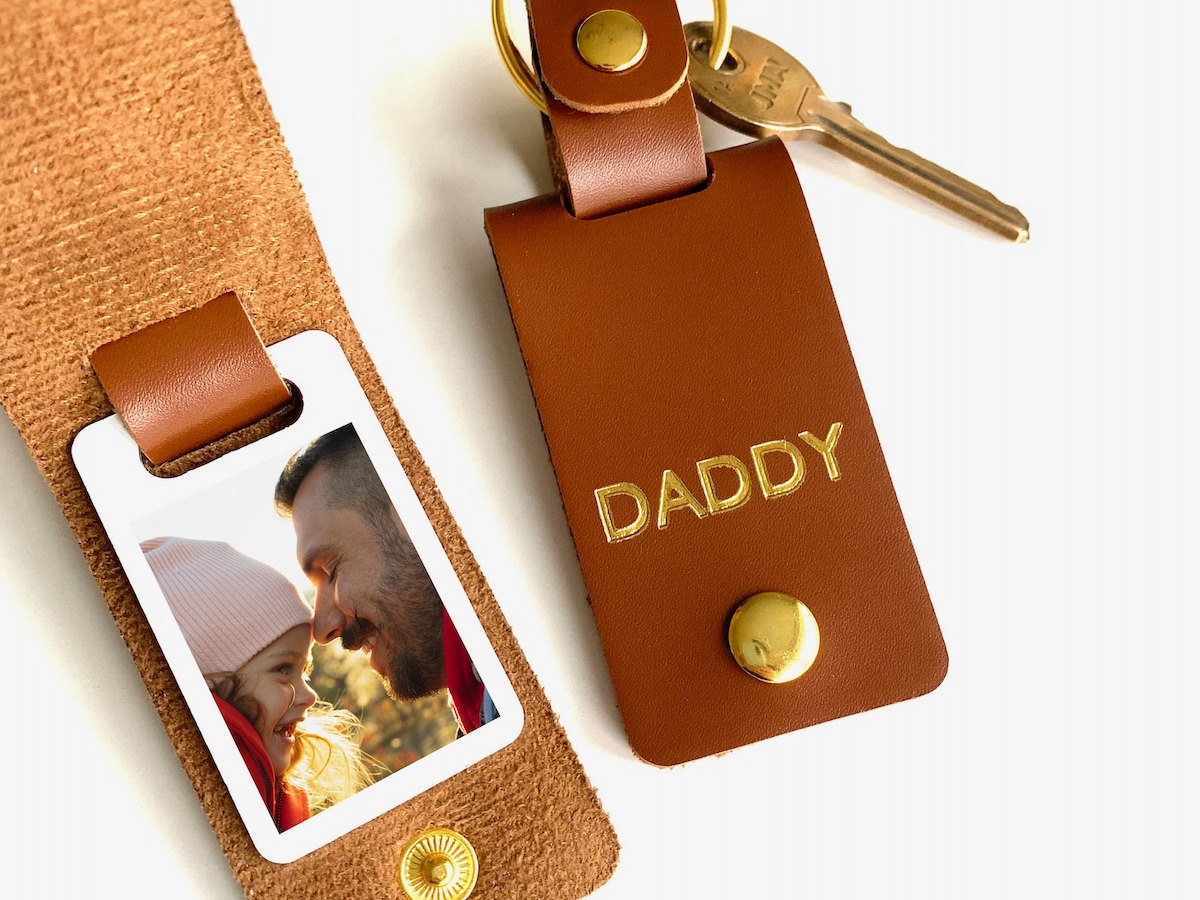 Even though he's always adamant that he doesn't want anything for his birthday, Christmas, anniversary, or enter any other special occasion here, the look of glee on your dad's face when he cracks open a gift from you is simply priceless. But if finding that just-right present has occasionally proven slightly tricky, you've come to the right place! Thanks to independent Etsy sellers with talent and creativity in spades, it's officially easier than ever to find a gift for dad that's not only handcrafted and useful, but uniquely personalized, too.
A personalized gift for dad checks all the boxes: brings a smile to his face with its distinctive one-of-a-kind flair (giving him bragging rights with his buddies) and shows that you took the time to get him something that's made entirely for him. Our roundup of the best personalized gifts for dad has something for every type of father figure, and, even though it's the thought that counts, it doesn't hurt that these picks are absolutely foolproof!
Whether you're after a beautifully designed leather wallet, a stylish but secretly sentimental belt that'll get plenty of daily use, or something delightfully out of the ordinary (custom pet cufflinks, anyone?), you'll find it on our list of the best personalized gifts for dad. Bonus: we've broken down our picks by price range, so you can find something special in your exact budget.
Best personalized gifts for dad under $25
Making the perfect "just because" presents, these personalized gifts for dad are all under $25.
1. Custom whiskey glass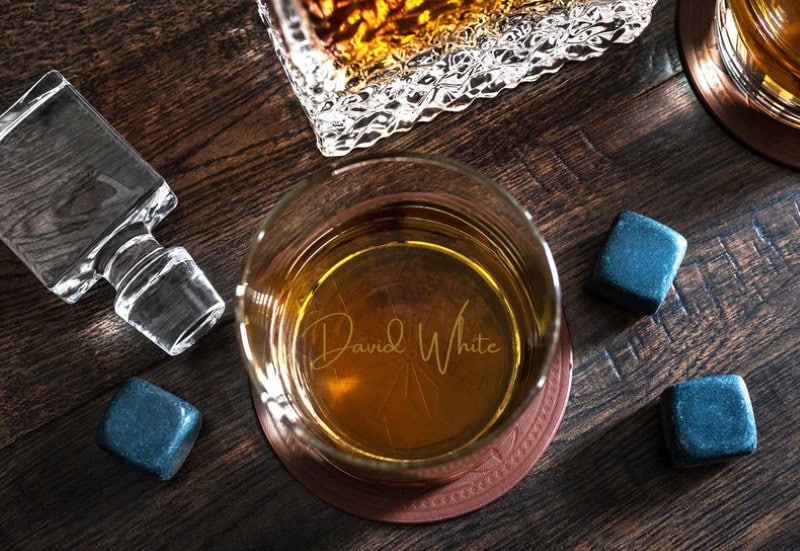 SHOP: Custom whiskey glass with three stones from Magic Woodshop, $15
If your dad enjoys a good tipple, he'll love this personalized whiskey glass that comes with three complimentary stones. One thrilled shopper who bought a set as a birthday gift raved, "He absolutely loved them! He was ecstatic with the gift and loved the personalized engraving. Thank you for helping me make my favorite Superhero feel seen and special!"
2. Personalized bookmark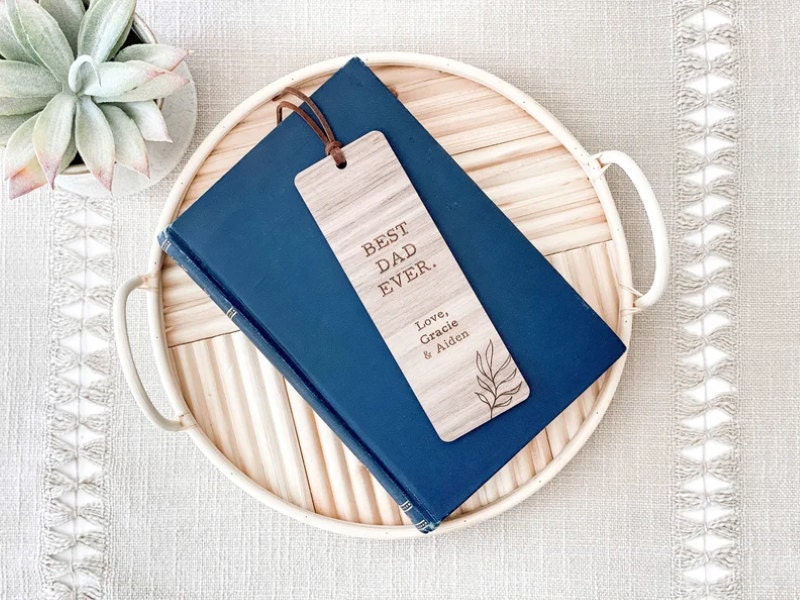 SHOP: Engraved wooden bookmark from Betty + Marie Designs, $15
For dads who are avid readers, this charming engraved wooden bookmark, signed with love from his crew, will remind your guy he's the "best dad ever" every time he turns the page.
3. Vegan leather photo keychain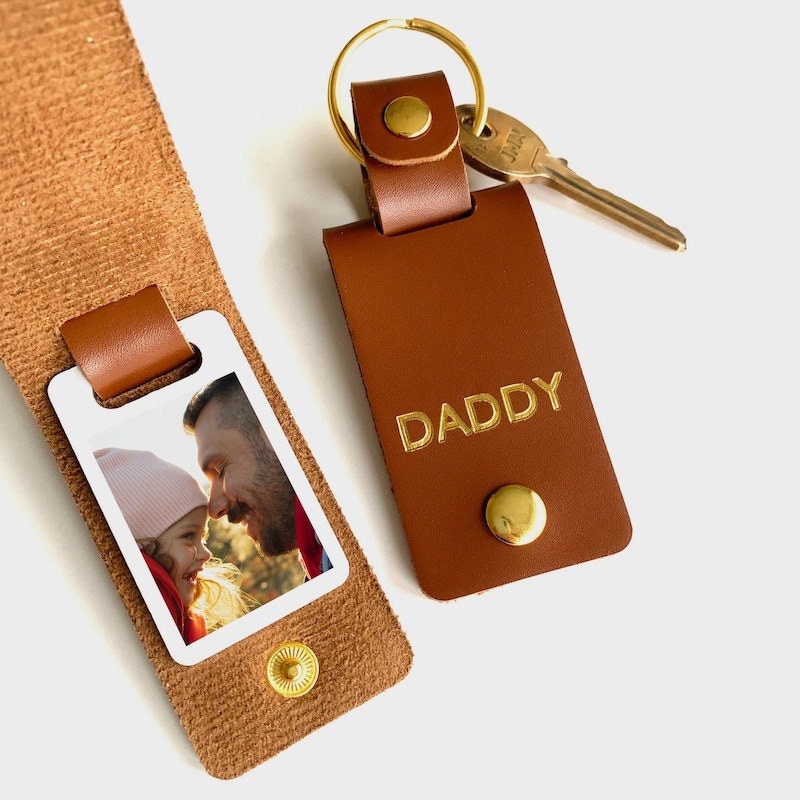 SHOP: Personalized Daddy photo keyring from Silvy Gift, $20
Featuring the sentimental snapshot of your choice, these vegan leather photo keychains make the ultimate personalized gifts for dad from daughters. Just select the most-fitting moniker from the robust dropdown list (Dad, Daddy, Dada, Papa, Pops, to name a few), and get ready to surprise Dad with a keepsake he'll cherish.
4. Leather luggage tag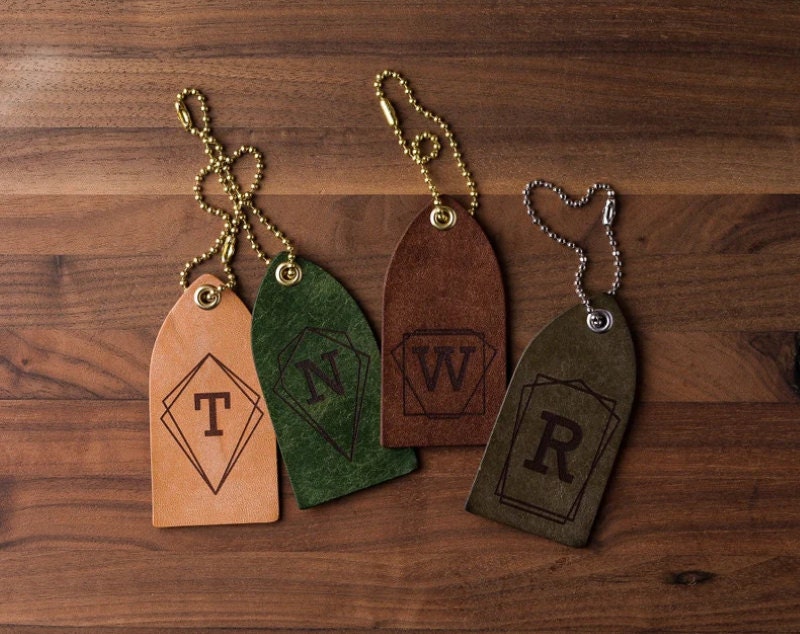 SHOP: Monogram leather luggage tag from Karl Von Artistry, $10
At just $10 each, these classy monogrammed leather luggage tags are an affordable way to give your dad a refined edge when he's traveling, making him stylishly stand out from the crowd. "Absolutely love these tags," reads one customer review. "The leather is beautiful, as is the personalization. These are gifts but I may need to place another order for myself!" We do love the idea of a matching set!
Best personalized gifts for dad under $35
Whether you're after a gift for Father's Day, or your old man's birthday, these personalized gifts for dad under $35 are sure to get him grinning ear to ear.
5. Custom fingerprint ring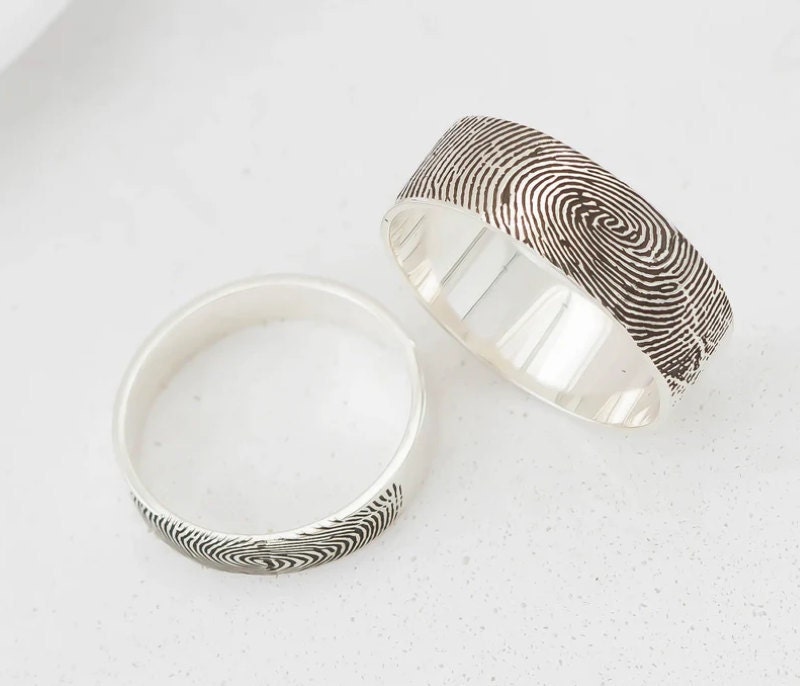 SHOP: Engraved sterling silver fingerprint ring from Silver Handwriting, from $31
Truly one of a kind, this custom sterling silver fingerprint ring is the perfect way to give your pops a piece of you that he can keep close at hand. It even shows up in a gift-ready box!
6. Self-care grooming kit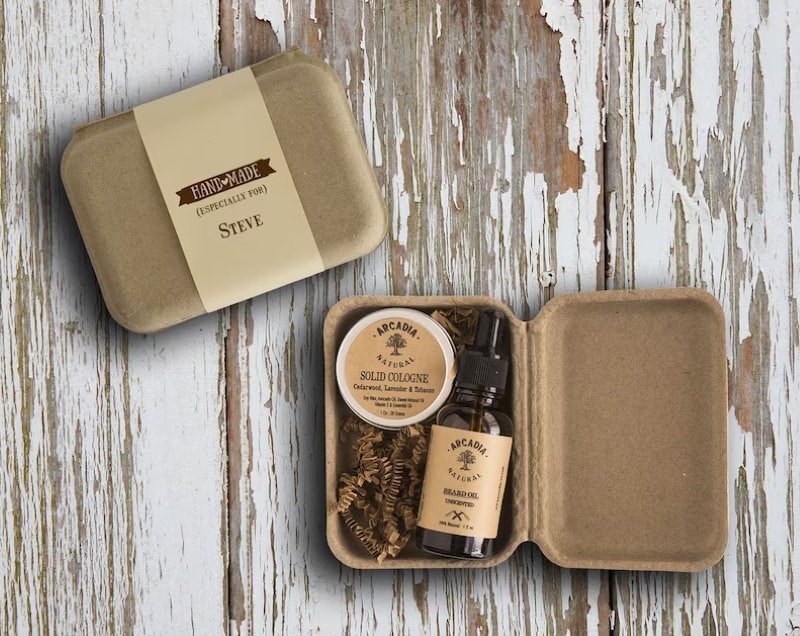 SHOP: Personalized grooming gift box from Arcadia Natural, from $26
Personal care products like beard oil, soap, and cologne should not be overlooked when it comes to choosing a good gift for dad—especially when they come in a personalized box stamped with his name. With expertly curated scent options ranging from fresh bergamot, sea salt, and amber blends to woodsier notes of sandalwood, there's no going wrong.
7. Stamped stainless steel spoon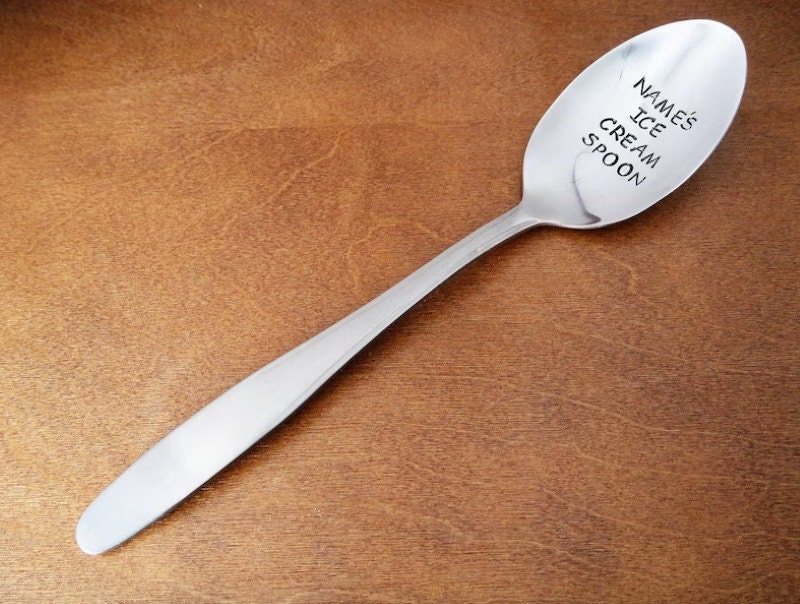 SHOP: Personalized ice cream spoon from Trend Benders Artistry, $30
If your dad never turns down dessert, then this gift pick is a no-brainer. Present him with his very own personalized ice cream spoon (perhaps with a tub of his favorite gelato), and watch him chuckle as he unwraps it and promptly puts it to good use.
8. Handmade leather belt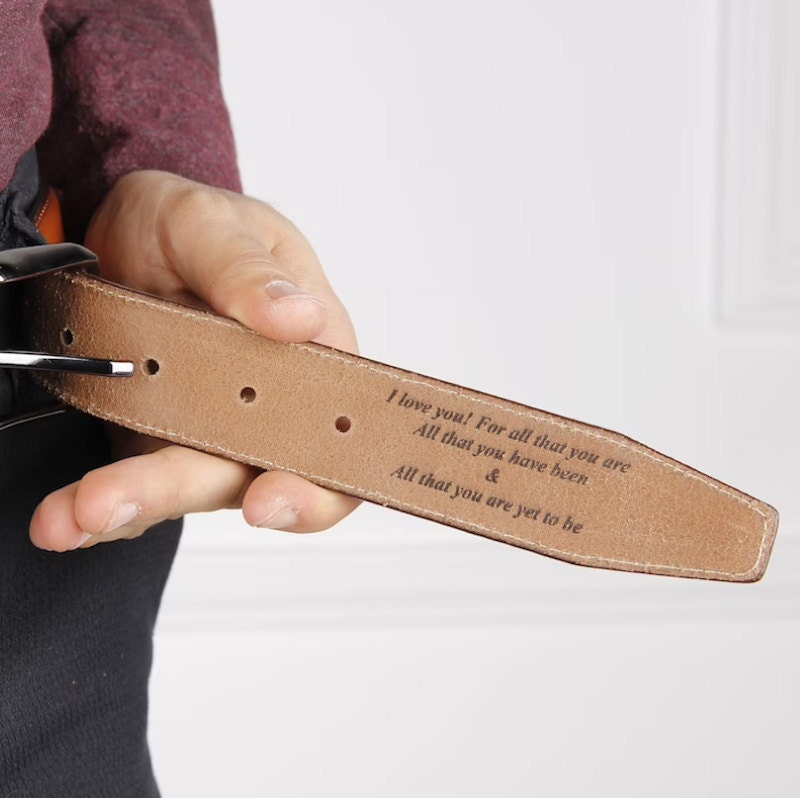 SHOP: Custom-engraved leather belt from Nova Leather Goods, from $32
This reasonably priced belt packs an outsize punch! Handcrafted from genuine leather with seven sizes and four handsome colors to choose from, this beauty boasts more than 2,000 glowing reviews for good reason: the combo of Dad's initials on the outside and a hidden personal message from you on the inside is truly unbeatable.
Best personalized gifts for dad under $50
These gifts for dad under $50 offer just the right personal touch and make thoughtful anniversary gifts for him, too!
9. Monogrammed expandable duffle bag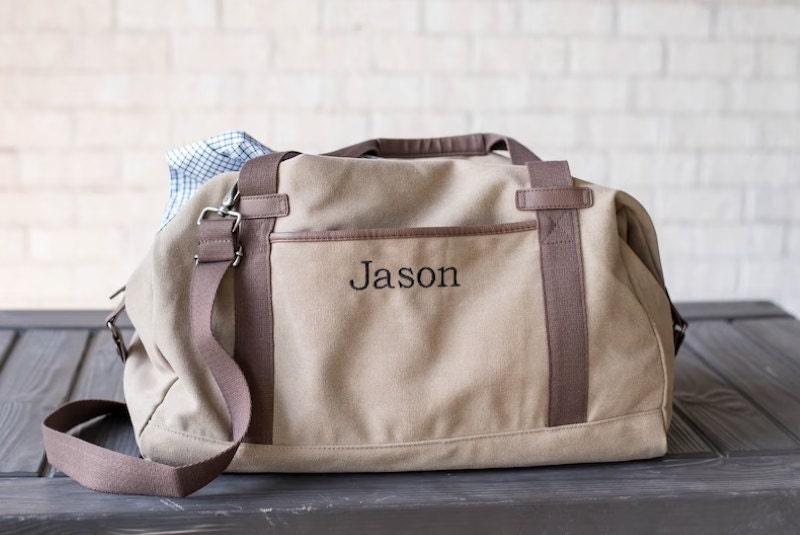 SHOP: Personalized weekender canvas bag from Everly Grayce, $42
Just the right size for taking along to the golf club, gym, or on overnight business trips, this personalized weekender bag embroidered with Dad's name is sure to delight him. He'll particularly appreciate its versatility and the way it can clamp down to fit small loads, or unclip and expand for packing more stuff in. "This bag is very heavy-duty," reads a review from a shopper who was so pleased with the purchase that they ordered two more!
10. Canvas toiletry bag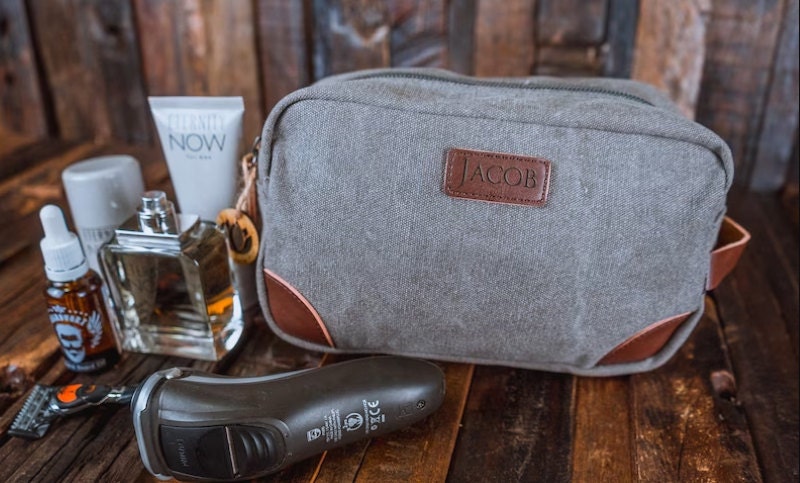 SHOP: Personalized men's toiletry bag from LilyCraft, $48
If your dad's toiletry bag is due for an upgrade, surprise him with a personalized kit crafted from durable canvas with leather detailing boasting his name. We especially love these as personalized gifts for dad from sons—why not pick up a matching set?
11. Children's drawing T-shirt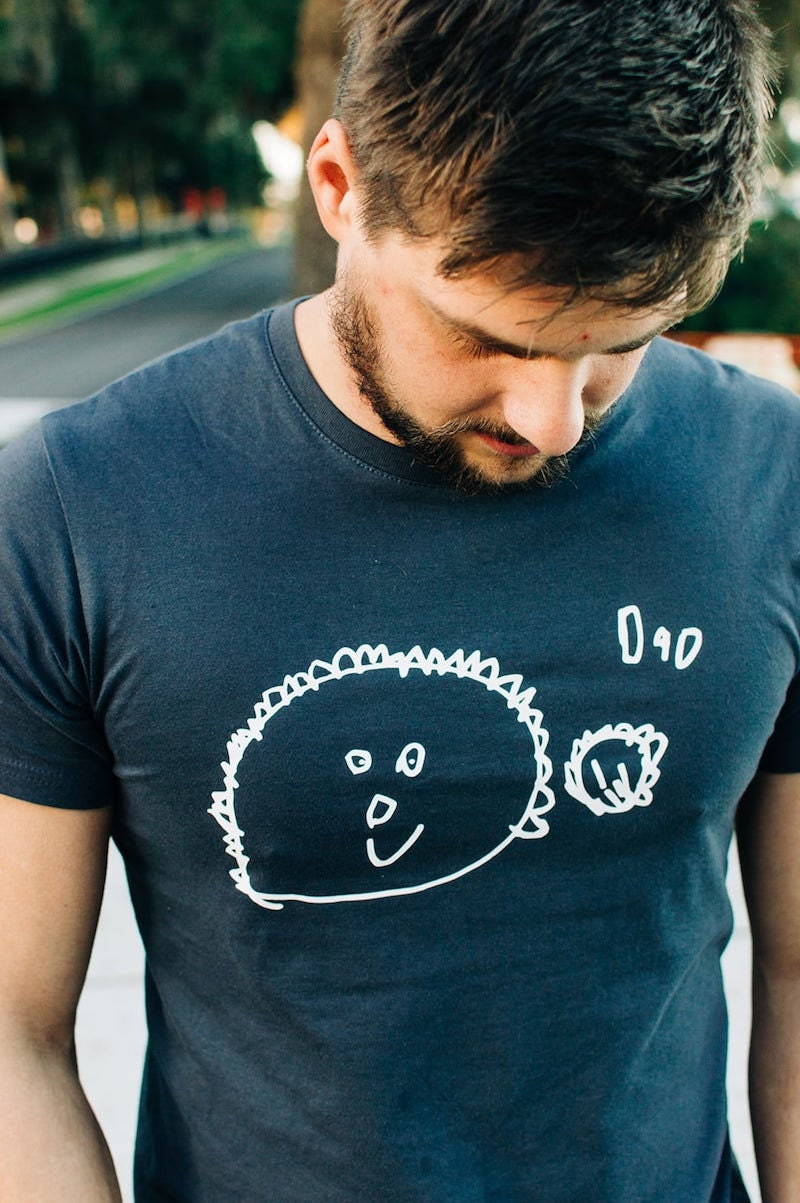 SHOP: Custom T-shirt with children's drawing from Olive & Pip, $39
For a dad with young children, a gift that incorporates his kids is always bound to be a success. Enter these terrific T-shirts, which come hand-printed with your child's drawing on the front for a sentimental touch that will hit Dad's soft spot, every single time. Just choose from navy blue, slate gray, or black for one of the very best personalized gifts for new dads out there.
12. Monogrammed wallet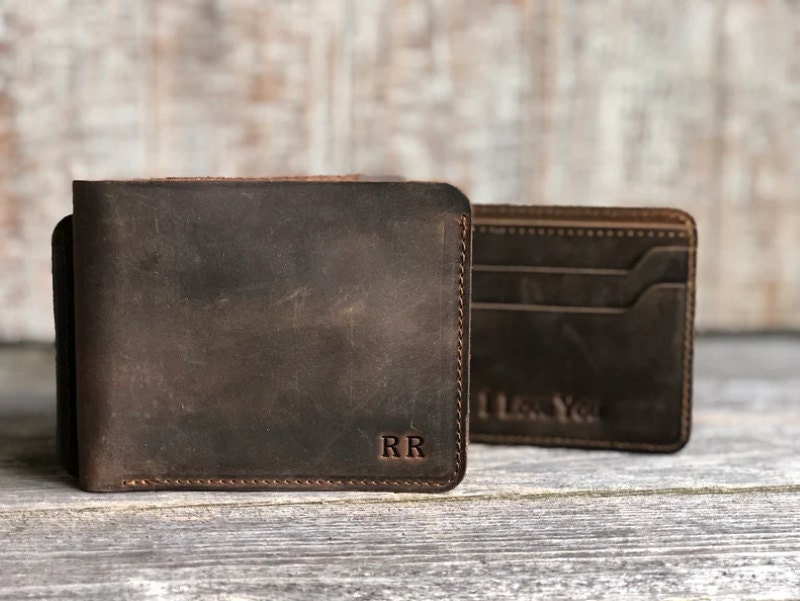 SHOP: Personalized bifold leather wallet from Yoakum Leather, from $20
Sure, wallets are a popular gift pick for dads, but there's nothing common about this beautifully crafted distressed leather number. The bi-fold beauty is thin enough to fit in a back pocket, and you can add your dad's initials on the front, plus a meaningful phrase on the inside. Buyers say it's "really beautifully made," has an "excellent price, and material," and that "the pictures don't do it justice!"
Best personalized gifts for dad under $75
Equal parts useful and thoughtful, these handcrafted personalized gifts for dad under $75 will grant you the title of the best gift-giver in your pop's eyes.
13. Custom spirit decanter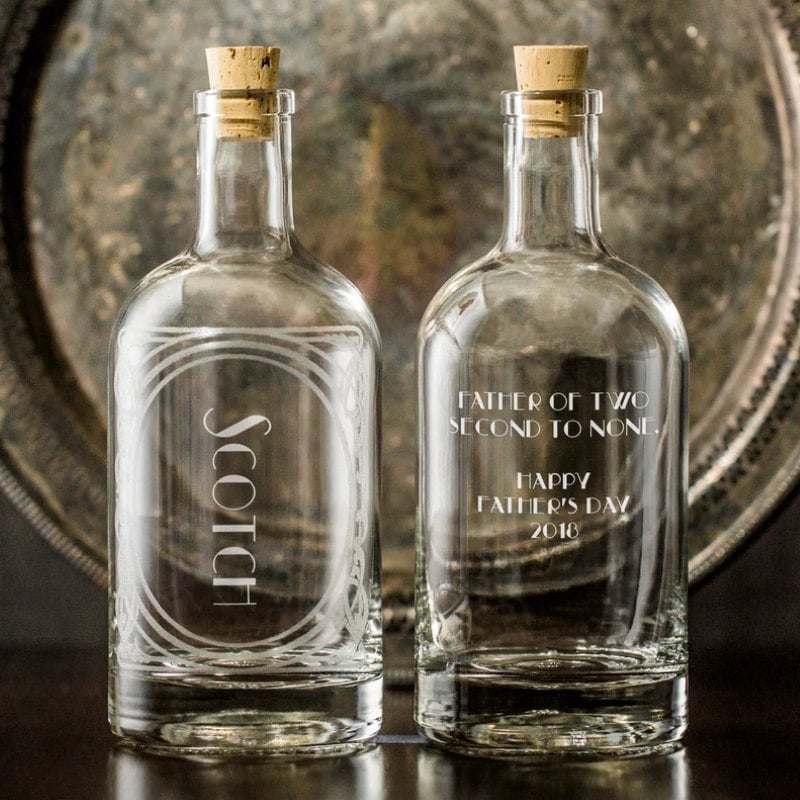 SHOP: Personalized etched spirit decanter from Rec Etch, $69
Imagine your dad's proud face when he has his friends over and offers them a drink from his very own personalized decanter! These gorgeous reclaimed bottles can be laser-etched with the name of your pa's favorite spirit, along with his name and a quote or date on the reverse. There's lots of room to get creative, but we'll admit we're pretty fond of the seller's sample message which they generously invite shoppers to reuse: "Father Of Two. Second to None."
14. Waxed canvas lunch bag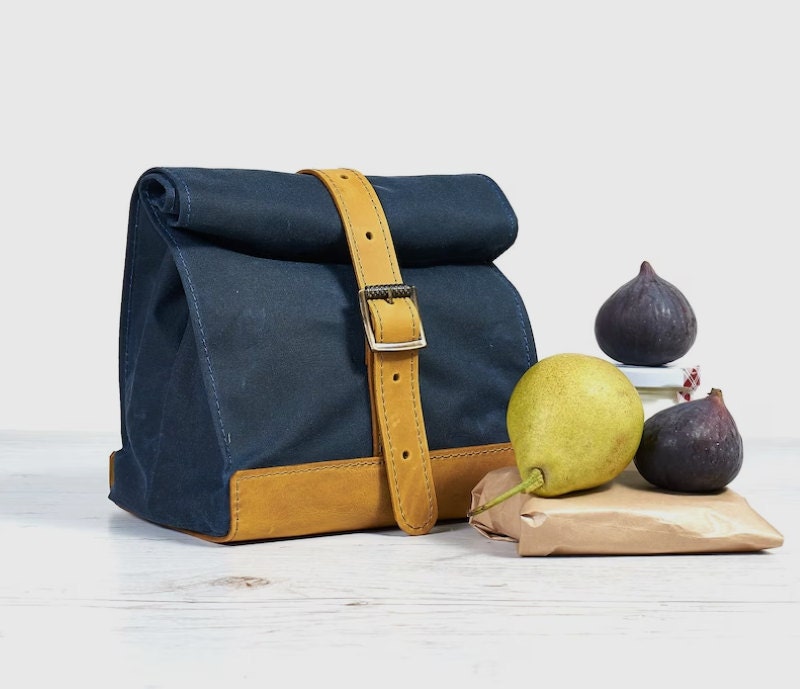 SHOP: Waterproof lunch bag from Innes Bags, from $60
For a dad who's always on the go, this handsome canvas lunch bag, which can be personalized with his name, makes a most meaningful and practical gift choice. Handcrafted in a small family workshop in Slovakia, the fully lined bag is made from water-resistant waxed cotton that's designed to keep his precious turkey sandwich safe and dry. The fact that it looks super stylish, too—with its handsome leather handle and smart buckle—is the cherry on top.
15. Laser-cut wooden map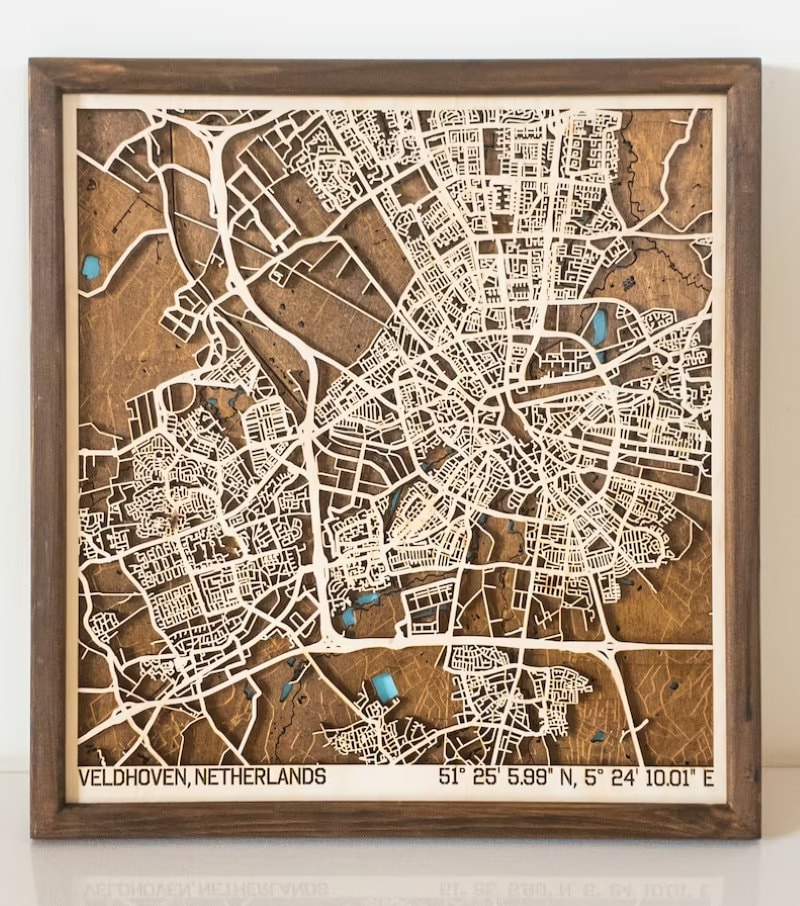 SHOP: Minimalist laser-cut custom wooden map from Laser Wonder Things, from $75
Bring a touch of nostalgia to your dad's man cave or the wall next to his favorite reading chair with this exquisitely detailed custom-made wooden map. To really pull at his heart strings, opt to capture a location with maximum emotional significance, like the town he grew up in and never stopped loving, or the place where he met your mom.
16. Custom pet cufflinks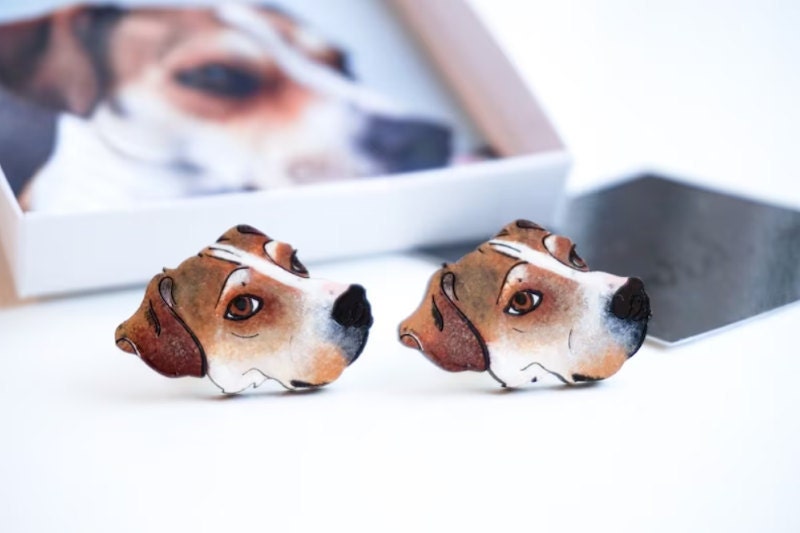 SHOP: Pet portrait custom wooden cufflinks from Laurel Eve LLC, from $61
It's a tale as old as time: Initially, Dad didn't want the dog, but now he loves the little fluffer more than anyone else in the family. For a pet-obsessed papa, opt for these award-winning custom wooden cufflinks hand-painted to capture your four-legged family member's furry likeness. "Absolutely obsessed with these," exclaimed one happy shopper. "Amazing quality and fantastic customer service in ensuring color accuracy and the perfect representation of our pups!"
Best personalized gifts for dad under $150
Enjoy the awed look on your dad's face when he unwraps one of these showstopper personalized gifts for dad under $150. Though his words will say "you shouldn't have," his thrilled expression will tell you otherwise!
17. Hand-engraved BBQ tools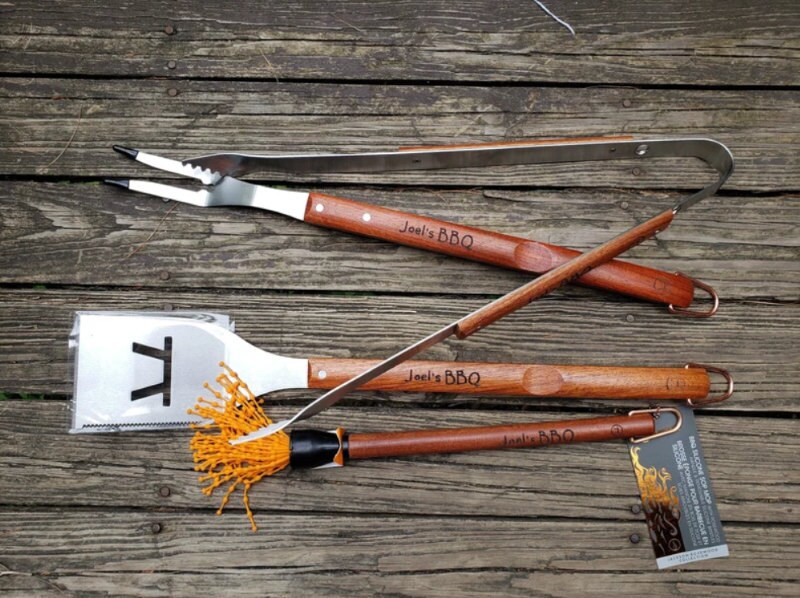 SHOP: Personalized grill tool set from RusticCraftDesigns, from $163
If your dad vehemently refuses to let anyone else near the grill while he's barbecuing, he'll absolutely adore this personalized set of wood-handled barbecue tools stamped with his name (and no one else's). Plus, he'll be so excited to put them to use, you just might get to celebrate with a taste of his world-famous ribs. A win-win!
18. Family portrait illustration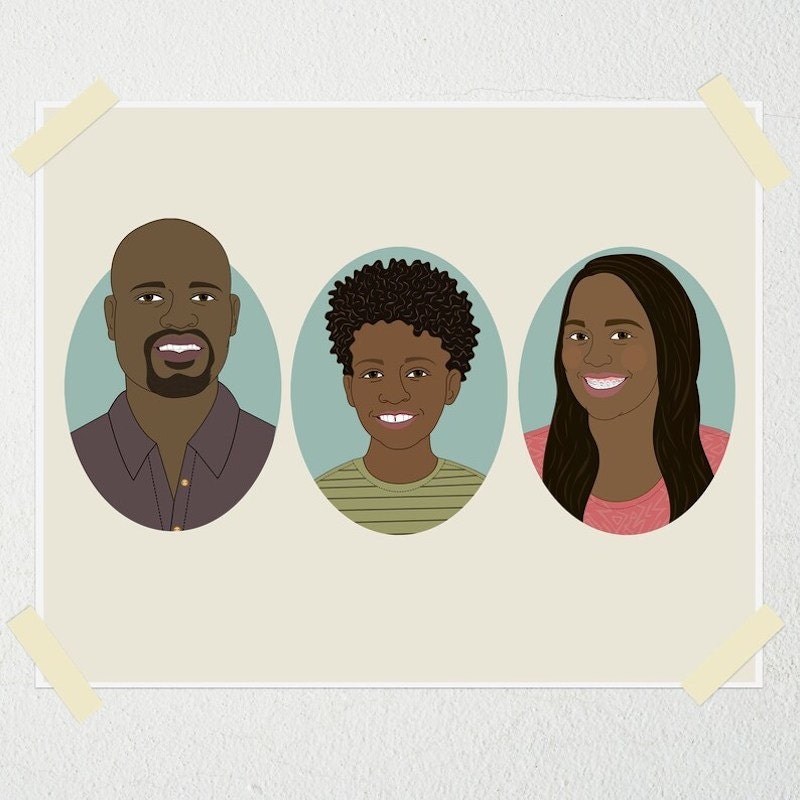 SHOP: Personalized family illustration from Lili Di Prima, from $115
Your folks' house is no doubt full of family photos—a reminder of all the people they love and who love them right back. For something a little different to add to their gallery wall, consider a custom-illustrated family portrait. The artist draws the piece from photos you provide, and will send you proofs to approve before prepping the final product. Then illustration comes directly to your inbox in a digital format so you can print it off and frame in any size you like.
19. Washed canvas apron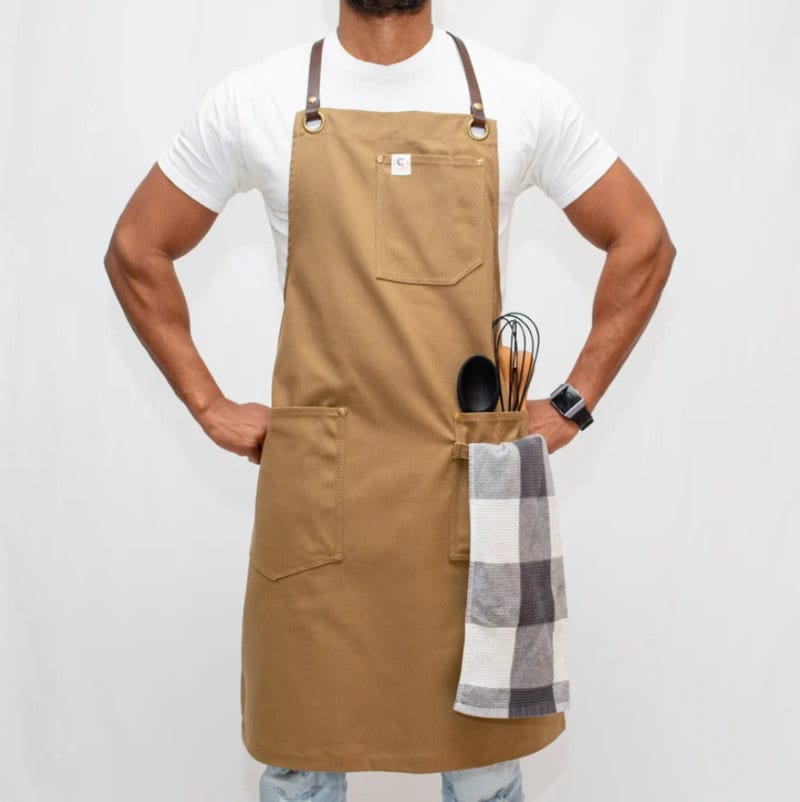 SHOP: Washed canvas apron with leather straps from Chef's Satchel, $80
Whether he likes to cook, paint, or dabble in some handiwork, your dad will make good use of this handmade washed canvas apron which can be embroidered with his name. With its gold metal grommets, leather straps, and handy pockets and towel loop, this pick is as practical as it is aesthetically pleasing.
20. Wooden eyeglasses stand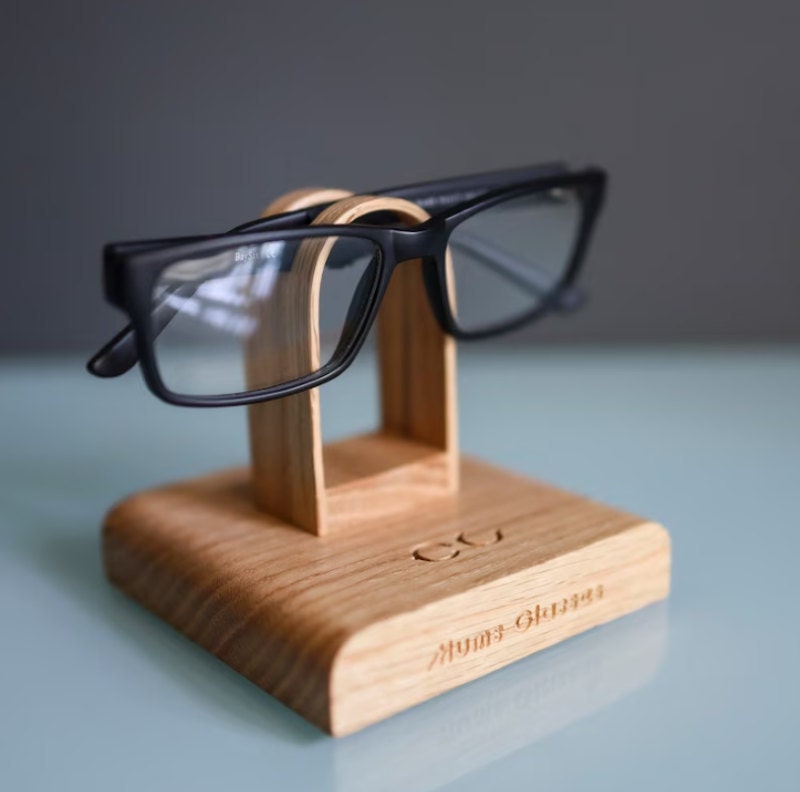 SHOP: Solid black walnut glasses stand with engraved personal message from NOIR.DESIGN, from $78
Make sure your dad always knows where his eyeglasses are with this innovative and classy personalized wooden stand. The handy holder is hewn from your choice of oak or walnut, with the wood's visible natural graining adding to its refined look and feel. The piece will look great on any desk or nightstand, and the seller will happily engrave your pop's name or initials and a short quote or message on the base, free of charge.
How do we pick the best personalized gifts for dad?
As Etsy Journal editors and contributors research and curate shopping guides for some of the best-loved items on Etsy, we thoughtfully consider the creativity, customization, and craftsmanship that go into each product. We also consider buyer reviews, item ratings, and customer service, and tap the expertise of our in-house merchandising and trends experts to uncover high-quality finds for every budget. You can find more information about each item in the seller's listing details and can take a look at their individual shop policies and reviews, too.