From embroidered sweatshirts to engraved necklaces, these custom-crafted gifts can all be uniquely personalized to show Mom how much she's loved.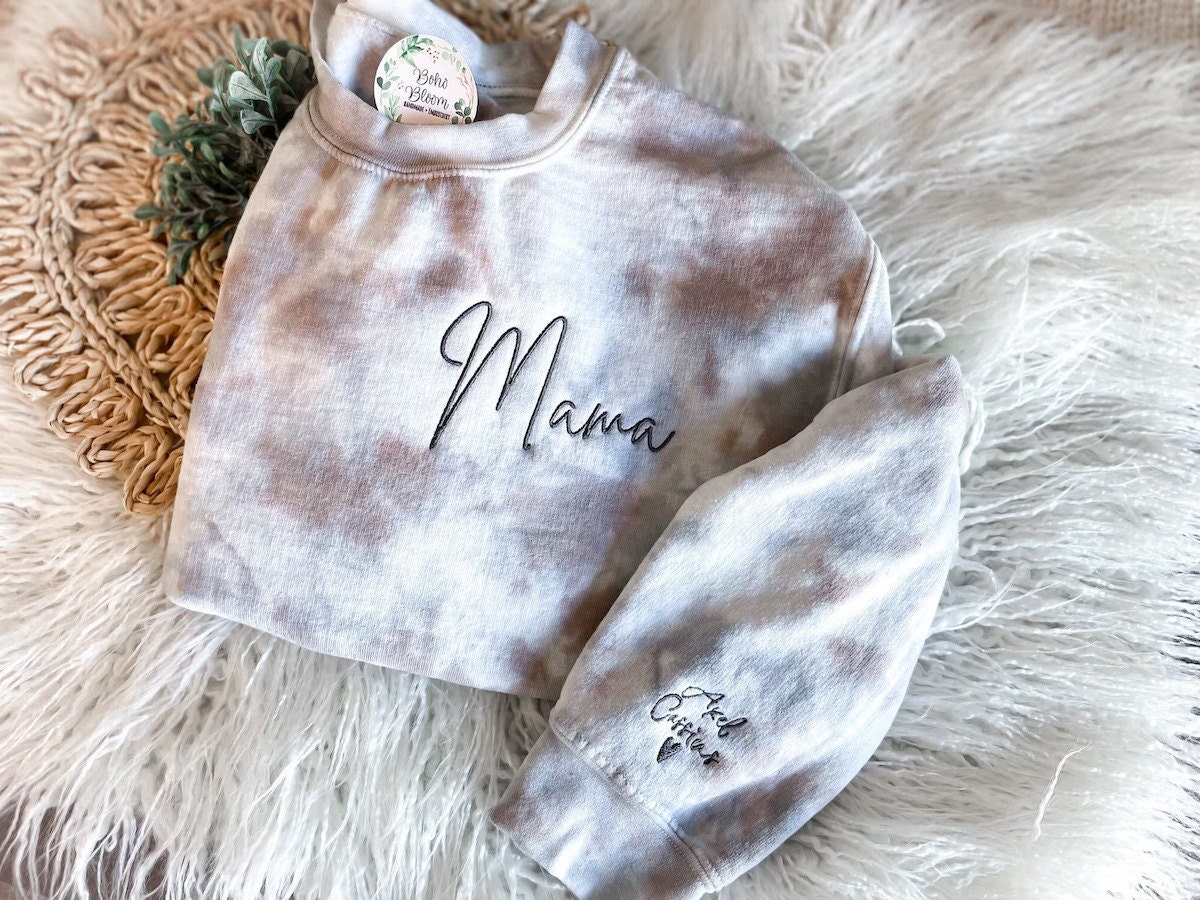 Every single day, the mother figures in our lives go to great lengths to ensure we're happy, healthy, and loved, whether they're sending us care packages or just lending us a supportive ear. And while there are many special occasions that call for gifts for moms—their birthdays, Mother's Day, the holidays—our favorite reason to thank her for all she does is "just because."
Of course, any gift from you is going to be appreciated for the thought you put into it. That said, the best gifts for moms are often sentimental picks that send a meaningful message, which is why a personalized gift made especially for her is sure to hit the sweet spot.
See our picks for the best personalized gifts for mom:

With thoughtfully handcrafted items made by small shops all around the world, there's no end to the creative personalization options available on Etsy to show your mother your boundless gratitude—from custom artwork to elegant engraved necklaces. Below, we've curated a list of some of the best personalized gifts for moms to aid you in your selection process.
Unique personalized gifts for mom
Whether you're looking for an out-of-the-box gift idea for Mother's Day or just a thoughtful token to remind her she's an everyday kind of amazing, these unique personalized gifts are designed to surprise and delight.
1. A handcrafted mug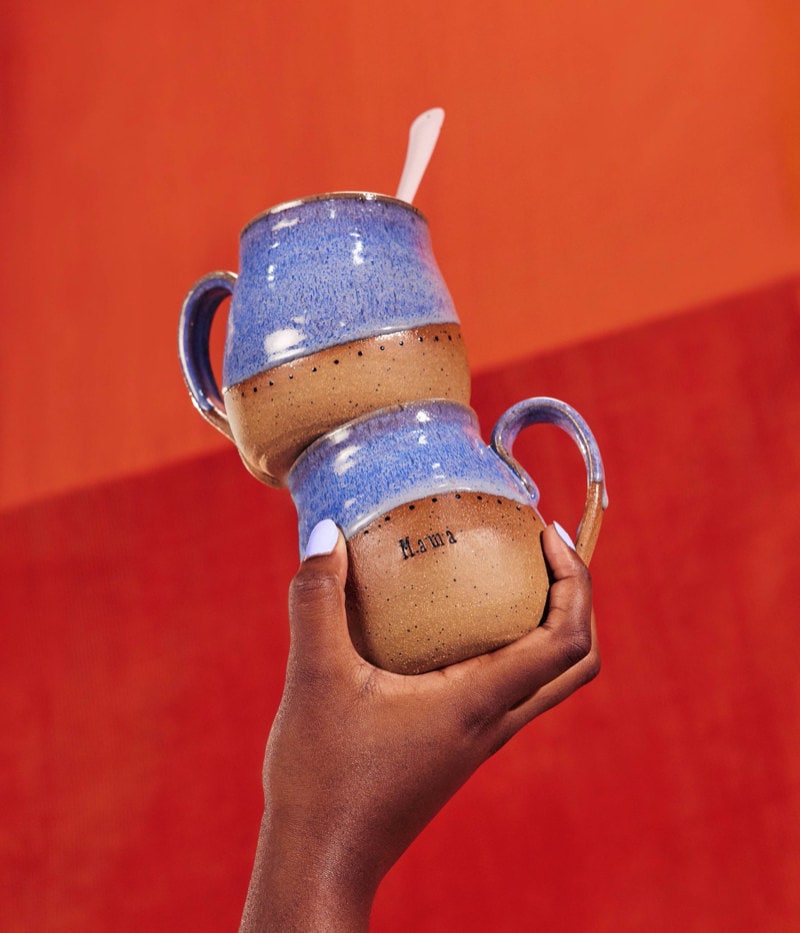 SHOP: Personalized name mug from Laura Lynn Pottery, $46
For Mom's morning cup of joe, afternoon tea, or marshmallow hot chocolate on a cozy night in, this made-to-order speckled stoneware mug is sure to see plenty of use. There are four gorgeous glazes to choose from and space for up to 15 custom characters, so you can personalize her new go-to clay cup with her name or the cute thing her grandkids like to call her.
2. Astrological art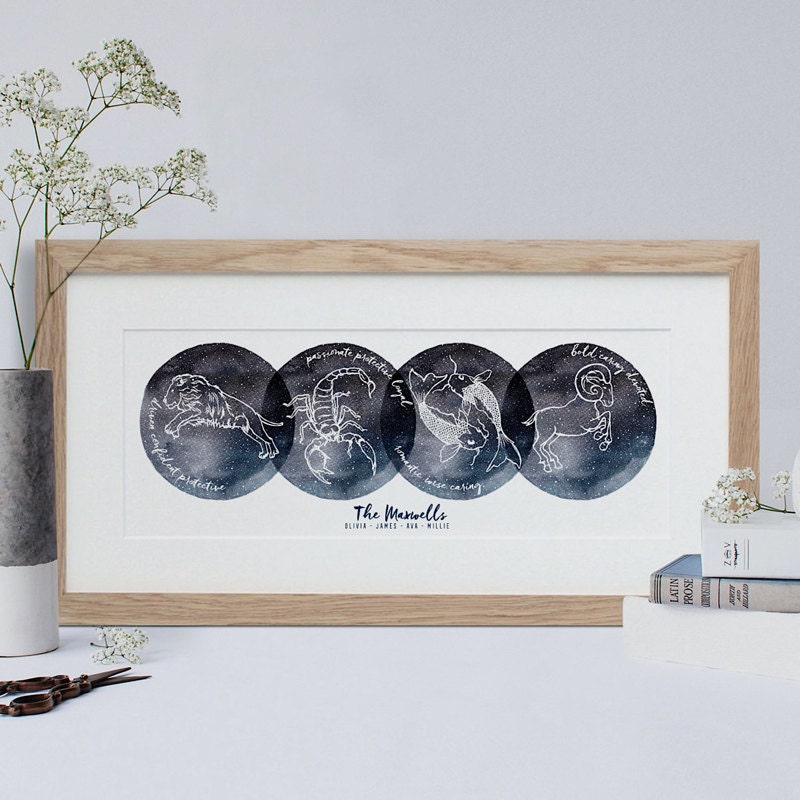 SHOP: Hand-drawn zodiac art print from Letterfest, from $46
The perfect personalized present for moms whose babies are the center of their universe? A frame-worthy print depicting the hand-drawn zodiac signs of each star in her sky. With space for seven astrological illustrations (complete with their prominent personality traits), plus room for the household name, this thoughtful gift is guaranteed to rock Mom's world.
3. A custom cutting board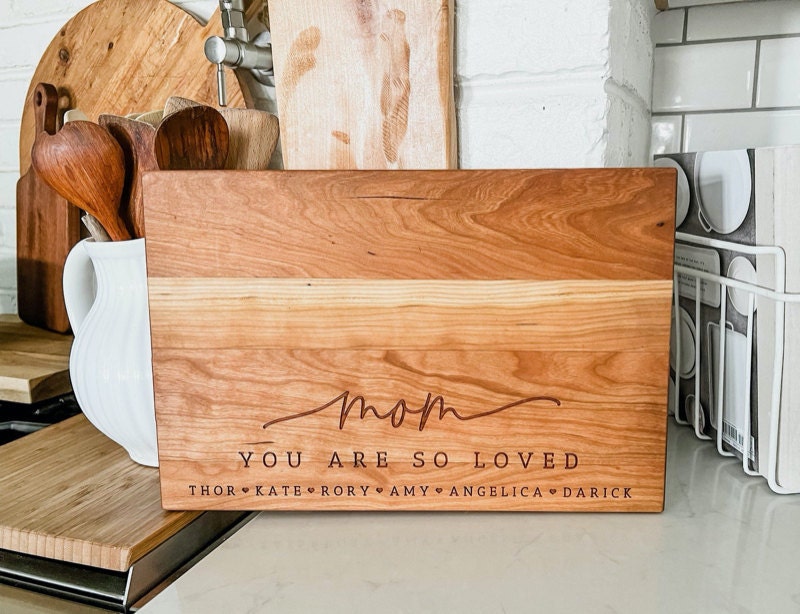 SHOP: Personalized engraved cutting board from Copper Fox Company, from $28
For the mom whose cooking brings everyone together, a custom-engraved cutting board says, "Thank you for nourishing us in so many meaningful ways." Crafted from your choice of top-grain cherry, maple, walnut, bamboo, mahogany, and sapele woods, these solid boards are great for both heavy-duty prep as well as decorative display, and can be engraved with one of ten delightful designs depending on Mom's taste.
4. A family tree wall hanging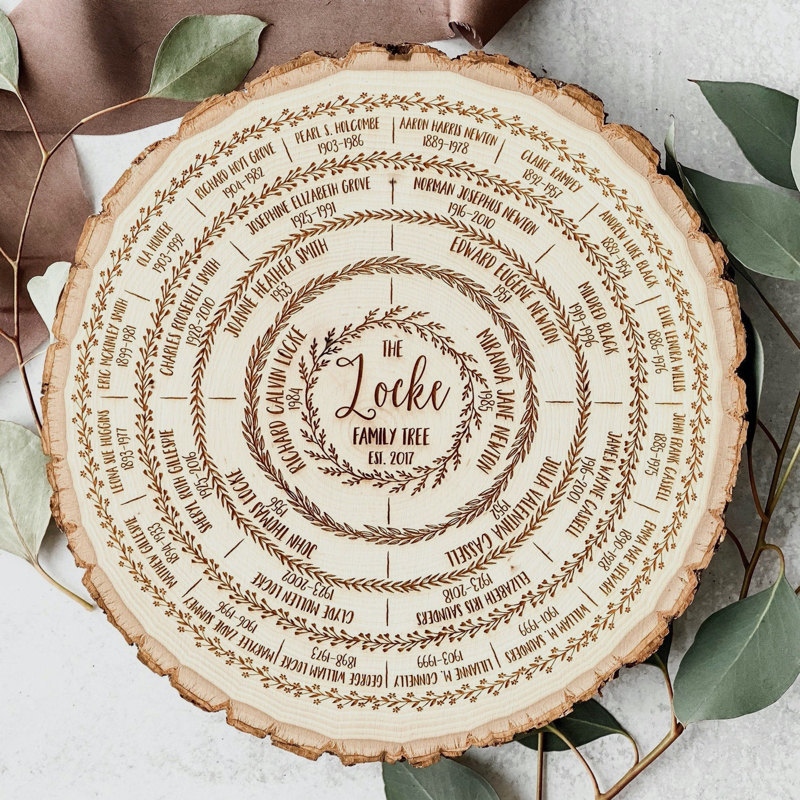 SHOP: Wood slice family tree wall hanging from Foxbairn, from $50
Fittingly etched onto a rustic wood slice to symbolize generations of growth, this stylish personalized family tree can easily be wall-mounted in a prominent place to bring a smile to her face every time she looks at it. "This was the most beautiful gift—absolutely stunning!" one shopper wrote. "A true keepsake that will be treasured."
5. A personalized sweatshirt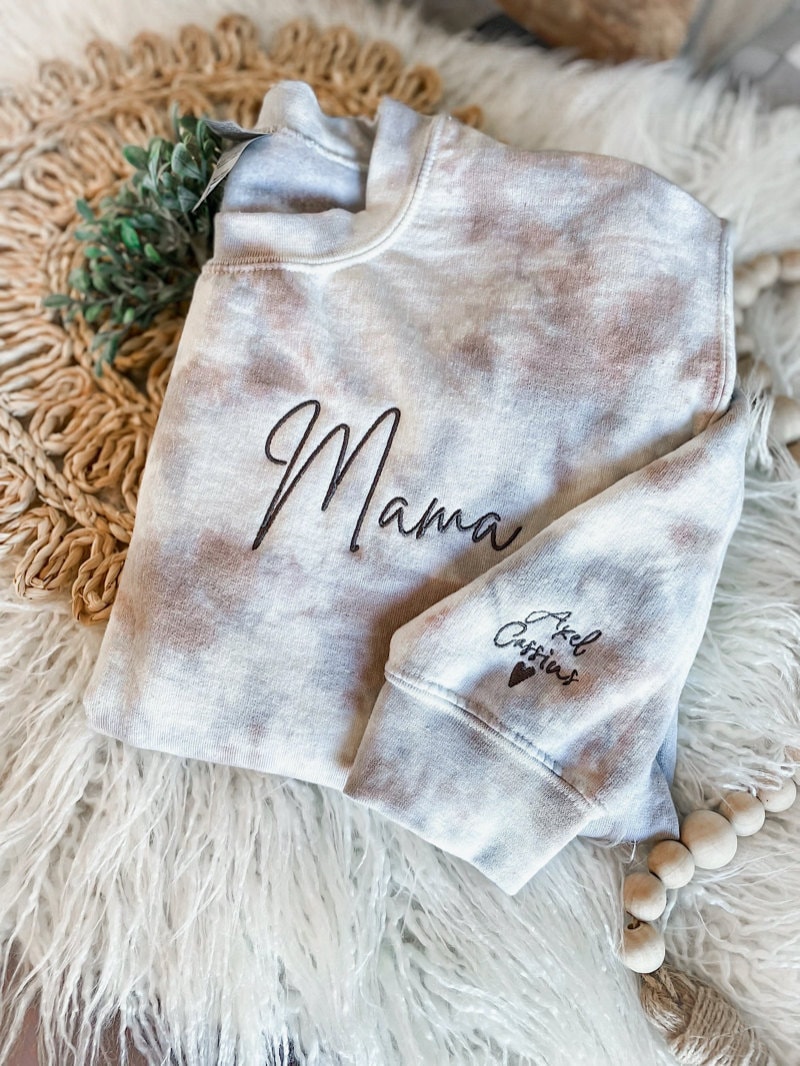 SHOP: Embroidered "Mama" sweatshirt from Boho Bloom Apparel, from $52
Any mama who melts at the idea of a good snuggle sesh with her littles will adore cozying up in this custom sweatshirt, which comes tie-dyed for chill vibes in seven swirly shades ranging from pumpkin spice to dusty pink to frost gray. But when she sees the sleeve hand-embroidered with her babies' names? Let's just say, "Cue the happy cry!"
6. A custom wooden Christmas ornament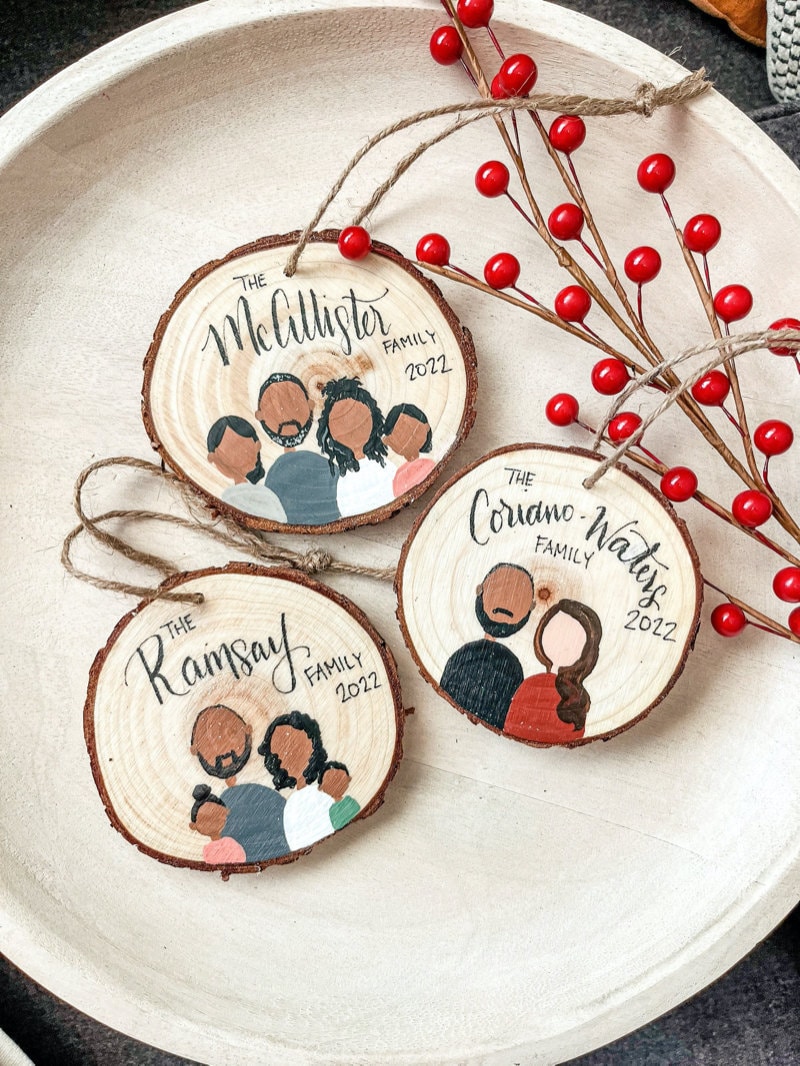 SHOP: Personalized wood slice ornaments from Oliveberry Designs, from $29
We'll let you in on a little secret: Every Christmas-obsessed mom has two or three most-cherished ornaments she can't wait to unbox each year—and thanks to these hand-painted family portraits, she's about to have a new favorite. Decorated with all her dearest faces (right down to the furry, four-legged members of her crew), these wooden heirlooms make a thoughtful way to preserve a slice of life for many Christmases to come.
Best personalized jewelry for mom
These personalized jewelry picks are the perfect way to shower your mother with some sparkle so she can be just as dazzling on the outside as she is on the inside.
7. A birthstone bracelet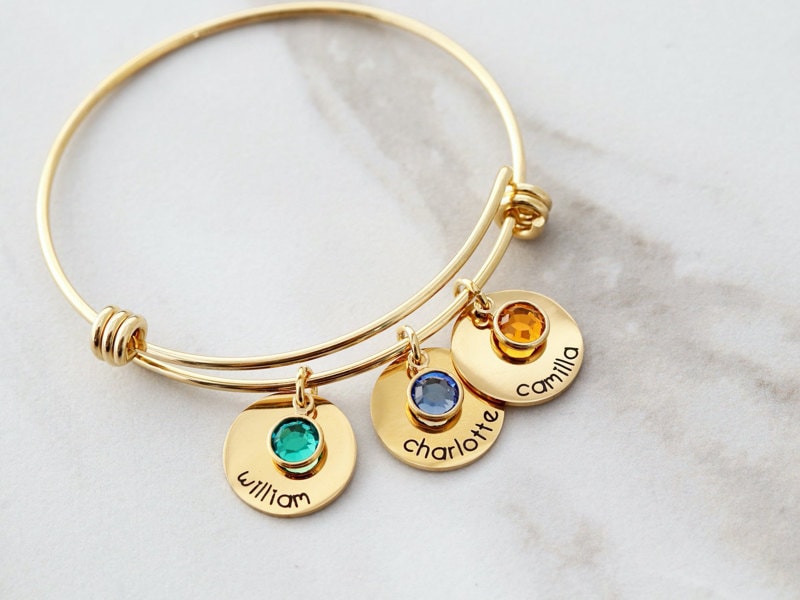 SHOP: Birthstone charm bracelet from Tom Design, from $40
A particularly moving choice for moms of multiples, this adjustable bangle offers tons of personalization options at an appealing price. Choose between silver and gold finishes, select a birthstone-bedecked charm for each child, and get their names etched in a range of six fonts from traditional type to playful kid's print. (Pro tip: Ask about engraving symbols and custom images!)
8. A birth flower necklace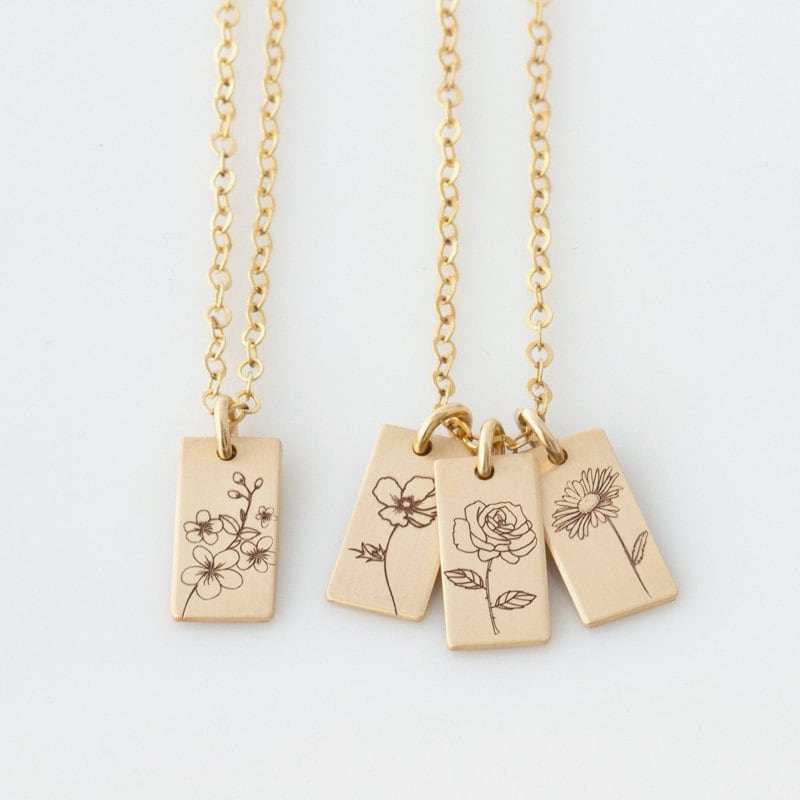 SHOP: Birth flower necklace from LEILA, from $43
As far as unique personalized necklaces for women go, this dainty design is the ultimate combo of special and chic. Available in 14k gold fill, rose gold fill, or sterling silver, each delicate chain comes personalized with up to four pretty floral-imprinted pendants, creating a beautiful bouquet representing the birth flowers of Mom's family. As one shopper raved, "This is my new favorite gift to give. So cute. So special. So minimal. Love it!"
9. An initial charm necklace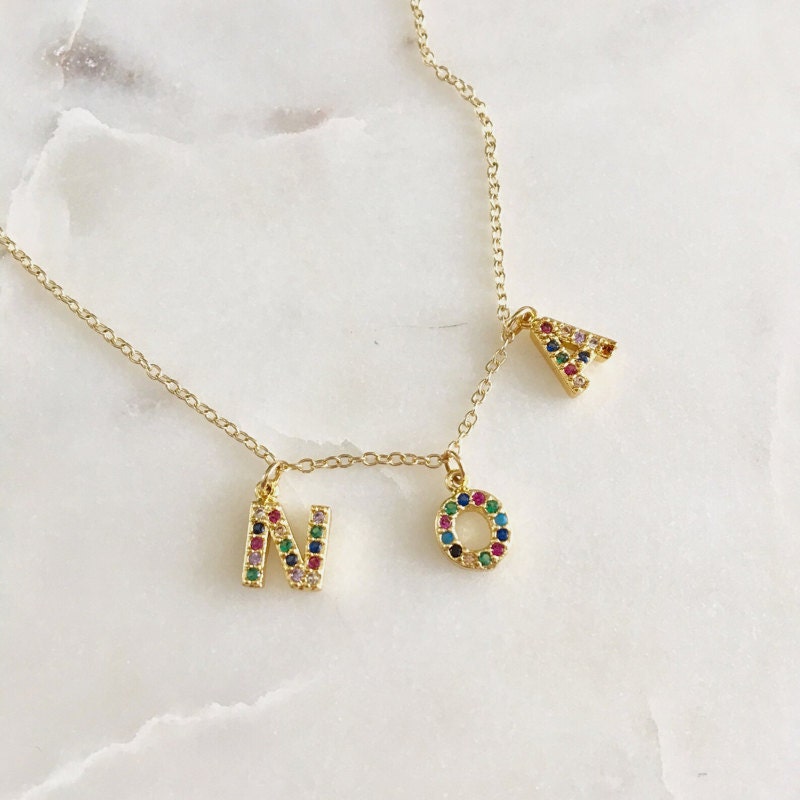 SHOP: Dainty name necklace from Ginza Fashions, from $29
Whether Mom has a more timeless style or enjoys a bright pop of pigment, this personalized name necklace can be tweaked to complement her particular brand of cool. Spell out her nickname, her title, or any meaningful 8-letter word in a set of shiny letter pendants, which come encrusted with either classic clear crystals or rainbow-colored rhinestones. Brilliant!
10. A secret message locket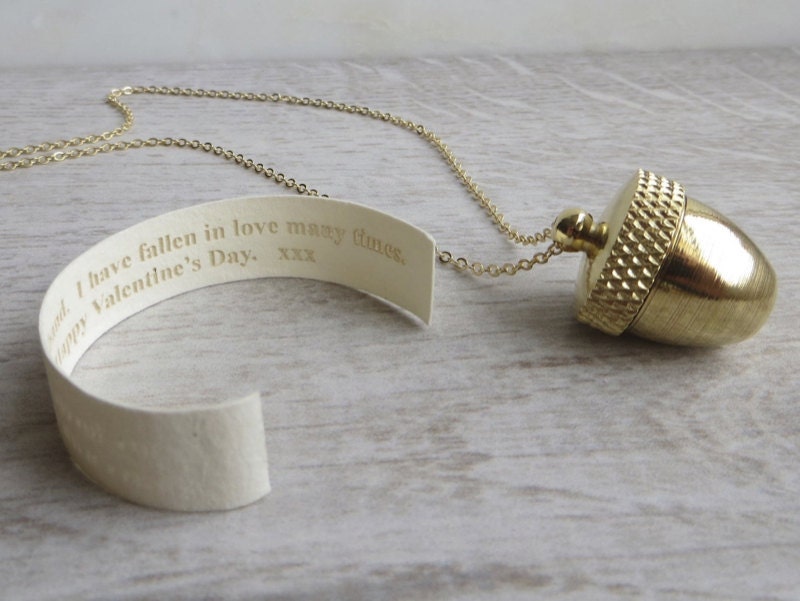 SHOP: Solid brass acorn locket necklace from Gracie Collins, $58
There's nothing quite like writing a personal message to express your heartfelt appreciation to your mother, and this one comes nestled in a sweet little acorn locket that's perfect for nature lovers. Engrave your own unique poetry on a tiny paper scroll, and watch Mom's smile unfurl as she sees what the pendant holds. Hand-built to last from solid brass, shoppers call it "stunning," "amazing quality," and "beautifully crafted."
11. A morse code necklace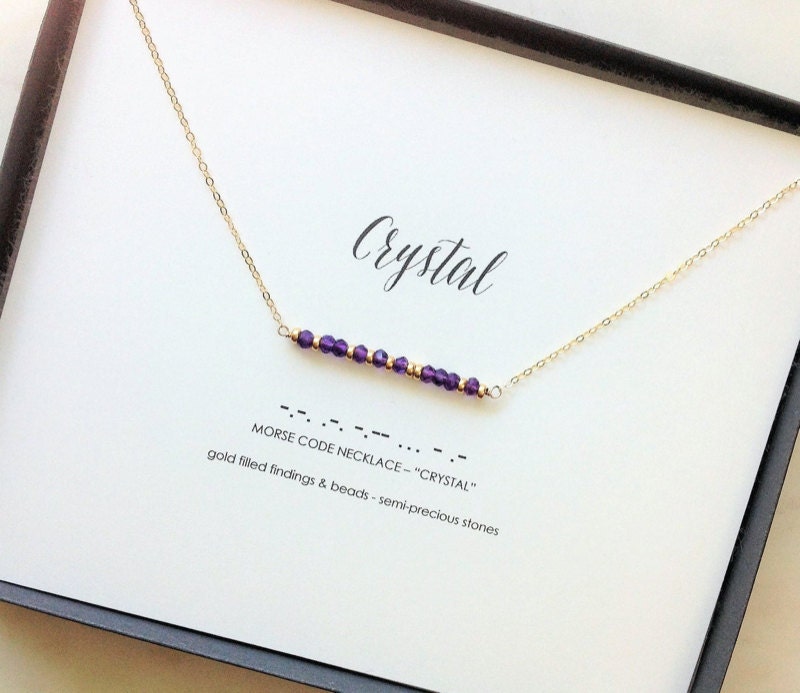 SHOP: Personalized morse code name necklace from Wrapt Studio, from $42
Speaking of secret messages, this elegant birthstone bar necklace contains a special one of its own: The dainty gold-filled and semi-precious beads are hand-strung to spell Mom's name in morse code, giving it an extra personal touch.
Best personalized gifts for new moms
They might not have been in the game for very long, but new moms deserve just as much praise as the pros, and as much attention and love as their babies! These thoughtful picks for new moms will make them feel acknowledged and appreciated from day one.
12. A footprint necklace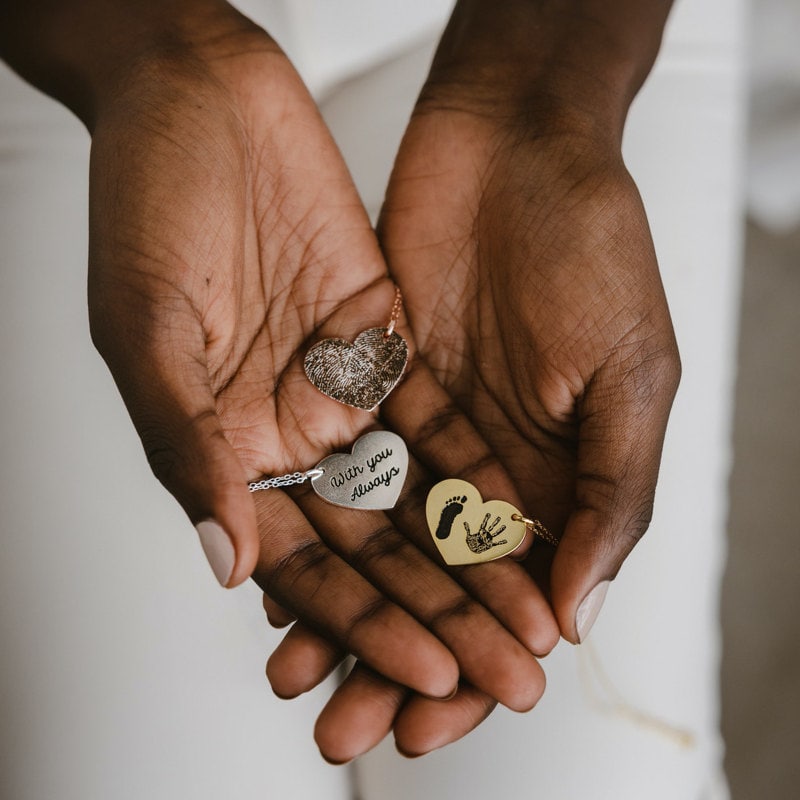 SHOP: Personalized footprint necklace from Caitlyn Minimalist, from $42
Want to help Mom preserve this tender moment in time? This unique heart-shaped pendant necklace can be engraved with her peanut's actual footprint—an excellent gift for a new mama who's busy cooing over those ten perfect baby toes. Double-sided engraving is also available, so you can mix up your design to combine fingerprints, handprints, names, and sweet little sayings. "Absolutely perfect! I ordered this for my mom with my son's footprint and name on one side, date of birth on the other," one shopper says. "I love it so much I will probably be ordering another for myself!"
13. A birth announcement frame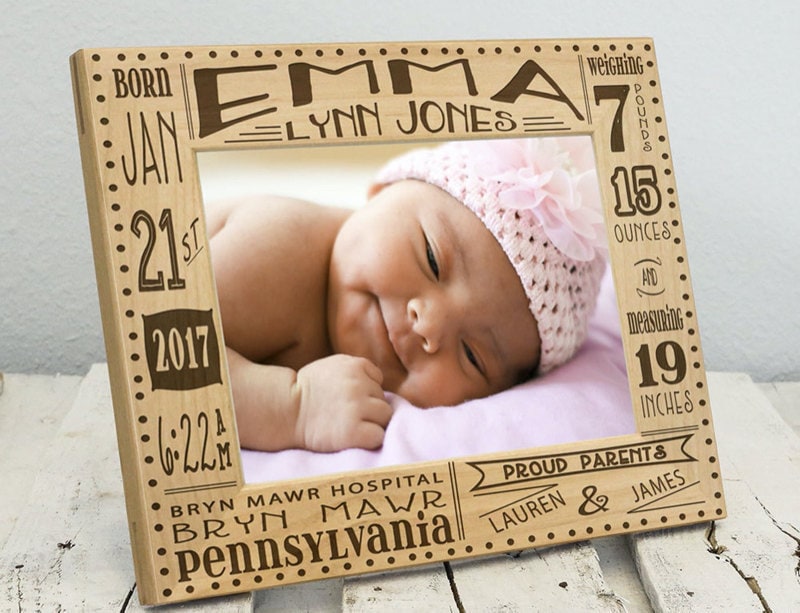 SHOP: Personalized birth announcement picture frame from Gifted Oak, from $30
To commemorate her baby's arrival in style, gift the new mom in your life with this solid wood birth announcement frame. Featuring the little one's name and details such as weight, length, and date and time of birth, this is one thoughtful treasure she'll hold onto forever. "If I could give 10 stars, I would," raved a buyer. "It is a wonderful keepsake memory for parents or grandparents alike."
14. Baby hand and footprint art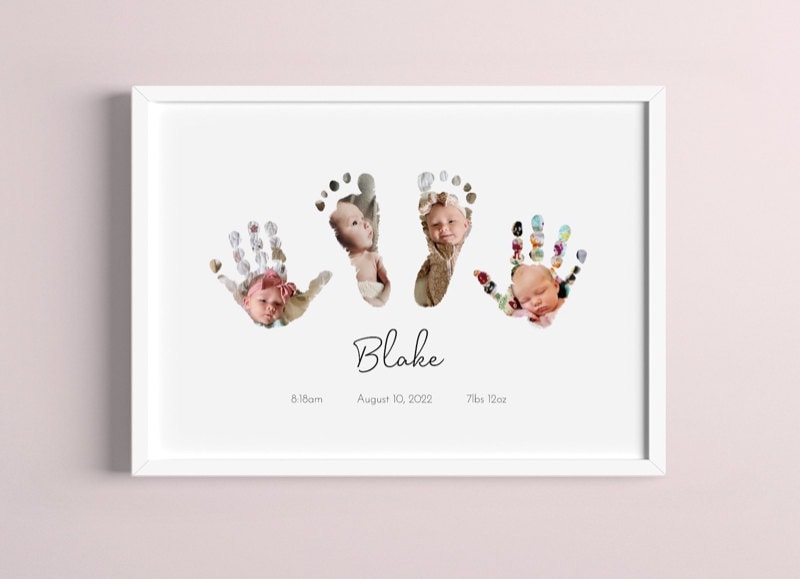 SHOP: Handprint footprint photo art from MiMi Adores, $61
Available with either black and white or color images, this beautiful photo art print utilizes the new kiddo's adorable hand and footprints to create a bespoke display piece. If you don't already have the baby's prints, a safe and non-toxic kit will be shipped out to you so you can professionally preserve them. "So beautifully made," one reviewer wrote. "Now we will always have my little one's handprints and footprints to cherish!"
Best personalized gifts for mom from daughter
Nothing can adequately depict the special bond between a mother and her daughter, but these gorgeous personalized gifts for mom come close to it. Prepare for squeals of delight!
15. A cheeky card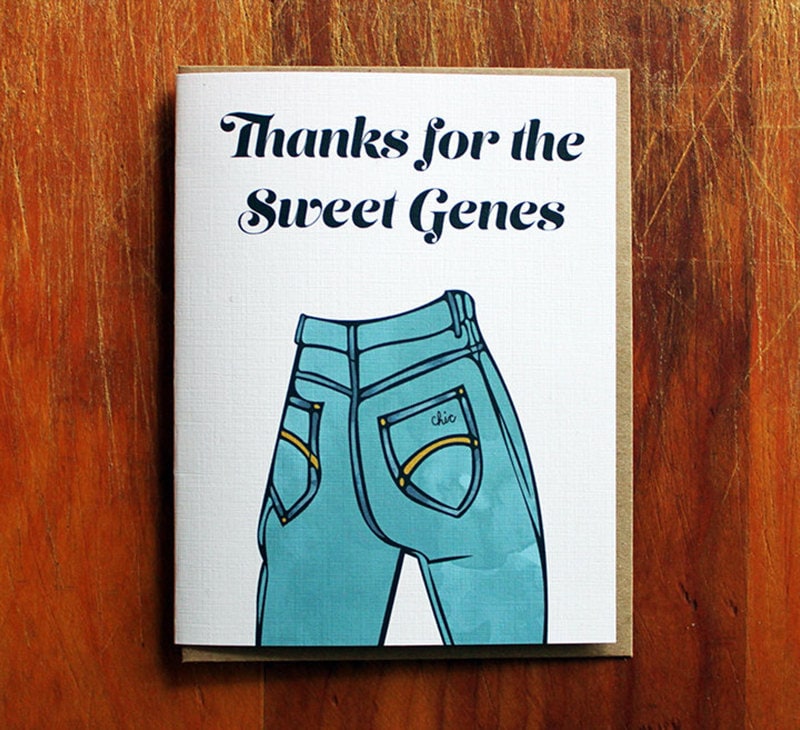 SHOP: "Thanks for the sweet genes" card from Michelle Brusegaard, $5
For the mother-daughter duo who often get mistaken for sisters, this hand-illustrated card is guaranteed to elicit grins. To personalize, simply jot down your heartfelt sentiments inside. "This is just the quirky kind of humor that my mom and I share," one shopper says. "I can't wait to give this to her!"
16. An infinity necklace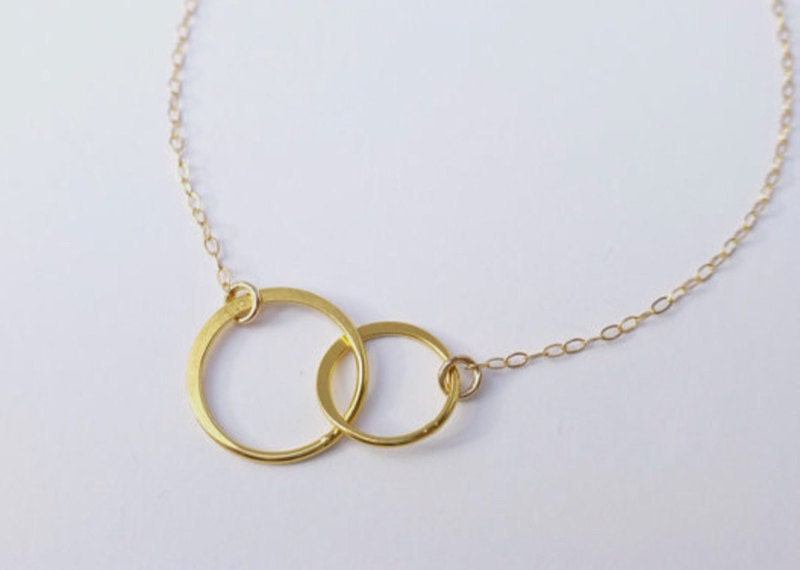 SHOP: Infinity necklace for mom from Glass Palace Arts, from $55
Symbolizing the lifelong bond between a mother and daughter, this elevated infinity necklace features two intertwined loops—a larger one depicting the mom, and a smaller circle representing the daughter. It comes in either sterling silver, or 24K yellow or rose gold vermeil, and makes a fitting choice for those moments that call for a more meaningful gift for mom, as one satisfied shopper can attest: "Got my mom to cry when she saw it. It's a lovely necklace!"
17. A monogrammed candle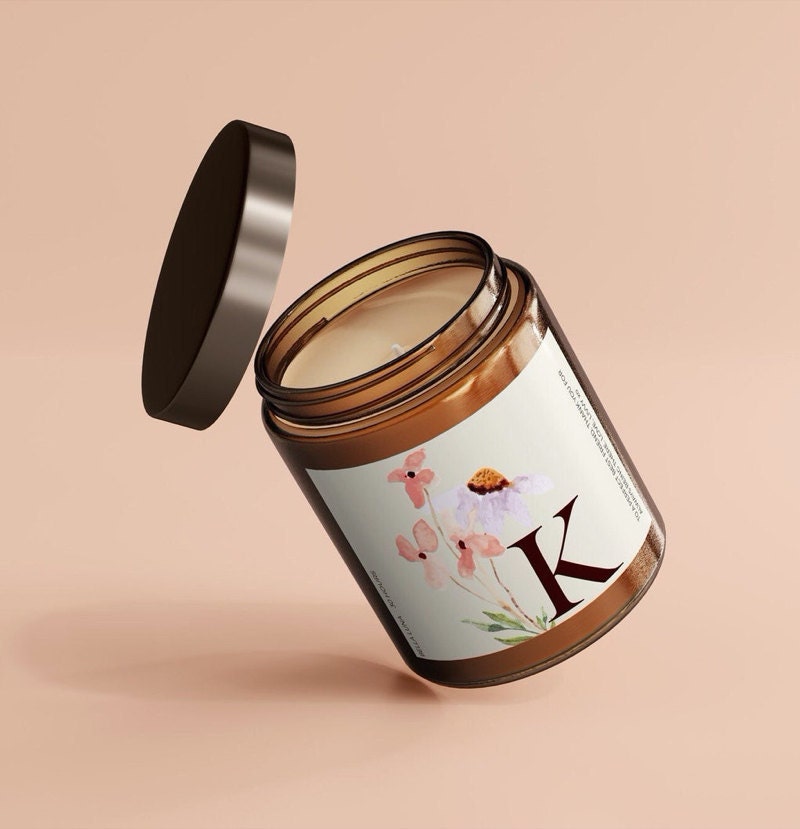 SHOP: Monogrammed scented candle Gilded Pine, $27
If she's got a penchant for pleasant scents, your mom will adore breathing in the irresistible aroma of her very own hand-poured apothecary candle. Crafted from coconut wax in five equally luscious fragrance blends from "Honey Comb" to "Flora's Forrest," this classic gift for mom gets a personal twist with the addition of a monogrammed initial on its label. As one shopper says, "It's pretty, smells great, and makes a thoughtful present."
Best personalized gifts for mom from son
Though she'll always appreciate flowers and chocolates from her beloved son, these personalized gifts for mom go just that little step further to show how much you value her.
18. A card she can keep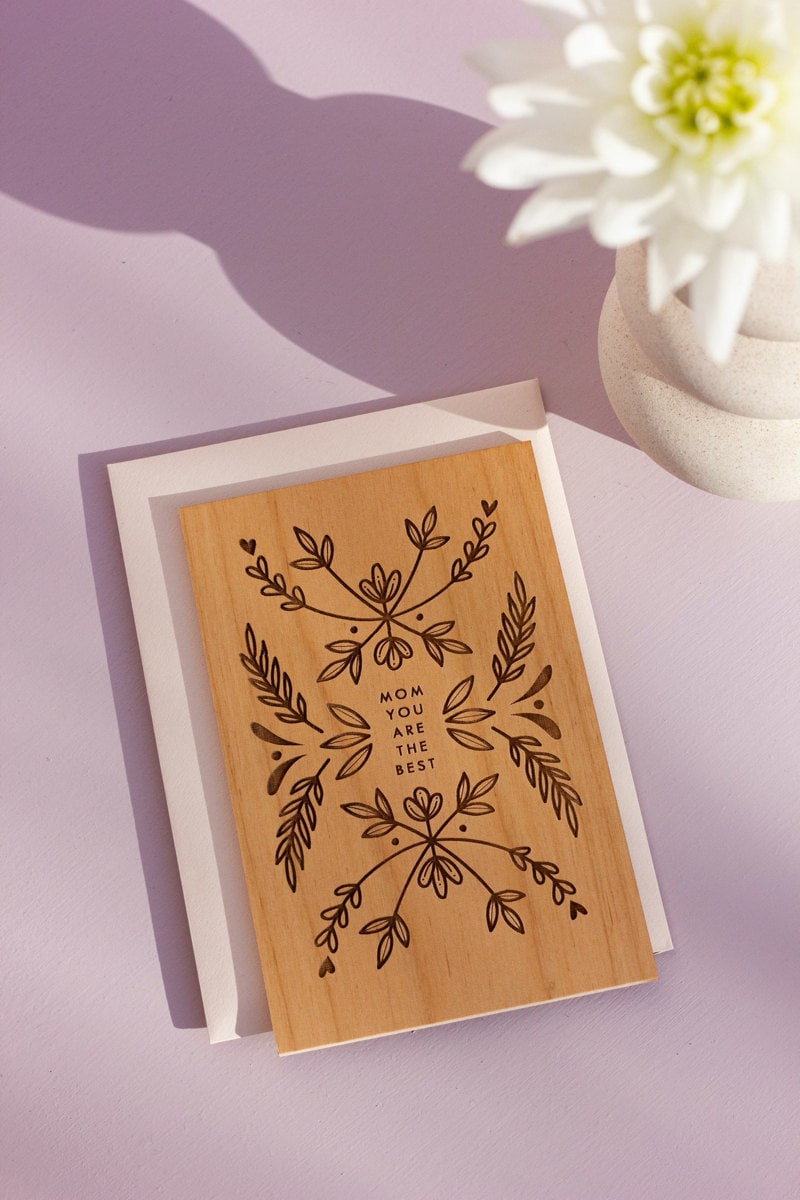 SHOP: Engravable wooden card from HereafterLA, from $15
Elevate your greeting card game with this long-lasting laser cut keepsake, crafted from American alderwood and etched with florals that'll never fade. When it comes to jotting down a few thoughtful words and signing your name, the back of this beauty can actually be custom engraved with either typed text or your own handwritten message. Add an optional display block, and Mom can proudly exhibit her gift like the work of art that it is.
19. A dates art print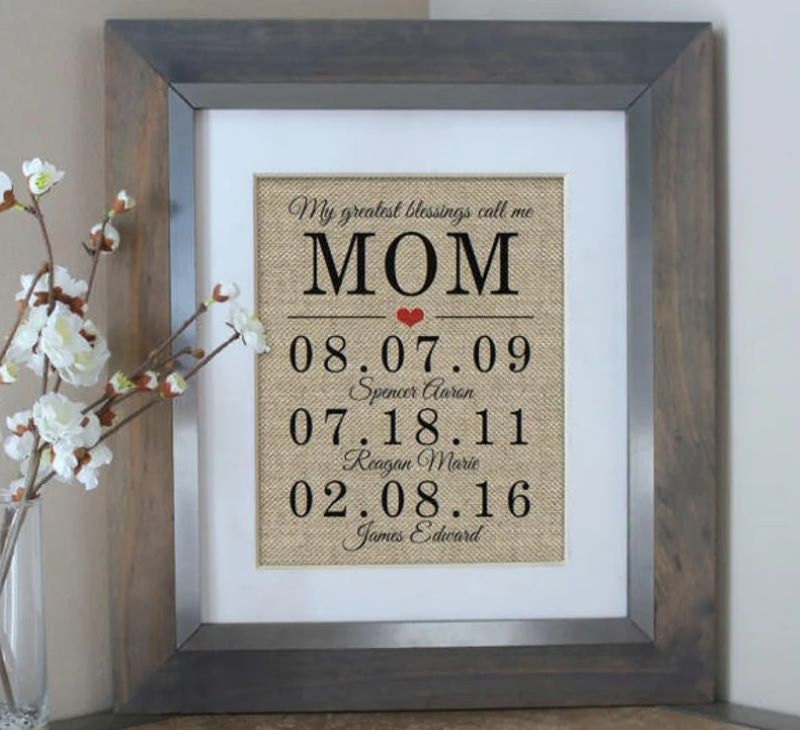 SHOP: Handmade burlap print gift for mom from Emma & the Bean, from $20
Starting at just $20, this sweetly sentimental print is proof that picking a personalized gift for mom can be affordable, too. Simply provide a list of family names and birthdates to be inscribed on burlap jute, and for an extra fee, you can even complete the picture with a frame, which comes in multiple sizes and sturdy wood finishes.
20. A family birthday sign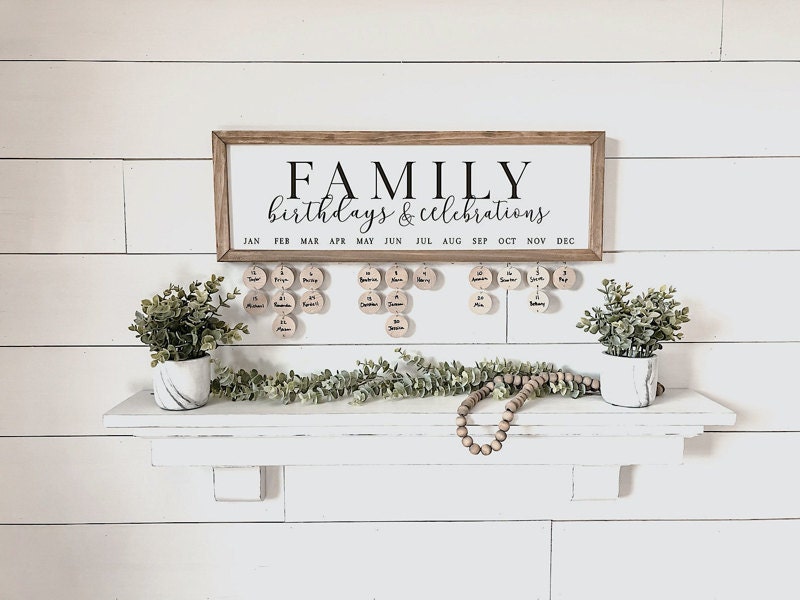 SHOP: Family birthdays and celebrations sign from Woodland Shanty, from $40
A handsome solution for any mom or grandma with a big brood, this handy wall-hanging is designed to help keep track of important dates while cleverly showcasing all the love she's surrounded by in her life. The best part? Tacking on more circle-, heart-, and paw-shaped tags each time new family members come along. "Amazing quality," reads one of the many five-star reviews. "I gave this to my mother as a gift and she was in tears. Just beautiful!"
How do we pick the best personalized gifts for mom?
As Etsy Journal editors and contributors research and curate shopping guides for some of the best-loved items on Etsy, we thoughtfully consider the creativity, customization, and craftsmanship that go into each product. We also consider buyer reviews, item ratings, and customer service, and tap the expertise of our in-house merchandising and trends experts to uncover high-quality finds for every budget. You can find more information about each item in the seller's listing details and can take a look at their individual shop policies and reviews, too.