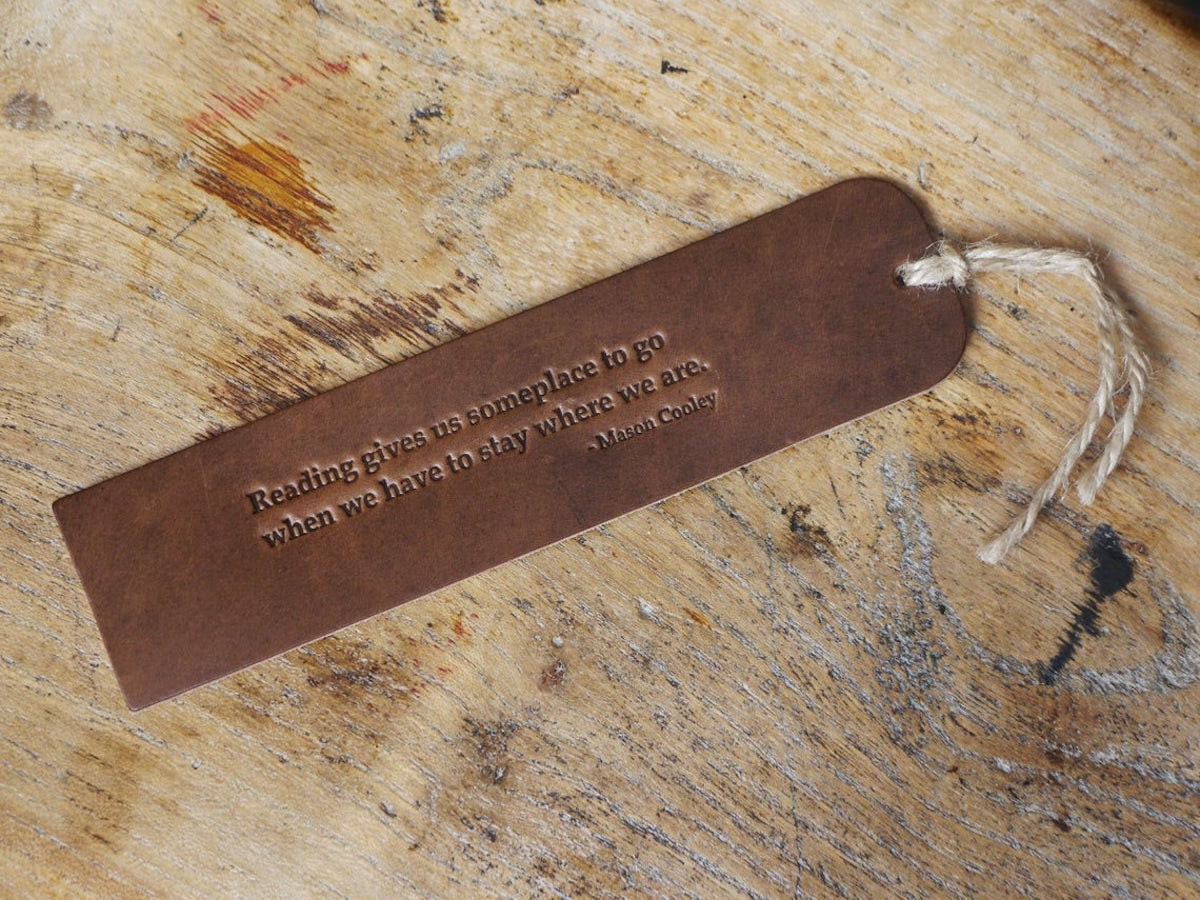 Editor's note, May 2020: In our Featured Shop series, we shine a light on a standout shop from Etsy's talented seller community, offering readers a behind-the-scenes look at their process and story. And as we spend more time at home these days, getting cozy and catching up on our reading lists, we're taking a moment to revisit some of our favorites—like the story behind this UK-based leather goods shop from January of 2018.
Six years ago, when Kingsley Thompson realized his wallet had become threadbare, he did something unconventional: Instead of buying another, he decided to make a new wallet for himself. A lifelong lover of leather shoes, belts, and bags, Kingsley soon found himself immersed in the traditional craft of leatherwork. "Leather really tells the story of its owner," he says. "I'm very drawn to the tactile feel and the smell, and I love the way leather ages over time." Before long, Kingsley's friends and family were requesting his bespoke designs, and in 2013, the self-taught craftsman launched his eponymous Etsy shop, Kingsley Leather. Two years later, inundated with orders, he made the decision to devote himself to leatherworking full-time.
Today, Kingsley creates his dapper range of handmade wallets, belts, key rings, and cufflinks from his home workshop in Cheltenham, England, using a curated collection of vintage and modern tools. "Leatherwork is quite a rare skill. You can't always do a Google search to figure out how something might get made," Kingsley explains. "When someone comes to me for a custom order, I have to use the skills I've developed. The challenge is great, and I love that the items I make are sent all over the world and put to use."
Read on to find out what surprised Kingsley most about working with leather, then shop the collection.
The care and attention to detail you put into your items is obvious. Tell us: What does the idea of handmade mean to you?
I like to promote the provenance and skill behind a handcrafted item. My wallets are all hand-stitched using the traditional saddle stitch method, which is known for its strength and durability. I'm a perfectionist, and I make sure I select the highest quality materials so I can make the best, highest quality product. When I'm making a wallet for someone, it's a great feeling knowing that it's something they're going to be carrying every day.
How would you describe your aesthetic?
I design my pieces to be simple, clean, and timeless. Everything is built to last. I often get requests to do tote bags or other things for ladies, but for my core range I stick to what I know best, and that's things I would use or wear myself. Most of the stylistic features are included for the functionality as well as the looks. I design according to what's pleasing to my own eye and my own taste, and hope that like-minded people will be interested. It makes sense to stick with what I know.
Were you surprised by anything when you began working with leather?
When I found myself at the pattern-making stage, I realized that, if I passed someone on the street with a nice bag, I was deconstructing the bag as I walked by! I've always thought of myself as a numbers guy, or slightly academic rather than creative. But I took to the leatherwork really quickly.
I've also recently gotten back in touch with my grandmother, whom I haven't seen in 10 years. She told me that my grandfather was a leather shoemaker, and I never knew. Whether or not it was partly in my blood to do this, I don't know.
How did your style change as your work evolved from a hobby into a full-time business?
The considerations of my time have changed. I build products in an efficient way—the more simple and straightforward something is, the less room there is for it to go wrong. I did more intricate builds before, but when there are more features, sometimes it can fail, and it might not be so easy to repair. A simple design means it lasts longer.
Do any of your designs have a special personal meaning for you?
One design I'm quite proud of is my leather bow tie. That's one of the items that I made quite early on and have refined as time has gone on. I'm currently on version three, and am over the moon about this current style.
When do you feel most inspired?
I find that my ideas for new products come while I'm out and about, rather than sitting in the workshop. I find inspiration in the designs of older things, like vintage wallets. Or I'll be inspired by experiences I've had. The bow tie came about because I was going to a black-tie event. I was putting on the bow tie that came with the shirt that I bought. Suddenly, it crossed my mind—hey, I can make one of these out of leather, and it would look really nice!
What are some of your most popular gifts?
The leather inlaid cufflinks are quite popular, and I can personalize those with the recipient's initials—the bow ties as well. One other special thing I do is a made-to-measure belt. In the listing, there are instructions to measure from an existing belt to get a perfect fit. If the gift-giver wants to keep it a surprise, they just need to get ahold of their Valentine's belt, measure up to the existing hole they use, and I will create a belt that will fit perfectly.
I've got some new ideas I want to bring into my range this year. I'll be offering two collections, focusing on weddings and travel. Weddings will include products I already have, like bow ties and cufflinks, and then some new designs. For travel, I'll have items like ticket wallets and passport holders.
I always say that if you're looking to be successful, you need to choose something that you're extremely passionate about. You don't necessarily need a large financial investment to start, but it does take a lot of hard work and drive. I'm still partway through the journey myself! I have my eyes on my next move.
Follow Kingsley Leather on Instagram, Facebook, and Twitter.
Photographs by Kingsley Leather unless otherwise noted.