Whether it's a sweet self-gift or for someone special, these pretty picks are perfectly customized with personal details and dazzling designs.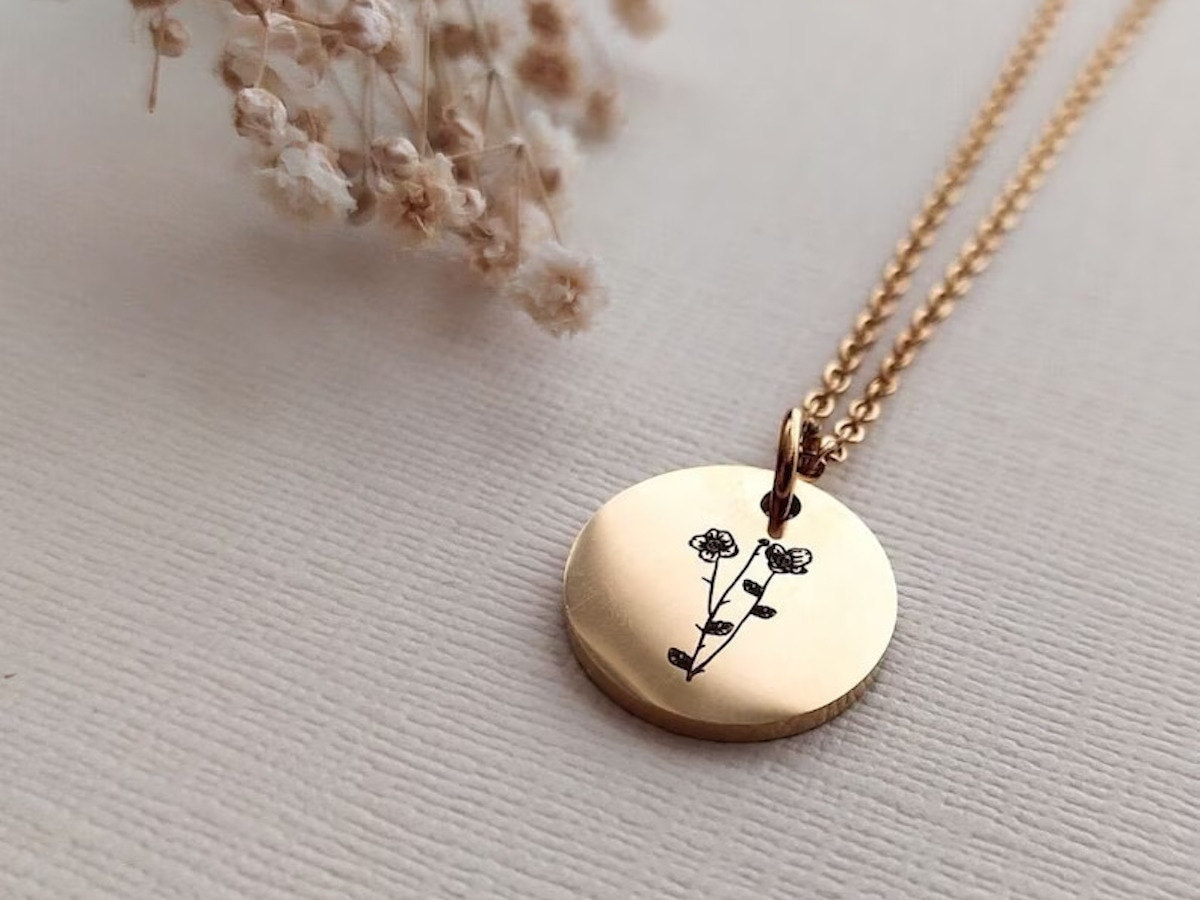 Just like earrings and rings, necklaces are an often-worn piece of jewelry that can instantly infuse a touch of dazzle into any look. Add a bit of personalization to this essential accessory and it's sure to become one of your go-tos, day or night. Name necklaces are one of the most common types of custom necklaces, but the personalization options don't end there. In addition to drafting your name in a whole range of metals, fonts, sizes, and designs, jewelry designers on Etsy have dreamed up designs with the most unique personalization options like birthstones, morse code messages, fingerprint impressions, entwined monograms, and so much more. Read on for a peek at some of these exceptionally crafted pieces that deserve a spot of honor in your jewelry box.
1. Date necklaces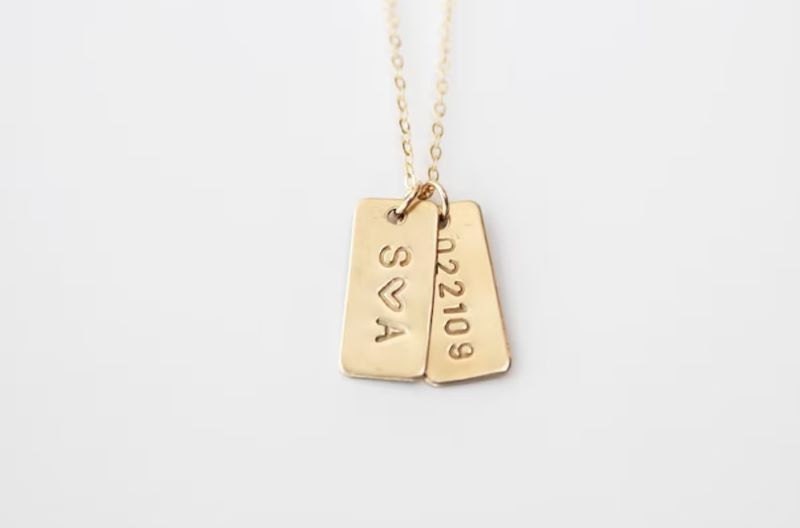 SHOP: Hand-stamped dates and initial necklace from Junghwa, from $42
There are many special dates in life—like her birthday, her engagement or wedding date, or the birth of her child. For a memorable gift she'll cherish, commemorate any one of these important dates with an engraved necklace she can wear close to her heart.
2. Fingerprint necklaces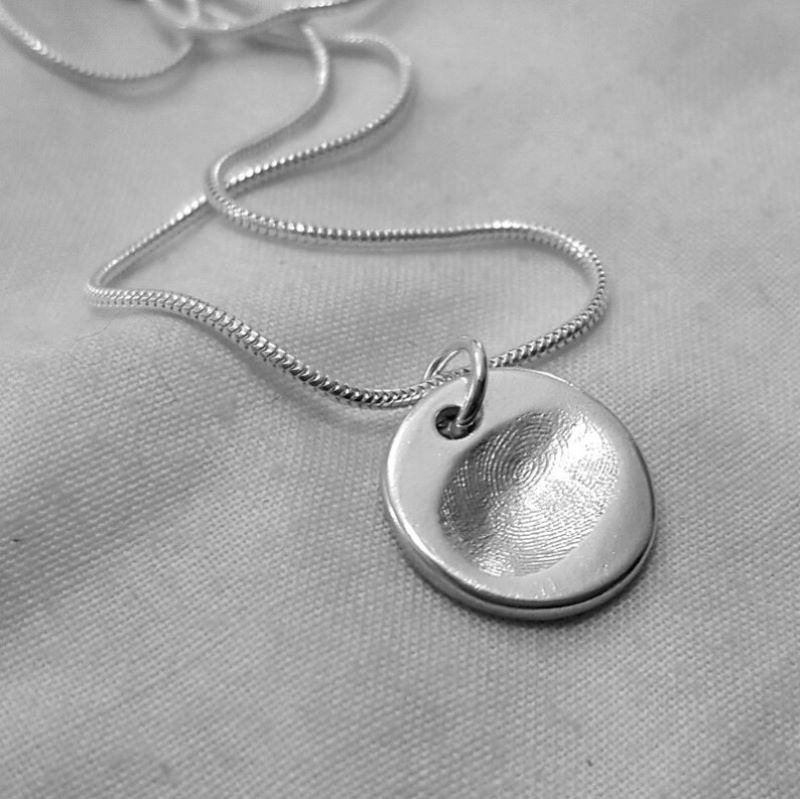 SHOP: Thumbprint pendant from Katie Jack Silver, from $69
Embed a fingerprint—whether it's yours, the recipient's, or someone close to them—into a pendant that they can wear daily and hold dear to their heart. Fun fact: little one's fingerprints don't fully develop right away, so this seller offers hand- and footprint impression charms, too, for the youngest of babes.
3. Braille necklaces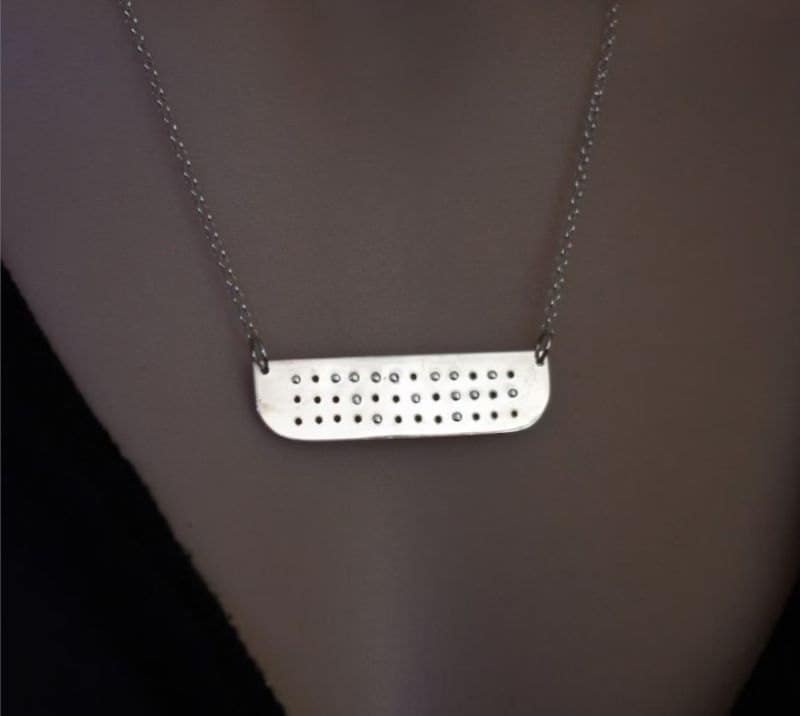 SHOP: Sterling silver Braille necklace from Rachael Grigulis, $71
This unique personalized gift is not only beautiful, it's an especially meaningful gift for a blind recipient or someone with a blind loved one.
4. Pet necklaces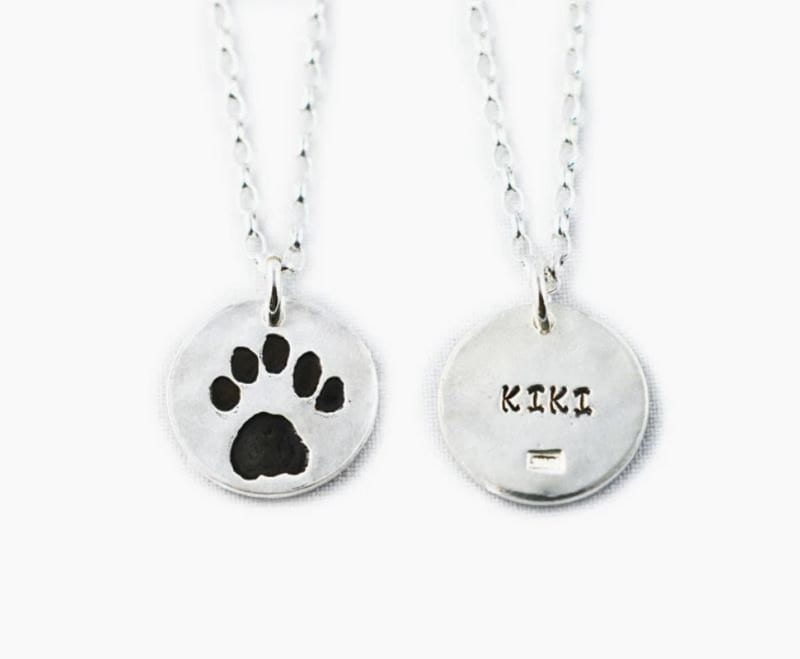 SHOP: Pet memorial jewelry from My Fine Silver Designs, from $65
Each of these sterling silver pet charms is hand-carved to highlight the pet-of-honor's actual paw print and can be embossed with their name, too. A thoughtful pet memorial gift, this charm can also be formed after your pet's passing by sending the seller a photo of the dog's paw or a remembrance clay paw print mold.
5. Birth flower necklaces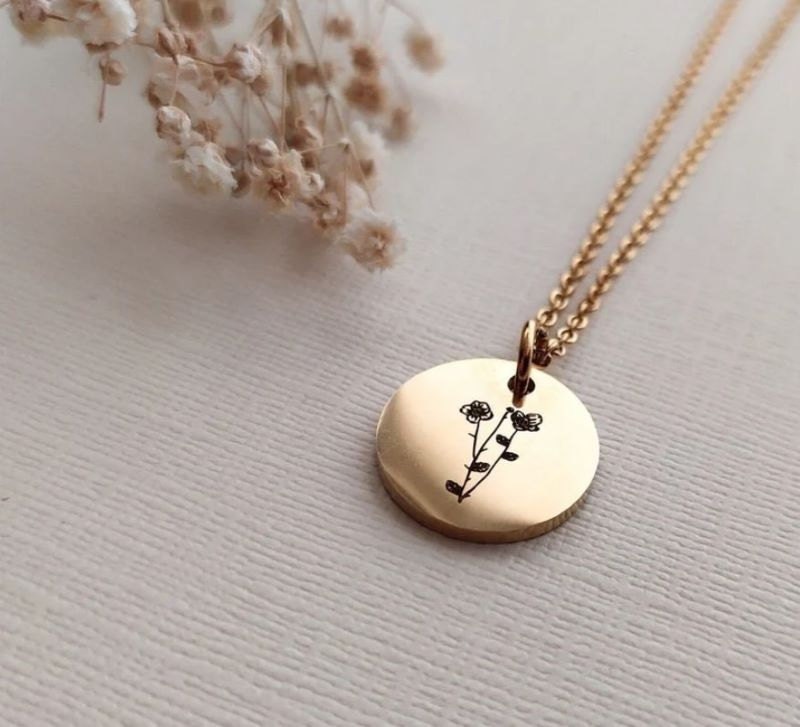 SHOP: Poppy disc necklace from Charm Bear, from $30
For a creative spin on traditional birthstone jewelry, choose a birth flower gift instead. This particular poppy-adorned design represents August's signature bloom, but the Nottingham, UK-based shop owner creates custom pendants for each month.
6 Morse code necklaces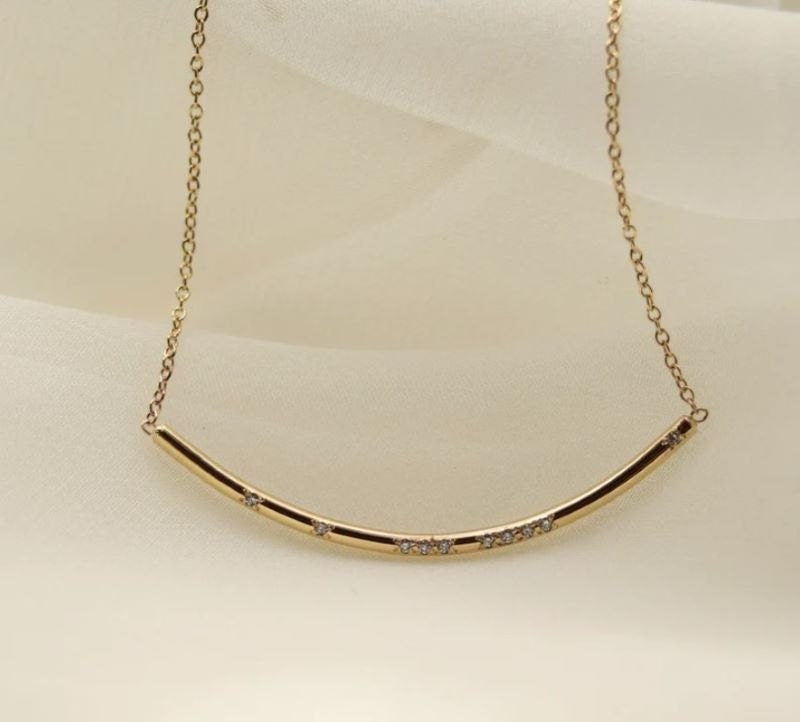 SHOP: Diamond bar necklace from Everli, from $100
An especially poignant gift for grandparents who may have used Morse code in previous professions—or those who have parents or grandparents who did—this necklace elegantly spells out your message with diamond accents.
7. Custom coordinates necklaces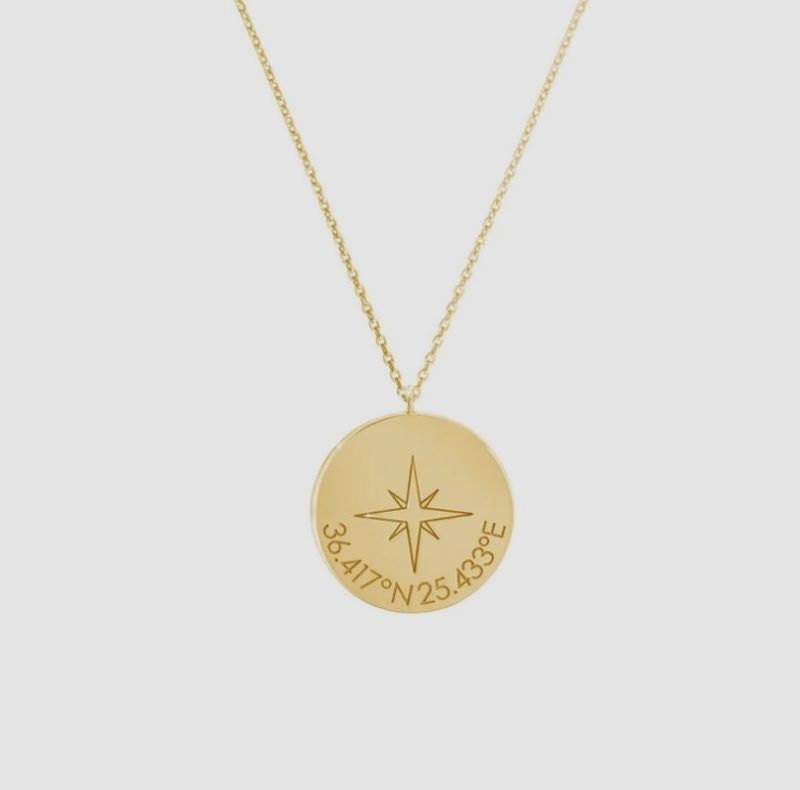 SHOP: Compass pendant necklace from Tales In Gold, from $223
Just like dates and people, locations can also hold a very special place in someone's heart. A personalized compass necklace pointing to a noteworthy location in their life—such as the place they were born, or where they fell in love or got married—can make an extra thoughtful gift that may just get her welling up.
8. Birthstone necklaces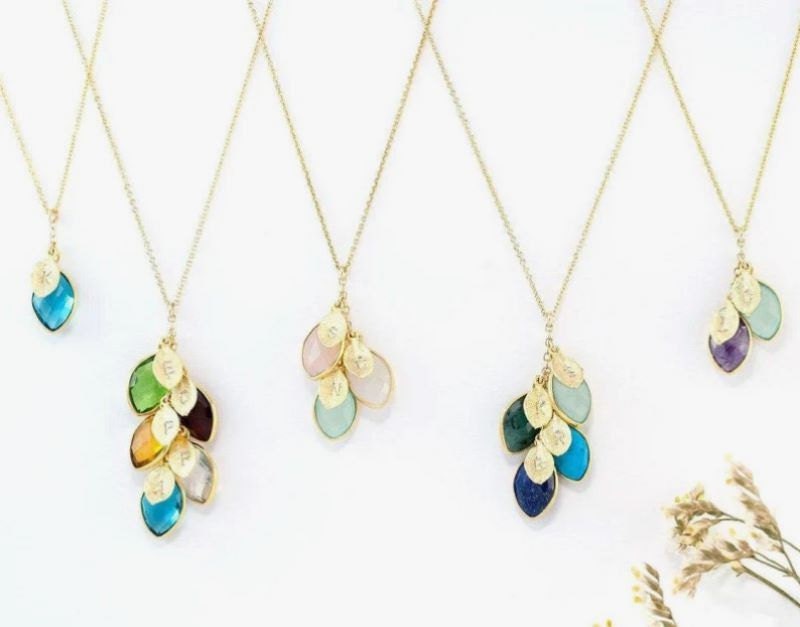 SHOP: Personalized generations necklace from Delezhen, $41
A cluster of gemstones representing each of her loved one's gives this birthstone necklace a super personal touch, not to mention the initial-stamped charm that accompanies each charm.
9. Handwriting necklaces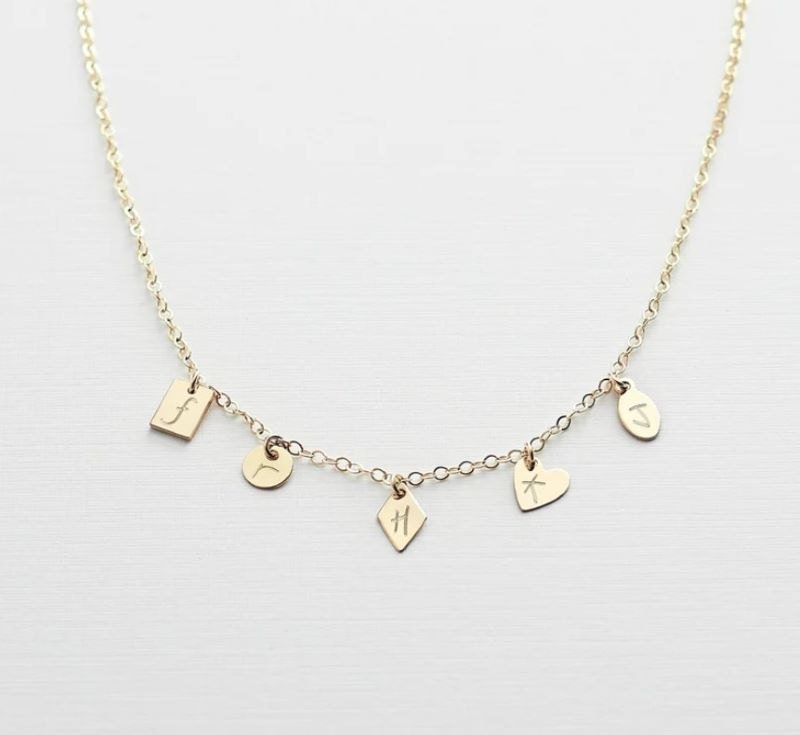 SHOP: Handwritten initial charms from Minetta Jewellery, from $52
Rather than a traditional custom name necklace that uses a standard font, this small shop on Etsy ups the customization by using your own handwriting to create a personalized necklace that's truly one-of-a-kind.
10. Artwork necklaces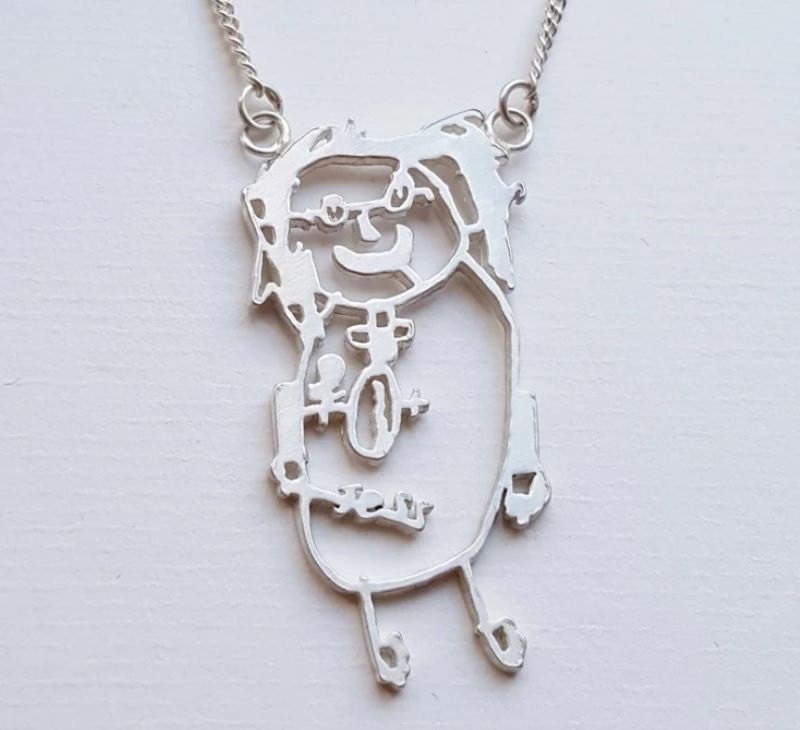 SHOP: Custom children's artwork necklace from Made By Daisy, from $243
There's only so many of your kids' drawings you hang up on the wall, but some of their doodles are so special you'll want to keep them close long after the colors fade.This handmade pendant is made directly from one of your children's drawings and makes for a thoughtful Mother's Day gift idea.
11. Gold script name necklaces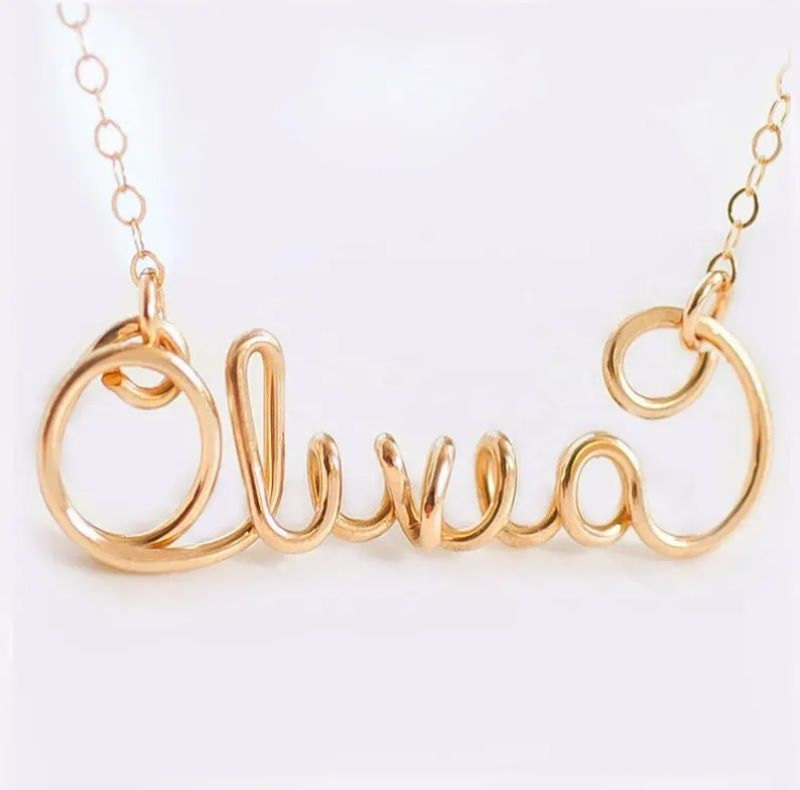 SHOP: Custom gold name necklace from Dsignz By Rosie, from $29
If she's a fan of the classics (or perhaps a certain NYC-based columnist with "big" love stories to share), a simple script name necklace could be the way to go. There's a reason this design has earned "classic" status: it can easily be worn every day, dressed up or down, and always brings on the compliments.
12. Block name necklaces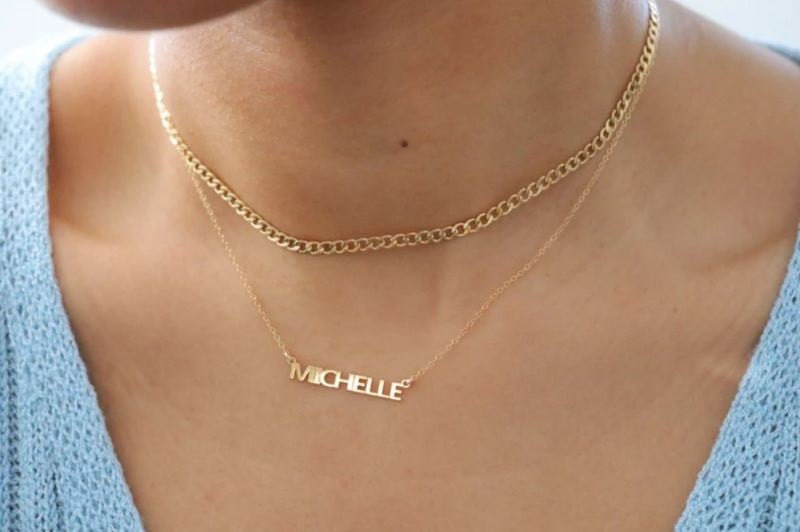 SHOP: Custom nameplate necklace from Evren, from $100
For a more modern take on the cursive name necklace, opt for a block-text design that's dainty, timeless, and effortlessly classy.
13. Initial necklaces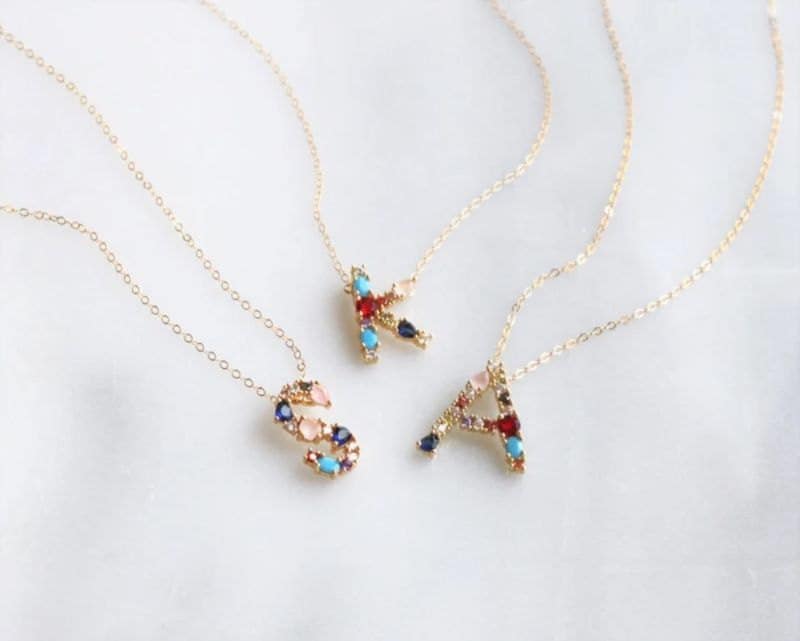 SHOP: Jeweled letter necklace from The Silver Wren, $39
Plain initial pendants are always in style, but these bejeweled charms from a desert-dwelling designer bring in some extra color and texture to the timeless look.
14. Roman numeral necklaces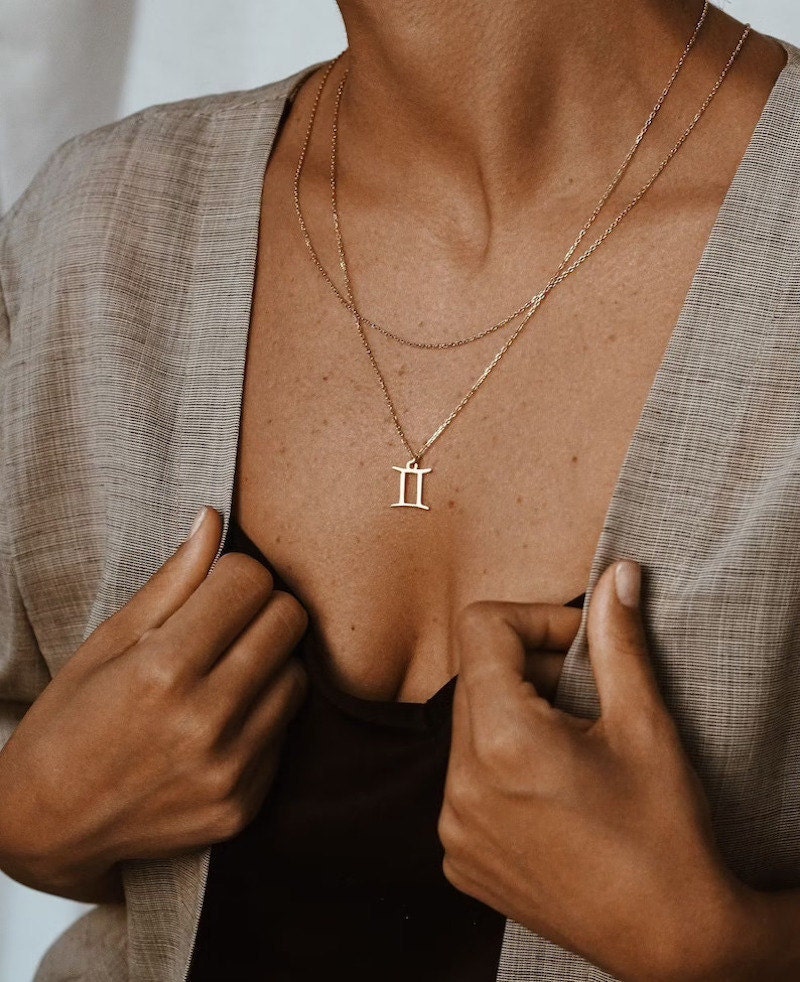 SHOP: 18K gold vermeil Roman necklace from RED CHERRY BLVD, from $39
Whether it's your enneagram or a significant digit based on your numerology, birthdate, or age, a Roman numeral personalized necklace is an uncommon pendant design that always turns heads.
15. Moon phase necklaces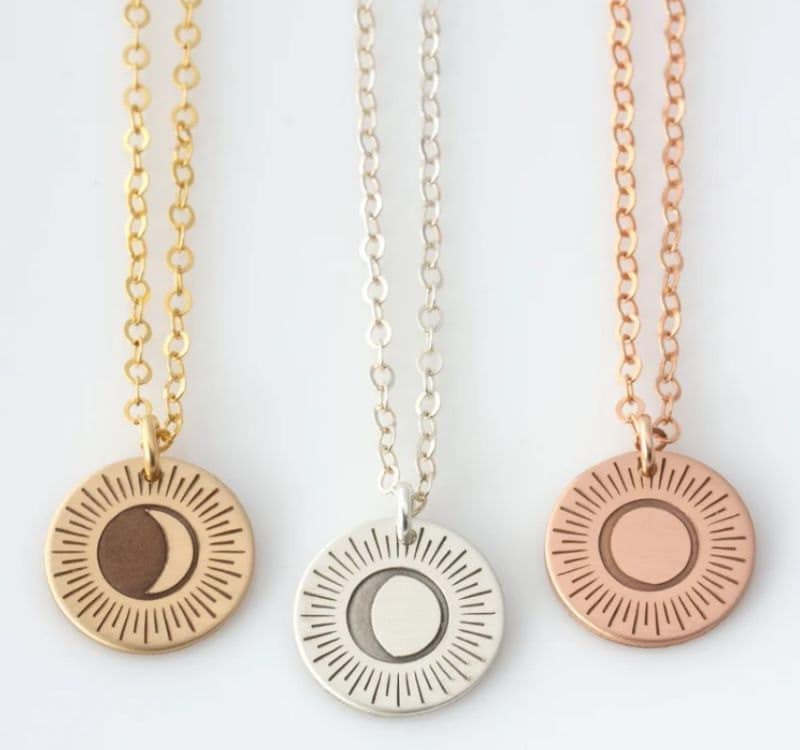 SHOP:Personalized moon necklace from LEILA, from $53
Moon phase pendants are ideal for fans of astrology. You can select the phase of the moon on a date special to the recipient, and you can be sure they'll know exactly what it means as soon as they lay eyes on it.
16. Zodiac sign necklaces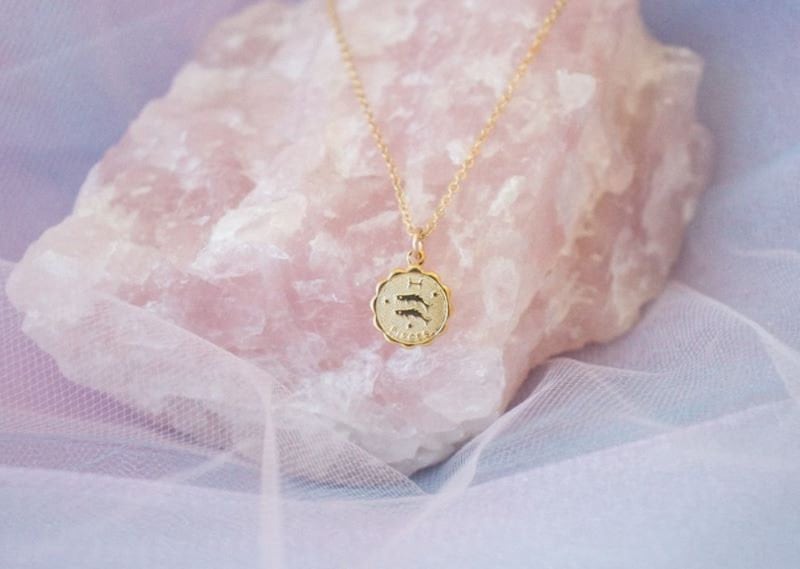 SHOP: Dainty zodiac necklace from Emery and Opal, from $34
Speaking of the stars, you can't beat a good zodiac gift idea like this star sign necklace for anyone who adamantly keeps up with all the ins and outs of their sign.
How do we pick the best unique personalized necklaces for women?
As Etsy Journal editors and contributors research and curate shopping guides for some of the best-loved items on Etsy, we thoughtfully consider the creativity, customization, and craftsmanship that go into each product. We also consider buyer reviews, item ratings, and customer service, and tap the expertise of our in-house merchandising and trends experts to uncover high-quality finds for every budget. You can find more information about each item in the seller's listing details and can take a look at their individual shop policies and reviews, too.