Kick the tattered old doggie bed or crusty cat perch to the curb, and fill your home with this fresh, functional pet furniture for harmonious home decor.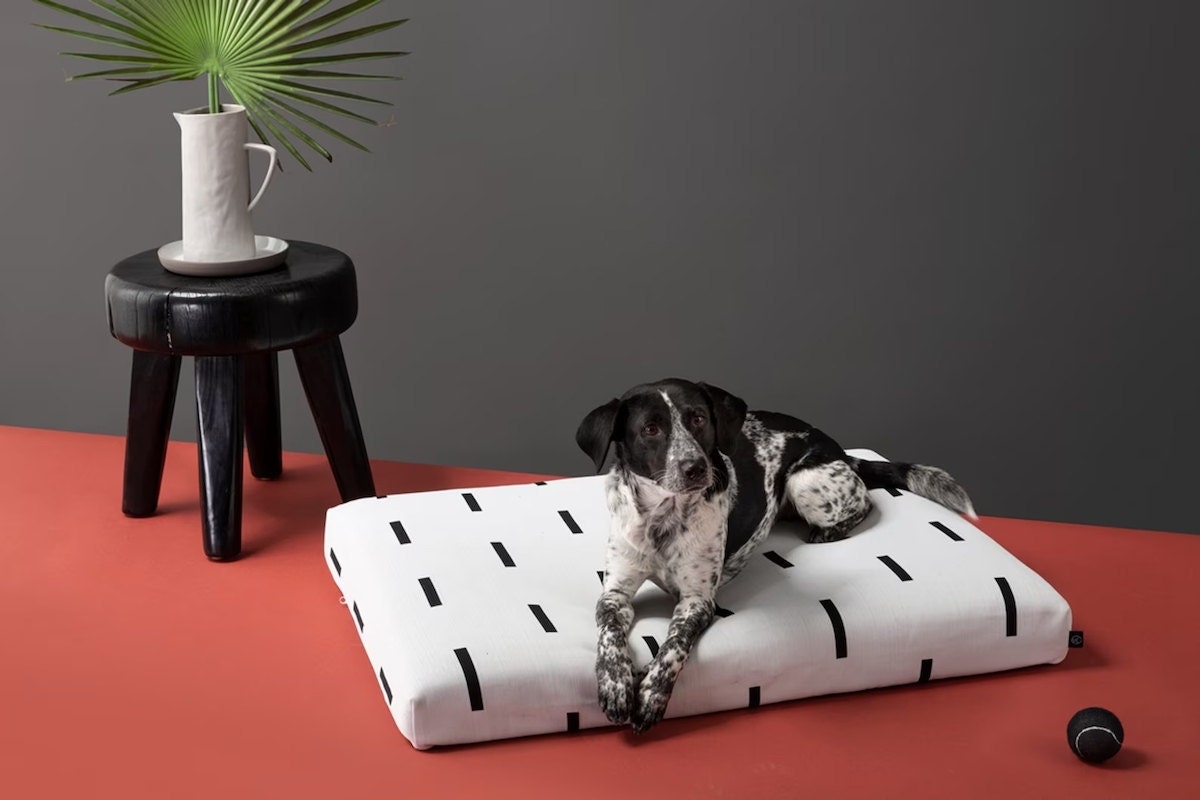 If you can't live without your beloved Rover, Whiskers, or Peter Cottontail and are ready to spoil them with all the playful pet furniture, clever cat toys, and delightfully darling bedding, we've got great news: You don't have to sacrifice style to pamper your pets. We've curated these 31 pieces of pet furniture from small shops on Etsy, based on quality, creativity, and artistry.
Wall furniture for cats
1. Modular cat house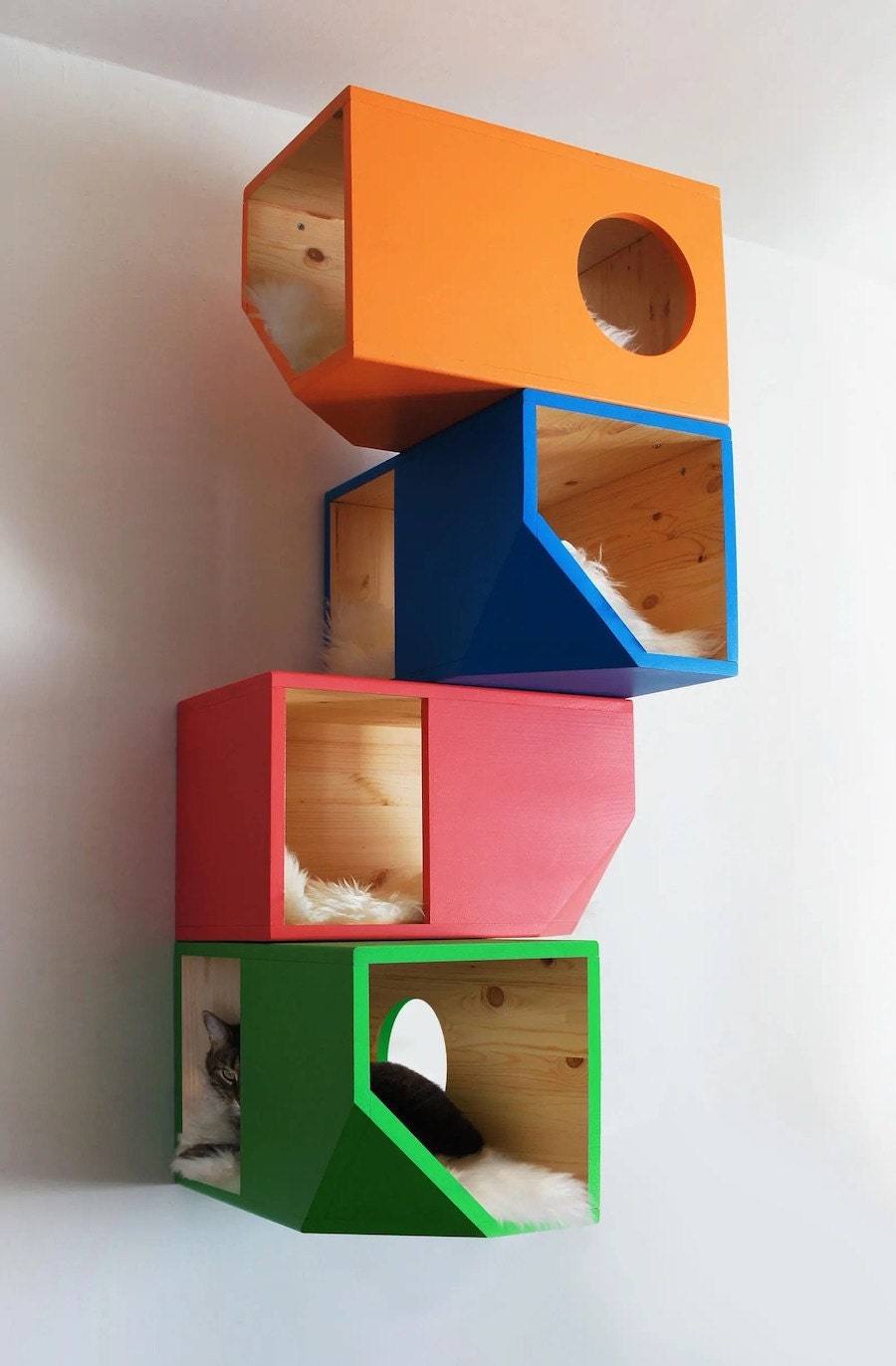 SHOP: Modular cat house from Catissa Cat Trees, $940
This handmade geometric cat wall perch looks like a modern work of art. The stacked, brightly colored boxes include your choice of sheepskin or faux fur cushions to keep your favorite feline comfy while they enjoy the view from above.
2. Wall-mounted cat hammock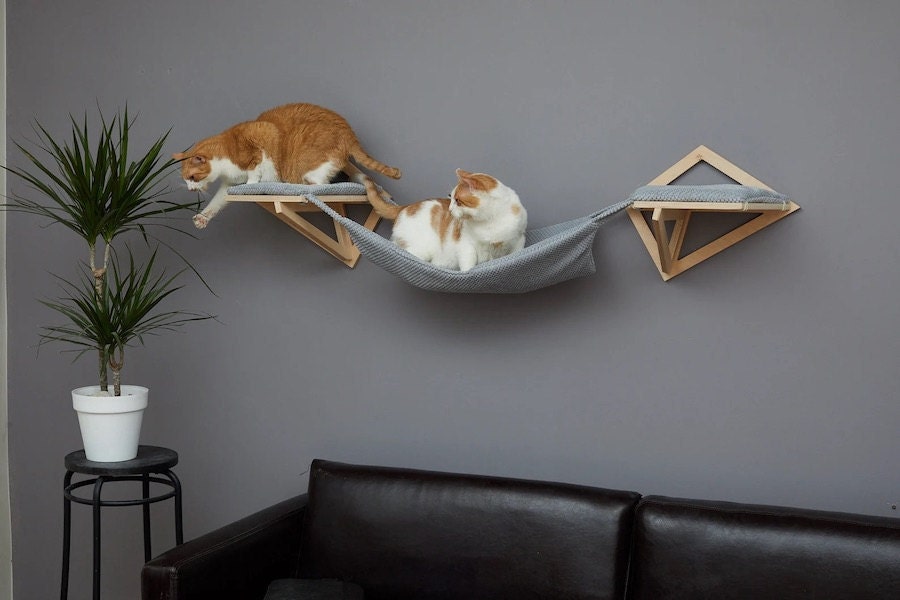 SHOP: Wall-mounted hammock for cats from If Cats Can Fly, from $178
Make nap time and playtime better with this cat hammock flanked by sturdy shelves bearing comfy, washable cushions. The piece mounts to your wall with hidden screws for a seamless look.
3. Cat shelf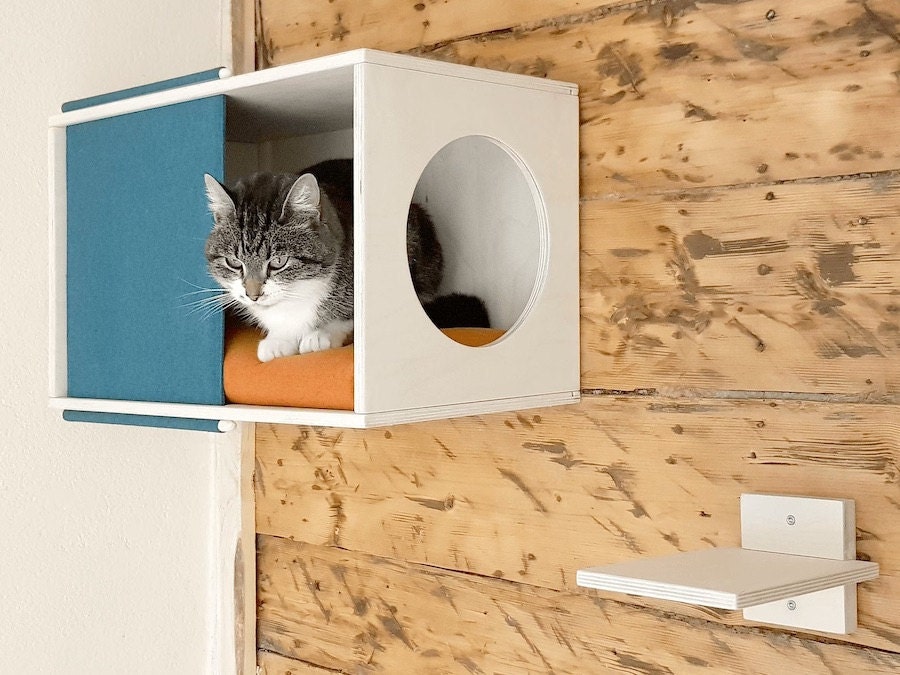 SHOP: Wall-mounted cat perch from Kurr Pets, $304
Cat perches are the favorite furniture of frisky felines, and this one features a range of fun colors and finishes to choose from. Made of durable birch, it includes a washable pillow along with two extra wall-mounted "steps" for easy entry.
4. Cat wall steps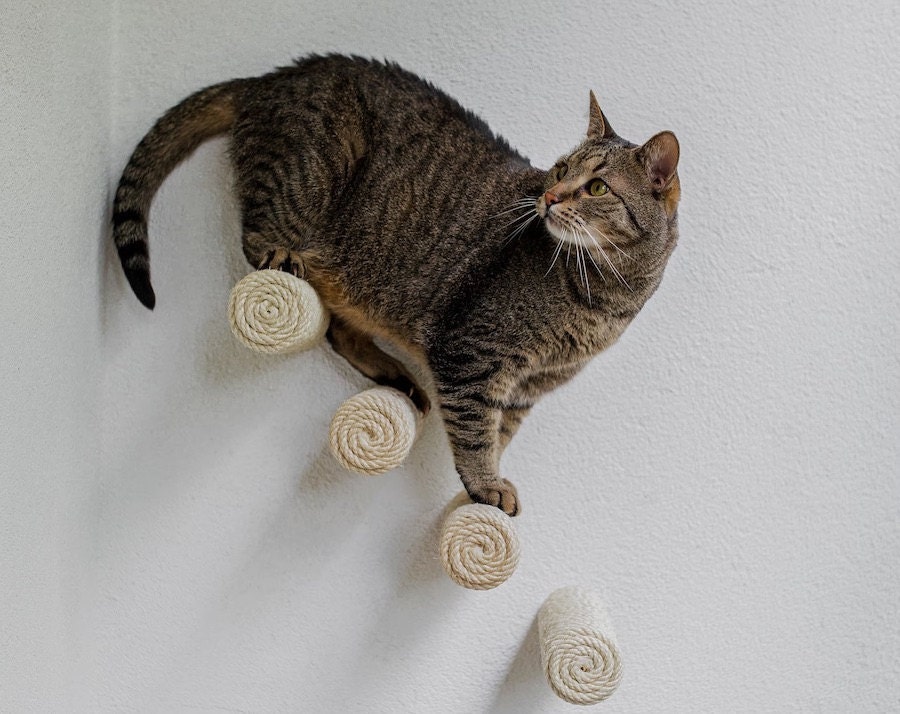 SHOP: Cat climbing wall steps from Habitect, from $13
Create a custom cat climbing wall with these pine posts covered with your choice of cotton, jute, or sisal rope. Arrange the posts in any configuration you like to add a playful element to your cat's favorite space.
Cat beds and houses
5. Geometric cat bed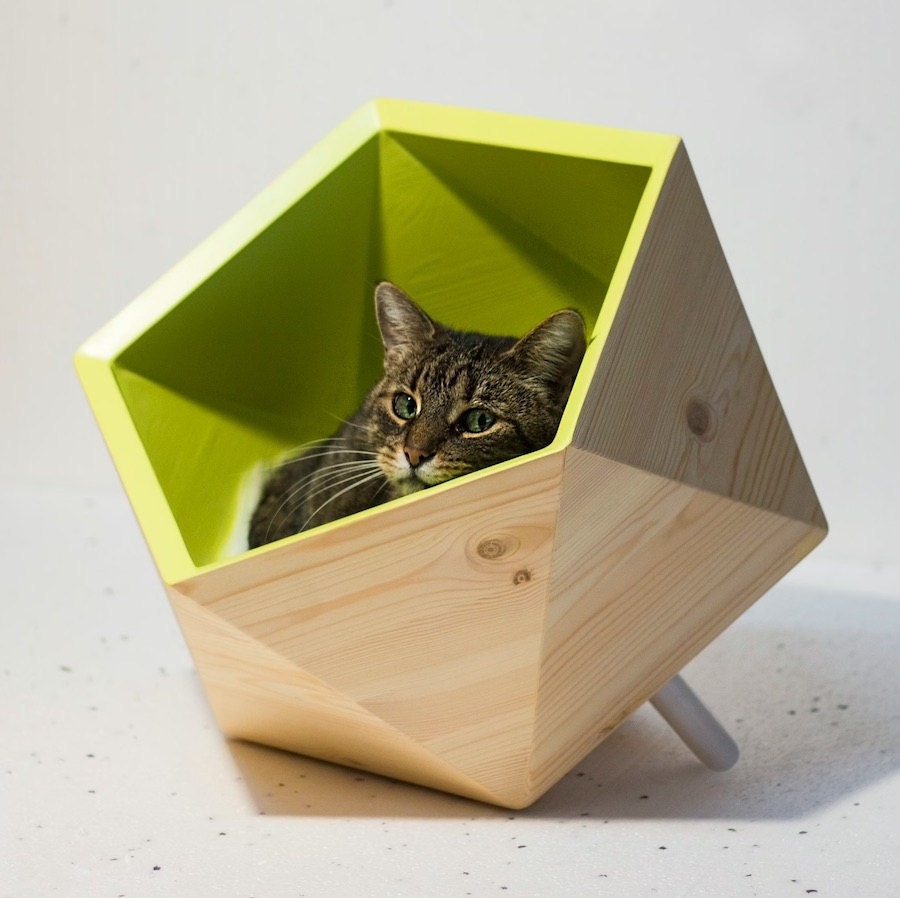 SHOP: Mini geobed from Catissa Cat Trees, $562
This angular bed is just as fun for your cat as their favorite cardboard box—but it's much easier on the eyes! This high quality cat bed is made from pine and comes in your choice of available colors with a faux fur or sheepskin cushion for softness.
6. Modern-style cat house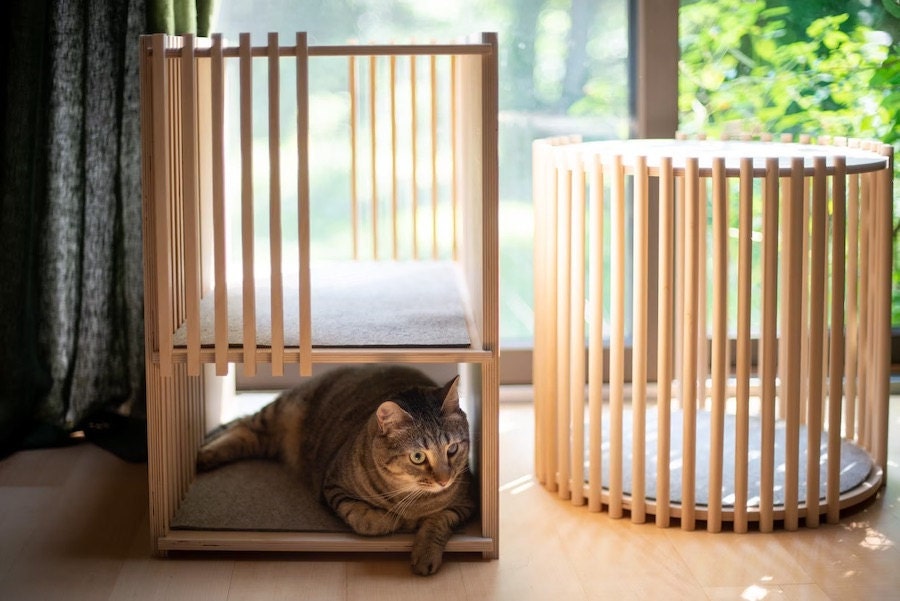 SHOP: Modern wooden cat house from Live In Ideals, $550
Sleek and carefully crafted, this unique handmade cat house features open slats for easy viewing and a cave-like cubby underneath for happy hiding that's easy on the eyes. It's a stylish addition to any room where your cat likes to perch and lounge.
7. Cozy cat cave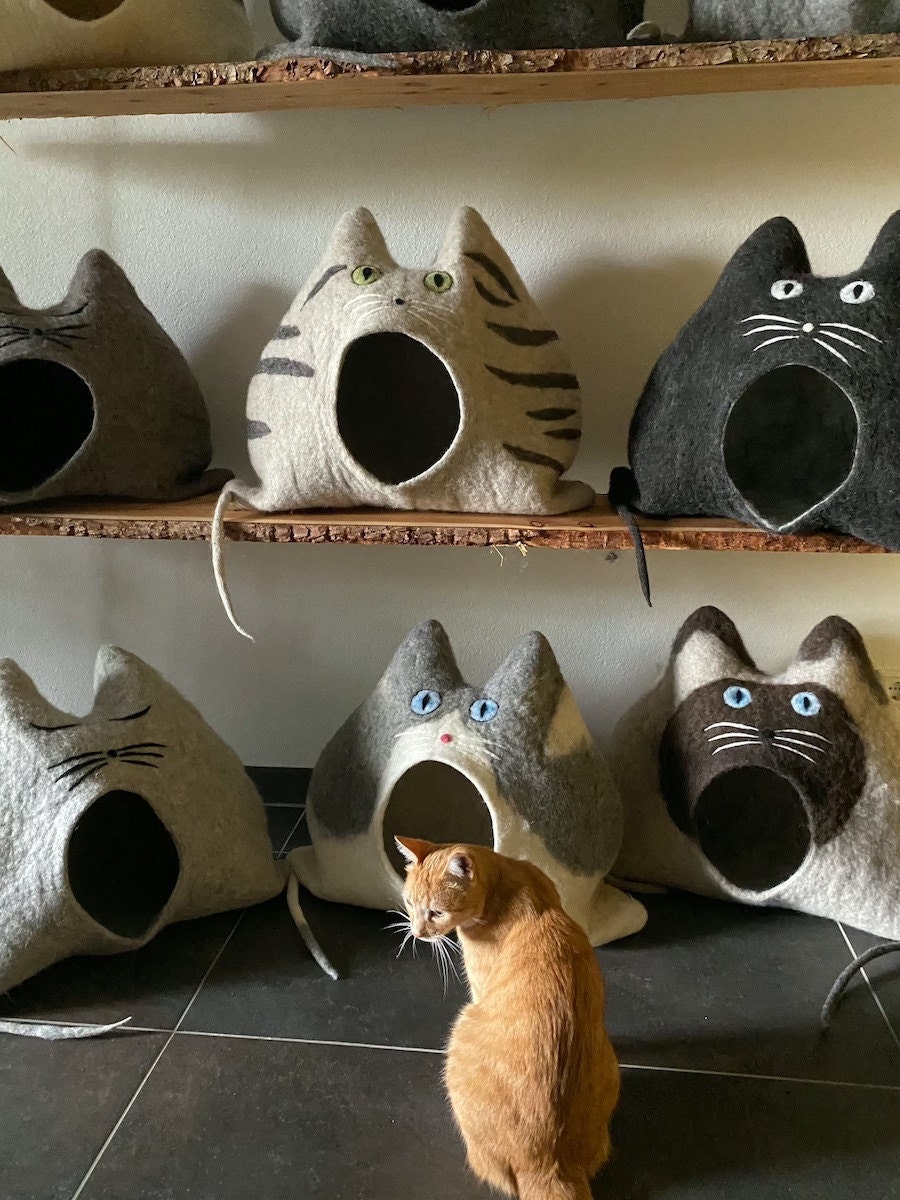 SHOP: Wool cat cave from Miezekatze3Shop, from $108
Lend your space a spot of whimsy with this clever handmade pet furniture. This cat den is made of soft sheep's wool felt in your choice of colors and a cast of cute characters to pick from.
8. Retro box cat house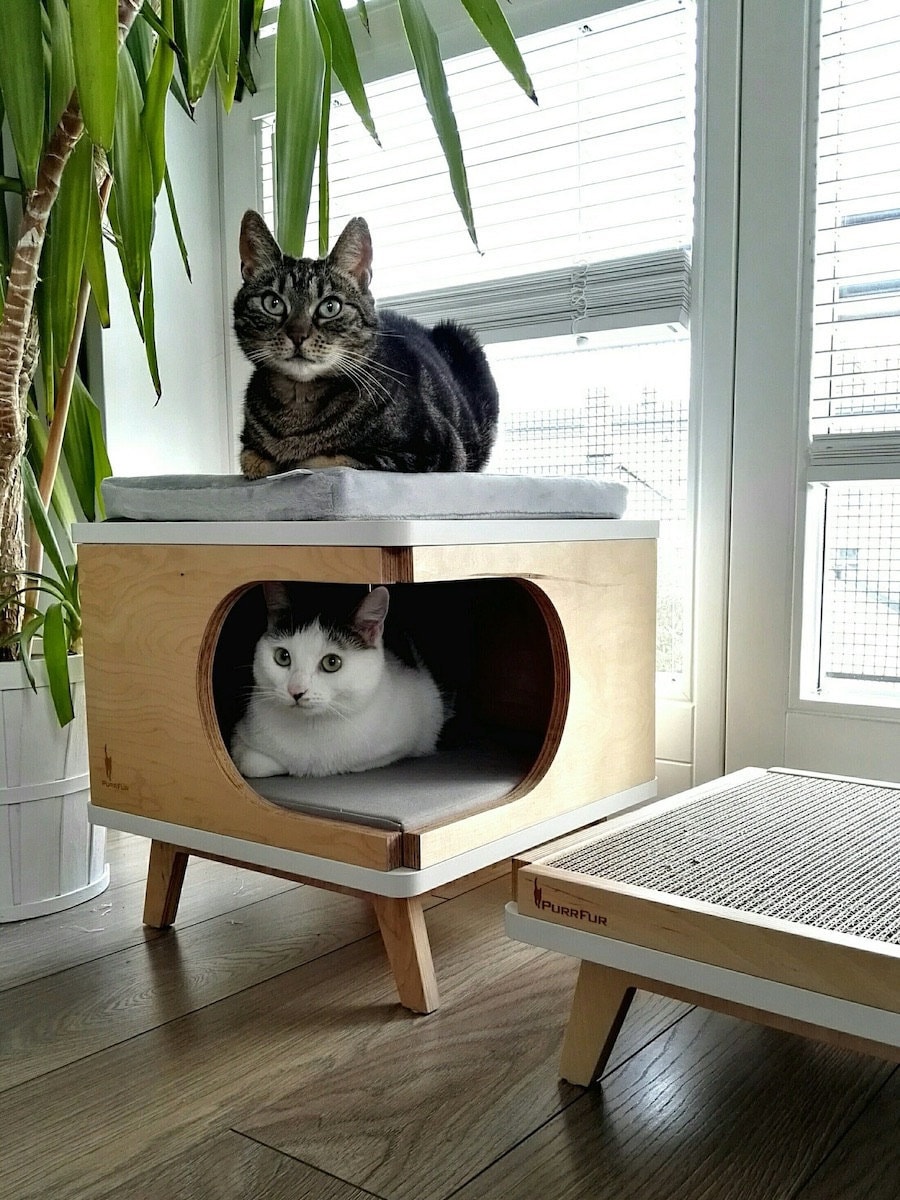 SHOP: "Retro Box" cat house from Purr Furr, $274
This dual-purpose cat bed is inspired by mid-century Scandinavian furniture design, featuring a durable birch wood box, angled legs, and a curvaceous cutout hole for easy entry and exit. The sturdy top serves as a side or accent table—if your cat will allow it.
9. Cat bed house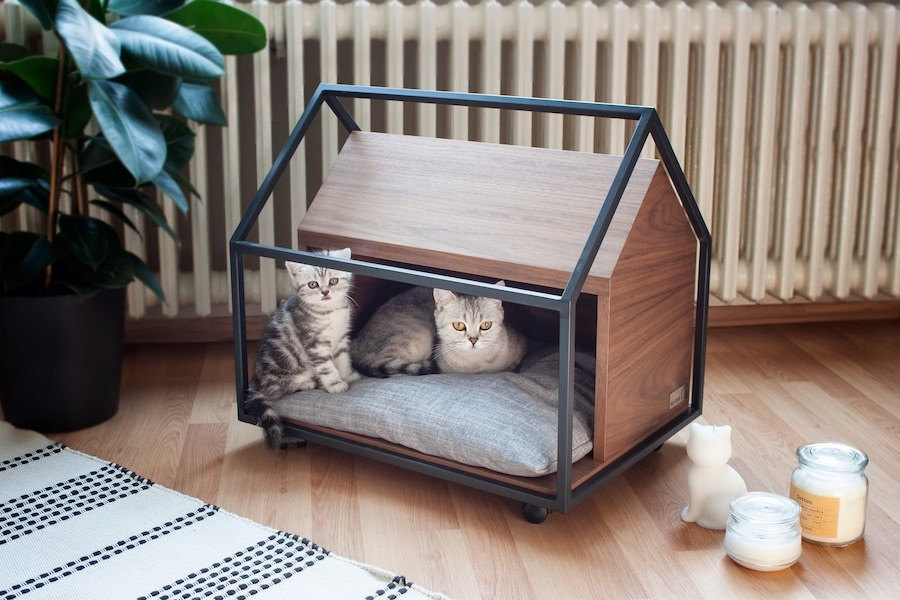 SHOP: Little cat bed house from PETTURE design, $602
Upgrade your pet furniture game with this warm walnut-and-metal cat cave house. Sturdy construction and four wheels make it easy to move anywhere your pet approves of.
10. A-frame pet house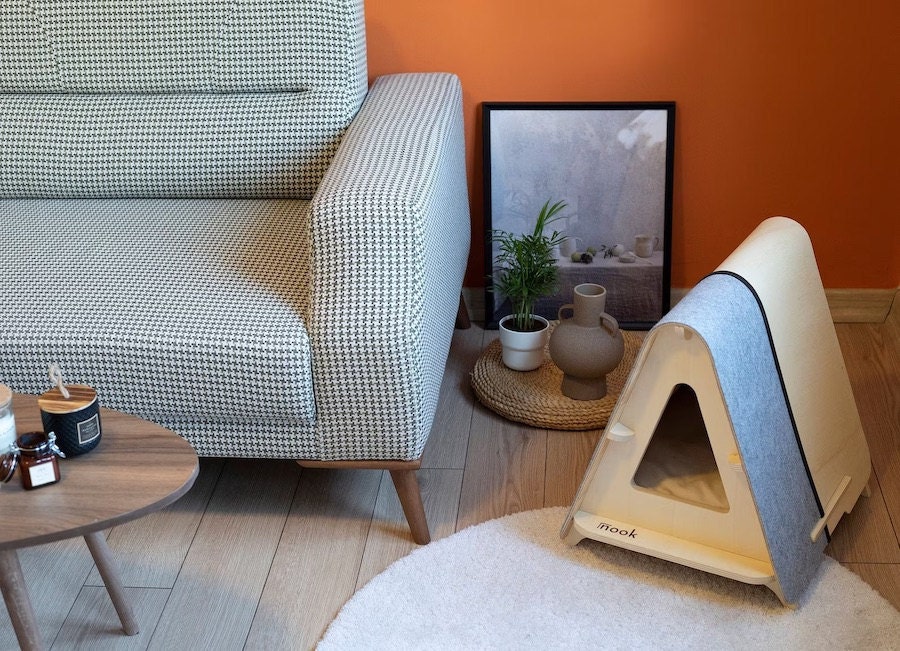 SHOP: Wooden A-frame cat and dog house from Nook Design Store, $449
This sweet A-frame cat (or small-dog) house is made from light-colored poplar plywood and includes a strip of felt on the exterior to give curious, clawed kitties a place to scratch.
Cat enrichment toys
11. Cat play tower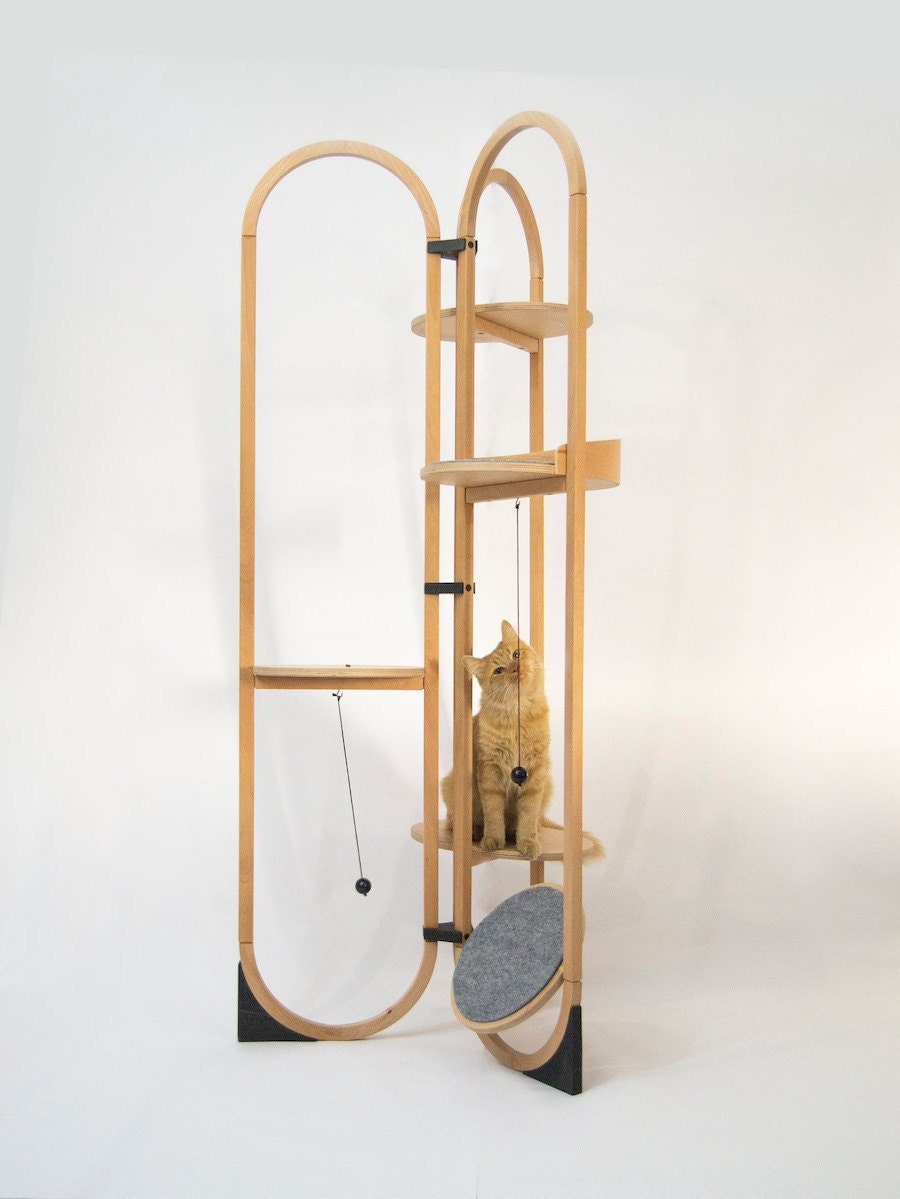 SHOP: Cat play tower from Nook Design Store, $579
This unique cat tower brings style and functionality to your home with its curved, arched silhouette. The sturdy beech plywood tower includes four steps, a rotating cat scratching surface, and two hanging balls for interactive playtime.
12. Endless chase cat toy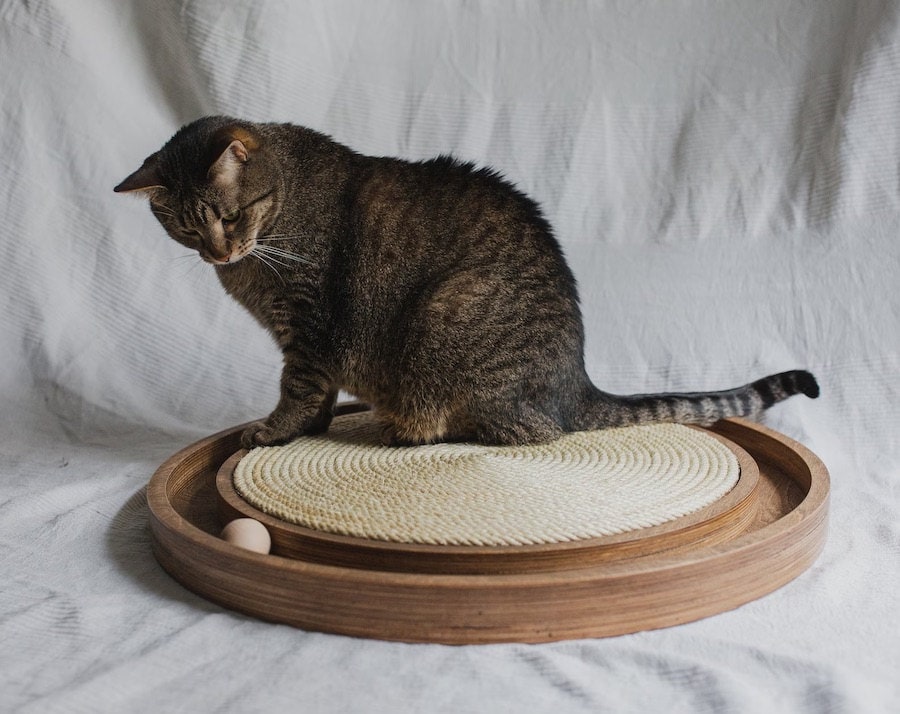 SHOP: Cat scratcher with ball toy from Habitect, from $401
This oversized, handmade wooden perch is a stylish take on cat enrichment toys. It includes a fixed wooden ball for your cat to bat around and the center scratcher is made of natural sisal for biscuit-making pleasure.
13. Backyard bird and squirrel feeder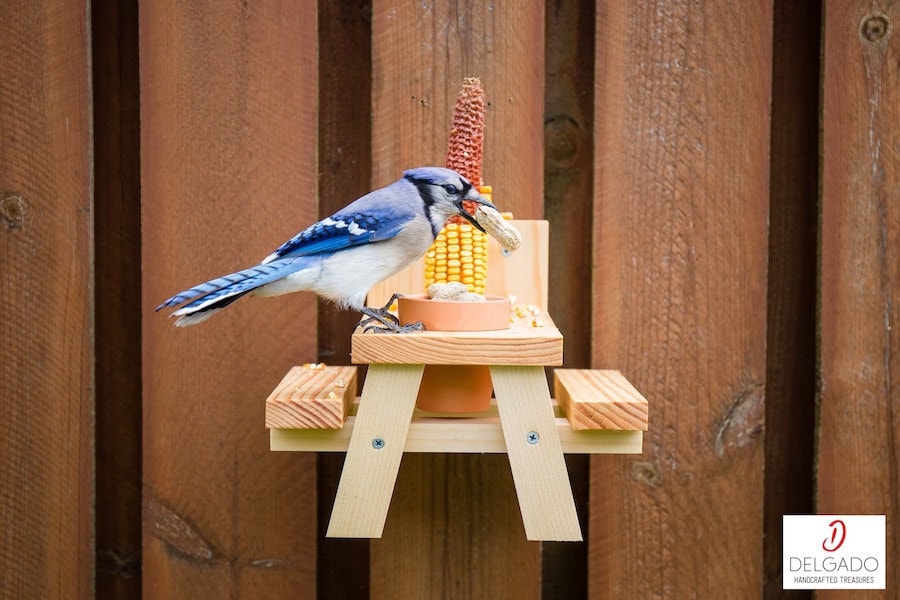 SHOP: Backyard animal feeder from Delgado HC Treasures, $40
Install this backyard wildlife picnic table outside of your cat's favorite window perch, fill it with nuts and seeds to attract birds and squirrels, and watch your kitty go wild for its new favorite show. This feeder includes a terra cotta pot with a drainage hole for easy cleaning and features galvanized screws for durability throughout the seasons.
Hidden litter box furniture
14. Mid-century-style litter box cabinet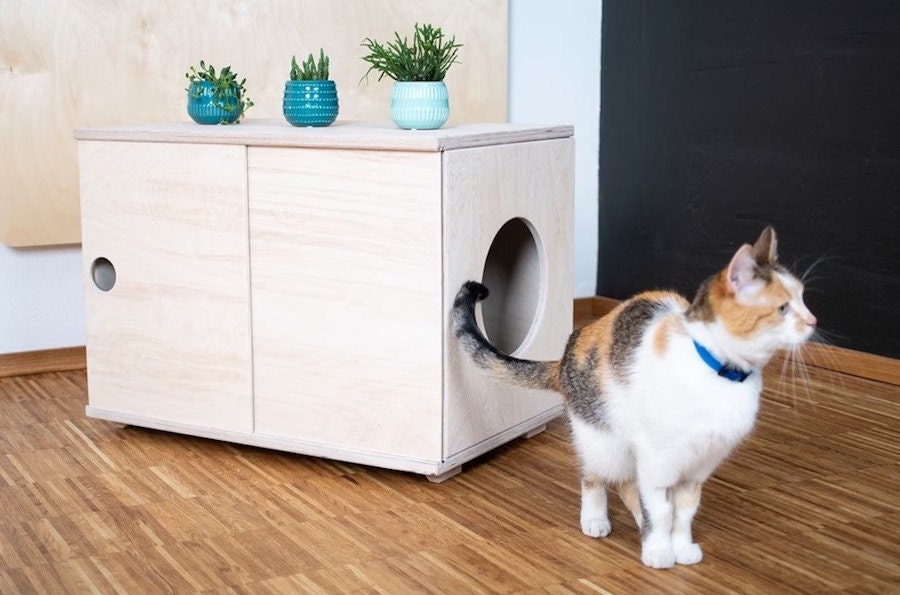 SHOP: Litter box furniture from Kurr Pets, $332
Cover unsightly litter boxes with this hidden litter box furniture in a timeless, mid-century modern design. It's made of durable Baltic birch wood with sliding doors so your kitty can do business in private.
Indoor rabbit house furniture
15. TV bunny feeder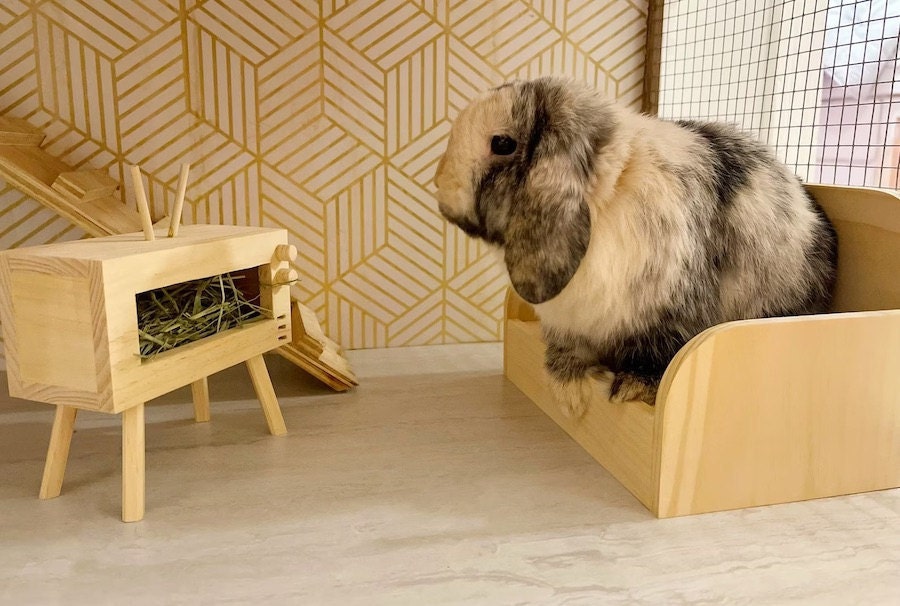 SHOP: Small bunny TV hay feeder from Melvins Woodworks, $35
This mid-century-style TV-shaped feeder is handmade with sturdy, solid pine and comes in your choice of three sizes. Fill it with hay for your bunny, and enjoy having the most stylish rabbit hutch on the block.
16. Cozy modern bunny bed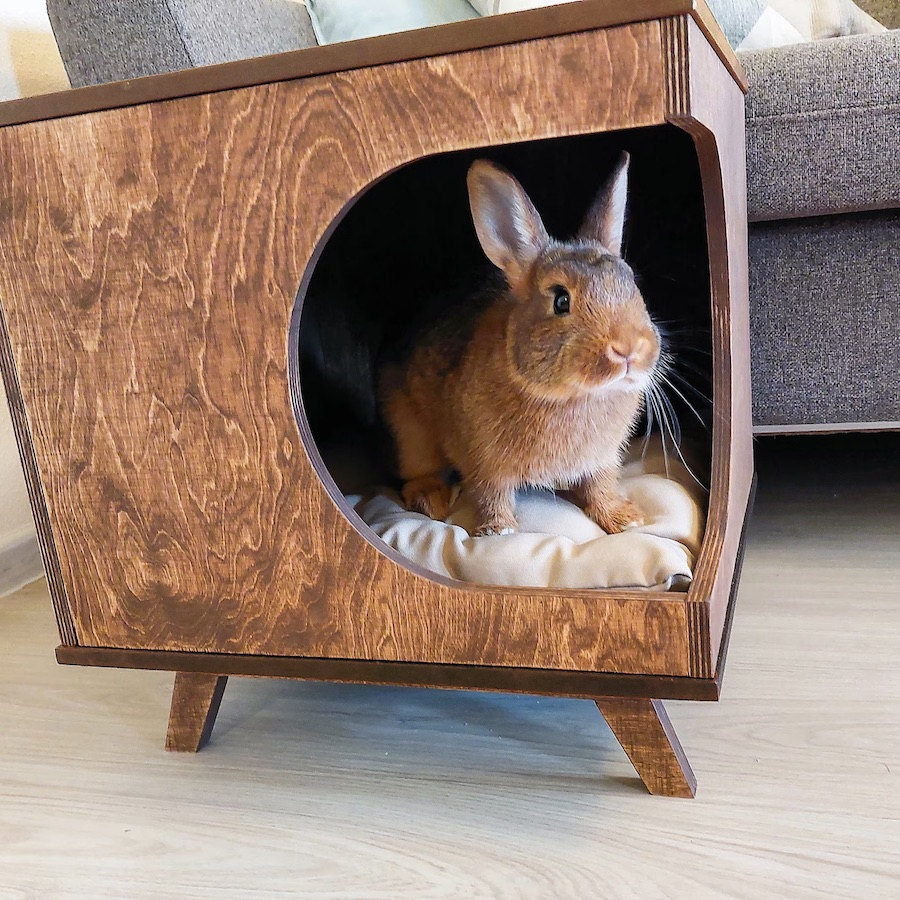 SHOP: Cozy Lofte pet house from Kokaa Store, from $316
Your fuzzy bunny will love this sturdy house featuring a large opening and raised design. This handmade pet furniture arrives in your choice of size and finish and works great as an accent or bedside table.
Dog floor beds
17. Personalized dog bed cover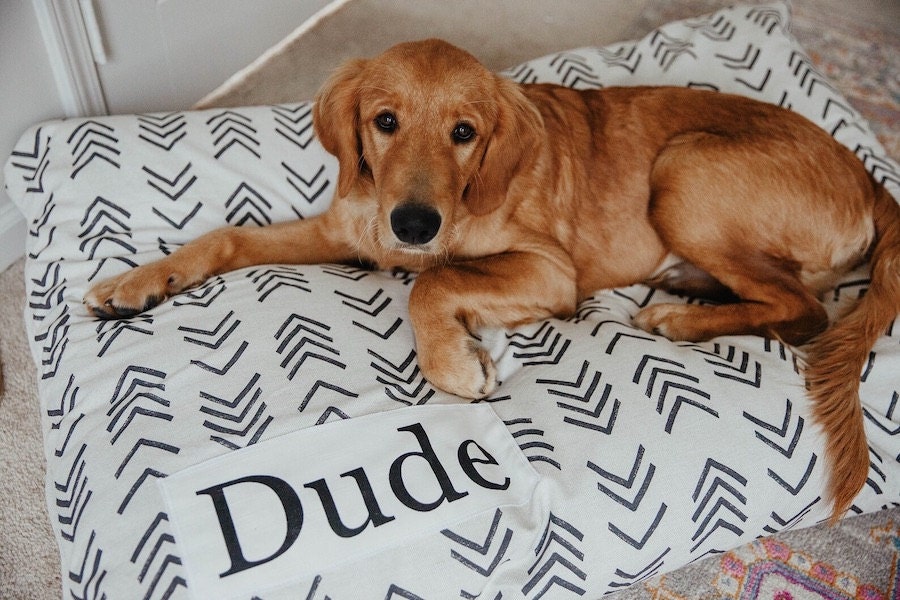 SHOP: Personalized dog bed cover from Wren Bird Lane, from $47
Love your dog bed, but it's seen better days? Give it a facelift with this versatile dog bed cover personalized with your BFF's name and adorned with a cute arrow print.
18. Boho mudcloth dog bed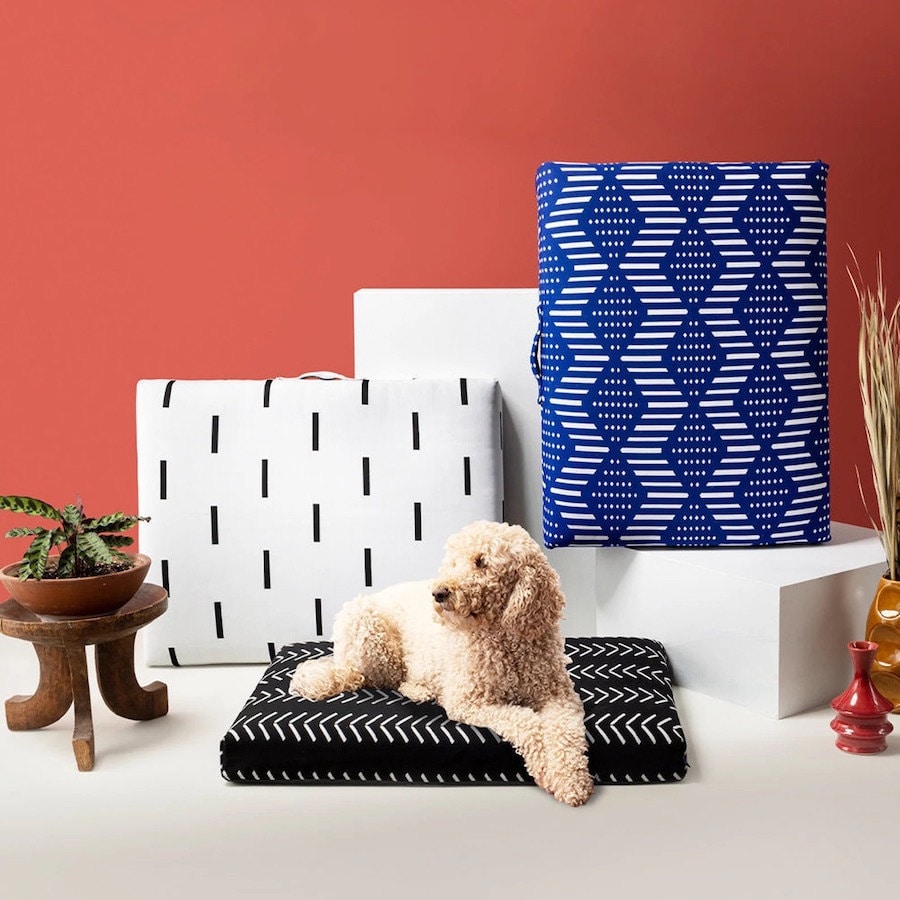 SHOP: Modern orthopedic dog bed from Laylo Pets, from $49
Make your pup's nap time chic and comfy with this orthopedic dog bed featuring a removable and washable cover. Choose from a variety of patterns—and take this cushy dog bed anywhere, thanks to an attached handle for easy transport.
19. Mid-century-style raised dog bed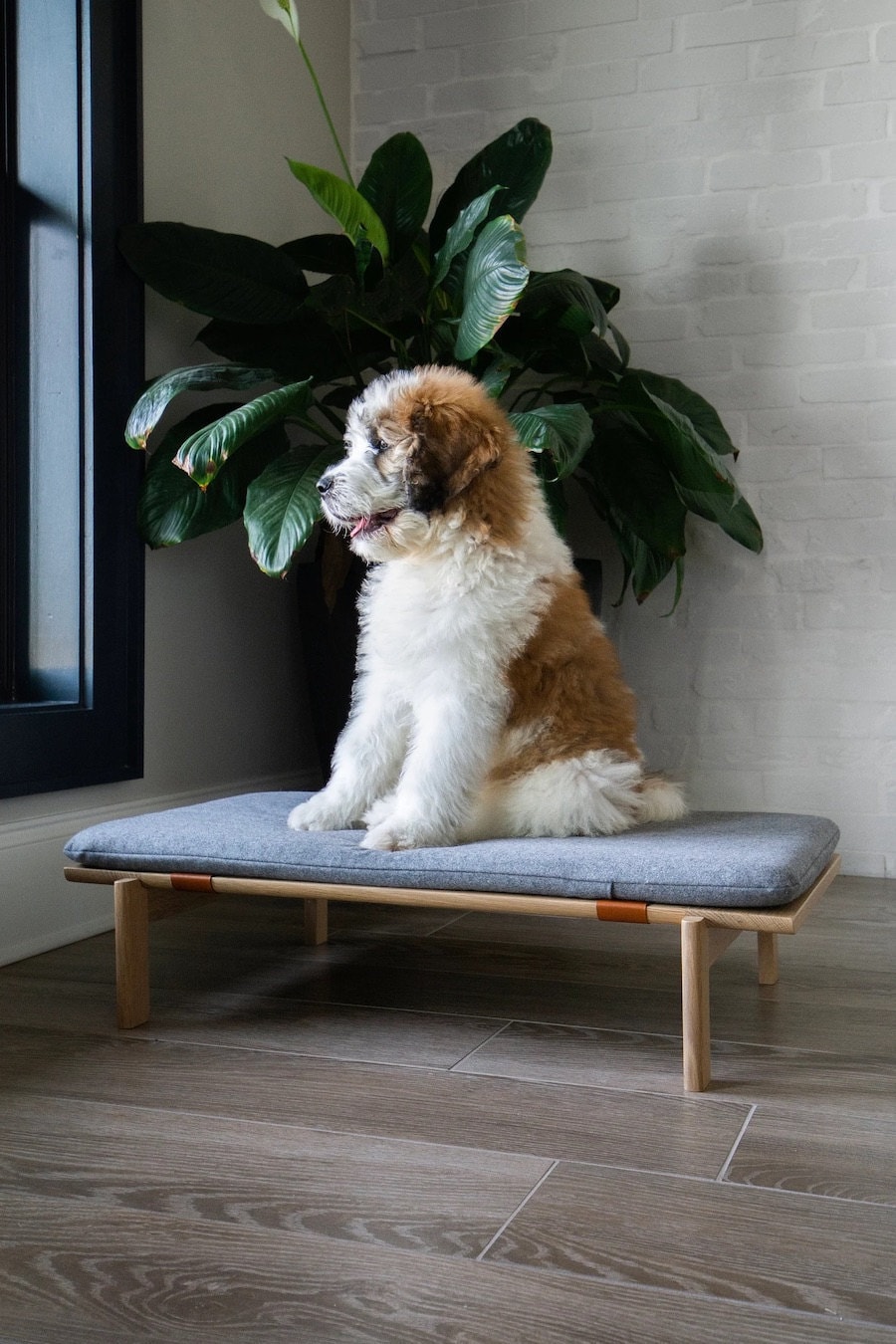 SHOP: Walden dog bed from KOMOLAB, $650
This ultra-modern dog bed is inspired by Scandinavian furniture and features a dense, removable wool-melton fabric cushion for comfort. The bed is crafted of solid wood, and leather strap accents add durability and a sophisticated touch.
20. Cozy dog couch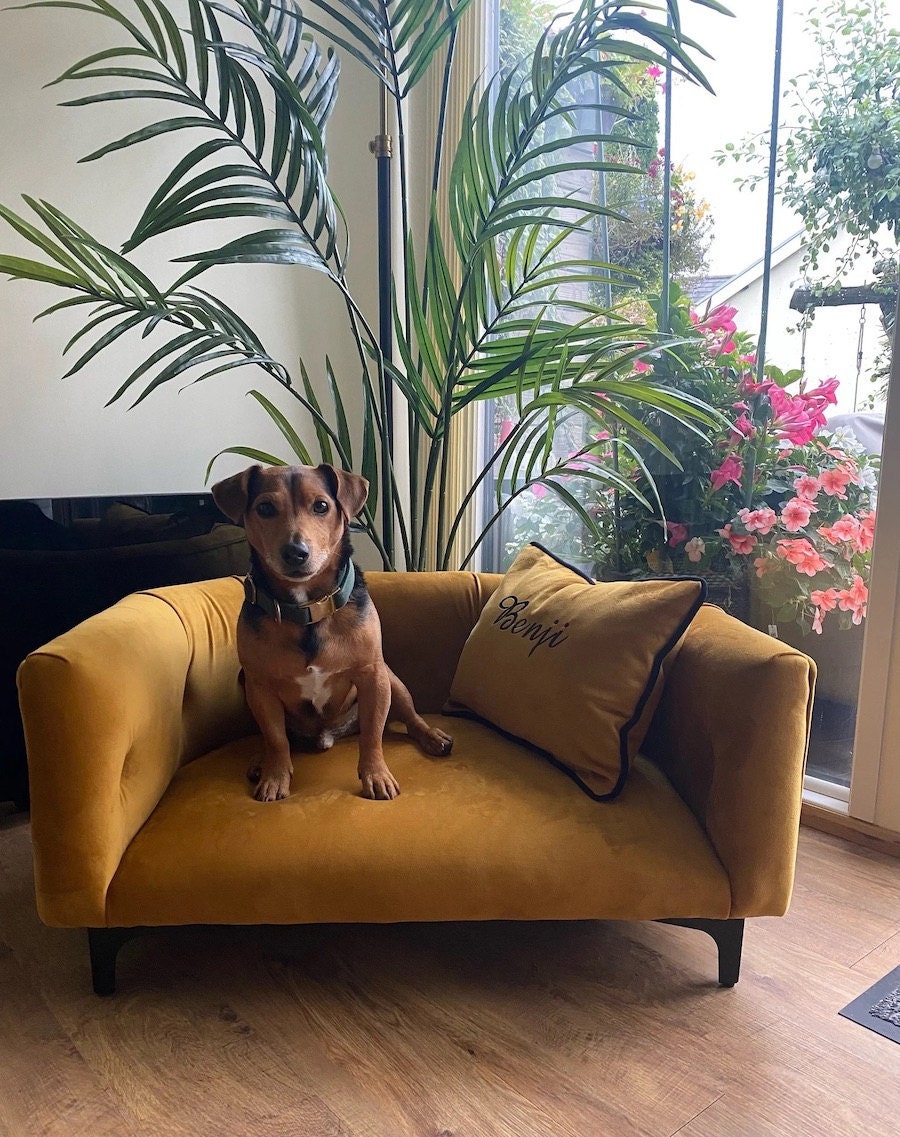 SHOP: The Snug dog bed from Unique Dog Beds Designs, $290
Every detail of this super-comfy dog sofa oozes quality, from the solid construction and sturdy legs to the striking plush velvet upholstery with button tufting in a variety of colors. To make this pet furniture piece extra special, this sofa comes with a personalized pillow bearing your dog's name.
Dog crate furniture
21. Sliding-door wooden dog crate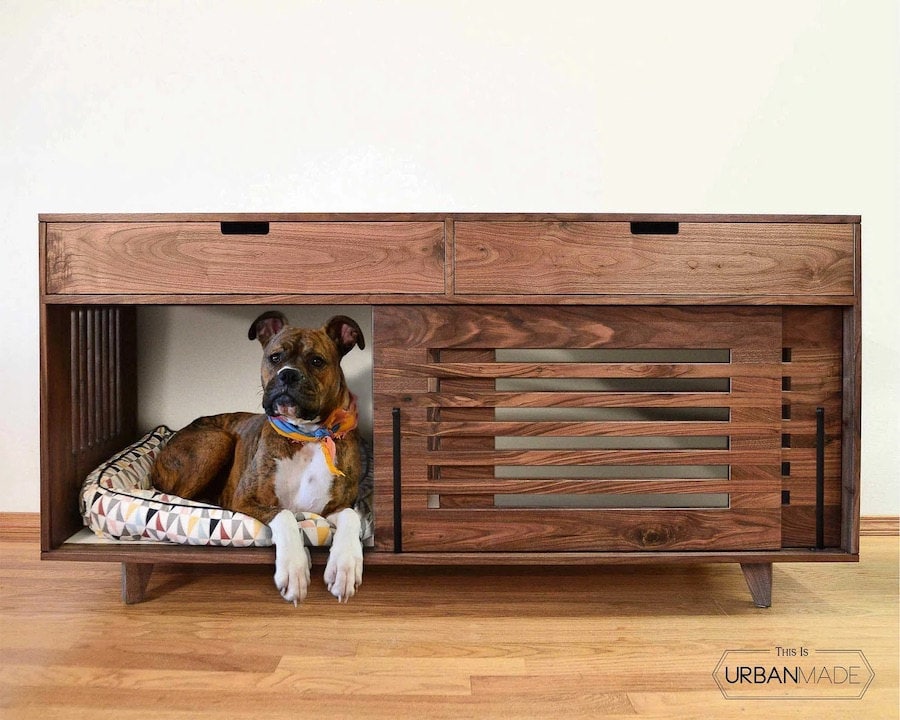 SHOP: Mid-century dog crate from This Is Urban Made, from $2,933
Check out this game-changing, handcrafted large dog crate furniture made in a sleek mid-century modern design. It has dual sliding doors and optional drawers for convenience with your choice of size and finishes for a cohesive look in your space.
22. Clear acrylic dog kennel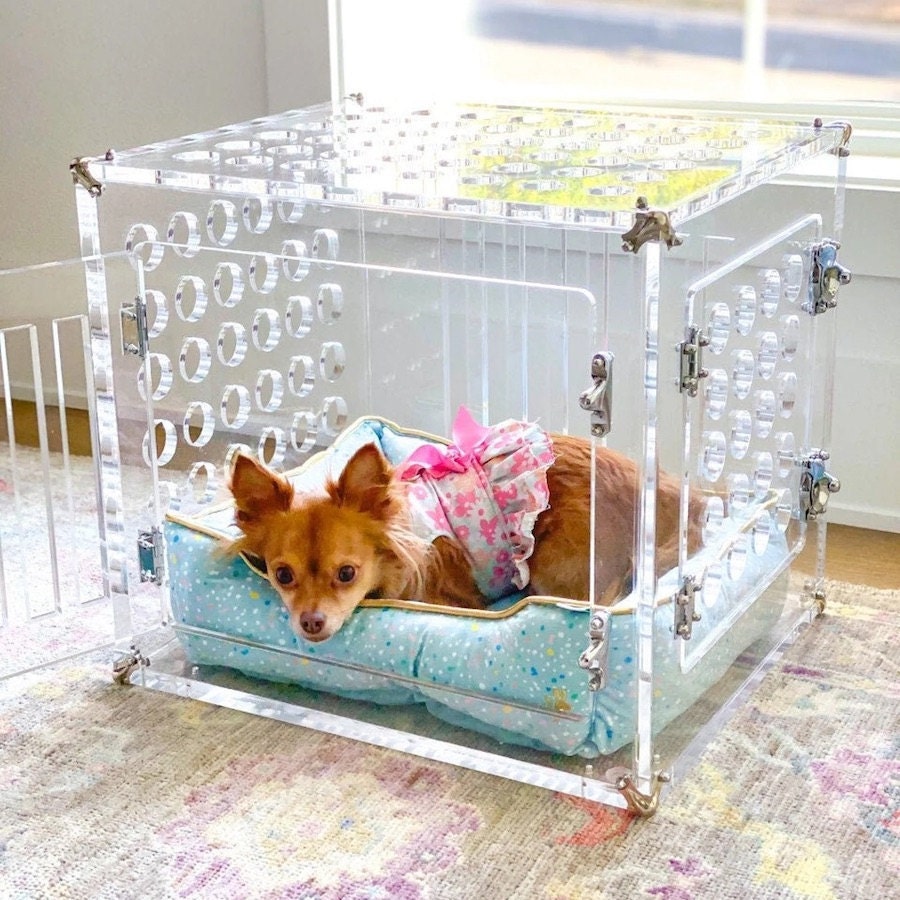 SHOP: Petite pretty kennel from Pretty Kennels, $1,299
Give your tiny pooch's kennel a modern upgrade with this unique custom piece crafted of half-inch thick clear acrylic. Select from four fun cut-out patterns including circles and stripes, flowers, paws, or celestial stars.
Cat and dog food bowls
23. Personalized ceramic pet food bowl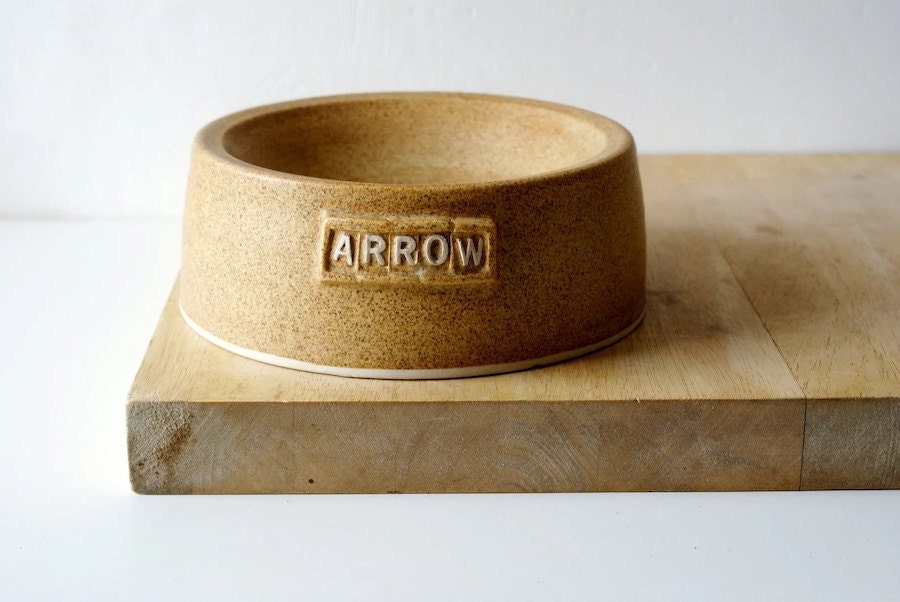 SHOP: Ceramic personalized pet feeding bowl from Little Wren Pottery, from $48
Put a personal touch on your pet's mealtimes with this large bowl crafted of sturdy stoneware pottery you can customize with their name. The large size and substantial material will keep this pet bowl from sliding around your floors.
24. Ceramic slow-feeder bowl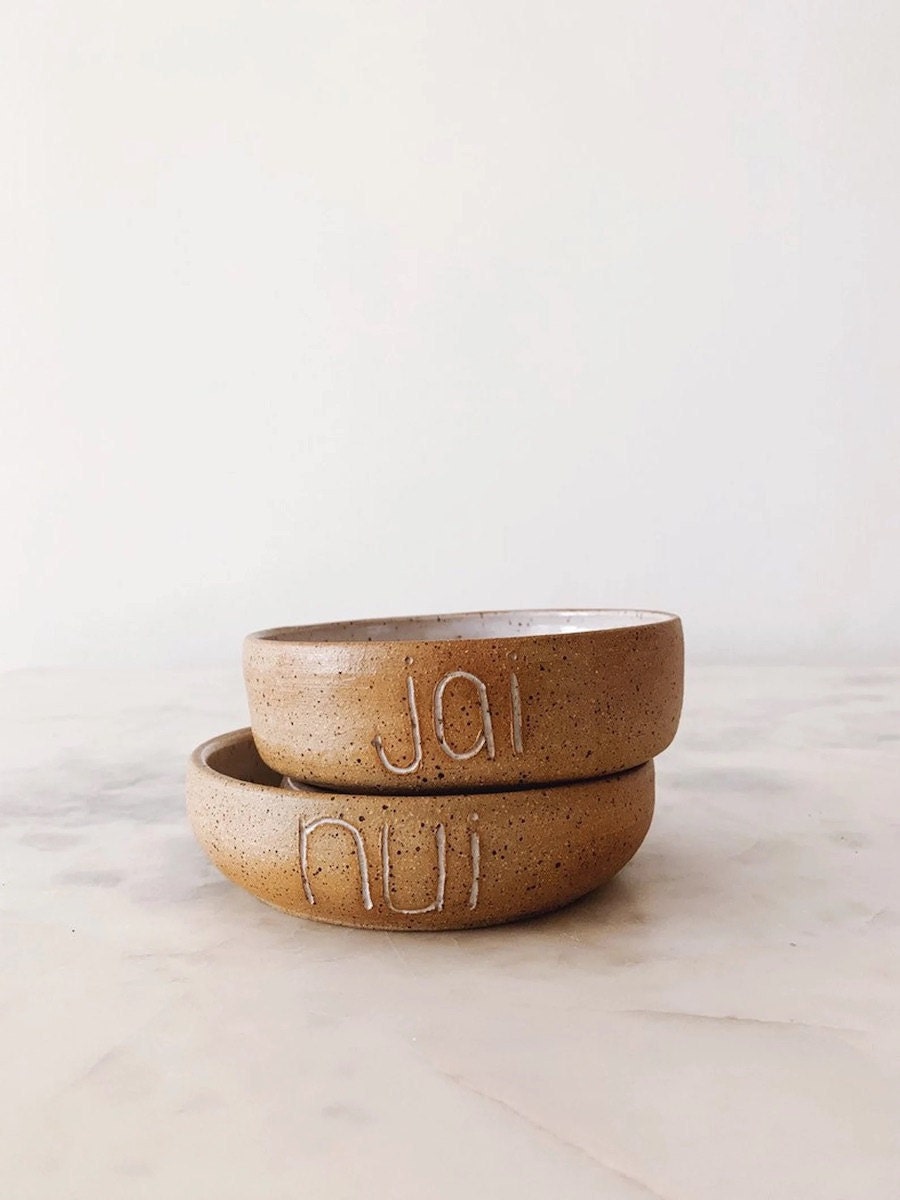 SHOP: Custom ceramic slow feeder bowl from Mammoth and Minnow, from $125
If your pet "scarfs and barfs," try this handmade slow dog or cat feeder bowl constructed of ceramic. You can have your pet's name carved on the outside, while a large letter in the center of the bowl promotes slower eating to prevent pet puking.
25. Elevated minimalist dog feeder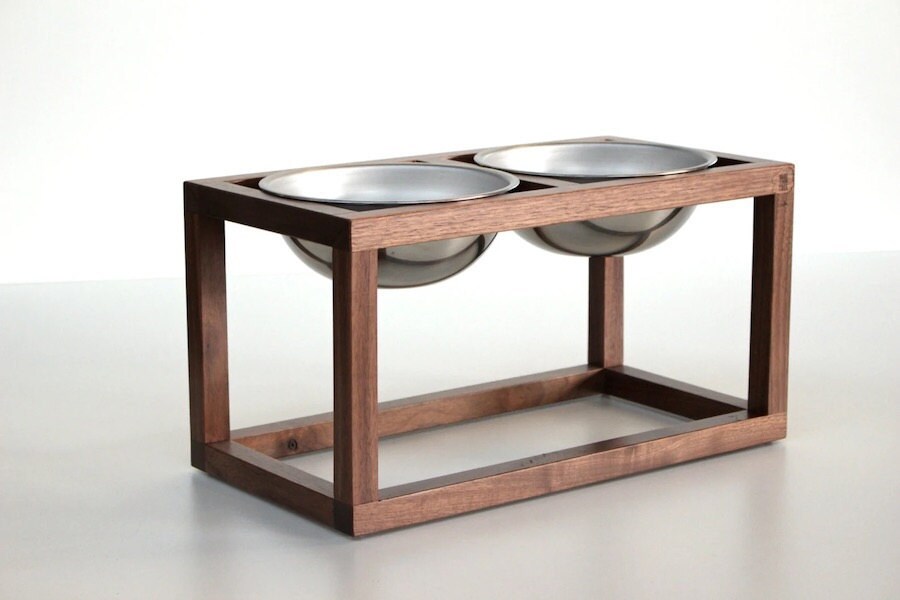 SHOP: Minimalist wood dog feeder Wake The Tree, from $153
Lend a minimalist look to your dog's feeding station with this elevated dog bowl feeder. The unique handmade feeder features an openwork walnut wood frame and two stainless steel bowls for easy food and water cleanup.
26. Elevated pet bowl stand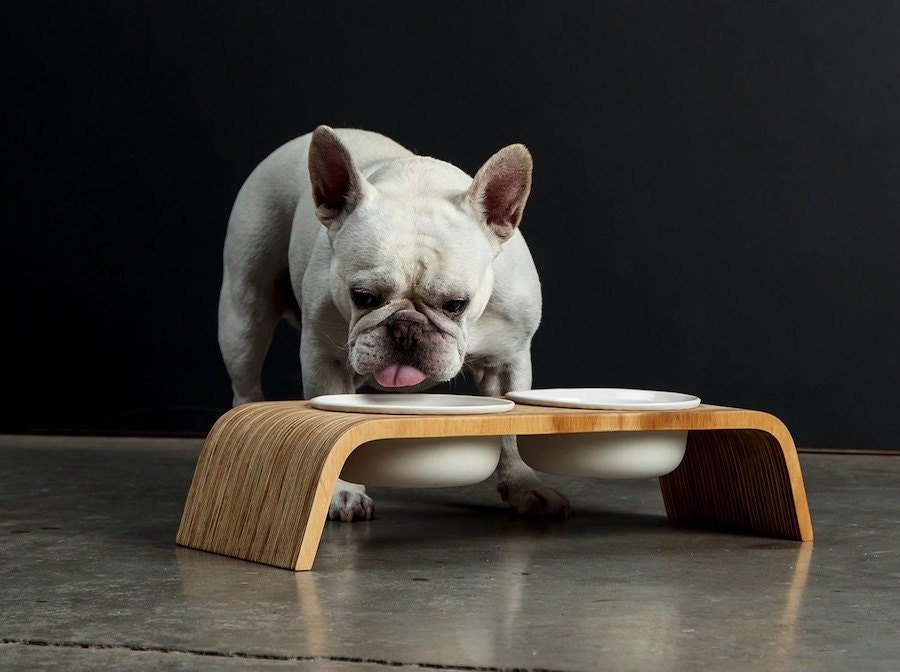 SHOP: Elevated double short bowl stand from Howl and Home, from $187
Keep your pet's food and water bowls elevated with this beautifully made feeding station. It's constructed of wood and includes two porcelain bowls at your choice of height for easy, ergonomic eating.
27. Tilted elevated pet bowl holder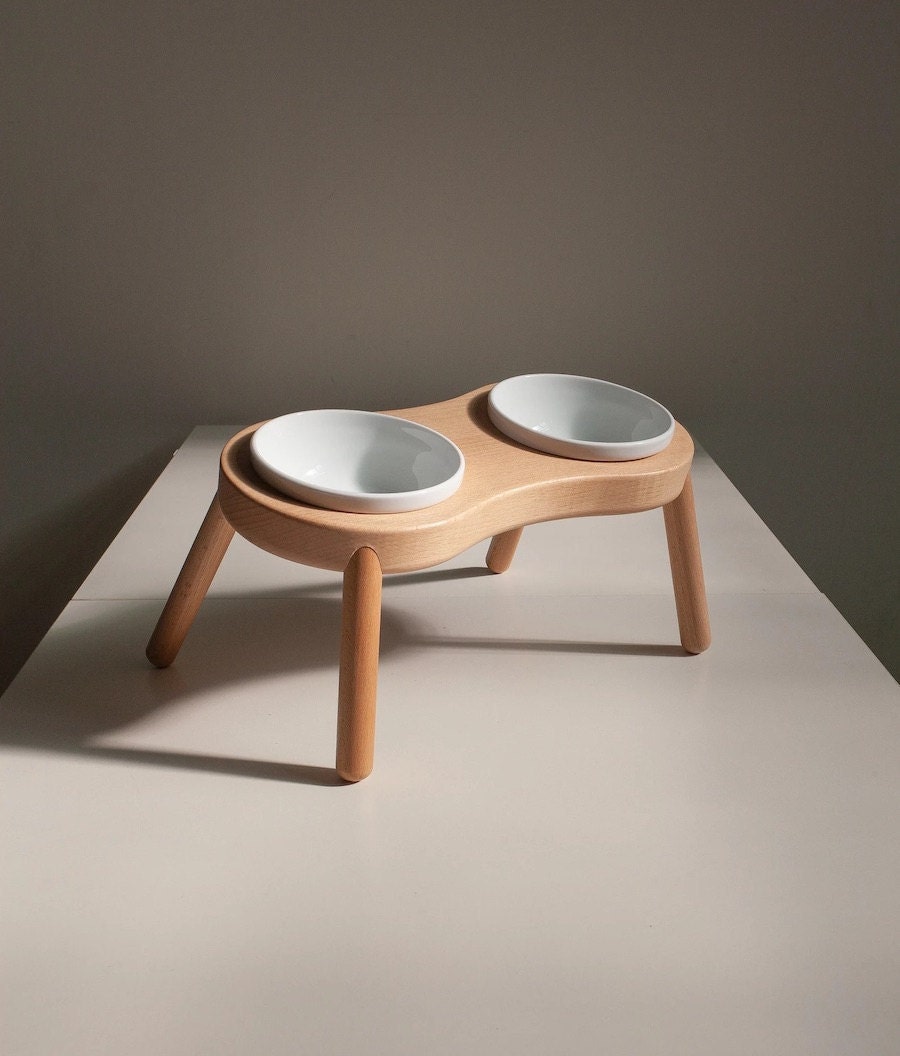 SHOP: Custom-tilt elevated pet bowl from 9house Pet Design, from $152
Not only is this pet bowl holder elevated, but it's also tilted at just the right angle. The durable wood design is inspired by the natural curves of a peanut for a fantastical, whimsical touch. Two matching ceramic bowls are included, too.
28. Shallow ceramic pet dish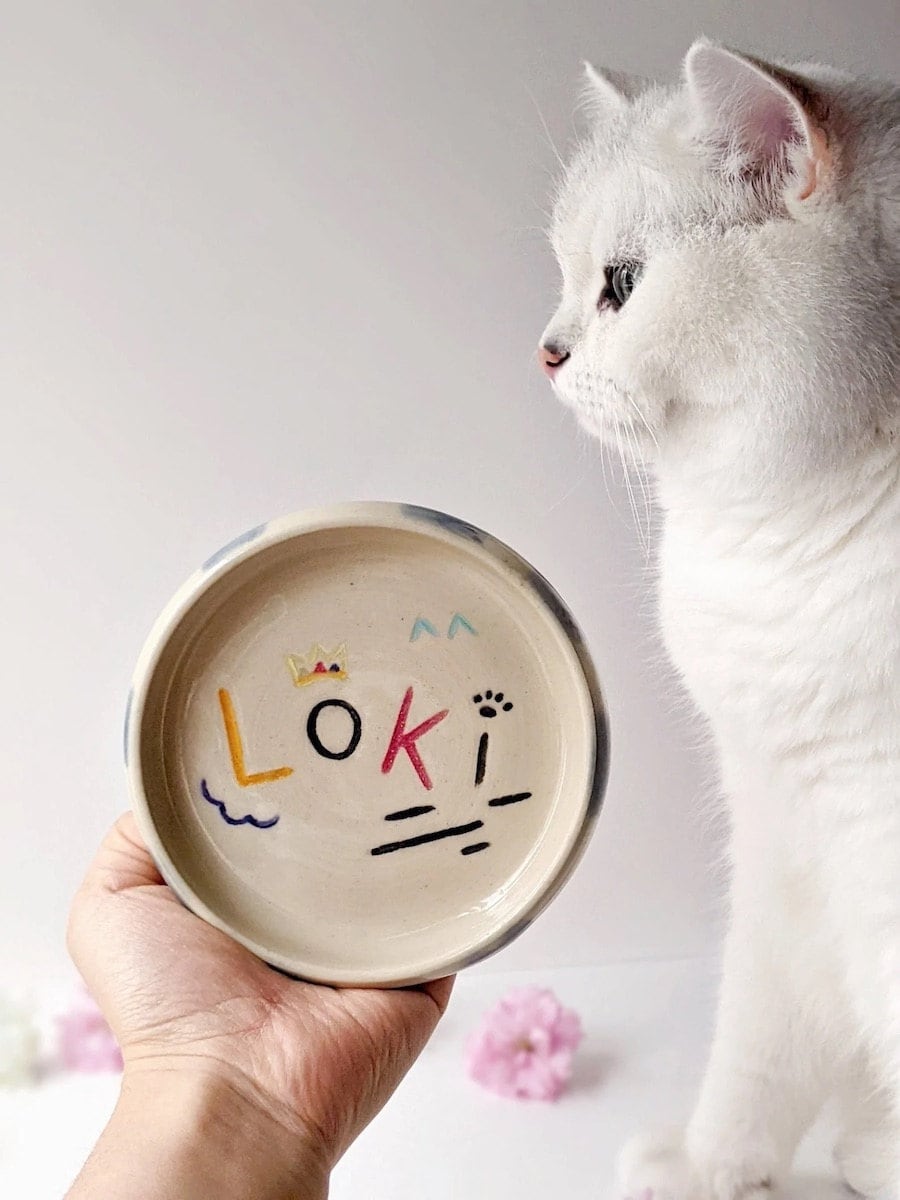 SHOP: Custom pet plate from Sweet Sapling Studio, from $44
This sweet, shallow ceramic pet bowl is customized with your pet's name. Ask for unique symbols or icons to give the bowl an perfectly personalized touch. Even better? This custom pet bowl is dishwasher safe.
29. Shallow raised food bowl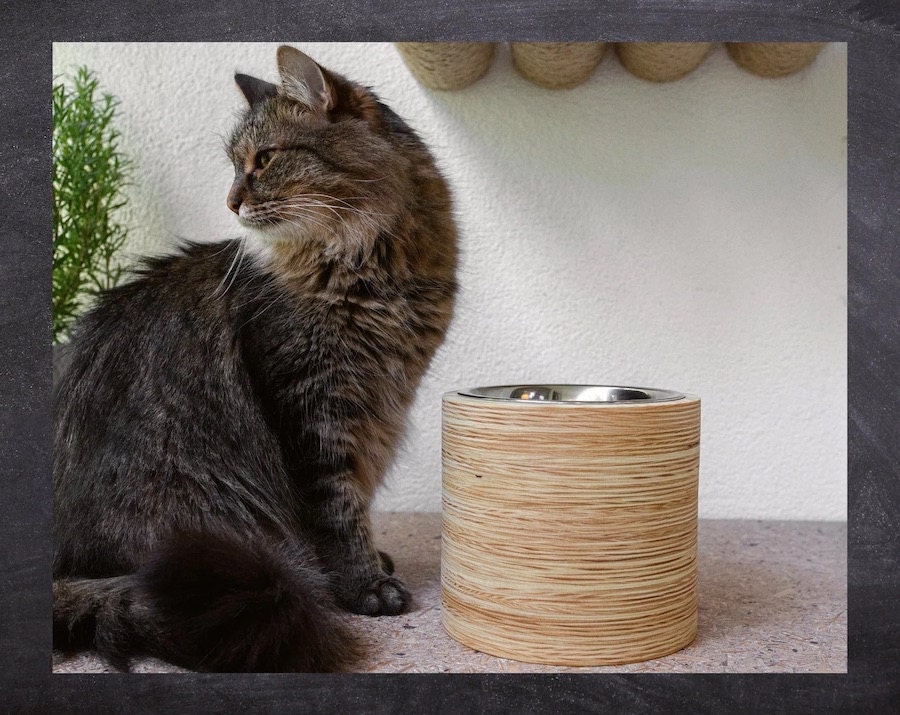 SHOP: Wide, shallow raised pet bowl from Habitect, from $69
Prevent cat whisker fatigue with this wide, shallow bowl in an ultra-modern design. The unique, circular wood bowl is finished with plant oil that showcases one-of-a-kind color and texture. Choose your preferred height for kitty's purrfect fit.
30. Minimalist composite pet bowl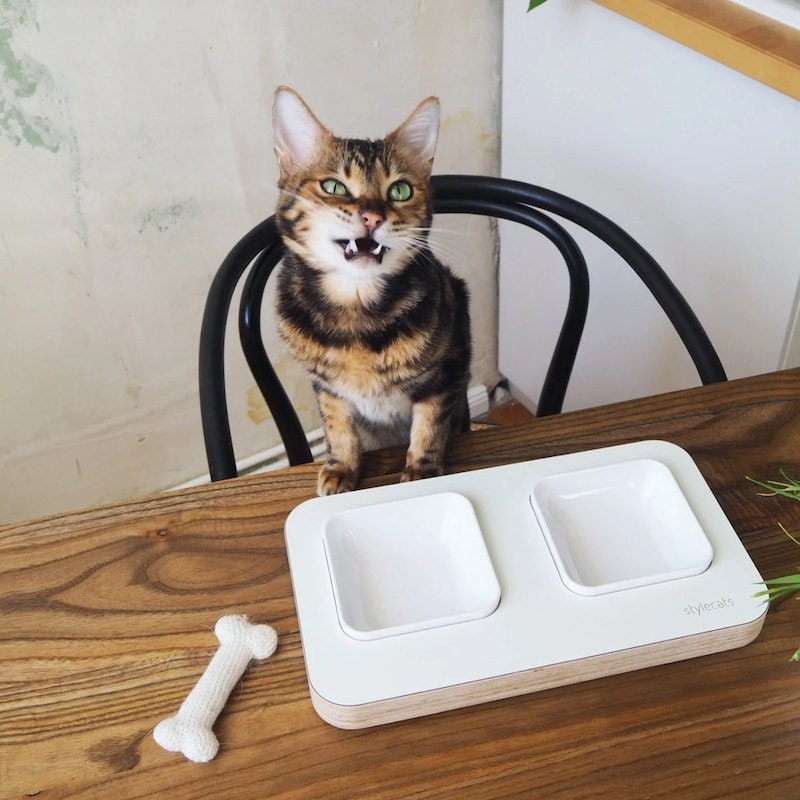 SHOP: Birch wood cat food bowl from Style Cats, $124
Almost like fine china for your feline, this sleek, modern double cat dish features a birch wood-accented stand and two square food and water dishes. Bonus: The seller includes lids for each of the recessed bowls, making it easy to cap off dinnertime.
31. Apple crate dog feeder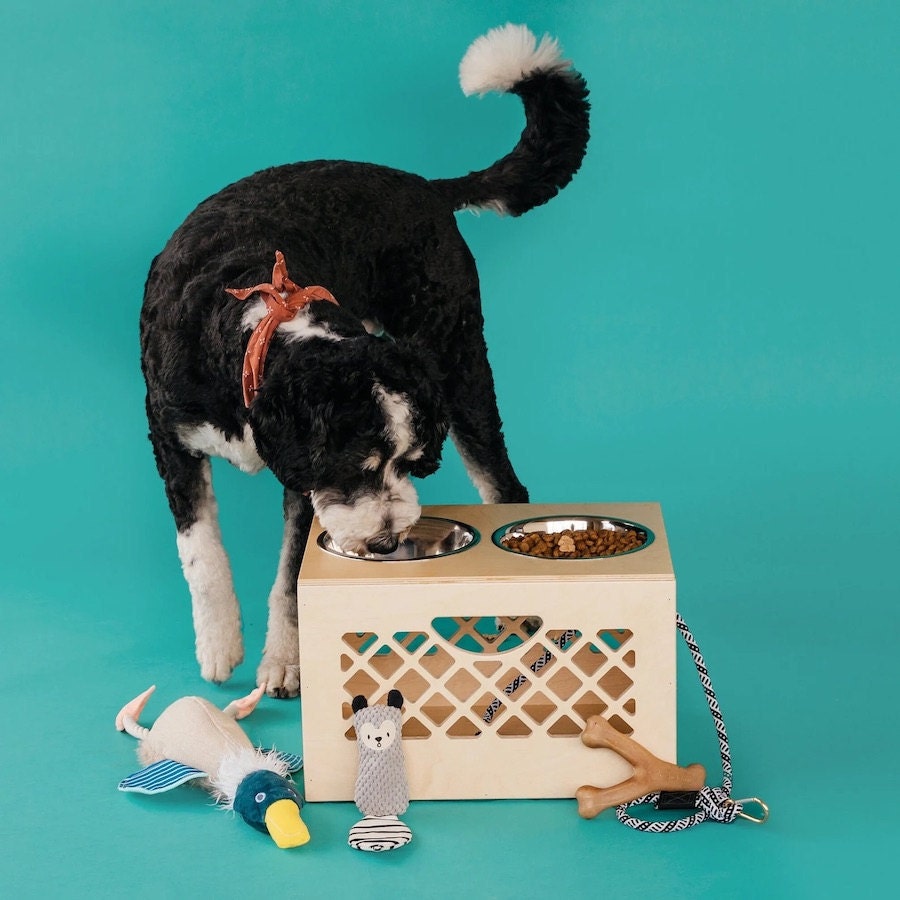 SHOP: Large apple crate pet bowl from WAAM Industries, $155
This sweet, elevated pet bowl feeder is designed to resemble an apple crate, adding a rustic touch to your kitchen decor. Made of birch wood coated in clear lacquer, this crate can store toys, leashes, and other pet accessories.
Whatever type of pet (or pets!) you own, small shops on Etsy have clever, creative, and captivating furniture and accessories that'll make your home both pet-friendly and aesthetically awesome.
How do we pick the best pet furniture?
As Etsy Journal editors and contributors research and curate shopping guides for some of the best-loved items on Etsy, we thoughtfully consider the creativity, customization, and craftsmanship that go into each product. We also consider buyer reviews, item ratings, and customer service, and tap the expertise of our in-house merchandising and trends experts to uncover high-quality finds for every budget. You can find more information about each item in the seller's listing details and can take a look at their individual shop policies and reviews, too.