From plus-size vintage dresses to curve-friendly retro swimwear, the fab finds in these five vintage clothing shops are made to flatter every figure.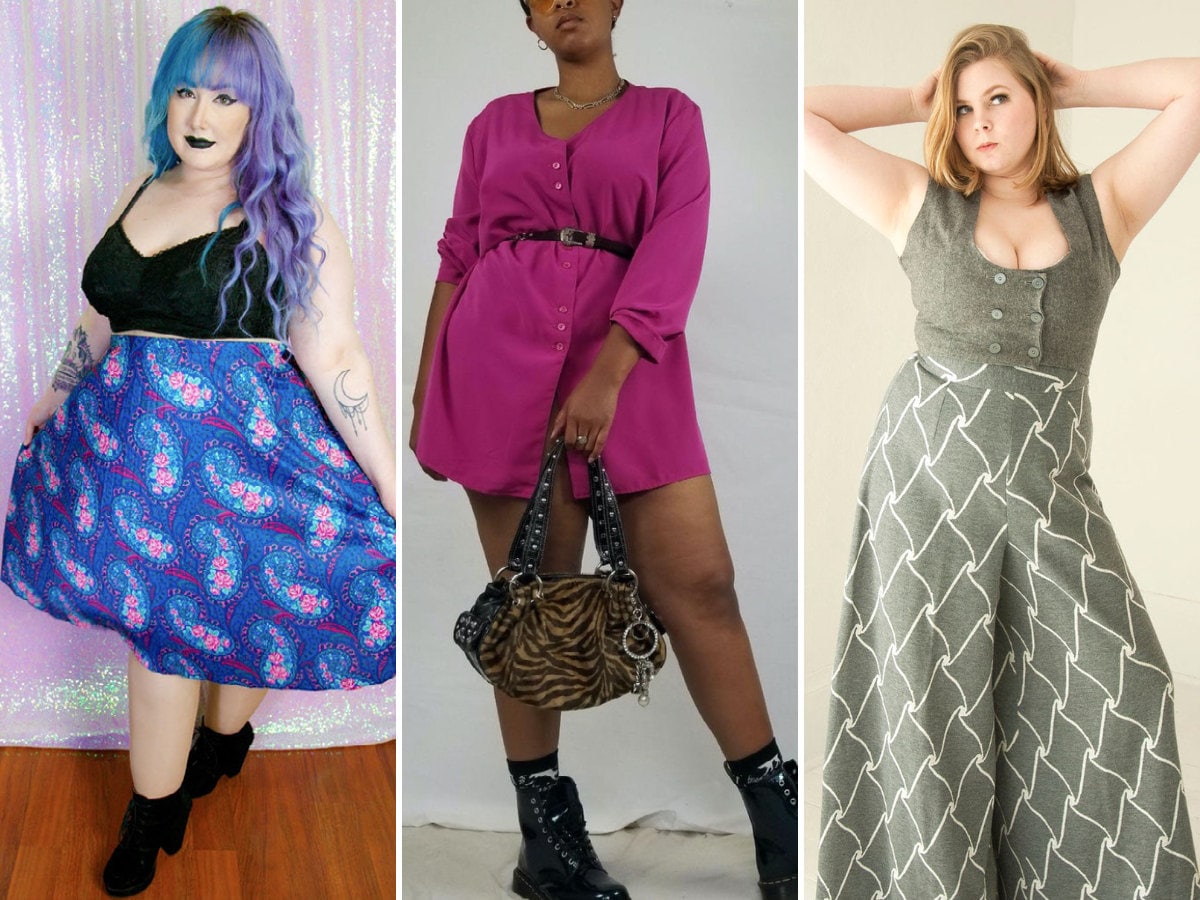 Call off your search: We've rounded up some of the top shops on Etsy for plus-size vintage clothing gems.
Vintage clothing sellers on Etsy truly run the style gamut, curating one-of-a-kind collections built around trends, time periods, and even color palettes. But some of our very favorite retro retailers of the moment? Those out on a mission to make vintage style accessible to all by offering inclusive sizing, and specifically catering to the curvy. It's a point of pride for many of these plus-size vintage clothing shops, particularly now as the fashion industry's outdated norms and beauty standards continue to be challenged and dismantled.
On Etsy, where individuality reigns supreme, sellers and shoppers alike are embracing self-expression in every shape and form. To that end, we've rounded up five standout shop owners who are changing the game with a wide range of body-positive vintage outfit ideas, from minimalist streetwear to plus-size vintage dresses perfect for a night out on the town. Read on to discover what inspires these expert clothing curators' enviable sense of style—and to find a new favorite vintage shop of your own.
Party-ready plus-size vintage dresses, period pieces, and throwback swimwear:
Calling all vintage glamour and glitz enthusiasts! Kyana Taillon, founder of Roselein Rarities, has created the most exquisite collection of your dress-up dreams—from mod minis to previously-loved prom dresses and even flirty retro swimwear—and made it available to everyone. "When putting together outfits, I always consider how the wearer will feel in them, and my goal is that they feel confident and sexy," Kyana explains. To make sure that message comes through in an inclusive way, she photographs each of her plus-size vintage dresses and swimsuits on people with actual curves. "I only showcase outfits on size-appropriate models, because we are not all the same—and that's the beauty of life!" Kyana says. "I currently have twelve models in a range of sizes and body types. Customers often specifically seek out a particular model based on similar measurements, and feel comfortable relying on the friendly faces they've become familiar with." 
Effortless vintage streetwear with an androgynous bent:
Featuring everything from plus-size vintage denim and unisex collared shirts to laid-back matching play sets, the minimalist streetwear pieces available in Jonaye Barnum's shop New Nostalgia prioritize comfort and practicality—and are a prime example of how to wear vintage with ease. "Breathable, durable, and quality materials such as linen, silk, and rayon draw me in the most," Jonaye says, adding that despite their comfy nature, her unique jackets, chunky sandals, and dramatic dresses still pack a serious style punch. "I also love to break boundaries in regards to sizes and gender-specific pieces," Jonaye says. "It's so fun to turn men's button-down shirts into mini dresses paired with vintage belts to show some leg, and silky lounge robes into trailing dusters."
Alternative '90s and Y2K apparel with soft witchy vibes:
"Plus-size vintage clothing is definitely harder to find, but it's worth the extra effort," says Kim Epsky, whose shop, Bad Moon, is a veritable rainbow of retro pieces, and a must-see for any dark and moody grunge-lover with a soft spot for dreamy pastels. "It's very important to me that all bodies can experience that sweet joy of wearing an amazing outfit that makes them feel incredible, all while shopping sustainably," she says. Kim's colorful collection of alternative vintage apparel is a gold mine of '90s tops and dresses, so expect lots of bold metallics and romantic lace. "I'm always on the hunt for twirl-worthy skirts, '90s mini dresses, sequin-covered statement pieces, and darling sheer nightgowns and robes," Kim says. "I also love anything velvet, and will pick it up no matter the season!"
High-impact hues and notice-me prints:
Playfulness and pattern are at the heart of Jesse Riggins's eclectic, energetic shop Jazzy Outfitters—that and giving new life to great vintage styles sized 12 and up. "Rescuing cute plus-size vintage is the ultimate goal," Jesse says. "I just love a well constructed garment, you can feel it! They don't make 'em like they used to." Her collection is a draw for funky dressers from all walks of life, and features lots of fun florals, polka dots, and '80s geometric prints. In addition to brightly colored vintage house dresses and boxy button-downs, a nice sturdy pair of high-waisted vintage jeans is a favorite find—and like many of her other reclaimed pieces, Jesse will often modify them to fit her figure and her desires. "I like to dye them all sorts of wacky colors," she explains. "I also shorten a lot of dresses, skirts, and tops which totally changes the whole vibe. And I love a crop top!"
Mix-and-match vintage separates with '90s flair:
When Laurel Teixeira founded The Curvy Elle and began modeling vintage fashions for her shop, it reframed how she perceived her own body—and she knew that was an empowering feeling she wanted to share with other women who identified as plus-sized. "Before I started The Curvy Elle, I noticed many vintage shops and blogs dedicated to 'normal' sizes. I was interested in doing something similar with plus-size vintage clothing—and I found that the challenge is what inspired me most of all," Laurel says. "I love the aesthetic of bygone eras, and mixing and matching contemporary pieces with vintage—all while promoting a positive self-image." Today, her full-figure-friendly collection includes a treasure trove of vintage floral prints and swishy skirts featured alongside her own vintage-inspired and upcycled designs. "It's important to be able to adapt vintage fashion to new uses," she says. "Something that was a nightgown originally might be worn as a dress now. A dress marked a size small that fits a size large may be a fitted plus-size dress today."