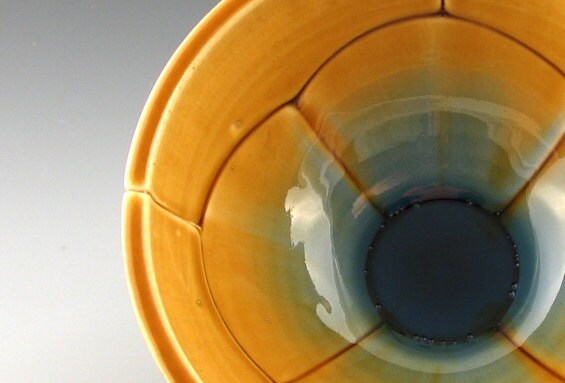 A search through the Ceramics and Pottery Category here on Etsy can at first seem intimidating. The enormous variety of work seems to be just barely held together by a common thread. This category encompasses many items that could rightfully be placed in other categories such as Art, Housewares, Jewelry, Geekery, Holidays, Dolls and Miniatures, Accessories and Everything Else. That tiny thread, the one thing pulling these items into this category as opposed to those others,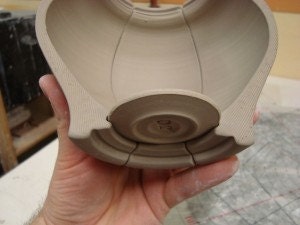 is the material that all of these items are made out of — ceramics! The term ceramics refers to any clay that has been fired and transformed from fragile dirt-like material to a hard and permanent stone. Once the transformation occurs, ceramic objects can survive tens of thousands of years (provided nobody drops them).

I'm Jeff Campana, aka CampanaCeramics of jeffcampana.com, and I'm full-time artist and instructor of ceramics at the University of Louisville. In this article I will guide you through the Ceramics and Pottery Category. I hope to instill the knowledge you'll need in your search for that perfect Etsy find. While exposing various aspects of the ceramic process, I will introduce you to a few fine Etsy shops along the way.

Material
Clay is a naturally occurring material, a mass of chemically weathered rocks. Geologic in origin, clay as we use it can be dug up from deposits or mixed from clays found in a number of regions, or even countries, for optimal appearance and working qualities. At webbpottery, Alabama potter Anne Webb digs up and processes her own clay from local deposits. Below, you can see her clay mixer, which is actually a 1915 dough mixer.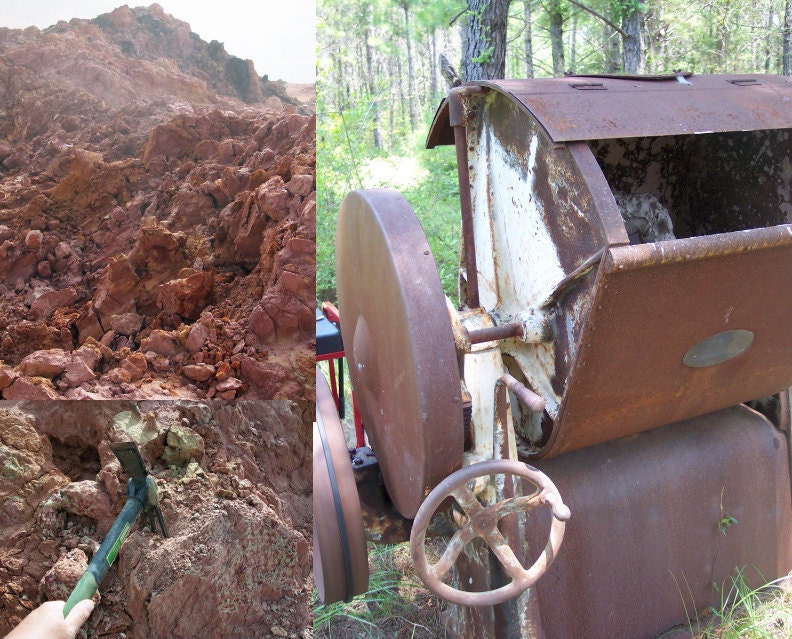 Inexpensive but labor intensive, this native clay stoneware has a unique color and texture that would be hard to artificially create by blending materials.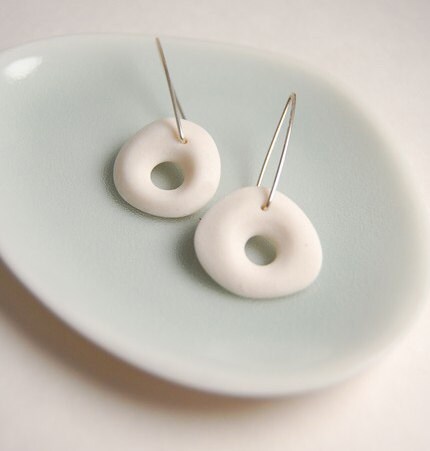 Conversely, the stark purity of imported and highly refined porcelain is the opposite in several ways. It comes mixed, de-aired, ready to use, and is very expensive, often shipped internationally. Once the symbol of technology, early porcelain ware from China was highly valued as a precious commodity, likened to gold. The material beauty of porcelain is utilized nicely in Yashabutler's simple and elegant porcelain bowls and jewelry.  

Temperature
Ceramics can be divided into three categories based on firing temperature: low fire, midrange and high fire. Each of these categories offer something unique.

Low fire, also known as earthenware, is typified by red terra cotta clay, but comes in a white version as well. It offers the brightest color palette and the lowest environmental impact: energy used to fire the ware and highly processed materials are minimized. Potter Martyfielding takes his environmental concerns a step further. "My studio is powered by green electricity generated from methane collected from Vermont dairy farms." Artists also choose this material for visceral appeal they have for it. Dawn Ferguson of fergusonpottery leaves parts of her pots unglazed to show off her favorite aspect of the material. "I want you to feel this beautiful red earthenware I work with because it is so rich and gorgeous."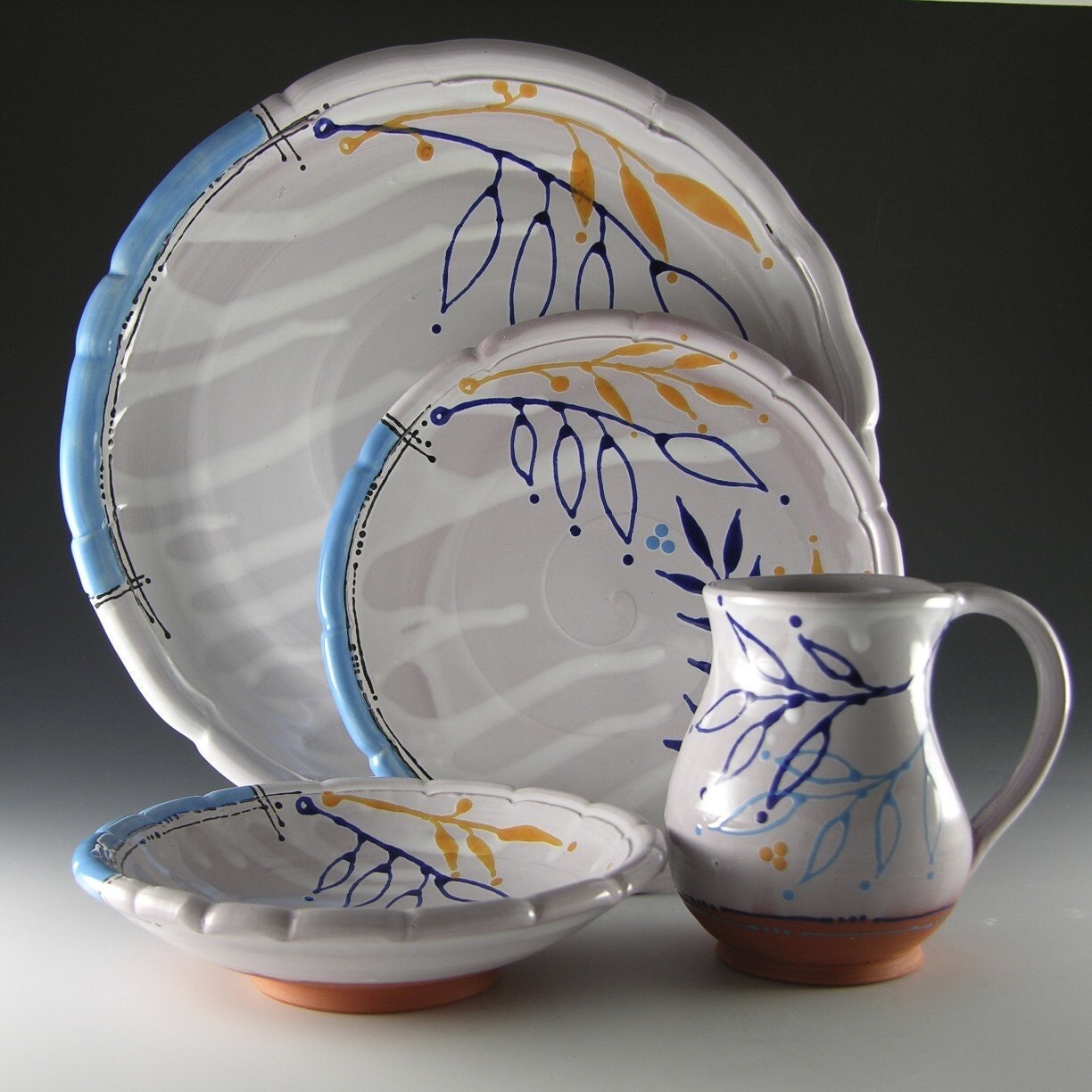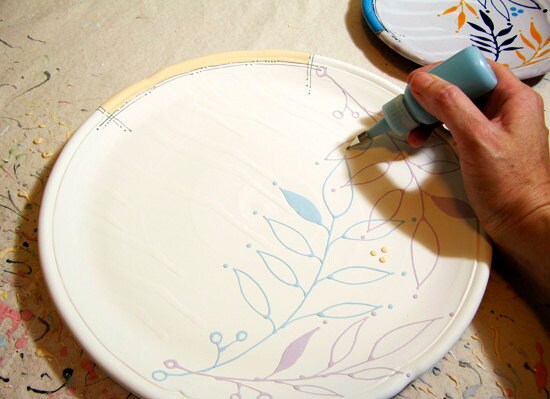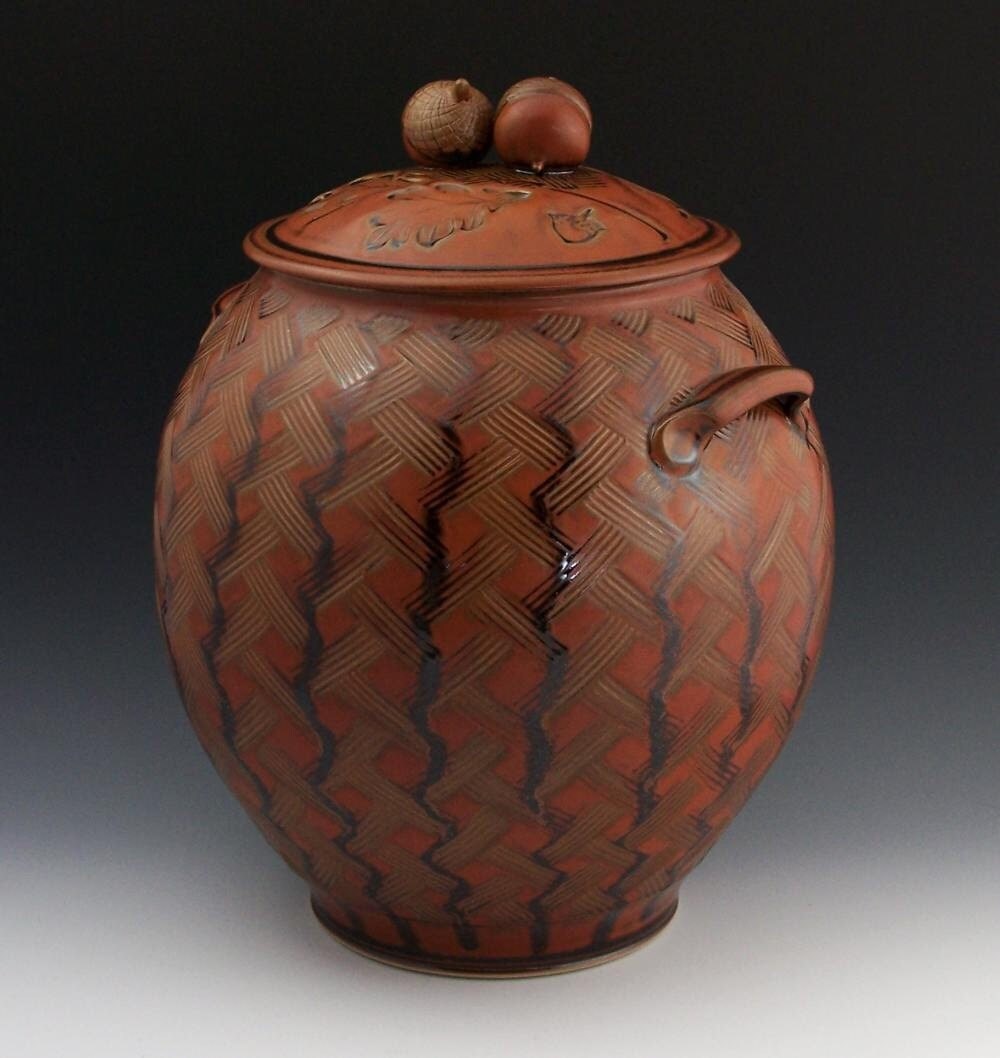 High Fire ceramics, consisting of both porcelain and stoneware, is known for its durability and strength, but limited color palette. Having been fired to nearly a glass, this vitrified substance is as hard as stone, hence the name, stoneware. Stoneware is usually rough in texture and grey to brown in color. It is a forgiving material to work with, allowing for large scale work and complicated fabrication. The large 4 gallon stoneware jars by Baumanstoneware exemplify what is possible with the earthy and workable properties of this material.

Porcelain is known for its white color, and in some cases translucency, as seen below in stepanka's cups. It is the most challenging type of clay to work with, having tendencies to sag, crack, and crumble in the hands of the artist.

Working with porcelain takes patience and finesse, but to its devotees, it is the most seductive and sensual material.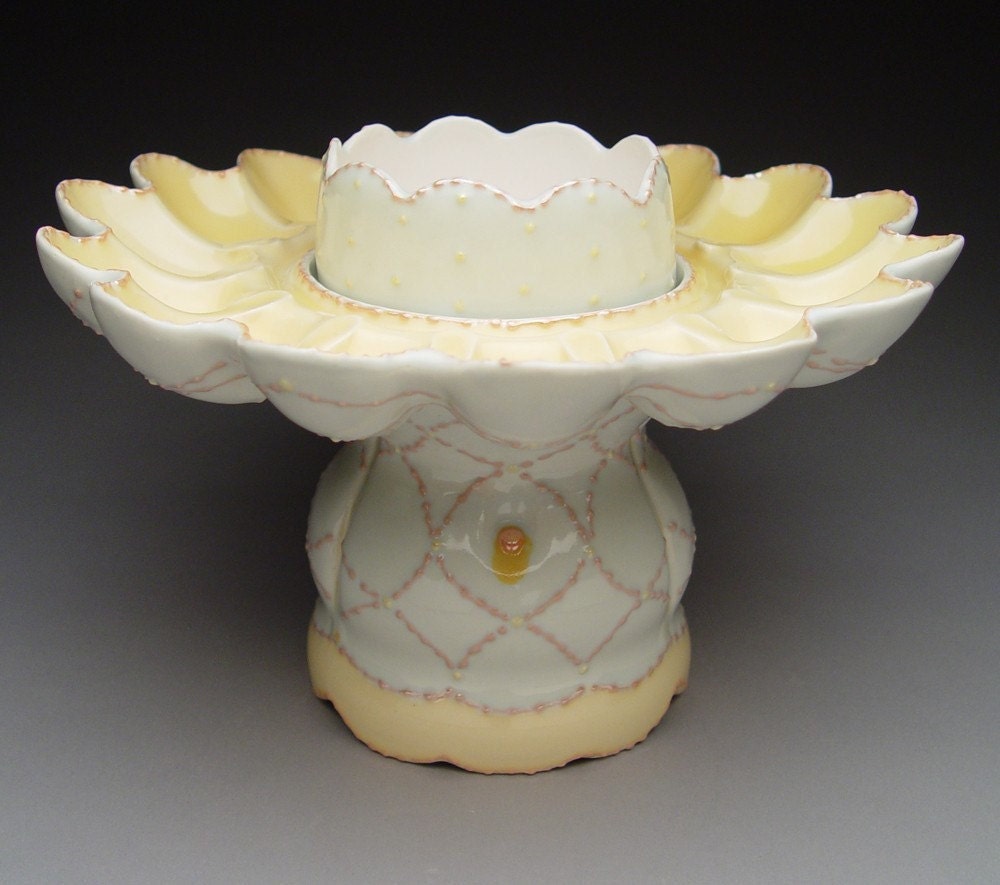 Between high fire and low fire lies the aptly-named Midrange ceramics, a middle ground possessing some of the wide color spectrum associated with low fire and some of the durability associated with high fire. Jenni Brant of Burrobranch dresses her feminine porcelain forms in pastel pinks and yellows, made possible by lower firing temperatures.

See some of Burrobranch's process below.


Forming Methods
The most popular and familiar method for making pottery is called throwing. A mass of clay is centered on a spinning wheel. The clay is methodically manipulated into a hollow pottery form using just hands and minimal tools. Whitneysmith and her friend Frank made an amazing video, demonstrating her throwing skills, and posted it on her blog. Potters develop a personal approach to throwing as they learn, and often have a distinctive sensibility to form.

Dry throw demonstration from frank-e-t on Vimeo.
Watch an Etsy Process video with KimWestad to see this artist in her studio.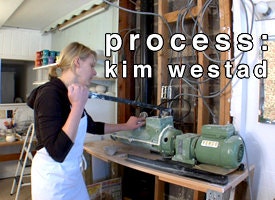 Slab building is a common method used in both sculpture and pottery applications. Clay is rolled out into sheets and formed using molds or free hand. Patterns can be cut and assembled in a fashion similar to sewing or woodworking, depending upon the dryness. The effects of this forming method can vary from the fluid drapery of carolbarclay's folded porcelain vase to the crisp angular wall pillows of Stepanka.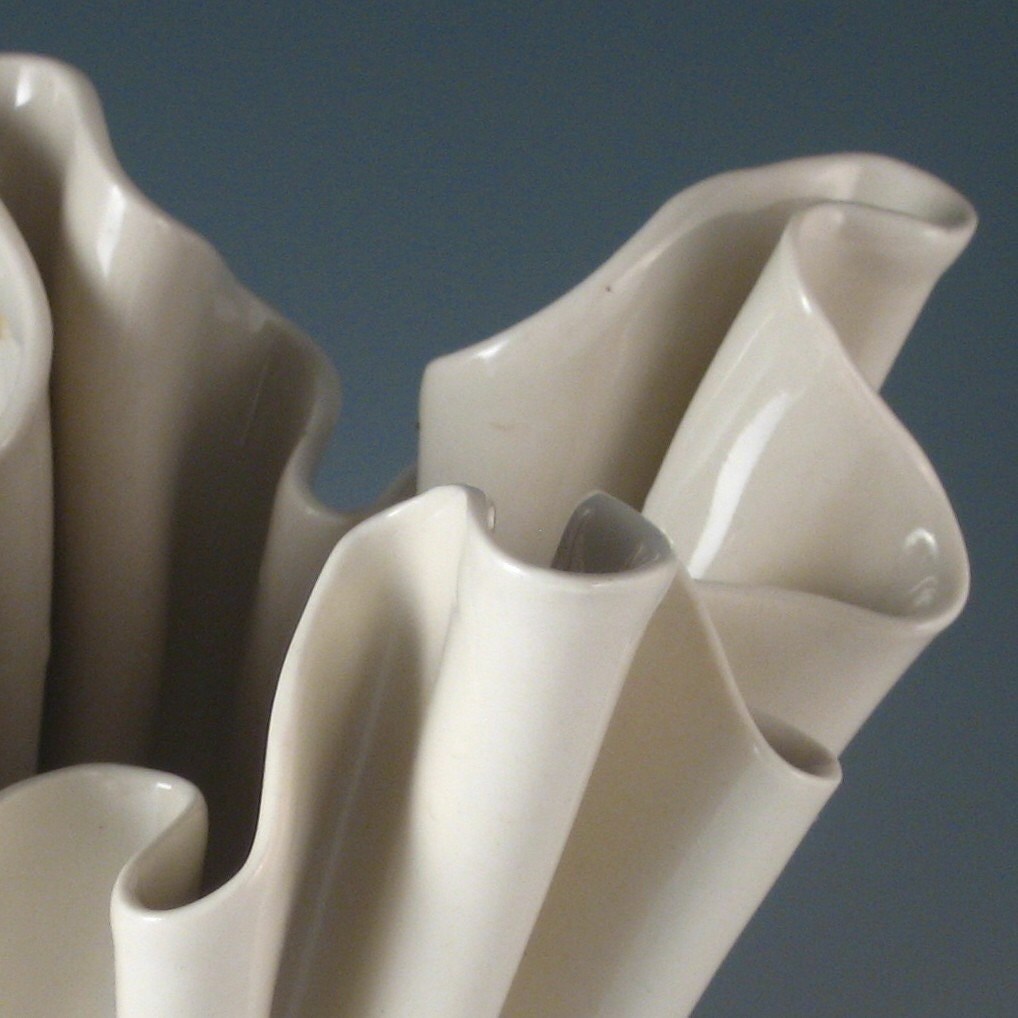 Slip casting, a popular method of producing multiples, starts with liquefied clay. It is poured into a plaster mold. As the moisture is drawn into the plaster, a wall of hardened clay forms in the shape of the mold. When the wall reaches the desired thickness, the excess liquid is removed and the piece is allowed to dry. The slick pottery from jillrosenwald and CircaCeramics are created this way, as well as the cerebral industrial sculptures of ricochetstudio.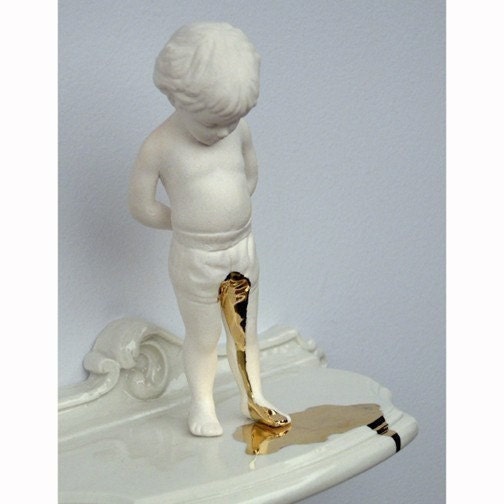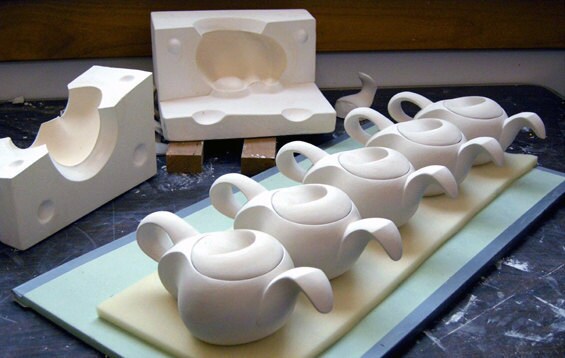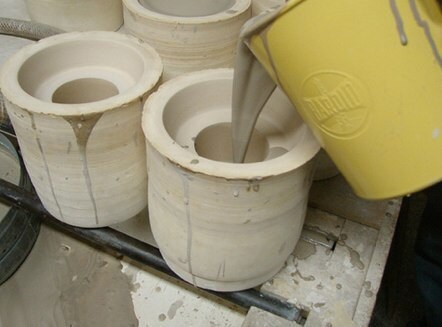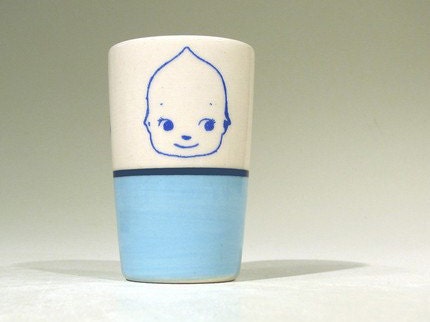 Circaceramics, for instance, design and make their own shapes and molds on their own machinery. See their flickr set for more about this process.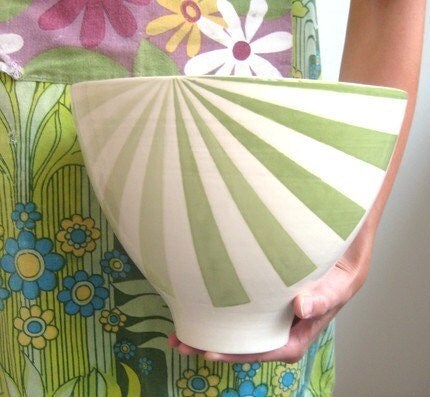 Glaze
Glaze is the glass coating found on many ceramic objects. It seals and protects the clay while adding color and depth to the surface. Some artists use premixed commercial glazes while others see glaze as yet another realm of experiments and possibilities. Working in a pseudo-scientific manner, variations upon a recipe are carefully tested and recorded. Basically a combination of various crushed minerals and metallic oxides, glaze recipes are carefully weighed out and mixed into a slurry to be applied to the ceramics and fired for highly personalized effects.
Artist Melissa Schooley of RagingBowl, maker of the gorgeous fruit bowl below, puts in the time to get it just right.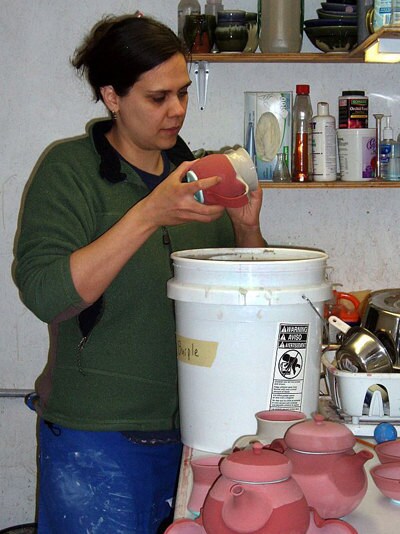 "The recipe that's on my work took me about three years to get it just where I wanted it — colour, surface, texture and drippiness."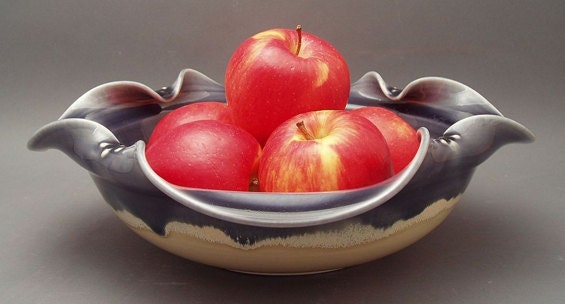 Firing
Some artists are drawn to the firing process, often done with a kiln. With ample fodder for even the most extreme pyromaniac, ceramics for some is about playing with fire. With temperatures reaching 2350 degrees fahrenheit, high fire wood kilns draw crowds, and concerned firefighters, to sublime displays of pyrotechnics. I had the opportunity to visit accomplished potter Mark Skudlarek of cambridgepottery's wood kiln some years ago. Built like an upside-down boat hull, his giant noborigama kiln,
which he built with Allamakee Wood-fired Pottery, fires nearly 2000 pots at a time using only wood as fuel.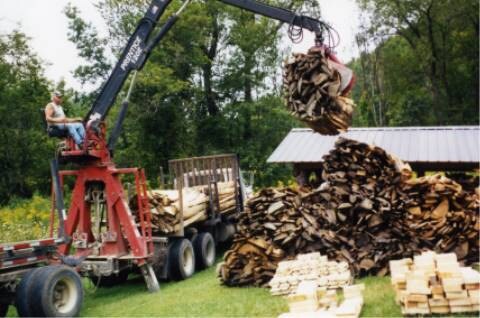 The effect of this process is evident in this unglazed plate. Ash and salts from the burning wood accumulate and form a natural glaze on the surface.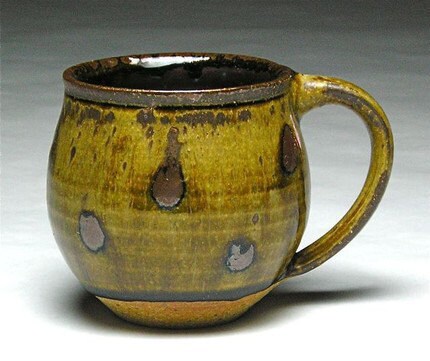 Many artists choose the convenience and economic benefits of electric kilns. Relatively small and widely available, electric kilns can be placed in almost any studio, and require only an oven or refrigerator electrical hookup to install. The popularity of electric kilns spans all temperature ranges.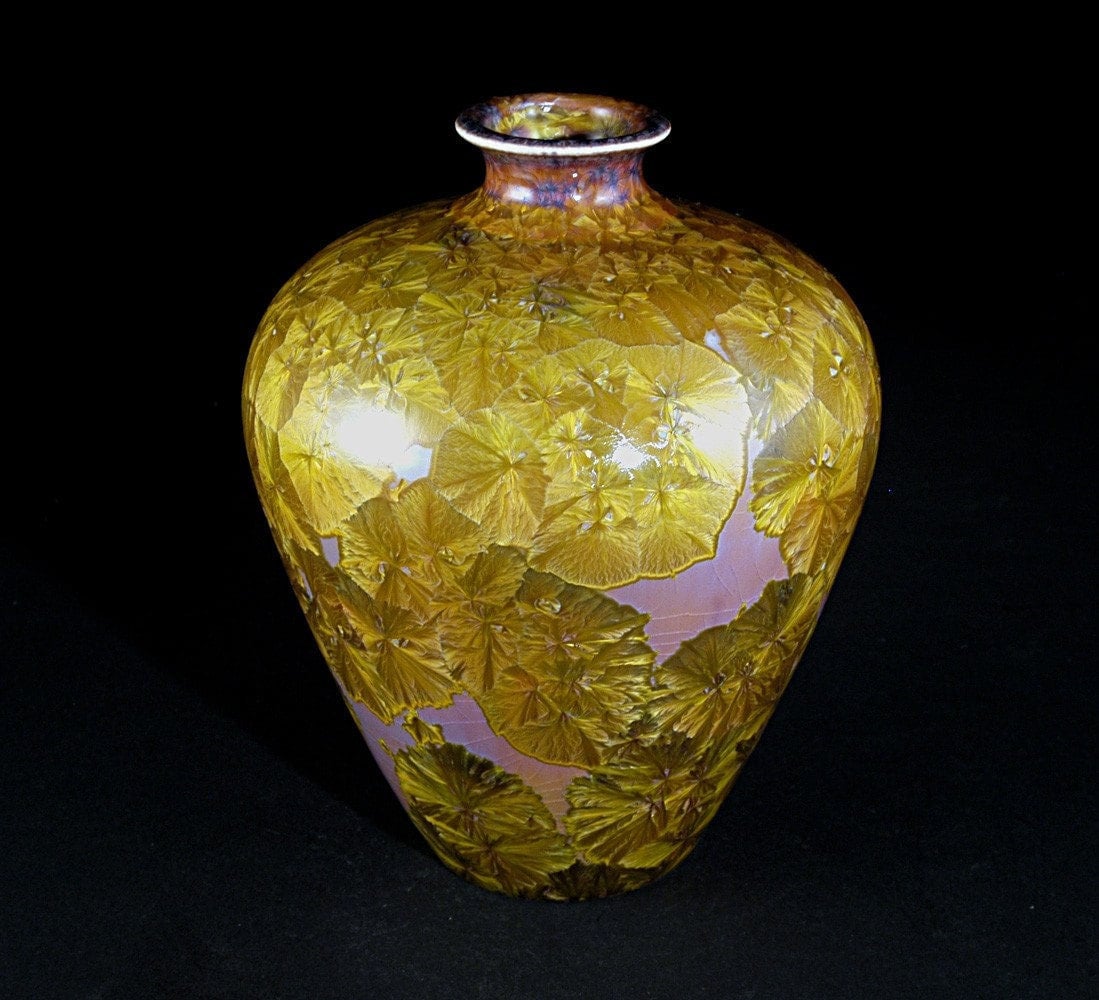 A glaze unique to electric kilns, crystalline glaze, is made using a computer controlled firing cycle, Jon Price of CrystallineGlaze finds the scientific rigor of this type of glaze to be a match for his personality. "I have an immense amount of energy, technical curiosity, great patience, enjoy constantly pushing the limits of what one can do — and I don't mind getting up in the middle of the night to tend the kiln!" He discusses the demands of his glaze in his shop announcement. "The number of crystals and their sizes, shapes, and colors are determined not only by the chemicals in the glaze, but also depend heavily upon the exact heating schedule that the piece underwent while firing."

Gas kilns, fueled by either propane or natural gas, are widely used as well. These types of kilns are very dependable and easily go to high temperatures, but require a lot of knowledge and experience to properly fire. In reduction firing, a popular type of gas firing method, the fire in the kiln is purposely given too much fuel, causing the combustion reaction to pull oxygen molecules from the clay and glazes, yielding unique results. Creativewithclay's Sassy Teapot  dipped in just one glaze, is a prime example of the sort of effects that draw people to gas firing.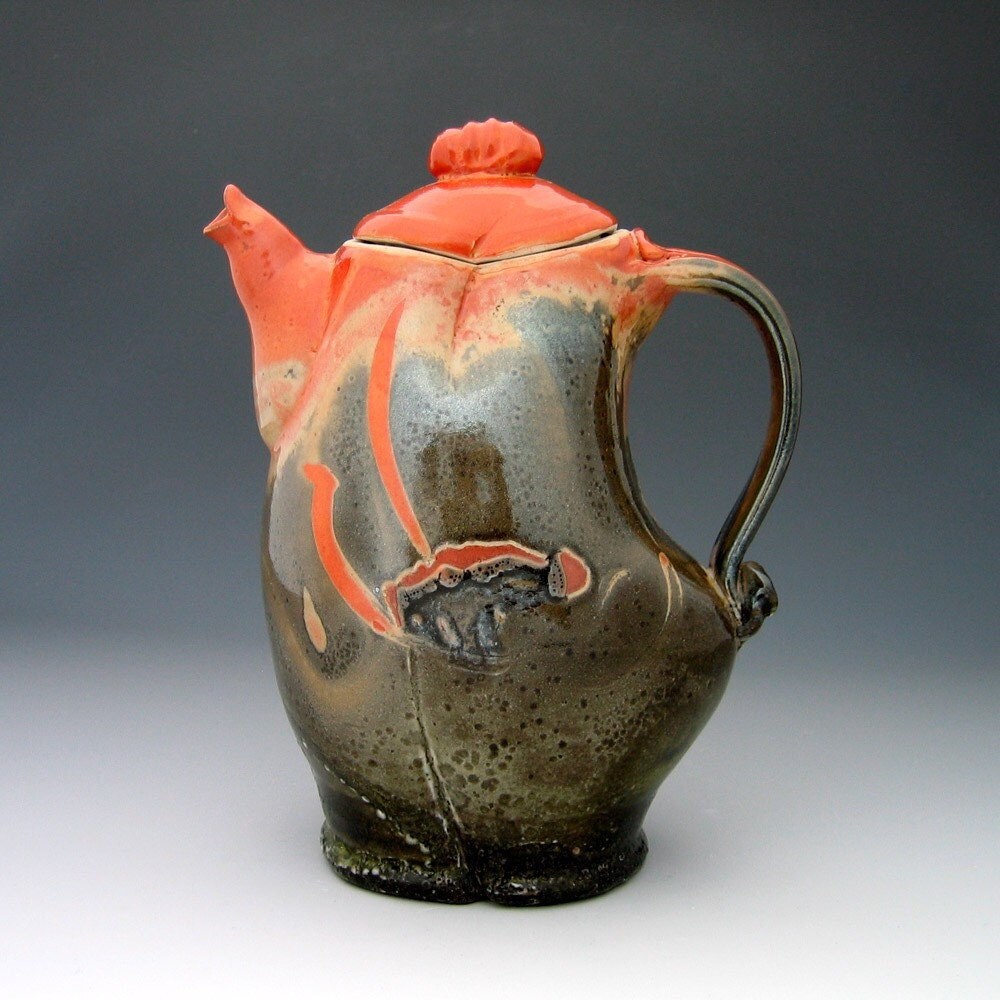 Raku, a popular firing method for decorative ceramics, is a process in which objects are taken from the kiln while still red hot, and placed within a pile of combustible material such as hay, sawdust or paper to cool and smolder. Stunning effects — such as the Horse hair urn by rmello (below left), Crackle on the bottles by wildcardpottery (below right), and Oil Slick on Raku4u's copper contrast pot (at the bottom) — are all achieved through this type of firing. 
Below, Raku4u during a raku firing.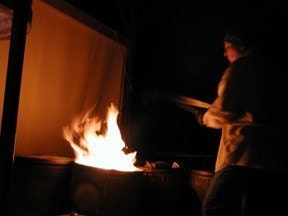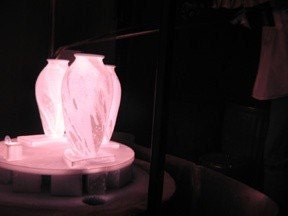 Shoppers should be aware that objects fired in this way are not intended for functional purposes. Ron Mello aka rmello of www.ronmellostudio.com offers this warning to his customers: "Like all raku-fired work, this piece is a fragile, non-functional piece and should be handled carefully and not exposed to water or strong light. It is suitable for dry flowers and other materials. You may insert a plastic or glass liner for cut flowers."
Stay tuned for Part 2 of Ceramics and Pottery, in which Jeff gives insights into the exquisite detail found in this category. Etsy has so much to offer shoppers — it's like a whole universe! In this Facts and Fancies series, we'll take you on a tour through Etsy's Categories. As we visit these "planets" one by one, we'll talk to sellers and experts and find some of extraordinary items on Etsy. (We'll also get some great insider tips along the way.) 

Give a shout out in the comments if you've ever tried to work with clay — one of the most difficult artistic mediums. Don't these artists make it look easy?
Further Resources:
Clayart Archives: http://potters.org - Useful process information and a helpful community

Ceramic Arts Daily : http://www.ceramicartsdaily.org/ - A blog by the makers of Ceramics Monthly Magazine
Learn about more of Etsy's Categories with our Facts and Fancies Reviews.
Visit the MUD Team's Shop.