Meet a few of our favorite LGBTQIA+ creators who are taking the small business world by storm, one empowering design at a time.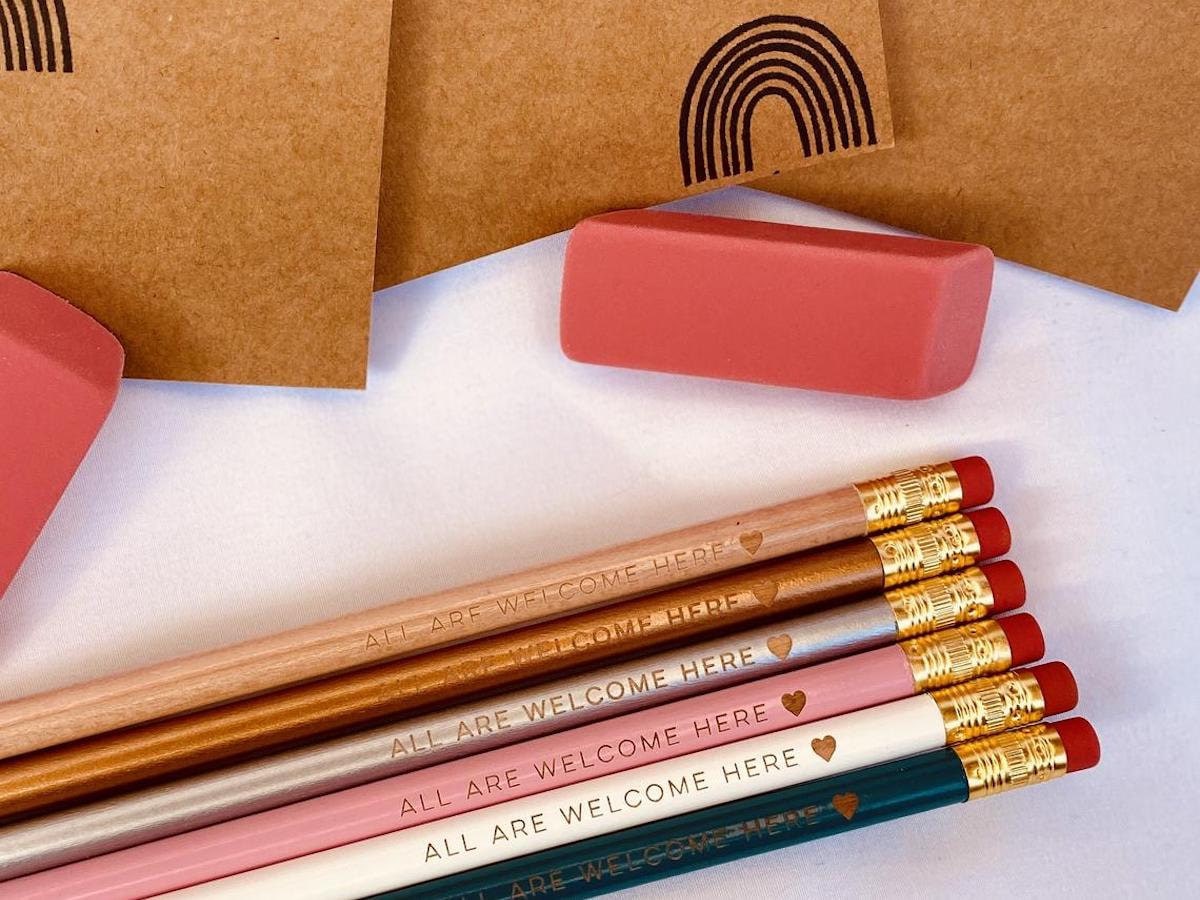 Long before parades and rainbow floats filled the streets for Pride Month, LGBTQIA+ artists were carving out space for themselves to celebrate their joy, passion, and creativity. It's a powerful, decades-in-the-making movement created by and for these communities—and one that anyone and everyone can support all year long not only by shopping intentionally, but by centering LGBTQIA+ voices and stories. 
Today, we're honored to hear from seven fabulously skillful makers who specialize in everything from curated vintage jewels and natural curl creams to affirmational art and colorful handmade apparel. Read on to learn about their artistic inspiration, personal triumphs, and how their intersectional identities have influenced their work—then discover more LGBTQIA+-owned businesses to browse, favorite, and buy from again and again, with pride.
Expressions of self-love from Chiommani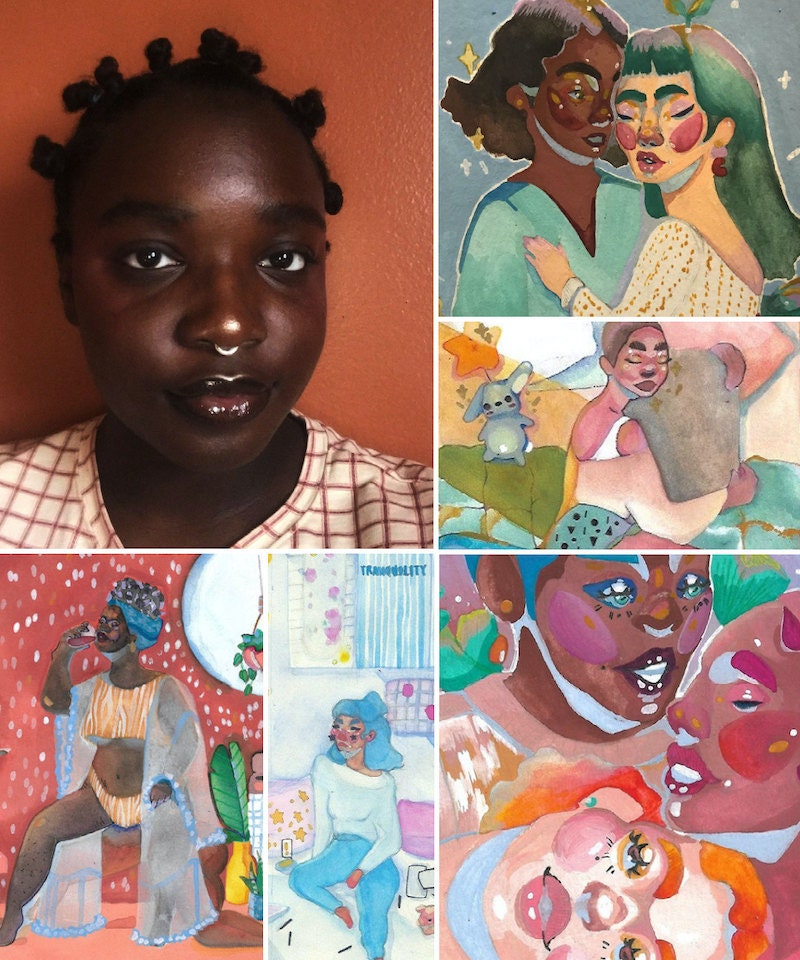 Shop illustrated art prints from Chiommani
Honoring her personhood is at the heart of every piece for artist Chiomma Imani Hall, whose peaceful, painterly prints draw from the intersections of her identity and portray LGBTQIA+ Black women reveling in rest, choosing self-care, and communing with loved ones at pools and picnics. "My work centers Black joy, community, and love," Chiomma says. "I hope that it makes others feel seen, held, and welcome in all their complexities." 
But paving her own way as an illustrator isn't always so easeful. "Externally, I continuously face tokenism, others undervaluing my work, and pressures to produce products like a machine," she explains. "Internally, I've dealt with my mental health, business woes, setting boundaries, and constantly learning what I don't know." To stay grounded, Chiomma has set two key rules for herself: "Don't be the first one to tell yourself 'No', and more recently, 'Do not add to your own oppression.'" It's a personal goal that allies (and accomplices) can support by respecting her space, but also by internalizing her imagery and considering their relationship to Black pain in visual media. "Art activism means creating a moment strong enough to inspire reflection and accountability," she explains. "You do not have to understand to respect, and you do not have to be a part of the narrative to honor its importance."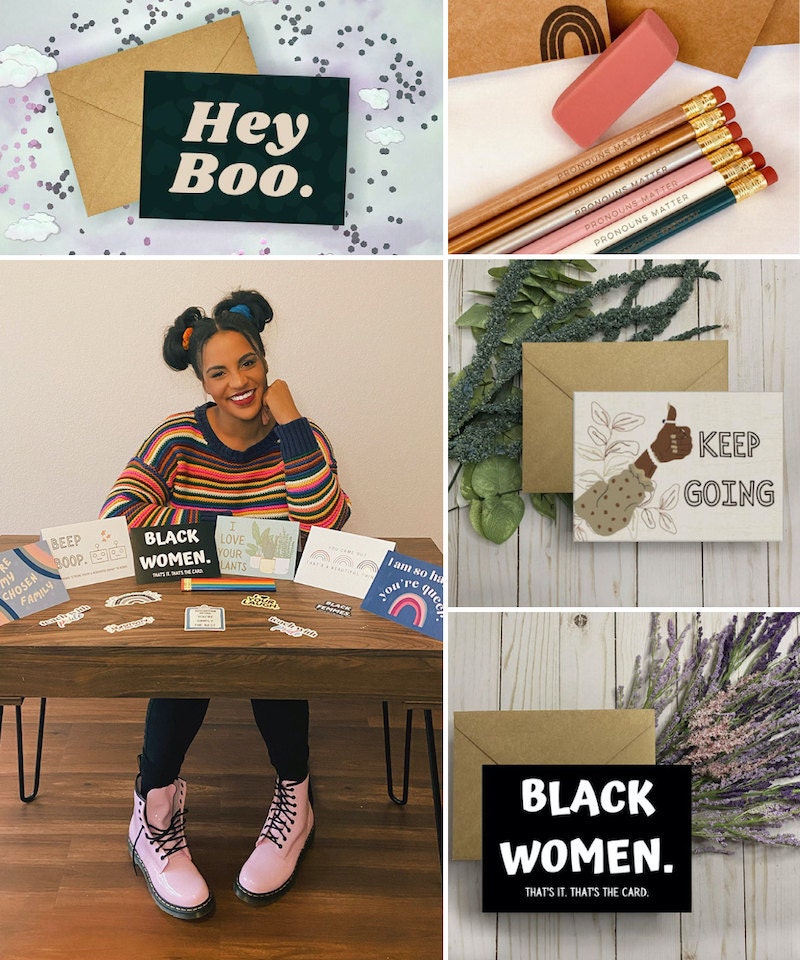 Shop greeting cards and stationery from If Pencils Could Talk
"You are made of good things." "I'm so happy you're queer." "Keep going." Sometimes it can be hard to find the right words to express empathy or solidarity, but luckily for us Tamara Moore is here to help. Her cheerful line of pencils, stickers, and cards are decorated with bold, positive affirmations designed to brighten the day of anyone who could use a little sunshine. "My design inspirations come from a mixture of lived experiences, such as memories from growing up and time I spend with my partner, Shelby." Tamara says. "Some cards and stickers are words I say to myself, others are words I wish I heard from others more often." 
In particular, she hopes her colorful, peppy pencils and paper products will inspire and equip educators to show up for their LGBTQIA+ pupils. "It means so much to me to find ways to support the most at risk young people in the queer community," she explains. "My pencils are declarations of pride, or allyship that humans—specifically teachers—can use in their everyday lives," she adds, noting her series of boldly engraved phrases such as "I support my LGBTQIA+ students," "pronouns matter," and "queer educator." "Meaningful visibility matters so much, especially in classrooms." 
Journals for self-discovery from Sorrel + The Sea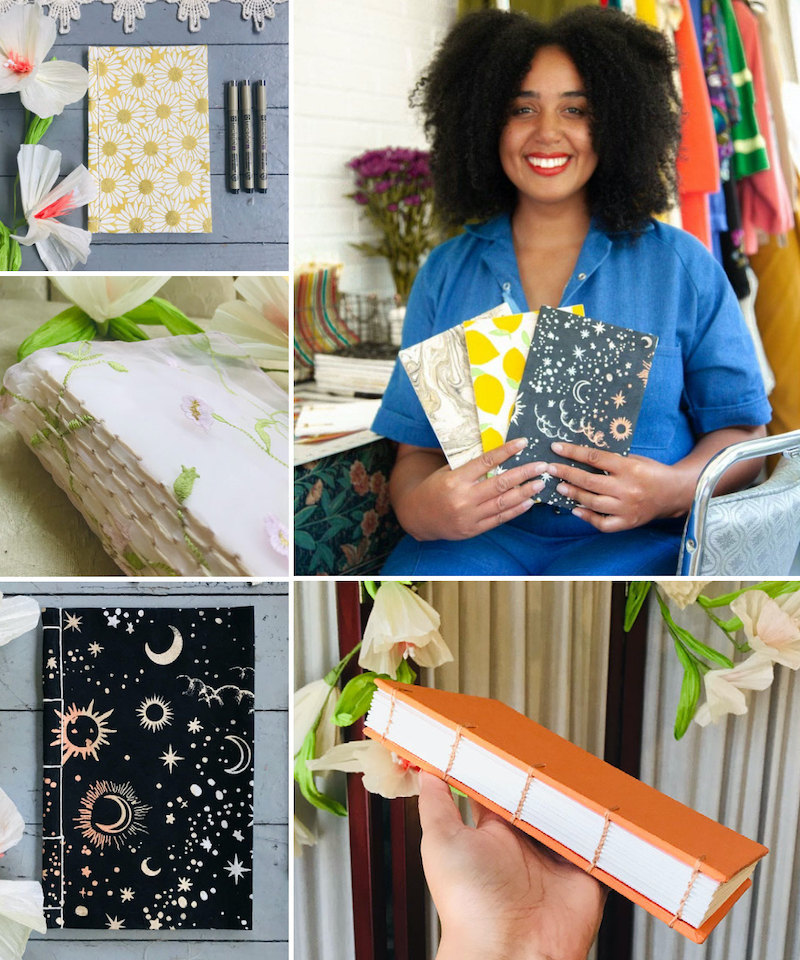 Shop hand-bound journals from Sorrel + The Sea
Bound by hand and cloaked in charming prints (think rows of sunny daisies, patches of plump mushrooms, and swaths of starry skies), Killian Knight's small-batch soft cover journals offer the perfect place for her customers to pour out their hearts and clear their minds. "I've been told that my work sparks joy and spiritual peace, which is honestly more than I ever could have hoped for," Killian says. Inspired by reading Virginia Hamilton's Her Stories as a child, Killian knew she wanted to make art that also encouraged exploration and ownership of our own narratives. "That book set my imagination on fire. Seeing Black mermaids and reading tales of owls with human faces—it was truly surreal," she explains. "I wanted to create not only objects that had their own stories, but objects that could carry stories as well, and build over their lifetimes."
Today, Killian's entrepreneurial example tells an equally important story. "Queer BIPOC need to be protected, especially Black trans women," Killian says. "I hope to use the struggles of my identity as a Black queer femme to shout from the rooftops that we exist. We create. We are living extraordinary lives."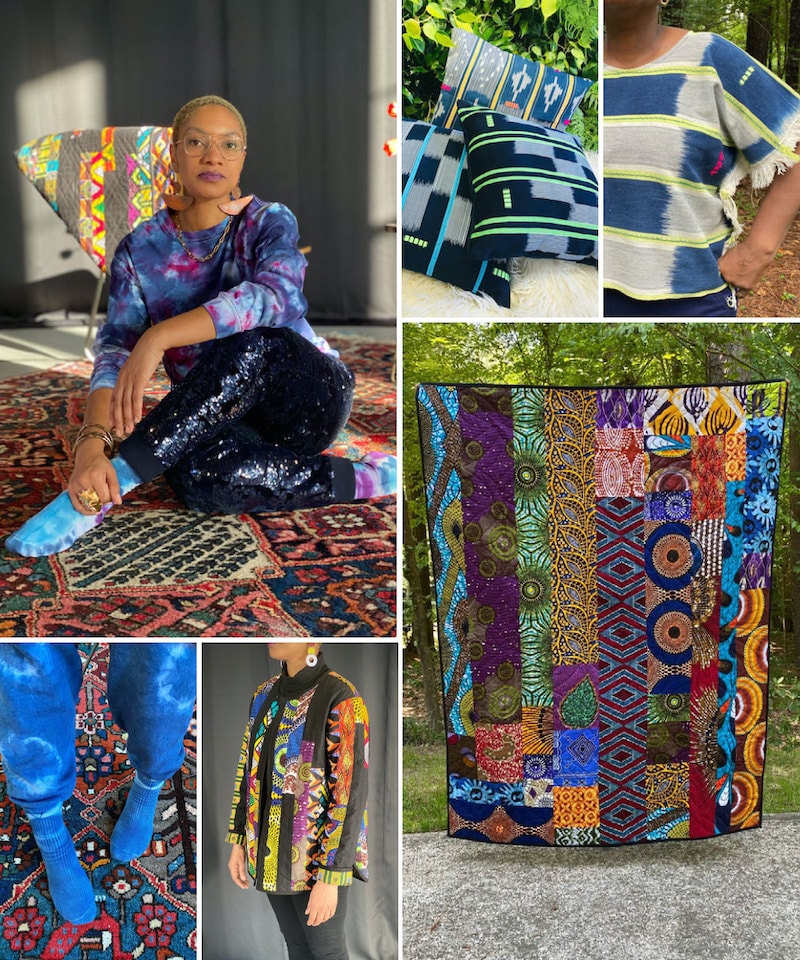 Shop textiles from Show & Tell
It's all about free and easy self-expression for apparel and homewares designer Alyah Baker, whose kaleidoscopic collection of quilted coats, hand-dyed socks and tops, and woven baule pillowcases combine energetic patterns with relaxed, comfortable fits. "I like to think of Show & Tell as joyful, inclusive, and optimistic—like a cool, quirky, and supportive friend," Alyah says. "Our products are fun, bold, often colorful, and always unapologetic." 
But each personality-packed, patchwork piece is also crafted and curated with a set of lofty goals in mind, from celebrating the culture and traditions of Black, LGBTQIA+, and feminist communities, to prioritizing eco-consciousness. "We strive to uplift these communities through our products and business practices," Alyah explains of her commitment to sourcing fabrics from Ghanaian weavers and following the principles of slow fashion. "Our pieces are made with lots of love, and we want the items to be well-loved in return. It's the highest compliment when customers share that the items they have purchased from us have become a cherished part of their wardrobe or life at home."
Vintage and remixed jewels from BLACKFEMME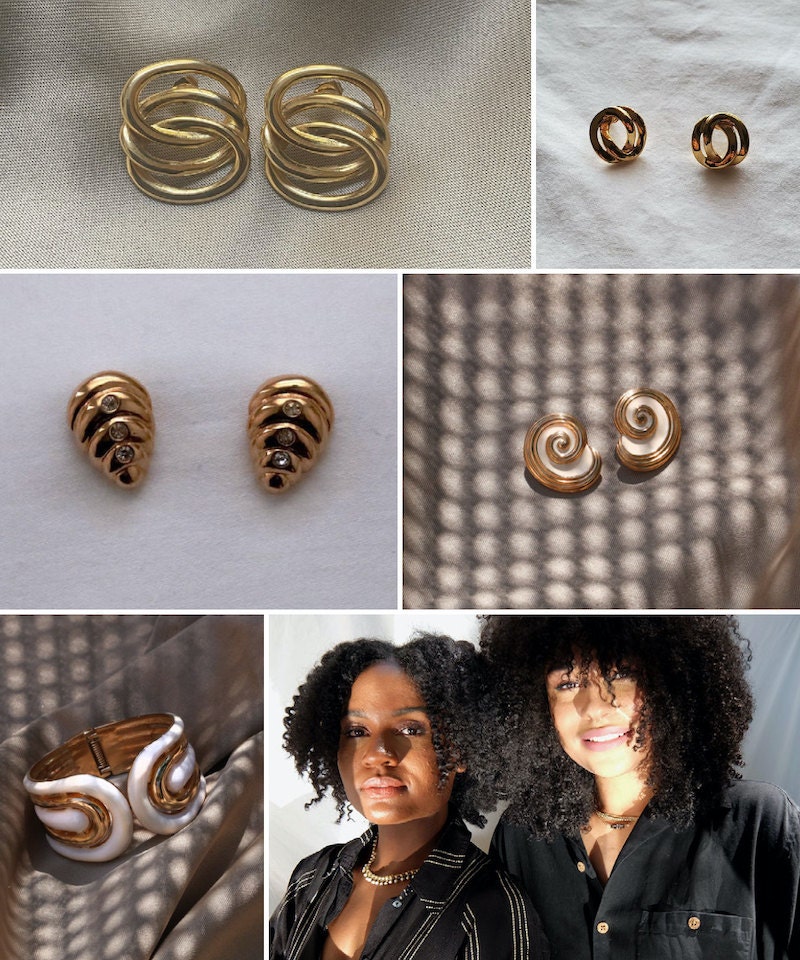 Shop vintage jewelry from BLACKFEMME
Good news for all of us who like to get glammed up: Vintage jewelry buffs Sydney Jackson and Casey Mattis have built a beautiful boutique business out of their shared penchant for sourcing and restoring previously loved pieces. "Our hearts are rooted in uncovering styles of jewelry that aren't available in the mainstream market," the co-curators explain. "Most of the time we find one piece we love and then go look for others from that era that we can give new life to." Released as limited-edition collections of earrings, bangles, and necklaces, each new drop is fashioned around a specific aesthetic—from the formalwear-friendly to the modern and funky fresh. But more than anything, the BLACKFEMME brand is about an overall state of being. "In my mind, it's rooted in an energy that's hard to describe," Sydney says. "It manifests in different ways in different people, but connects many individuals under one umbrella." 
"Agreed," Casey adds. "BLACKFEMME was created to further empower people of color and femme-identifying individuals. By naming our brand something that physically defines us, we're reclaiming society's portrayal of us, fully embracing it, and celebrating the beauty in our identities." 
Playful goth accessories from GRRRL Spells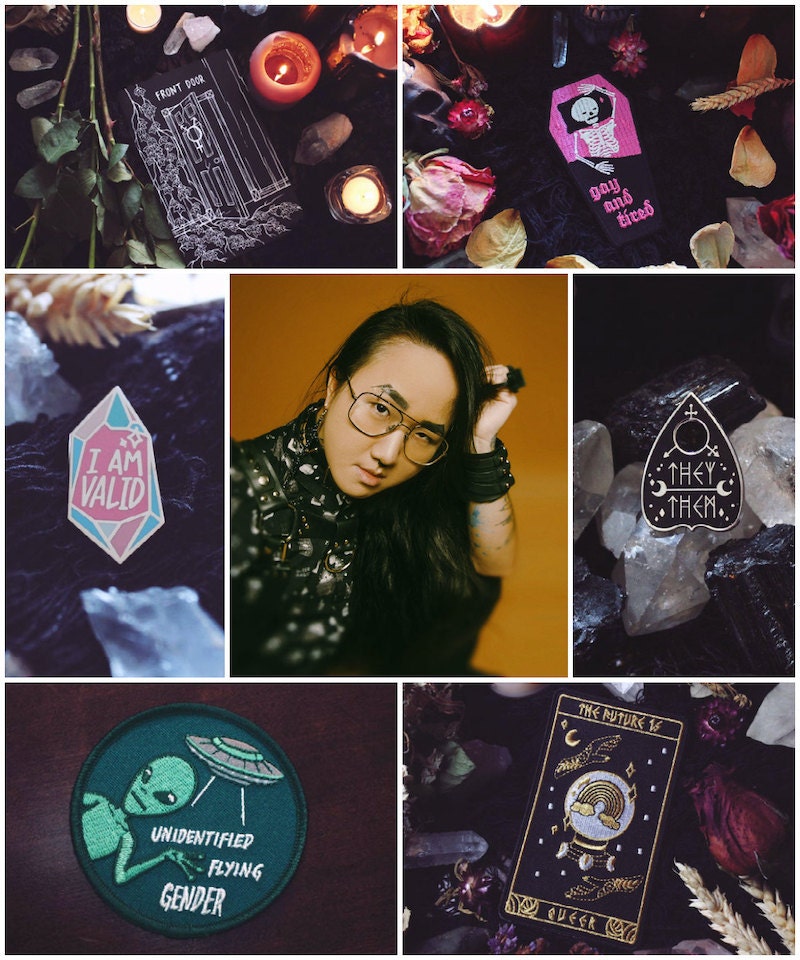 Shop accessories from GRRRL Spells
A spooky skeleton patch that reads "gay and tired." A monochrome rainbow sticker accented with flappy bats. An enamel coffin pin that says "queer vampire." Meet the wearable, scary-cute artworks of accessories designer En Tze Loh. "As a queer person, I found it hard to find things that spoke to both the queer and goth side of me, as most queer-related items were really bright and colorful," they explain. "I started GRRRL Spells to fill in that gap." For En Tze, the end goal is not just to deliver chills and chuckles, but to create treasures for those who don't often see themselves represented. "I hope they'll find my work to be affirming for their identities, and help them be closer to presenting as their authentic selves," they say. It's a mission that has led to some unexpectedly intimate customer interactions. "The reviews and messages I receive from parents buying gifts for their queer child have to be my favorite," En Tze says. "It's just really heartwarming to know that there are great parents out there being really supportive of their queer kids, and seeing kids as young as 10 with my pins is too cute!" 
But perhaps the most memorable reactions En Tze has received thus far have been for their zine, "Front Door." "I wrote it as a love letter to trans and non-binary folks, so that they could have something that was affirming and uplifting to read," they say. "Getting messages from readers saying that it touched them has been really amazing to hear, and will always be dear to my heart."
Care for natural hair from Project Qurls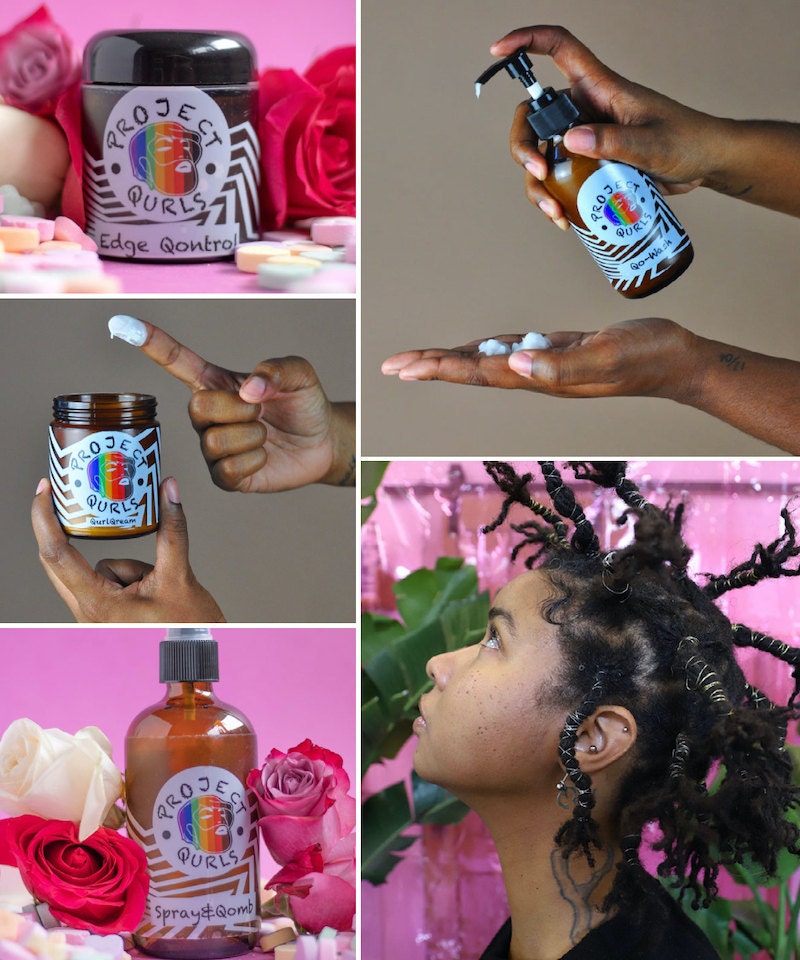 Shop hair care products from Project Qurls
"As a Black trans hairstylist, I am looking to decolonize the hair industry," says Madin Lopez, founder and executive director of ProjectQ salon and community center in Los Angeles. "Our main focus is giving free hair services, food, and self-empowerment tools to the homeless, and housing insecure queer youth of color." After beginning their career doing lab research in the industry, it became clear to Madin that curly hair and Black hair are overlooked by mainstream product lines. "This was no new trial for us; it has always been clear that our intersecting identities have made it hard to find a place in the world," Madin says. "So we made our own space, and hair product to go with it!" Today, Madin produces their own line of curl creams and cleansers, detangling sprays and pomades that work with your curl instead of against it. "Simply honoring our natural texture has become a political act," they explain. "Figure that, not having to change ourselves to fit into the world, but changing the world to fit us." 
And while they know that a hair product alone won't end homelessness, hunger, or bigotry, Madin still takes pride in using their skills to support their community. "Through this simple act, we hope that our customers will think about their own ability to create change in their immediate environment with their own talents," they explain. "When we use everything in our arsenal to create change in the world, we can then enact the systemic alterations that need to be made to create the kind of future that we want to see."