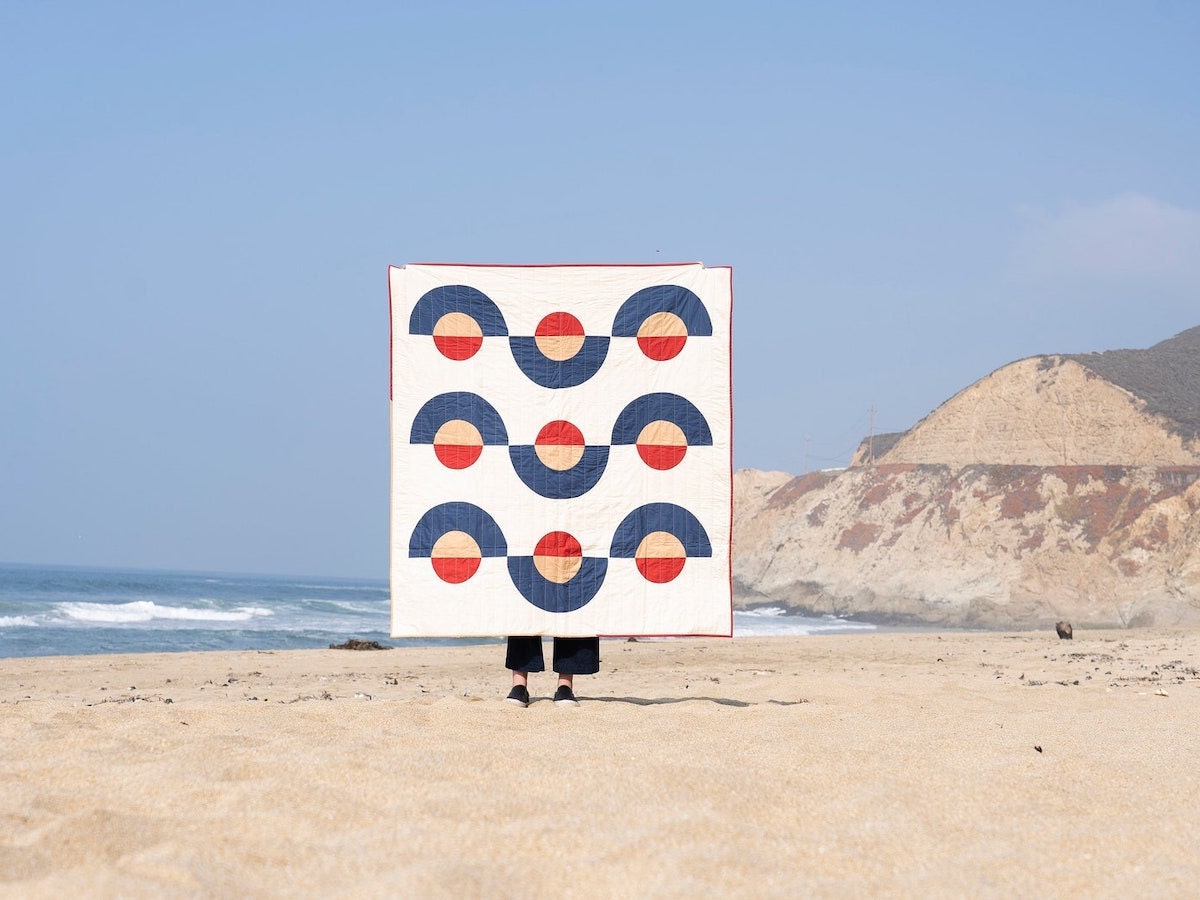 Looking for a new hobby that's both super-creative and ultra-useful—especially as cold weather sets in? Quilting is a classic crafting home run: engrossing, rewarding, and a labor of love with a practical, functional output. To help you get started, we've combed through the offerings on Etsy to find our favorite quilt patterns (both digital and paper), along with a few fully outfitted kits.
Whether you're a quilting connoisseur or a total newbie, you'll find the perfect inspiration for your next quilting project here. These 28 ideas offer something for everyone, from modern quilt designs and chic wall decor to snuggly baby blankets and upcycling ideas for the fabric scraps left over from all from your other DIY obsessions.
14 modern quilt patterns and kits
A one-stop quilting shop (in a kit) 
This fully stocked, beginner-friendly quilting kit is designed to ease first-timers into textile art with a pattern and access to video tutorials—plus a selection of four exclusive, hand-printed fabrics. 
An earthy endeavor
Customize this multi-hued quilt pattern, a riff on a rugged mountain landscape, for any bed size from twin to king. 
A tapestry with sunset vibes
With its simple yet striking geometric design, this quilt pattern, developed in collaboration with watercolor artist Carrie Chan, is ideal for lovers of minimalism. 
A striped stunner
This elegant, easy quilt pattern looks more difficult than it is; keep the colorway ombré or mix it up with a high-contrast palette.
A tribute to textures
Mixing a variety of textured fabrics in an array of complementary colors, this well-equipped quilt kit celebrates understatement and gentle whimsy.
A quilt pattern to take you onwards and upwards
A stacked arrow motif creates a versatile and effortlessly modern quilt pattern. Pro tip: Search the hashtag #upwardsquilt on Instagram to see which colors other quilters have used with this pattern. 
Ocean vibes, this way
Quilter Laura Preston takes inspiration for her designs from the land-, sea-, and cityscapes she encounters on her travels; this rippling, symmetrical style is based on the Atlantic Ocean.
A pattern that pops
Clean and minimalist, this display-worthy, two-hued piece is defined by its chic simplicity. Pro tip: This quilt uses strip piecing—if you haven't tried it before, you'll love how much time it saves. 
An abstract accent
This beginner-level quilt reads as more advanced, thanks to the powerful graphic effect of its gradually increasing block sizes.
A marine dream quilt pattern
Ride the wave of the quilting craze with this nautical-inspired pattern, which uses a repeating quilt block technique suited to intermediate quilters.
A bold blast from the past
With a far-out mid-century design, this downloadable retro quilt pattern is appropriate for beginners, and includes a variety of colorway suggestions to get you in the creative groove.
A color-splashed coverlet
Whip up a rainbow-bright throw with this quick-start kit, which includes all the fabric and backing needed to craft this prismatic piece.
A surefire hit at the baby shower
With fabrics, backing, binding, and a pattern all tucked inside, this quilt kit has everything you need to welcome a newborn in sophisticated style.
A patchwork masterpiece
Create a dazzling tapestry with this beginner-friendly quilt pattern, which also happens to be a brilliant way to repurpose leftover jelly roll fabric strips. 
6 country-style quilts and classic patterns 
A recycled denim delight
Upcycle your old jeans and jorts with a beginner-friendly denim quilt pattern PDF—or customize the design with alternating fabrics for a tailor-made color and textile combo. Pro tip: Using denim means this quilt will be super-durable—consider using it as a picnic blanket, too! 
A seafarer's spread
You'll practice your appliqué skills with this with charming, seascape-themed project, a paper quilt pattern that's shore to please (wink).
A bold, buffalo-check beauty
Suitable for sewers of varied skill levels, this quintessential quilt kit comes with top fabric and binding for a handsome, large-scale buffalo check blanket. 
An energetic arrangement
This 82½-inch-by-82½-inch patchwork blanket pattern alternates wide solid spacer blocks with busier cross-hatched blocks for an overall effect that's both playful and bold.
A dreamy design
This queen-size quilt pattern airs out classic starflower blocks with plenty of open, solid space for a relaxed, fresh look.
A posy of pretty poppies
Turn your favorite nook into a garden oasis with this vibrant floral throw, a project best suited for intermediate-level quilters.
7 beyond-the-blanket ideas
The wall quilt of our PSL dreams
Amp up the autumnal energy with this perky, pumpkin-themed mini-quilt pattern, perfect to hang up on the wall, decorate a tablescape, or brighten up your bedspread for the season.
A bundle of joy for baby
Light up a nursery for a new arrival with a charming quilted cat pillow (or two—this pattern contains instructions for making both a Mama and a Baby Kitty size).
A patchwork pillow pattern
Adapted from traditional Romanian needlework designs, this intricate pattern can be fashioned into a pillow or seat cover, or pieced together with others to create a stunning quilt.
A one-of-a-kind ottoman
With three possible designs for the top and a bounty of options for customizing the sides and trim, no two poufs stitched from this upcycling-friendly pattern will be the same.
A stylish quilted satchel
Pick your favorite fabrics to create a fashion-forward pouch—use it as a crossbody, a clutch, or a makeup bag, all with this versatile PDF pattern.
Welcoming wall art
Master the art of the 60-degree angle with this highly customizable display quilt, with instructions for creating 12 variations on the geometric theme. Pro tip: Try this as a table runner or banner-style wall hanging. 
The cutest coat
Stitch together some spare blocks from a previous project (or craft some custom ones from a favorite quilt design) and use this pattern to assemble the ultimate cozy layering piece.
Featured quilt at top: Glow throw quilt pattern from Missy Mack Creations, $7.50
Plus: