by Tess Duncan
A donkey mask made—and rejected—for a theater production led to a lightbulb moment that changed everything for this Austrian architect.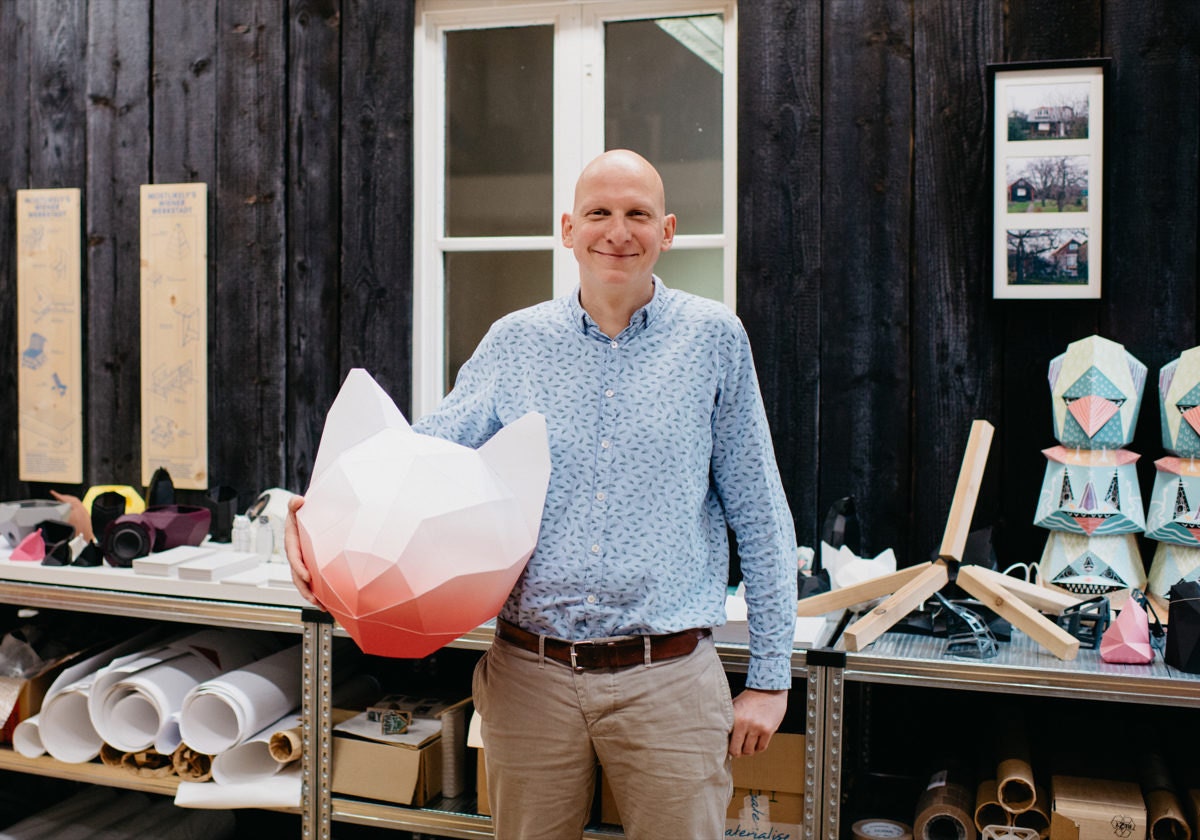 Before
MOSTLIKELY
's geometric paper lampshades became bestsellers, they were rejects. A theater had hired Wolfgang List and Maik Perfahl, members of an architecture collective in Vienna, Austria, to make a donkey mask for a play. But the client wasn't happy with their design of interlocking white paper cut-outs, so the mask sat untouched in their office for months. One day, Wolfgang got a bright idea: If he poked a hole and inserted a light bulb, he could transform the mask into a lampshade. This fresh take on the abandoned project would ultimately lead Wolfgang to pursue his true calling as an entrepreneur. During meetings at their architecture office, other clients loved the sleek, modern lampshade and asked if they could buy it. A friend even presented it on their behalf at his trade show booth in Paris, where it won the 2012 newcomer prize. After seeing the success of their reimagined design, Wolfgang and Maik knew they needed to take action. They started selling the lampshades as DIY kits. Wolfgang and Maik opened their Etsy shop MOSTLIKELY in the summer of 2012, gradually investing more and more time in it. Around Christmas that year, a popular paper product blog featured MOSTLIKELY and they received more than 100 orders in one week. By the following year, Wolfgang left his position at the architecture firm and made the Etsy shop his full-time job. Maik remained at the firm but also works with Wolfgang to design products, take product photos, and handle production partnerships. They've now sold more than 1,250 items from their Etsy shop. The duo is constantly cooking up new ways to enhance the shop. Recently they've been working with manufacturers to expand the product line and selling wholesale to shops all over Europe. They've established solid working relationships with production partners to create porcelain figurines and 3D-printed jewelry of MOSTLIKELY's creatures. They also 3D-print some products, including penguin figurines and speaker cases, with their in-house 3D printer. Recently,
Seller Handbook
editor Tess Duncan chatted with Wolfgang about how he navigates growing the business and tackles challenges along the way.
"I always wanted to study economics, but that's what my brother did and I didn't want to compete with him," says Wolfgang, who studied architecture in college.
You now make lampshades in several different animal shapes. How did you develop these designs?
We wanted to make all the animals, but in the end it wasn't a cost-effective project. It takes quite a long time to design one lampshade. Once we had about six different styles—penguin, owl, cat, fox, donkey, rabbit—we found it was enough for most people to find the animal they were looking for in these shapes. It's a simple design, so you can say the donkey perhaps is a dog or the fox is a wolf or maybe the cat could be a bear. A lot of people buy our product as a present, and they want to buy something that's simple. People think, "This person has a cat so I'll give them this as a present." The simplicity was what was good in the design.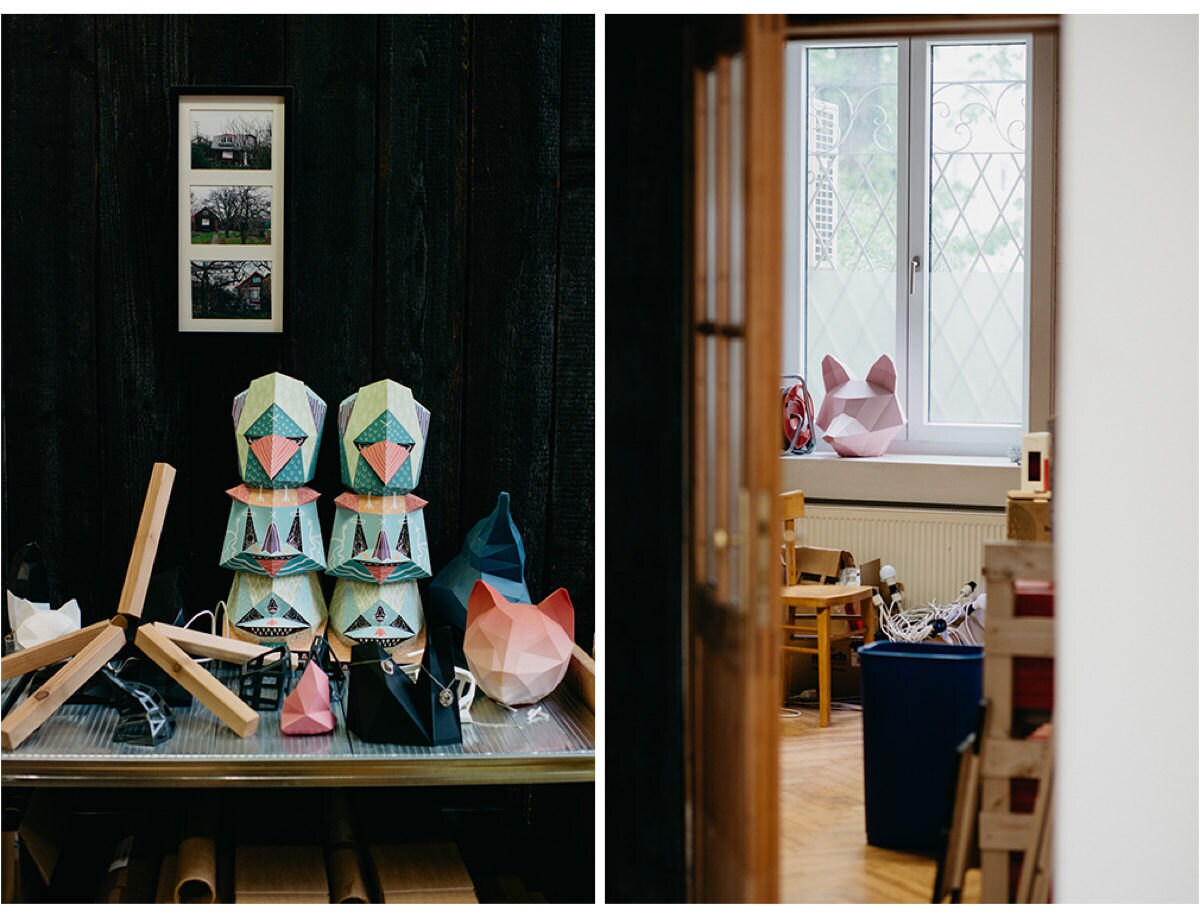 MOSTLIKELY's lampshades are low polygon mesh designs. A polygon mesh in 3D printing is a grouping of flat faces and sharp edges that make up a solid 3D object. These designs are described as "low" because they have a low number of polygons that make up the object.
Your business grew out of a design that was originally unsuccessful. How have you continued to turn mistakes into assets?
After a year of selling we wanted to try something different, so we made lampshades in a new style. It was another white animal—a bird—but the style was a bit rougher. It was a complete flop and nobody bought it. Since they weren't selling, we took them out of our shop. We reached out to an artist named Boicut, who painted designs on the bird lampshades. These painted ones are selling better because a lot of people know this artist. Plus, since these DIY lampshades arrive as a print, you could use it as a poster because it's very colorful.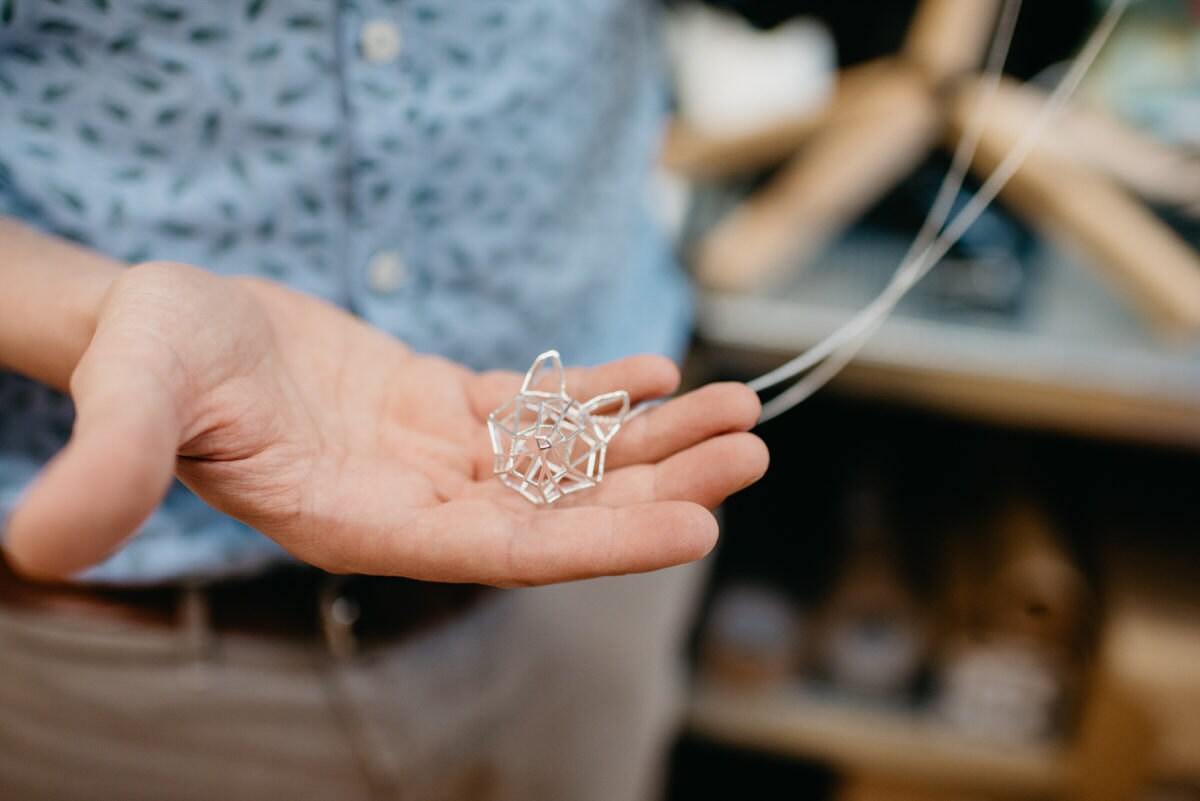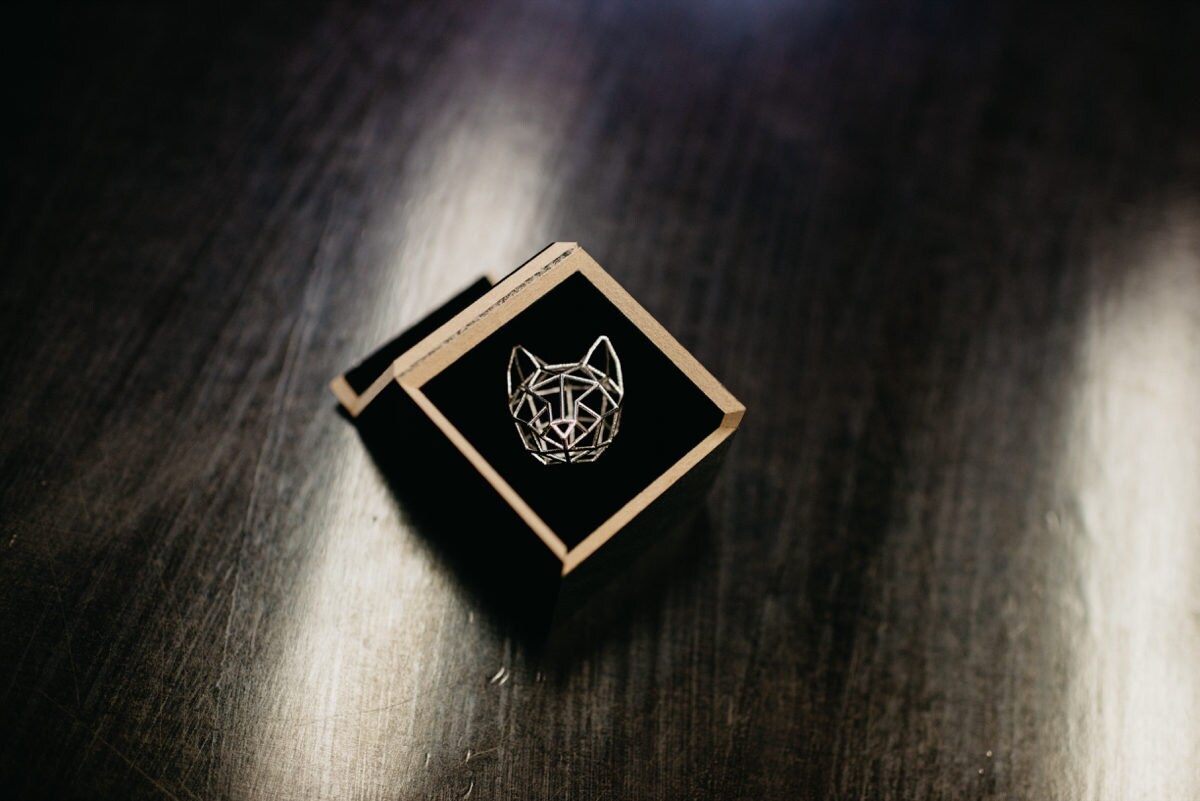 Wolfgang reimagined the fox lampshade design as a wire-framed silver necklace.
When expanding into new product lines, like jewelry and porcelain, what's your approach?
Once we knew that people liked the lamp design, we wanted to make it out of a different material. Design is not only about how something looks, it's about the material, size, and function. The problem is 3D printing can be very expensive. For example, in the beginning
the silver necklace
was solid so we had to remove some material to make it financially profitable. Since we aim to produce affordable products and prefer to work with local production partners, we had to make some adjustments. We took into account the cost of working with the partner, and determined that the lowest price we could sell it for would be around €100. With this in mind, we designed the necklace smaller and smaller. Then we made it only a wire frame, which reduced the material so it became less expensive to produce.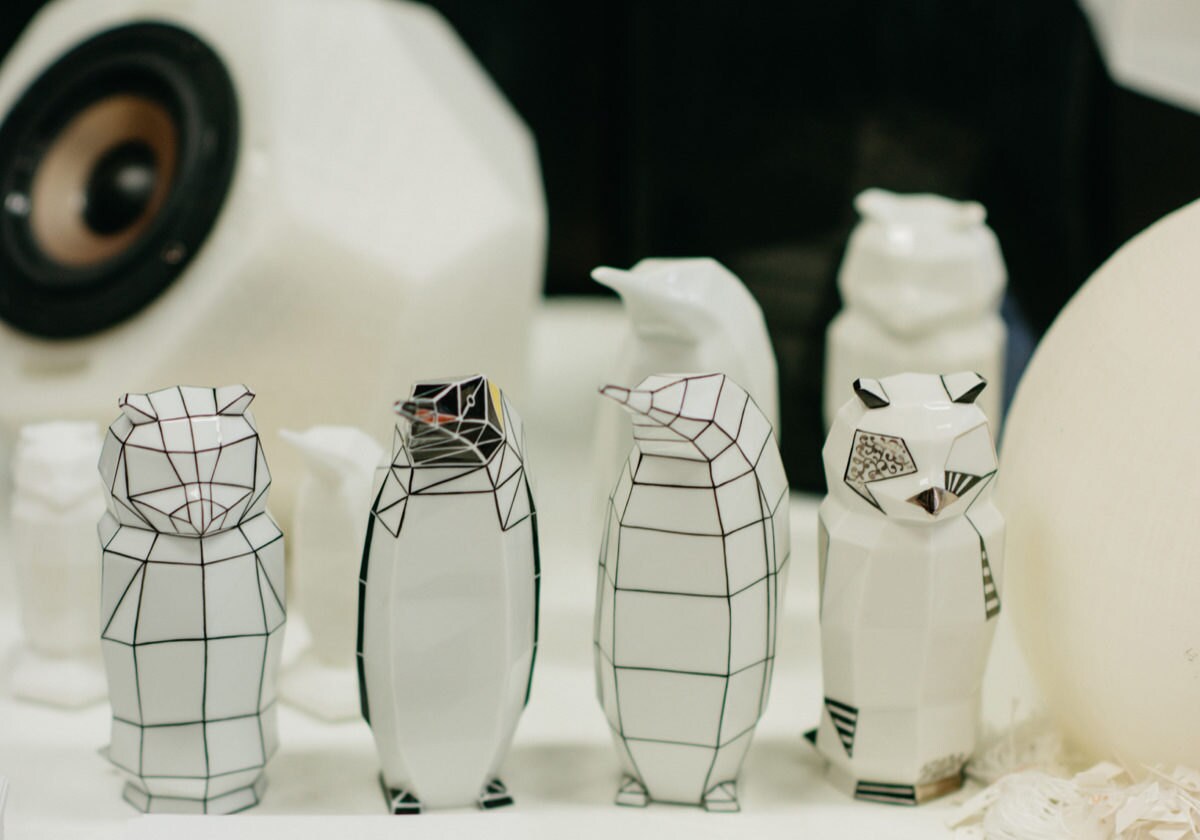 Wolfgang and Maik highly value supporting local businesses, so they partnered with a 300-year-old Viennese company called Augarten Porcelain to make their ceramic figurines.
How do you manage your inventory?
We order in small amounts and print the lampshades only as orders come in. We have no products in stock, but we have the raw materials. One person orders a donkey lampshade and then we print it. This saves us money and we can be more flexible. Otherwise we have money that's just lying around until it's sold. When we first started, we learned the companies that delivered the raw material for our product don't always have the materials we need in stock. When we sold more and more, they sold out of what we needed. Half of our sales are made before Christmas so we always have to tell them in the summer that we'll be ordering these raw materials. It's very important to stay in contact with the producers.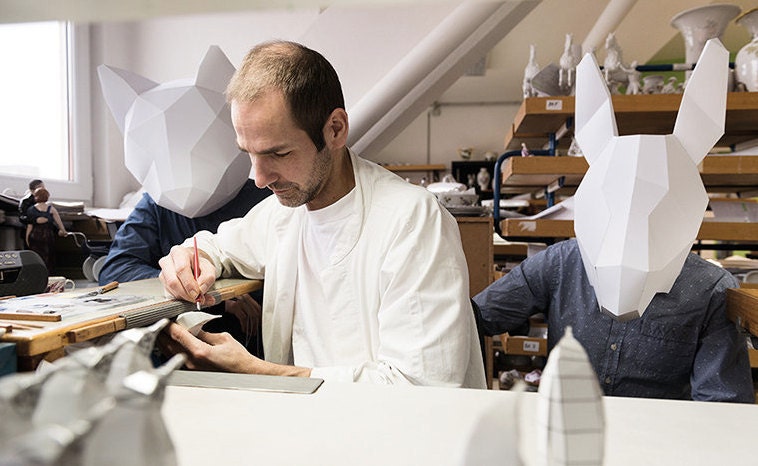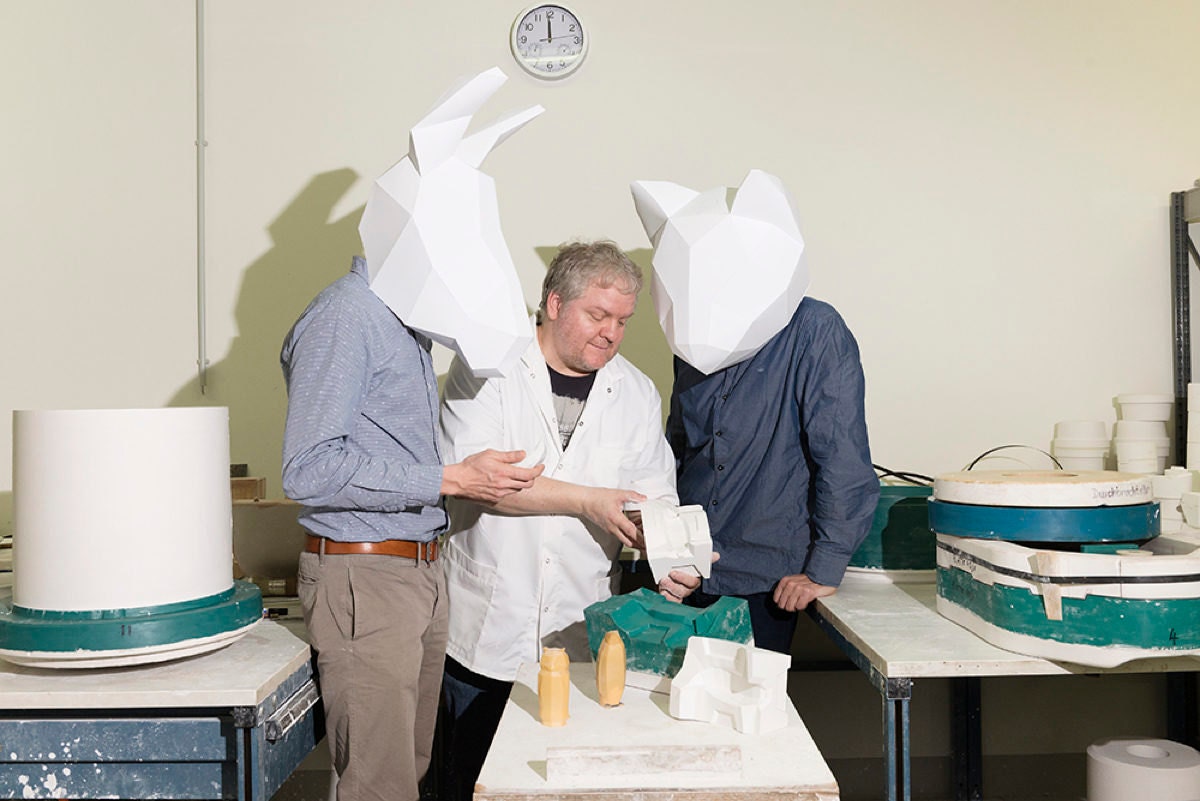 Wearing their lamps as masks during photo shoots started out as a joke at MOSTLIKELY, but eventually it became a kind of trademark for the shop. Here they visit their production partner Augarten Porcelain to discuss product design. Photos by Arnold Pöschl.
Tell us about your collaborations with production partners.
With i.materialise, we print our
3D necklaces
simply by ordering them online from their website. It's an easy way to produce for us because we don't have to order in bulk. We can order just one piece and the price is no different. Augarten Porcelain produces our
porcelain figurines
, but they also sell them on their website because they're quite expensive to produce. We designed the models and have a contract with them, so we get a percentage of their sale price. If we want to sell it, we buy it from them and resell it. When we collaborated with speaker manufacturer Mo Sound to create a case for their
speakers
, we produced them with the 3D printer in our office. We split the profit, half and half. When we sell the speakers we pay them their portion, and when they sell the speakers they pay us ours.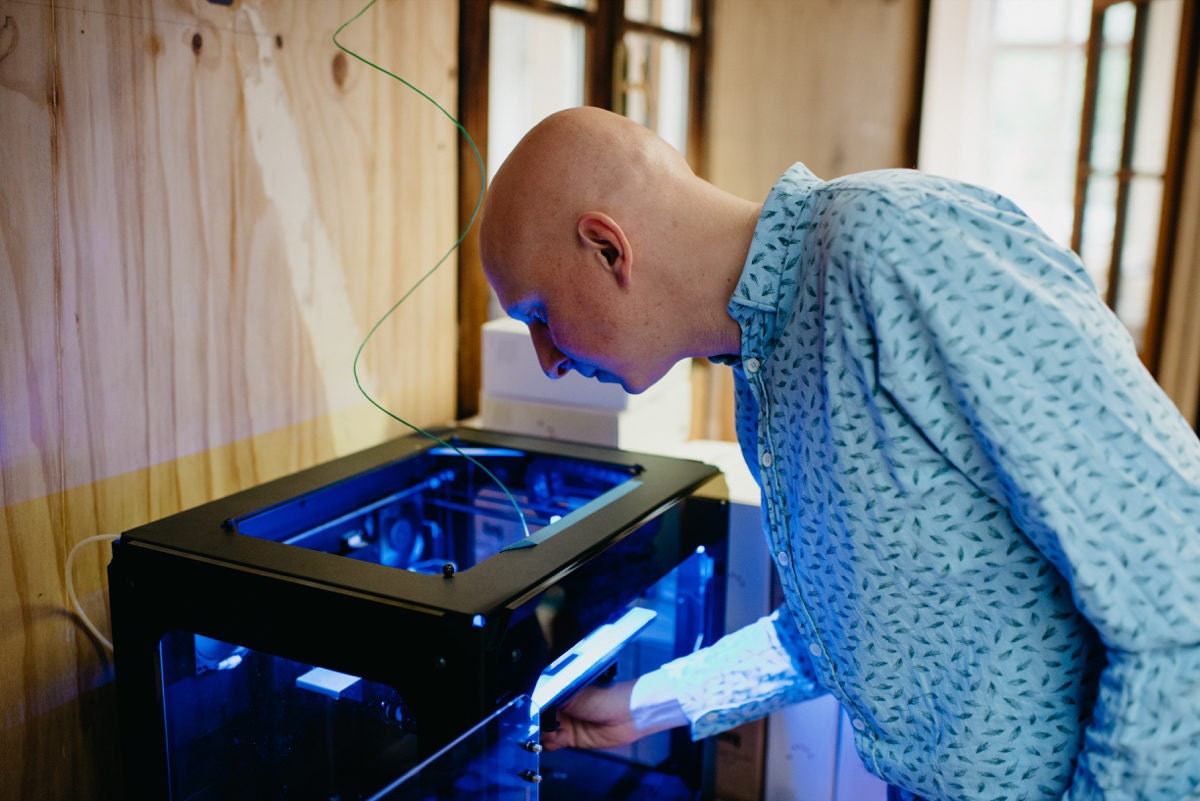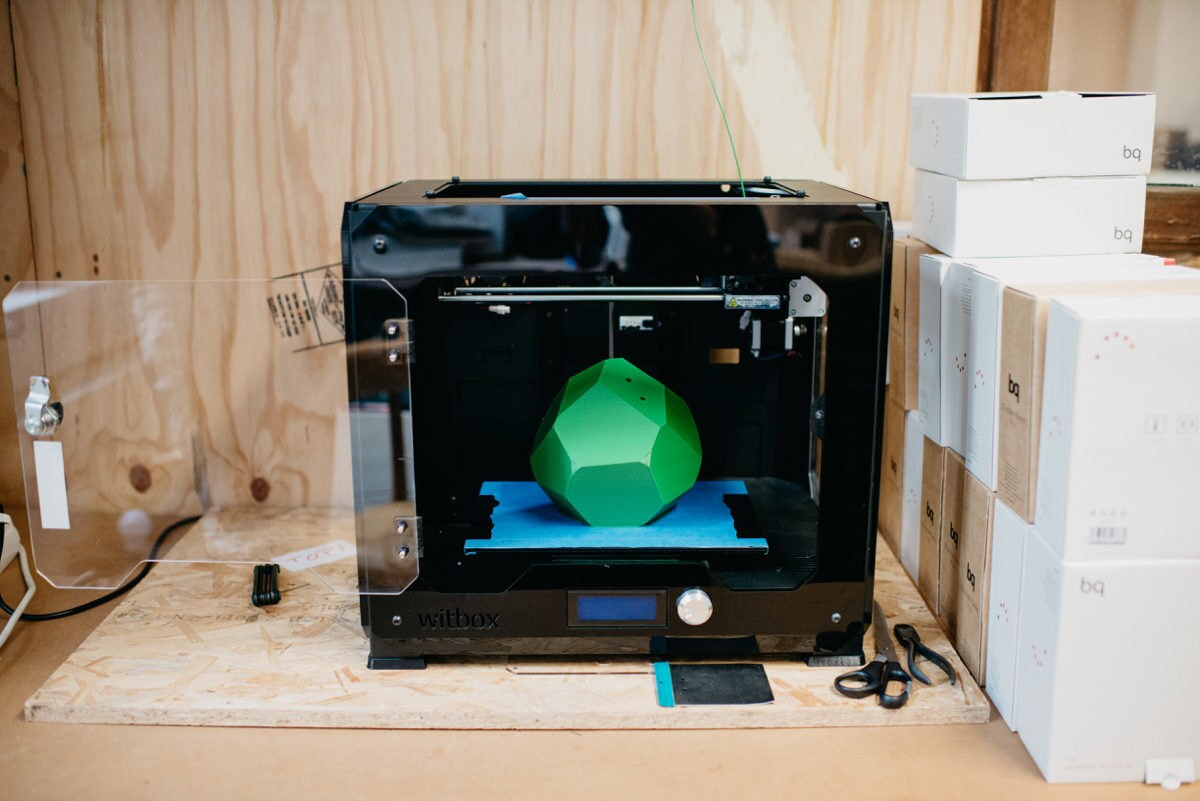 It takes about eight hours to print a small penguin figurine with MOSTLIKELY's 3D printer. A speaker case for their partner Mo Sound, however, takes about 20 hours to complete.
What have you learned since switching career paths?
Designing architecture is very interesting but when it comes to building, it gets complicated and it's a very hard job. I was always very interested in the economics part, which is what I really liked more than doing architecture. I like to develop business strategies and concepts, like how to present, price, and develop it. With the lampshades, I saw the potential and thought, "This could really be something I can live off of." I had no problem with leaving behind architecture projects so I could start this business. I just learned by doing. Of course, it was also complicated but it's easier to learn quickly when it's something you love to do.
Photos by Saskia Stolzlechner unless otherwise noted. To see Wolfgang and Maik's current collection, check out MOSTLIKELY. To nominate your shop for the Quit Your Day Job series, fill out the Seller Handbook pitch form.
Want to start your own Etsy shop? Explore the Seller Handbook for advice and inspirational stories like this one.