After years of long distance, this couple had the laidback, donut-filled wedding of their dreams—just four years after technically tying the knot.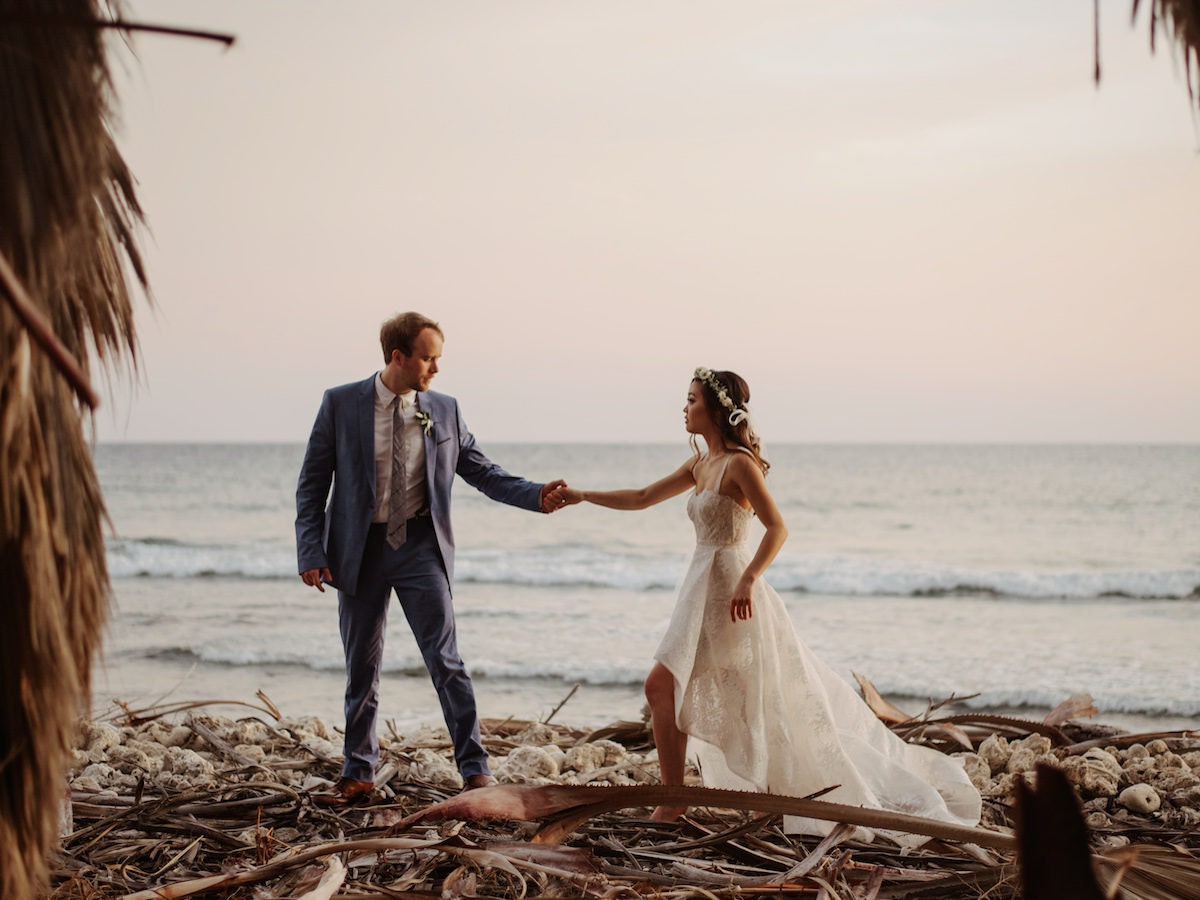 In the Real Weddings series, we share stories of recently wed couples who used Etsy to source items for their celebration, and learn more about how they planned the day they said, "I do."
In fairytales and paperback romance novels the order is always the same: First comes love, followed by a beautiful (if slightly over-the-top)
wedding
, and then, barring any major plot twists, years and years of contented wedded bliss. It's sequential and predictable—everyone lives happily ever after. But New York–based couple Mina Okamura Cavanaugh and Brady Cavanaugh were never much for convention, so it was only fitting that their romance followed a trajectory all its own. And when it came time to plan their big day, they did things a little differently—for starters, they were technically already married. Mina and Brady met their sophomore year of college in Madison, Wisconsin, at a dorm party hosted by a mutual friend. They began dating, and when Mina landed a job in Tokyo after graduation, Brady followed her back to her native Japan. But Mina was promptly transferred to the countryside, leaving Brady behind in the city where he'd landed a teaching job. The irony was thick: "We moved to Japan so that we could stay together, but we ended up doing long distance within Japan," says Mina. After a year, Brady resolved to head back to the States—but before he left, the duo decided to get married. "We knew that we wanted to, we just weren't sure how it was going to happen," says Mina. "The timing was weird, but we just decided, why not?" Another year of long-distance romance and visa paperwork passed before they saw each other again, but in 2014, Mina joined Brady back in the US, and the couple moved to New York together for a fresh start. After settling in and securing jobs, they turned their attention to the unfinished business at hand: "I said, 'I think we can finally start planning our wedding!' Even though it had been years since we actually got married on paper, it was at the top of our to-do list." This past April, they finally checked it off, tying the knot in Maui in front of 40 family and friends—just four years after technically becoming man and wife.
Read on for more on the story behind the long-awaited celebration, to discover the bride's must-have wedding dessert, and to shop the couple's favorite Etsy finds.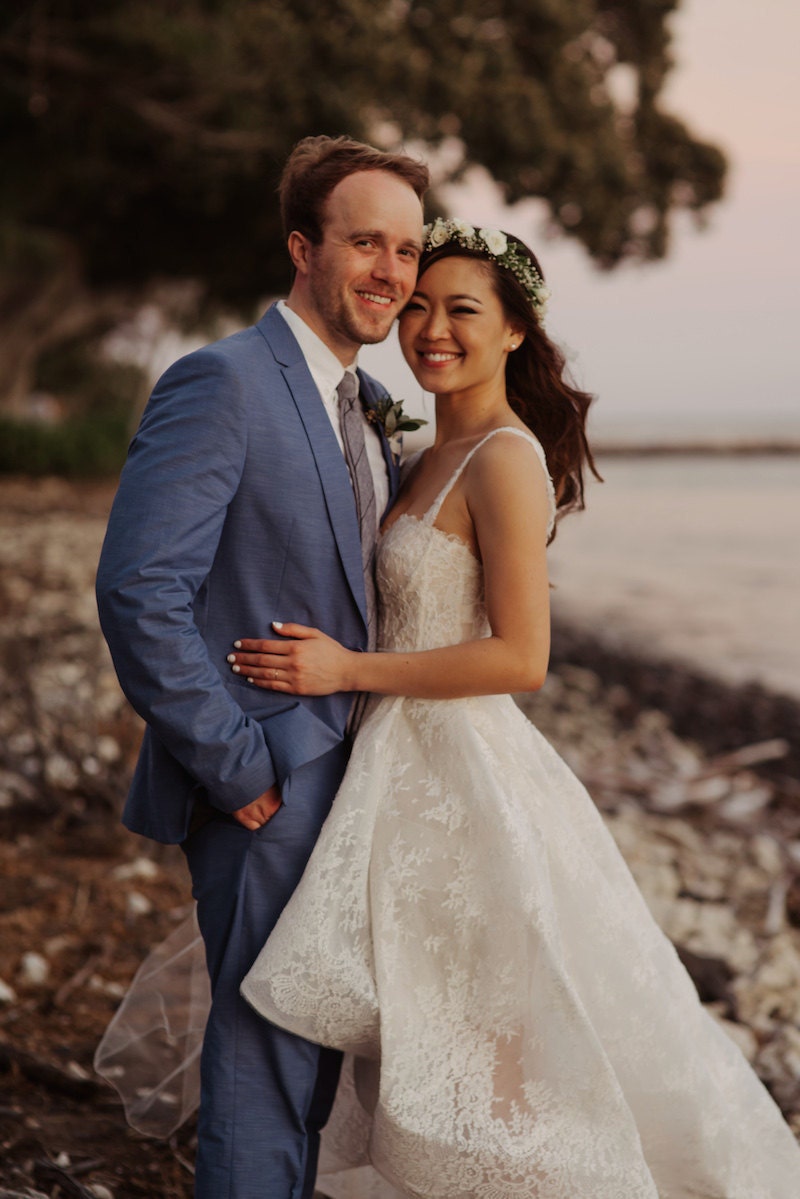 So, you were already married by the time of your wedding, but it still all began with a proposal. How did you and Brady get engaged?
It was 2012, and we'd traveled from Japan to Wisconsin for Christmas break. On Christmas Eve, we were in this little town called Cedarburg where there's a really cute candy store. It's my favorite, because they have these caramel-covered apples that I love; I always make sure to go and get myself an apple every time we're in town. Brady never asks me to go—I always have to beg him to take me—but on this day he was like, "Do you want to drive over to the candy store?" So we drove there, and he offered to pay for the apple, which also never happens. He was taking forever to pay, and he was packing it in a box. I was like, "I'm just going to eat it, you don't have to make it look nice." But he did it anyway, and I was getting grumpy. When we finally went outside, it was snowing and so cold. I just wanted to get in the car and head home, but there's a bridge nearby that goes over a little river, and Brady was like, "Let's go over there and eat the apple." Of course I'm thinking, "Why would we do that? It's freezing." But he insisted, so we went over to the bridge, and when I opened the box, there was a white ribbon attached to the apple stick, and the
ring
was tied onto it. By the time I saw the ring, Brady was down on his knee asking me to marry him. I cried—I always cry. When we got back to the parking lot, his sisters and parents were there and his mother was bawling her eyes out. They all knew that it was going to happen that day. Then, after we got back to Japan, we went to a ward office in Tokyo to officially get married, and my parents were there to witness it. I cried again when we handed in our papers. Five months later, Brady moved back to the States.
How did you decide to have the wedding in Hawaii?
Brady and I both hate being the center of the attention, so initially our plan was to have a very, very small wedding—just immediate family—and we wanted to do it in Iceland. We found this cute little church in the middle of nowhere, and were in the process of finalizing the details when I casually brought it up with my family. My parents were not happy—it would take them more than 24 hours to get there from Japan. So, sadly, we had to cancel and start over again. We decided we wanted to have the wedding somewhere that wasn't too hard for people to get to. Wisconsin was so far away for my family, and we didn't want to do it in Japan, so Hawaii felt sort of like a middle point. My parents were happy about it because it's not too far from Japan, and Brady's parents wouldn't have to travel abroad to go to the wedding, so it was a good compromise. We decided on Maui because it's not too crowded with tourists. I wanted the ceremony to happen near the ocean, but not directly on the beach, and the
Olowalu Plantation House
was perfect for that.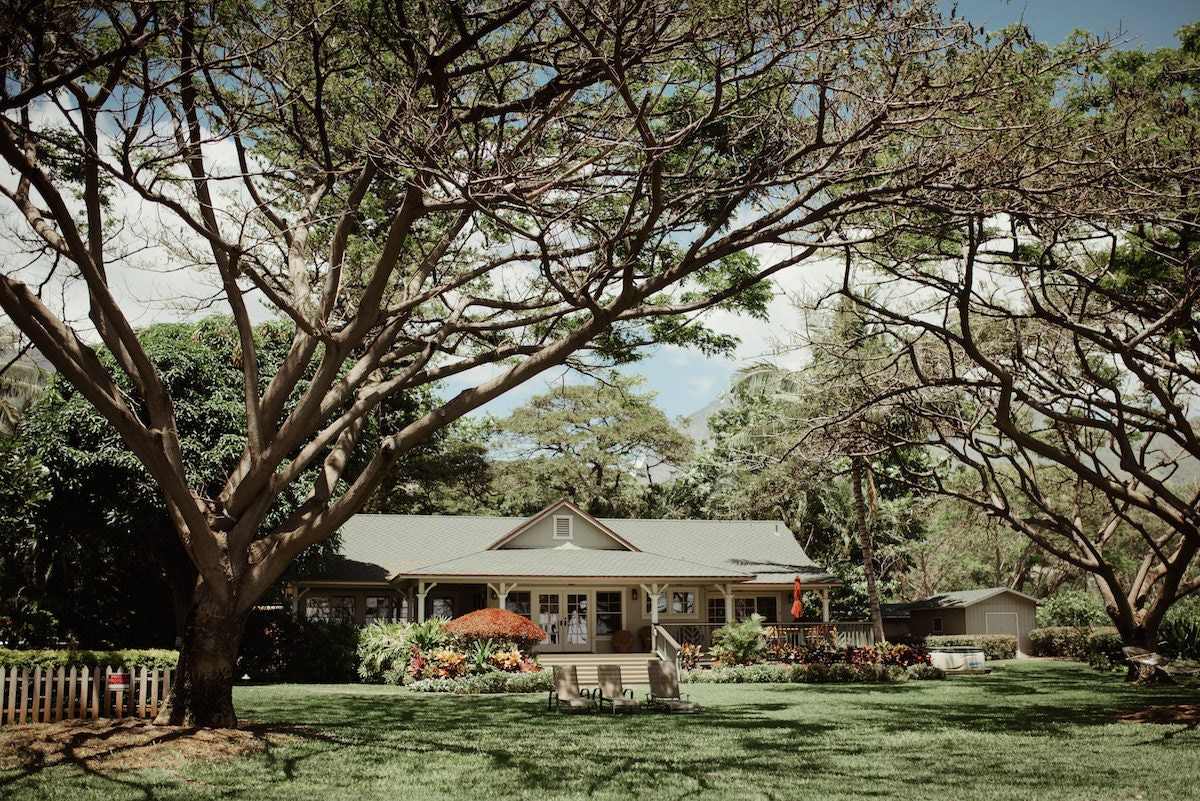 For their venue, Mina and Brady chose Maui's
Olowalu Plantation House
, which provided the perfect beachside setting.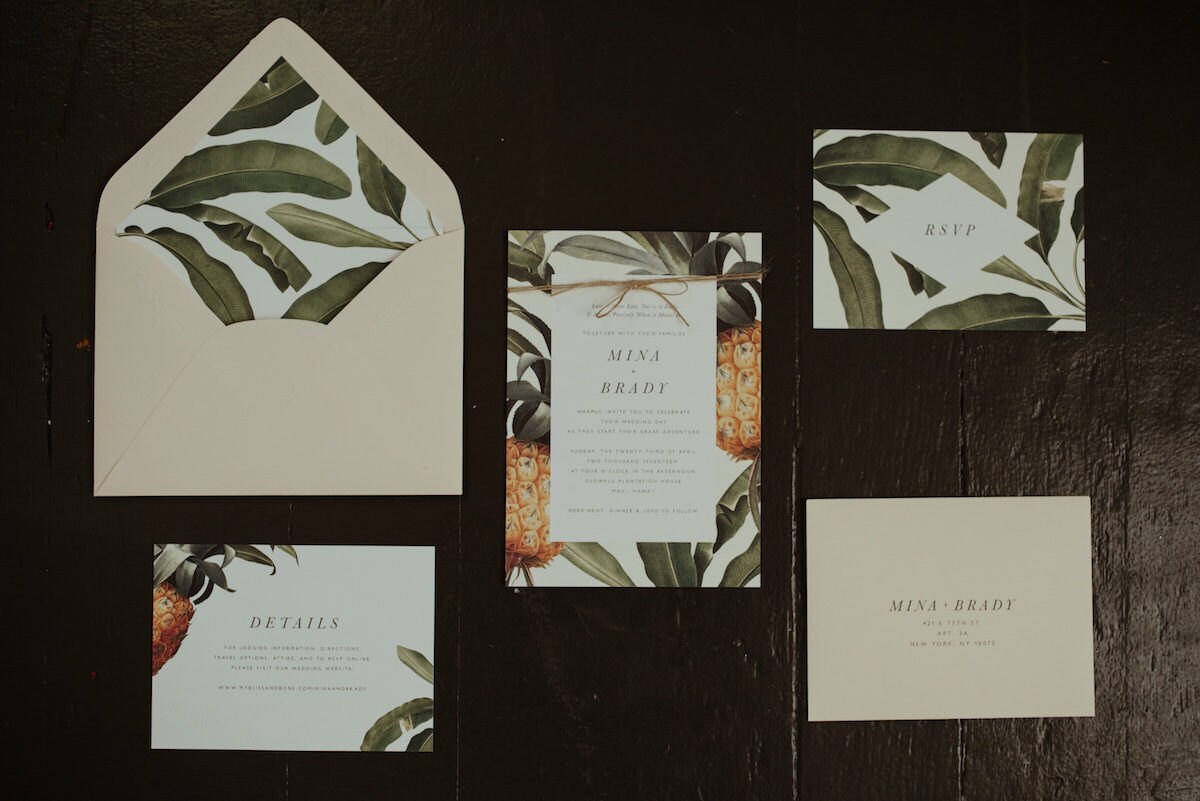 The couple selected tropical invitations from Etsy seller
Rachel Marvin Creative
.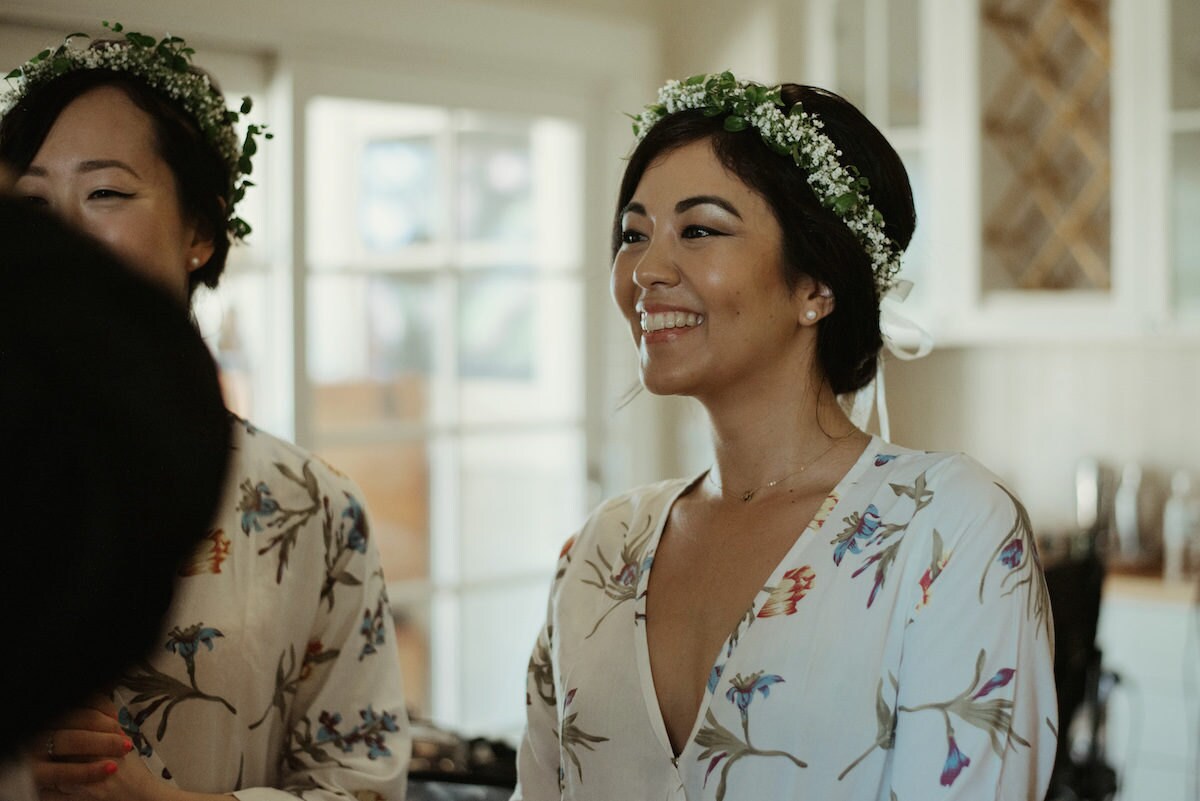 Mina and her bridesmaids got ready in style, thanks to matching
floral rompers
from Etsy.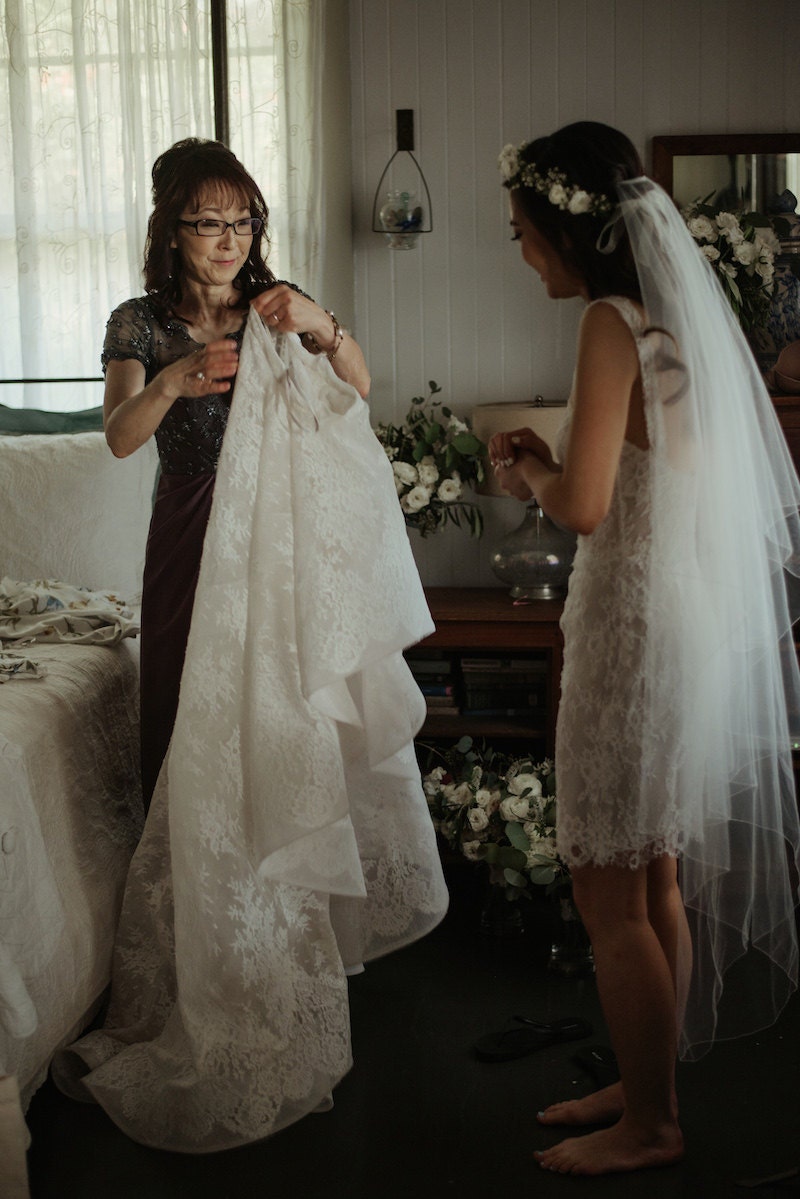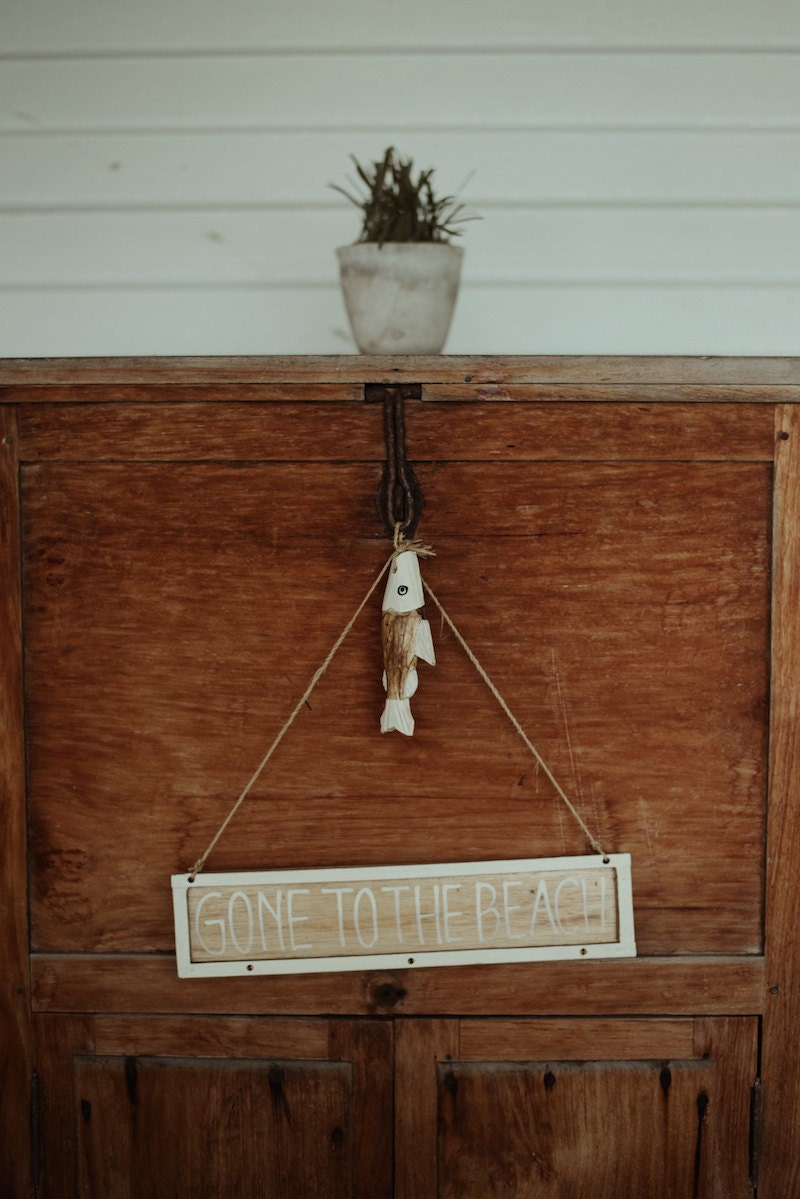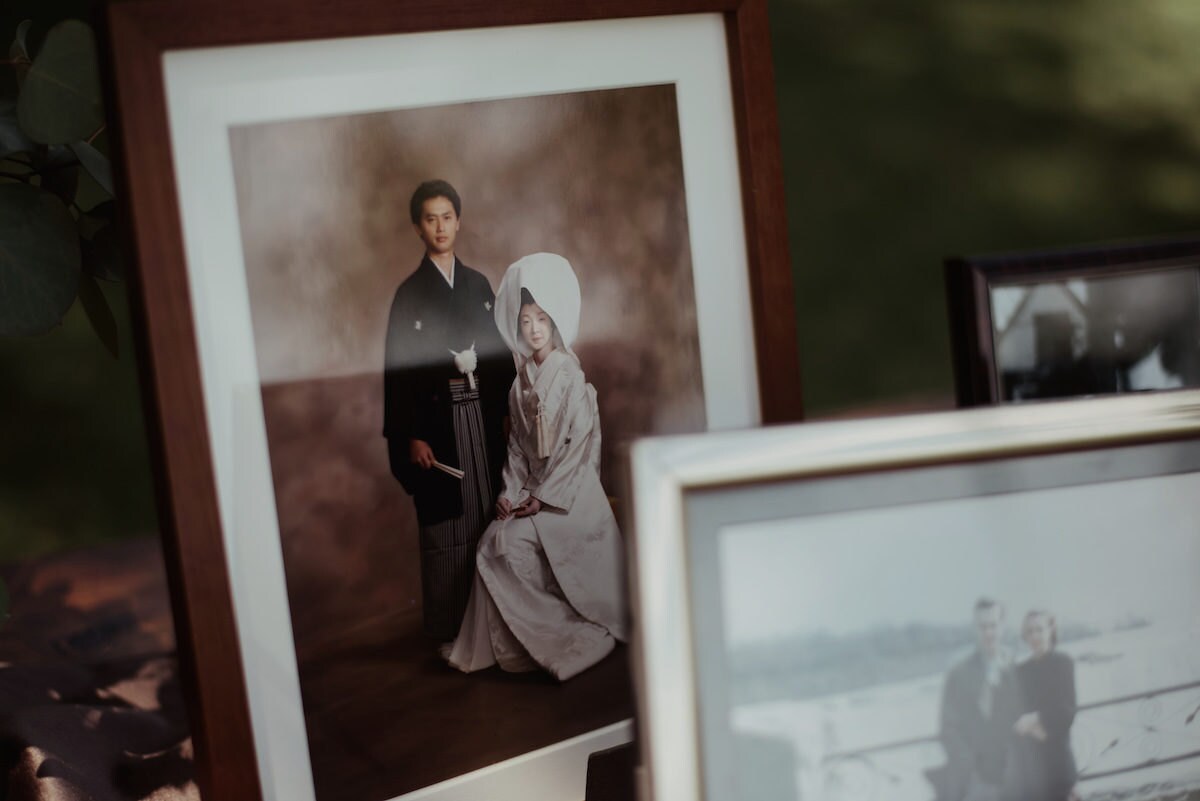 What was your vision for the big day?
Even though it was going to be in Hawaii, I wasn't into the idea of having a super
beachy wedding
. I wanted to make sure that it wasn't going to be Hawaiian-themed—I wanted it to be more subtle. We didn't have any bright colors in our wedding; the venue was already beautiful enough. We wanted a lot of greenery, a lot of plants, and white flowers. Just a very natural look. I wanted it to feel timeless.
What was your approach to wedding planning?
I was sort of everywhere when it came to planning. The very first thing I found was the venue—before I even found my wedding planner, I had already contacted the venue and signed a contract. Right after the venue came the photographer. I'm very into photography myself, so I wanted to make sure my
favorite wedding photographer
could document our wedding. Neither Brady nor I had ever been to Maui, so from there we decided to find a wedding planner. We did a lot of research and found
Opihi Love
. She helped us plan the whole wedding.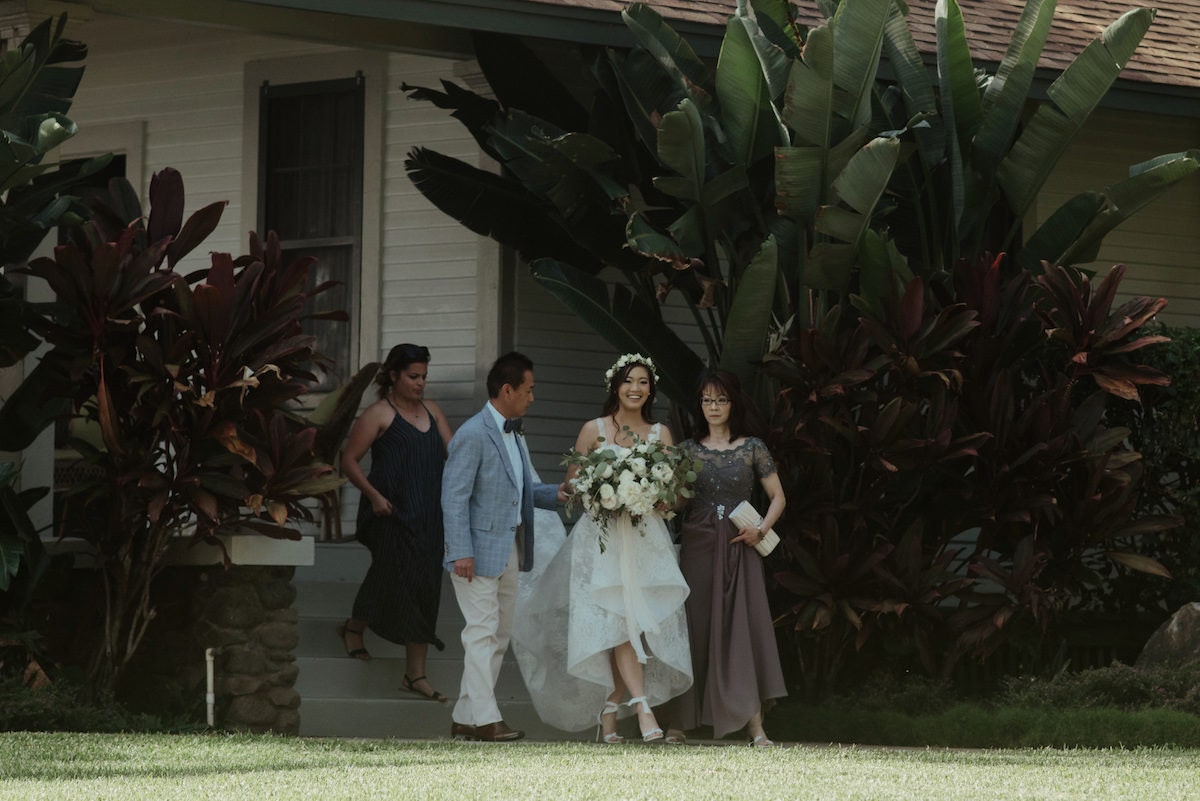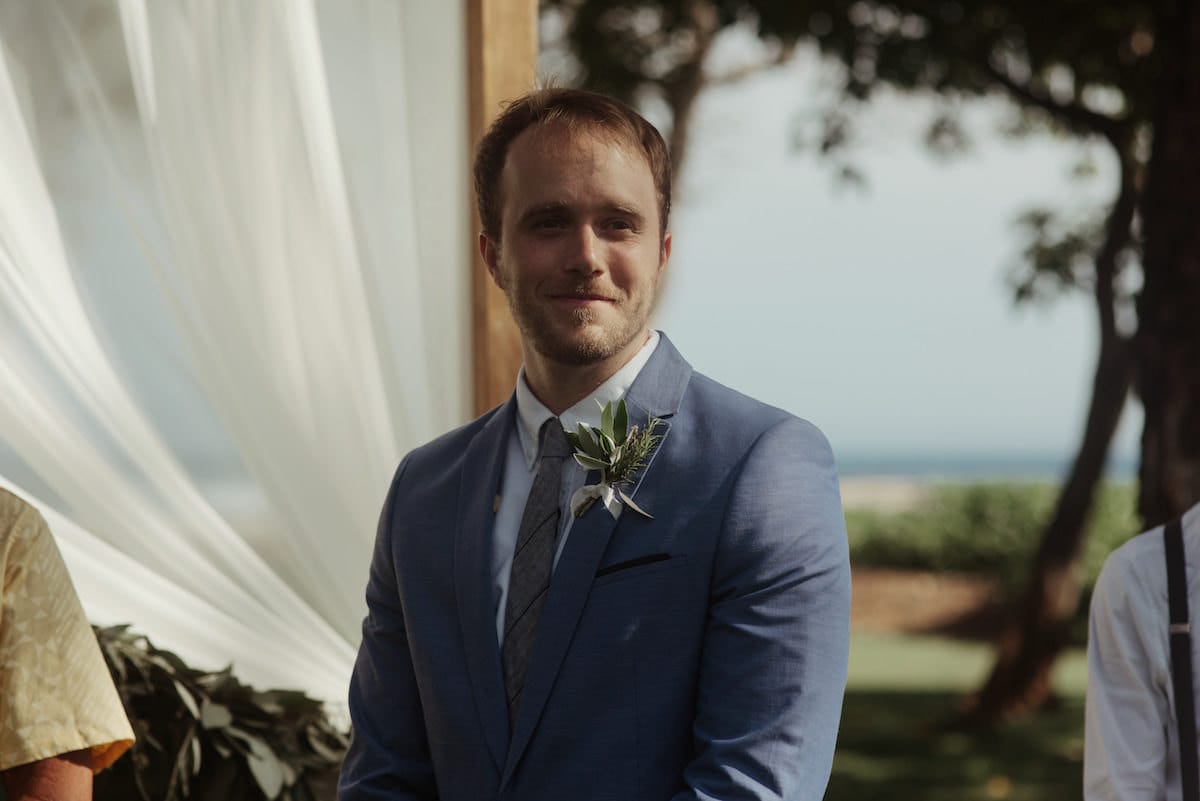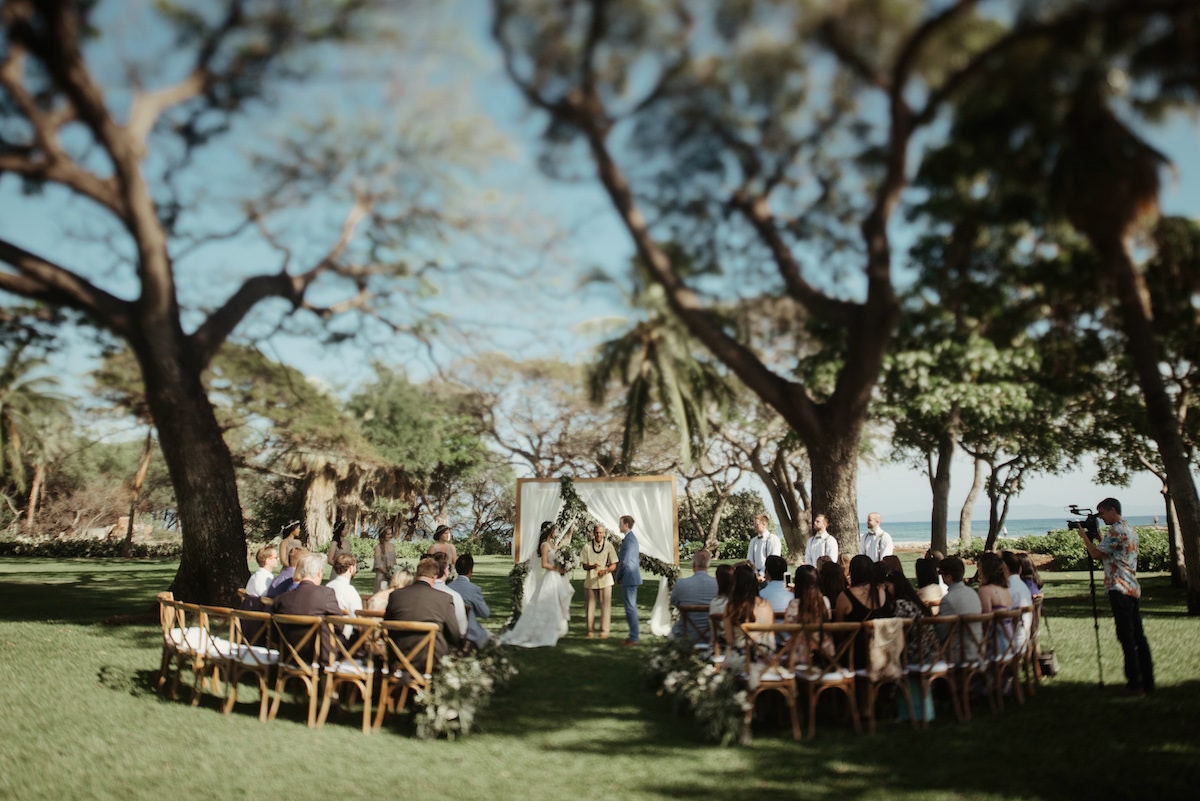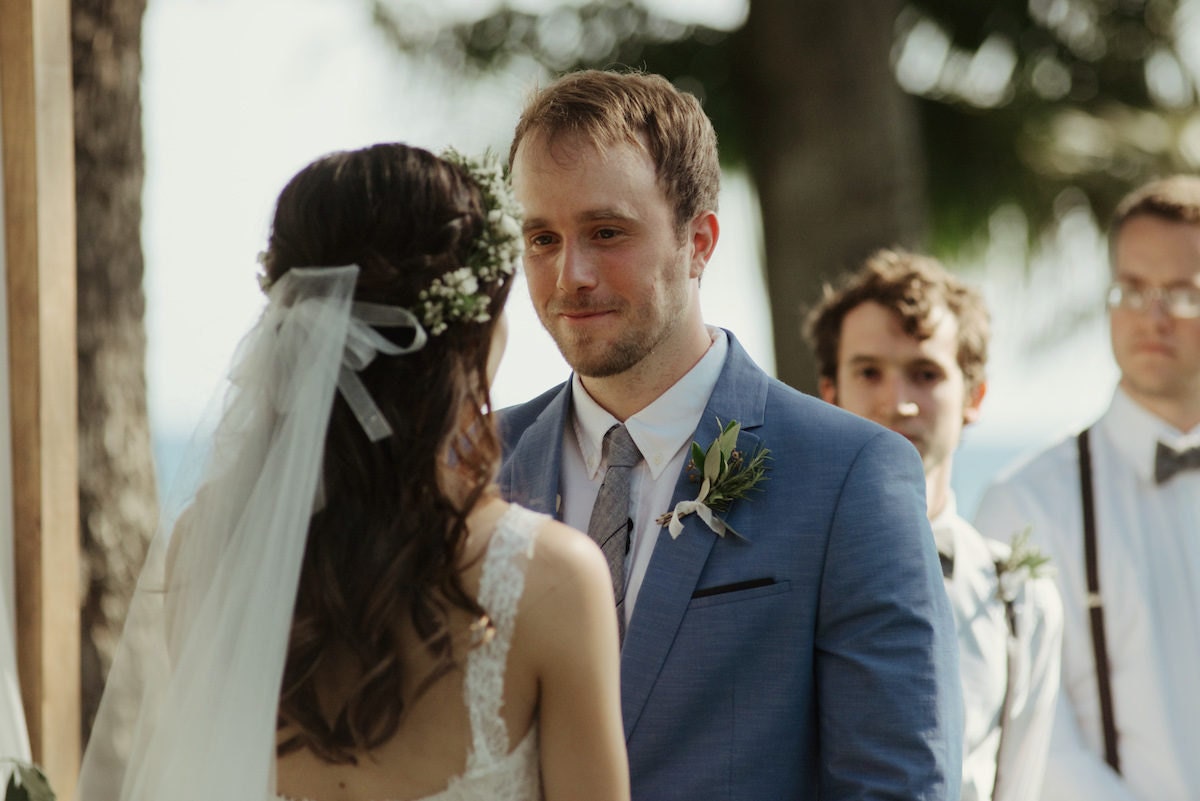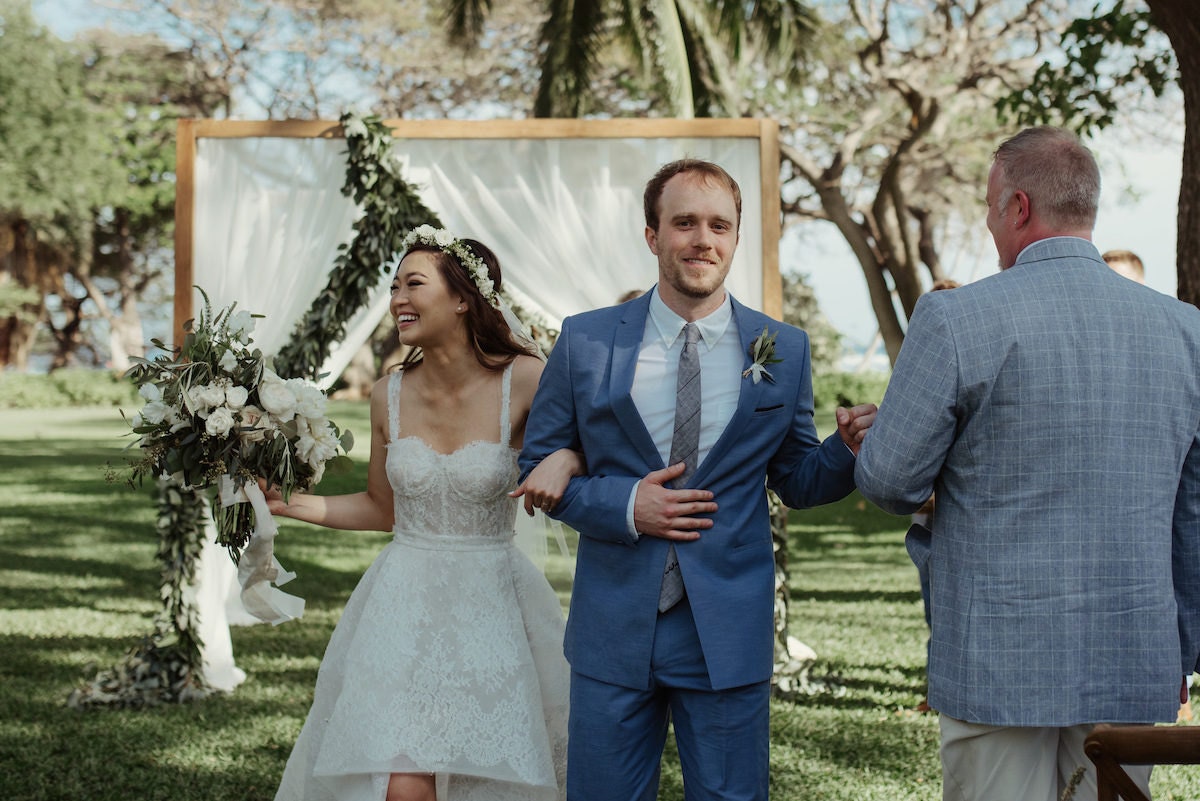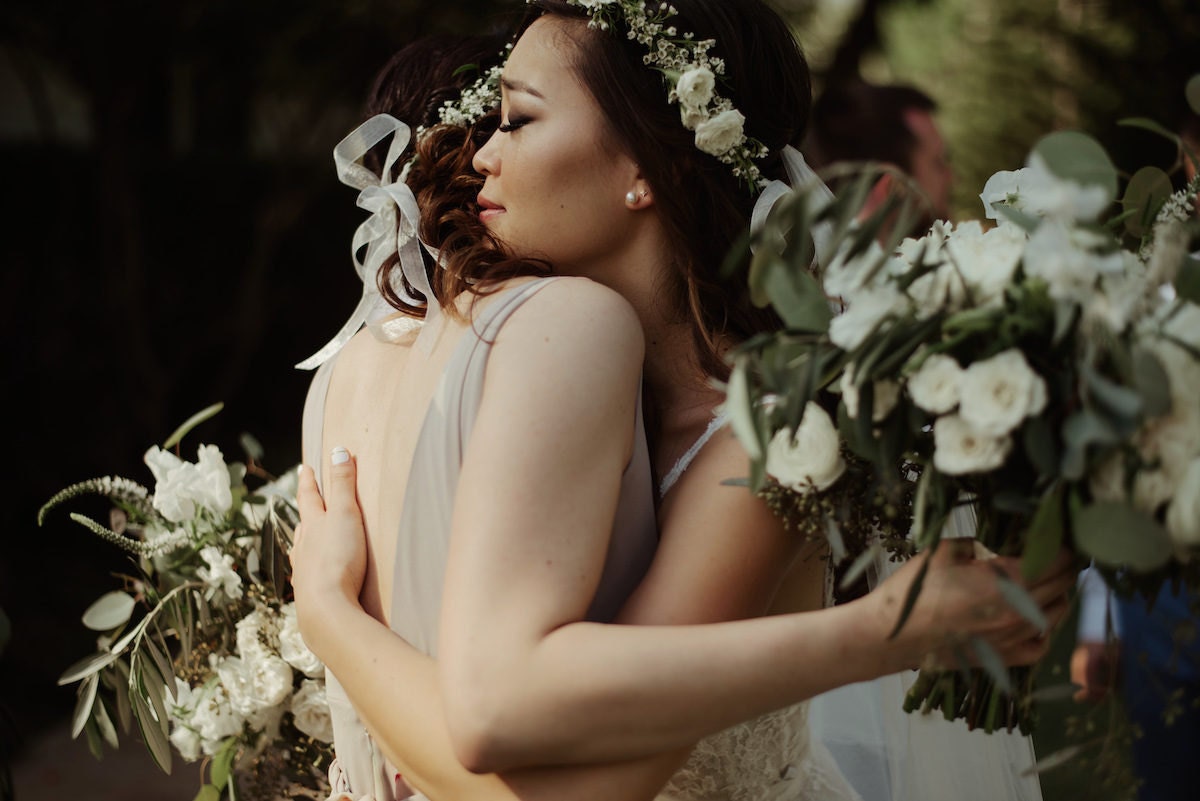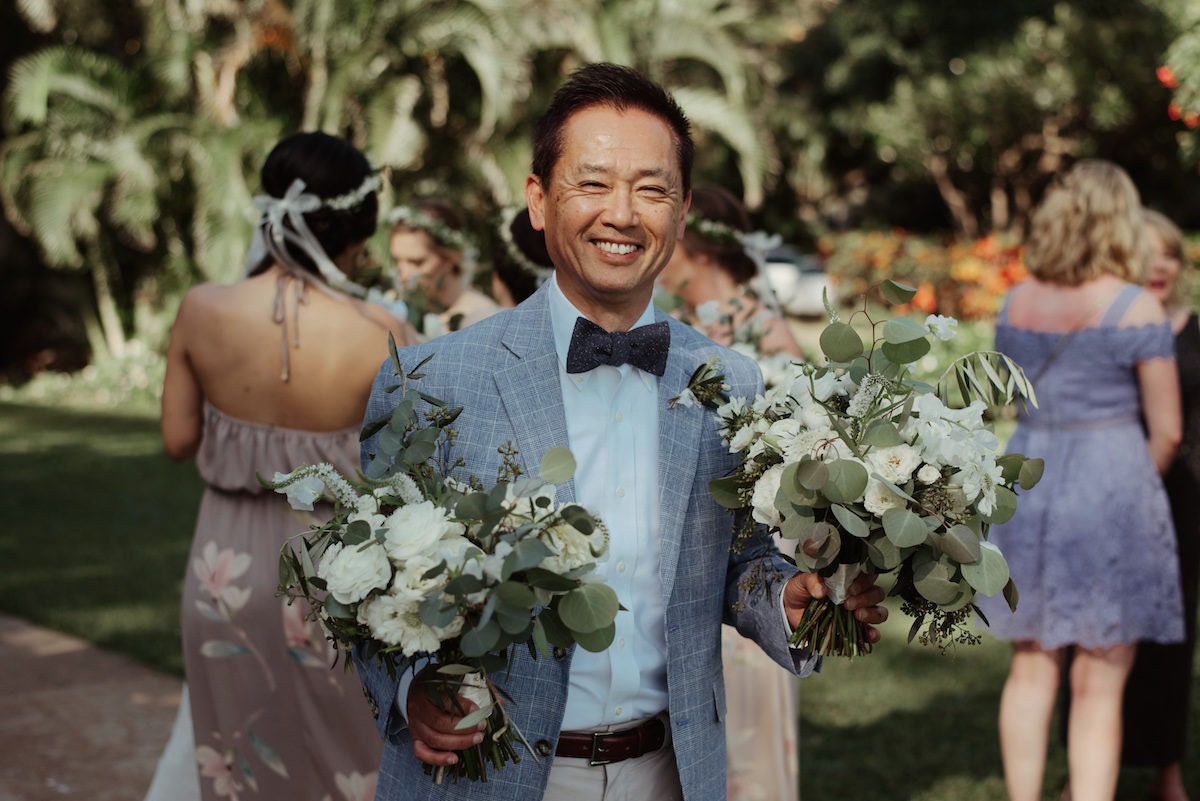 What elements of the wedding were the most important to the two of you?
I think the most important thing was for everybody to have a great time—and to have enough alcohol. That's what we cared about most. I wasn't worried about the food or music, or even the
wedding dress
—I just wanted everybody to have a good time. The one thing I was very specific about was our donut wall. I'm a huge fan of donuts, and I've probably been to every donut store in New York. My wedding planner told me about this cute little donut store in Maui called
Donut Dynamite
, so we ordered a bunch of donuts from there and displayed them on a peg board. I wanted to try all the flavors, but unfortunately I didn't have time. That's my only regret: not being able to try all the donuts.
How would you describe the overall vibe of the wedding?
It was very intimate. Being able to look at everybody from afar and recognize every face was incredible—it truly felt like we were all sharing that moment together. Brady and I were able to talk to every single one of the people at the wedding, which wouldn't have been possible if we'd had 200 guests. We were able to hug everybody. It was really laid-back—everybody was laughing and crying. It was perfect.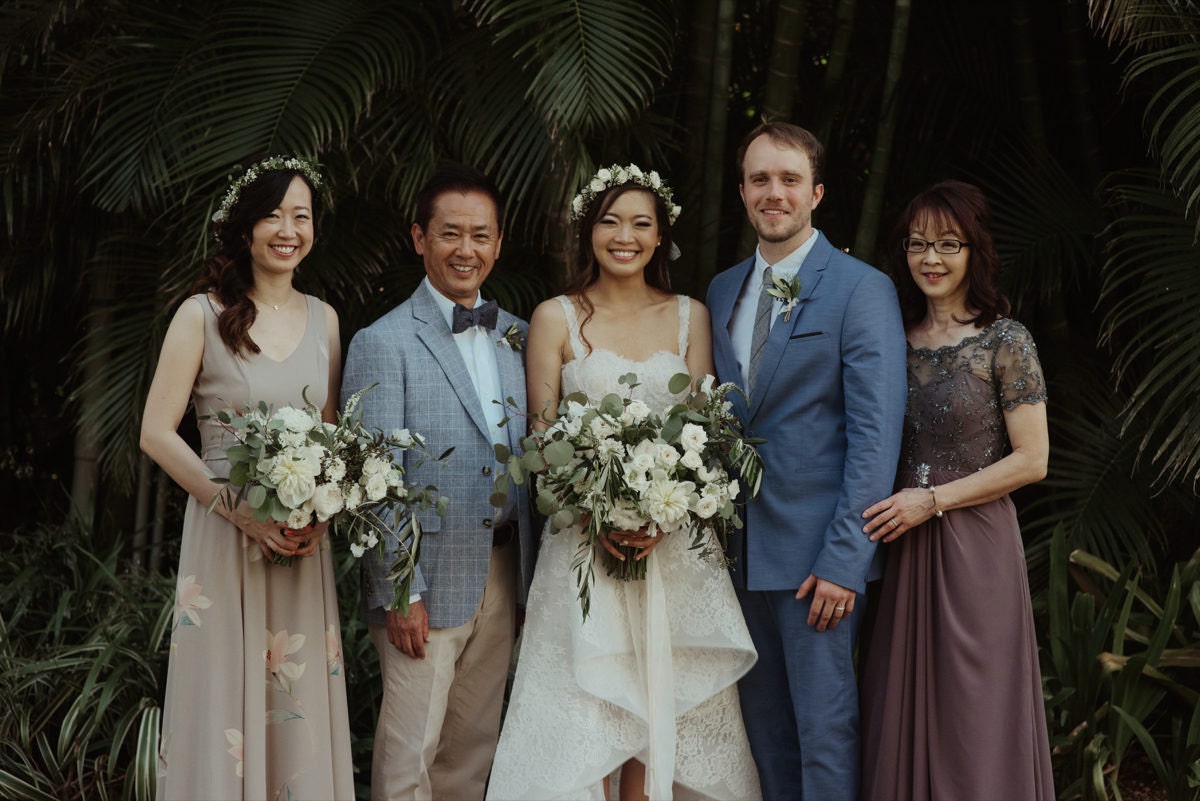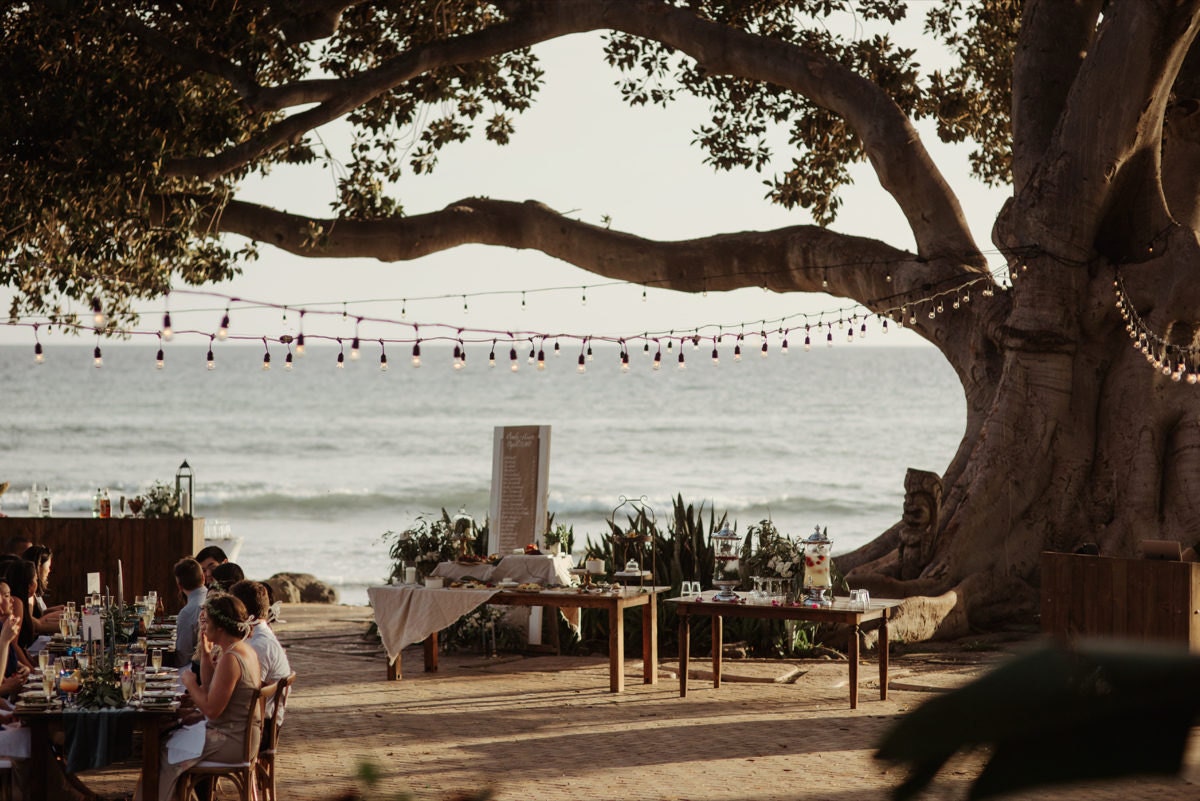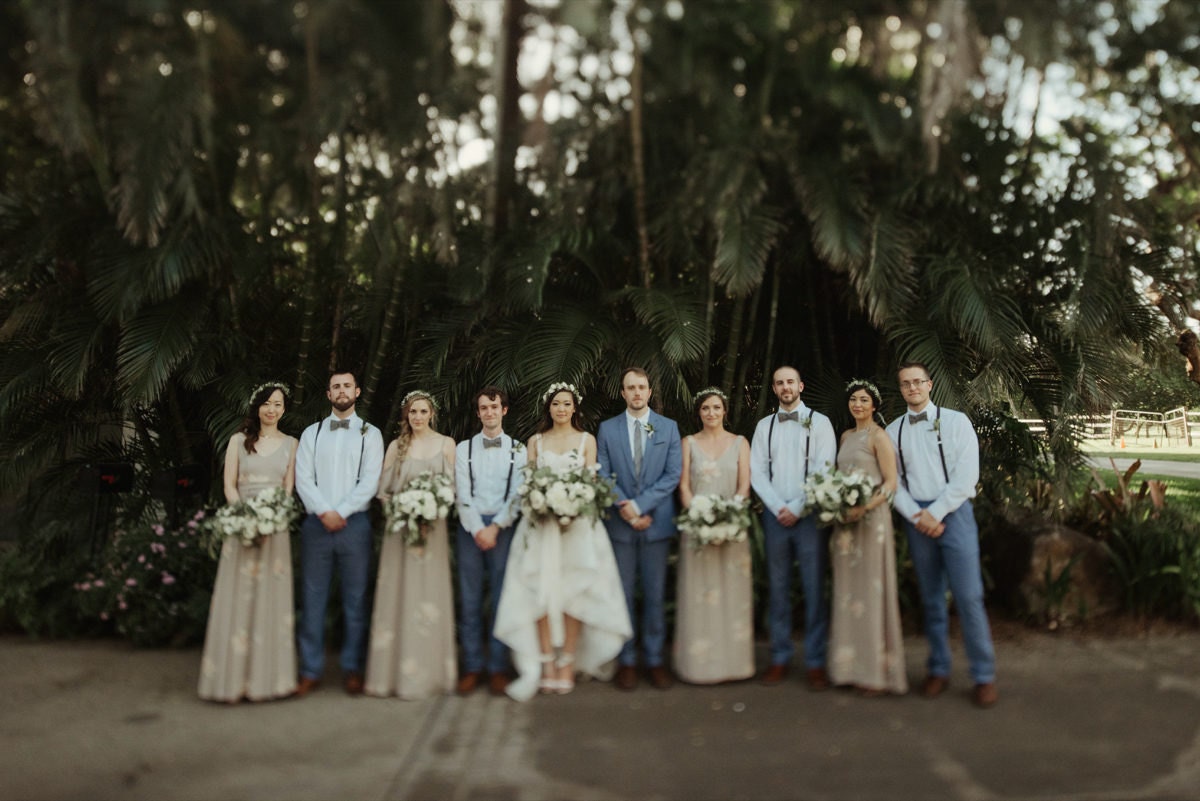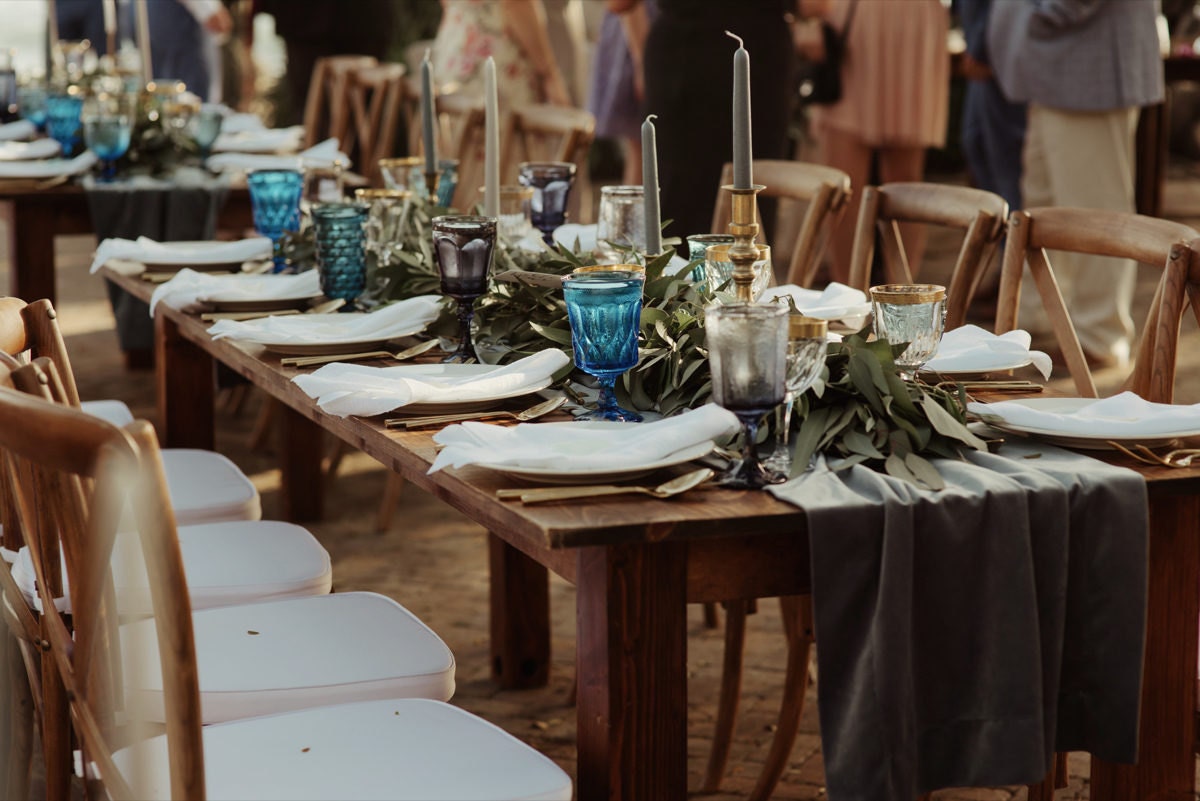 For decor, the couple eschewed bright hues in favor of calming blues (the bride's favorite color) and ample greenery. Explore
trending wedding colors
.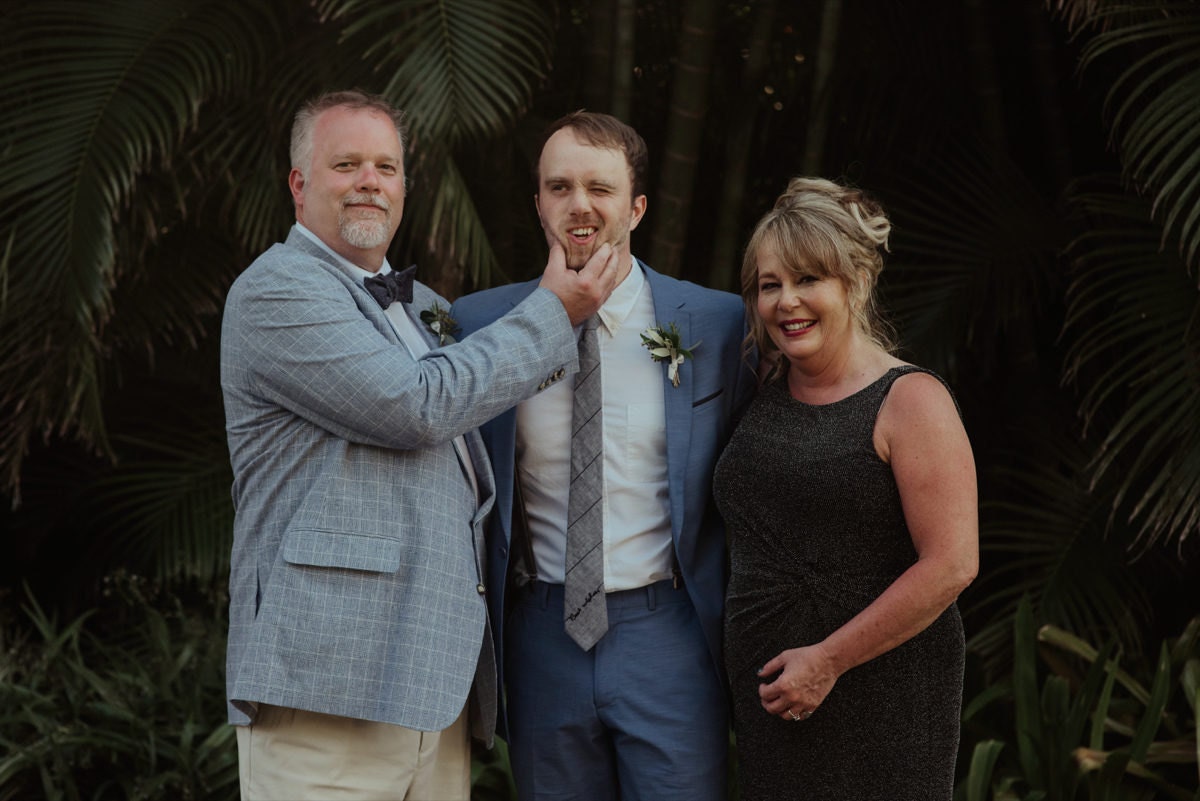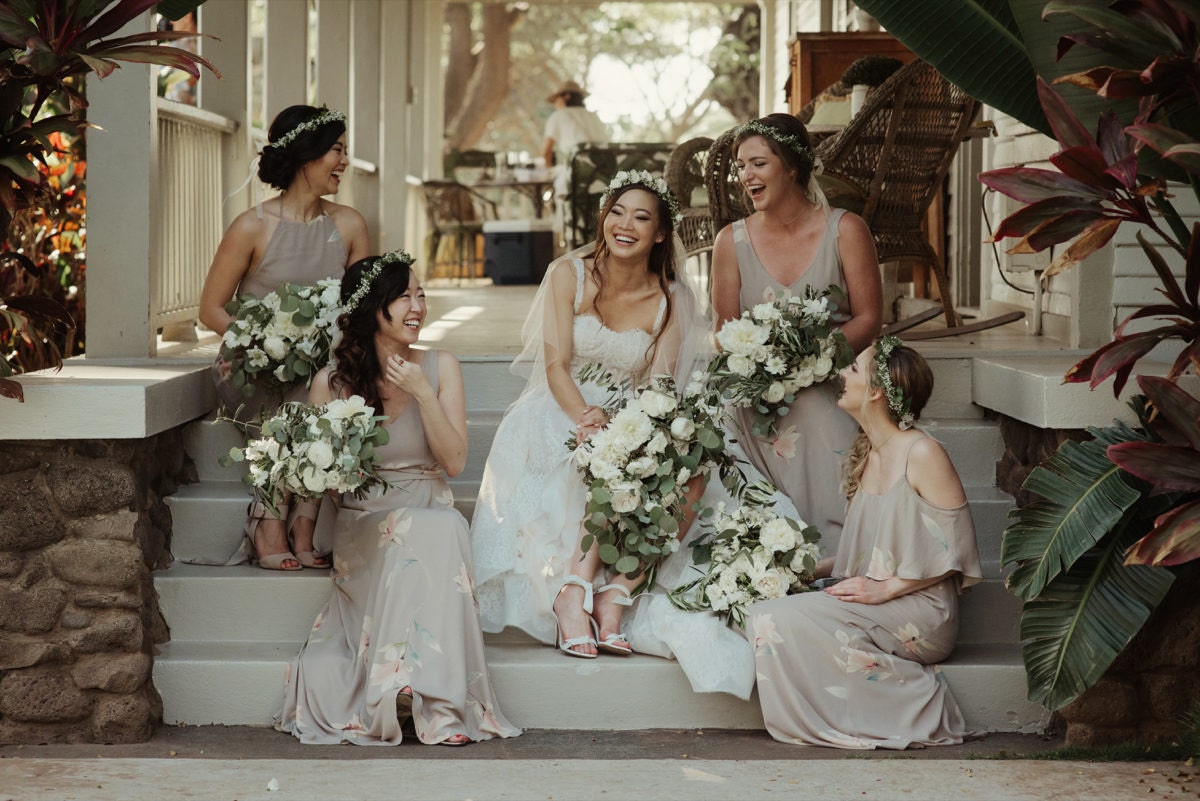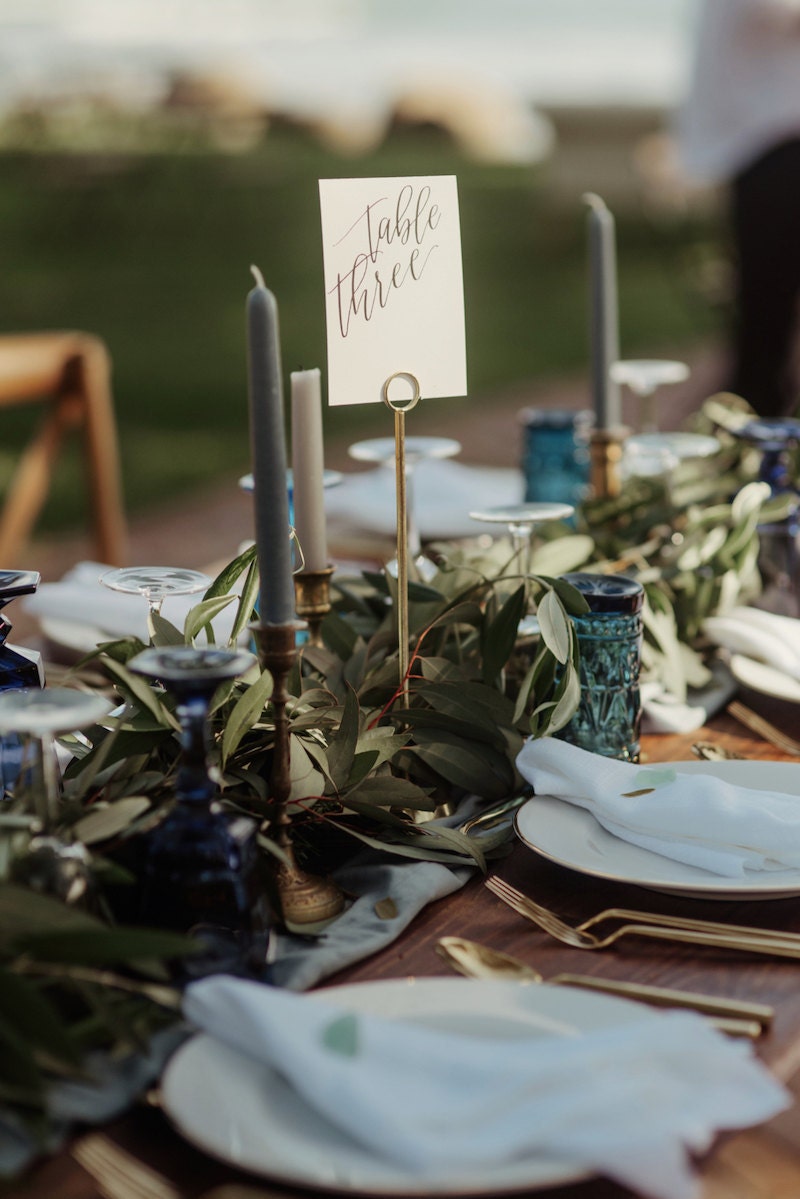 Shop
vintage blue glassware
to get this tranquil tabletop look.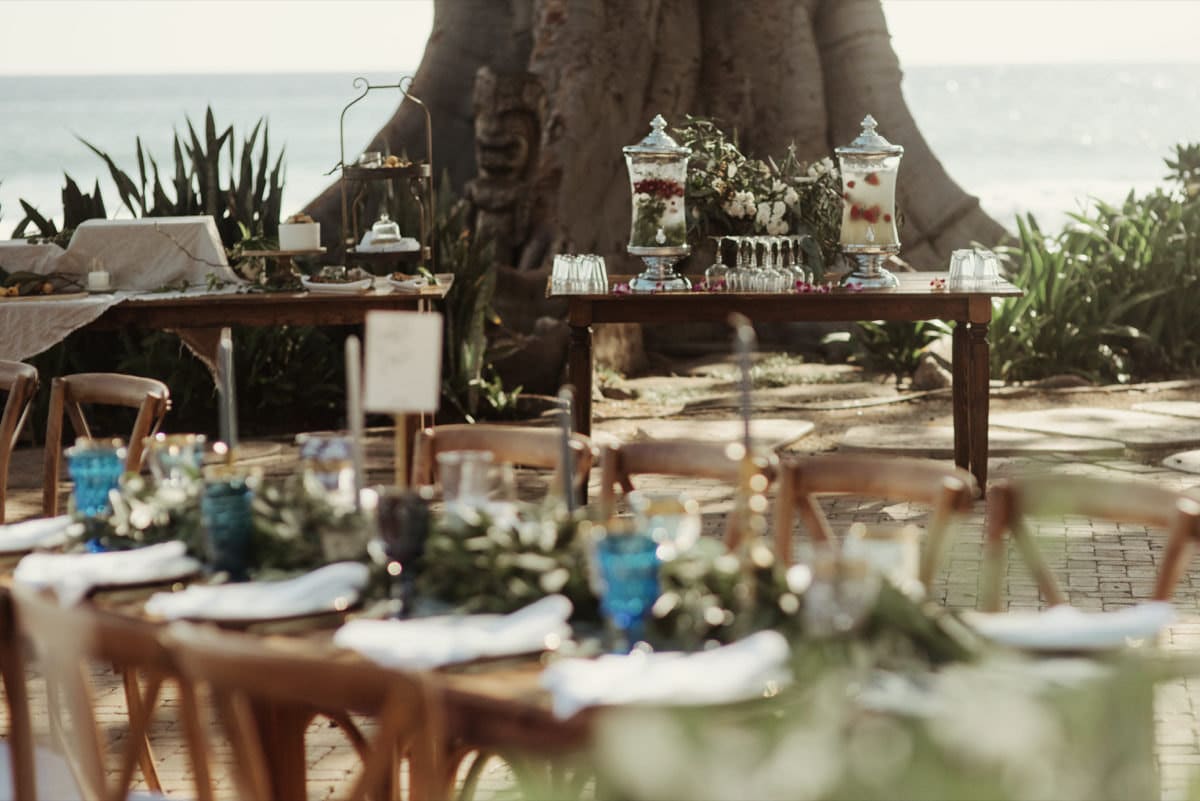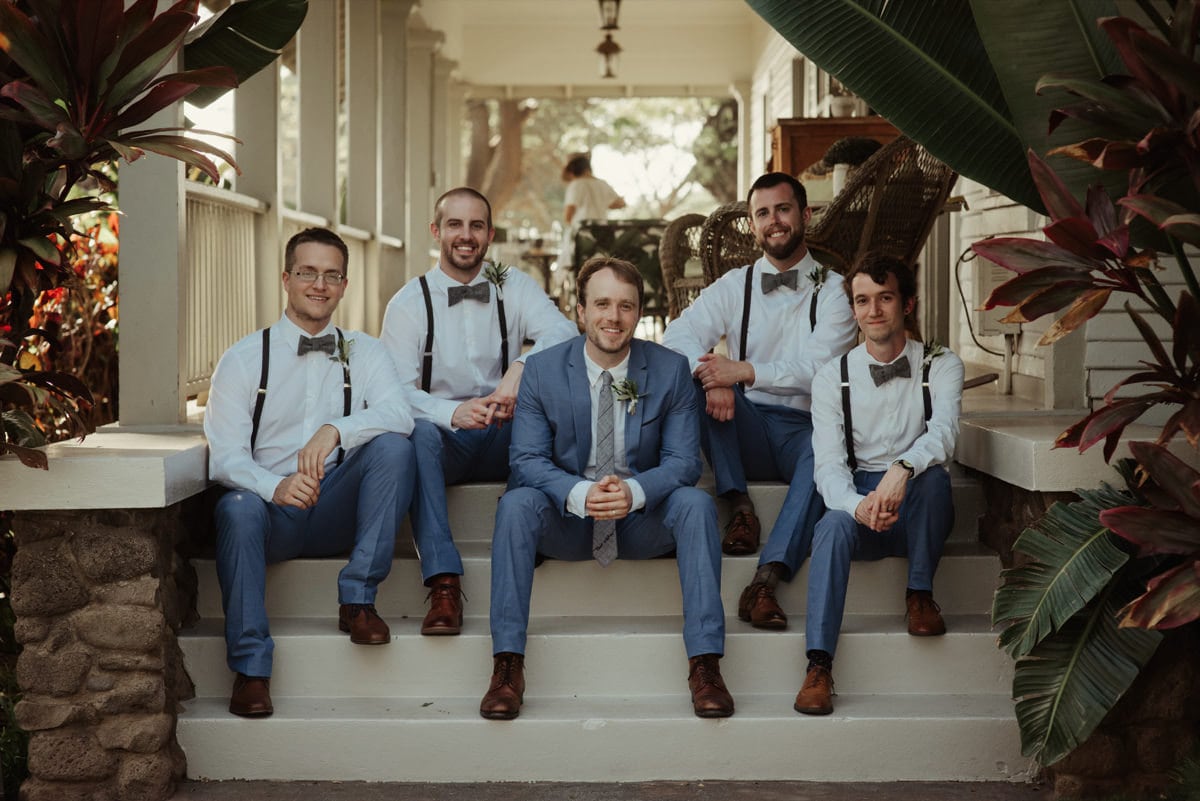 Did you incorporate any DIY decor?
I'm not much of a DIY person, but I still wanted the wedding to have a crafty vibe, so that's partially why we relied so much on Etsy. Every piece on Etsy is so different, and so unique—it's not something that you can find at a store. Even though I wasn't part of the DIY process, our Etsy additions made the day feel so homey and crafty for us, which was just what I wanted for our wedding.
What are some of the pieces you got from Etsy sellers?
Because it was a destination wedding and we weren't able to bring anything with us to the venue, Etsy played a really big role in our decor. I started off buying our
photo booth props
on the site and then I realized I could do the same for everything else. I'm very specific about a lot of things, but Etsy never let me down. Throughout the whole wedding planning process, I felt like I could always count on Etsy, from our
invitations
to the
customized bubbles
for guests. Even our
guestbook
—I looked at every store in the city for a wedding guestbook, and I just wasn't a fan of any of them. But then I went to Etsy and there were so many customizable options. I found the perfect one that had a picture of Hawaii with a tiny heart symbol over Maui Island. We were like: There's nowhere else we can find this—we have to buy it. So we did.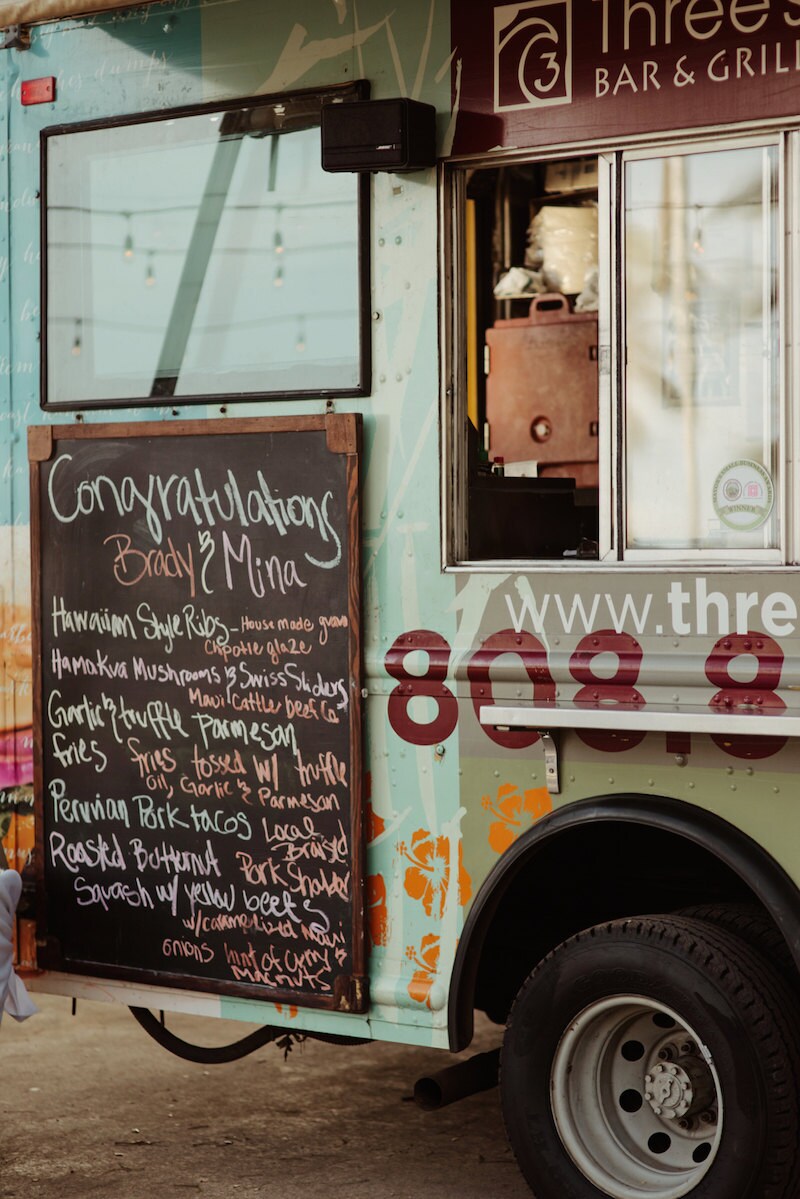 By opting for food trucks over a traditional sit-down dinner, the bride and groom encouraged guests to mingle. "It was small enough for everybody to get to know each other," says Mina.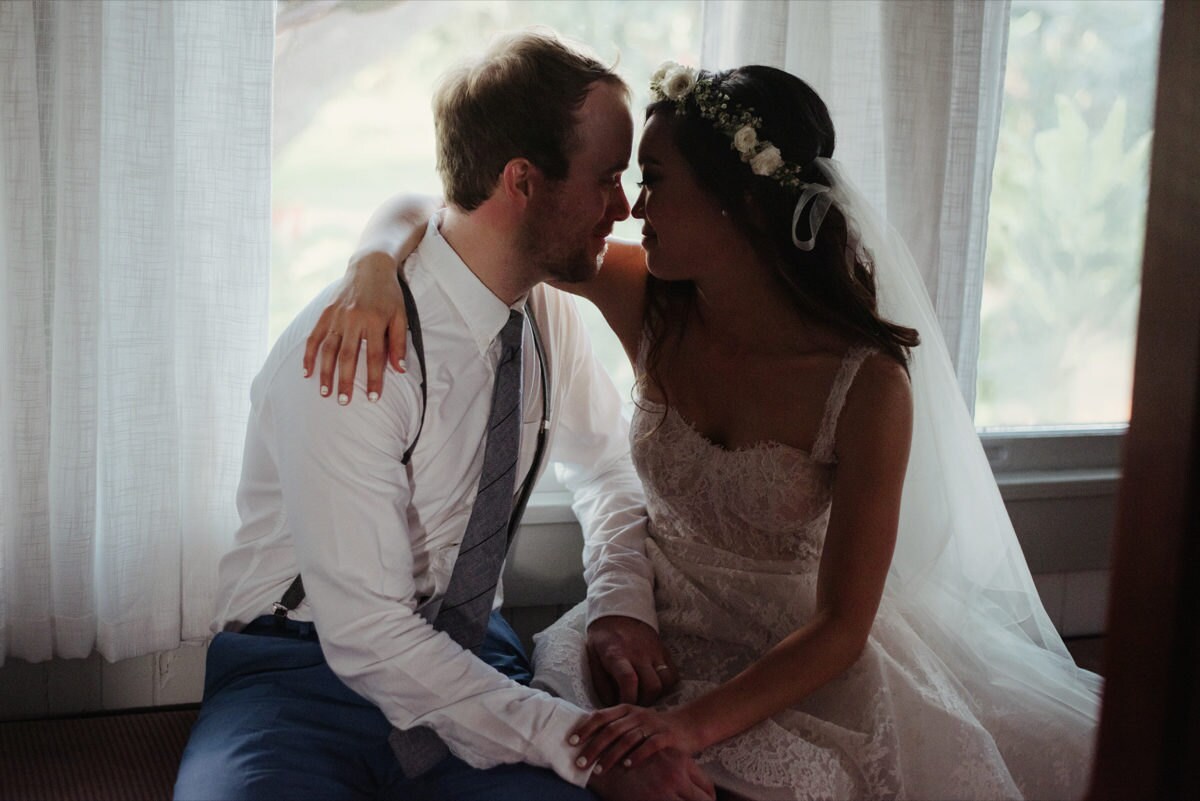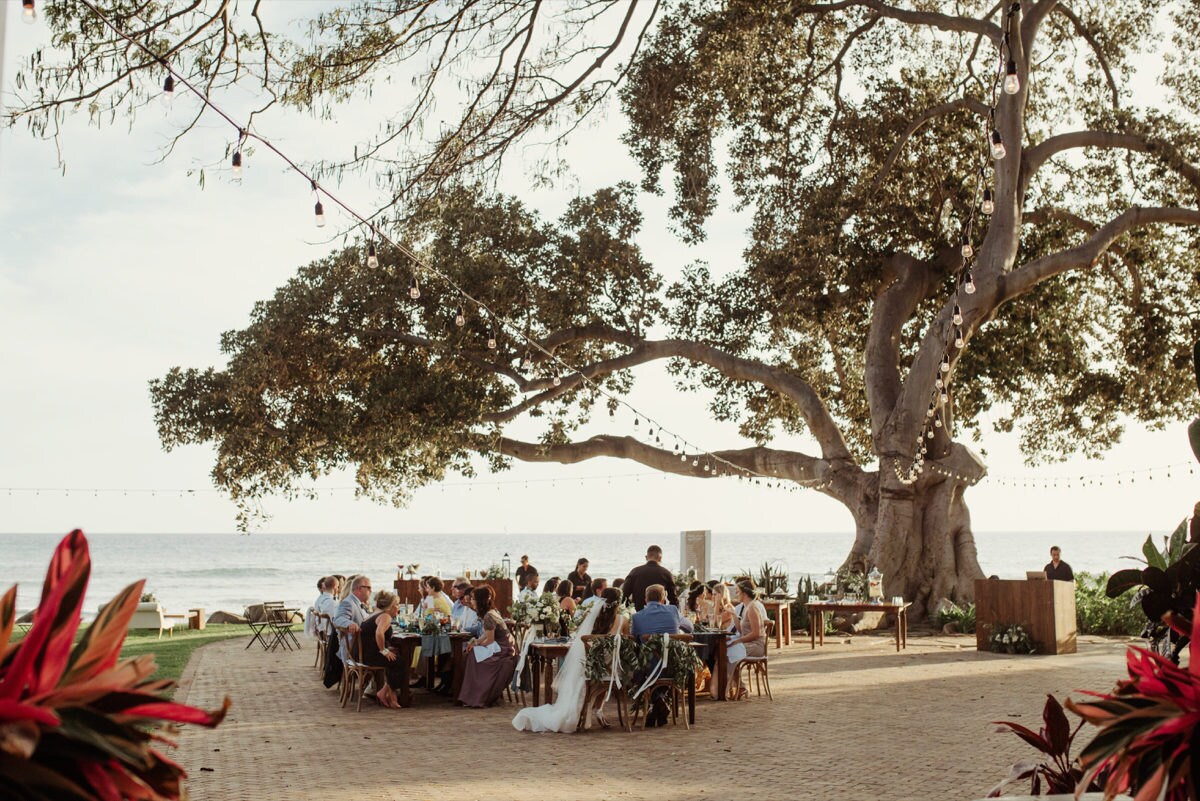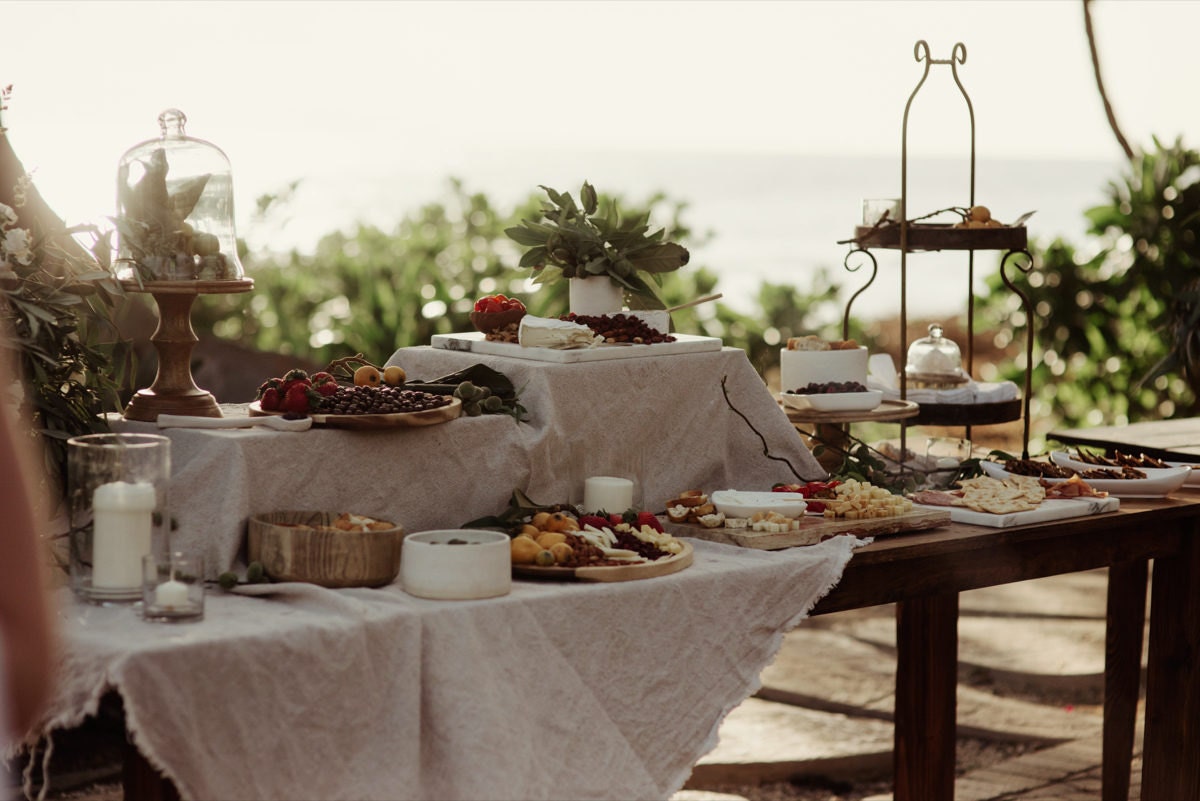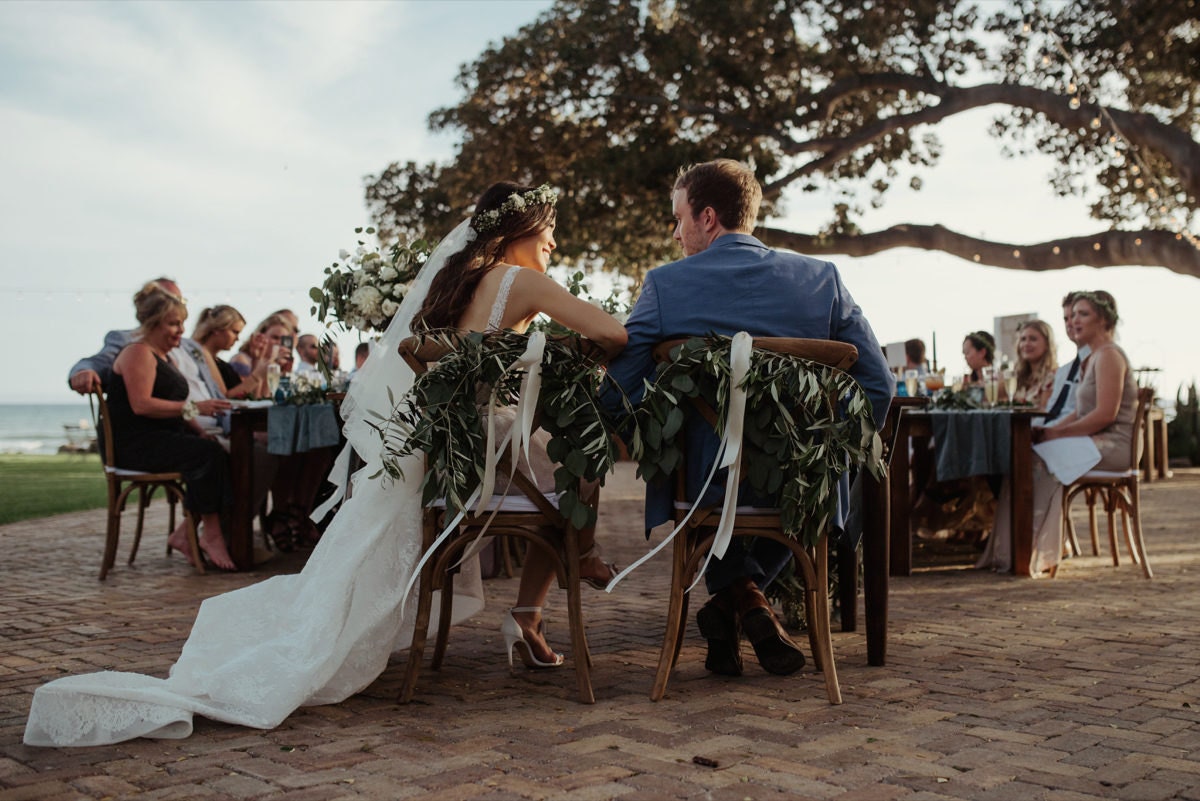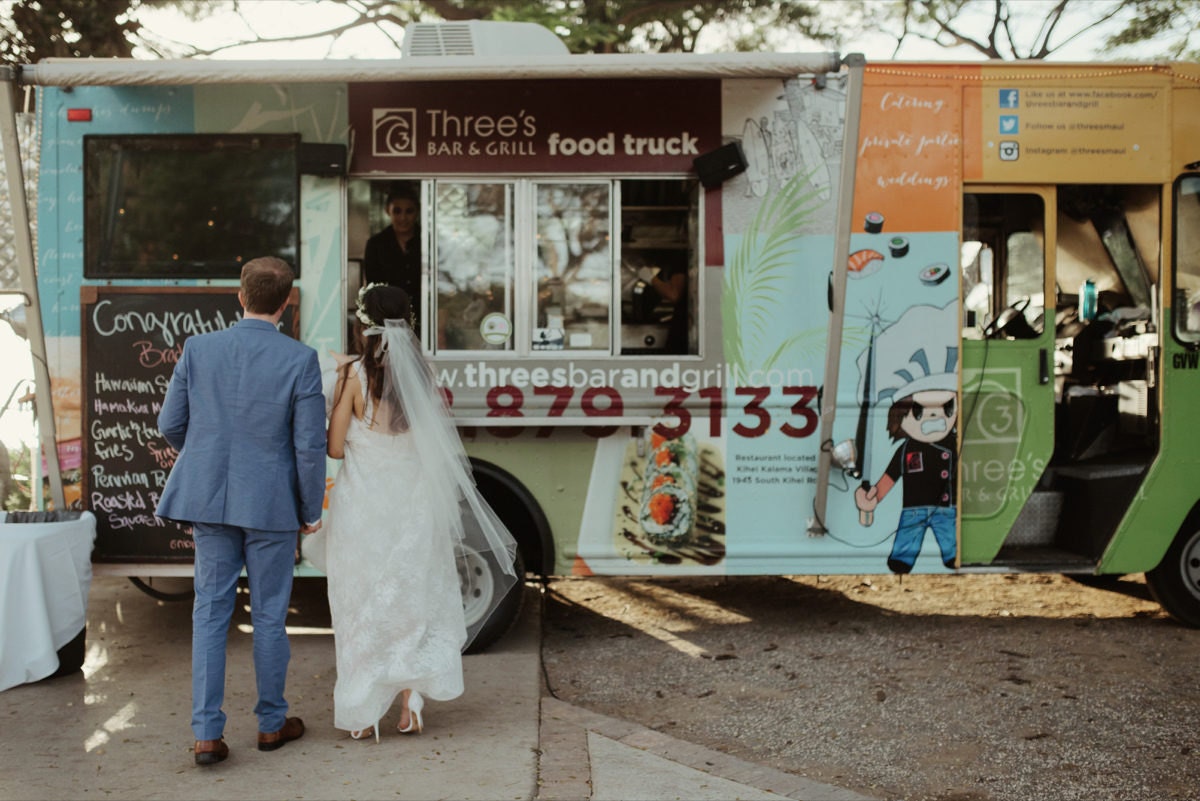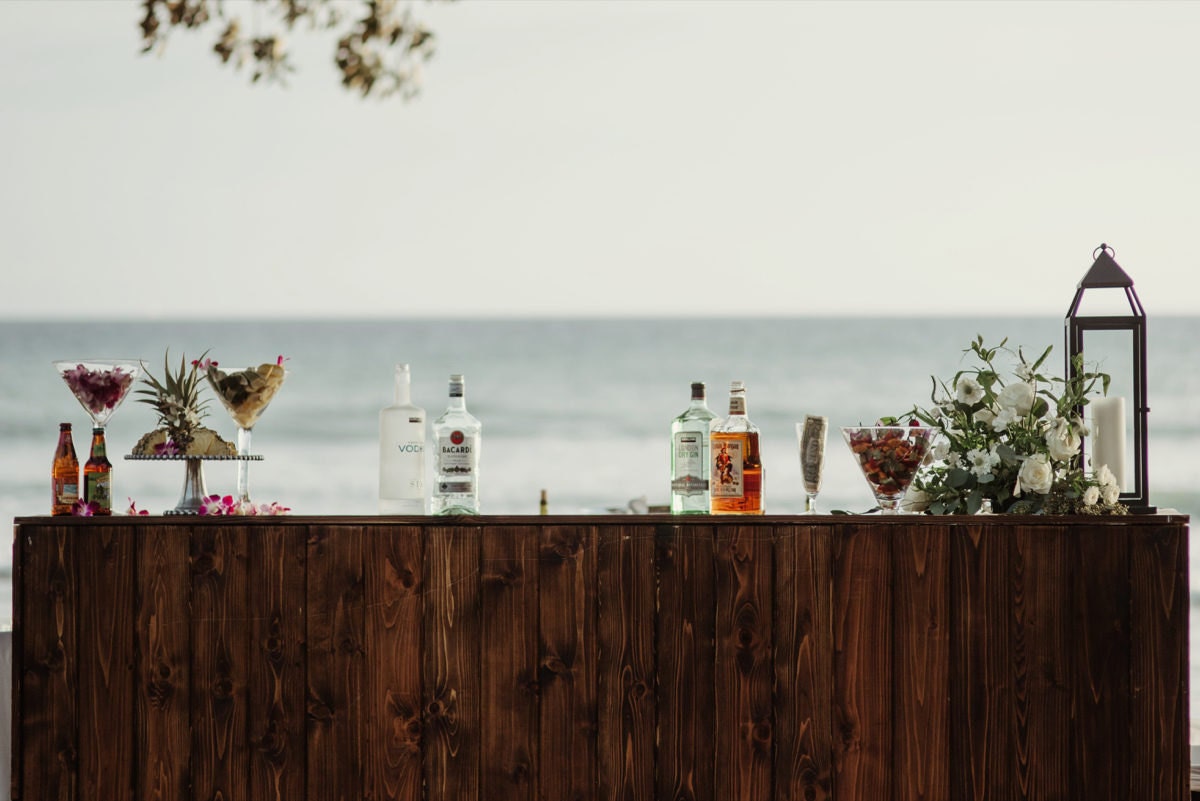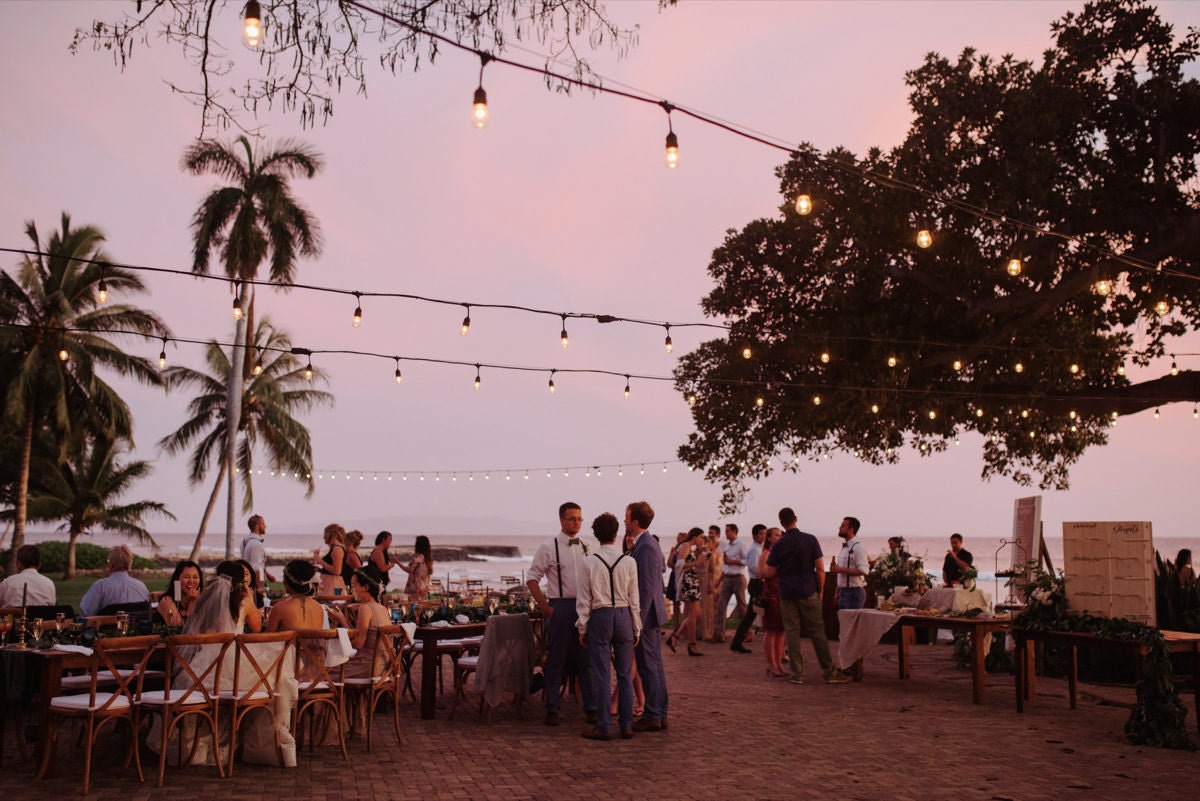 Many of your bridal party gifts also came from Etsy, right?
Yes! Brady got
hammers
for the groomsmen with their names engraved on them, and pretty much everything I got for my bridesmaids was from Etsy—from
personalized tote bags
to our
robes for getting ready
. I also got some
foldable ballet flats
for the bridesmaids to wear for dancing during the reception. They were so happy about it—seeing them get excited was so fun, and I got a pair for myself as well.
What was your favorite Etsy find?
I would have to say our wedding rings. At first, we were looking at Tiffany and all these popular places, but the rings all seemed so generic—they didn't feel special to us. So we decided to look into Etsy: That's where we found our rings, and we totally love them. Brady got a
matte silver band
 and I got a
rose gold band with a small diamond
. It's perfect—it's everything I wanted in a wedding band. Picking them out was such a bonding moment for me and Brady, too. Brady's not really into shopping, but we were looking through listings together on the same computer, picking out rings that were perfect for us. It was such a special experience. Instead of going to a store and having someone talk us through the whole thing, it was just me and Brady, selecting what we liked. Being able to have that time together, just the two of us, was wonderful.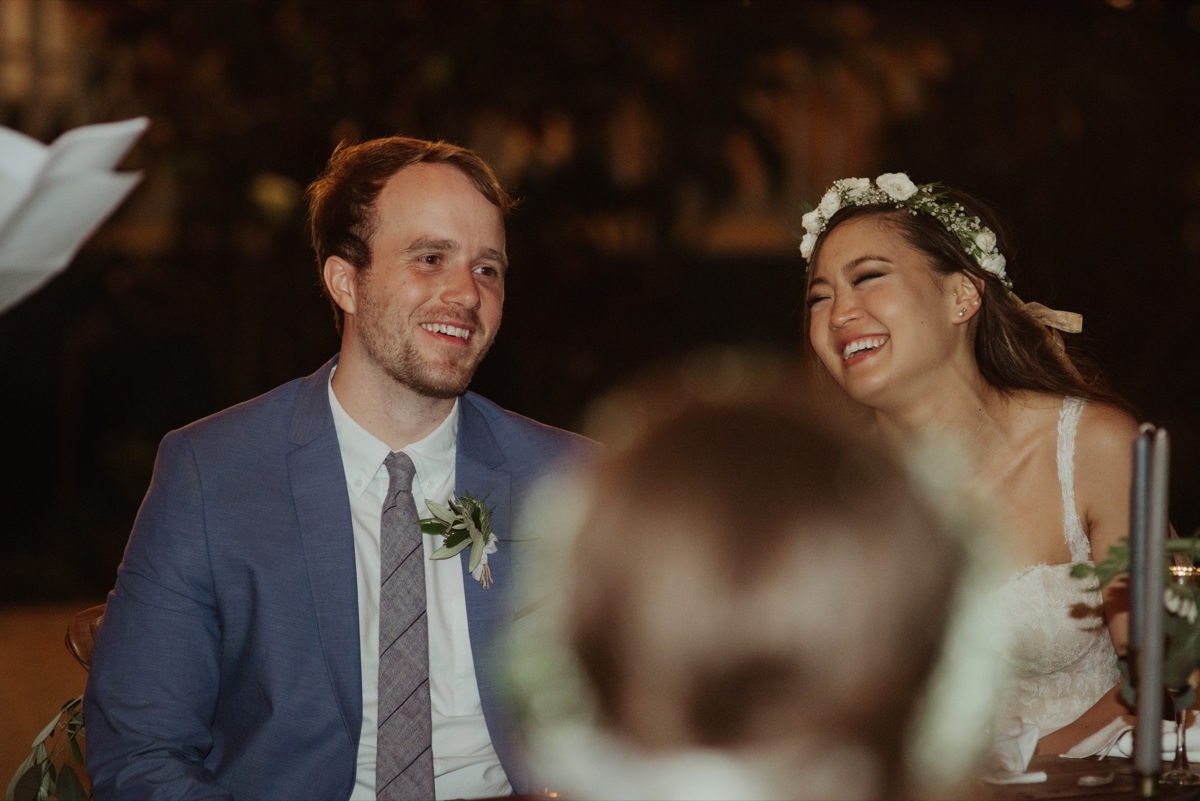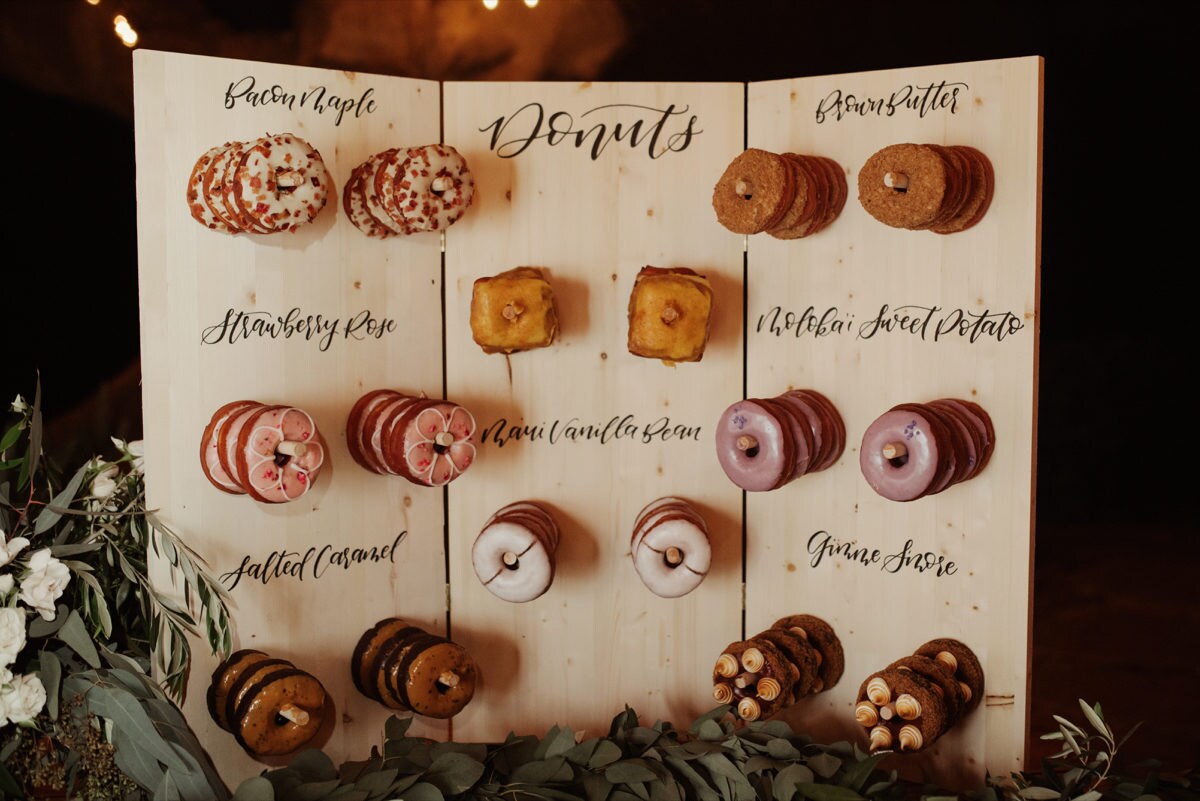 A lifelong donut lover, Mina selected a pretty peg board display for the reception. Shop similar setups
here
.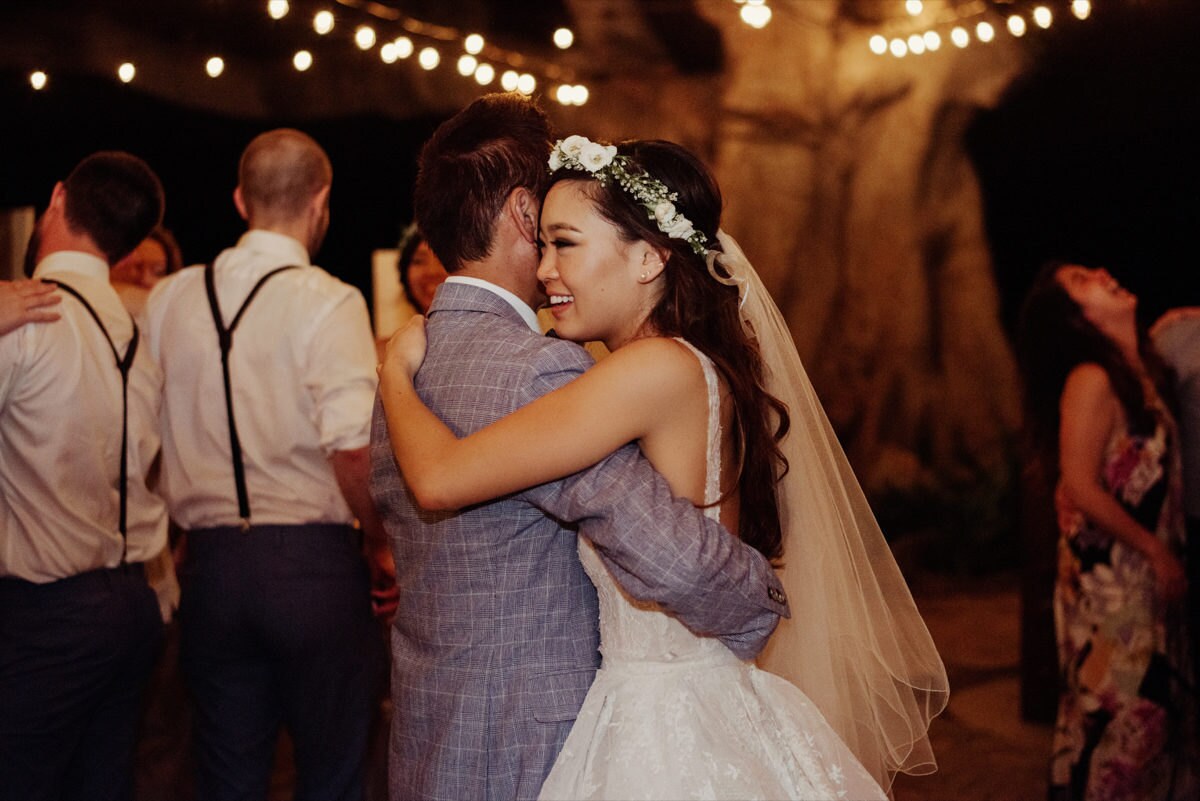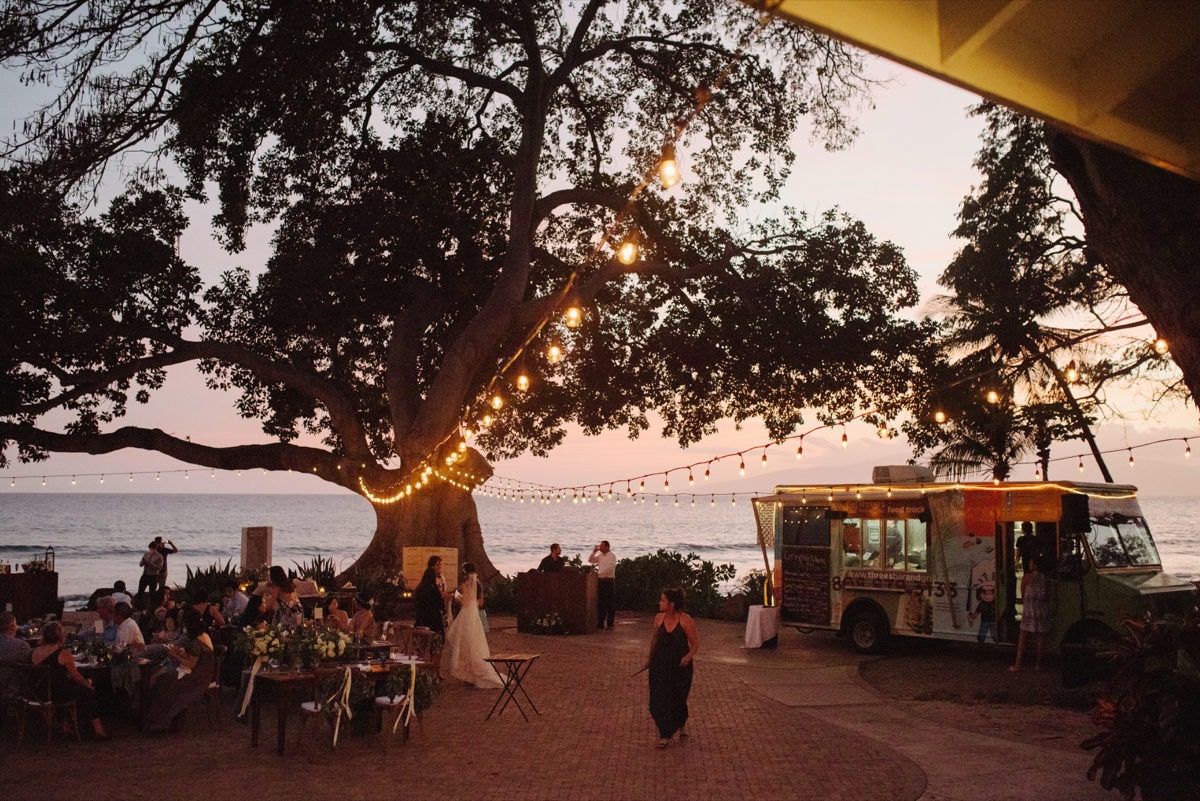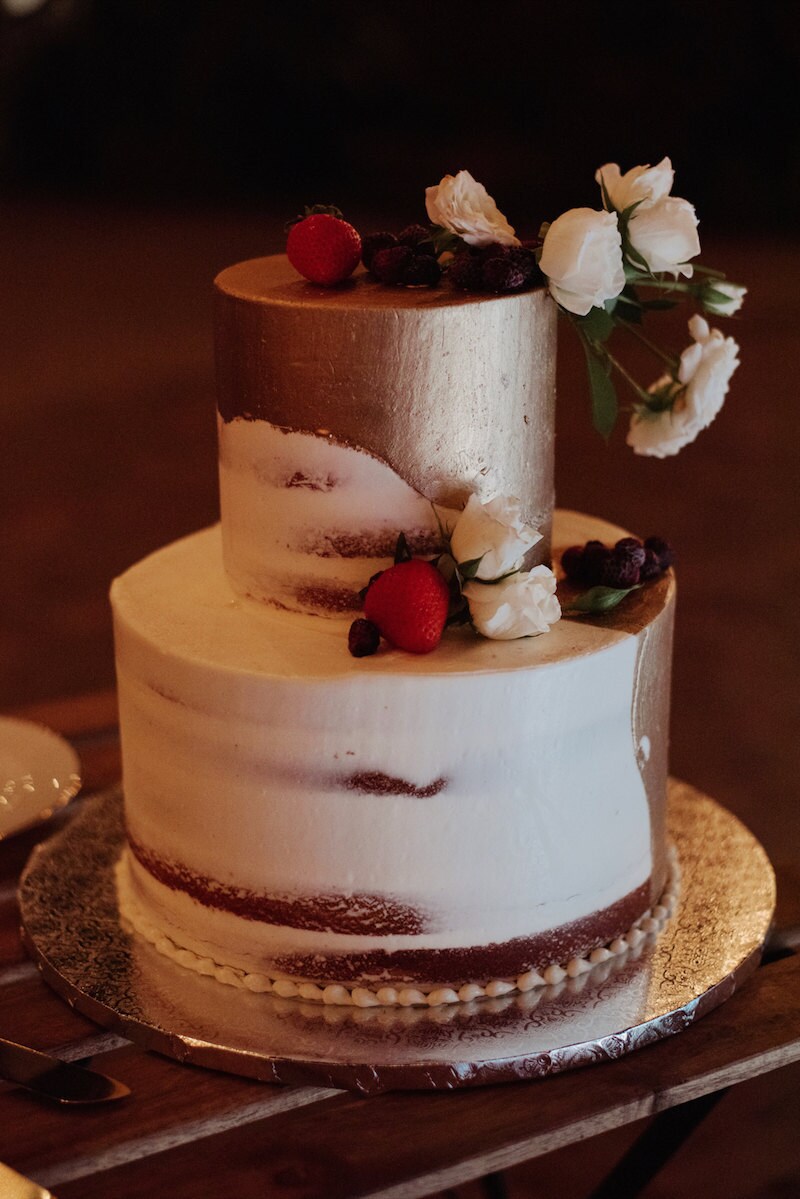 In addition to donuts, guests indulged in a two-tone wedding cake and an assortment of pies. Shop wedding cake toppers
here
.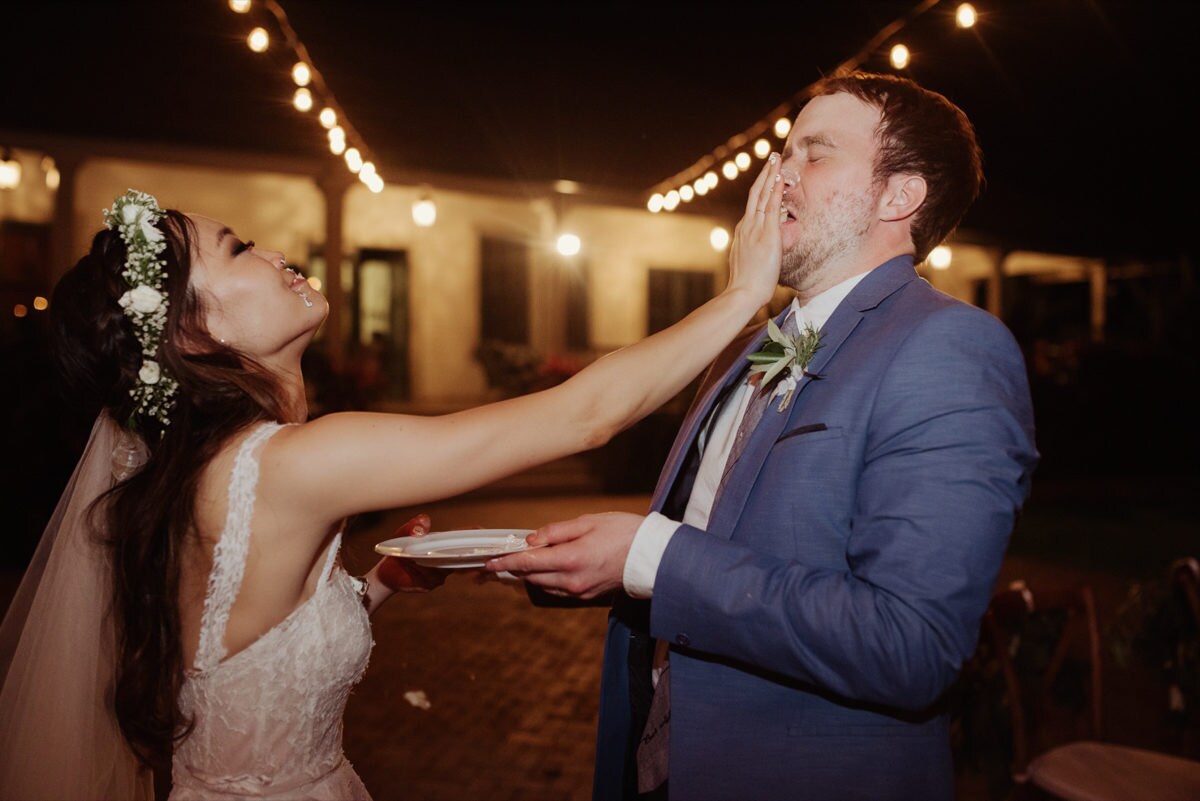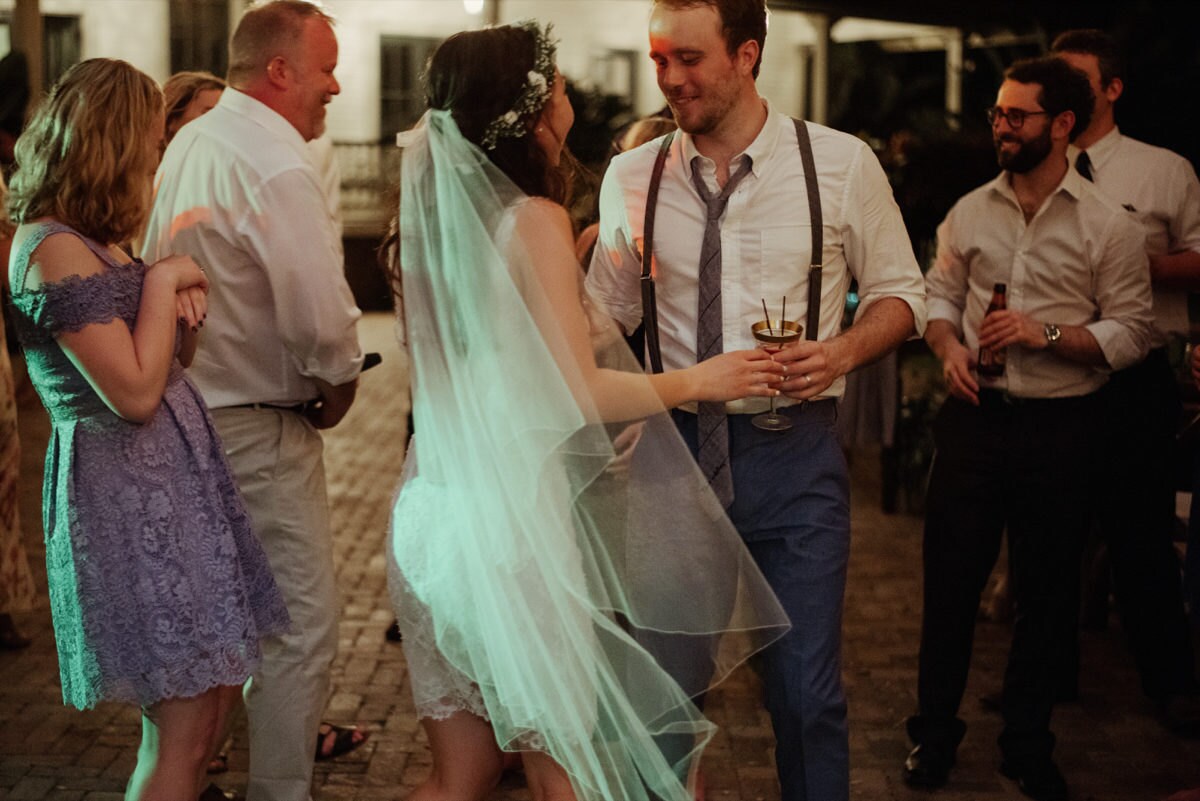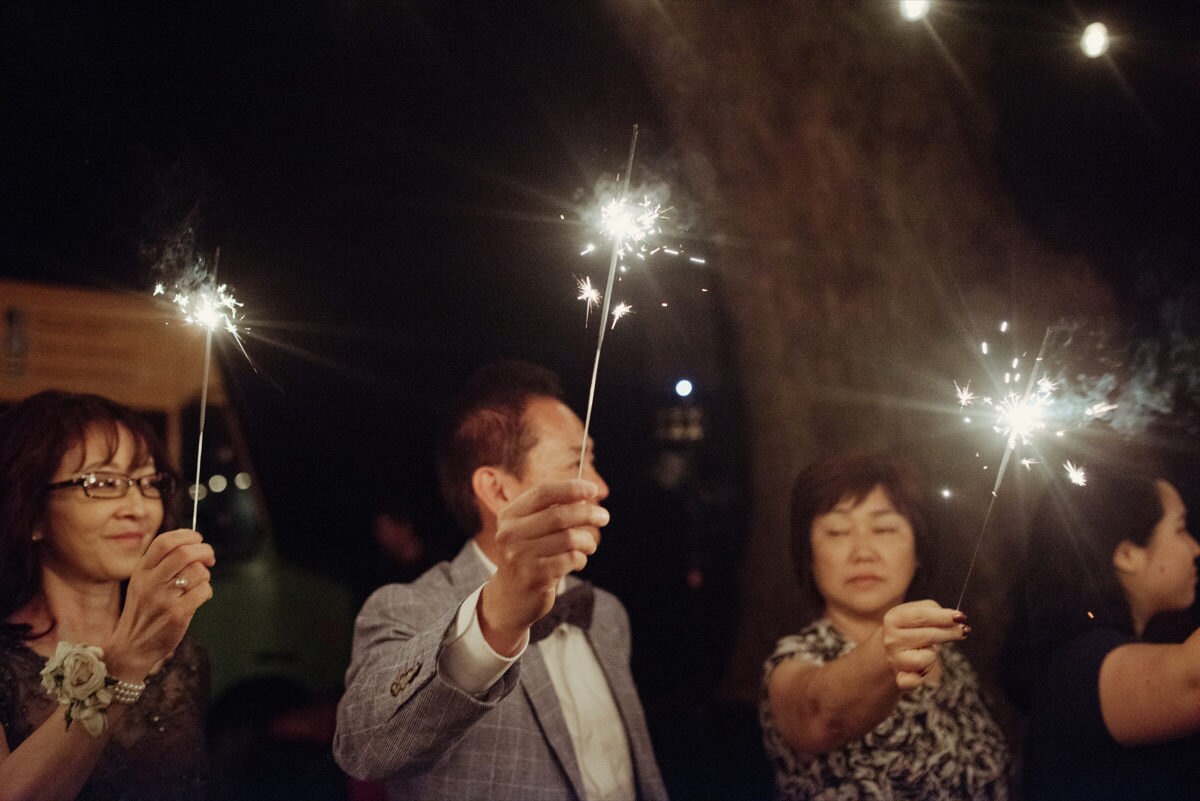 At the end of the night, sparklers provided the perfect festive send off. Explore more
wedding favors
.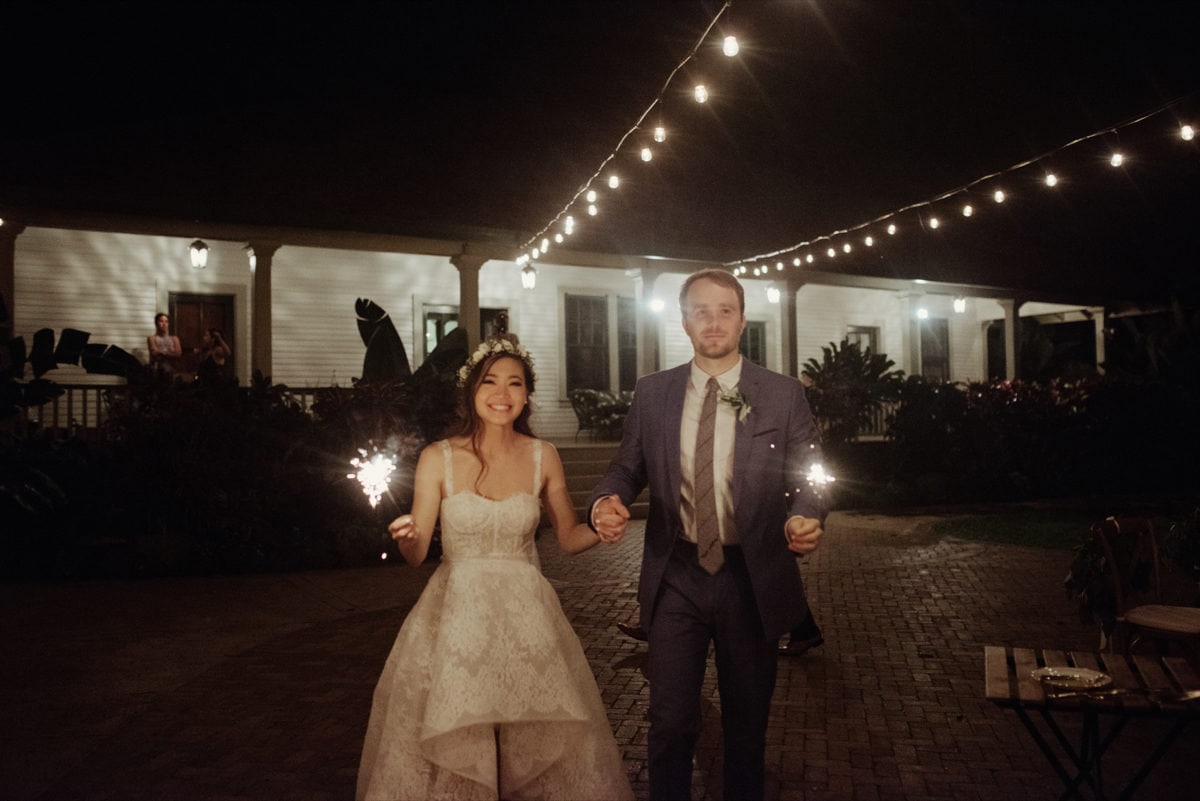 When you look back, what was the most memorable part of the whole day?
What stands out for me is the reception, when Brady and I were sitting next to each other, eating our food and just looking out at everyone who came. We were sitting in front of everybody at our own little table, and we were both like: This is a very special moment, and we should take it all in because they're all here for us. They traveled so far just to see us get married. So we should look at everybody's faces, and appreciate this moment.