by Katie Hawley
This Broadway choreographer said "I do" to her one true love in a rustic barnyard bash brimming with thoughtful details and a truly epic dancefloor.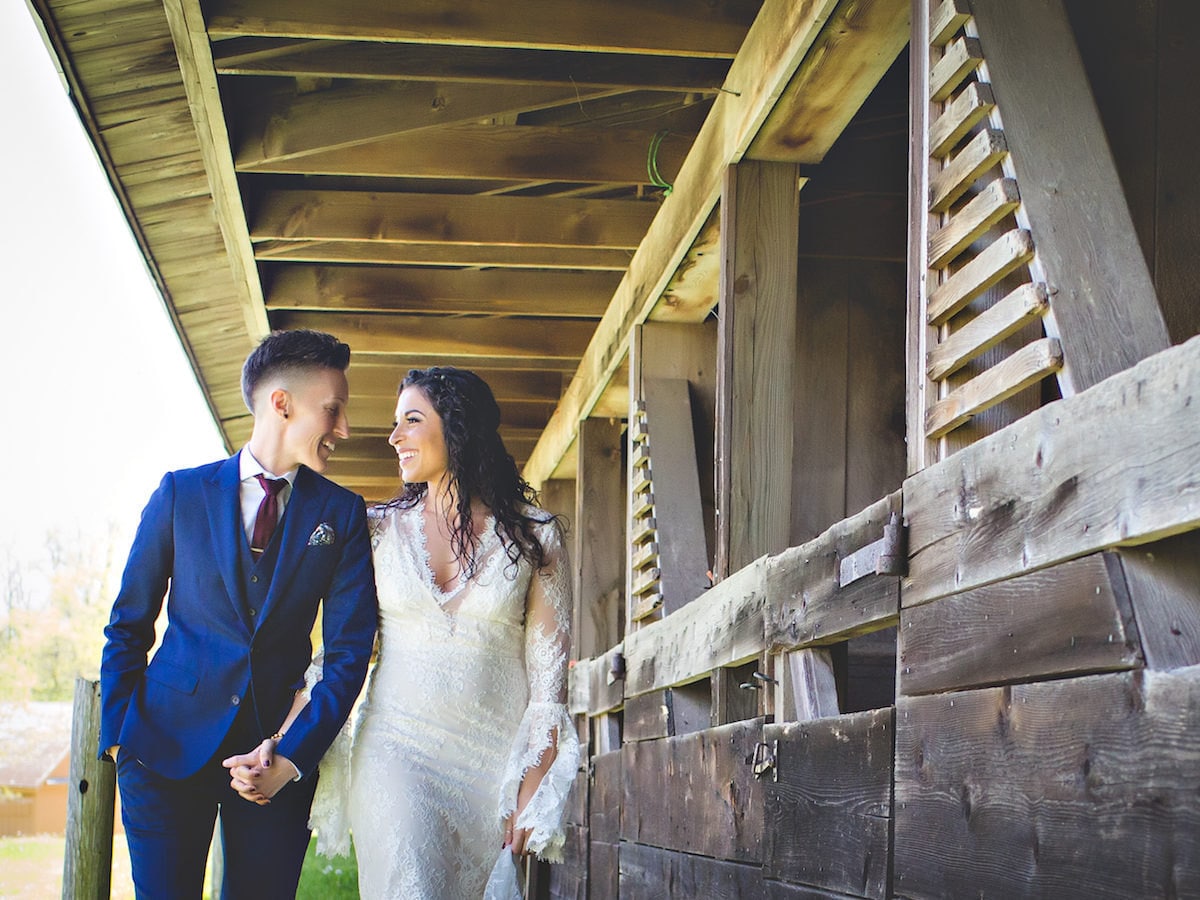 In the Real Weddings series, we share stories of recently wed couples who used Etsy to source items for their celebration, and learn more about how they planned the day they said, "I do."
It was December 2013, and Stephanie Klemons was celebrating her first Christmas with Colleen Quinn, the woman who would later become her wife. The Long Island–based couple, who were introduced by a mutual friend, had been casually dating for a few months, spending time together between Stephanie's stints on the road as a choreographer and performer (her CV includes Broadway hits 
Hamilton
and
In the Heights)
. While she was away, Stephanie had encouraged Colleen, a police officer, yoga instructor, and amateur comic, to continue dating other people—but Colleen was unmoved. "She was like, 'I know what I've got. I'll be here waiting when you come back,'" recalls Stephanie. "I was just so floored by her assuredness." By Christmas, Stephanie had realized what she had, too. "On Christmas morning I gave her a present and on the present it said:
To your girlfriend, from your girlfriend.
It was an official ask-out."
Two years later, it was Colleen's turn to do the asking. By then, the couple shared a home on the shore and three cats. Early on Christmas morning 2015, Colleen suggested heading down to the beach together to watch the sunrise. "It's not something we do every day, but it's also not terribly unusual, so it didn't register as anything weird," says Stephanie—even when Colleen suggested they each bring along a gift for the other to open. Stephanie selected the custom T-shirt she'd commissioned for Colleen with their cat Charlie's face emblazoned on the front—a present she assumed would be hard to beat. On a bench facing the water, Colleen handed Stephanie her gift. "When I opened it, I started to ugly-cry so hard, because inside was another box, and it said:
To your fiancée, from your fiancée
." Inside that box was a wooden ring box, with
CQ loves SK
etched into the top—and inside
that
box was a dazzling
engagement ring
. When Stephanie stopped crying long enough for Colleen to officially pop the question, the answer was a resounding "yes." "I was like, 'Babe, you asked me to marry you, and I got you a cat T-shirt,'" Stephanie says. "We still joke about it to this day."
Read on to discover how their big day came to life, and shop their favorite Etsy wedding finds.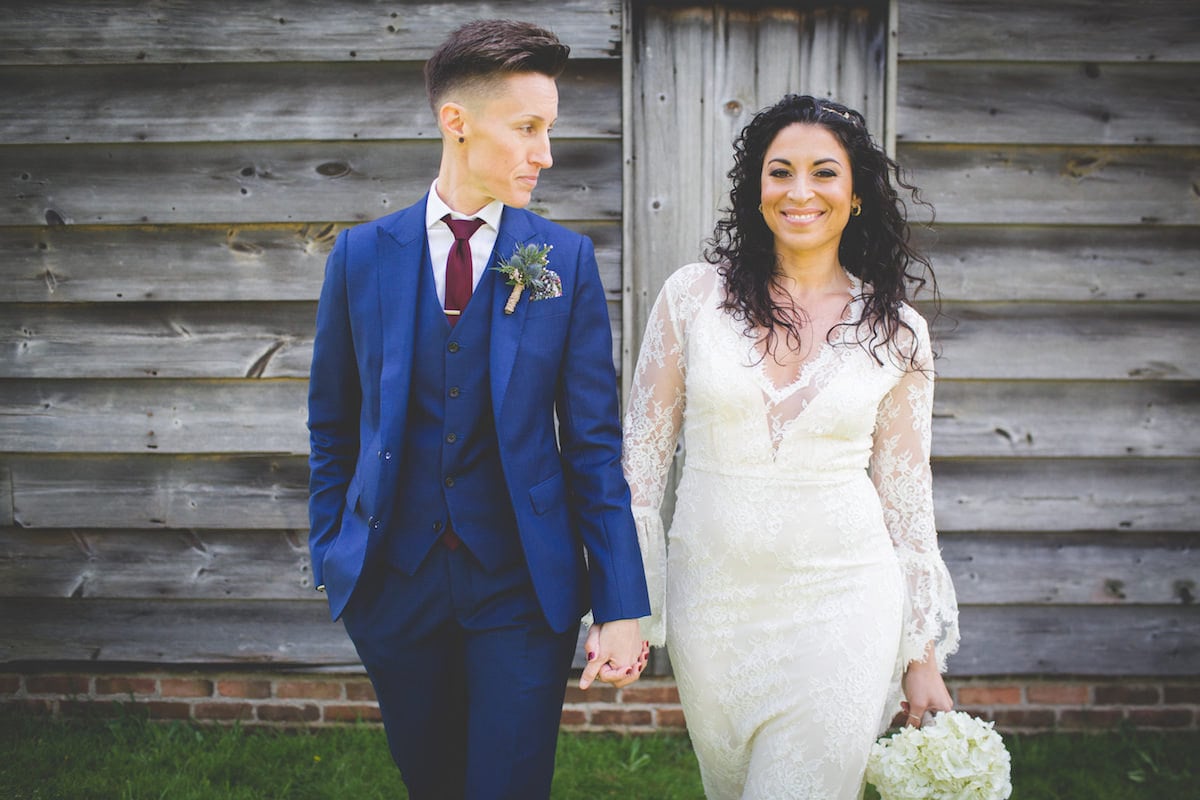 Once you were engaged, what was your approach to wedding planning?
We got engaged at the end of 2015, but we knew we didn't want to get married in 2016 because I had just opened
Hamilton
and it was such a big year for me. So we made the decision to get married in 2017, but we didn't wait a long time to dive into planning. We're both in our thirties, so we didn't feel like we needed a romance period. We were like: We're good. Originally, we both said that we wanted a small wedding—but it didn't end up being small by any means. We wanted 150 guests, max, and there ended up being 230. I come from a really big family, and Colleen's mom is one of seven kids. From the beginning, we also knew we wanted it to feel
rustic
. We both love the beach, but we were looking for something a little bit more country.
Aside from having your loved ones present, what were the most important elements for the two of you as you planned the celebration?
Ultimately the decor was the most important to me. I wanted to be in a room surrounded by beautiful things that felt romantic and rustic. For Colleen, the most important thing was the music, so she picked the DJ. And I think the third thing was just making sure that the ceremony was enjoyable for people. I wanted them to have pashminas to cover up if it was cold, and flowers to throw at the end.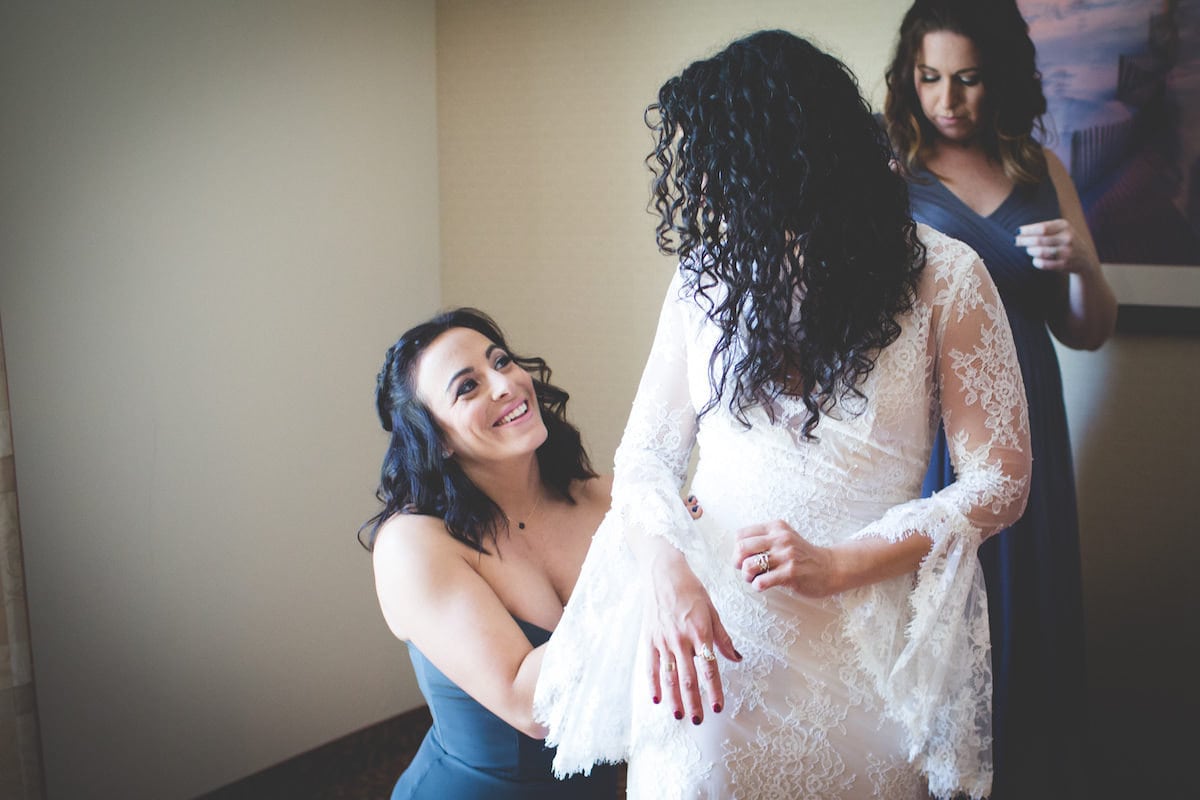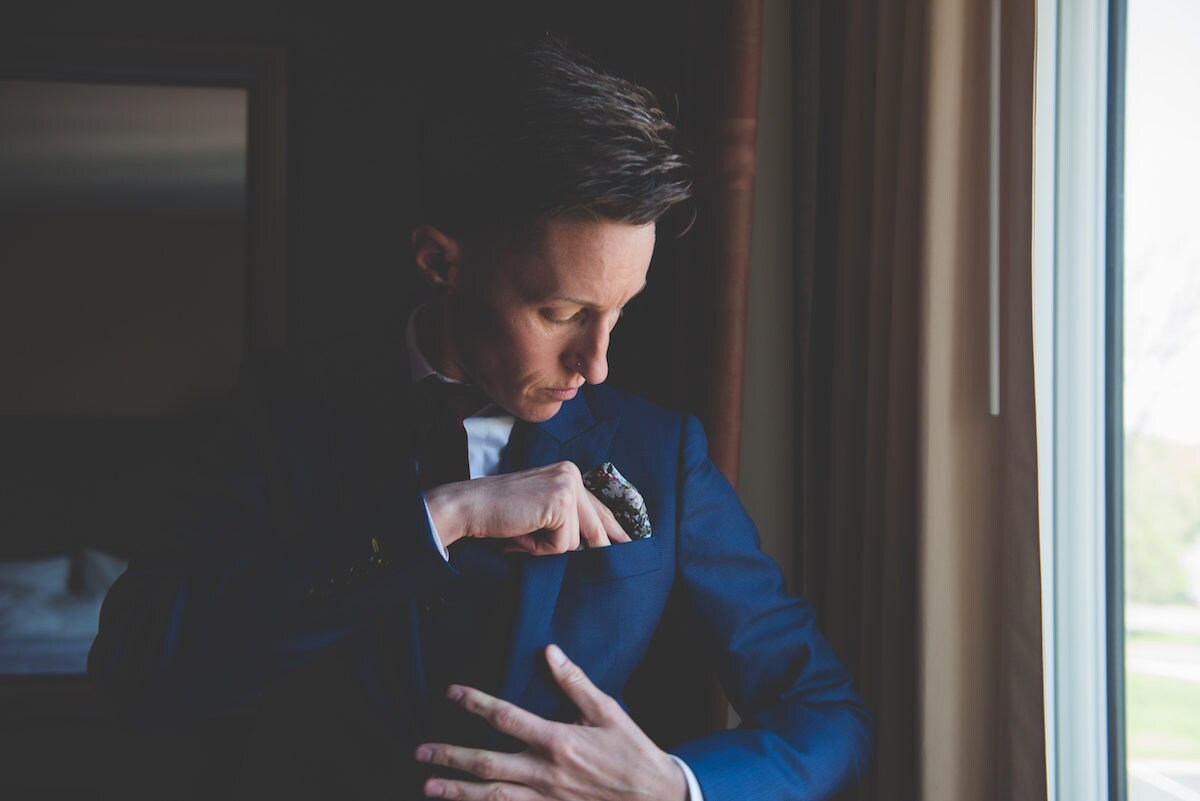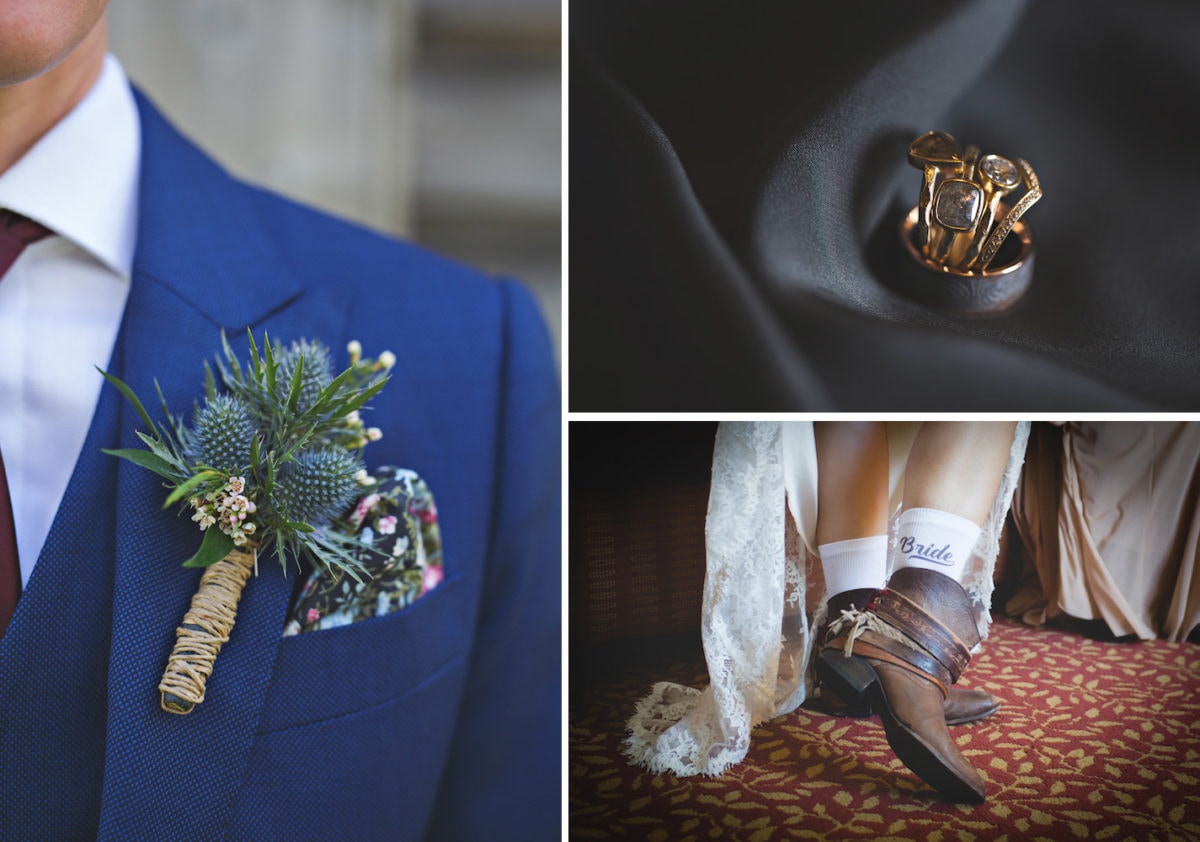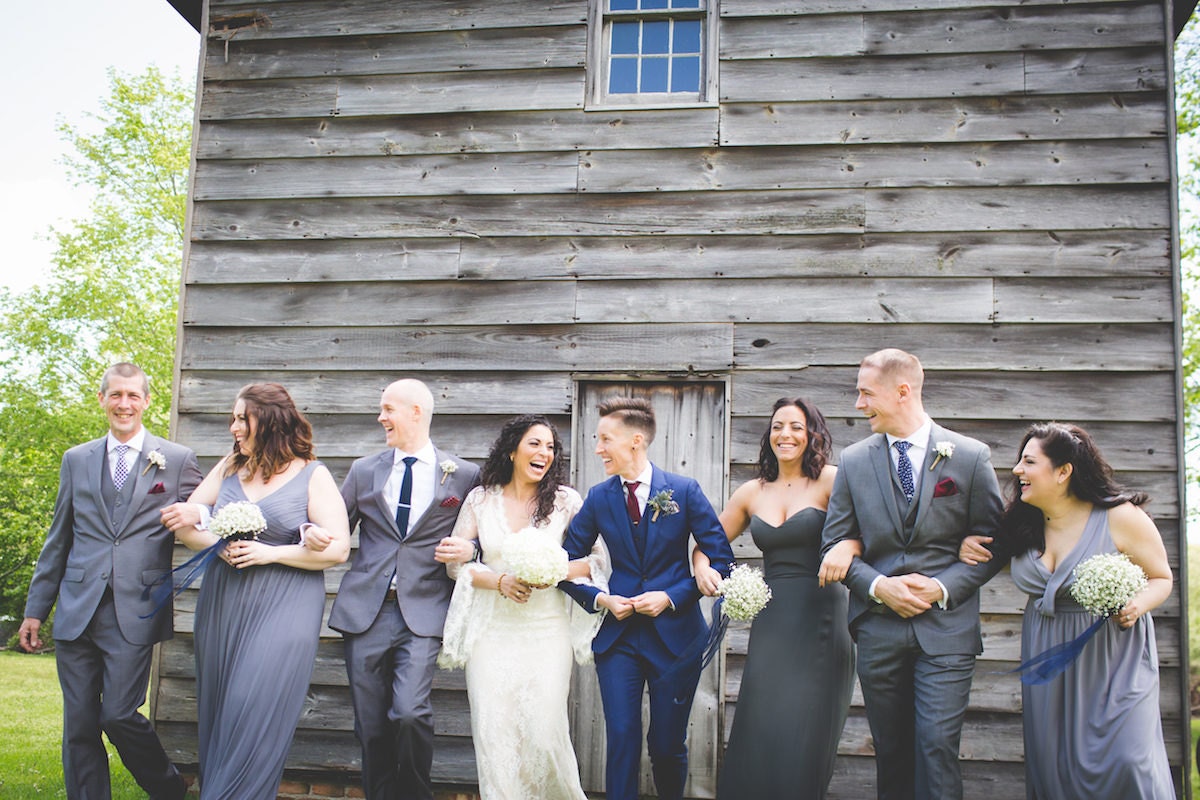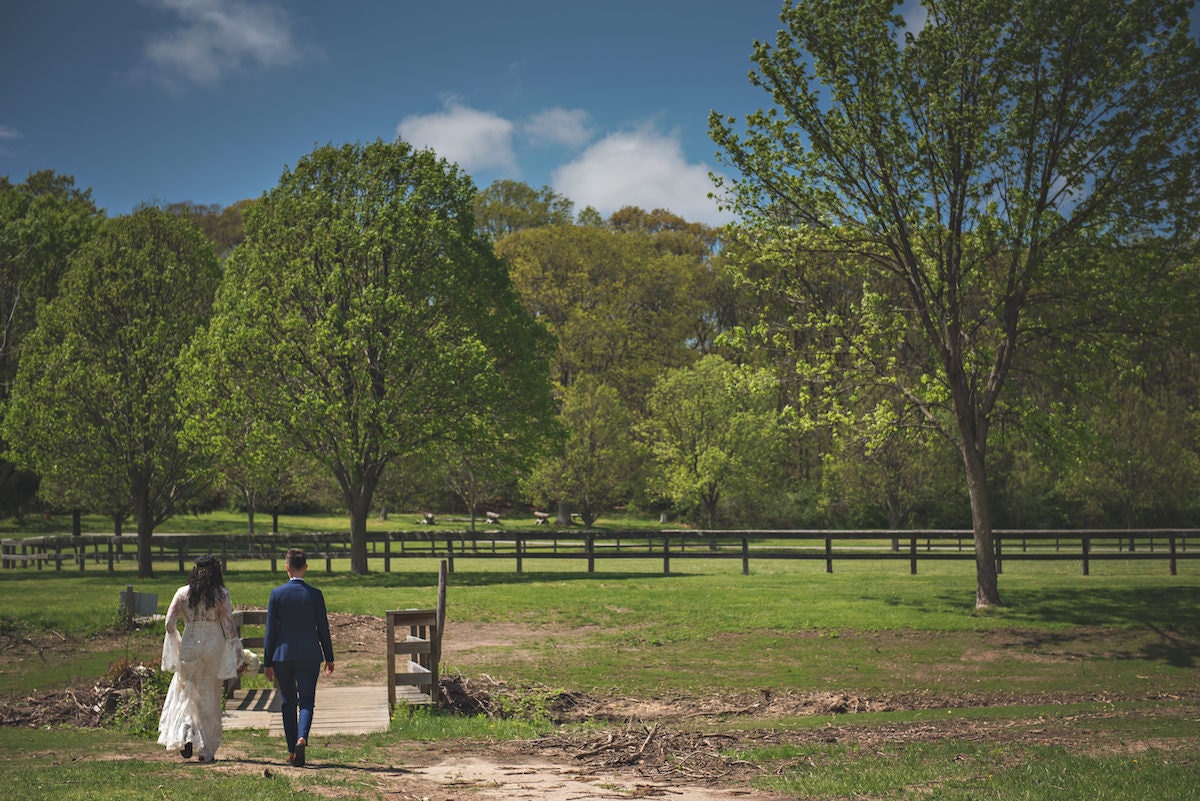 Get the look: bridal party attire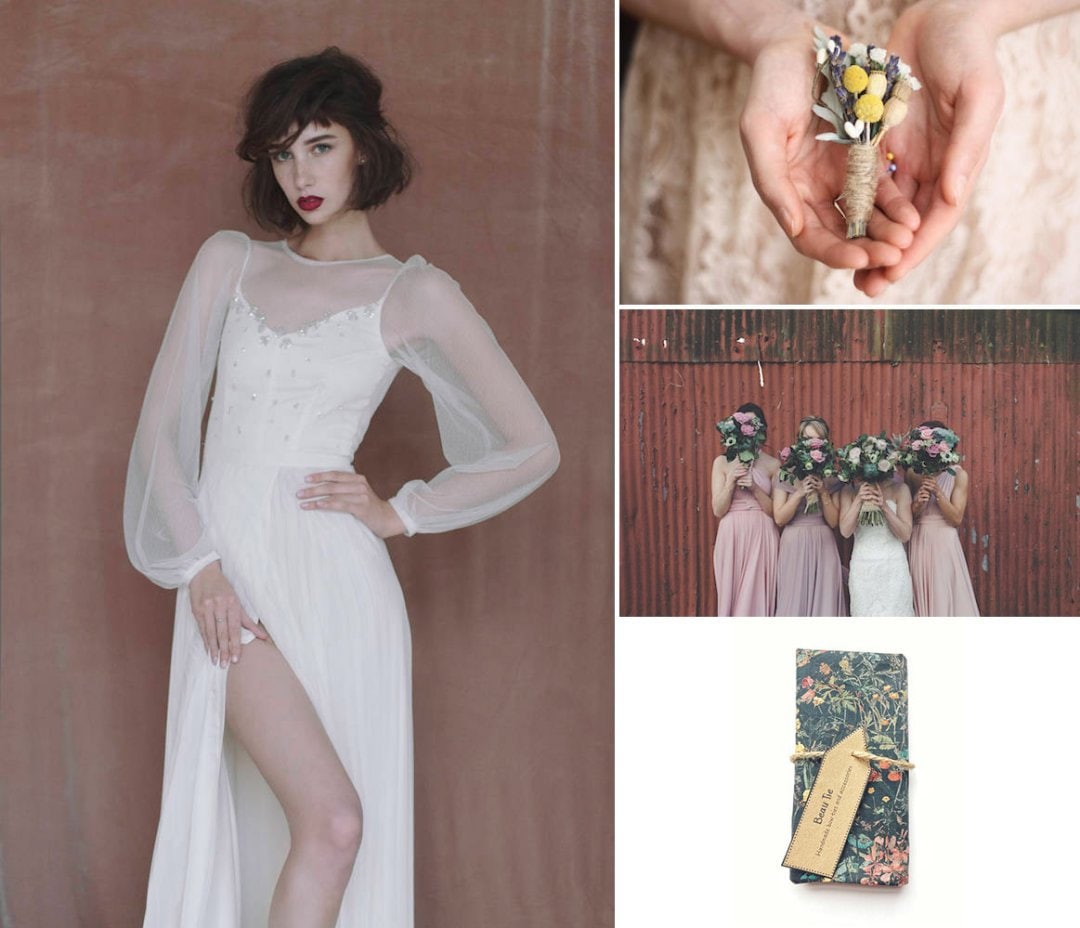 >
Those flowers were from Etsy, right?
Yes! We chose lilacs and lavender, and I had them in storage for almost a year before we got married. I really wanted lavender in particular because it's something Colleen's mom loves and it's been a bonding thing between us. So I reached out to Cindy from
Larkspur Hill
and I was like, "Listen, I really want these, but it's way, way far in advance. Will they keep?" She told me that she had some left over from the summer before, and offered to freeze them for me because she wouldn't have another bloom before the wedding. It was so cool to know that she hand-picked them from her garden.
How would you characterize the overall vibe of the wedding? What aesthetic were you going for?
We were going for a unique, earthy look. Once we decided to get married at a
barn
, that woodsy, not-trying-too-hard feeling was very important to us. Plus, a marriage is forever, and we wanted the space we were in to feel like it had history, as opposed to some bright white wedding room that feels very one-day-ish. We wanted to get married on wood and on the earth. We stood outside on the grass for the ceremony.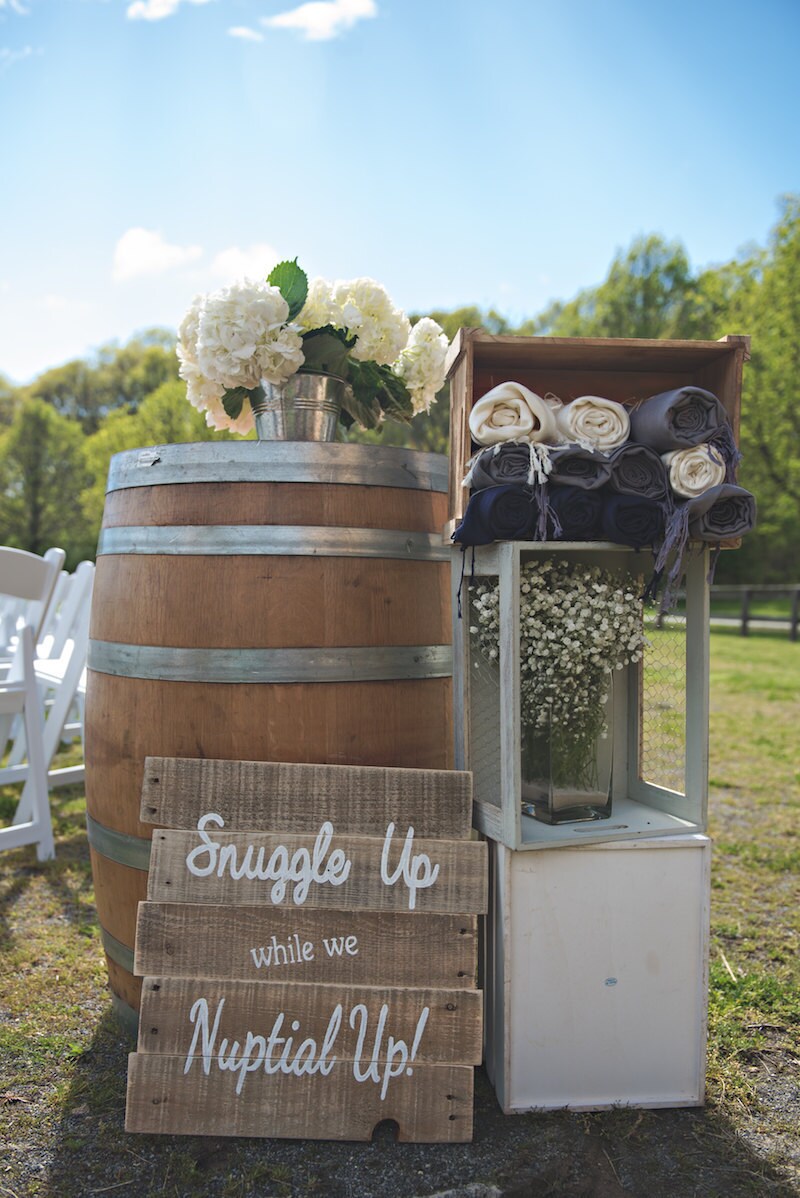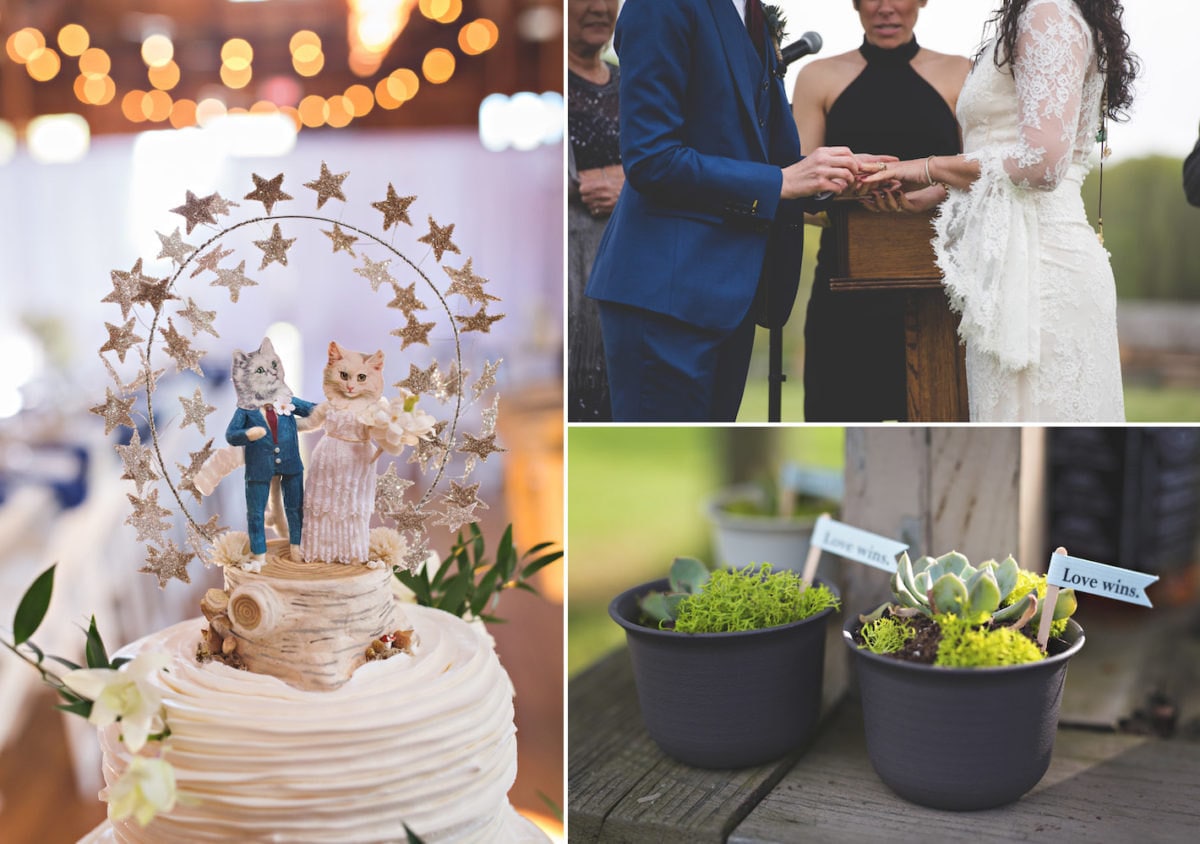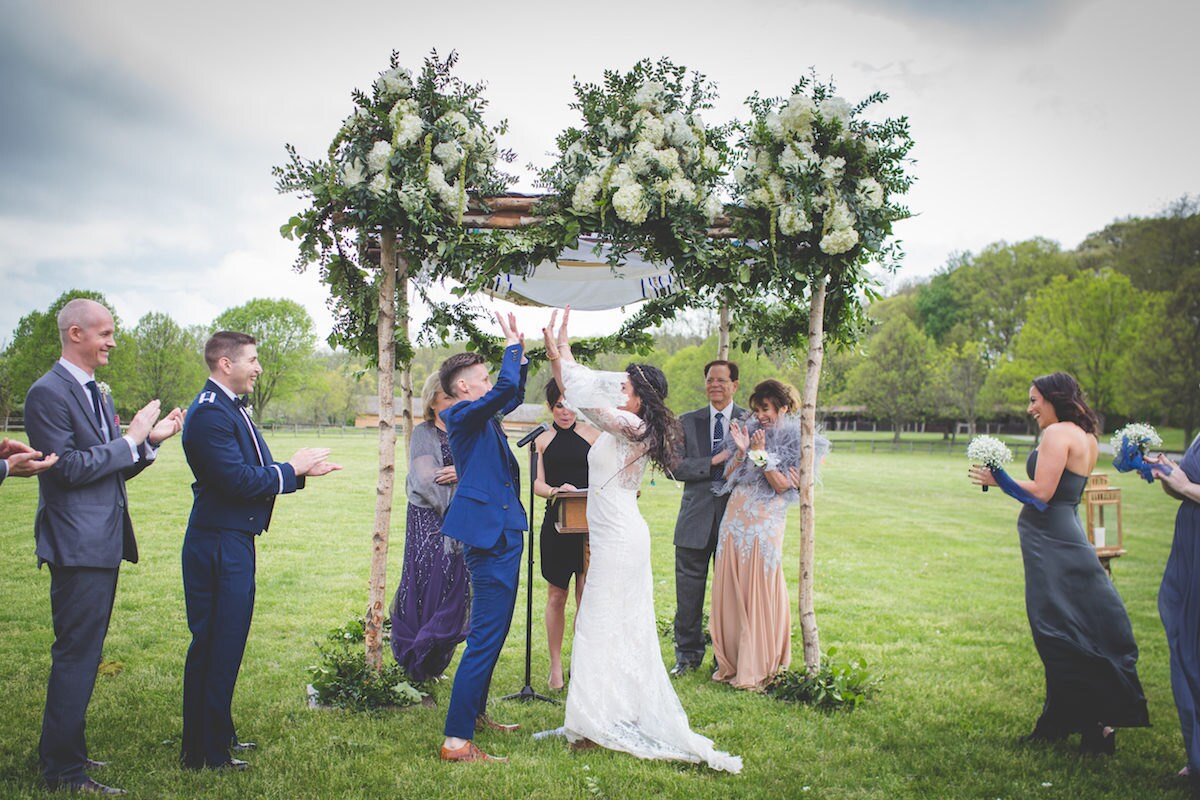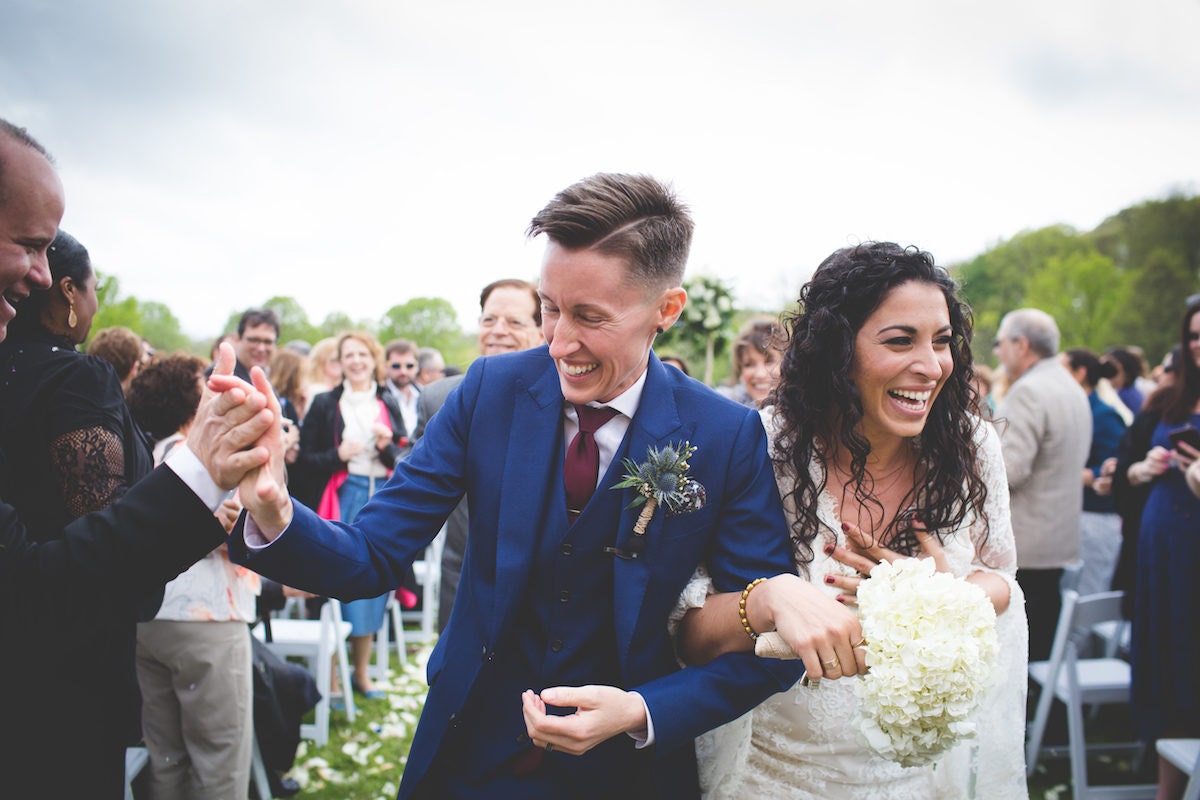 Get the look: reception decor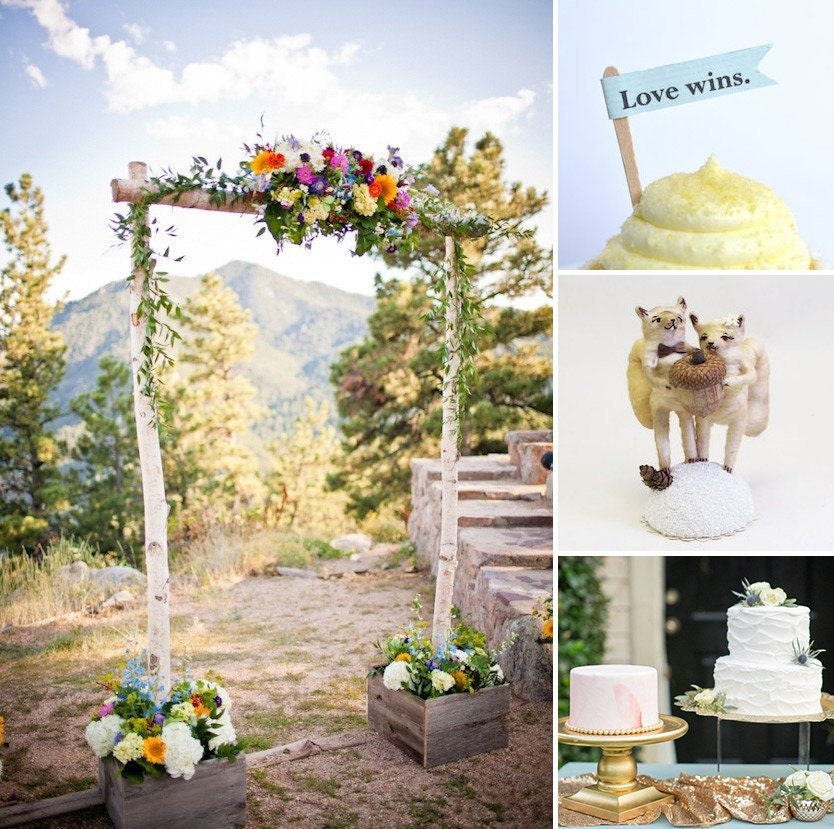 >
What role did Etsy play in your wedding, and what were some of your favorite finds?
We say that the wedding is definitely "by Etsy" in many ways, because that's where we found so many of the things that really made the day feel special. Our cake topper from
Vintage by Crystal
, for example, was so unique and personal. It has two cats on it who are dressed up like me and Colleen, which was ridiculous and hilarious, and the seller just captured us so perfectly. I got it because I knew it wouldn't just be for our wedding cake—it currently sits on a shelf in our kitchen. It's going to be something that we keep forever to remember our wedding. The very first thing I purchased for the wedding was actually from Etsy, too: these little paper pennant flags from
Paper Acorn
that say, "Love wins." When I saw them, I was like: This is exactly the vibe I want for my whole wedding. At the time, I didn't even know where we were getting married, but I knew they were something I could stick in cupcakes or succulents. I actually ended up buying the succulents for the wedding from Etsy, too. I also got a personalized tie bar for my dad that said, "Father of the bride," and included the date of the wedding. And Colleen ordered this little ring dish for my mom that said, "I promise to take care of her always. Love, Colleen," and the wedding date. I cry just looking at it, even now, because it was so special—it was such an only-on-Etsy kind of thing.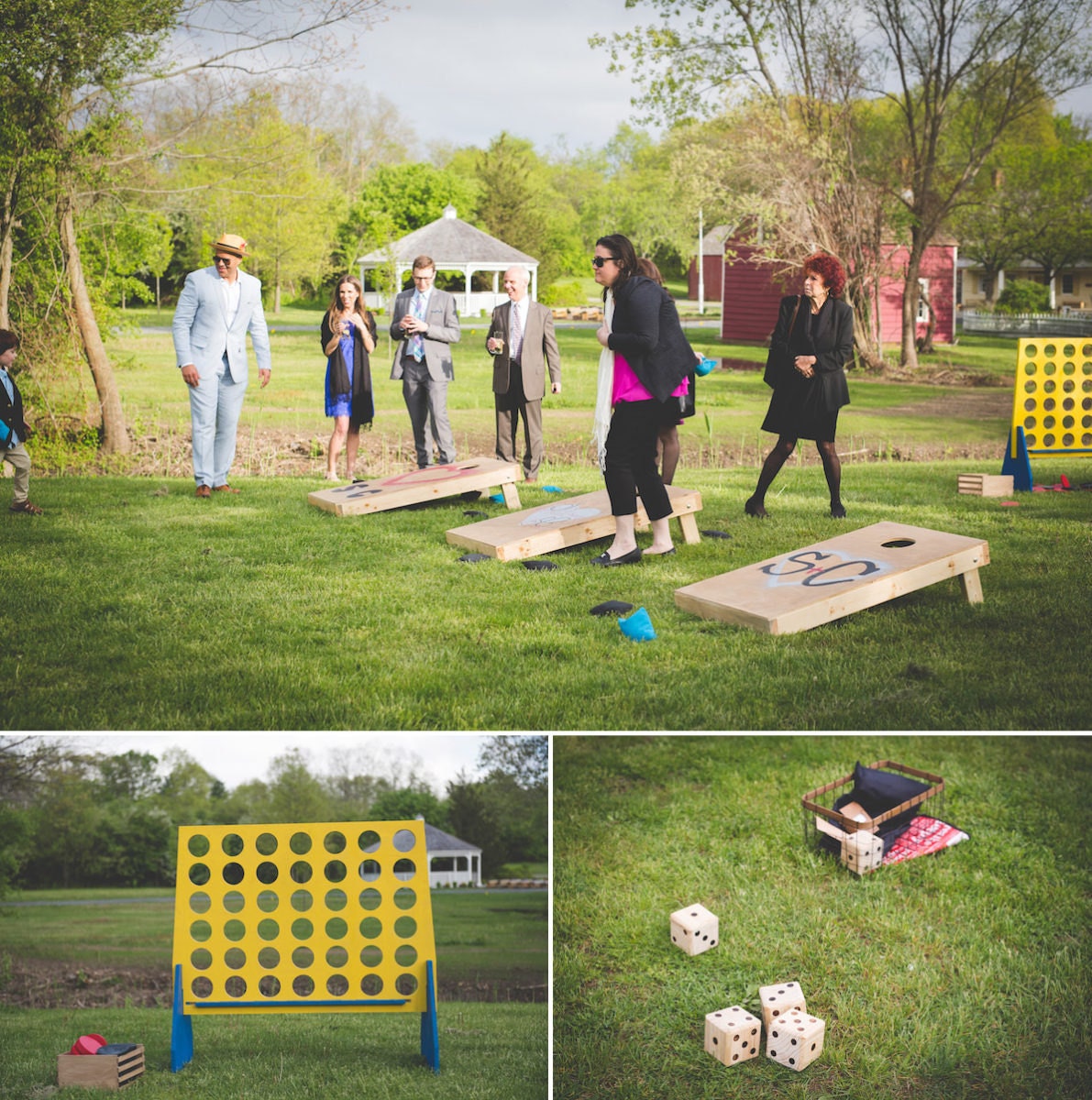 Get the look: lawn games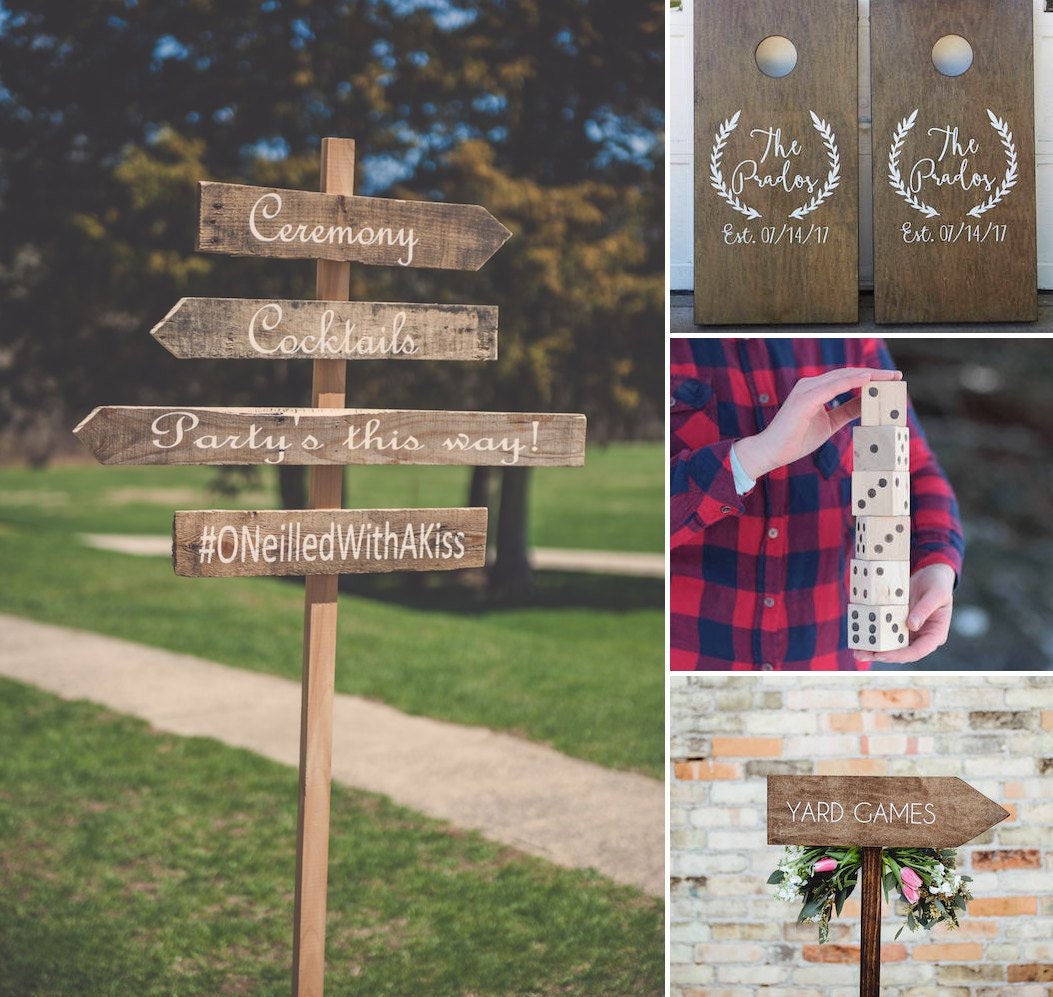 >
Your directional sign had a very Etsy feel to it, too.
Yes! That was super-custom, and it made everything feel really whimsical. It pointed to all the important places in our lives: the places that we were born, where we grew up, and the house we live in now, which we included by calling out our cats' names. And it also included practical things from the day of, like "ceremony" and "booty shakin'" so people knew which way to go. We recently bought a house, and we'll definitely put it up in our new backyard.
What brought you to Etsy for so many elements of your big day?
The thing that I like about Etsy is that you're able to contact every single person that you order things from and create something together. Like for our cake topper, I talked to Crystal and said, "We're cat people, we live on the beach, and I want it to feel woodsy—but I'm also a performer so it should have a little bit of sparkle." It's not like it's something that existed before—that cake topper was literally designed, every single ounce of it, for us. And that's not something that you could get from even the most boutique-y boutique.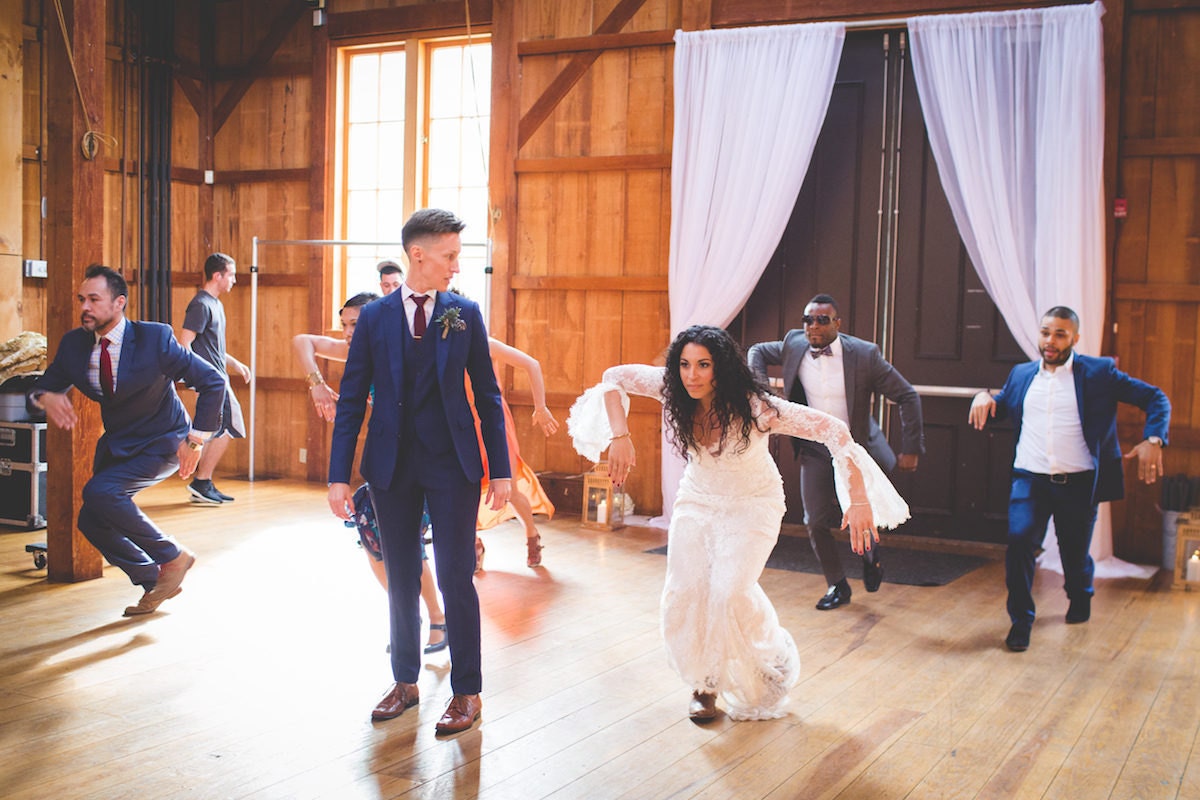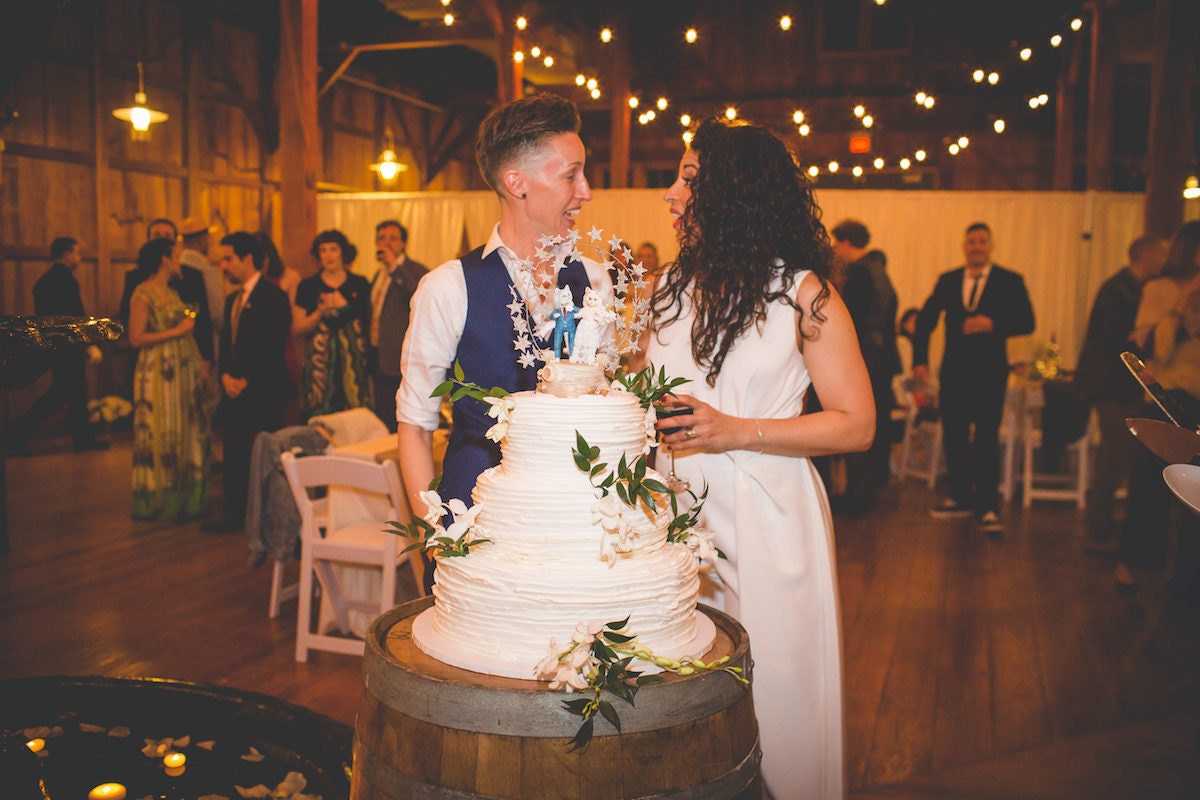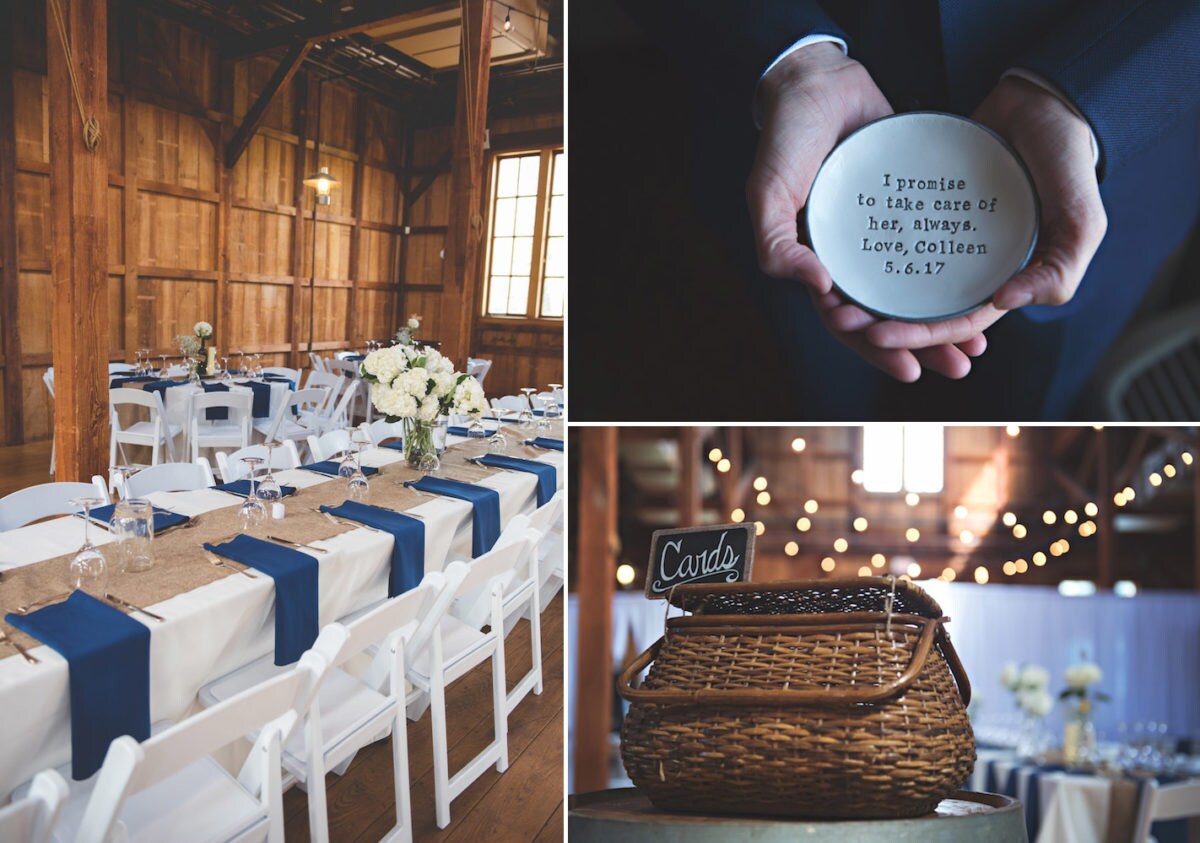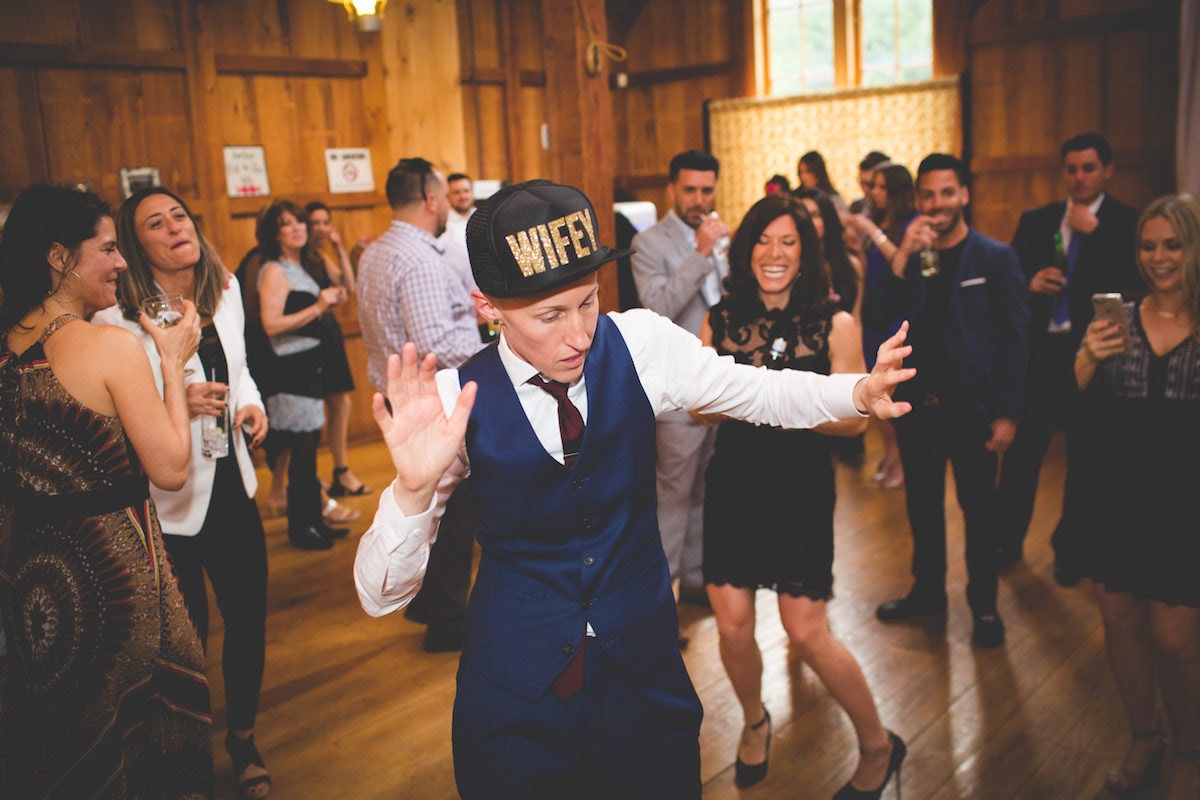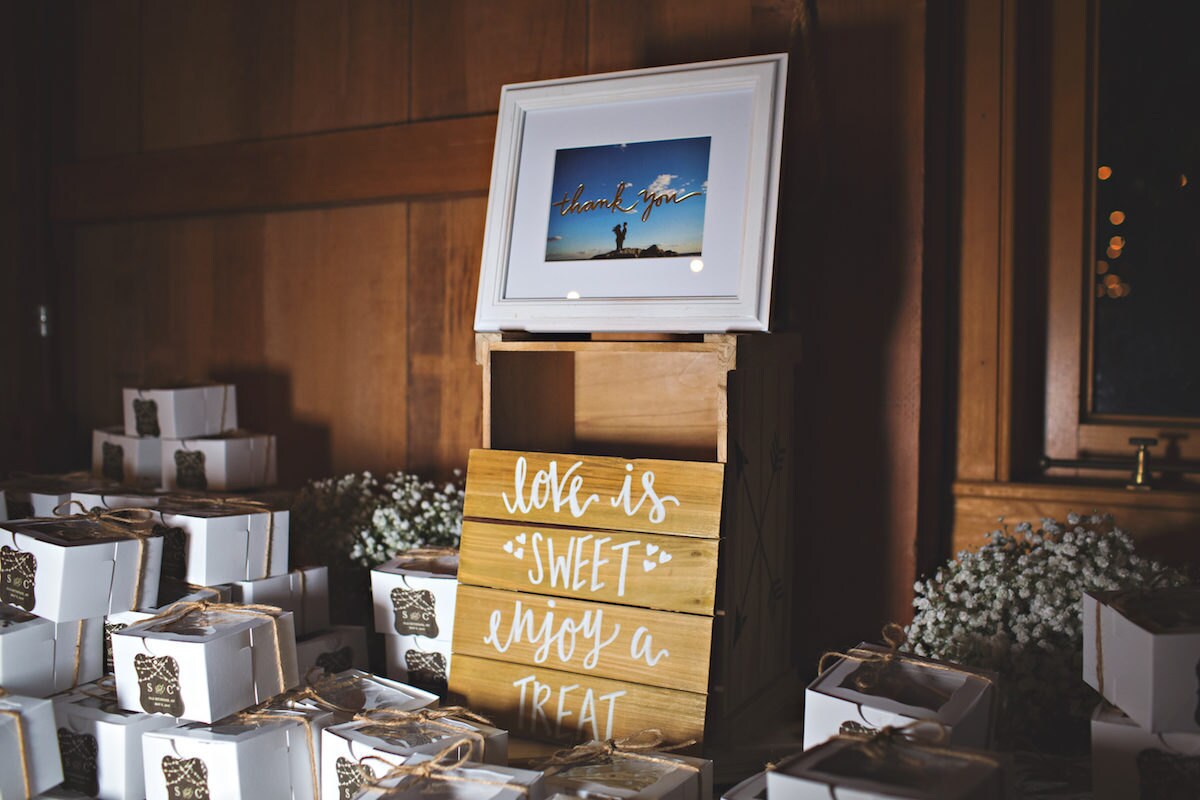 Get the look: gifts and mementos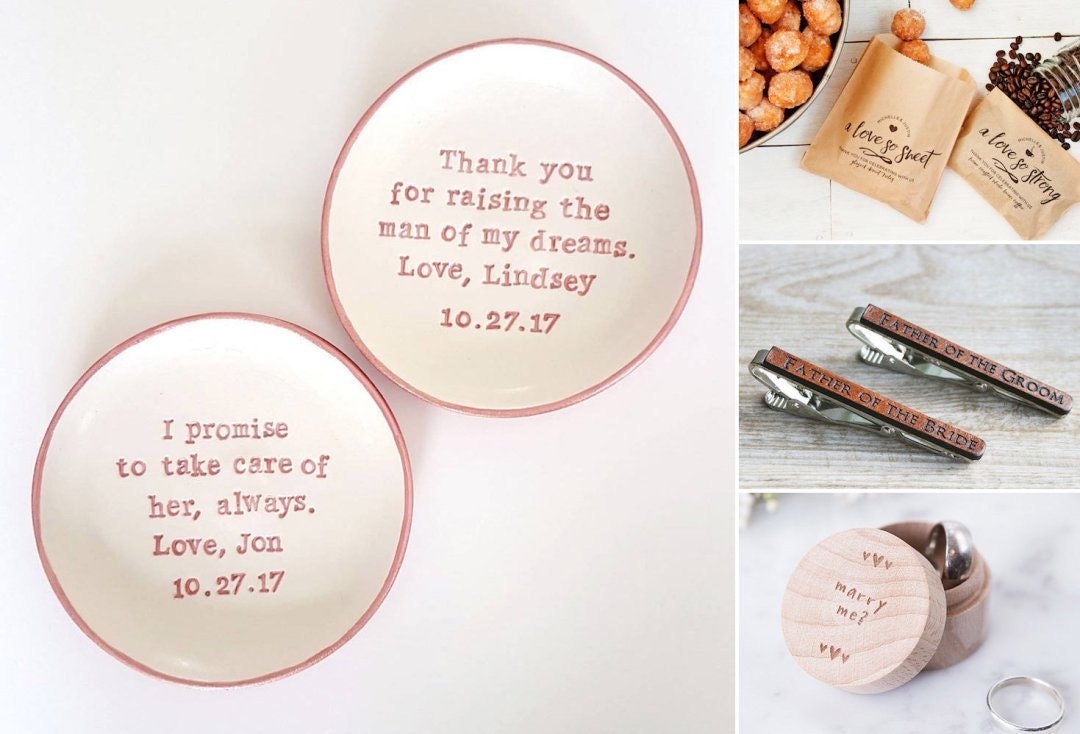 >
Did the day hold any surprises, for you or for your guests?
My brother is in the Air Force and he wasn't supposed to be at our wedding because he had one more week left in Afghanistan for his deployment. But he pulled all of these strings to get out a few days early, and he walked in while we were taking pictures. My mom and I were crying so hard, I don't really have any makeup on in any of my wedding photos. At the reception, I also did a flash mob where I choreographed a routine from
Hamilton
and
In the Heights
with all my Broadway friends. We busted it out at the end, and then Colleen and I did a dance and that was a surprise to everyone, too. That was really fun. We just wanted it to be a unique moment.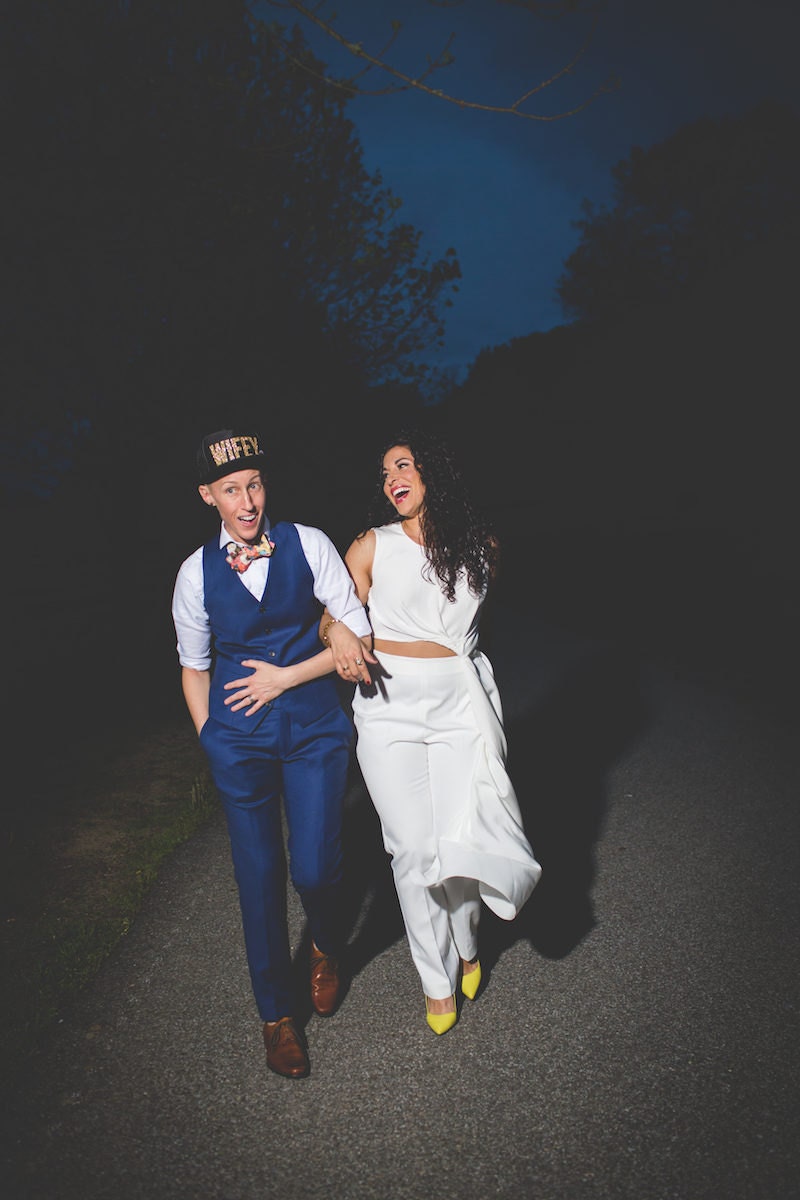 You infused so many personal details into the decor, but your wedding day was ultimately about the people—you, Colleen, and your community. What was your favorite moment?
The ceremony itself was really important to me. Colleen's friend Lauren officiated, and she just went above and beyond. My mom would've loved for us to get married by a rabbi, but I didn't want to go searching for a random person who didn't know us at all. I wanted to get married by someone we knew, and who knew us, so when they told our story, it wasn't just because we'd met them for an hour twice. I always say those were my favorite 20 minutes of the wedding—the part where I just got to stand there and stare at her was the best.
Photographs by Amanda-Lee Seely.