Whether you're looking to maximize your household budget or minimize your carbon footprint, these reusable swaps will help do the trick.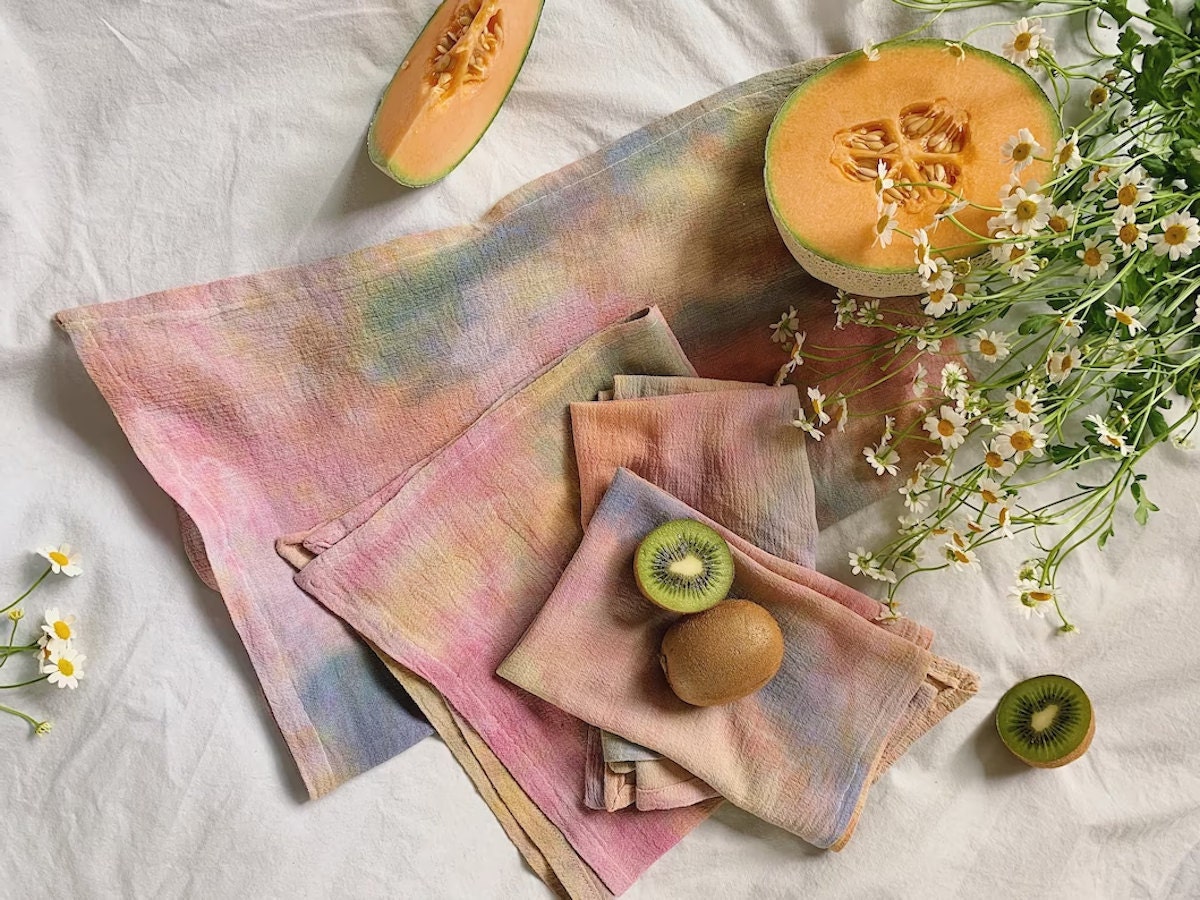 Countless volumes of plastic and other disposable items head to the landfill every single day. Lucky for you, there are gobs of simple reusable swaps you can use everyday to help minimize excess waste. Kitchens and bathrooms are prime spots for making some simple swaps, and small shops on Etsy have an array of innovative reusables for almost everything imaginable (yes, including reusable toilet paper!)
Smart kitchen swaps
The kitchen is where a lion's share of household waste originates—especially of the paper and plastic variety. In addition to buying food staples in bulk and choosing products with minimal or recyclable packaging, these simple swaps can put a big dent in your trash production.
Reusable cloth napkins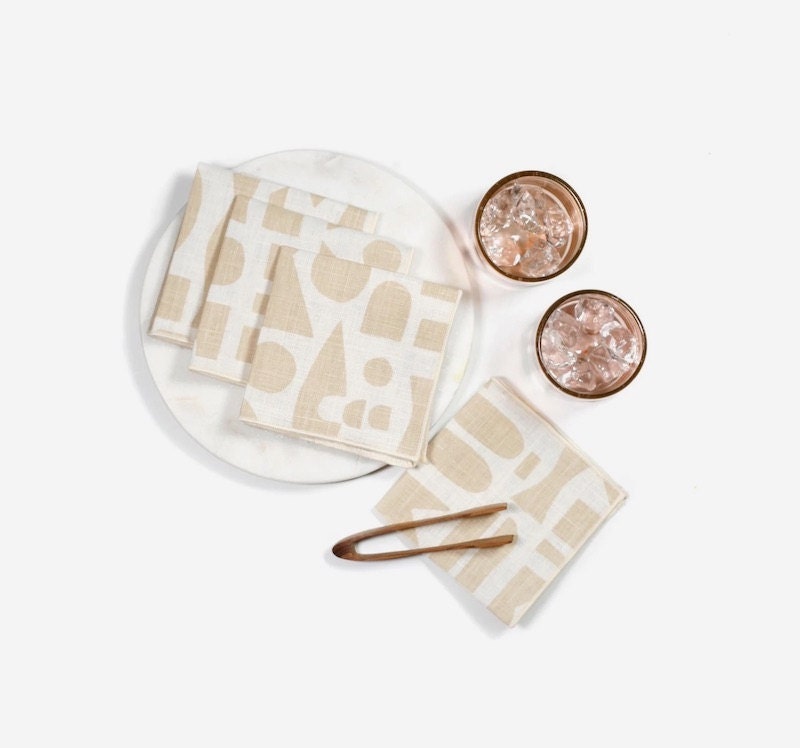 SHOP: Hand-printed linen cocktail napkin from Willowship, $36
Instead of disposable paper napkins, give a set of machine-washable reusable napkins a try. Made from soft, 100% linen, these hand-printed napkins are each one-of-a-kind. Cloth napkins aren't just for dinner parties—break 'em out for everyday use, and never have to buy paper napkins again.
Reusable paper towels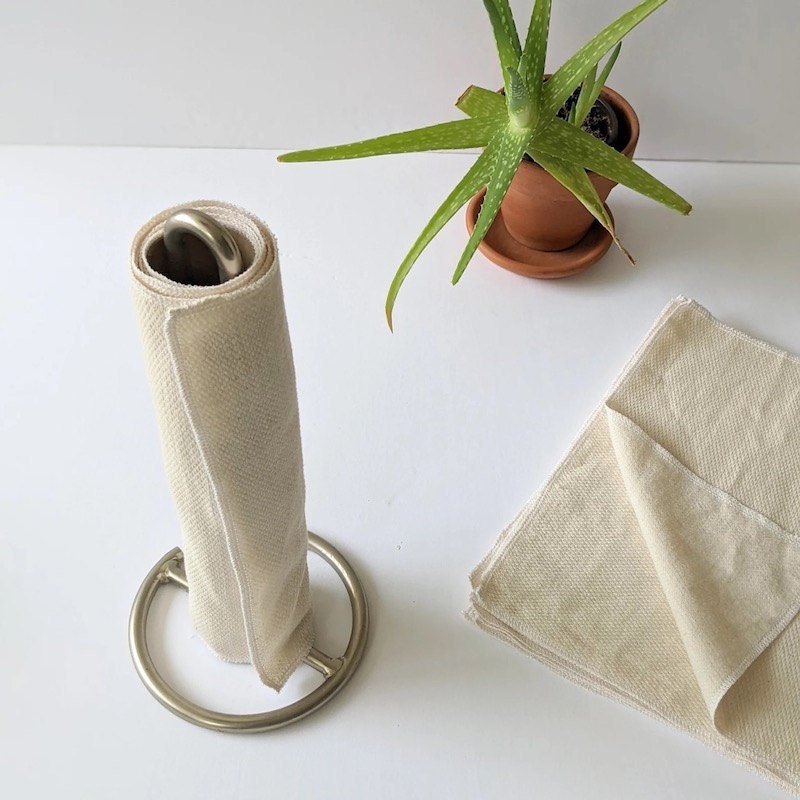 SHOP: Organic cotton unpaper towels from The Conscious Cloth, from $13
Reduce waste by leaps and bounds with these reusable paper towels made from textured, unbleached cotton. The special woven texture makes these cloth paper towels super absorbent, yet they're lightweight and soft to the touch. Each "unpaper" towel naturally wraps around any standard paper towel holder so they're easy to grab when you need them—and when you're done, just toss 'em in the laundry basket instead of the trash.
Cutlery to-go bag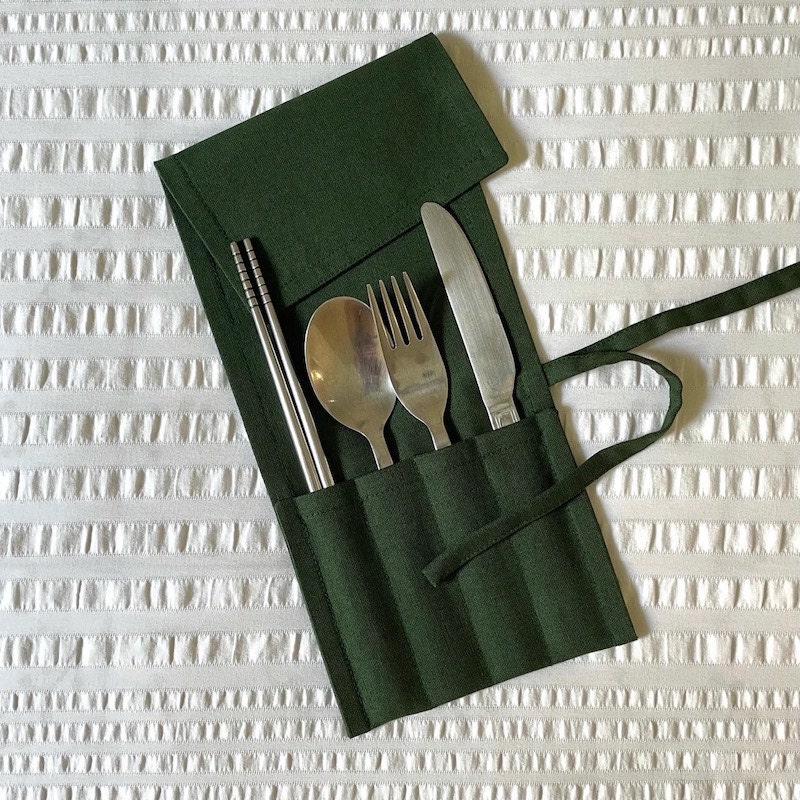 SHOP: Cutlery wrap from Made by Tyng, $22
It's easy to skip disposable plastic forks and spoons with this thoughtfully crafted cutlery wrap in tow. Constructed from a sturdy cotton-and-linen blend, it keeps your straws, reusable chopsticks, and portable cutlery safely tucked away in your reusable lunch bag or work tote. The wrap features four pockets, a handy flap that folds over to keep everything in place, and a durable tie closure.
Zero-waste sipping
Single-use, disposable coffee and tea cups account for a whole lot of landfill waste. If you're a daily drinker of hot or iced coffee or tea, get your green on with these reusable swaps.
Reusable tea bags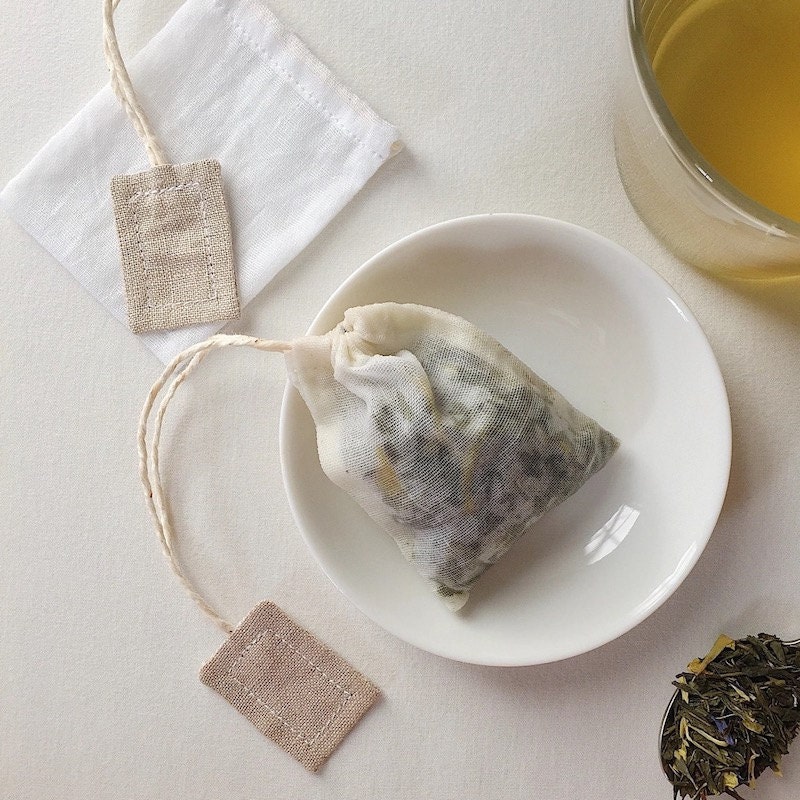 SHOP: Set of 2 reusable cotton tea bags from Made by Tyng, $15
If you adore making your own tea blends, these reusable tea bags are an excellent alternative to disposable, store-bought tea bags. Add your favorite loose-leaf tea blend to the bag to make a cuppa, then give it a quick rinse to reuse later. The bags are made of cotton fabric and feature a cute tag and string.
Reusable coffee filter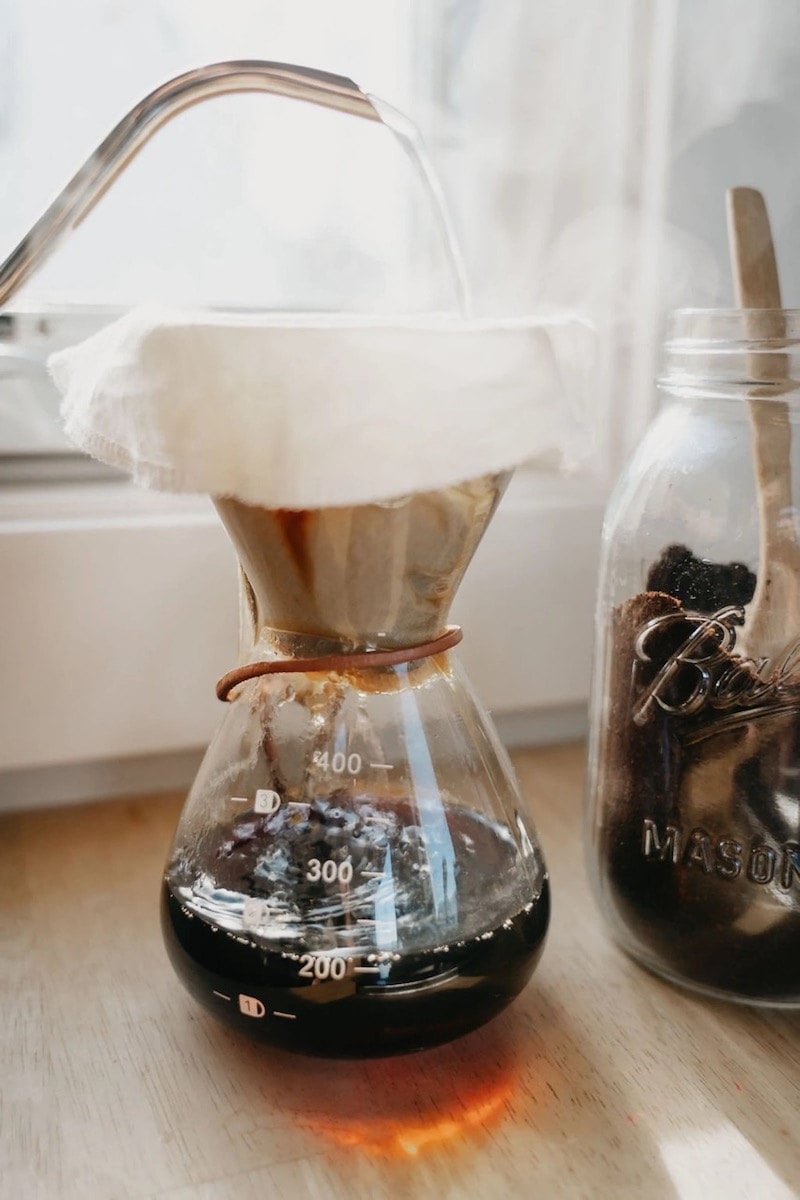 SHOP: Reusable organic cotton pour-over coffee filter from The Conscious Cloth, from $12
The pour-over coffee trend is popular, but it usually requires the use of a disposable filter to keep excess grounds out of your beverage. Ditch the throw-away filters and try this reusable coffee filter made of soft cotton. The filter fits 8- to 12-cup coffee makers, and the 100% GOTS-certified organic cotton muslin fabric ensures a smooth filtration process.
Leather coffee sleeve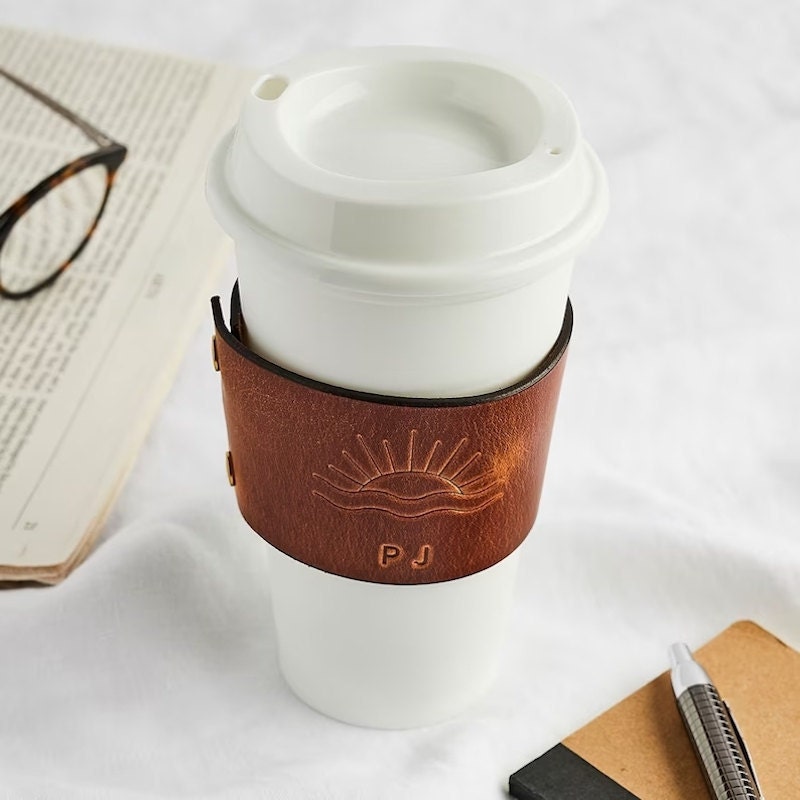 SHOP: Personalized leather coffee cup sleeve from Create Gift Love, $30
Skip the disposable coffee sleeves at the coffee shop and give this beautifully made, vegetable-tanned leather option a try instead. This protective sleeve snaps securely in place and feels extra-luxurious in your hand. It's also personalized—pick your color, design, and words—and makes a great gift for the coffee lover in your life.
Ceramic travel coffee mug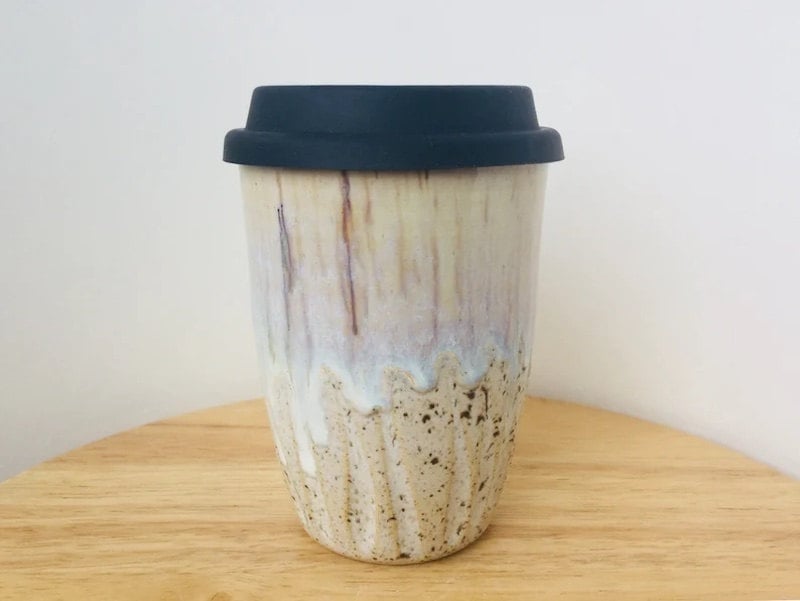 SHOP: Ceramic travel mug with silicone lid from Forward Pottery, from $28
Hit the road with your favorite cup of java in this ceramic stoneware travel mug. This handmade beauty holds 12 ounces of coffee, and the silicone lid fits snugly to prevent spills. Carved lines near the bottom ensure a secure grip.
Reusable straws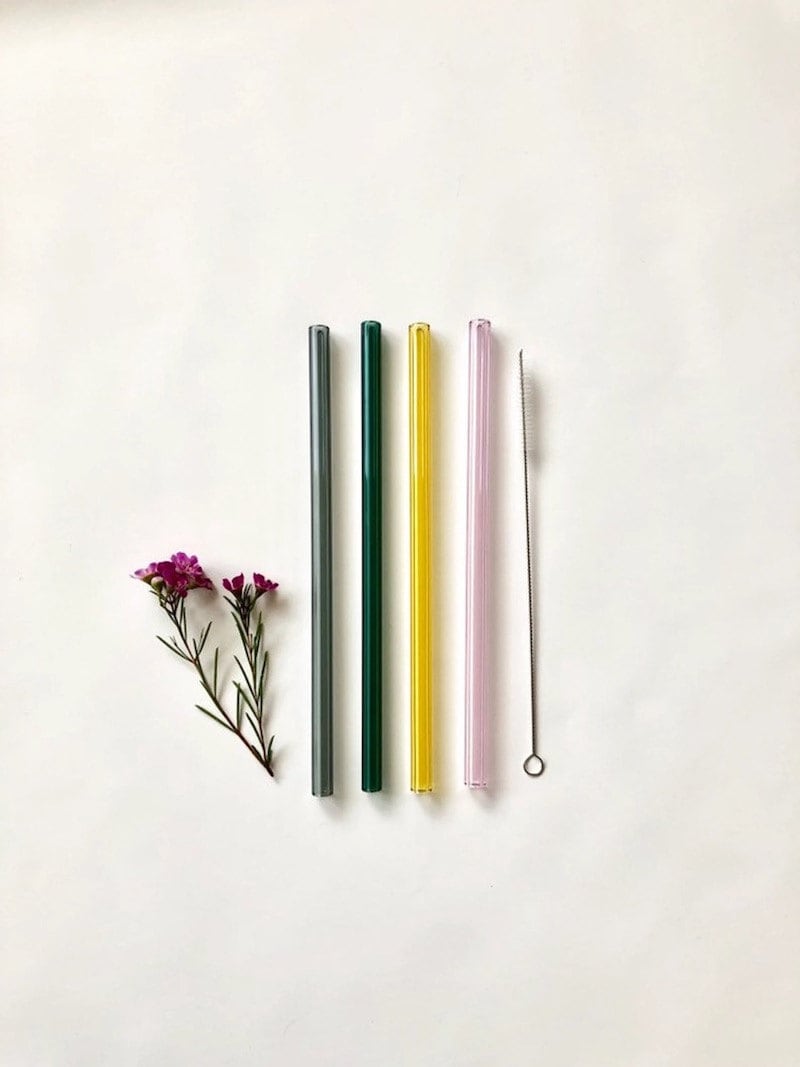 SHOP: Set of four glass drinking straws from Brook Drabot Glass, from $23
Kiss those disposable plastic straws goodbye and replace them with this set of four reusable straws made of colored glass. Each straw is handmade and features a different color so everyone will know which one is theirs. Bonus: These gorgeous glass straws come with a cleaning brush, so they're a breeze to keep clean.
Sustainable self-care
A great way to green up your personal care routine is to swap out plastic bottles of conventional shampoo and conditioner for waterless bar shampoos and conditioners, which come packaged in recyclable cardboard. Independent shops on Etsy have created all manner of reusable personal body care tools—including period products.
Reusable cotton rounds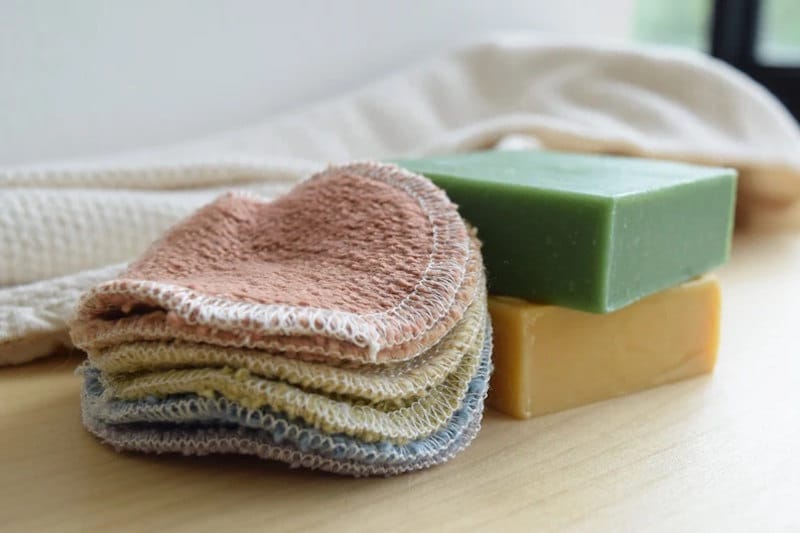 SHOP: Set of 6 organic rainbow facial rounds set from Object Apparel, from $14
Instead of throwing away disposable cotton rounds, give these colorful, handmade reusable makeup remover pads a try. Made from plant-dyed scrap fabric, they come in a range of soft, beautiful colors. Toss them in the washing machine after a few uses, and you'll always have one on hand.
Self-care spa set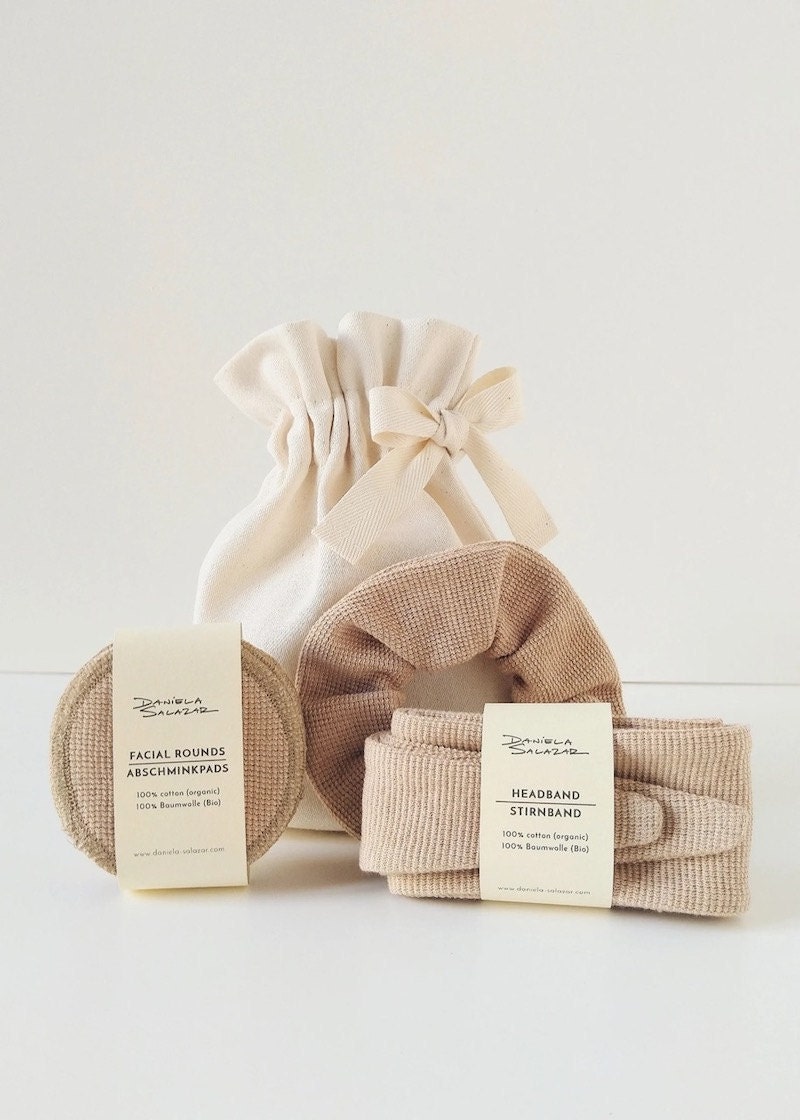 SHOP: Organic cotton home spa gift set from Daniela Salazar Shop, $65
This sweet spa gift set is a winner for sustainable self-care and includes reusable cotton rounds, an adjustable spa headband, and a scrunchie to keep your hair out of the way. It's all packed in a cotton drawstring gift pouch that has myriad uses around the house.
Black velour washcloth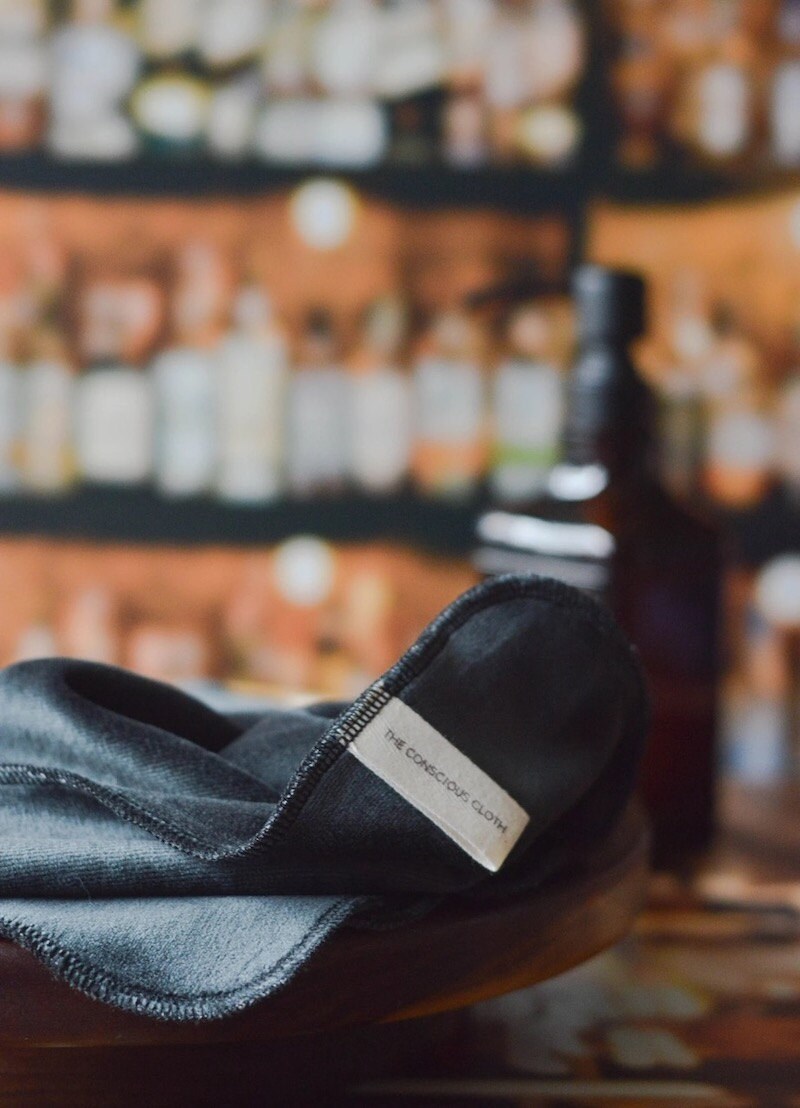 SHOP: Organic velour men's washcloth from The Conscious Cloth, from $14
This convenient cotton-and-bamboo velour washcloth is colored with Oeko-Tex-certified plant dye. It's specially made for men and works on beards and other hairy man parts. The luxuriously soft velour makes this reusable washcloth a comfortable and effective face- and body-cleansing tool for any man—and there's no law against women using it, too!
Reusable food storage
From grabbing groceries to picking produce to storing snacks, swapping disposable bags with reusable storage bags for food keeps single-use plastics out of the kitchen.
Reusable grocery bags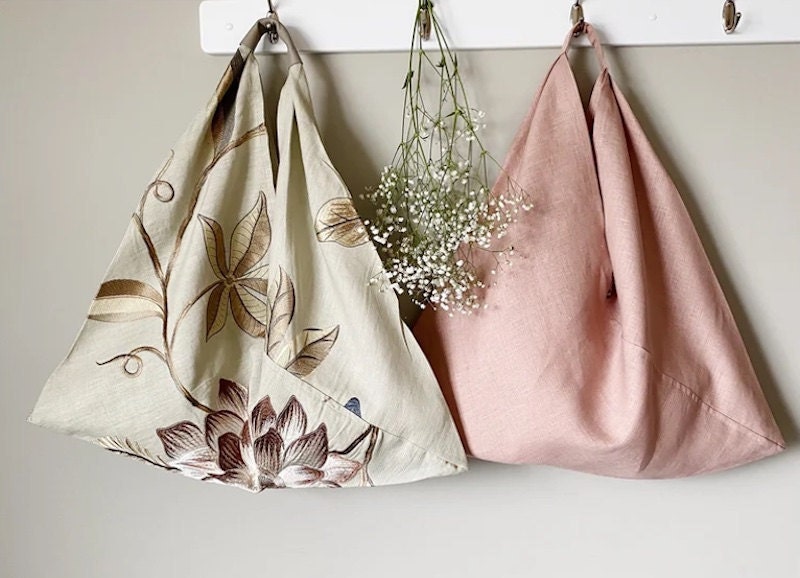 SHOP: Linen tote bag from Prairie Linens Studio, $38
Grab this attractive reusable market tote bag for your next shopping trip. It's made of 100% linen fabric with an interior pocket so you can easily access your wallet, keys, and phone. The bag is lightweight and washable, making it a breeze to carry with you to the farmer's market, grocery store, or mall.
Reusable snack bags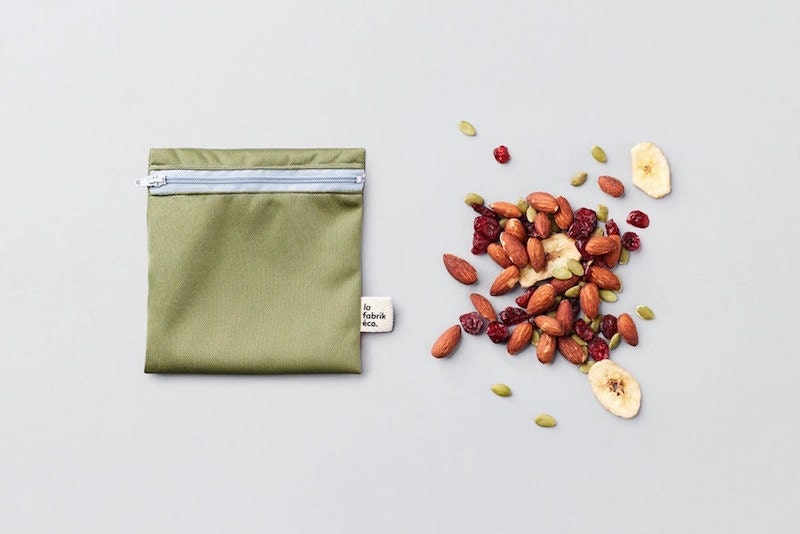 SHOP: Set of 3 reusable snack bags from lafabrikeco, $19
Dispense with disposable plastic bags, and give these reusable snack bags a try. Each bag is made with waterproof material and features a convenient zip closure to keep your snackables safe and fresh. The handmade bags are durable and machine-washable, so you can use and re-use them for years to come.
Reusable produce bags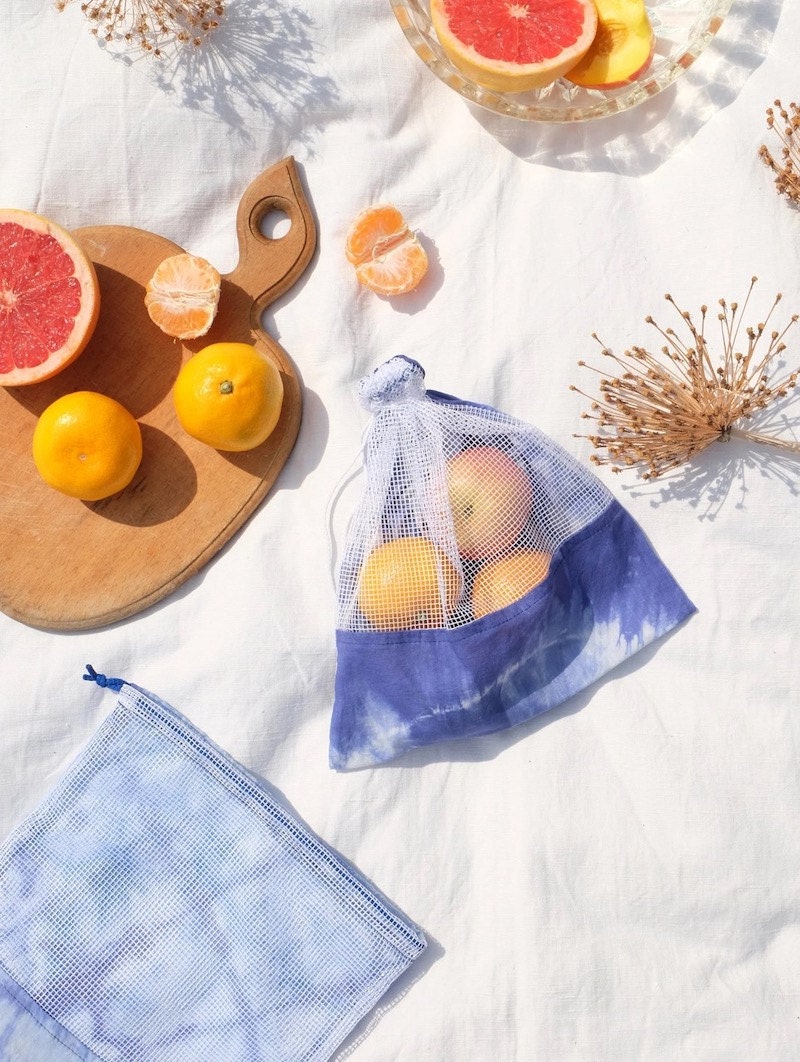 SHOP: Reusable tie-dye produce bag from Catching Orion, from $13
Rather than grabbing those single-use, disposable plastic bags for produce, give these reusable mesh and fabric produce bags a try. They're plastic-free and upcycled from leftover cotton scraps and tie-dyed for a cheerful look. Choose from a variety of sizes, and keep them clean with a quick rinse—or toss them in the washing machine.
Mesh reusable shopping bags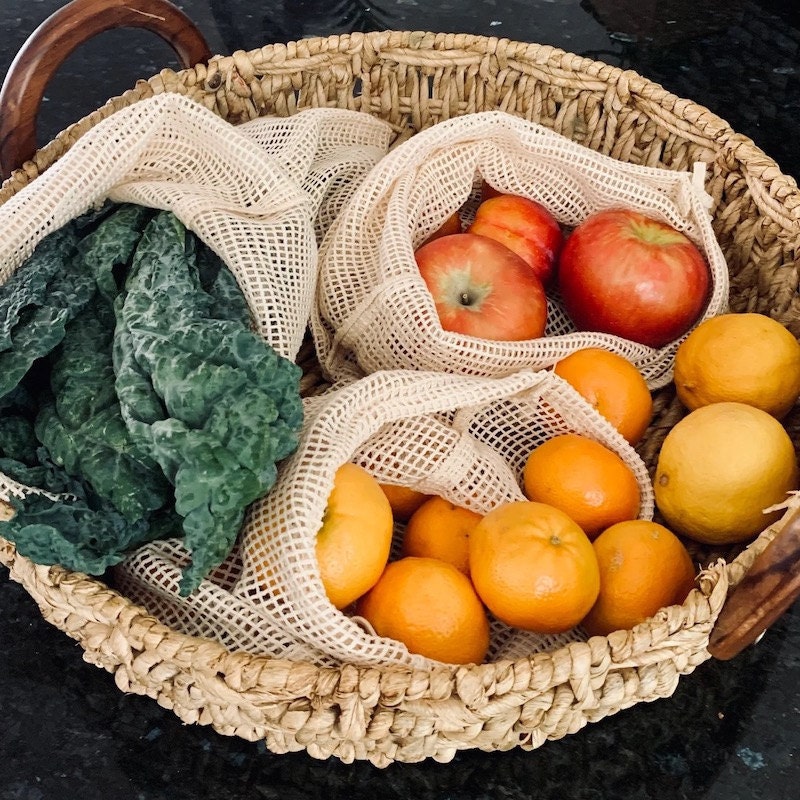 SHOP: Set of 6 reusable grocery bags from MOOGIK, $20
Make your next trip to the grocery store or farmer's market landfill-friendly with this set of reusable grocery bags that come packed in a canvas pouch. You'll get a half-dozen bags in different sizes, and they're all free of bleach, dyes, and synthetic materials. The bags are made of 100% cotton and include a drawstring closure to keep your goodies secure while you shop.
Green gifting
Give conventional wrapping paper a hard pass, and present your gifts in a greener format. In addition to recyclable wrapping paper, these reusable gift wrapping solutions are not only beautiful, but they add a little something special (and useful!) to any present.
Bouquet tote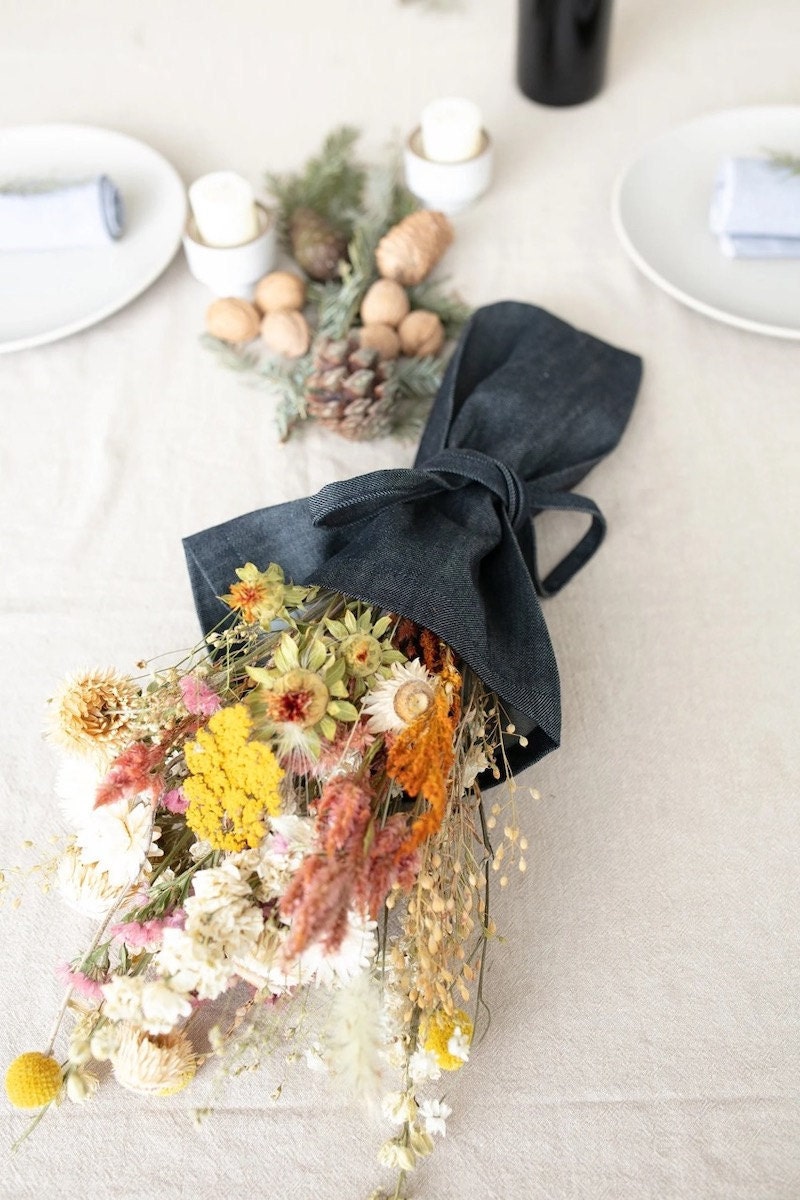 SHOP: Jardin bouquet tote from Aplat Tote, $54
Present a striking flower bouquet to a friend or host with this unique, reusable flower tote. Constructed of locally sourced, surplus raw denim, this clever bouquet tote is free of hardware and plastic. Use it to hang wildflowers or herbs from a doorknob, or display it on the wall—a small, back-seam opening easily slips over a nail.
Canvas tote bag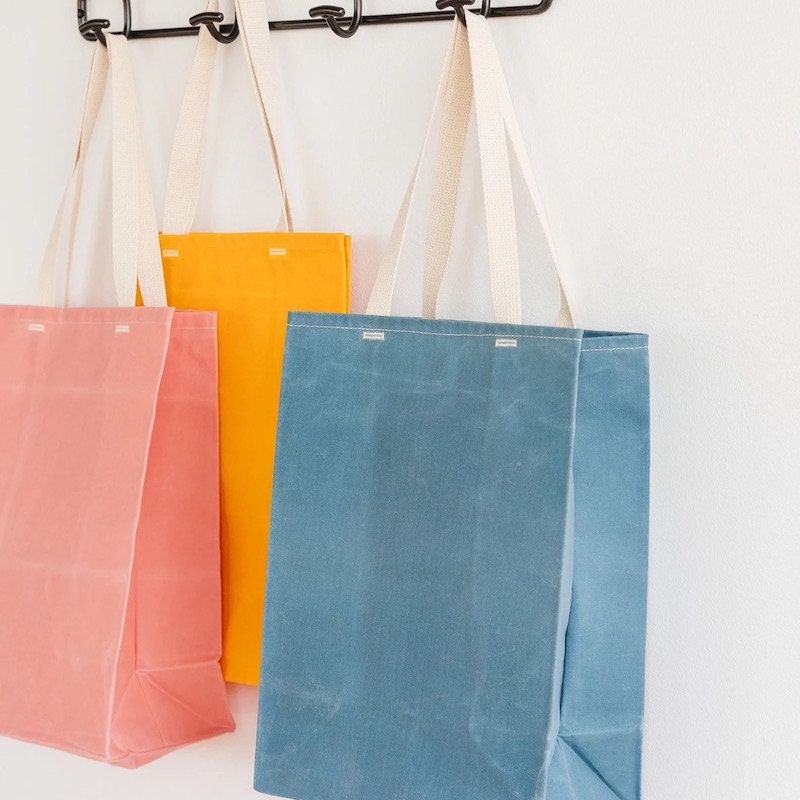 SHOP: Canvas tote bag from WAAM Industries, from $41
These beautiful totes provide a standout presentation for a bulky or heavy gift. Made of beeswax-coated canvas, these bags are water-resistant and exceptionally durable. They feature sturdy, reinforced handles for easy, worry-free carrying, and they're easy to clean.
Furoshiki gift wraps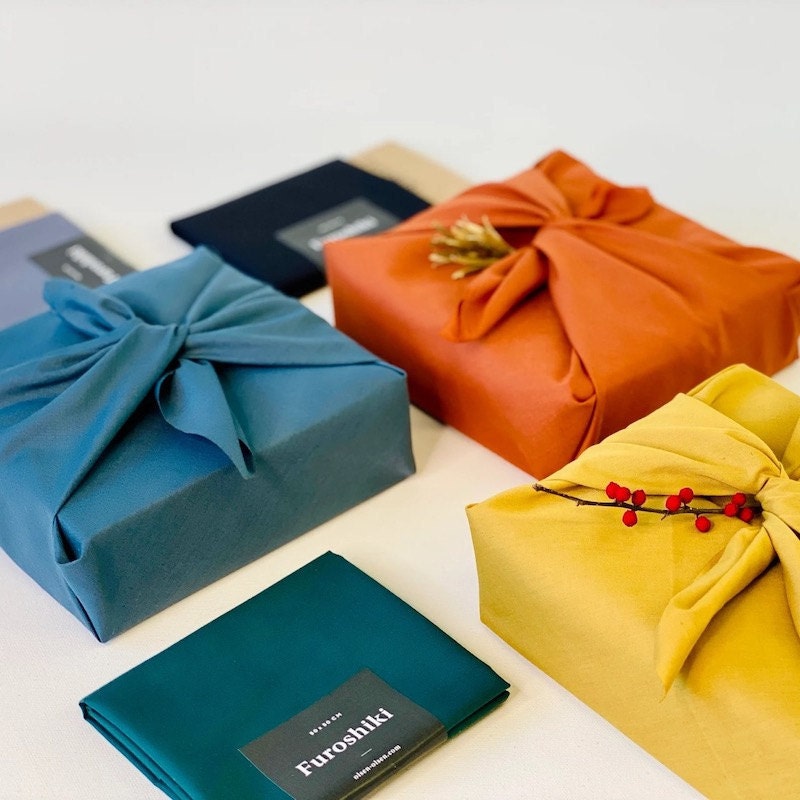 SHOP: Reusable Furoshiki gift wrapping from Olsenolsen Design, from $12
Make your next gift extra-memorable with Furoshiki, a traditional Japanese gift-wrapping fabric made of cotton and recycled polyester. The machine-washable, reusable cloth is flexible and adaptable to any shape. The gorgeous colors and soft material make it a wonderful, zero-waste way to wrap gifts for a beautiful and unique presentation.
Gearing up to go greener? Small shops on Etsy offer reusable alternatives to nearly any disposable product you can think of—and you can always count on beauty and quality when you buy from talented, independent creators.
Descriptions of the environmental attributes of any items on Etsy are based solely on Seller's listing information.