An interview with an unconventional embroidery artist who combines whimsy, tradition and darkness in his striking work.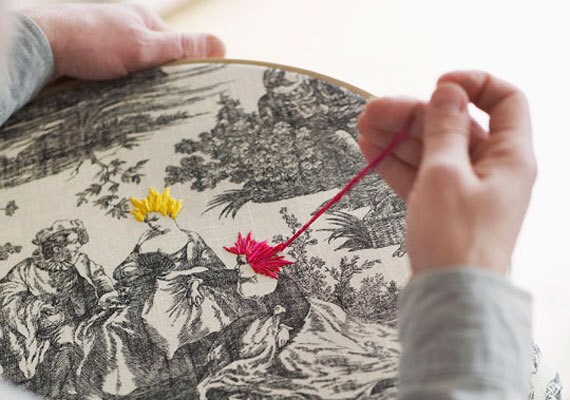 Today, we're happy to share a reprint of an interview that originally appeared in
Sweet Paul
magazine. Richard Saja is an accomplished textile artist whose fine art pieces have been featured in gallery shows from London to Philadelphia. His trademark work involves embroidering bright and fanciful embellishments on top of historic toile patterns.  One might find a wolfman pushing a maiden on a swing or a mohawked punk-rocker drawing a bucket of water from a well.  Richard has partnered with some of the biggest names in retail and fashion to create his one-of-a-kind creations, including Keds, Opening Ceremony and Bloomingdales.  He frequently features his work on his blog, Historically Innacurate. Paul Vitale of 
Sweet Paul
sat down to chat with Richard about his inspirations, process and plans for future projects.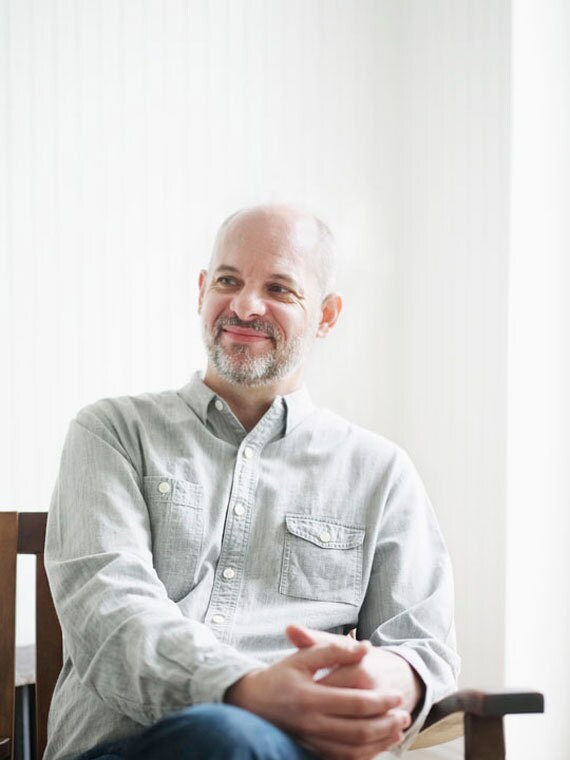 Richard%20Saja
Paul:
I've always been fascinated by embroidery, but never quite had the knack to do it myself. When did you realize you had a talent for it, and what drew you to embroidery?
Richard:
My interest for embroidery sprang from the necessity of keeping up with production for a line of cushions I was selling under the name MARISAAL. I had met an amazing embroiderer on the subway by overhearing her conversation here in New York, and she was the only one who embroidered the toile for me back then. Soon, after I picked up a needle, I found the perfect outlet for my OCD inclinations and overall fastidiousness: embroidery. Having no natural talent for painting or drawing, I found that a needle and floss allowed me to accomplish very similar results and that I actually did have some innate talent for it.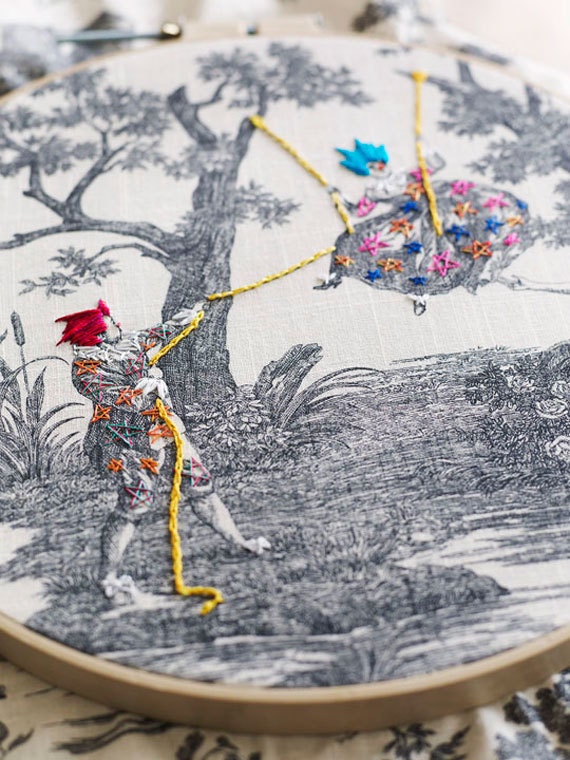 Paul: 
What first gave you the idea to embellish toile?
Richard: 
The idea came to me while waking from sleep. The original concept was to embroider Maori face tattoos onto 18th century figures, but I soon found that there are very few toile prints out there large enough to accomplish this effectively. I adjusted the concept slightly to include any modification to the original pattern, and the Toile 'n' Tats line was born.
Paul: 
You must know a lot about toile. Can you tell us a little about the history of the pattern? Are new patterns produced today?
Richard: 
From what I understand, Toile de Jouy was the first mechanically reproduced fabric available, originating in a small village in France in the 18th century, and refers to two very different fabrics. One is a highly stylized botaca abstraction, which is usually referred to as "French provincial" now. The other (the one I work with) is a representational pastoral, usually a single solid color printed on a cream or white ground. By far, the most prevalent motif of the pastoral toile are variations on a "pleasures of the four seasons" theme: there are literally hundreds of different iterations of it. This toile depicts people working in the fields, dancing around a maypole, being pulled in a sled, etc. It's practically begging for embellishment.
As far as new patterns go, most new toiles are cheeky riffs on tradition. My own SIDESHOW! print debuted here in New York last year at Future Perfect, and depicts various freaks from the history of the carnival.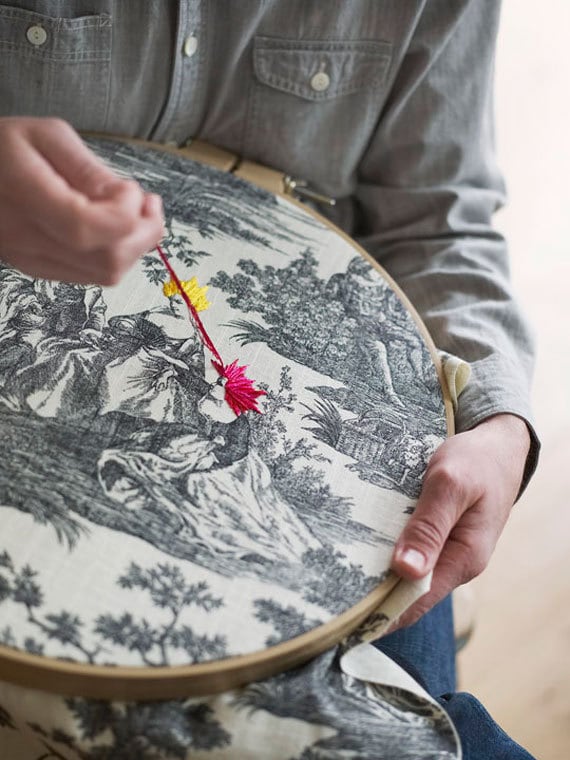 Paul: 
What's your creative process? Do you start with an end-product in mind or do you just see where pattern and floss take you?
Richard: 
I always sit down with a blank piece of toile and just go with it, unless it's for a specifically commissioned project. I just finished a piece for the Hudson Valley Seed Library, which is a great project, so I had to include embroidered morning glories in the piece (which I was able to choose).  I never take on a project where a client requests specific imagery. Get a nimble-fingered monkey to do that for you!
I only embroider at night seated in front of a gigantic TV tuned to whatever reality show is on at the time...usually something on Bravo. Reality TV doesn't demand the attention that other programming does, so it's perfect for needle work. I just look up when something particularly grotesque or offensive is happening.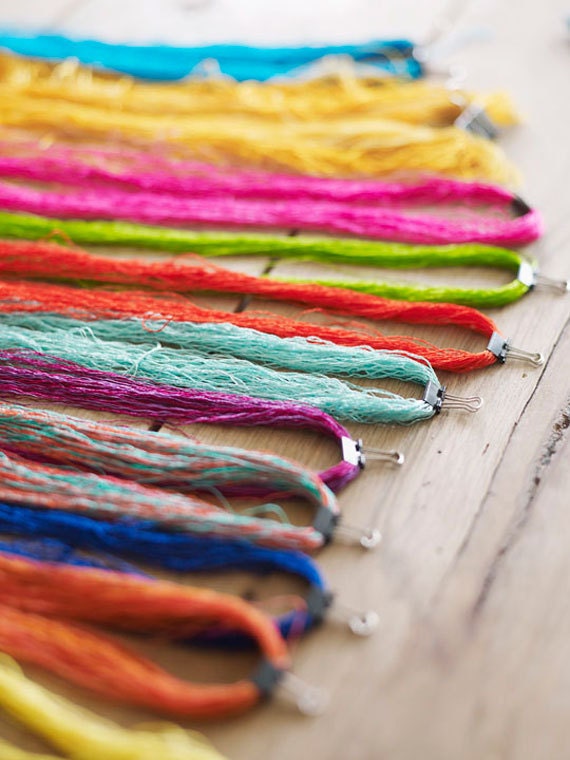 Paul: 
Do you have any tips for budding embroiderers and fiber artists out there?
Richard: 
The one thing I'd like to encourage is originality. It's okay to start out aping other peoples' work, but I like to see young embroiderers forge ahead into new territories rather than recycling the same few motifs over and over.
I don't think of myself as a technically accomplished stitcher, being more interested in the conceptual aspect of my work, so I can't really speak to that. I keep going back to the same few stitches time and again: satin, split, bullion, and my favorite, the French knot.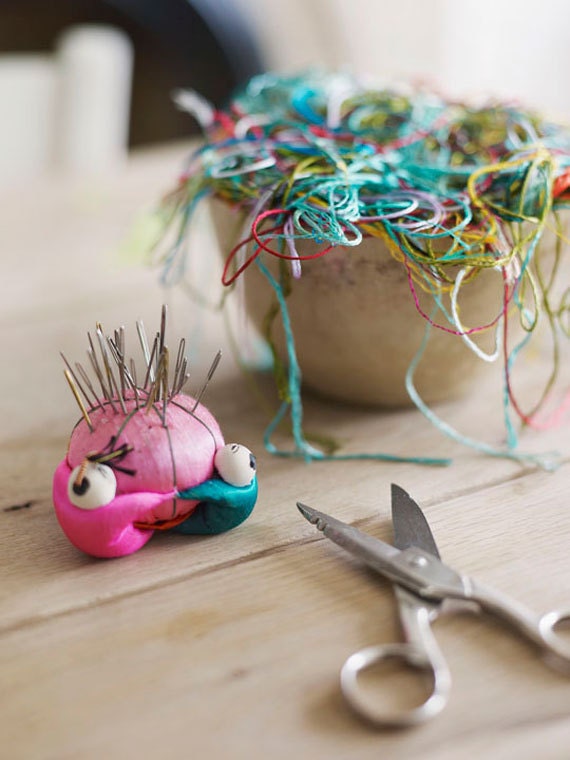 Paul: 
Can you give us any trade secrets or useful technical embroidery tips or time-savers?
Richard: 
The one thing I notice most often is that people feel compelled to use all six strands of a standard floss. Split them up! It makes the embroidery look finer and better executed, even for a beginner. With embroidery, there are absolutely no time savers. It's completely labor intensive and any shortcuts are apparent at once. That being said, it's also a completely meditative process and a richly rewarding one.
Paul: 
What sort of floss do you use?
Richard: 
It usually depends on the fabric content of the toile I'm working with, but the DMC line of flosses is the one I'm constantly returning to because of the wide range of their products: cotton, linen, rayon, metallic, etc. I've fallen in love with a glow-in-the-dark floss they introduced a couple of years ago and recently purchased a case of the stuff. I am looking forward to doing some larger scale wall pieces with it.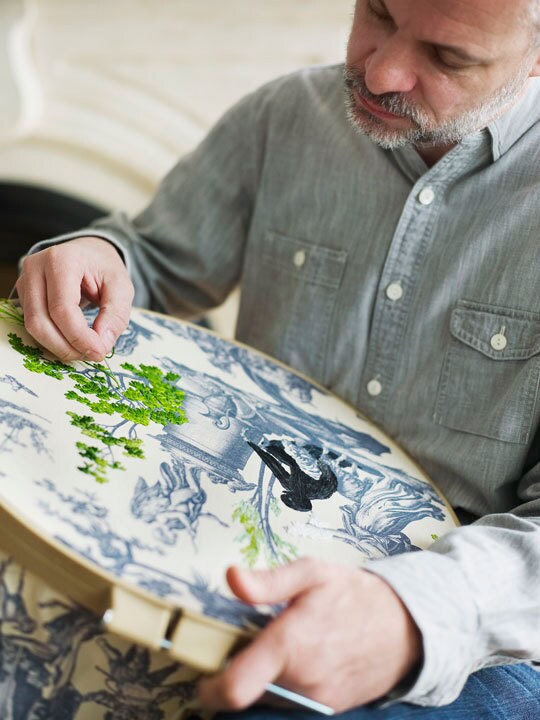 Paul: 
Your art encompasses more than just embroidery on toile. What other mediums or materials do you work with?
Richard: 
I have a gig doing a graphics piece for every issue of the McSweeney's/David Chang magazine 
Lucky Peach
, which I'm happy about because it allows me to keep my graphics skills honed. I've also been exploring digitally processed, machine woven textiles, and I'm completely excited about their possibilities — I just debuted three different lines at Future Perfect this past May.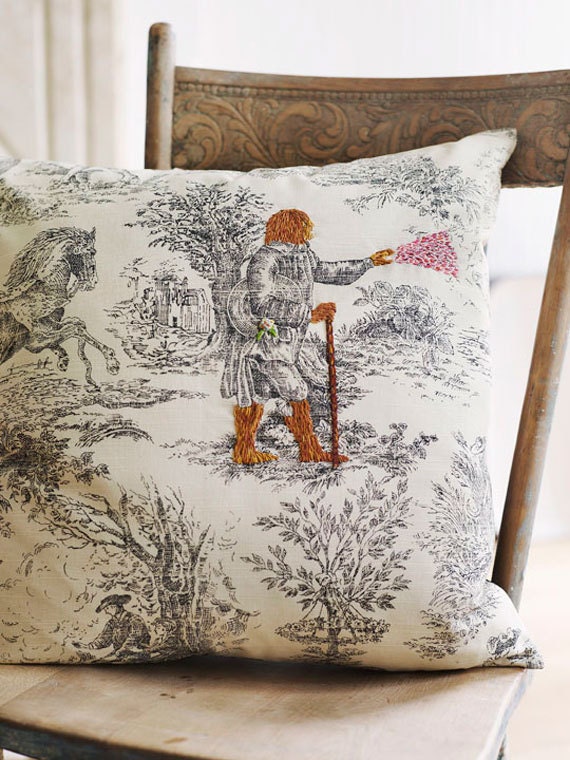 Paul: 
What do you have in store for the future?
Richard: 
Big toile tapestries embroidered with wool. Tents of tapestry. Immersive environments of embroidery. My fingers are itching to get into it already!