by Aleksa Brown
Spread cheer this holiday season with vibrant tabletop essentials—plus gift wrap and greeting cards—inspired by exclusive Roller Rabbit prints.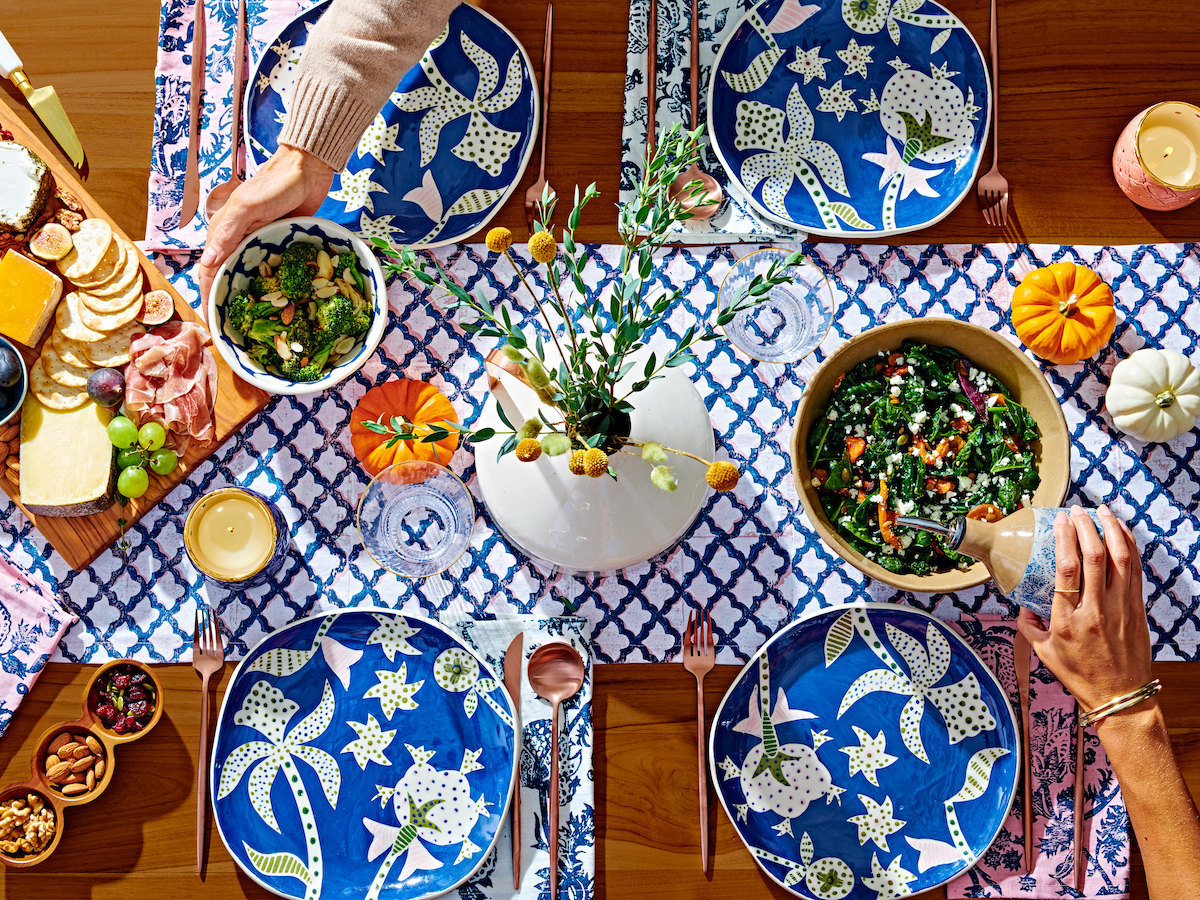 Whether you're setting the table for a festive feast or wrapping a special delivery for faraway family and friends, the vibrant hand-thrown ceramics, screen-printed linens, and reversible gift wrap in the limited-edition Roller Rabbit x Etsy collection are sure to serve up an extra slice of joy with their peppy palettes and patterns. Guided by the fashion and lifestyle brand's playful approach to design, this exclusive collaboration gave seven standout Etsy sellers the unique opportunity to create one-of-a-kind homewares using iconic Roller Rabbit prints in never-before-seen colorways—bringing their signature feel-good aesthetic to your space just in time for the holidays. Scroll on for the behind-the-scenes scoop on how each happy-hued design came to be, and shop the full collection.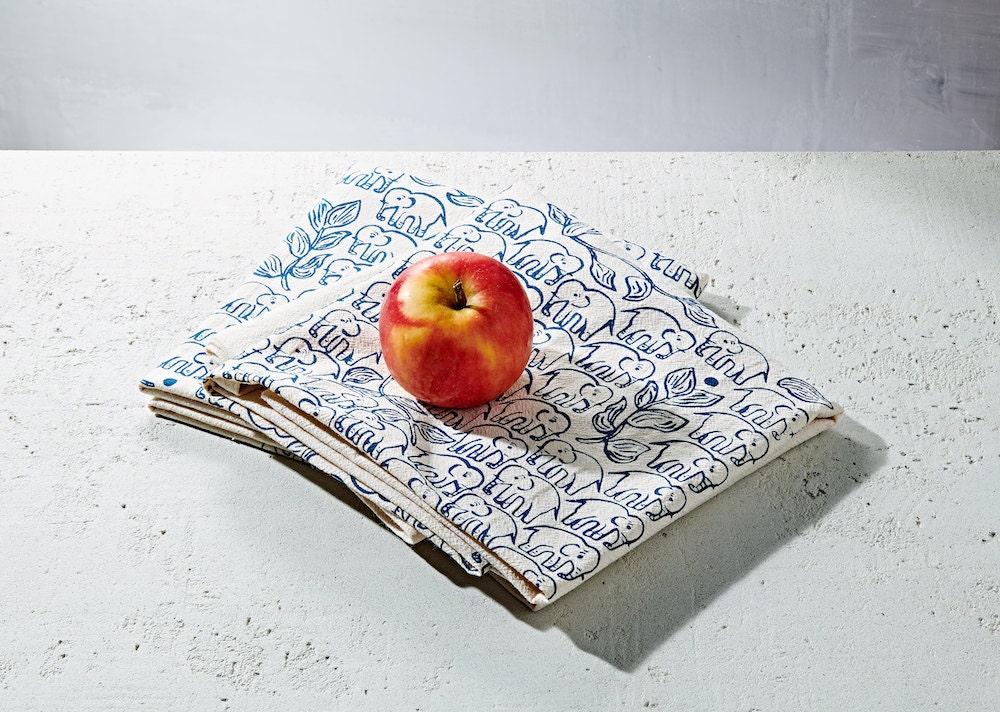 They say an elephant never forgets, but these organic cotton tea towels from Hearth and Harrow are particularly memorable for their adorably screen-printed motif and extra-generous size. Perfect for tidying up after marathon baking sessions or draping over freshly made casseroles, they're also a thoughtful addition to any gift. Says maker Casey Everett: "Sending a batch of holiday cookies or a special bottle of wine wrapped in this fun tea towel would surely delight any recipient."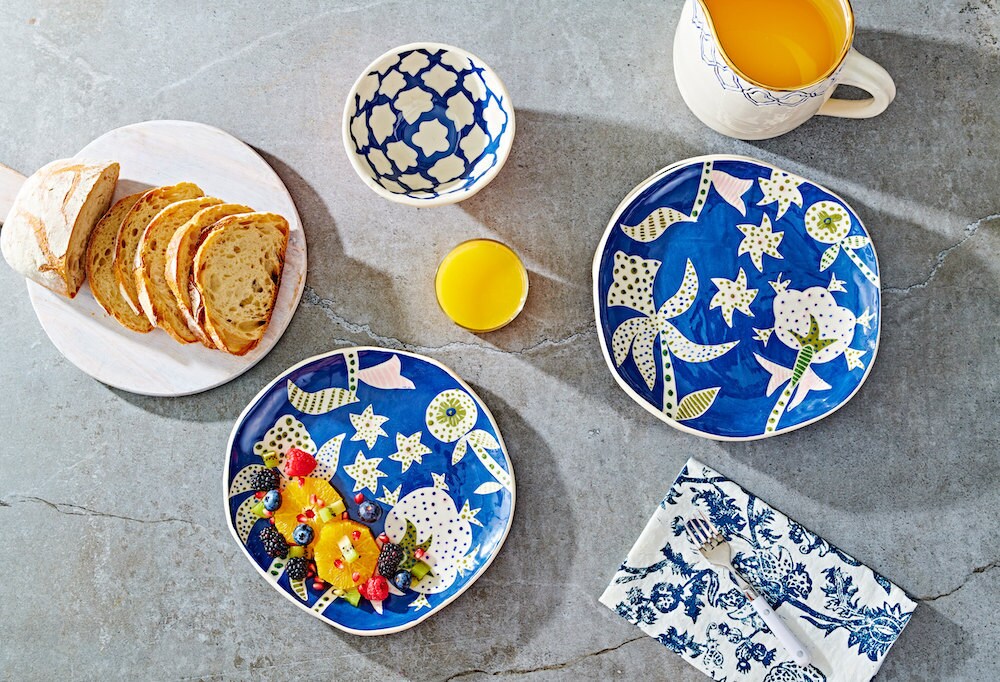 Give bold flavors a fitting backdrop with pattern-splashed ceramic plates and bowls from Ceramica Botanica. "The original Roller Rabbit design presented me the opportunity to relish in my love for botany," says artist Susan Keller, who used a meditative paper resist technique to carve and paint each plate. "Over the holidays, we're reminded how our simple rituals of cooking and dining with loved ones should be a time of happiness and a celebration of beauty," she says.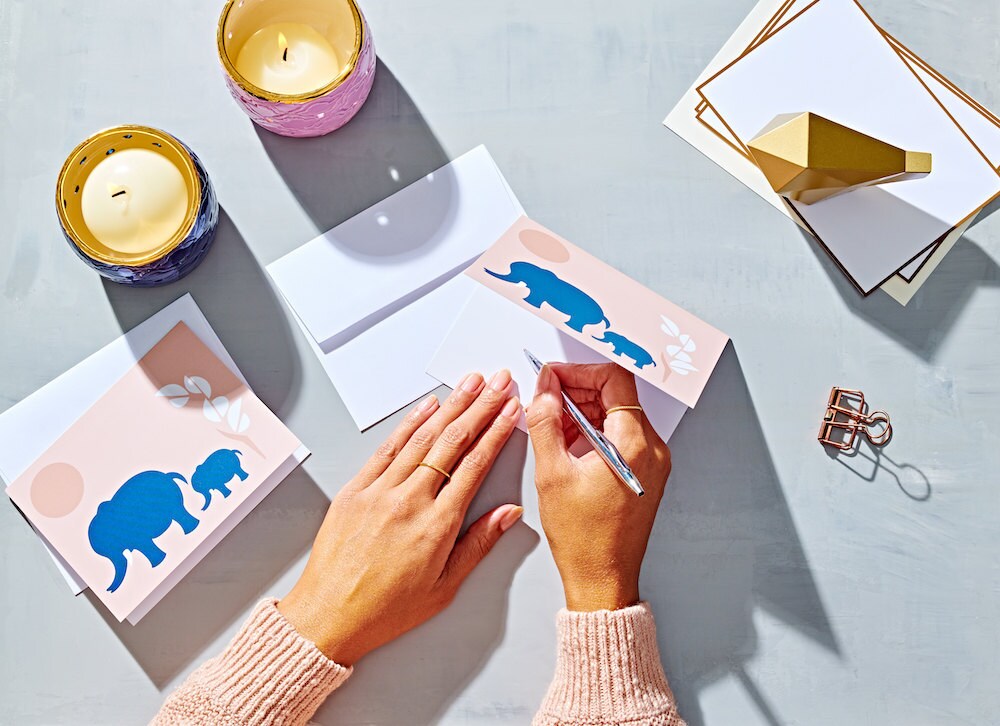 Show loved ones separated by distance that you'll stay connected no matter what—like the darling duo on these super-sweet notecards from CanDid Art Accessories. The best part, according to illustrator Candice Cox? "This greeting card is blank inside so you can say exactly what you want in your own words; afterward, your recipient can frame and hang it on the wall as art."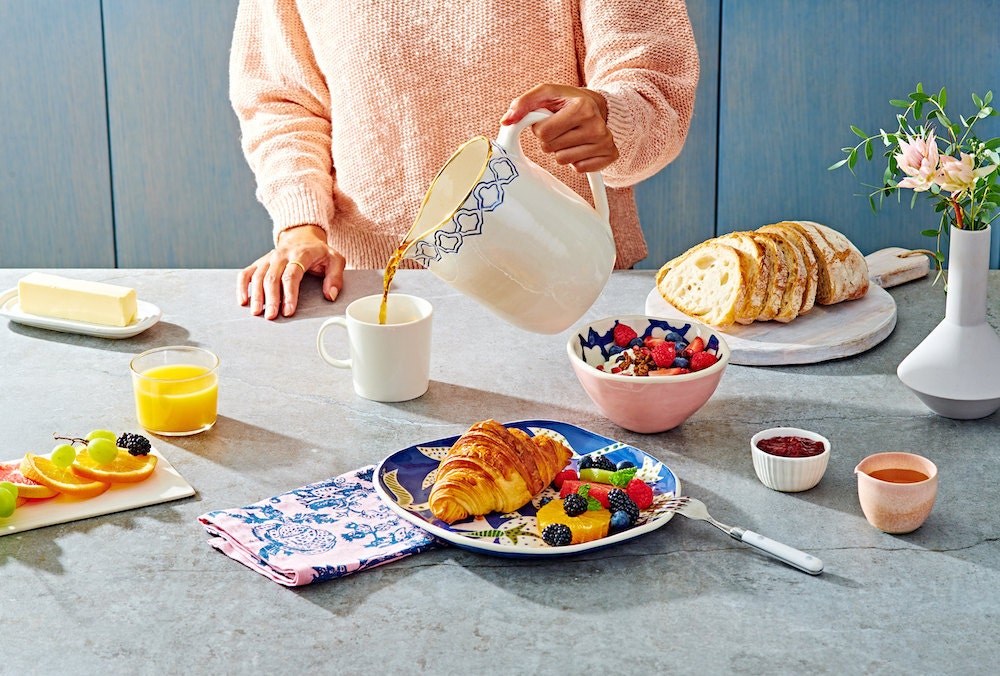 From holiday brunch to candle-lit dinners, Samantha Booth Art's gold-trimmed ceramic pitcher and tea light trio will add some seasonal sparkle to any spread. Each expertly crafted piece is shaped on a pottery wheel before being hand-carved, glazed, and gilded—an effect that's even more spectacular in person. "I imagine the pitcher and votives dressing up a holiday table with their shimmering rims," says Samantha. "I hope they offer shoppers a way to make their home feel a little more festive this season."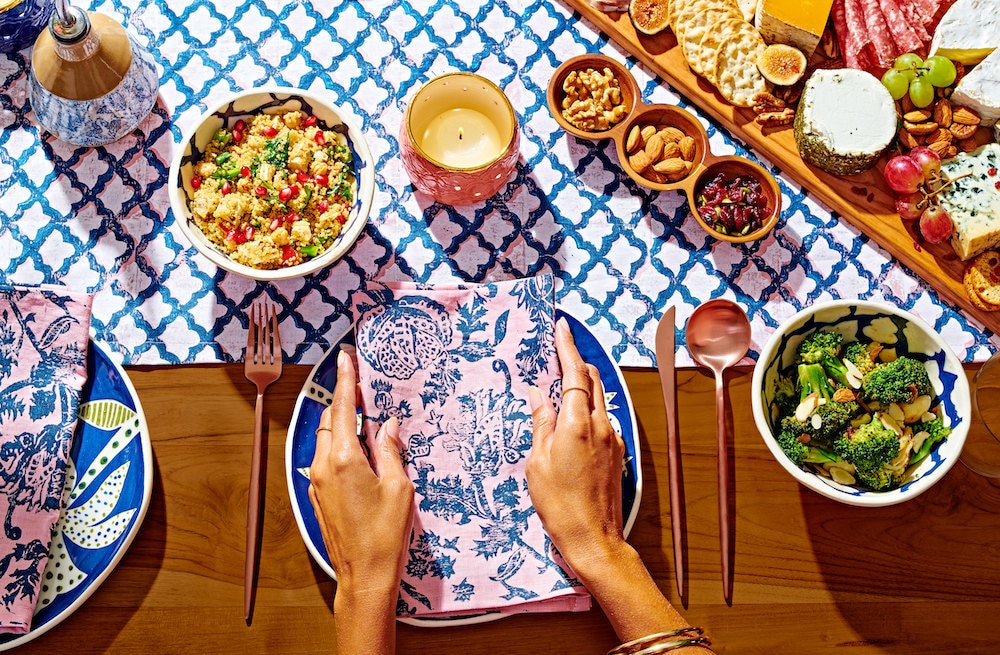 Top off your tablescape with one-of-a-kind mix-and-match linen napkins and table runners courtesy of textile maven Julie Malone of Julie Peach. "After working with Roller Rabbit to finalize the illustrations, I hand-carved each of the printing blocks," she says. "Each piece requires upwards of a dozen impressions to make the final pattern and because of this, no two are exactly alike!"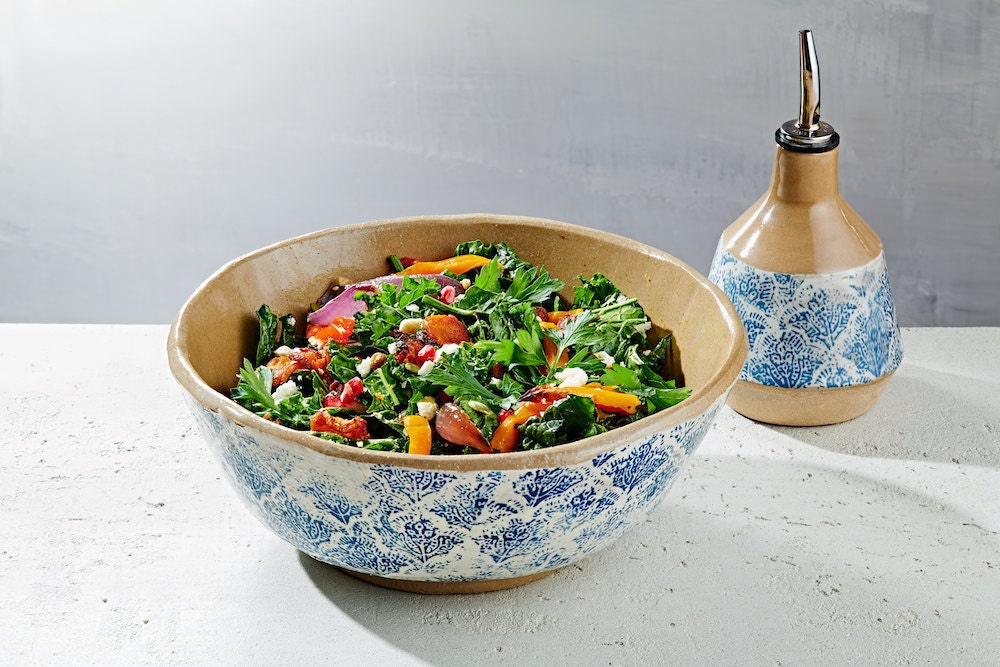 Serve your hearty winter salads (and dress them, too!) with rustic-meets-modern stoneware bowls and matching oil bottles from Claylicious. "I loved combining my methods with a concept created by someone else," says maker Eshkar Butbul of the collaborative design process. "I hope these pieces become loved and cherished heirlooms used for special family recipes."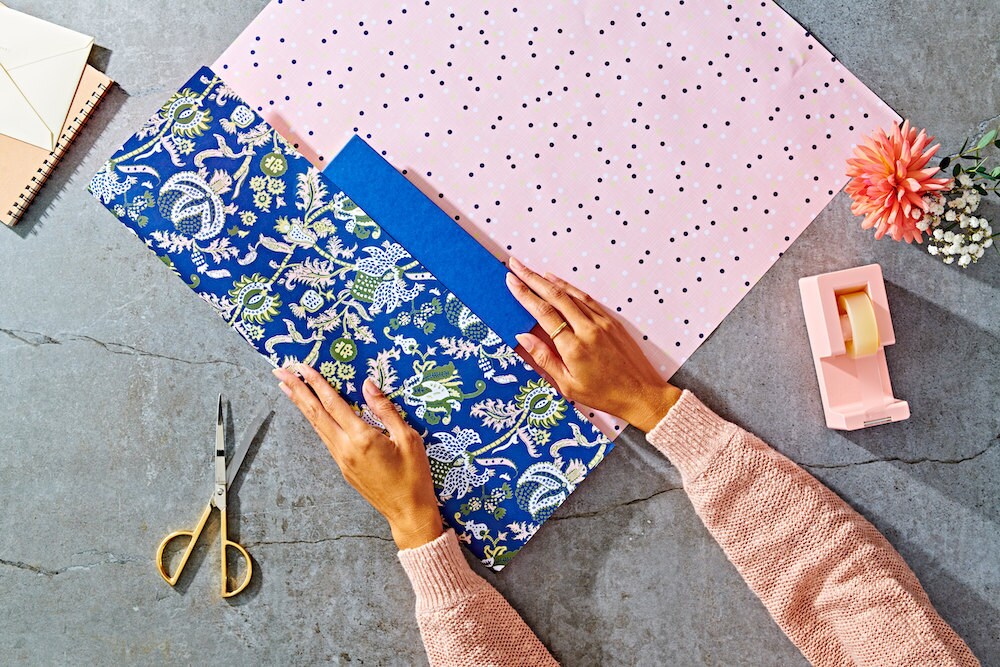 Keep the bright vibes going with a roll of reversible wrapping paper from Favorite Story, featuring high-quality opaque sheets that will bring unexpected pops of pink and blue to your present pile. "These colors aren't your traditional holiday gift-wrap palette," says creator Dana Garson, "but I think that makes them more of a stand-out underneath the tree." We couldn't agree more.
Photography by Ted + Chelsea.