Think outside the chocolate box and give your beloved a gift they can enjoy—and display—all year long.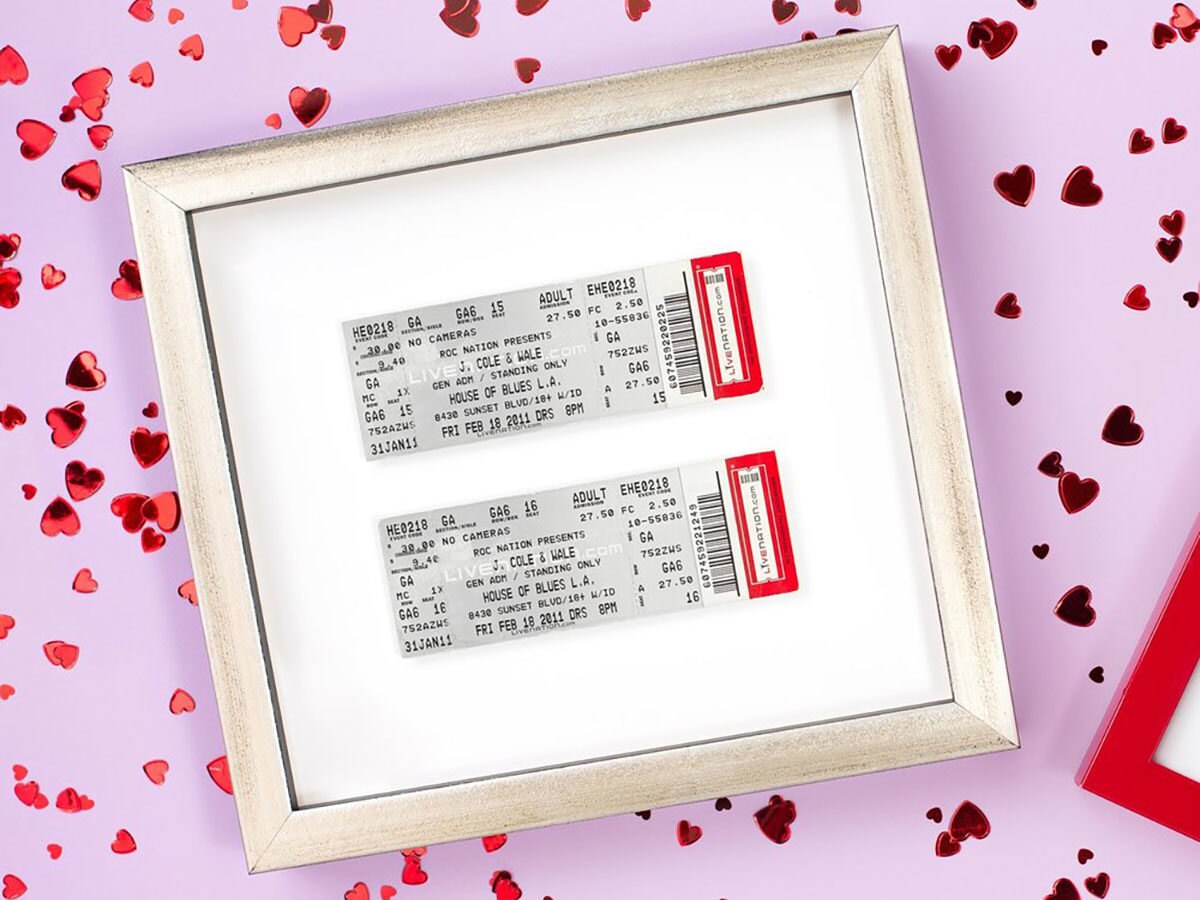 You met on a
sunstone
mining expedition in Oregon. You threw your dogs an elaborate pet wedding, complete with gourmet "
pupcakes
." You recite the same poem to each other every night before bed. Whether your Valentine is your oldest friend, your soul sister, or your life partner, there's no story quite like the one you've written together. So when it comes to
Valentine's Day
, isn't it time to think outside the chocolate box? Good news, lovers. If you're searching for a heartfelt, one-of-a-kind gift, we've teamed up with our friends at custom framing service
Framebridge
to showcase seven unique ways to capture—and display—the wild and wonderful magic of your relationship.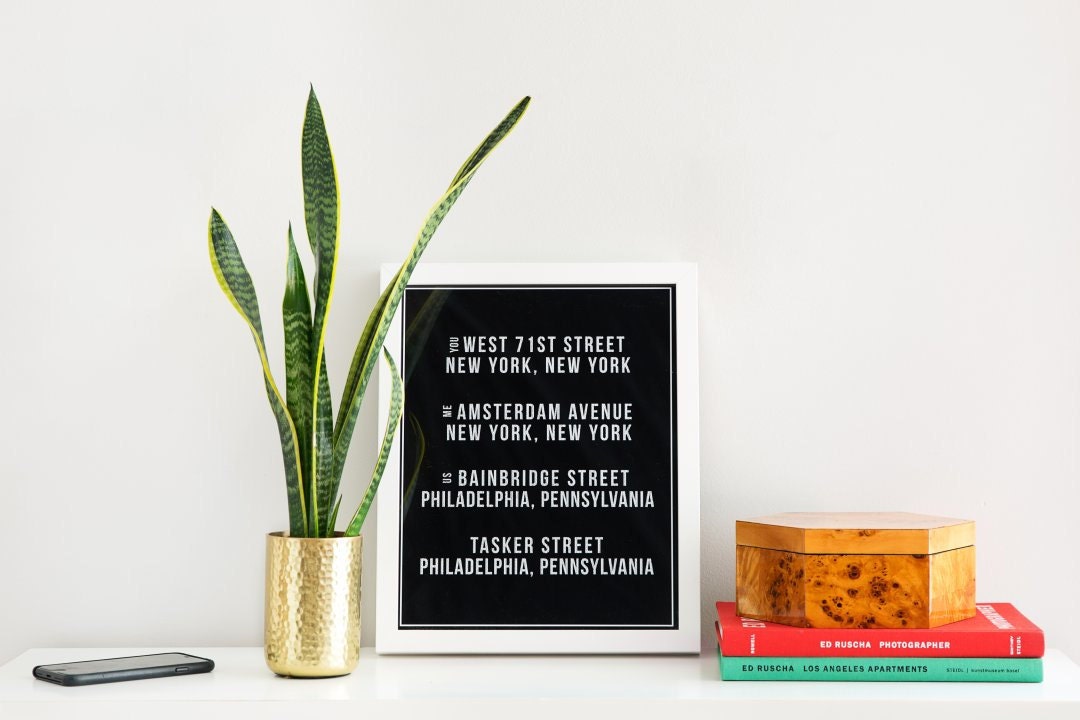 >
For sweethearts with a long, happy history and a list of old addresses to match, this printable, letterboard-inspired design by
Sweet Potato Four
 (shown here in
Framebridge's Irvine Slim frame
) pays homage to the impact each of your homes has had on you as you've moved through life together. Each location holds the weight and the memory of a particular place and time, and a framed print serves as a lovely reminder that you'll carry a little bit of each with you no matter where you go.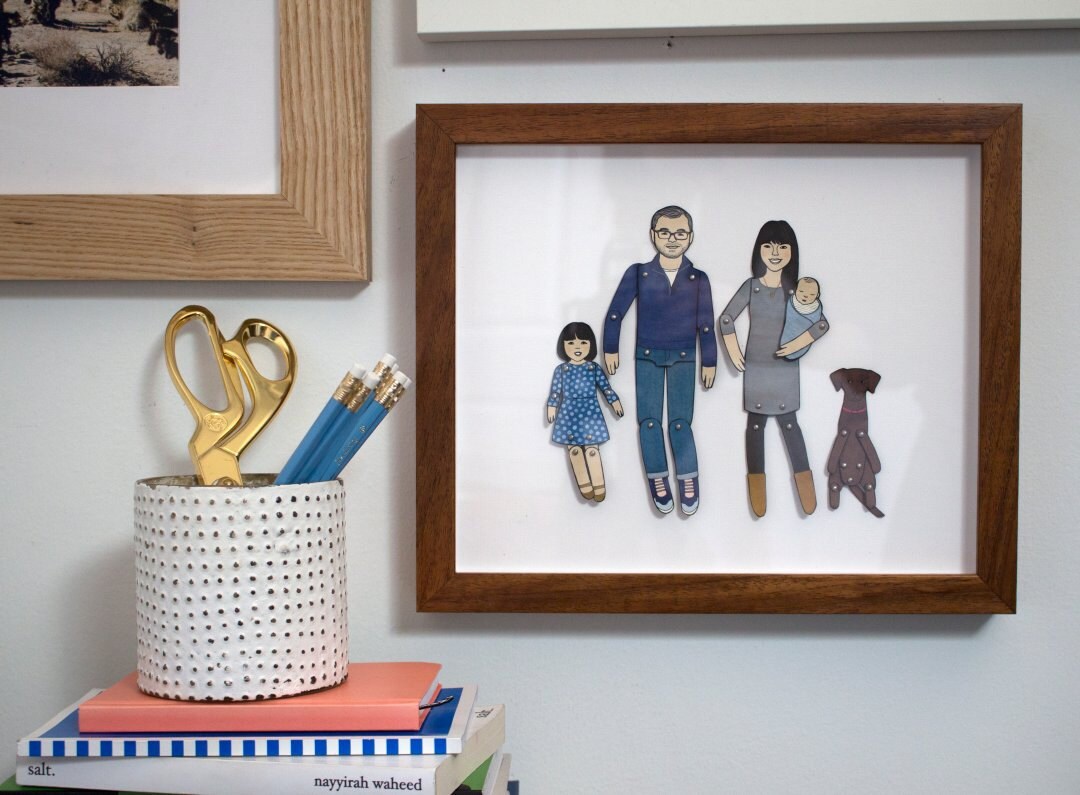 >
We all know what a challenge it can be to snap a decent group photo. The toddler's wailing, your dress needs a press, and just when it's time to say cheese the baby spits up on your other half. Enter
Jordan Grace Owens
. Using individual photos you
do
like as a reference, Jordan draws up custom paper doll portraits of families, couples, best friends, and even the family feline. Each of her charming and quirky illustrations is then lovingly colored, cut, and assembled by hand. Thanks to those precious little movable limbs, you can rest assured that everyone in the frame will be perfectly composed—just the way you've always imagined them.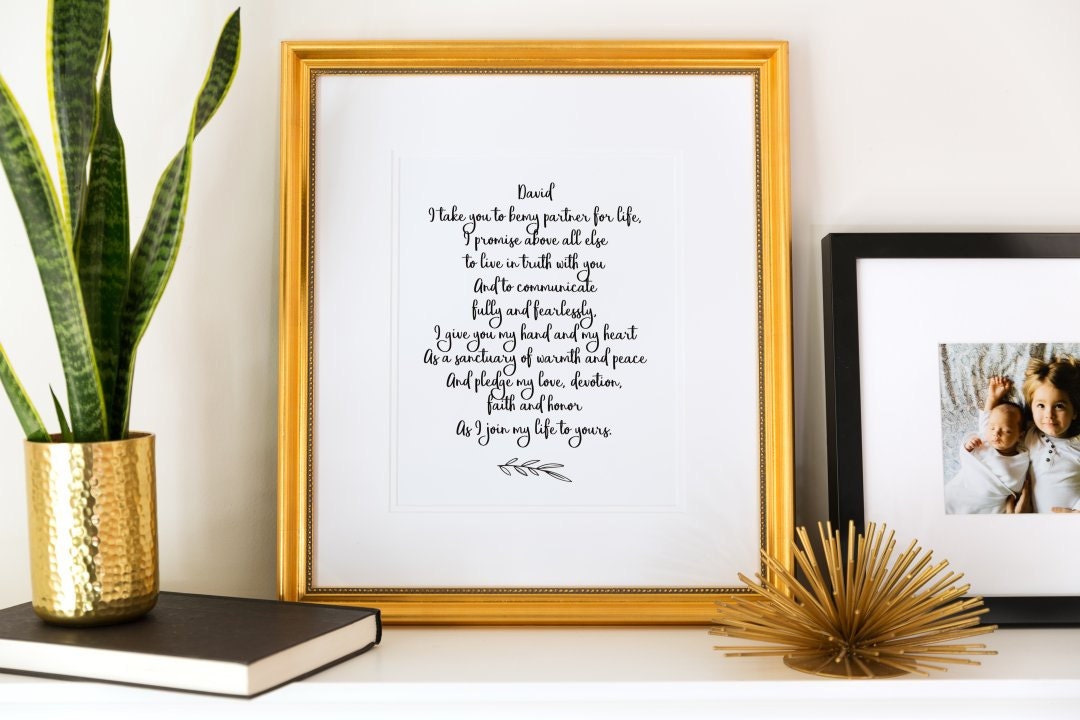 >
These days, you don't need a white dress and a bouquet to forge a lifelong bond; creative couples are declaring their love in intimate, personal ways that are officiant-optional. Whether you're renewing your marital vows or making a private pledge to your partner, putting that commitment in writing is a touching way to say, "I'll love you forever." Framed
in timeless gold
 and displayed in the heart of your home, these elegant printable vows by
Minty Prints Shop
will inspire you to recommit to that promise every day.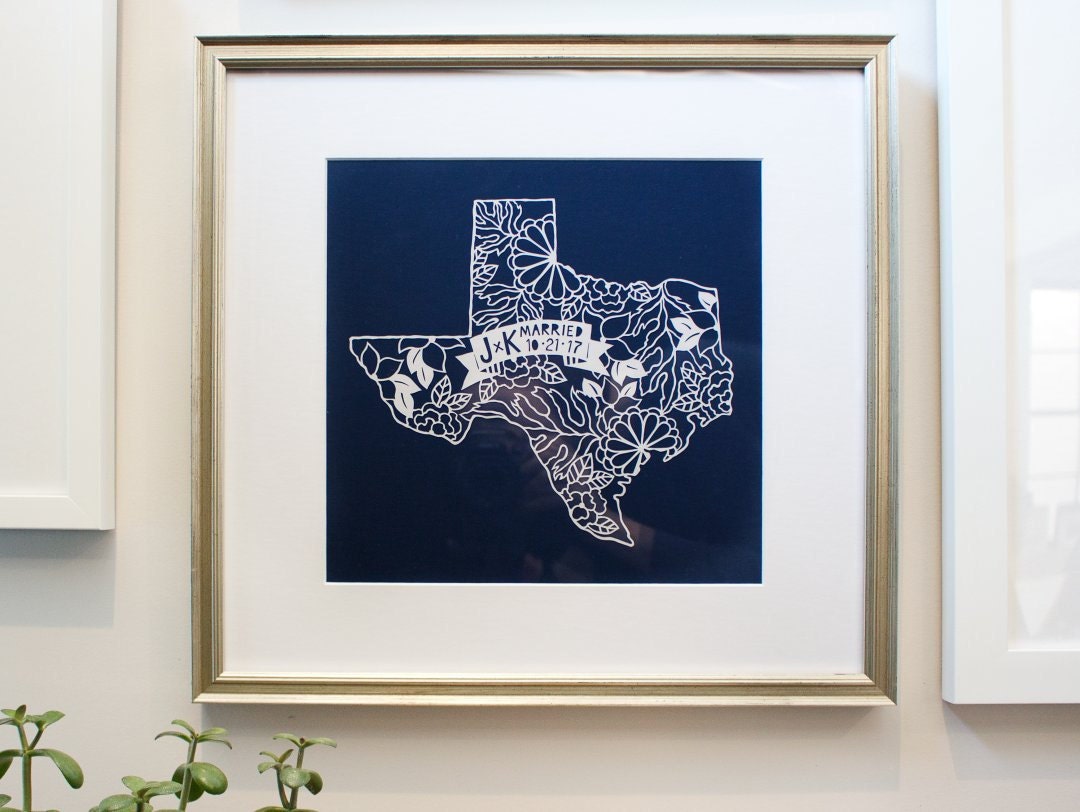 >
We're head over heels for this ultra-romantic papercut map from Yang Cuevo of
Paperhugger Studio
—and chances are, your beloved will be, too. Memorialize your most cherished milestone—an engagement, wedding, or even a first kiss—with a delicate custom cutout of the state where it took place. Yang's feather-light designs are painstakingly hand-cut with a precision knife; framing atop a contrasting backdrop will make all that fine detail pop.
A keepsake from your first date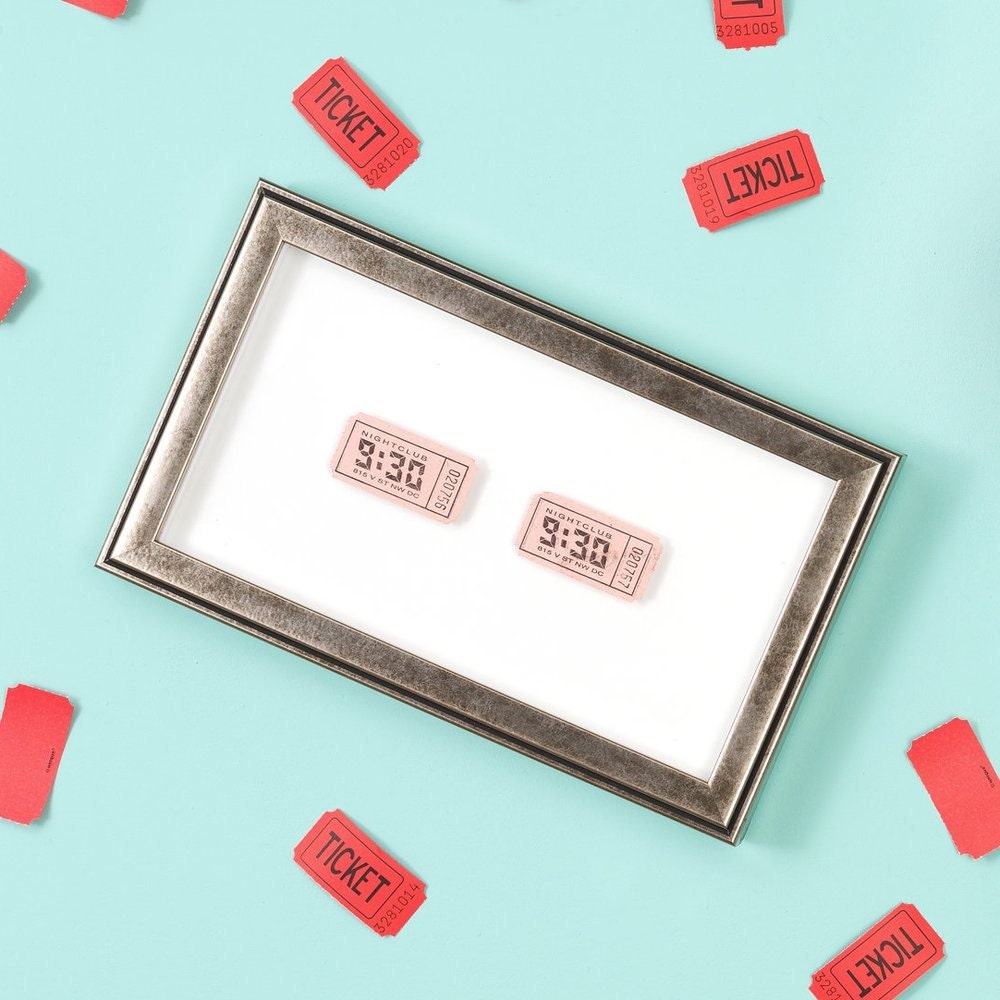 Whether you camped out overnight to see Springsteen or were first in line for that midnight
Star Wars
screening, snagging those once-in-a-lifetime tickets meant almost as much to you two as going to the big show hand in hand. Keep that shared passion alive by
preserving your most-treasured stubs
in a scaled-down frame. (Who knows, you may even be able to convince your future kids that their folks used to be pretty cool.)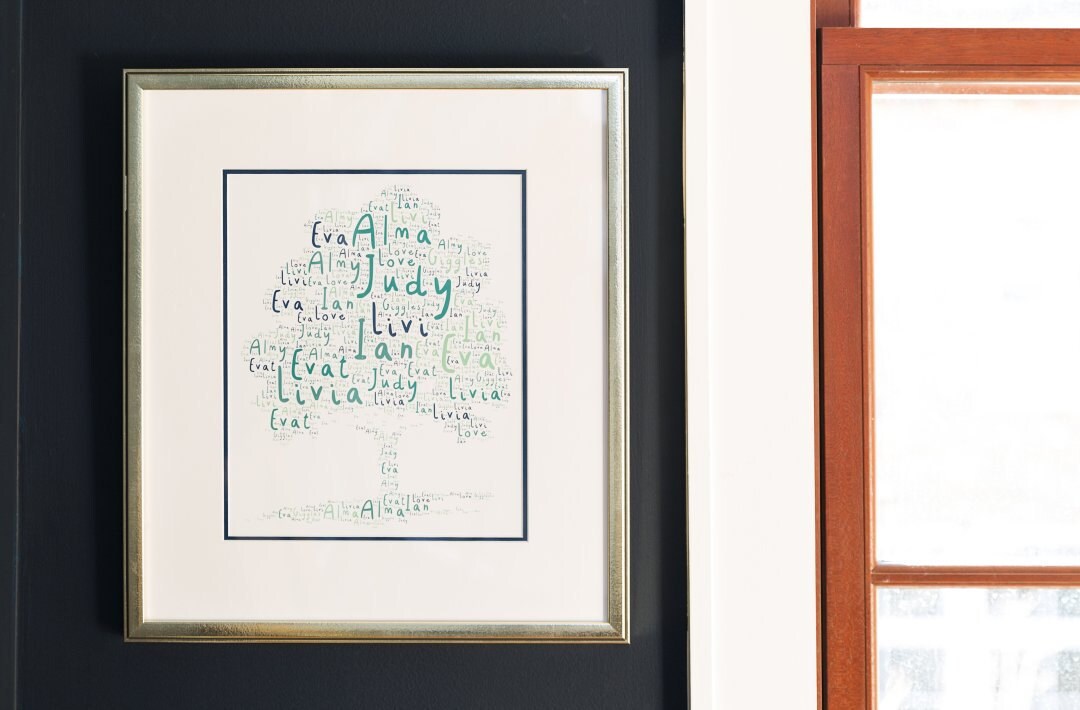 >
Lush and leafy with many branches, a family and friendship tree by
EH Creates
reminds us that the root of any good relationship is a strong foundation of love and support from our community. Shop owner Elaine takes a list of the names you hold most dear—the folks who have helped to nourish your love and watched it grow—and creates a word collage from them in the shape of a hearty oak. With this frame-worthy artwork (displayed here in
Framebridge's shimmering metallic Monroe frame
), you can always keep them close.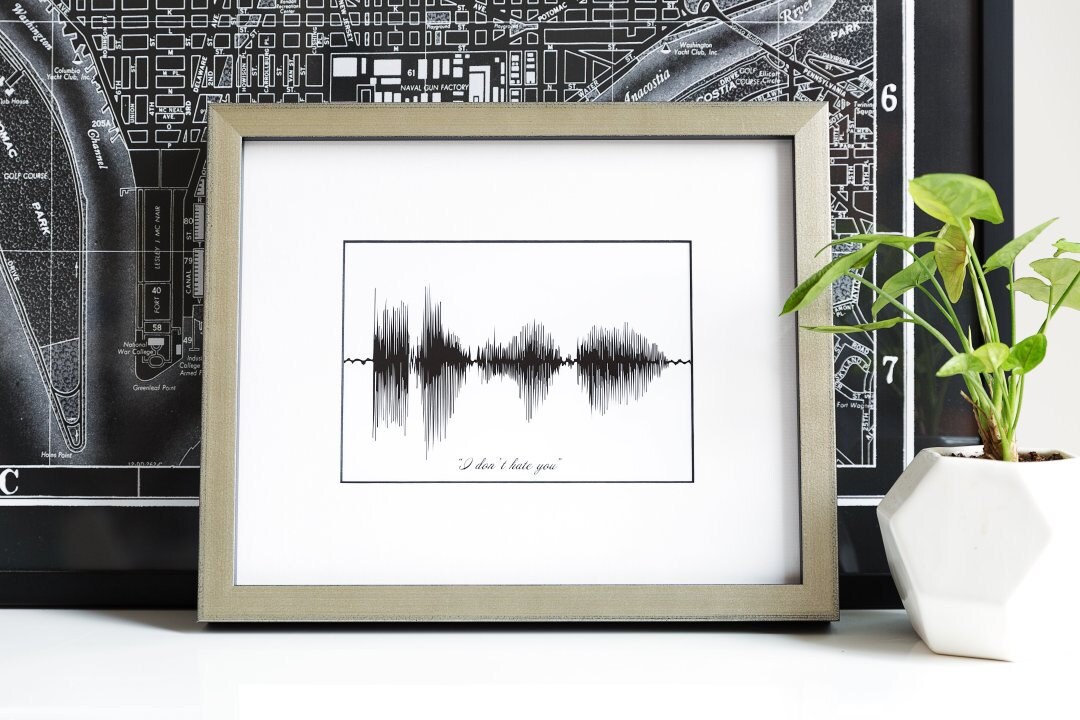 >
Want a gift that speaks "I love you" loud and clear? Turn your sweet nothings into permanent art with a personalized soundwave print by
Finch & Cotter
. Record a voice message to your main squeeze and the F&C team will transform it into a vibrant visualization of your words—depicted precisely as you spoke them—with an optional caption. That silly thing you like to whisper to each other behind closed doors? (I'm looking at you, Snuggle Bear.) Immortalize it with soundwaves. Leave the caption blank and viola—your secret's safe!