Expert tips for picking out a carpet you'll love.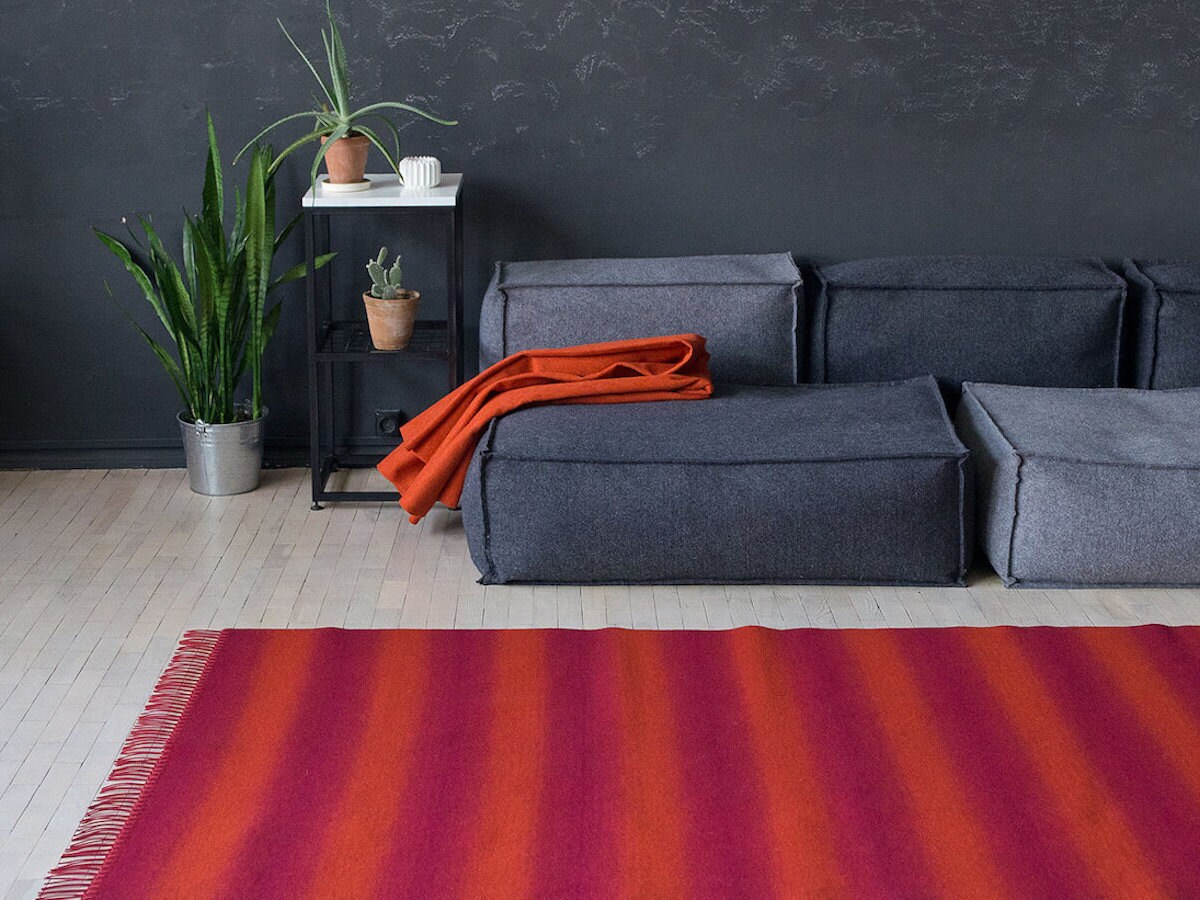 It's Interior Design 101: Rugs transform a room. "No single decor piece can do as much to set the tone for a space as a great rug," says Etsy Trend Expert Dayna Isom Johnson. "Whether you go bold with a high-contrast patterned rug or play around with monochromatic designs that are all about texture, you can get your style across in an instant when you roll out a unique rug."
But finding the perfect rug for your space can be a tall order (the size! the material! the pile!). So to help demystify the process, we spoke with a few of our favorite design experts—including Dayna, of course, and Lindsay O'Brien, Etsy's senior merchandiser for home goods—and gathered their best tips for a successful rug shopping (and room-redefining) endeavor. Here's what you need to know.
Start with the setting
Location is the first critical factor. Is the rug meant for a high-traffic area or low? "If you'll be using it in a high-traffic area—family rooms, hallways, entryways, and kitchens—you'll want a durable wool or man-made fiber in a color that won't show dirt," says New York-based creative director and sustainable design consultant Alex Bates. A flatweave rug with a forgiving pattern is a smart choice for this kind of space. "For medium-traffic rooms that still get regular use, like dining rooms or home offices, you should use fibers that can be cleaned easily, like a good wool or synthetic," Alex adds. Low-traffic rooms like bedrooms are where you can really have fun, indulging your yen for softer fibers, lighter colors, and shaggier piles.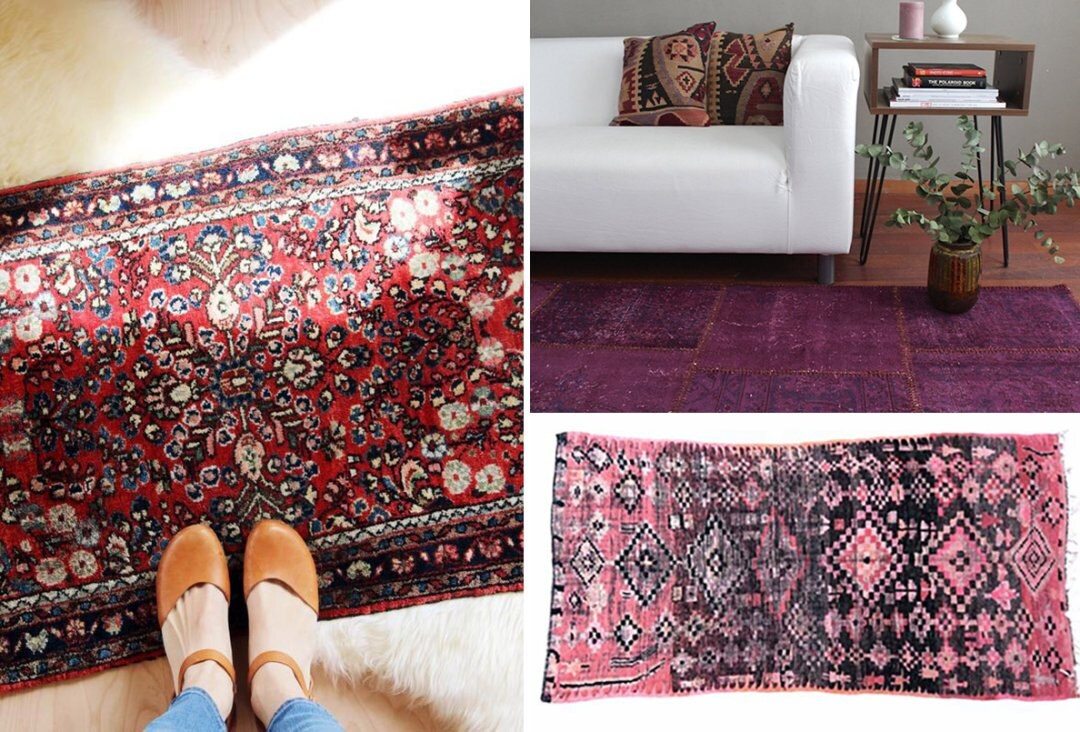 >
Consider the construction
Once you've determined where the rug will go—and what it'll need to stand up to—the next consideration is construction. Tufted rugs are popular and inexpensive but often lower quality; they're made by simply gluing fibers to a backing and can wear out after a few years. Hand-knotted rugs are typically more durable (and priced accordingly); this category includes all sorts of regional variations, including thin, flatweave kilims, medium-pile rugs, and area rugs made with Turkish or Persian knotting styles that can be either high-pile and shaggy or not.
Don't forget your fibers
Another element to consider is the material itself. "Durable natural fibers like jute, hemp, abaca, and seagrass add an earthy warmth and soul to a room and are comfortable underfoot," Alex says. On the other end of the spectrum—and appropriate for lower-traffic areas—is soft wool or sheepskin. Your choice of fiber will play a key role in determining your cost. "Wool and silk tend to be at the higher end, while synthetics cost less," Alex says. "Other natural fibers like jute, cotton, and sisal are very affordable." Pet owners should opt for wool whenever possible, as it can be cleaned with an enzyme treatment—and won't be damaged by it.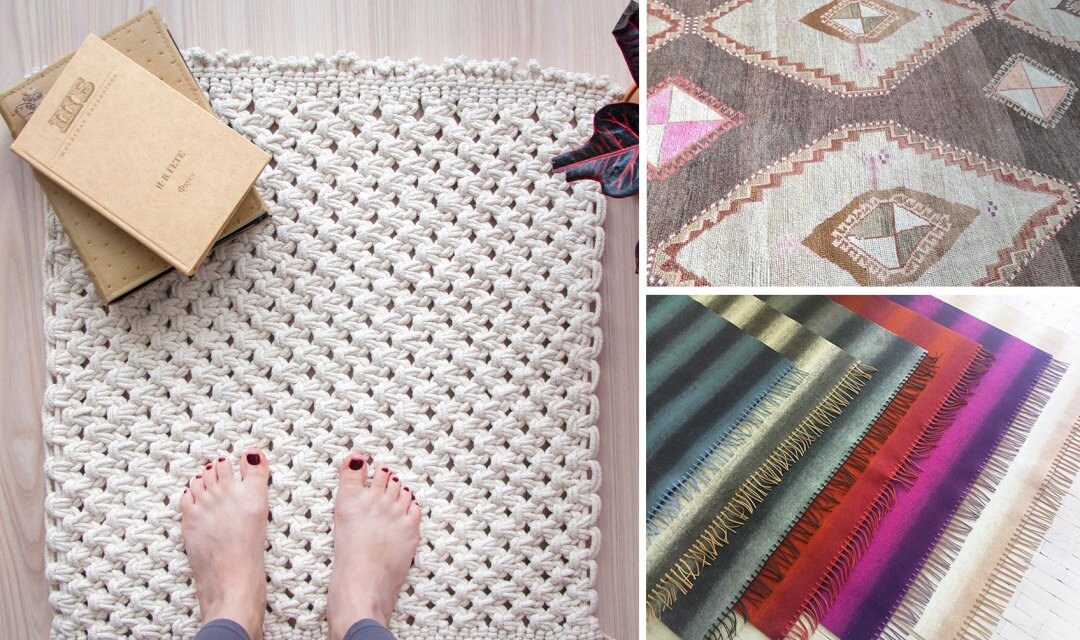 >
Size up your desired dimensions
Once you've landed on a style of rug, the next question is size. To figure out what you need, Alex suggests trying this designer's trick: "Starting about 12 to 18 inches from the wall, use masking tape to mark off where you want the rug to fall and then measure those dimensions," she says. Some room-specific tips to keep in mind: In a large living room, the front legs of a sofa (if not all four) should typically rest on the rug, while in the dining room, you'll want a rug that extends beneath all the chair legs, even when they're pulled back from the table. In the bedroom, a rug should cover enough space that you can walk around the sides and the foot of the bed without leaving its surface (but keeping 12 to 18 inches of free space at the head of the bed is fine). "In general, a larger rug will almost always make a room feel larger," Alex says.
Try a dynamic duo
There's an art to matching the right rug to the room—but it's not necessarily a question of choosing a single piece to do the job. If you have a rug you love that's too small for a particular space, try layering it on top of a large, natural jute rug. "Layering is a fun way to experiment with patterns or textures without having to commit to covering a large area," Lindsay says. Another twist on tradition is to play with pile heights: "When used within a monochrome palette, the technique of varying pile heights creates lovely but subtle shifts in dimension," Lindsay adds. "You can also pair bold or contrasting colors to create one-of-a-kind statement patterns or graphics."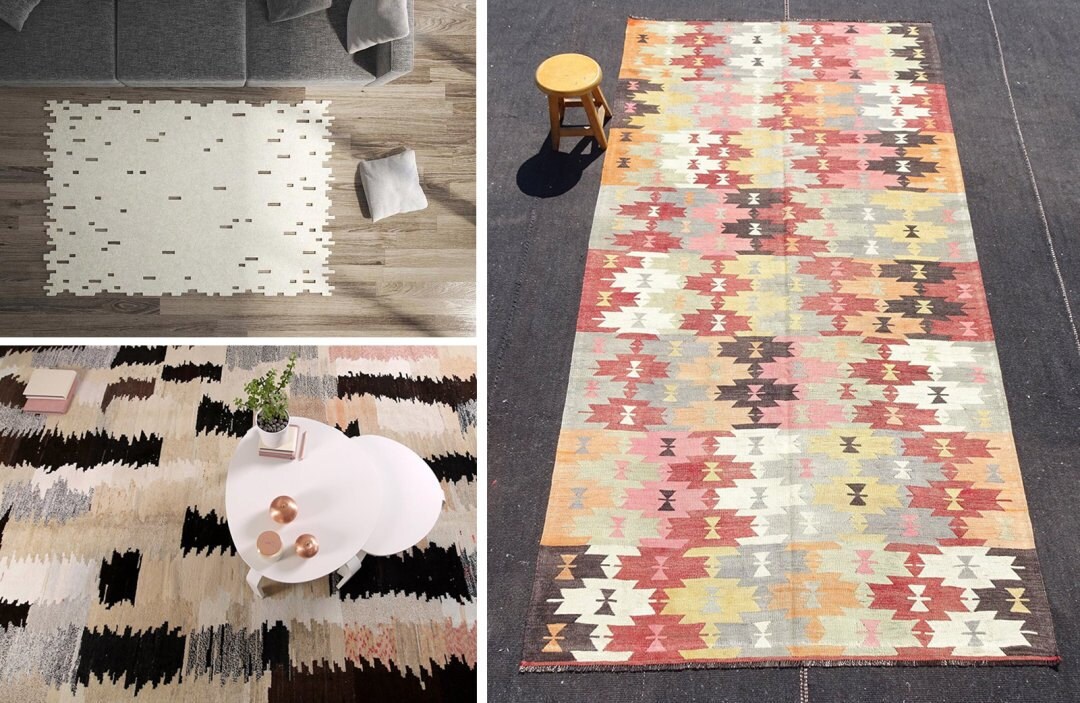 >
Embrace vintage
With a show-stopping vintage rug, you can basically forget everything you've just read and follow your heart. "There, you just buy what you love," Alex says. "It should make your heart skip a beat when you see it." But know that minor flaws are often part of the deal with vintage rugs, whether they're an unusual size, oddly worn, or faded. "You'll want to embrace all those imperfections—they bring soul and character into a room," Alex says. "Many vintage rugs are woven with hand-spun yarns that show an inconsistency in color saturation; that also brings depth and nuance to the design."

Search smarter

"When it comes to searching for rugs on Etsy, narrowing down and creating a defined space to browse is key," Lindsay says. "Think of the characteristics that are most important to you—whether that's size, style, or color—and start adding them to your keyword search." And don't be afraid to go back and refine based on your results. "When you see a style that you like, take cues from how the seller has described the rug and use those words as a new starting point for your search," Lindsay says. "Maybe you'll begin to realize that you like vintage styles from a certain country of origin, or maybe you'll discover that all of the rugs you're drawn to are described as 'flatweave' rugs. Whatever terms you end up with, a search for a '5x7 Turkish rug' is always going to be a lot more manageable than a general search."