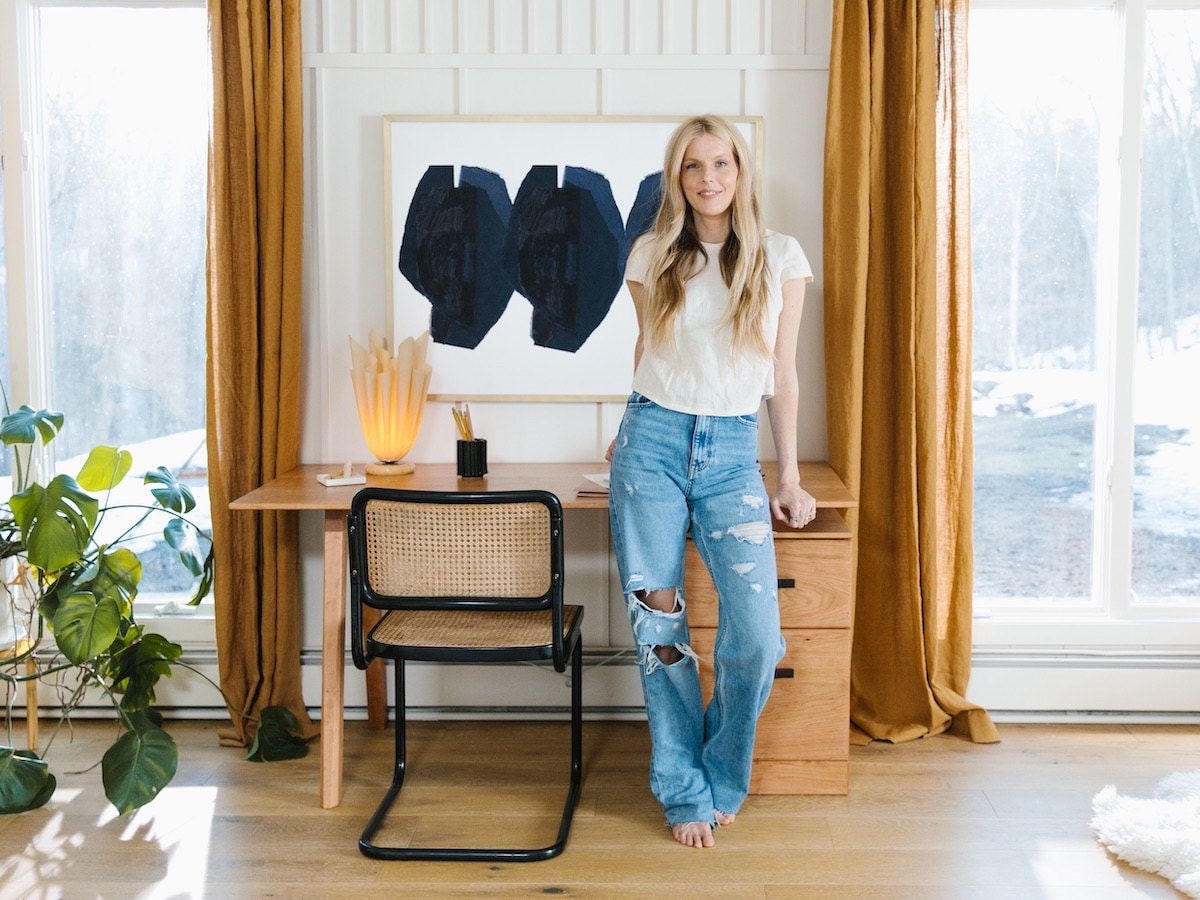 In The Etsy Edit, we go behind the scenes with some of our favorite tastemakers to explore their inspirational spaces and enviable style.
"My aesthetic celebrates the unique, the handmade, and the sculptural," says leading home designer Sarah Sherman Samuel, whose warm, light-filled living spaces and signature airy interiors are a veritable Pinterest goldmine. So when it came time to tackle her latest project, redesigning her Michigan guest room (which also doubles as her husband's home office), she started by installing a DIY wood accent wall—and then she turned to Etsy to help bring the multifunctional space to life.
Shop Sarah Sherman Samuel's Etsy Edit
"I wanted to create a calming and inspiring environment, which meant looking for one-of-a-kind pieces and artful moments," Sarah explains. "I used sky blue bedding as a way to bring in a pop of color, while keeping the rest of the room neutral to get the serene overall vibe I was going for." The finishing touches? Vintage treasures, eye-catching wall art, and some super-sleek ceramics. Click play to see the makeover unfold in the video below, then keep scrolling to shop Sarah's top picks to spark a transformation in your own space.
For the sleeping area:
A cheeky checkered pillow
Add a dash of playful pattern to a palette of solid-colored bedding with a cheerful checkered bolster pillow. (We especially love how the graphic grid of black and white stands out against the soft, pastel backdrop.)
A whimsical bud vase (and blooms to boot)
Fade-proof flowers are a beautiful addition to any bedside table—and even more so in an interesting vessel. Says Sarah: "The bobble vase on the accent table brings a little bit of whimsy to the room."
Sky blue bedding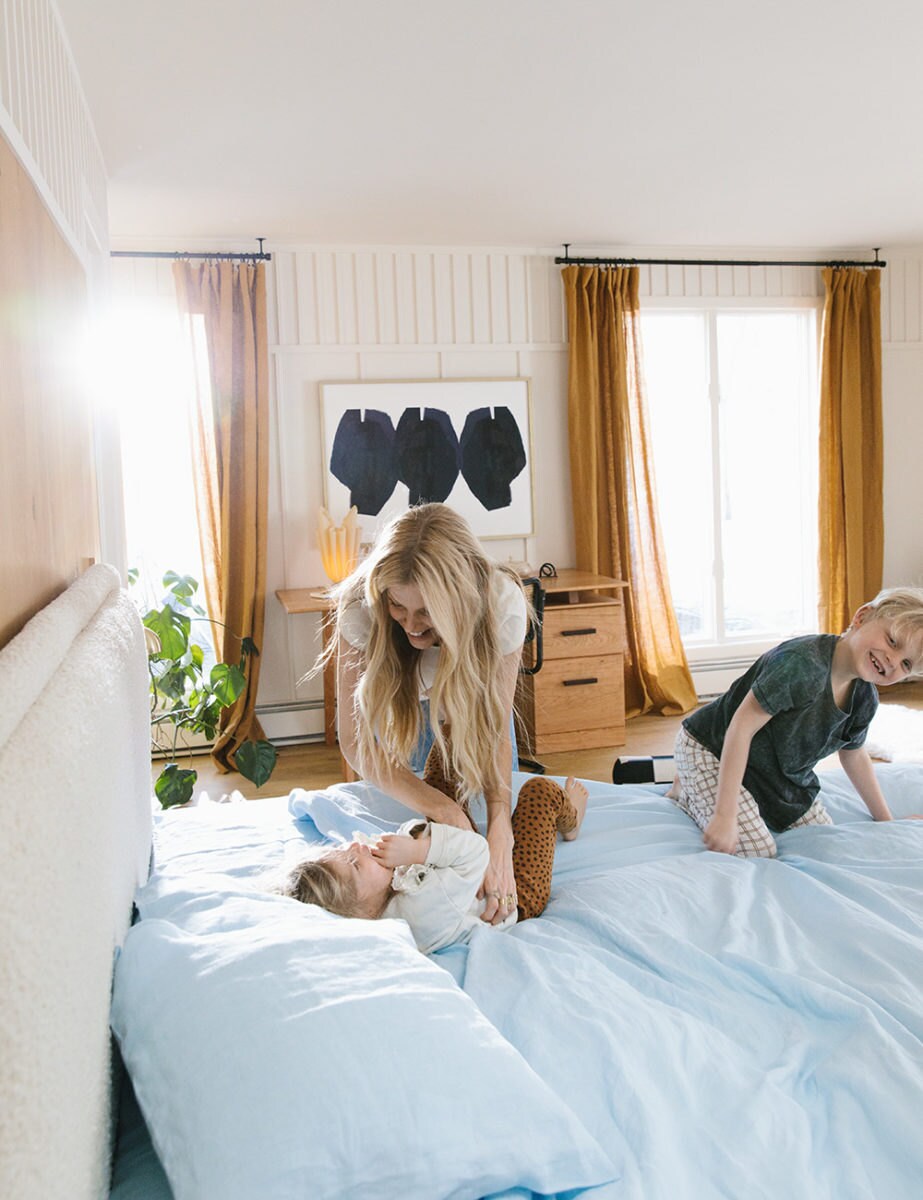 An instant room (and mood) booster: a duvet upgrade in Etsy's 2021 Color of the Year. "I love the natural look and feel of linen, and sky blue is the perfect pop of color," Sarah says.
Pretty pottery on a plaster nightstand
Monochromatic palettes don't have to be one-note. Pile on the texture with an organic plaster nightstand, a rippled ceramic incense holder, and a super-smooth vase made of matte porcelain.
For the office nook:
An heirloom-quality desk
"The desk is one of my favorites for sure, it is such a beautiful piece," Sarah says of the solid wood stunner. "It's an interesting shape from all angles, and the top appears to float above the base."
A sunny linen window treatment
Let in a little light with extra-long linen curtains that make ceilings look taller. Bonus: "They bring a warmth and softness to the room," explains Sarah, who chose an amber set to frame husband Rupert's desk.
A few unique desk accessories
Sarah says: "Instead of incorporating perfect factory-made pieces, look for ones that show the hand of the maker. Imperfect finishes or wear on vintage pieces tell a story and make a space feel like it has its own soul."
A bold print to anchor the room
"The print above the desk is both graphic and organic in shape," Sarah says. "The layers of ink on the textured paper drew me in."
A speckled mug to start the morning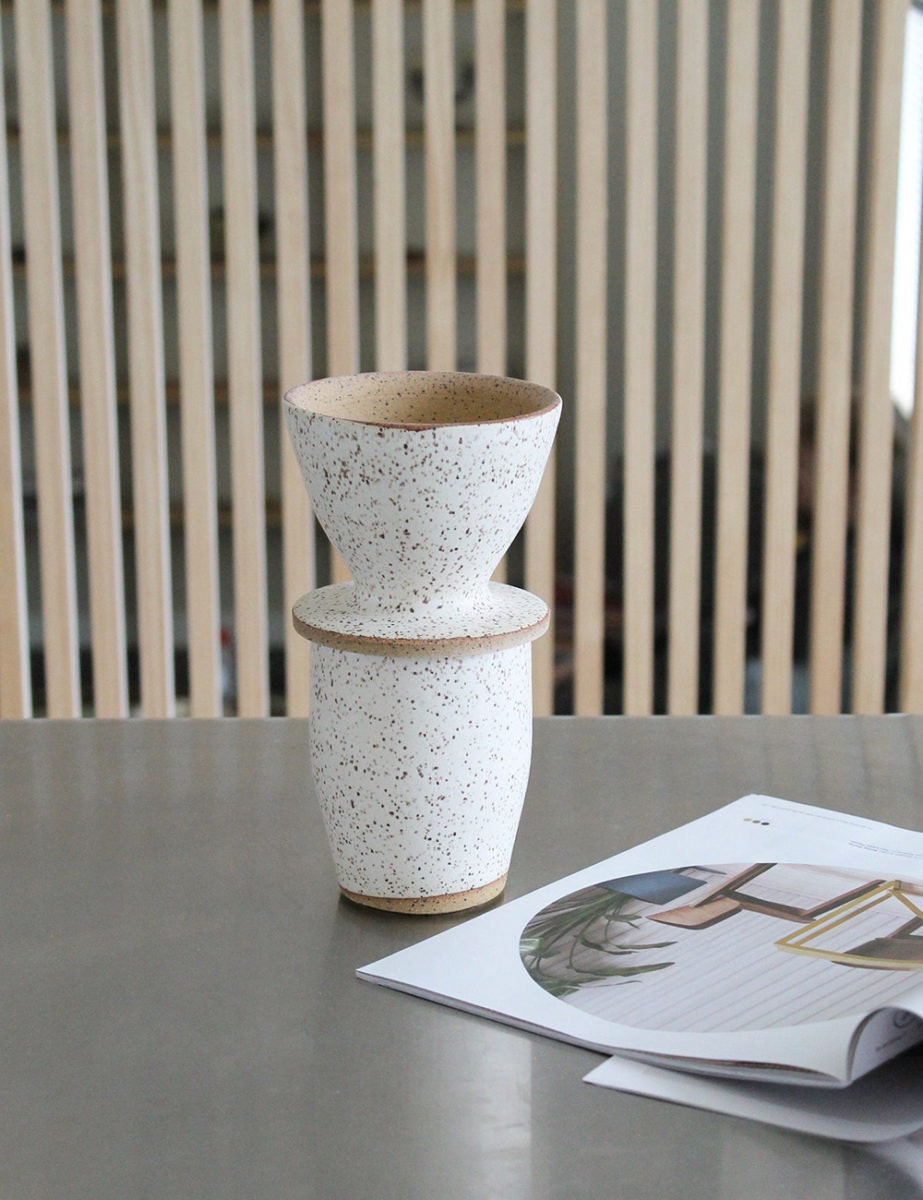 What's a home office setup without a steady supply of caffeine? A sophisticated ceramic coffee pour-over set will make mornings sweeter with their speckled glaze and handmade touch.
For bringing it all together:
Gilded lighting
When it comes to investment pieces for upgrading your space, we give this spectacular Art Deco floor lamp a standing ovation—and the bedside brass sconces? Pure decorating gold.
A sculptural mirror made of wood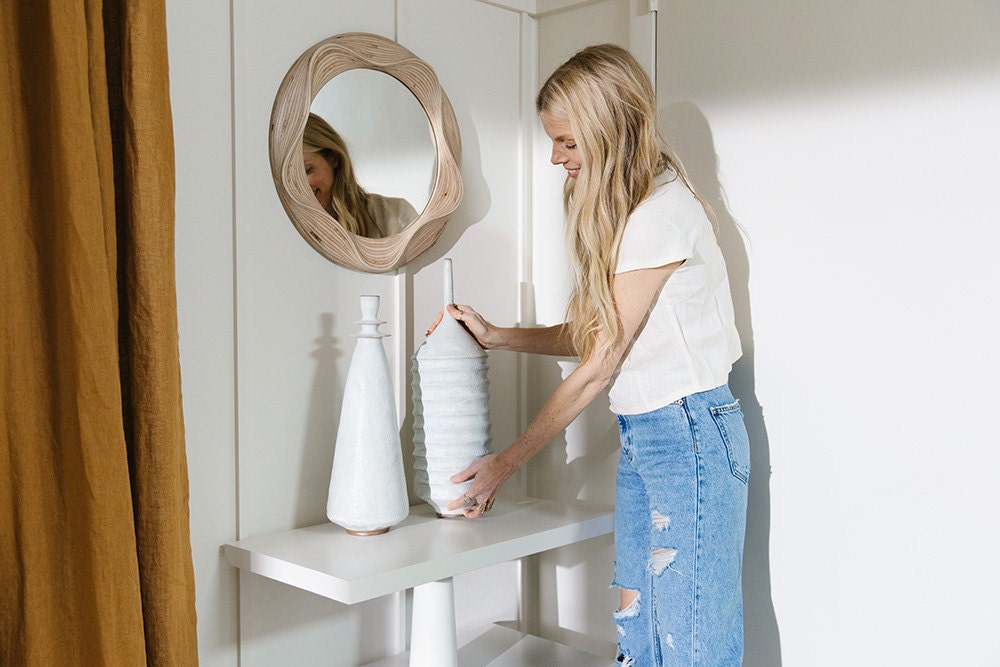 Even when you're not checking your reflection, you'll want to check out the stunning details in this solid birch mirror. Sarah says: "I like to soften up straight lines by bringing in organic and curved shapes, which helps a room feel more welcoming."
A gallery wall that's ready to print
Take the legwork out of sourcing and shipping enough art to fill a gallery wall with this printable set of six designs that features a soothing selection of earthy blush and terracotta tones.
Stylish vintage seating
"I find that searching by material can lead to some great unexpected finds," says Sarah, who chose a vintage leather sling chair to create a cozy reading corner, and a '60s rattan Cesca for everyday desk duty.
A rug that's spot-on
The final touch in any room makeover? A tactile rug that ties it all together. "The rug is incredibly soft under foot," Sarah says. Future guests, take note: no slippers needed.
Shop more of Sarah's favorite Etsy finds:
What can we say? She has great taste.

Are you a sweet or savory person? 
BOTH! Must have the mix.
What's your zodiac sign, and how do you feel about it?
Pisces! I feel a lot, so it's pretty accurate.
Most sentimental object you own?
The gold pinky rings that my husband gave me after each of our children's births. They're engraved with their names and birth dates.
Fave quarantine fad you participated in? 
Equal parts crafting and baking.
Photographs by Mae Stier.