Whether you're passionate about the planet or love to shop local, these one-of-a-kind finds make it easy to feel good about your present picks.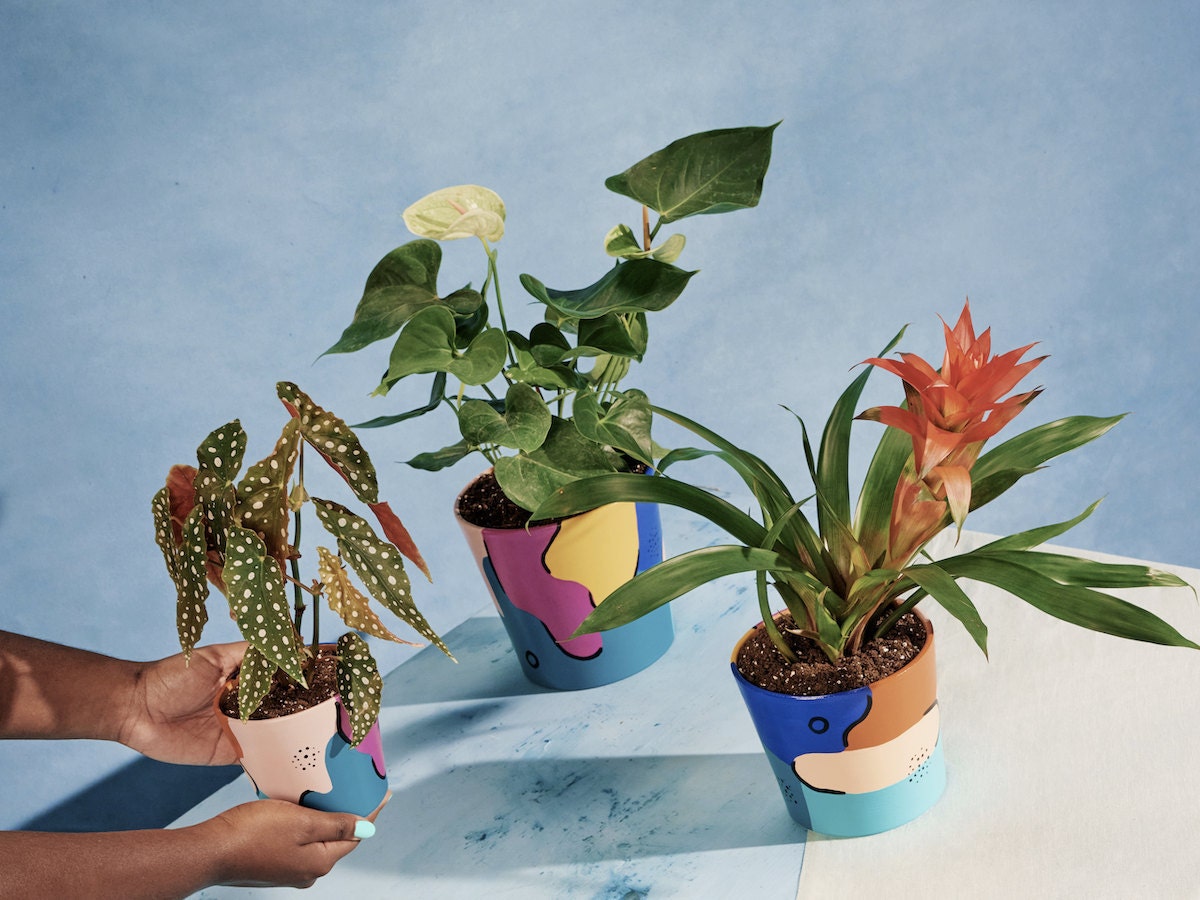 The time for holiday gift shopping is here! And on Etsy, that means finding unexpected, one-of-a-kind treasures imbued with intention to delight your friends and family. We're talking about gifts that mean just a little bit more—whether it's because they feel so unmistakably custom-made for their recipients, or because they're brought to life by independent sellers whose values happen to align with our own (or our recipient's).
While we know this looks a little different for everyone, today we've rounded up some of our favorite gifts that reflect a few of the values nearest and dearest to our hearts: prioritizing sustainability, shopping local, and directly supporting sellers from communities we care about through our purchases. Because really, what's better than a gift that you and your loved ones feel good about?
Gifts that prioritize the planet
Give Mother Earth a present too, by supporting eco-conscious Etsy sellers who consider the environmental impact of their production and create items that encourage more sustainable living. And don't forget that snagging a rare vintage find is another great way to reduce your waste!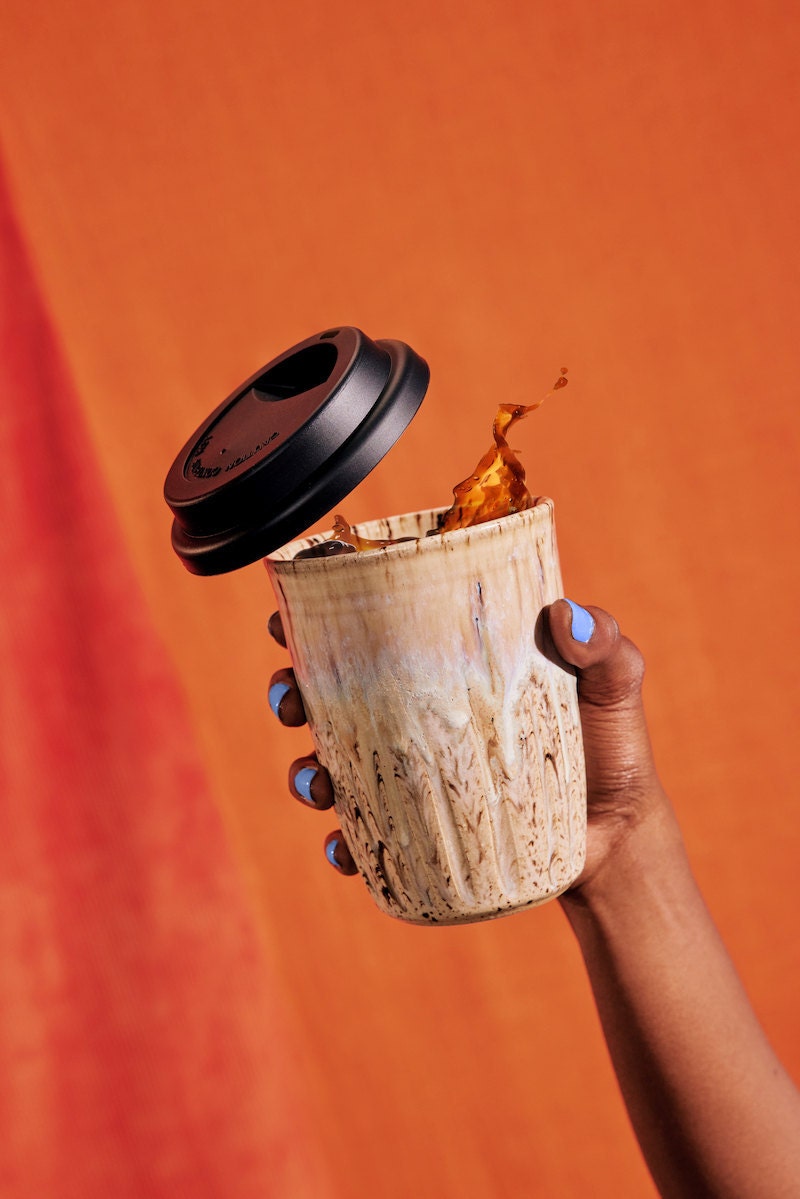 SHOP: Reusable travel cup from Forward Pottery, from $25
Topped with a reusable silicone lid and finished with a gorgeous, iridescent glaze, Forward Pottery's dishwasher-safe stoneware travel mug is as stunning as it is functional—and just what the caffeine fiend in your life ordered.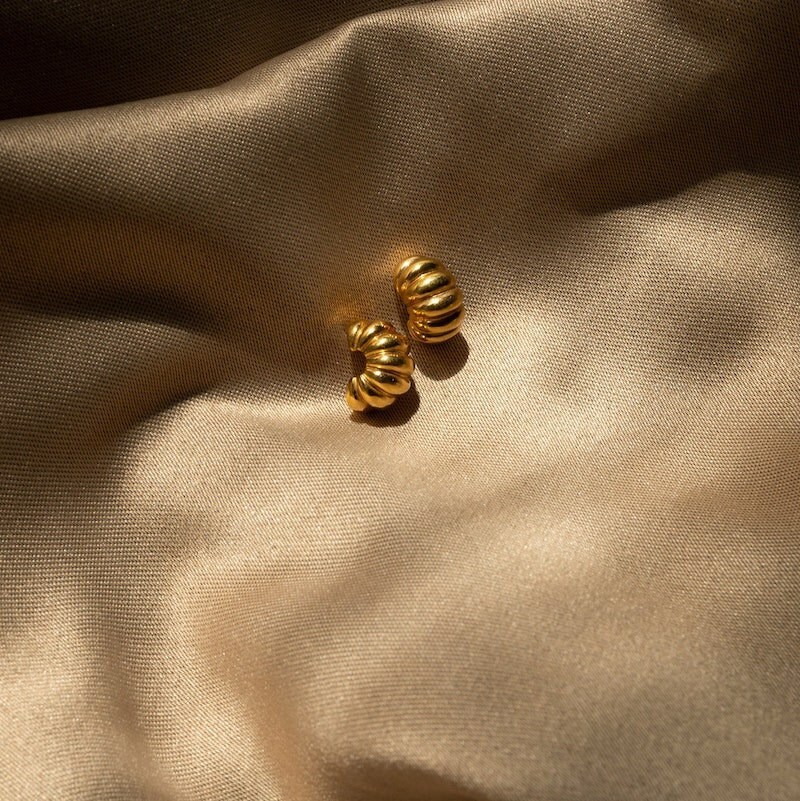 SHOP: Vintage gold half hoops from Black Femme Shop, $25
'Tis the season to dress to the nines! Help the vintage lover in your life shine their brightest with a pre-loved pair of classic gold hoops that never go out of style, like this sculptural set from Black Femme Shop.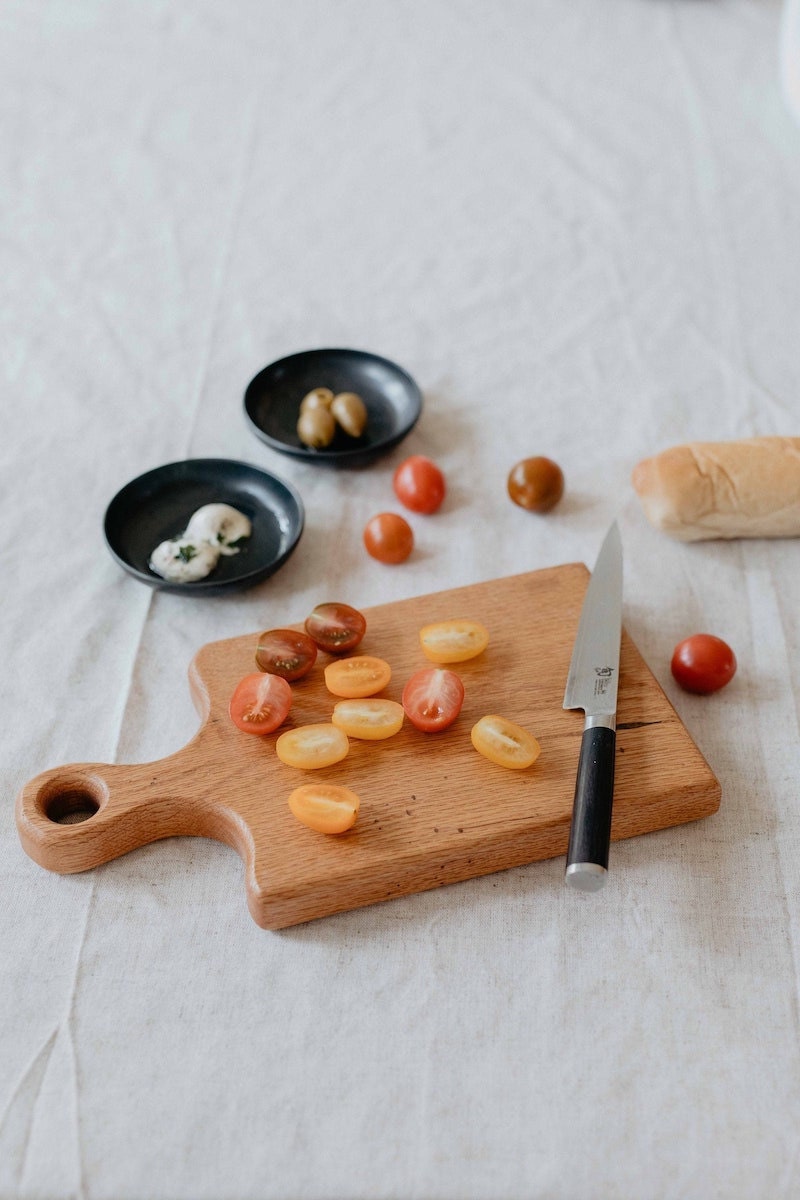 SHOP: Mini cutting board from CBYMCREATIVE, from $47
Crafted from fallen and mature trees and cured with organic beeswax, this mini wood chopping block from CBYMCREATIVE comes in red oak, cherry, black walnut, and sycamore to fit any kitchen color palette.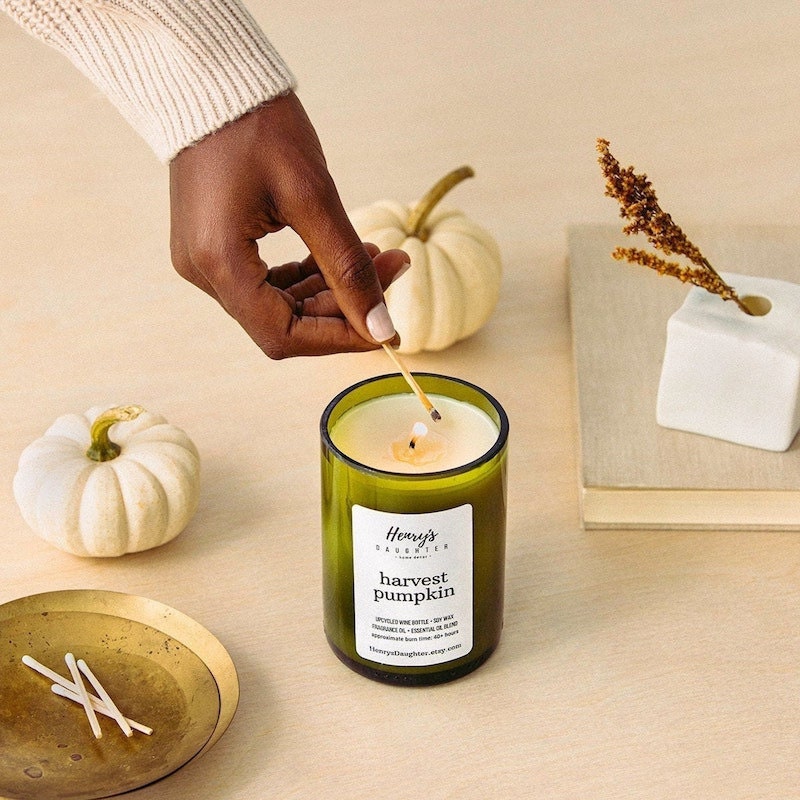 SHOP: Wine bottle candle from Henry's Daughter Decor, $16
Offering hints of spicy nutmeg, brown sugar, vanilla, and cinnamon, this seasonal candle will fill any room with festive, feel-good fragrance. And speaking of feeling good: when it comes to sourcing their vessels, the eco-minded makers behind Henry's Daughter Decor upcycle wine bottles from local restaurants. Cheers to that!
SHOP: Wine bottle tote from Aplat Tote, $30
Make it easy for the cabernet connoisseurs and pinot pros in your life to bring their bottles wherever the festivities may lead (and skip the plastic bag). This washable canvas carryall from Aplat Tote holds one wine bottle and features three durable side pockets for goblets or hors d'oeuvres.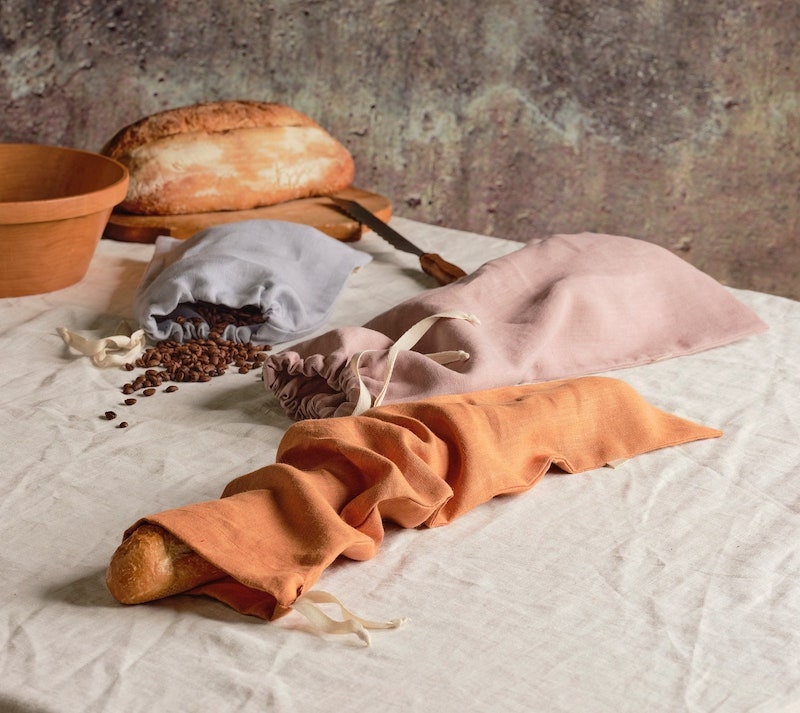 SHOP: Linen bread bag from Linen Duet, from $15
With its handy drawstring closure, this reusable linen bread bag from Linen Duet makes the perfect pretty storage surprise for your friend who picked up baking in quarantine and hasn't put the sourdough starter down since.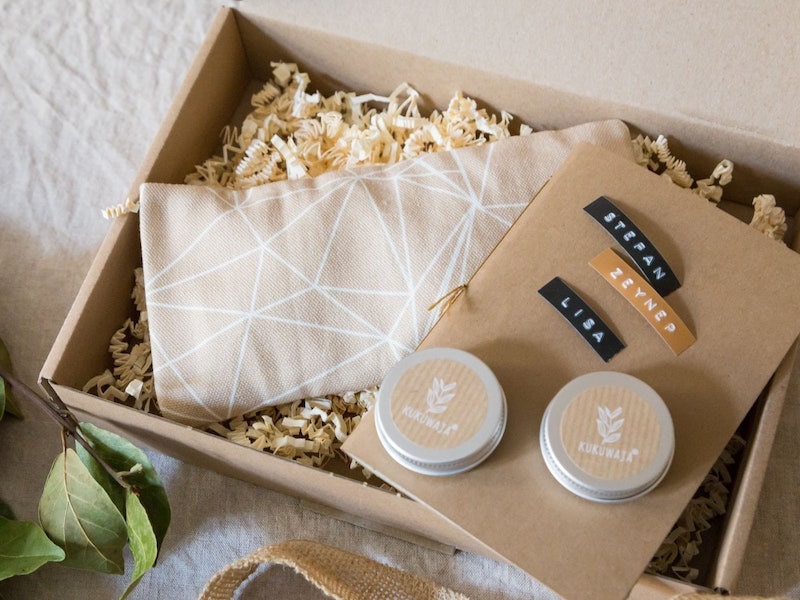 SHOP: Relaxation gift set from Von Pleissenstein, $43
Know someone who could use a friendly reminder to take a little time for themselves? Give them a gentle nudge with a curated relaxation kit from Von Pleissenstein complete with lavender-filled eye pillow, personalized notebook, and two aromatic soy candles to encourage moments of reflection and calm.
Seller spotlight: Maritza de la Vega of MCV Textiles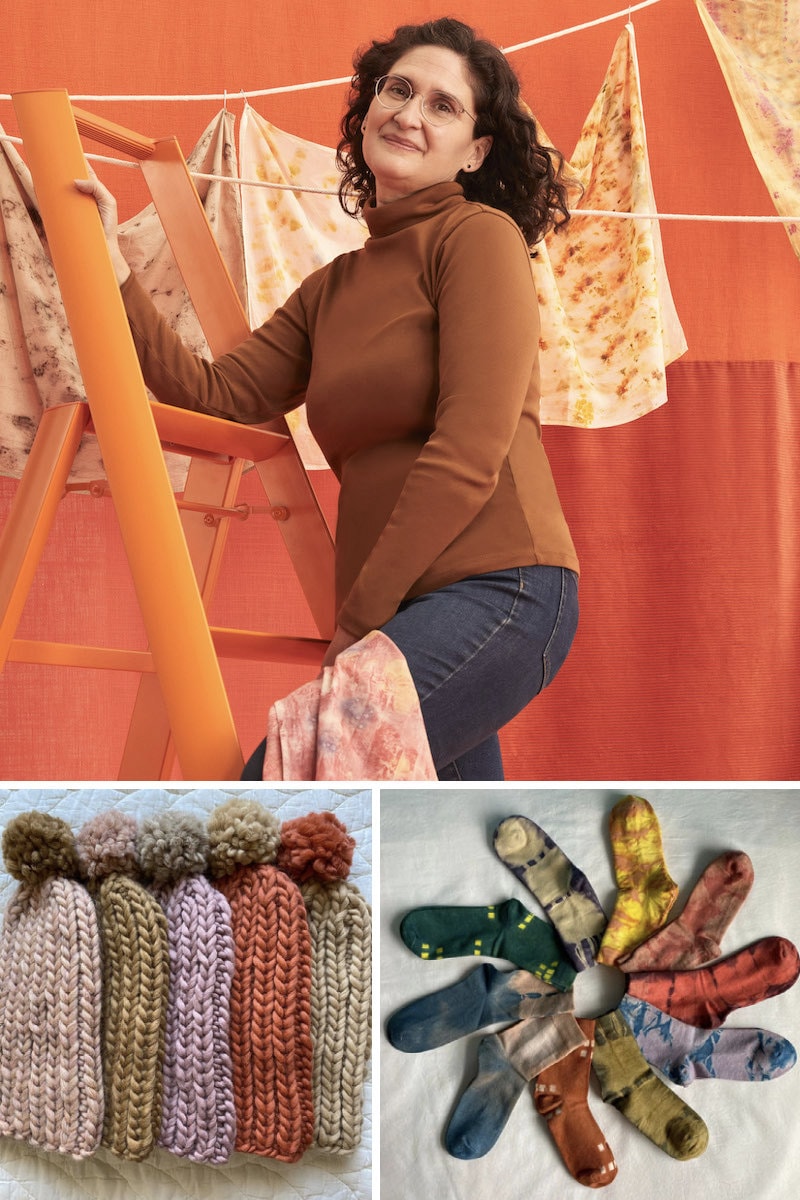 SHOP: Chunky knit beanie, $48; tie-dyed socks, $15, both from MCV Textiles
From sourcing non-toxic, recyclable supplies to composting the remnants from her natural dye process, MCV Textiles designer Maritza de la Vega is committed to running her business as responsibly as she can. "I believe it's essential that we take care of our planet," she says. "By adopting more sustainable practices, we protect ecosystems and preserve natural resources for future generations." Generations who, if they're lucky, might just find one of Maritza's ultra-giftable ombré totes, cozy hand-knit beanies, or tie-dyed sock sets waiting for them under the tree this year. "We harness the beauty of natural fibers and dyes to create rich colorful pieces that are also comfortable and affordable," she says. The end results? Totally dazzling.
Gifts from local makers
There are plenty of reasons to buy from creatives in your own backyard, from supporting your neighbors to strengthening your local economy. It can also mean cutting down on shipping time and cost, or even getting the option to pick your purchase up in person! To find gorgeous gifts near you, just scroll down to the "Shop location" filter in the left-hand bar of your search results—or see if some of the finds below happen to fit the bill.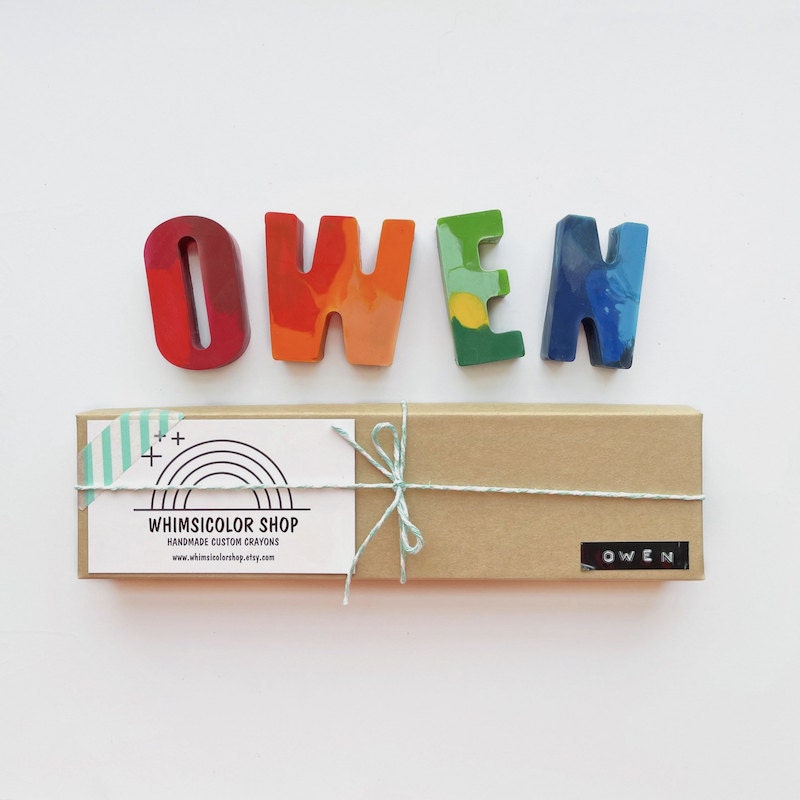 SHOP: Personalized name crayons from Whimsicolor Shop, from $18
Who needs regular crayons when you can get ones that spell out your n-a-m-e? That's the question on every kid's lips, or it will be once they learn about Pennsylvania-based Whimsicolor Shop's personalized, marbled crayons! Even better: every order arrives ready to gift in a ribbon-tied box with a custom name tag.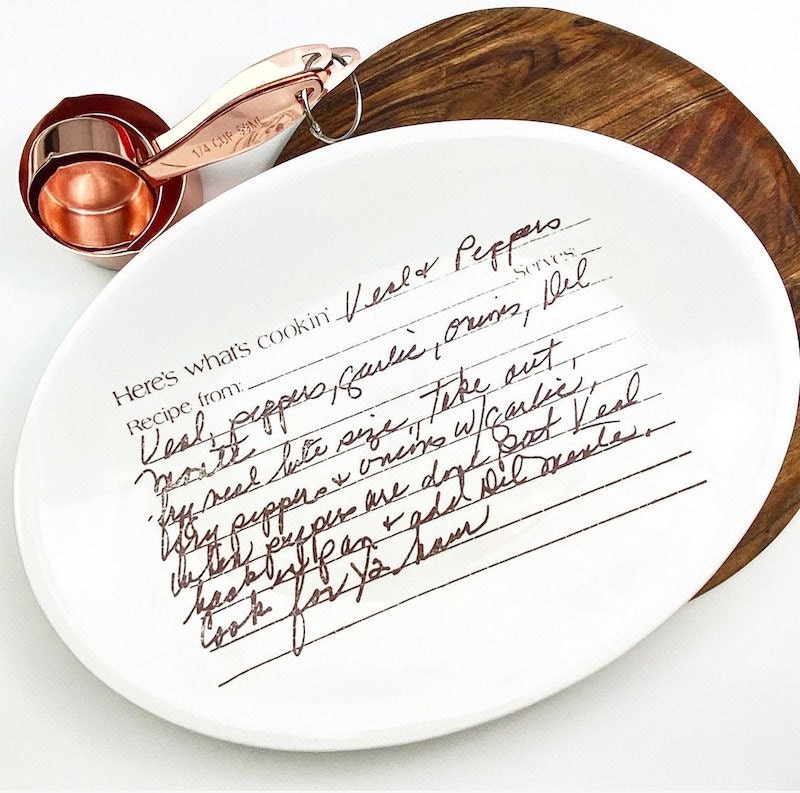 SHOP: Personalized recipe plate from Prairie Hills Pottery, from $60
Turn your family's favorite holiday dish into...an actual dish! Just scan the recipe card (or snap a photo) and send it to Prairie Hills Pottery in Wisconsin where they'll cook up the ultimate heirloom gift that honors the talented chef's unrivaled taste.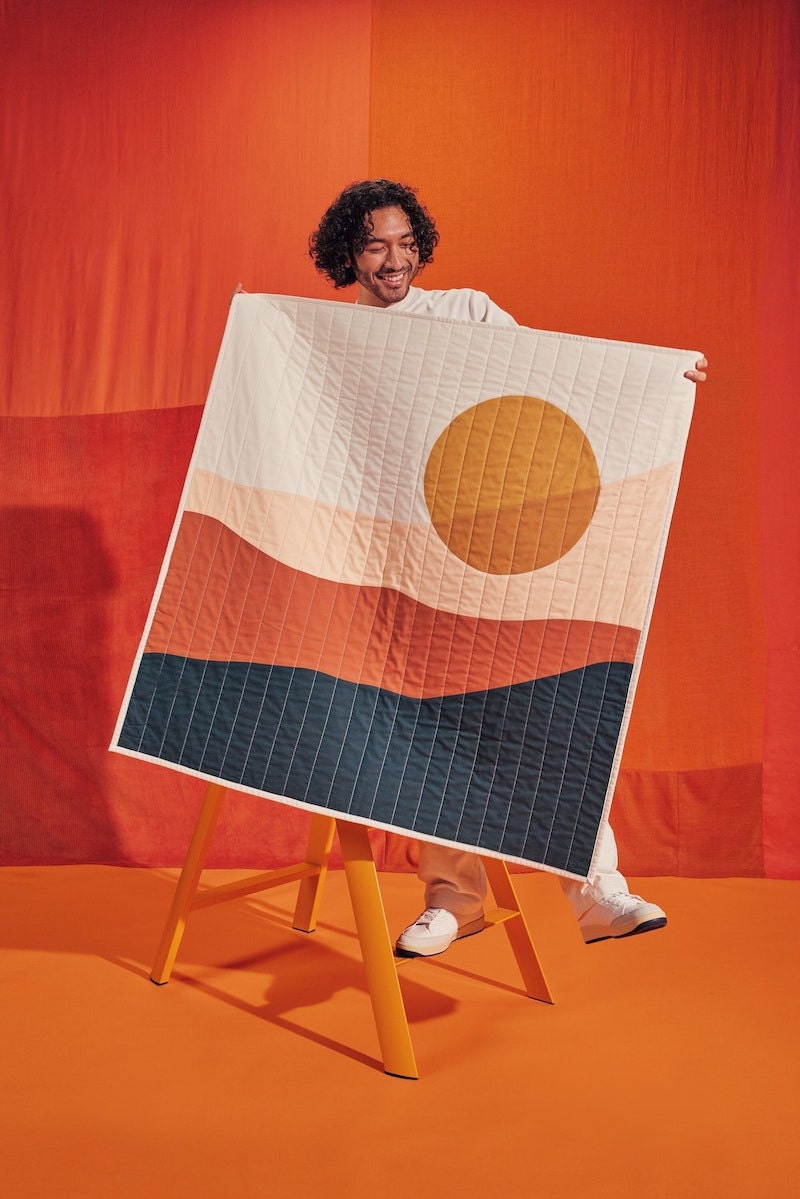 SHOP: Sunset quilt from Excell Quilt Co, from $364
Inspired by sunset in California's Yosemite National Park, this modern, abstract quilt from UK shop Excell Quilt Co does double duty as statement art thanks to a sewn-in sleeve at the top that makes it easy to hang.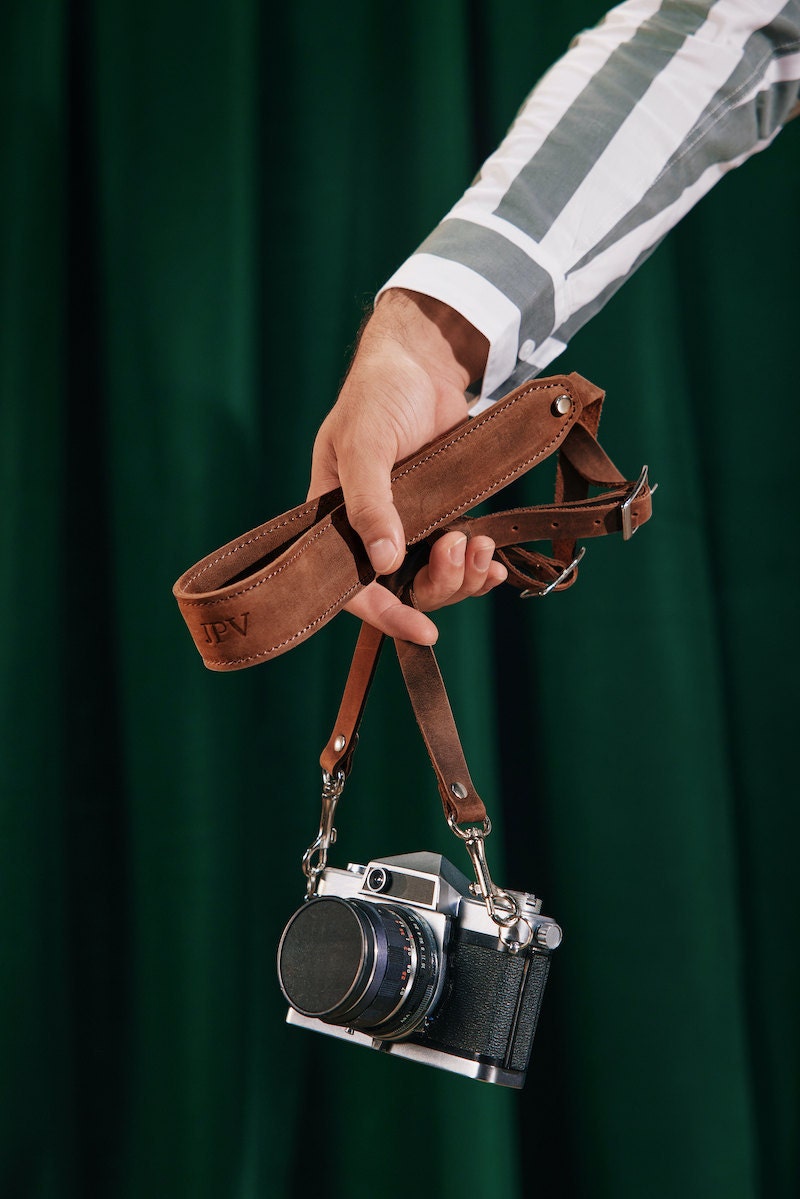 SHOP: Leather camera strap from Pegai, from $50
Help your photo-fanatic friend get the perfect shot with a sturdy camera strap from Texan Etsy shop Pegai that easily adjusts to fit shutterbugs of all sizes, and even includes the option for personalization.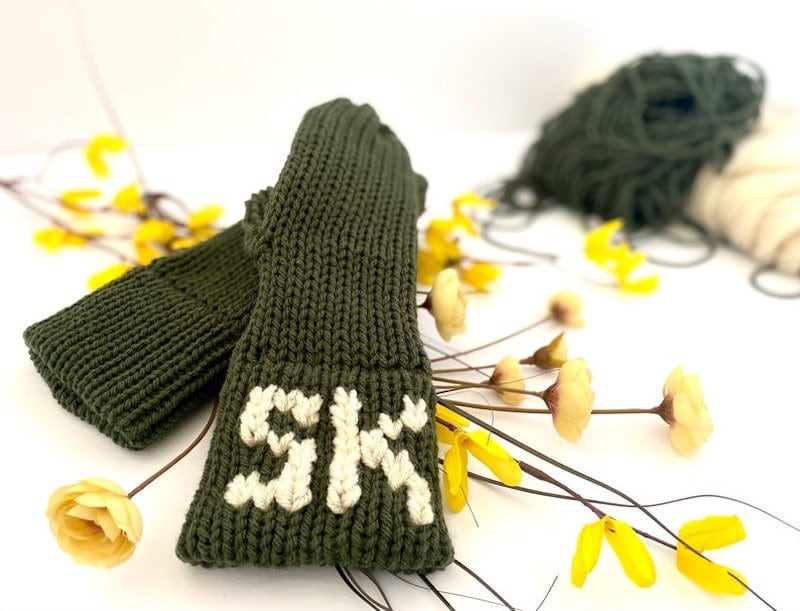 SHOP: Monogrammed knit mittens from Knitting Kulture, from $29
What's sweeter than a toasty pair of mittens to warm your loved ones' hands (and hearts)? A monogrammed set from Canadian Etsy shop Knitting Kulture should do the trick! These soft knits are fully customizable, with over 13 unique color choices and the option to add fleece for maximum cushiness.
Seller spotlight: Victor Serrano of New York Handcrafted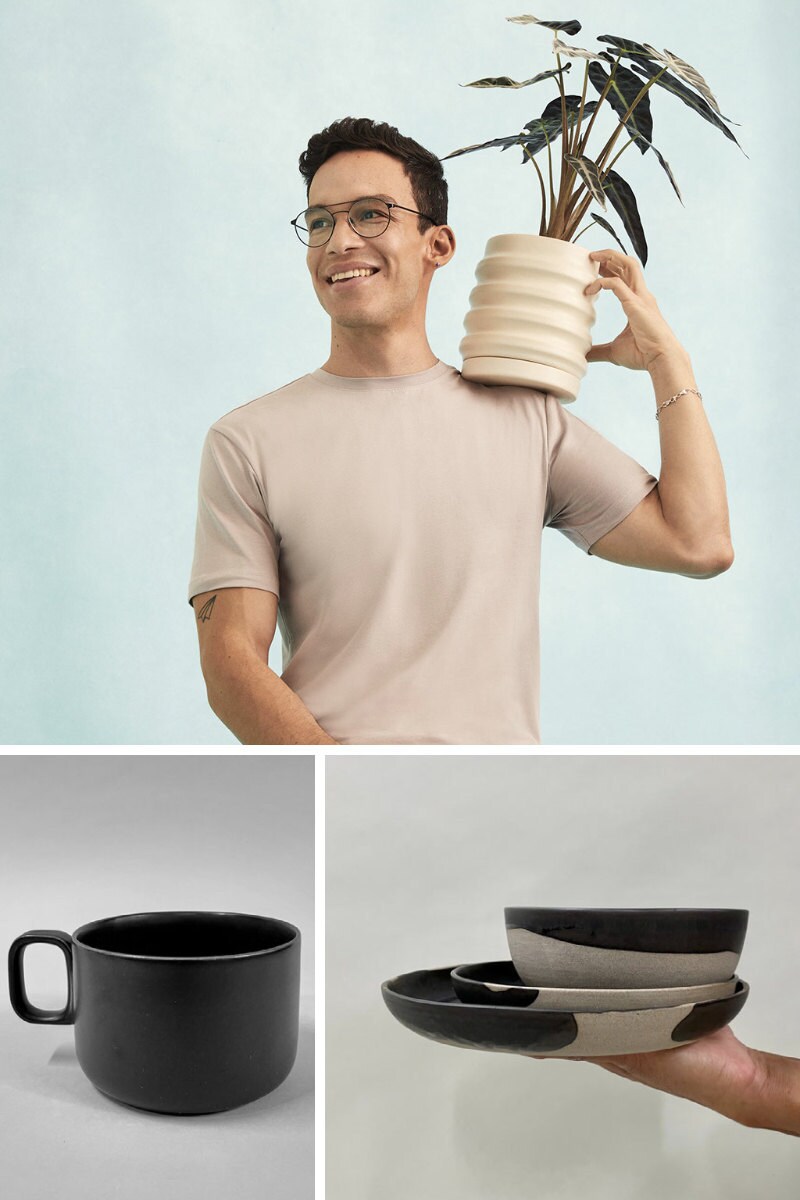 SHOP: Matte black mug, $34; gray and black dinnerware set, from $32, both from New York Handcrafted
"It's so important to shop local because it helps keep a wide variety of products in the market," says artist Victor Serrano of ceramic homewares shop New York Handcrafted. "Local small businesses generally try to differentiate themselves, which results in more options for the customer." For Victor, this means designing distinctive dinnerware sets, sleek mugs, and modern tumblers that come in an extensive range of shapes and textures—and make thoughtful gifts for the new homeowners in your circle. One of his biggest inspirations? Fittingly enough, the vibrant NYC restaurant scene just beyond his Brooklyn studio. "Exploring it motivated me to add my own flair to the ceramic world around me," he says.
Gifts from communities you care about
Here at Etsy we're proud to provide a platform that welcomes creative entrepreneurs from all backgrounds, and are committed to showcasing, celebrating, and uplifting the talents of our diverse seller community. For unparalleled gifting inspo, be sure to check out these hubs to support Black, Latinx, AAPI, and LGBTQIA+-owned businesses.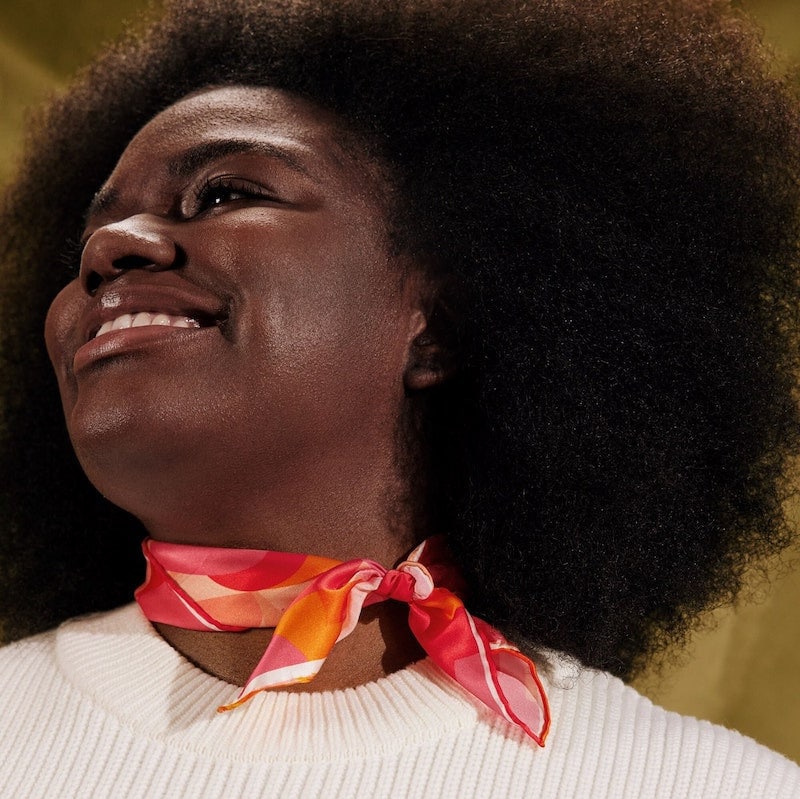 SHOP: Square silk scarf from VALISSE, $44
With its artful combination of organic shapes and joyful hues, this square silk scarf from Colombia-based Etsy shop VALISSE adds a touch of class to any outfit.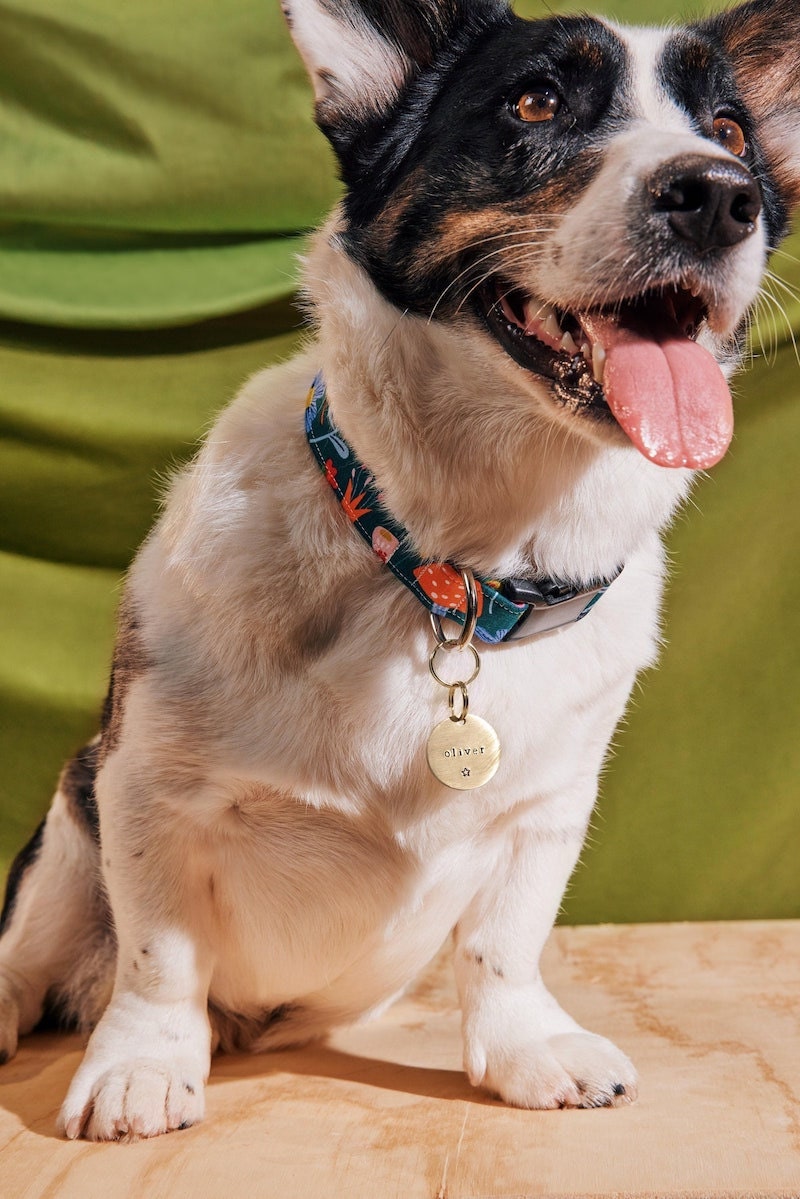 SHOP: Floral dog collar from Pocky and Pepper, from $20
Pocky and Pepper's comfy yet durable dog collar in a Scandinavian-inspired nature print is just the thing for the playful pups on your list.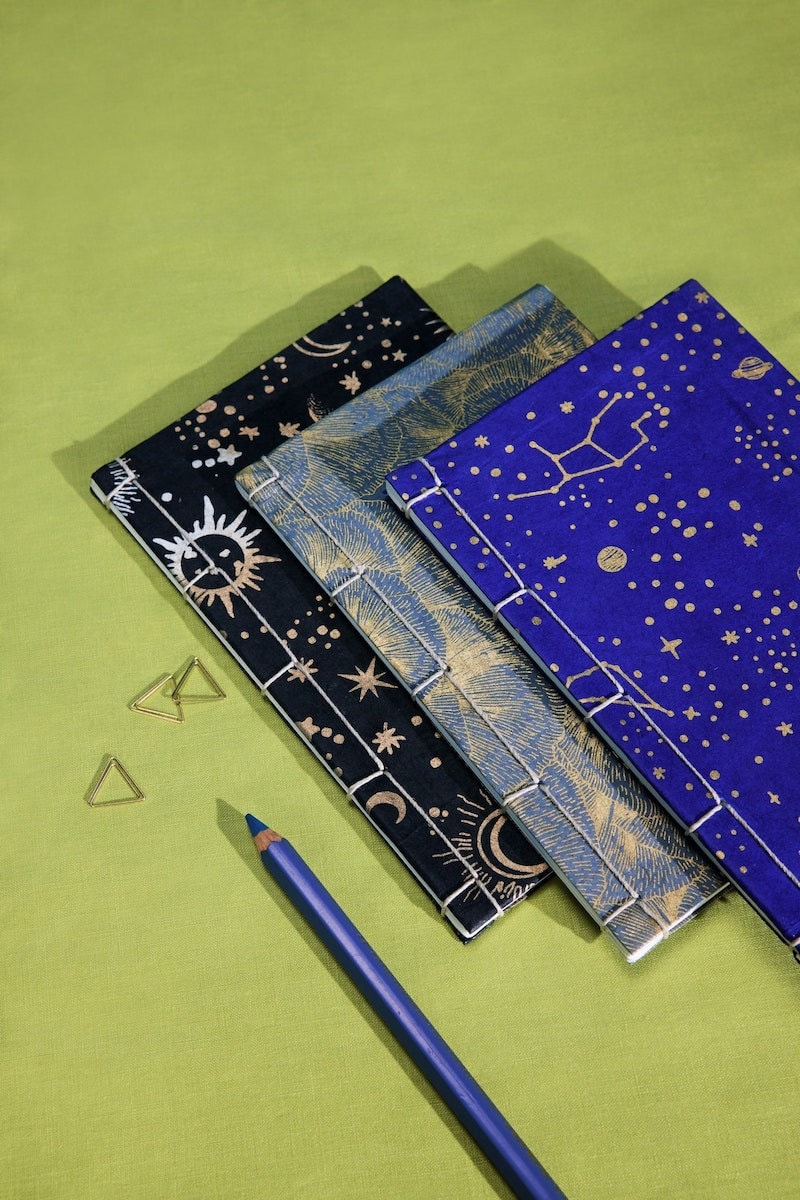 SHOP: Hand-bound celestial journals from Sorrel and the Sea, from $45
Take creatives and academics alike to the cosmos with a set of celestial journals, each hand-folded and bound with care. These softcover beauties from Sorrel and the Sea are sure to inspire your recipient's best work yet.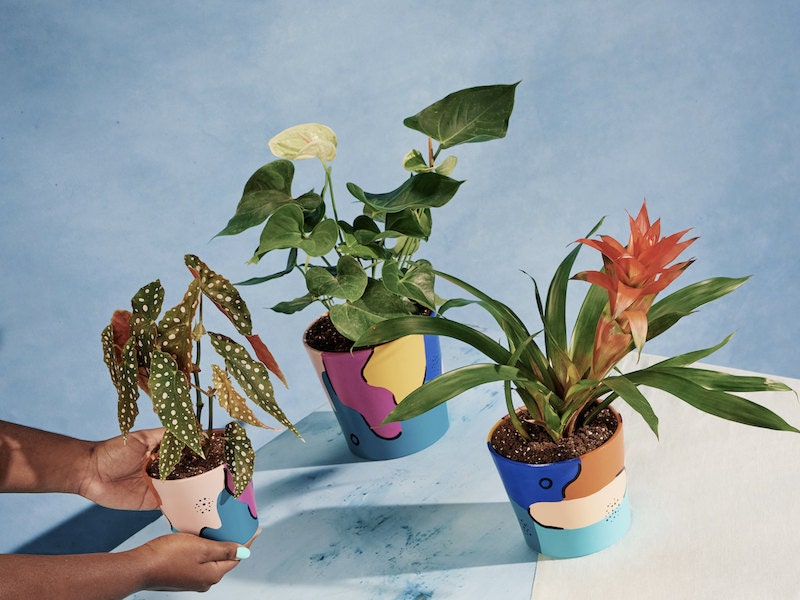 SHOP: Set of 3 abstract painted pots from Pepper Palm, $80
Calling all maximalists! These bold terracotta pots from Pepper Palm are hand-painted in rich color combos and patterns that come together like an abstract puzzle.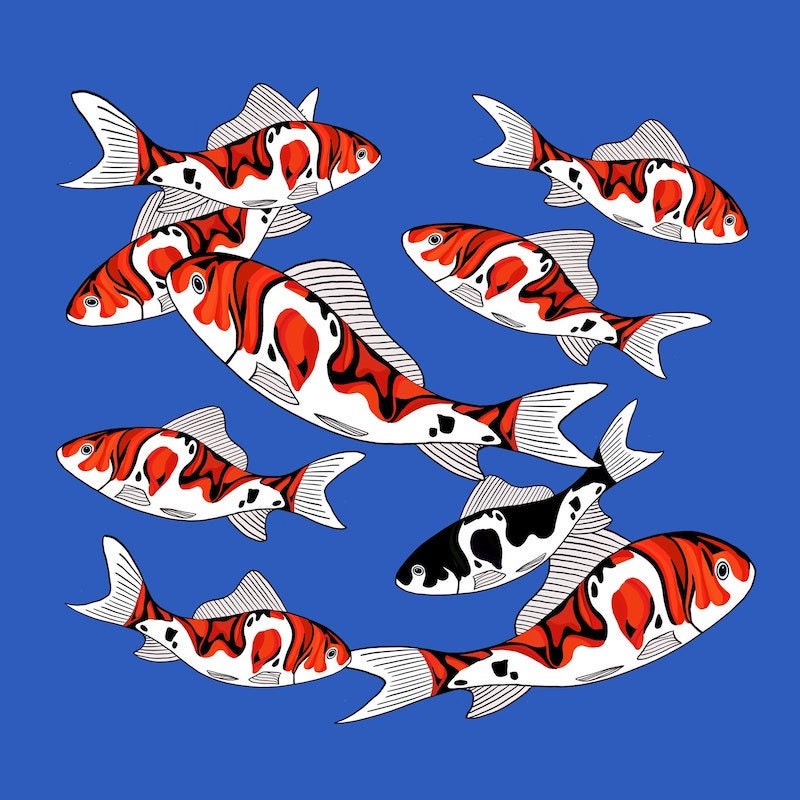 SHOP: Koi fish print from By Felicia Liang, $40
Give the gift of good fortune with a vibrant illustration featuring a school of lucky koi fish. Printed on archival matte paper and signed by the artist, this original design from By Felicia Liang would be equally at home hung in a colorful kids' bedroom or the living room wall of your favorite animal lover's abode.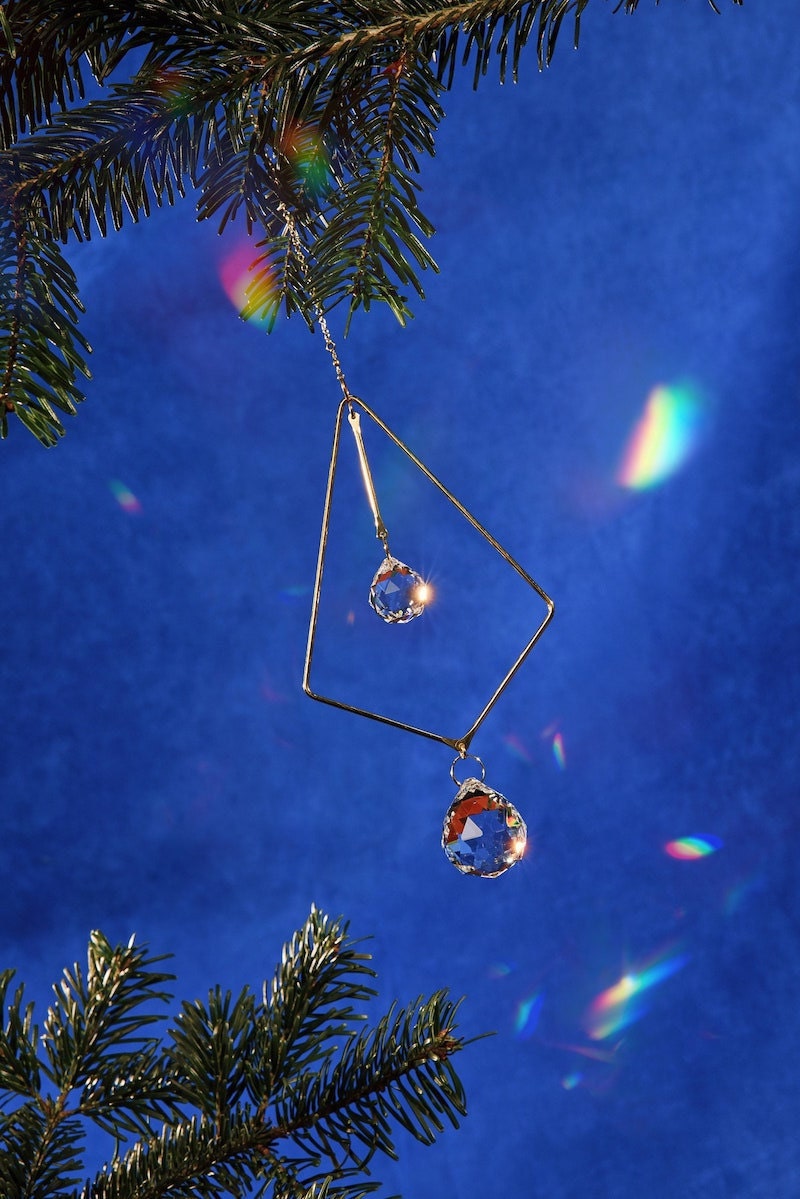 SHOP: Minimalist brass suncatcher from Sol Proaño, $110
Couldn't we all use a daily dose of magic? This dreamy, diamond-shaped suncatcher from Sol Proaño features dangling crystals that cast a flurry of rainbows around the room when the light hits just right.
Seller spotlight: Juliana Pache of Clay Jewels by Jules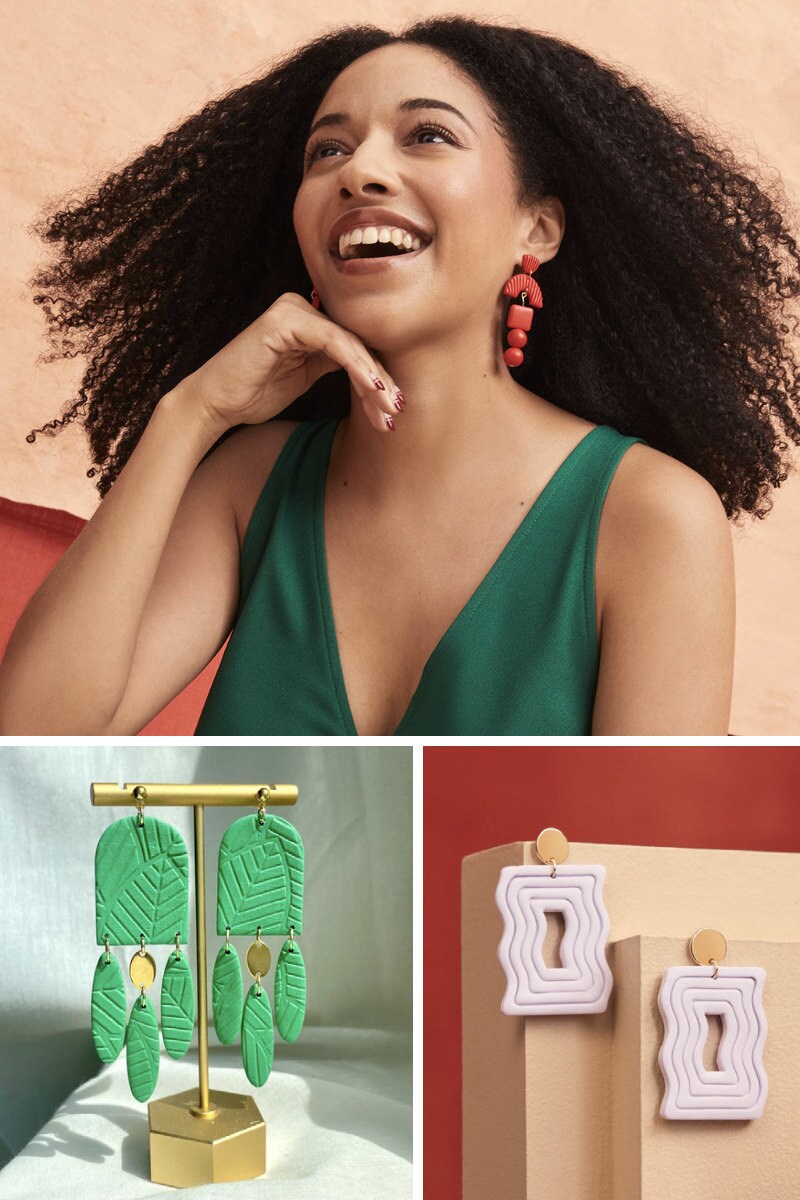 SHOP: Green clay chandelier earrings, $25; squiggly rectangular earrings, $20, both from Clay Jewels by Jules
With their eye-catching pops of color and delightfully oversized designs, Juliana Pache's bold, sculptural clay earrings make a foolproof gift for anyone looking to make a statement—stylistically or symbolically. When it comes to purchasing power, as the small business owner behind Clay Jewels by Jules and a proud Black Caribbean Latina, Juliana believes that every sale from underrepresented communities can make an impact. "There's a huge Black Caribbean Latinx population in New York City where I grew up," she says. "By supporting even one minority-owned business, it's likely that you're also directly or indirectly supporting their network and their peers. Every shopper makes a huge difference."
Seller portraits by Taylor Rainbolt.