by Mary Kinney
Get to know the culturally rich backstories behind these talented Hispanic, Latino, Latina, and Latinx makers, and shop their exceptional collections.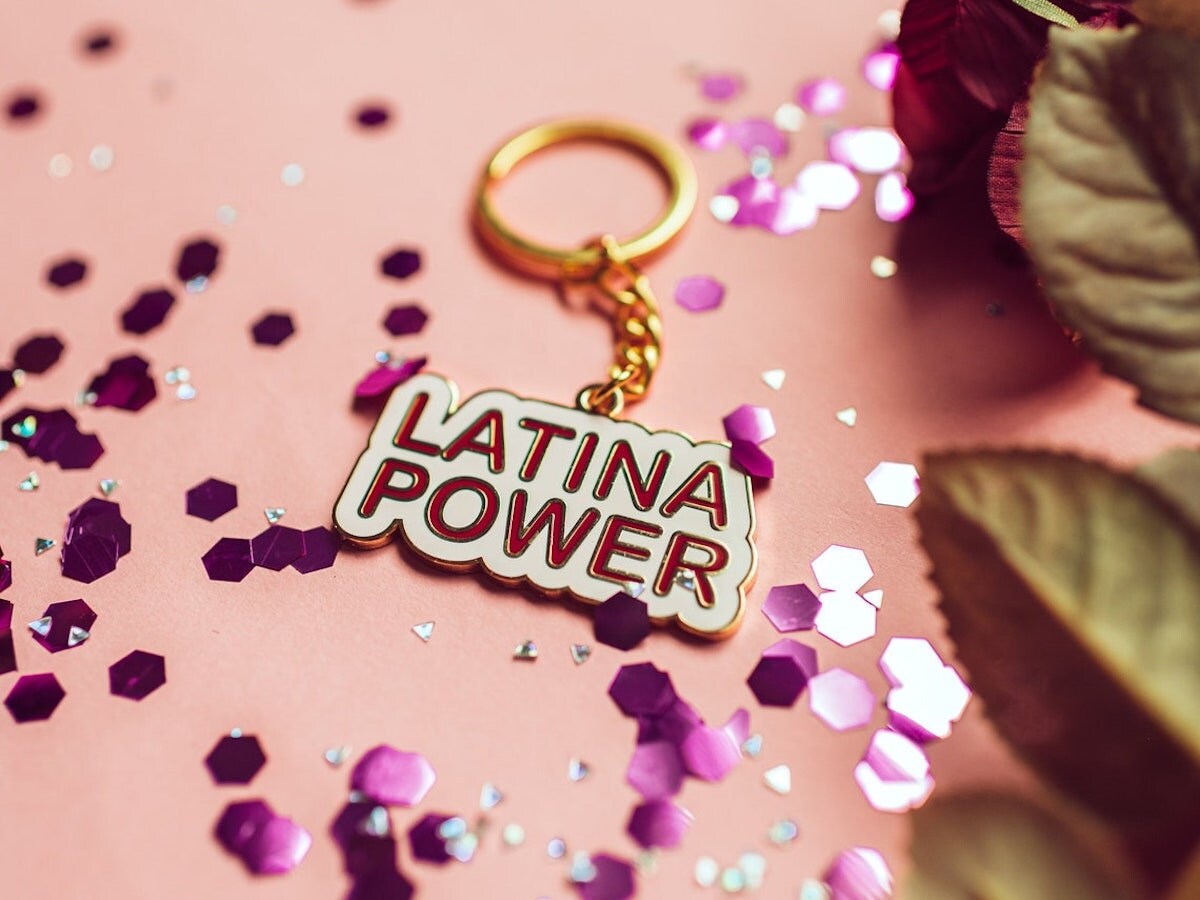 When you shop on Etsy, it's never just a gorgeous pair of earrings or prized new print for the wall. Every one-of-a-kind find has a tale to tell, and this Hispanic Heritage Month, we're taking a moment to appreciate the rich stories behind some of the most inspiring designs and curations from Etsy's Hispanic, Latino, Latina, and Latinx communities. The creativity of these multi-talented makers runs deep, but to give you just a small taste, we chatted with eight standout sellers from a mix of backgrounds and cultures about their craft. From the Hispanic-Basque baker whose butter cookies and truffles are filled with familiar flavors (and her own farm-fresh eggs), to the jewelry designer who fashions intricately beaded tributes honoring the strong women in her Colombian family, each exquisite and intentional piece from these artists is its own unique collage of heritage, hard work, and heart. Read on to discover the meaningful details that make their items come alive and the different ways their personal histories have influenced their work. You're bound to find a new favorite shop or two to add to your Collections.
Personal pep-talk prints from Hello Sarita
Yo soy importante. Yo soy suficiente. Yo soy poderosa. (Translated: I am important. I am enough. I am powerful.) They're words to live by if you ask typographic printmaker Sara Martinez, and what better way to be reminded than by giving them a prominent place on the wall? "It's important for me to spread positivity in my own way as an artist and entrepreneur," Sara explains of her frame-worthy affirmational art. "Some of the phrases I use in my designs are words of encouragement I hear from my parents all the time." A daughter of Salvadoran and Mexican immigrants, Sara's work also subtly underscores what it's like living multiple identities simultaneously. "I switch back and forth using English and Spanish phrases. It's who I am, and you can see all of the different sides of my heritage through my products," she says. 
But finding that strength hasn't always been easy. "There were a lot of struggles growing up," explains the Texas-based maker. "Even with the different obstacles I went through, my culture was something that always kept me well grounded. Because of that, I want my products to not only acknowledge the common problems that we face in our community but also the beauty that comes along with our heritage." The best part? Seeing her work have a real impact. "Just recently, I had a teacher who shared with me that she ordered one of my Spanish affirmations posters to put up in her ESL class," she says. "The fact that my artwork is being put up in classrooms for the next Latinx generation is an amazing feeling. It's important for me to create items that not only bring me joy, but will keep empowering my community."
One-of-a-kind vintage treasures from Otherwise Shoppe
Our fellow vintage enthusiasts can attest: One of the best parts about purchasing a previously loved product is when you can see and feel the life it had before it came into your hands. And with her incredible knack for finding objects with both style and a story, Mara Caballero has curated a covetable collection of trinkets, curiosities, and elegant housewares that offer just that. "My hope is for people to see the value in objects that already exist," Mara explains. "To make important once again something forgotten or discarded." 
For Mara, it's this deep appreciation for what came before that also motivated her to pursue the dream of building her store. "Along my mother's line there are so many artists and creatives that did not have the same resources, education, or opportunities to express their gifts that I have been given," explains the entrepreneur, whose family hails from Puerto Rico. "I feel the importance of honoring them by devoting myself to doing what they were not able to do." And for the sake of future generations, Mara is making sure every day, she's rewriting her own narrative. "Hispanic Heritage Month is a time to be proud," she says. "To remember what has been lost and what my ancestors were forced to give up to survive. To reclaim and tell our stories."
Empowering apparel and accessories from Jen Zeano Designs
When designer Jen Serrano received a message from a customer saying, "Thank you for embracing your culture and representing us," she was immediately struck by the words they chose. "The 'us' is so important to me because I always want this brand to feel like it belongs to the community," she says. Known today for her statement-making everyday-wear, tote bags, and jewelry emblazoned with empowering messages, Jen and her partner Veronica Vasquez found their niche after their "Latina Power" tee was rocked by some major celebs. "It'll forever hold a special place in my heart," she says. "It's what defined us as a brand."
But even more than that, it's what kicked off what Jen and Veronica now consider a movement. "We hope our products help remind Latinxs of their worth," she says. "We also hope they prompt healthy conversations around important topics that affect our community." From the proud and affirming "Morena" tee to the delicately beaded "Poderosa" bracelet, each inspiring piece offers a little bit of strength in the face of adversity. "We live in complete gratitude for our ancestors and the struggles they had to overcome so we could lead the lives we do now," Jen says. "Every decision I take is with the intent to honor and celebrate them."
Bright botanical illustrations from Art and People
"All my garden paintings are inspired by memories of my childhood spent on the patios of Buenos Aires," explains illustrator Laura Garcia Serventi. "The geometric tiles, the old walls, the colorful variety of plants and flowers—they have a special place in my heart." Filled with sprawling tropical fronds and splashes of blues and pinks, each enchanting, painterly print in Laura's shop has the ability to transport you to your own personal oasis, whether it's the sunny South American shores you call home, the potted palms and monsteras of your indoor garden, or just the lushest landscape of your imagination. 
"I hope to bring a piece of the natural and wild world to my customers, as well as joy and comfort," Laura says of her vibrant style, which also extends to her chic collection of silky all-season scarves. "There's a palette, bright and intense, that comes very natural to me, and I think that also has to do with my background." It's an aesthetic that translates beautifully from wall to wearable art; no matter which way you choose to show your bold side, and your sense of wonder when it comes to all things gloriously green.
Out-of-this-world art from Planet Baddie
Styled like retro superhero goddesses, the illustrated characters featured in Ventika Henderson's art are strong, bold, and self-assured—and that's exactly how Ventika hopes they'll make her customers feel. "I want people to be able to visit my shop and come out with something not only unique to the world, but also something that they can find themselves in," she says. "Representation truly does matter." Starring a diverse cast of femme figures celebrated for all their beautiful shapes, sizes, and skin tones, Ventika's work is all about owning who you are—whether you do so by framing one of her bold prints or making one of her comfy graphic tees your new wardrobe staple. 
One of her favorite pieces so far? "Baddie Long Legz"—a drawing featuring a group of gorgeous, curvy women with legs for days. "It's a big representation of the many different types of women in my two cultures, and the birth of me finding my own unique style of art," Ventika says—a journey that has drawn influences from fellow artists, everyday life, and her Black and Mexican cultures. "My Mexican heritage is something I'm still learning about," she explains. "I try to incorporate aspects I find interesting and important, like the Zoot Suit and Pachuca era or Afro-Latinas, and darker shades of skin that don't get enough shine."
Can't resist a good statement earring? Get ready to swoon. The dazzling danglers from designer Diana Corredin are not only eye-catchingly swishy, each of their unique fringed shapes and color stories is infused with meaning. "Both collections that I've released encompass my family and the flora and fauna found in Colombia," Diana says. "Jewelry making has been one of many channels where I can freely express myself and inject personality and heritage into my craft."
Strung together from tiny glass beads, each stunning set in Diana's collection is meant to be an everlasting heirloom—and many also have their own extra-special muse. "In my first collection I released, called 'Roots,' each piece is named after the strong women in my family," Diana says. "I wanted to create earrings that abstractly embody them in a personal way, and provide tribute to them for all of the hard work they've put in." So it's no wonder that Diana puts so much care and attention into making each hand-woven pair shimmer with personality. "My hope is that my customers enjoy these pieces as much as I've enjoyed making them since they are both personal and meaningful to me," she says. And if you ask Diana, that's what honoring Hispanic Heritage Month is all about. "It's a time of learning from one another and teaching others outside of our community about who we are, by both celebrating our past and acknowledging how we are continuously evolving as a community."
What started as a quarantine hobby for Latina artist Karla María Cabido quickly blossomed into something bigger than she'd ever anticipated. "I never planned on my paintings turning into a business," she explains. "I pretty much had to learn everything from scratch, from how to organize my time to how to ship properly." Over 300 sales later, her bold, hand-painted line of room-brightening pots, planters, and other playfully shaped vessels brings joy into customers' homes across the globe. "Ever since I was young I've had an affinity for drawing unique and eclectic styles," Karla says of her distinctive aesthetic. "I love being different and thinking outside the box. Beauty is in the eye of the beholder!" It's a practice Karla extends to her artwork in the way she pays homage to her Mexican heritage. "Mexico is a very colorful and vibrant country, and I feel that can sometimes be overlooked," she says. "It's part of the reason why I love using bright colors on all of my pieces." 
With this impassioned emphasis on seeing and appreciating what makes us unique, it's perhaps no surprise that eyes—large and lashy—are a recurring theme in Karla's creations. "I feel they are so beautiful, and they can mean many things depending on your perspective," she says.
Born and raised in the small town of Orduña in the Basque Country of northern Spain, treat-making maven Esther Aguirre attributes much of her wholesome approach to baking to her upbringing. "We live to eat, and anything is a good excuse to get together and do so!" she says. "We love comfort food, and my truffles and cookies are just that. Nothing fancy or super decorated, but they'll warm up your stomach as well as your heart." 
Whipped up, for the most part, with just four easy ingredients—including local butter and eggs from her very own hens—Ether's confections are made with the motto, "Keep it simple, but keep it good," and boast time-tested flavors like roasty espresso, bright hints of lemon, and floral notes of rose. And of course, each mouthwatering morsel is made-to-order to preserve that gourmet freshness. "We like simple things made with the best quality products. Quality over quantity!" she says.