by SwirlingOrange11
This rare and collectible cup helped teach the art of tasseography — reading fortunes in tea leaves.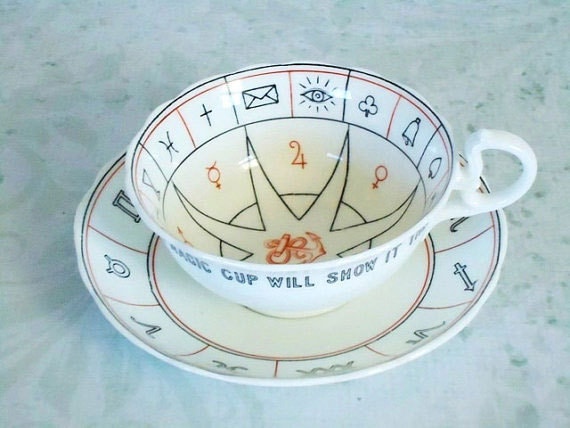 Here at Etsy, we believe that the story behind an object is often just as fascinating as the object itself. Short Stories is our series dedicated to telling the tales behind extraordinary pieces found or created by Etsy sellers.
Here's Swirling Orange with a look at this remarkable tea cup.
I collect all
types and styles
of fortune telling cups, and most that I sell are doubles of pieces in my own collection (if you go through
my sold listing
s you will see quite a variety of them). In the Art Deco era of the late 1920s to early 1930s, these cups were popular as parlor games.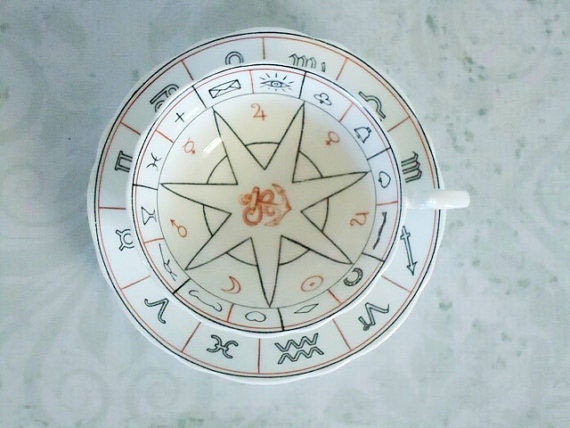 This is a
highly collectible 1930s - 1940s Aynsley tea cup and saucer
, commonly referred to as "The Nelros Cup of Fortune." This cup and saucer are a bit oversized compared to a standard cup and saucer with a scalloped edging along the rim of the cup. Each piece depicts signs and symbols that are interpreted by the Seer (fortune teller) conducting the tea leaf reading. The center of the cup has a red anchor, and the center of the saucer a Retrograde symbol within a star. These two marks (the anchor and retrograde symbol) designates this as an original as well as the register number and hallmark on the bottom of each piece. Around the outside rim of the cup it reads, "Would'st I Learn Thy Future With Thy Tea This Magic Cup Will Show It Thee."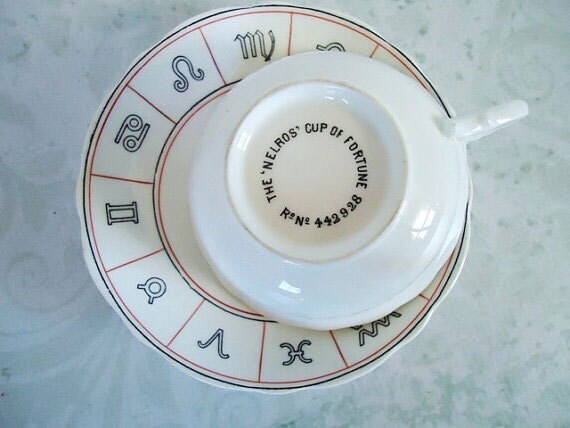 I own this particular cup myself. I have only had a cup like this once before in my shop, so they are extremely hard to come by. (I think that's because people who own them want to keep them and are hesitant to sell or give them away.) The design is quite ominous and stark, compared to the gorgeous Paragon china cups of the same era that were mostly made in pastel dreamy colors with hot pink symbols. "Gypsy" or "Greek" tea leaf readings from the soaked leaves of loose tea is an ancient art form. It is actually more accurate than the Tarot if done with experience and knowledge. From what I understand, the reading of tea leaves dates back as far as 1600s, when women were not allowed to read or learn in northern Europe, so they came up with their own way of communication. This communication took many forms, but all were symbolic. Tarot cards share a similar history, but I believe originally was for regal families only. I am unsure if this is the true story behind tea leaf readings, but it sure feels right to me. I read tea leaves myself, but not for myself, if this makes sense. It is really difficult to be objective about your own hopes and desires. But I have read for others with a traditional method I was taught, using a plain white porcelain demitasse cup. That started my fascination with fortune telling cups.
All photos courtesy of Swirling Orange.
Have you created or come across an object with an extraordinary story that needs to be told? Email us!