These DIY organizers are easily created from materials you have at home.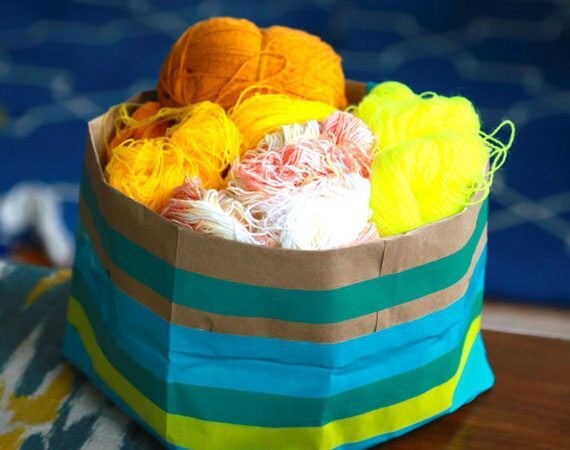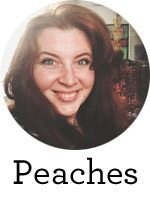 Storage containers
: can you ever have too many? Not likely! And let's be honest, nothing puts you in the mood to reorganize your stuff like a new herd of good-looking storage containers, am I right? The problem: finding a storage option that fits your space, taste, and budget. ...So, why not make your own? This tutorial is not only easy and fun, but it can also be customized to fit any space. Do you have a narrow shelf or an awkward spot in your closet that could benefit from a stash spot? This tutorial is the answer. Oh, and here's a bonus: you probably already own the necessary materials. Want to make one? Let's get going!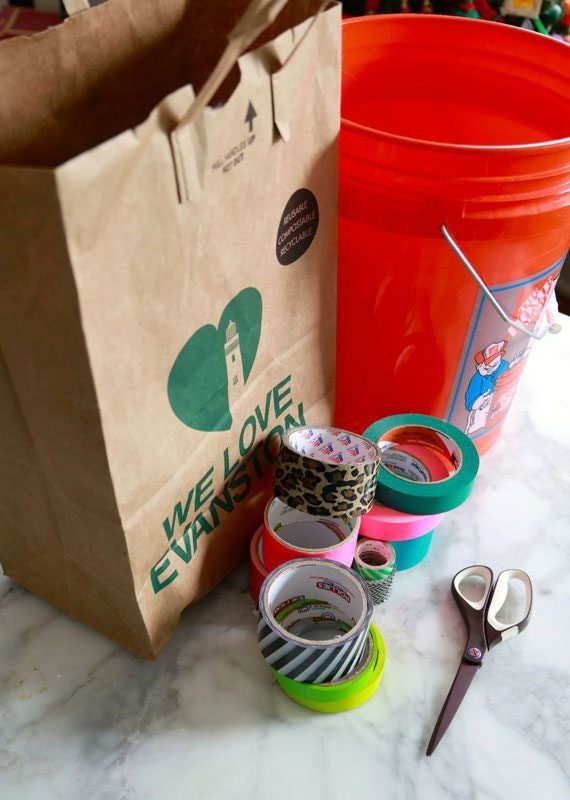 You will need:
Brown paper bags. Any shopping bag or paper product will work, but these brown paper grocery bags are extra sturdy and fibrous. Also, free. You can't beat that!
Assorted tape. Duct tape, washi tape, or colorful masking tape. You could even use a pattern of stickers or labels, but you will need at least one roll of heavy duty duct tape. If you use low-adhesive washi tape, consider reinforcing it with some help from a glue stick first.
Scissors
A bucket, box, basket or pot to use as a base. It doesn't matter what it is, but it needs to be the same width as the container you want to make.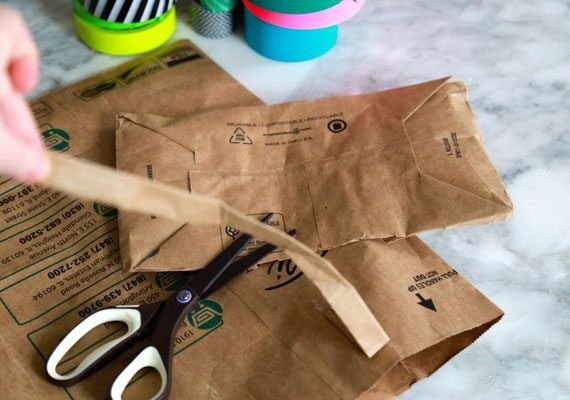 Step 1: 
Use the scissors to cut down one side of the bag and remove the bottom. If your bag has handles, take them off. You will end up with one long rectangle.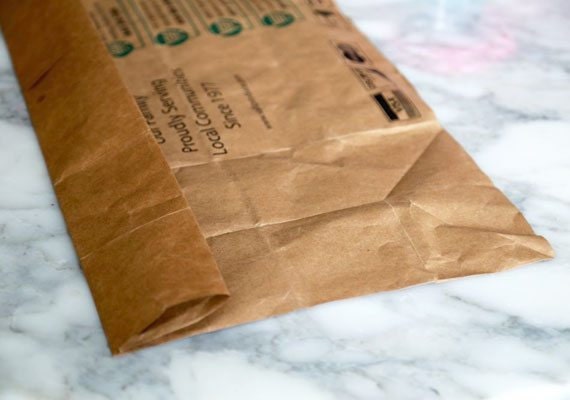 Step 2: 
With the bag now flattened into a long rectangle, fold 2" along the long edge, then fold again to create a hem.
Note:
You can fold more or less than 2" to increase or decrease the height of the container, but it's important to fold twice as it will increase the strength of the final product.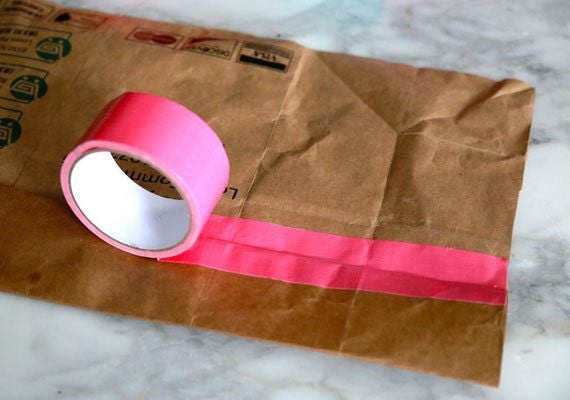 Step 3: 
Use your duct tape to seal the hem to the base.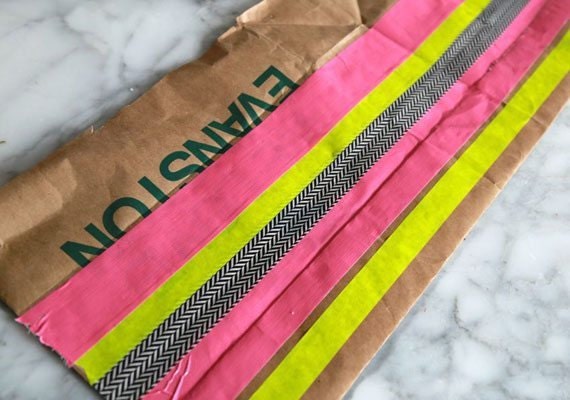 Step 4:
 Add more tape stripes to create any design your heart desires, leaving a few inches open along the bottom.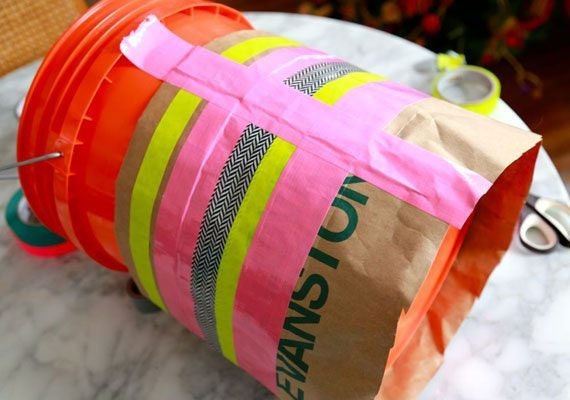 Step 5:
 Wrap the bag around the bucket, making sure the edges overlap slightly and seal with a long line of tape.
Tip:
Leave an extra few inches at the top so you can fold it over and inside later on.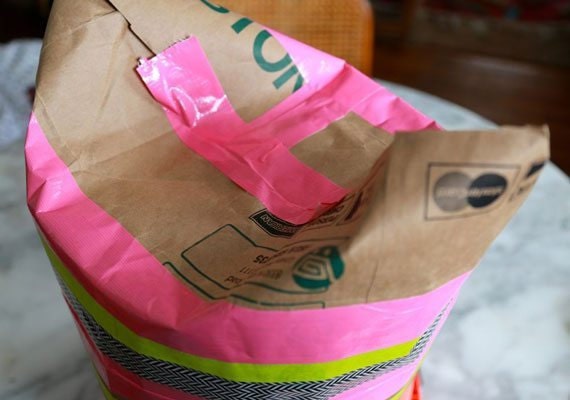 Step 6: 
As if you were wrapping a gift box, draw two sides together and seal with a small piece of tape. This will create two corner flaps.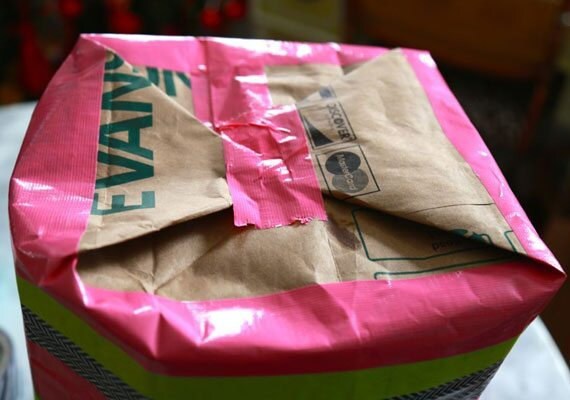 Step 7: 
Take the two corner flaps and seal with another piece of tape.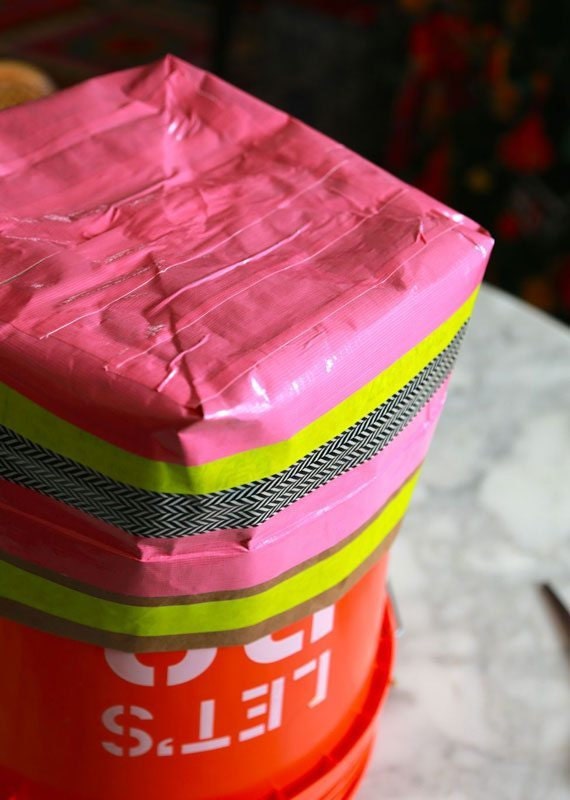 Step 8: 
To add durability and a tidy appearance, trim additional pieces of tape to size to cover the bottom of the container.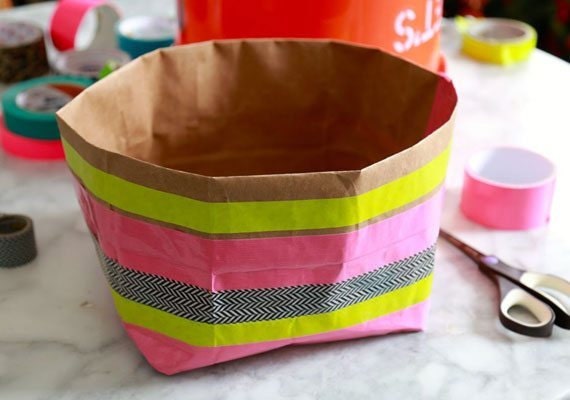 Step 9: 
Flip over, remove bucket and admire your work!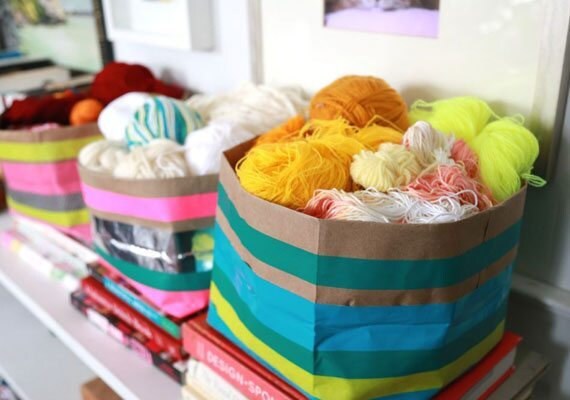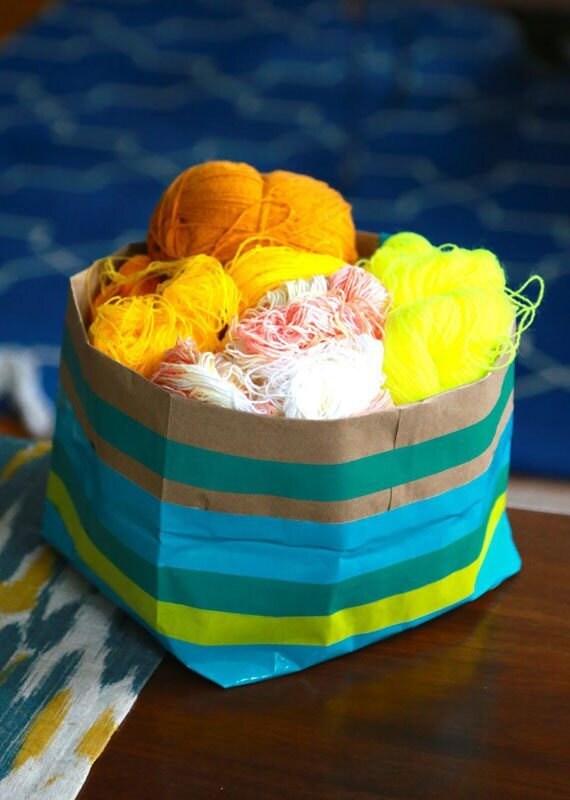 Don't even think for a minute you will make one and be done. Nope. This is majorly addictive, so prepare to make a dozen, at least. (Maybe more!) Maybe you want to color code them to match your yarn stash. No judgments. Go for it!
Peaches Freund is the artist and author behind Aunt Peaches, where she shares creative and inexpensive how-to projects. When she isn't busy making, styling or photographing handmade goods for magazines and design sites, she is busy removing cat hair and glitter from her lint trap.
All photographs by Aunt Peaches.