Take the "something blue" wedding tradition to a stunning new level with these creative ideas for adding some sapphire style into your day.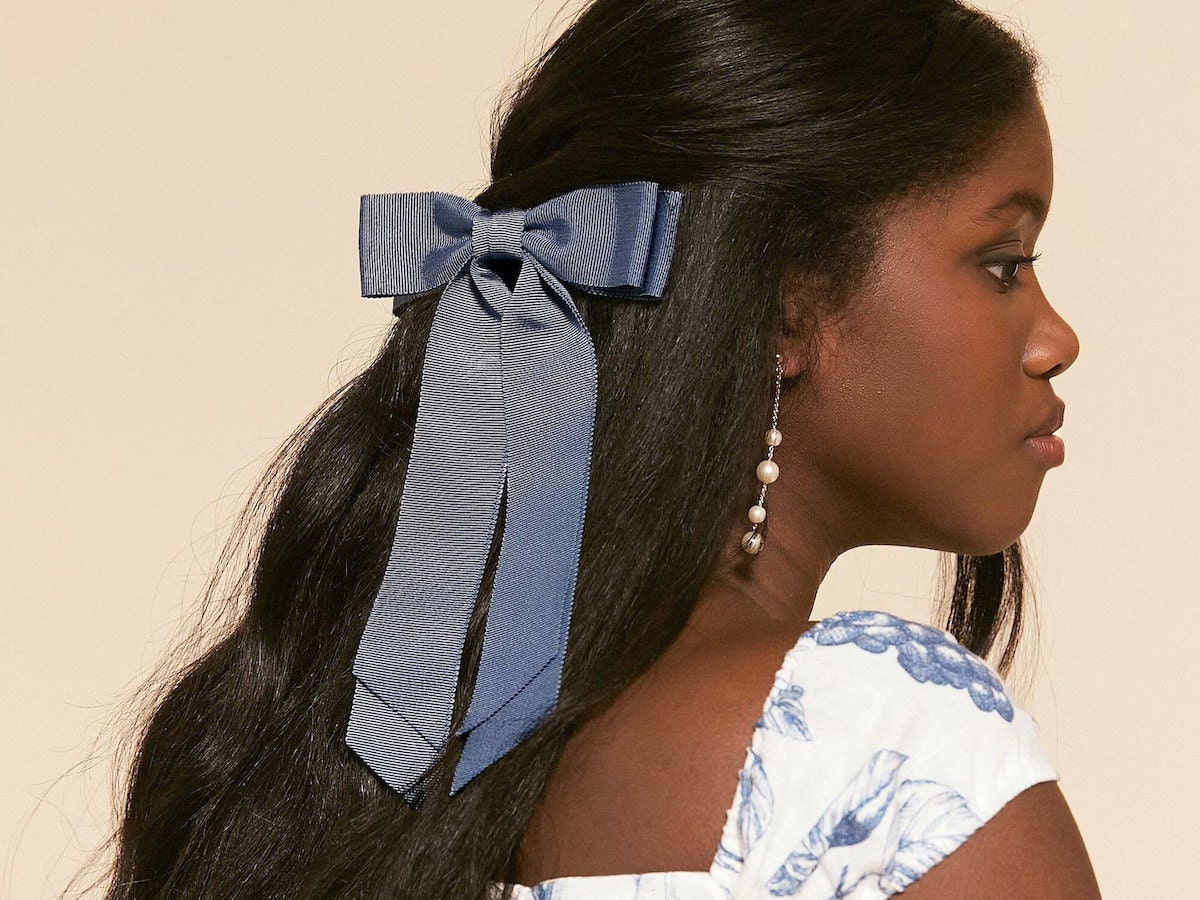 "Something old, something new, something borrowed, something blue—and a sixpence in your shoe" is an age-old British tradition that saw brides-to-be wearing or carrying these superstitious charms during the ceremony to ward off evil and invite a lifetime of happiness.
While the sixpence has gone the way of the dinosaur, many brides still walk down the aisle adorned with something old, something new, something borrowed, and something blue for a wedding. After all the love and care you've put into planning your big day, not just anything blue will do for this most-treasured day. We looked to the small shops on Etsy for beautifully crafted, heirloom-worthy pieces that most definitely satisfy the need for a something blue wedding accessory.
Something blue bridal jewelry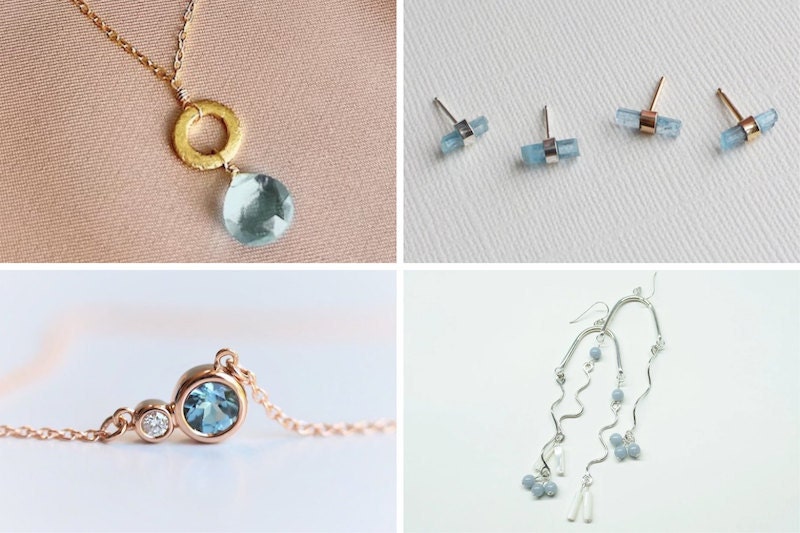 SHOP: (clockwise from top left) Gold aquamarine quartz pendant from Parken Jewelry, $49; raw aquamarine studs from Gem Blue, $87; silver arch dangle earrings from Aleishla Jewelry, $125; 14K bezel-set birthstone necklace from Emi Conner, from $268
The beauty of blue? So. Many. Hues. From the azure blue of a summer sky and the deep, inky indigo of midnight to seaside teal to desert turquoise, there's a shade to complement any skin tone and wedding color scheme.
Once you've settled on your base metal color, you're ready to pick the something blue earrings, necklaces, and bracelets that make your heart flutter. Want to include your partner in this beloved tradition? Browse blue cufflinks that'll glitter spectacularly from your sweetheart's tux.
Something blue for your wedding 'do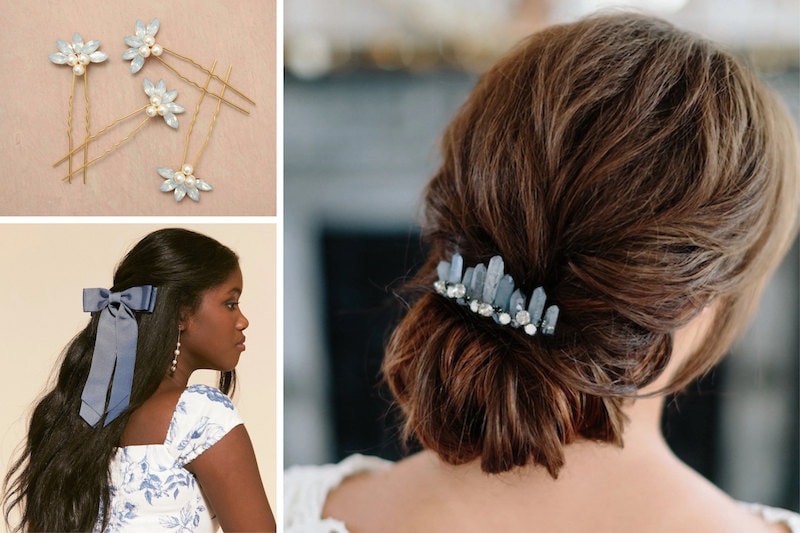 SHOP (clockwise from top left) Opal pearl bridal hair pins from Which Goose, $28; WIND something blue crystal bridal comb from Emma Katzka Bridal, $158; grosgrain luxe long bow from Bardot Bow Gallery, $28
Hair accessories like barrettes, combs, and pins provide peace of mind that your style will stay in place—so why not give them a spritz of lucky blue while you're at it? Bring the something blue tradition into your pre-wedding look, too, with a baby blue scrunchie for a loose ponytail or a plush plush cobalt headband to hold back long tresses.
Something blue wedding attire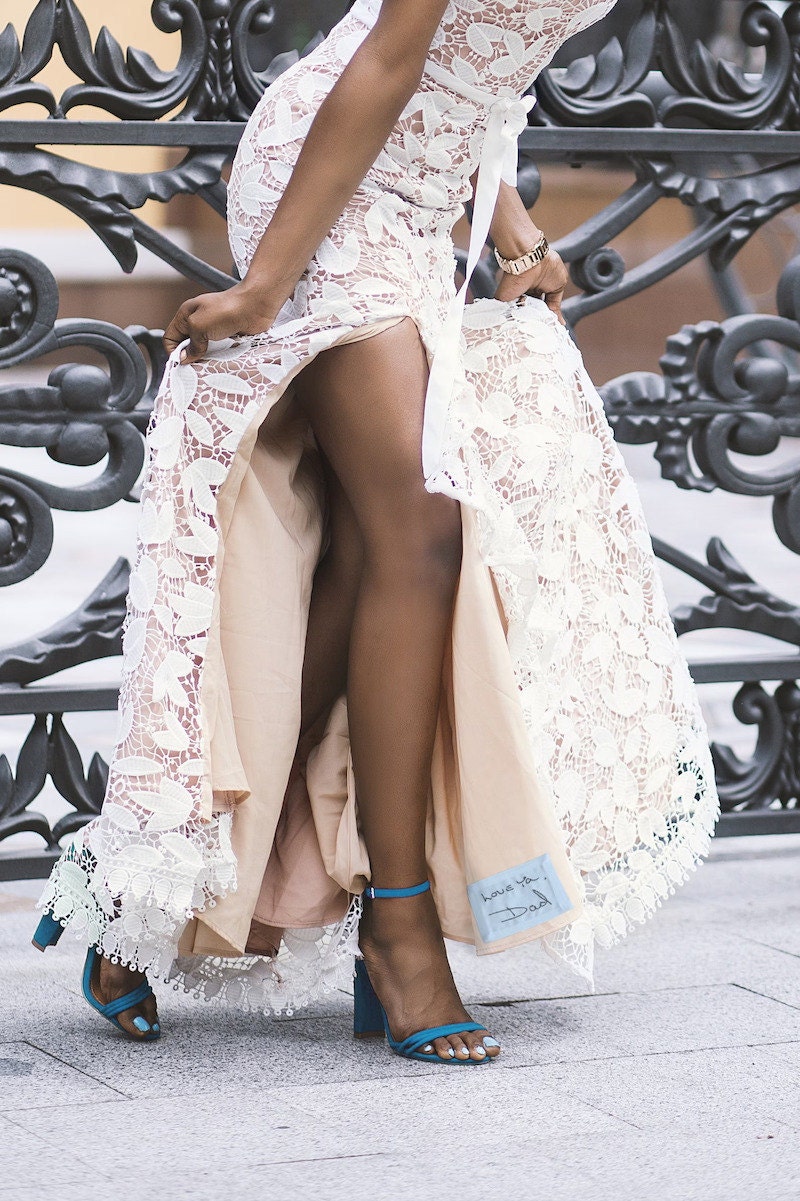 SHOP: Custom wedding dress label in loved one's handwriting from Memory Thread Co, from $58
One simple way to add a stunning shade of sapphire to your bridal look? Dress patches are a growing trend that can easily incorporate a blue hue. These thoughtful labels can commemorate the wedding date, the couple's initials, their vows, favorite poems, and even short stories of how they met. Having the dress patch crafted in blue or with blue details is an excellent way to merge old traditions with new.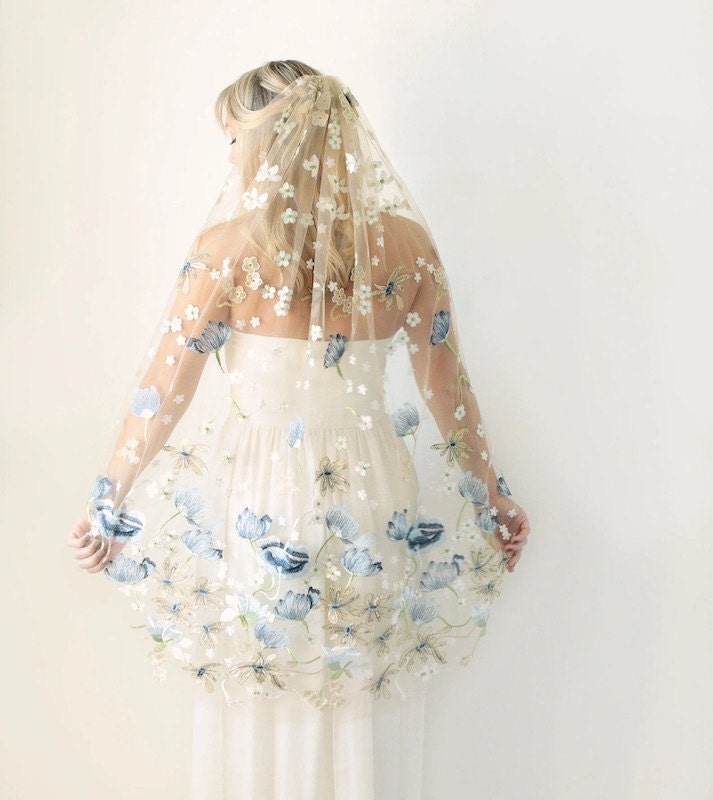 SHOP: Blue bell blossom veil from Which Goose, $88
Satisfy tradition with something blue accents on your bridal veil. Whether you choose a veil that barely touches your shoulders or a veil that requires its own entourage, embellishments like blue embroidery or silky cornflower ribbons make a lovely statement. It's your day, so be as bold or subtle as you like.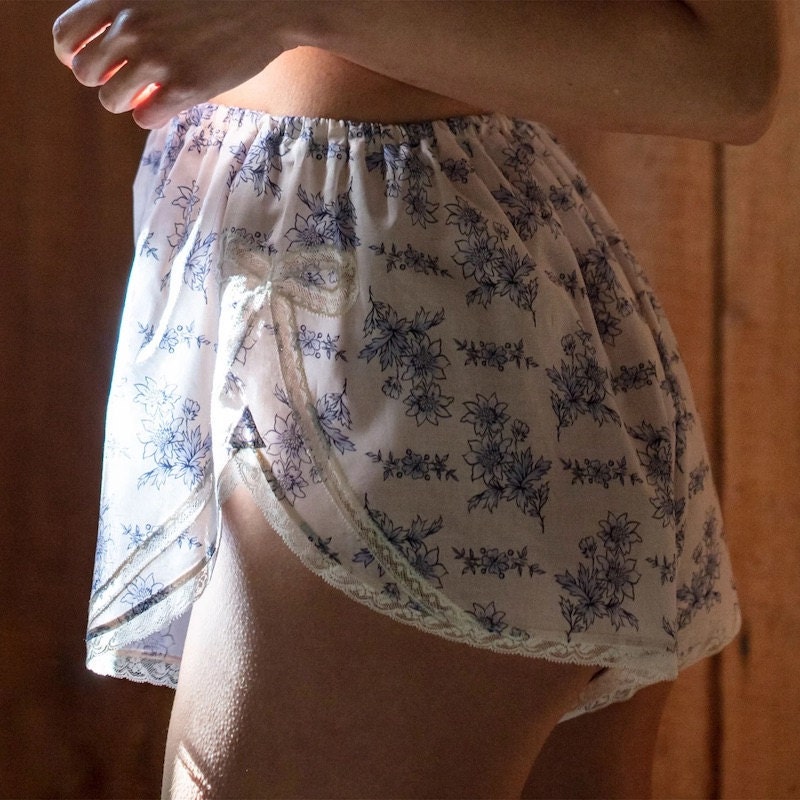 SHOP: Vintage cotton lingerie shorts from Evgenia Lingerie, $229
Be discreetly provocative with your ode to tradition, and opt for cheeky something blue lingerie. Panties, bras, corsets, and even boxers are the perfect something blue wedding idea if the color would clash with your theme or overall vision. Imagine the smile on your beau's face when they see that you kept the tradition, after all—you just kept it under wraps!
Modern weddings present plenty of opportunities to bring a little something blue into the event in exciting ways. Think romantic wedding dresses in shades of ocean waves and summer skies. If an all-blue outfit isn't your cup of tea, try adding blue shoes, a blue brooch, or blue flowers to your bouquet.
For brides who dream of a wedding day filled with tulle and lace, look no further than blue tulle skirts or lace toppers. A slight fade from pale blue to white or cream is super elegant and will make the very sternest of your aunties crack an appreciative smile.
No matter how you decide to integrate "something blue" into your wedding day, remember that it's your day and you get to call the shots. When you do you, the wedding will be spectacular and memorable—and the talented creators on Etsy are here to help you deliver on your something blue idea in a one-of-a-kind way.