Get a glimpse into this digital age textile company based in North Carolina cotton country.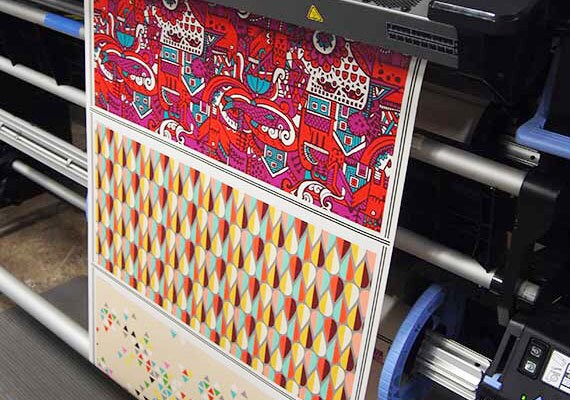 From attending sewing camp at the age of 7 to studying fiber art at art school, I have a life-long love of textiles. So, I recently jumped at the chance to get a behind-the-scenes glimpse into one of my favorite businesses: 
Spoonflower
, an innovative print-on-design company started in 2008 that centers around community design and printing fabric, wallpaper, and decals. While the traditional textile industry is largely angled towards large-scale operations, Spoonflower offers short runs with a low set-up cost, less waste, and no need for an industry "in" to print designs, fostering an approach to production with an eye to local sourcing and a growing online community of designers. There is something really satisfying about seeing your own pen and ink image transformed into a fabric ready for sewing. Etsy and Spoonflower share kindred values of creativity and community, and through the years I've had the chance to work with the Spoonflower team on partnership projects (like 
Craft Party
). Stepping through the pattern-filled threshold at their headquarters in Durham, North Carolina, was an exciting moment. Long-time employee 
Darci Moyers
 was my guide.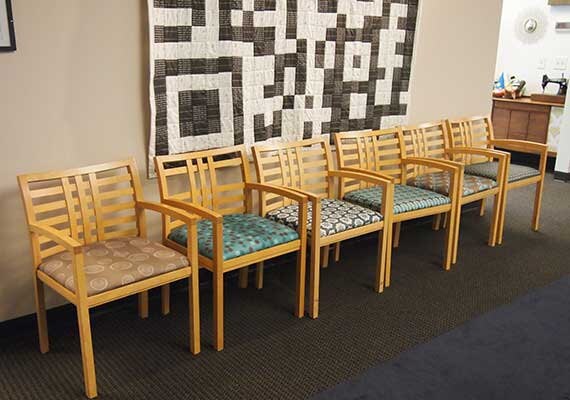 The 
reception area
 is decorated with upholstered furniture, wallpaper, gift wrap, quilts, and other finished projects bearing the prints of Spoonflower designers from around the world.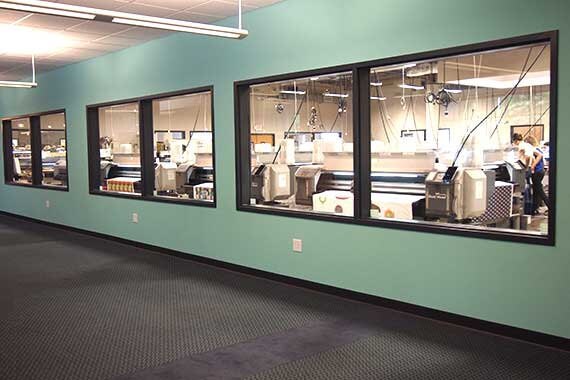 Walking down the hallway, you catch the a glimpse of where the magic happens...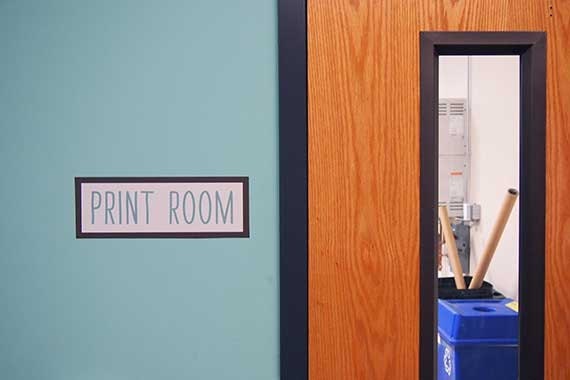 ...right here! When Spoonflower launched, they had just two fabric printers. These days, the print room contains 27 large format fabric printers and 6 paper printers. It takes an average of 7 minutes to print a yard of fabric, while in the early days it took about 15 minutes.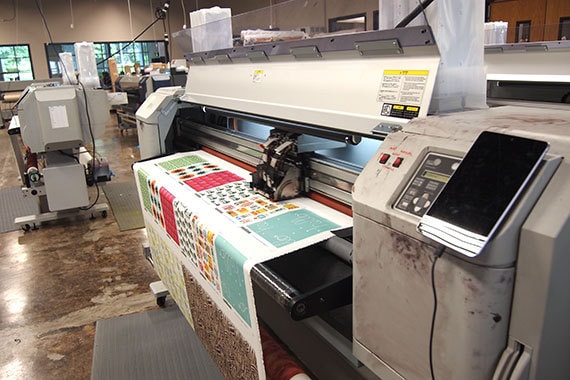 A%20fabric%20printer%20in%20action.
At this part of the tour, Darci really got me. As we approached this fabric printer, I was surprised to see swatches of my green envelope pattern printing out of the machine – they had seeded this tour with my own design as a sweet surprise! You can see it coming out of the far left side of the printer in the photo above. This fabric was the first fabric I designed and printed on Spoonflower a few years ago. This unexpected moment of seeing my design come to life fresh out of the printer really completed the circle for me. I had experienced the design process and that surge of joy opening a package from Spoonflower containing my designs on the various weaves and fibers of fabric, but I had not seen that magic middle step of ink hitting the fabric. A full fabric circle! Spoonflower has pioneered a means to convert large format inkjet printers to print on untreated natural fabrics using water-based pigment-based inks. They offer
 ten natural fabrics
, including various cotton wovens, silk, and an organic cotton knit fabric produced in their home state, North Carolina. Effectively, Spoonflower is bringing textile production and jobs back to an area that was once a booming center of the textile industry.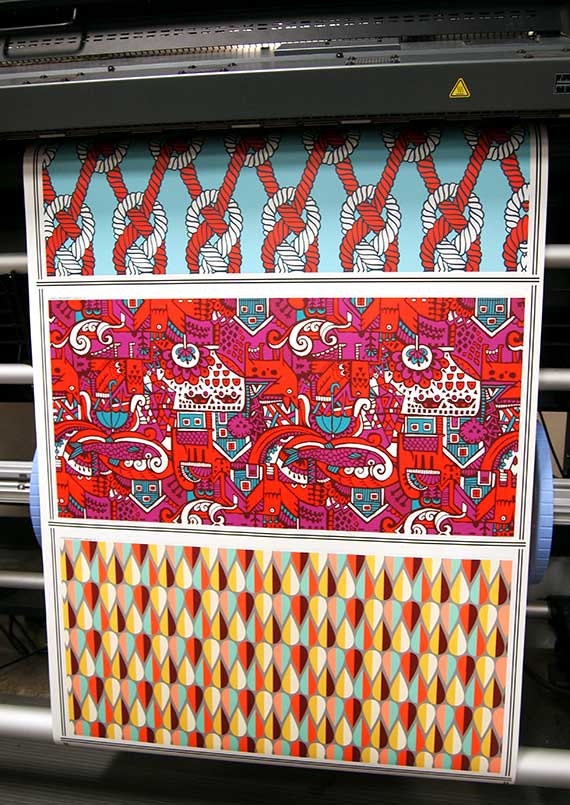 Paper%20printer%20in%20action with wallpaper swatches by
Kristin Nohe
,
Hanna Ruusulampi
, and
Nadia Hassan
.
Along the far wall of the print room, reside the paper printers. Above you can see colorful swatches of wallpaper printing. In addition to their fabric line, Spoonflower also offers print-on-demand decals, wallpaper, and gift wrap (in matte and satin).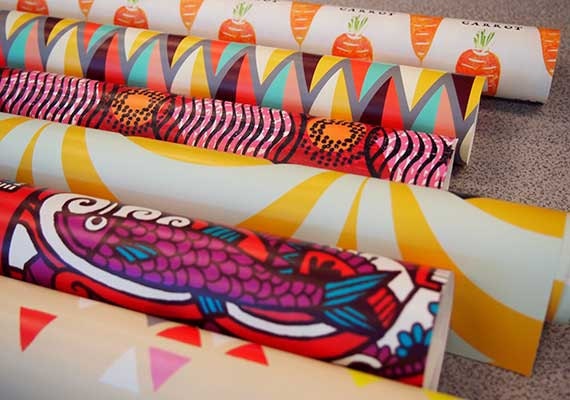 Rolls%20of%20gift%20wrap.
Each printer has it's own name, like this flamboyant solo artist: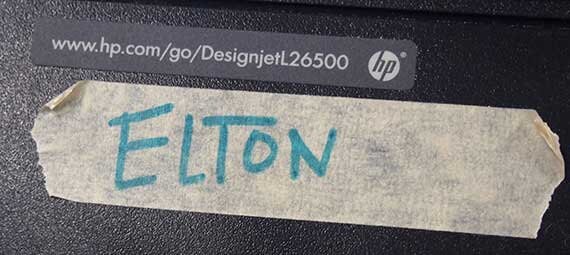 Once the fabrics are finished printing, it's time to head to the fixation room.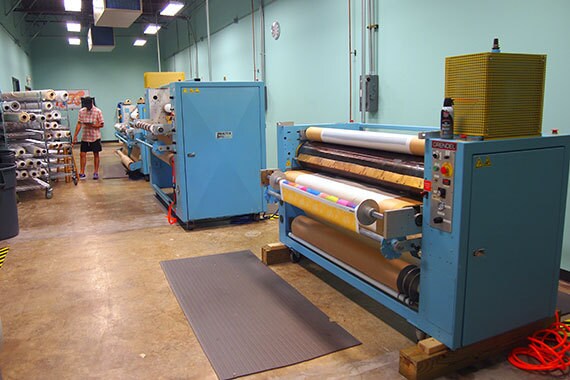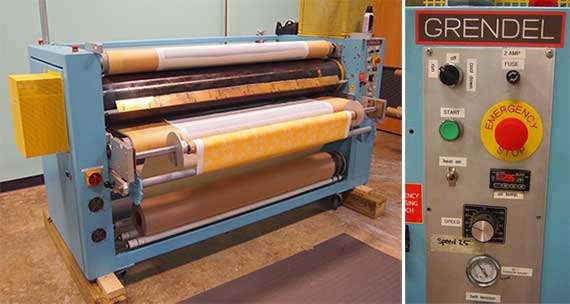 In the fixation room, the fabrics get run through machines that heat-set and permanently bond the pigment inks to the fabrics. On a hot North Carolina day, it can get rather sweaty in here!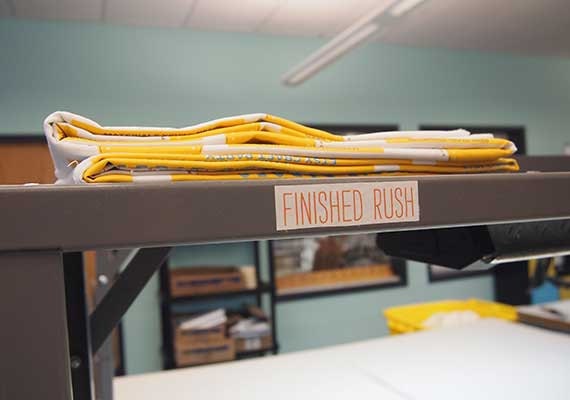 Merit%20badge%20cut-and-sew%20fabric%20for%20Etsy%20Craft%20Party%202013
Once the fabrics have been printed and set, they are ready to get cut to size and shipped out to customers across the globe. When I give tours of the Etsy office I am often asked what the strangest thing I have found for sale on Etsy is. (
Brief jerky
remains a top contender in my pun-lovin' book.) So, I posed the same question for Darci and Stephen Fraser, the co-founder of Spoonflower, with regards to their website. Stephen informed me that Spoonflower is home to an impressive array of
corgi prints
and is also "definitely the biggest marketplace in the world for
zombie fabrics
." Now, I would just like to see that pairing come together. Who is going to design some undead corgie fabric?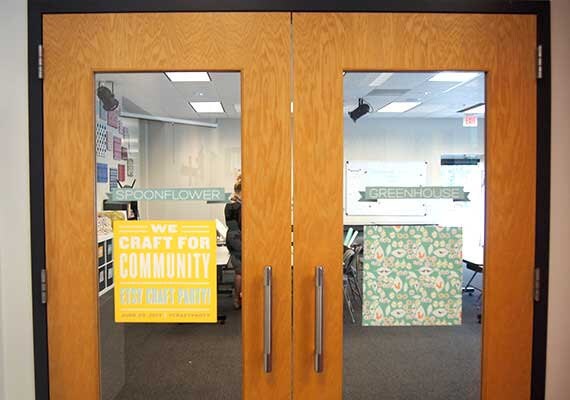 Spoonflower also has a community space called the
Greenhouse
, where they host regular sewing and design workshops and events to plant the seeds of creativity.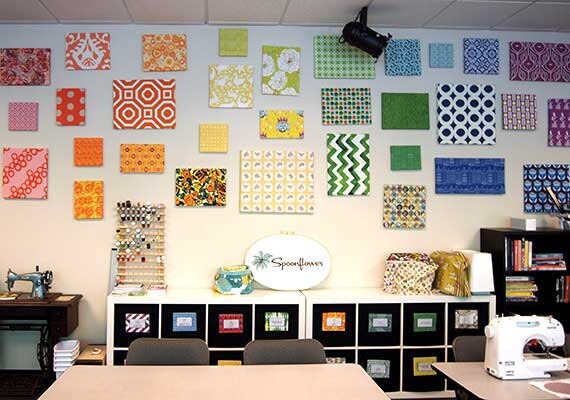 Inside%20the%20Greenhouse
Thanks for the tour, Spoonflower friends!
Left%20to%20right%3A%20Darci%20Moyers%20(long-time%20Spoonflower%20staff)%2C%20me%2C%20and%20Stephen%20Fraser%20(Spoonflower's%20co-founder).
Check out the Related Items below featuring work from Etsy sellers made with Spoonflower fabrics.