Make the most of your closet with a few timeless pieces and well-made accessories that will carry you through the season and beyond.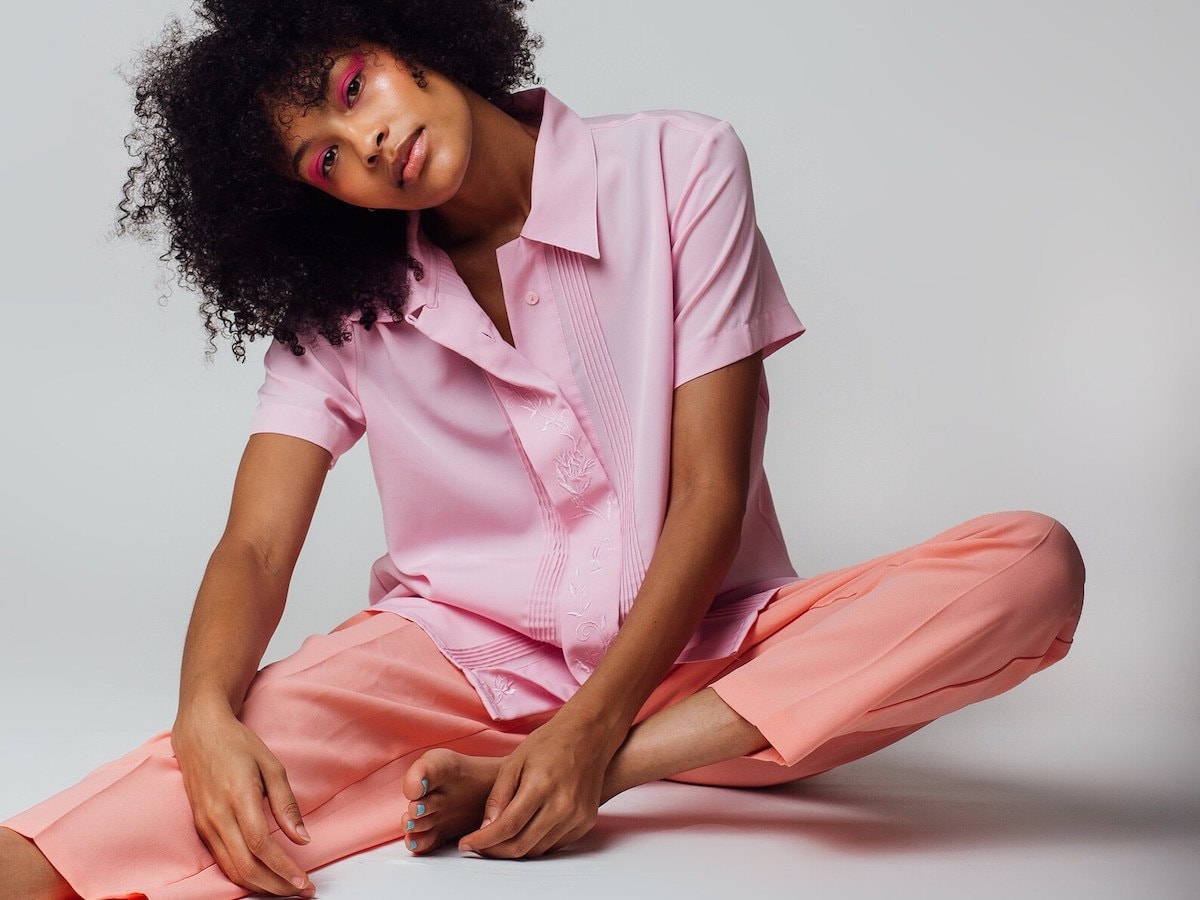 Congrats, style superstar! You've learned all about how to build a capsule wardrobe and you've mastered the art of curating outfits with just a handful of well-made basics. Now, with spring finally in bloom, it's the perfect time to take stock of your capsule collection and top it off with a few key seasonal staples.
As always, the beauty of a capsule wardrobe is that it allows you to express your personal style through simple mixing and matching. Even better? Since a capsule collection makes the most of the clothes you already have, doing a seasonal refresh is still going to be budget-friendly. Simply prioritize a few quality layering pieces to get you through this transitional time of year, and you're good to go until the weather changes again.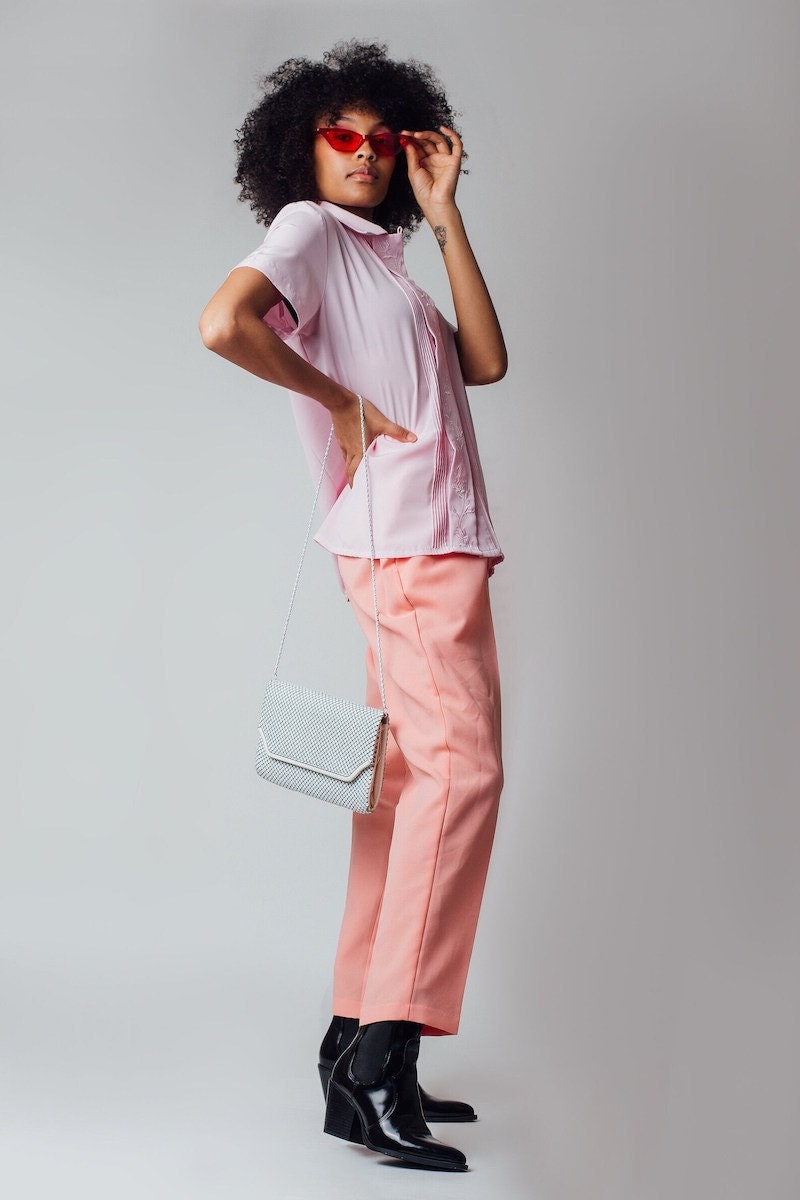 SHOP: Vintage '90s pastel pants from Mawoolisa, $35
How to plan your spring capsule wardrobe
To get you dressed for seasonal success, we've compiled quick tips for sprucing up your spring capsule wardrobe in three easy steps, along with a checklist of essentials that'll see you through spring—and flex for future seasons, too. (If you're brand-new to the idea of curating a closest, we recommend you go back and check out our complete guide on how to build a capsule wardrobe.)
First things first: Take stock of your spring staples
Begin by laying out every item of cool- and warm-season clothing you own on your bed. Set aside things you no longer like or wear, and sell or donate them. Recycle items that are stained or torn.
Then, group what's left: Tops, bottoms, and outerwear. How many different spring outfits can you make by combining the tops and bottoms you already have? What basic pieces—skirts, shorts, pants, tops, jackets—do you need to round out your ideal spring wardrobe, based on your lifestyle? If you have tops or bottoms you can only wear with one or two outfits, consider removing them to make space for more versatile items. And when it comes to outer layers, even though you're focused on your spring wardrobe, keep seasonal versatility in the back of your mind: For example, a floral-printed trench coat is delightfully springy, but it may not transition to fall as easily as a tan trench would.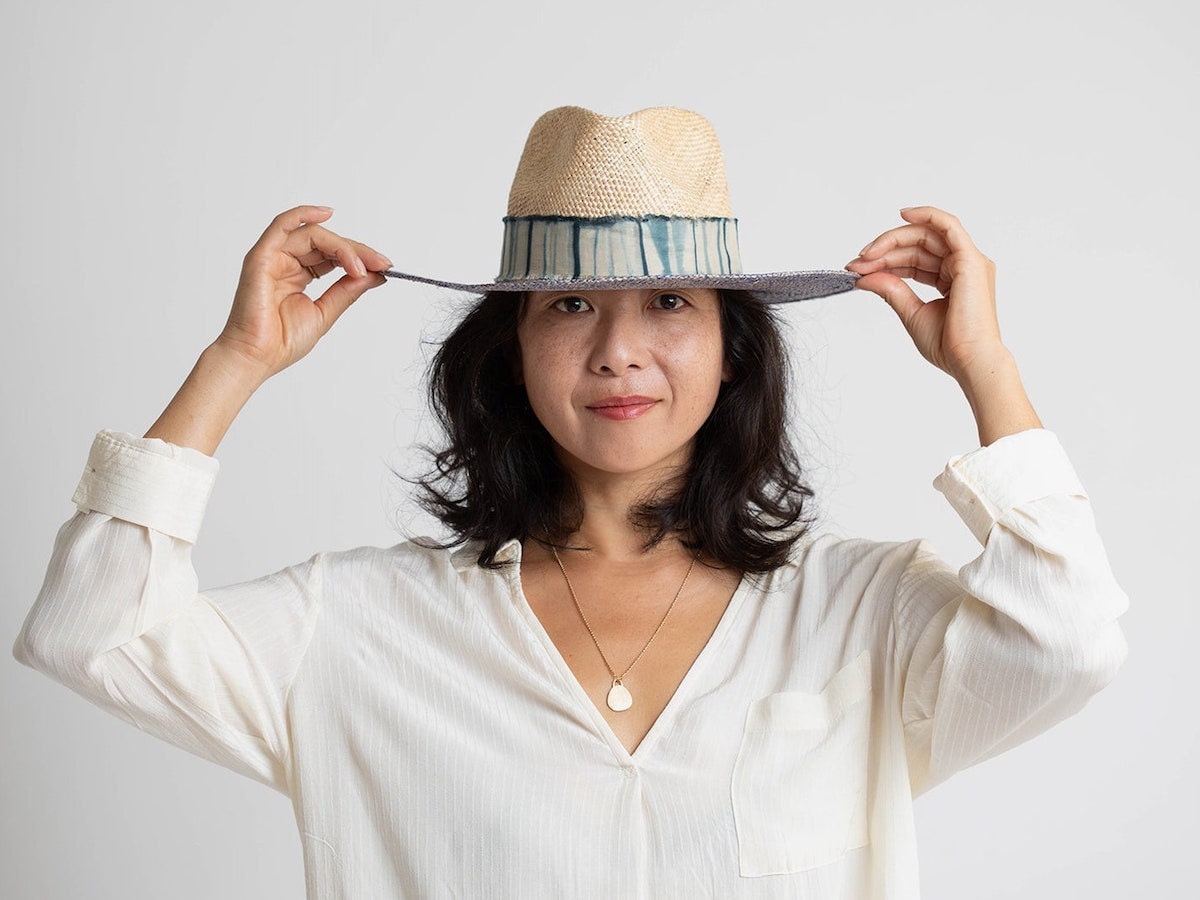 SHOP: Straw fedora from Hagit Abir, $98
Second: Assess your accessories
While neutral patterns and palettes are hallmarks of a classic capsule, your spring wardrobe doesn't have to be a snooze. Personalization and pizzazz come with the finishing touches, including jewelry, accessories, and shoes. The right spring capsule wardrobe accessories not only dress up or down your basics, they show off your personality and cement your signature style. The secret is to find the right balance between everyday accessories and statement pieces that add a big exclamation point to your outfit. Then take a careful look at the accessories you already have on hand, and consider which ones work for spring and beyond.
Third: Make a shopping list
From here, begin making a list of everything you need to update your spring wardrobe. Be specific, keeping in mind your overarching style, color scheme, and maximum mix 'n' matchability. For example, instead of putting "pants" on your list, add "lightweight linen pants, either cream or pale pink." A detailed, specific shopping list will help you stay on track as you begin shopping for clothes. Stick to the list so you don't get derailed by pieces you love, but which aren't suitable for your spring capsule collection.
Your spring capsule wardrobe checklist
Now that you've identified the pieces missing from your dream spring closet, it's time to go shopping. Here are some important things to keep in mind as you look for the items on your list.
Choose classic pieces that won't go out of fashion by next season.
Pick styles you know will fit well.
Skip anything that doesn't make your heart beat just a little faster.
Buy the best-quality pieces you can afford—they'll fit better and last longer.
Craving some additional outfit inspo? We've got you covered. Browse our checklist of seasonal essentials, and get ready to spring forward in style.
Spring tops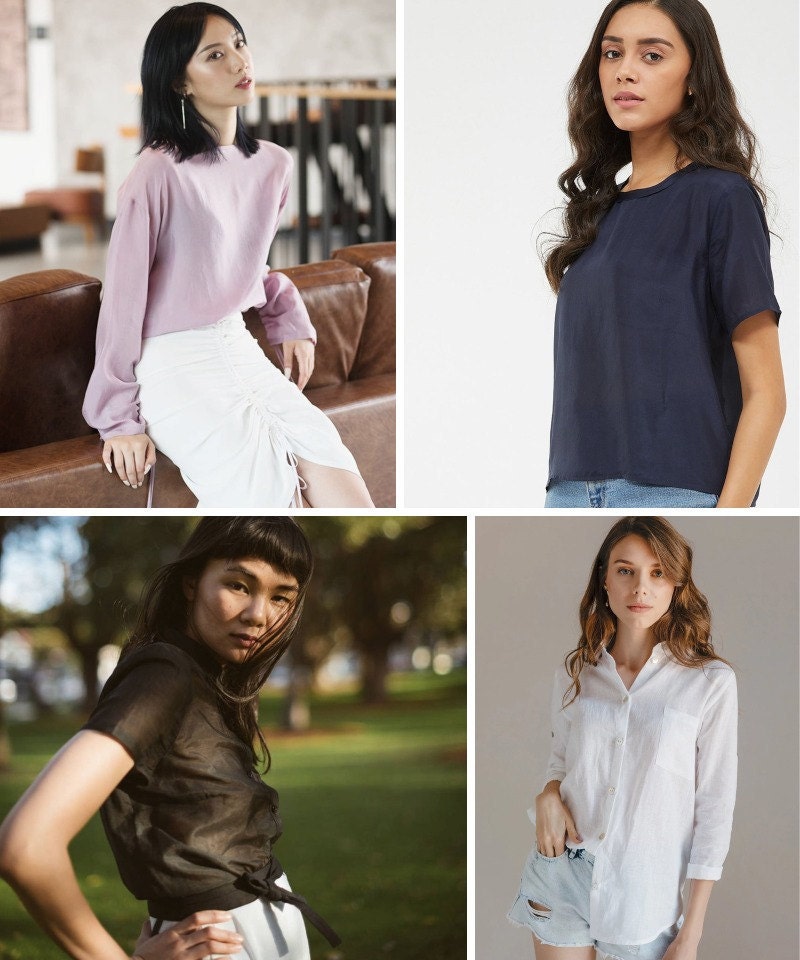 SHOP (clockwise from top left): Lavender silk blouse from STG Original, $91; short sleeved Habutai silk top from The Vivi Collection, $63; white linen blouse from Nich Store, $101; semi-sheer cropped blouse from Ginny and Jude, $67
A quality spring capsule should include tops and T-shirts in variety of sleeve lengths to meet all types of weather, from wet and warm to sunny and cool. As you look at your options, keep in mind your existing and planned outerwear layers, and choose pieces that pair effortlessly with a variety of jackets and sweaters.
Spring skirts and pants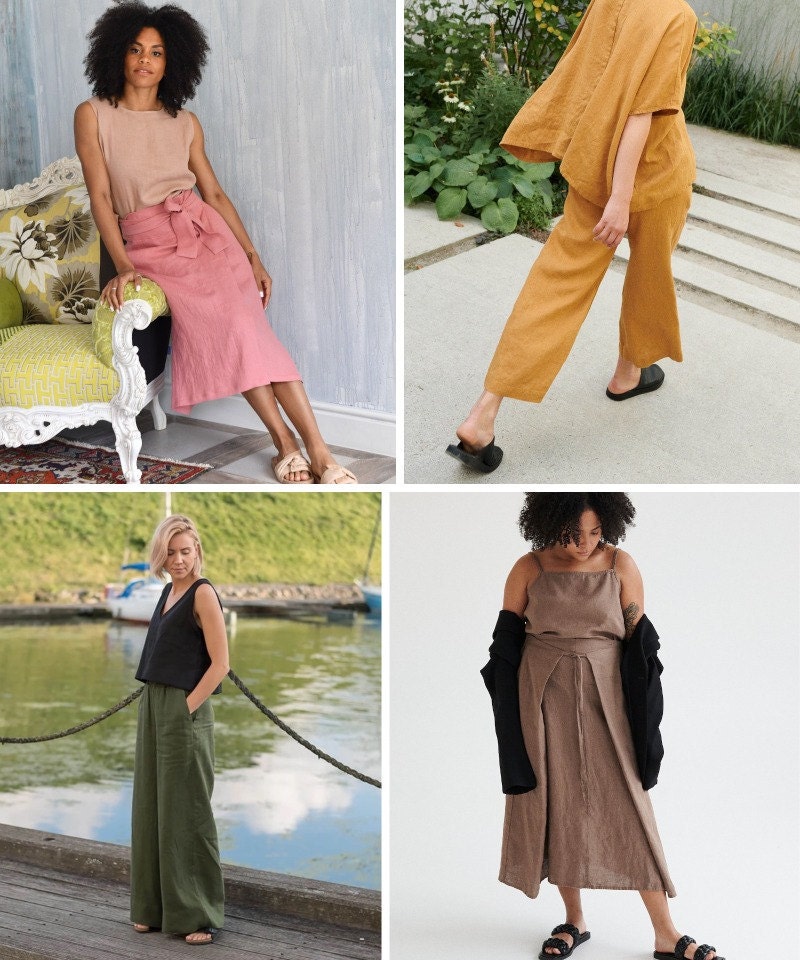 SHOP (clockwise from top left): Maxi wrap skirt from Linen Fairytales, $86; wide-legged camel trousers from Linenfox, $84; high-waist linen skirt from Linenfox, $80; palazzo pants from Wavy Linen, $80
With the warming weather, we love springy skirts and pants made with lightweight materials like cotton and linen. Of course, keep an eye out for bottoms that will be versatile enough to style with multiple types of tops from your closet.
Tip: Mix moods and textures
Mixing textures adds interest to an outfit, especially if your capsule is all about neutrals. Play with this aesthetic by pairing a leather mini skirt with a chiffon blouse or a silk midi dress with an oversized hoodie.
Spring dresses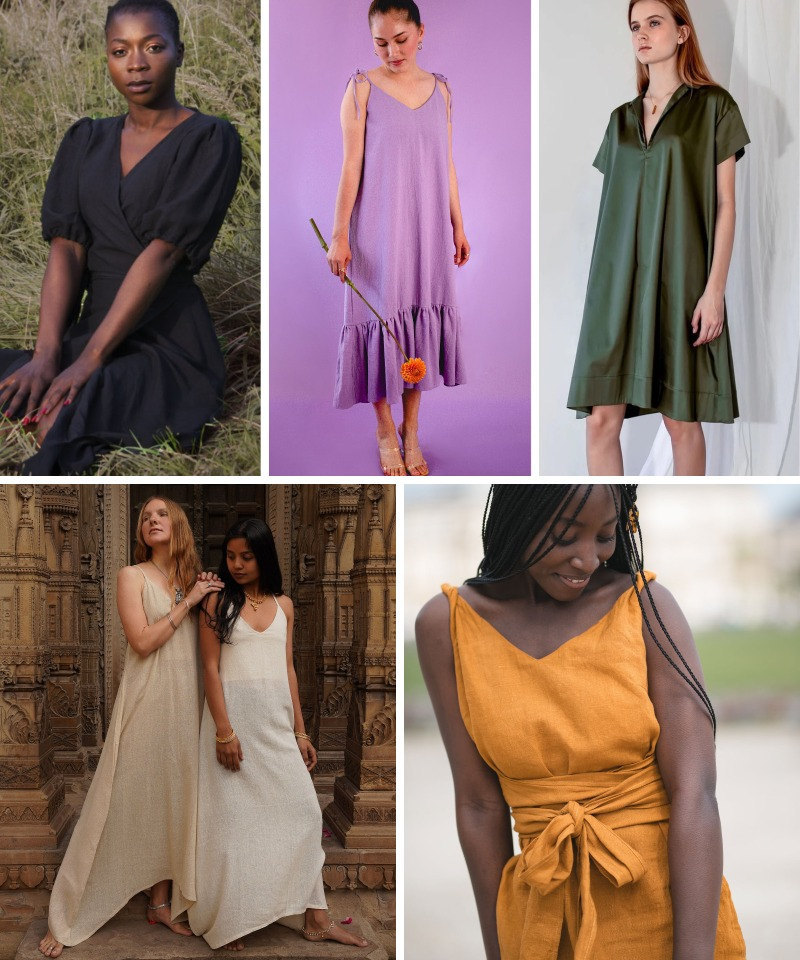 SHOP (clockwise from top left): Long linen dress from NEROÏA, $100; lilac ruffle maxi dress from Paulina Designs Tienda, $73; short-sleeved A-line silk dress from The AR Shop, $251; belted sleeveless dress from Pavietra, $115; raw silk dress from Kashi Kahani, $100
Once spring arrives, breezy dresses are officially back on the table. Silk slips and crisp linen caftans look great under jean jackets and sweaters, and are easy enough to dress up with a blazer and pumps or a trench coat and high heeled boots.
Knit sweaters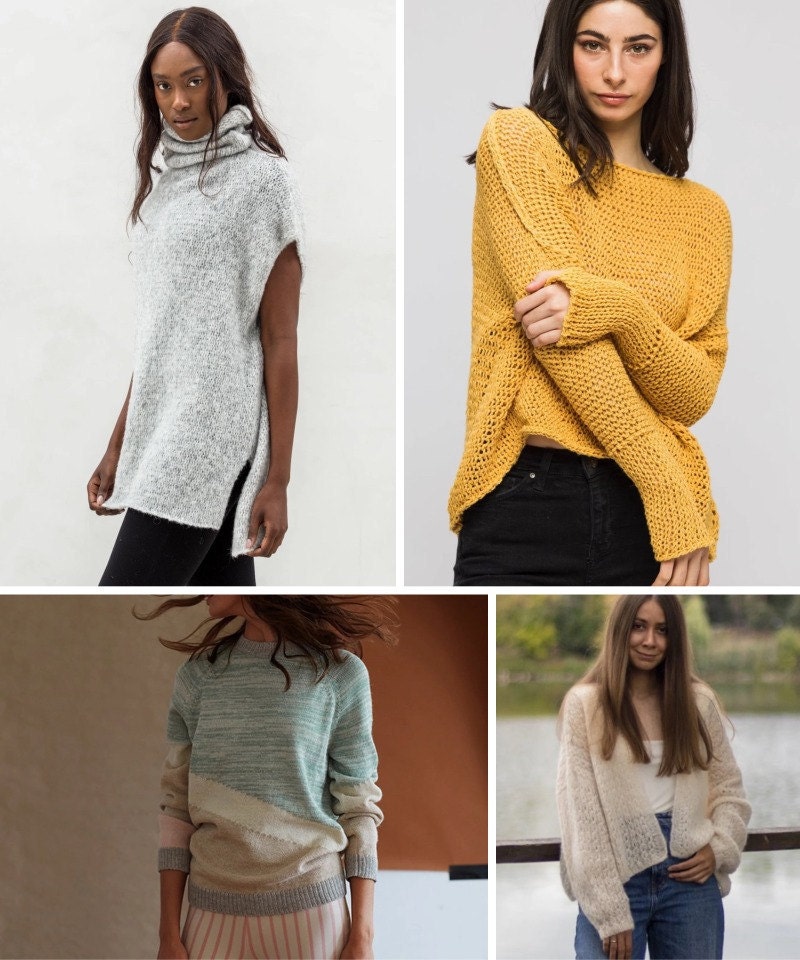 SHOP (clockwise from top left):Sleeveless sweater vest from Rose Unique Style, from $107; chunky knit sweater from Rose Unique Style, $97; mohair cardigan from Knitya Wear Shop, $169; alpaca knit sweater from Anna Maria Angelika, $323
Whether you go for chunky knit sweaters or sleeker cashmere cardigans, like them cropped or knee-length, or prefer v-neck, cowl-neck, or scoop-neck designs, sweaters are a spring capsule staple that are a synch to style. Plus they're great for changeable weather, and slip easily off and on as you go from day to night.
Tip: Universal colors for the win on your skin
Universal colors are spring-ready hues that are flattering on most people, regardless of skin tone. These colors include soft white, cobalt blue, taupe, periwinkle, turquoise, pastel pink, light gray, jade green, true red, and red-violet.
Lightweight outerwear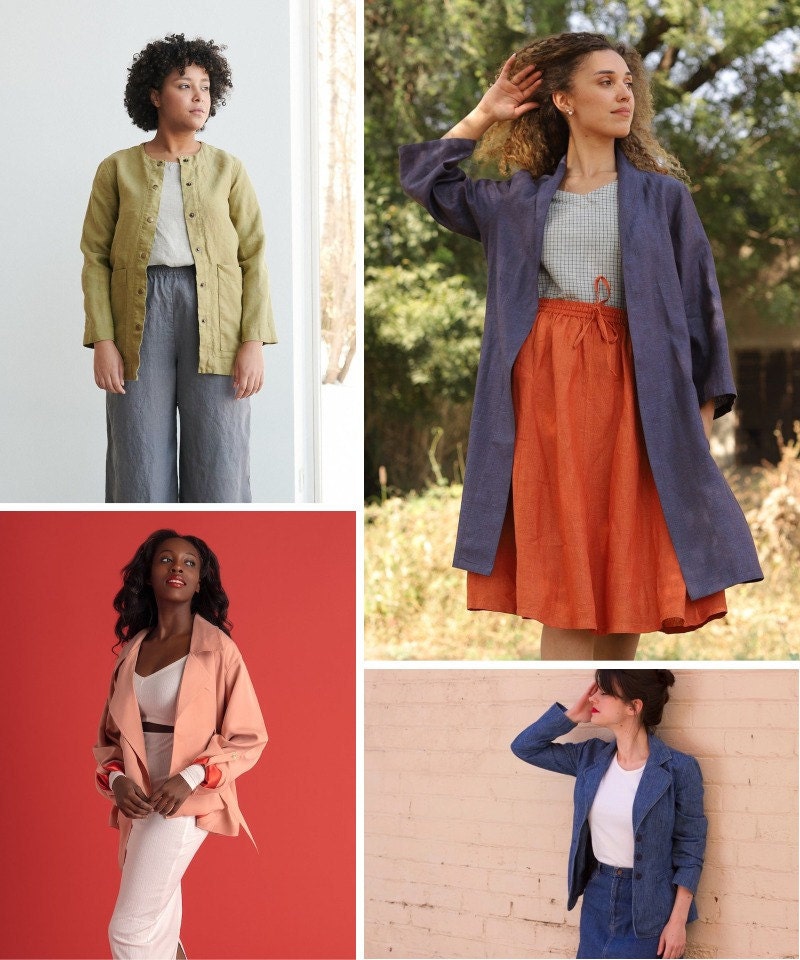 SHOP (clockwise from top left): Heavy linen cardigan from Linenfox, $107; long linen jacket with pockets from Ellementree, $115; vintage denim jacket from Sarah and Ludo Vintage, $155; pink cropped trench coat from Ngo Bolingo, $109
Spring temps can be fickle, and layers are your style solution. Trench coats, denim jackets, and fitted blazers are perennially in fashion, meaning adding a new one to your capsule collection now gives you another annual essential to work with through all seasons. A few of our favorite outfit hacks? Throw a blazer over a band tee and jeans for an elevated take on a classic 90's style, or slap a few patches—or your button collection—on a jean jacket to personalize your look.
Complete your looks with shoes and accessories
Shoes and accessories maximize the number of ensembles you can create with your spring capsule wardrobe. A few key additions to your spring shoe and accessory collections will take you comfortably from chilly moonlit date nights to balmy afternoon strolls.
Spring shoes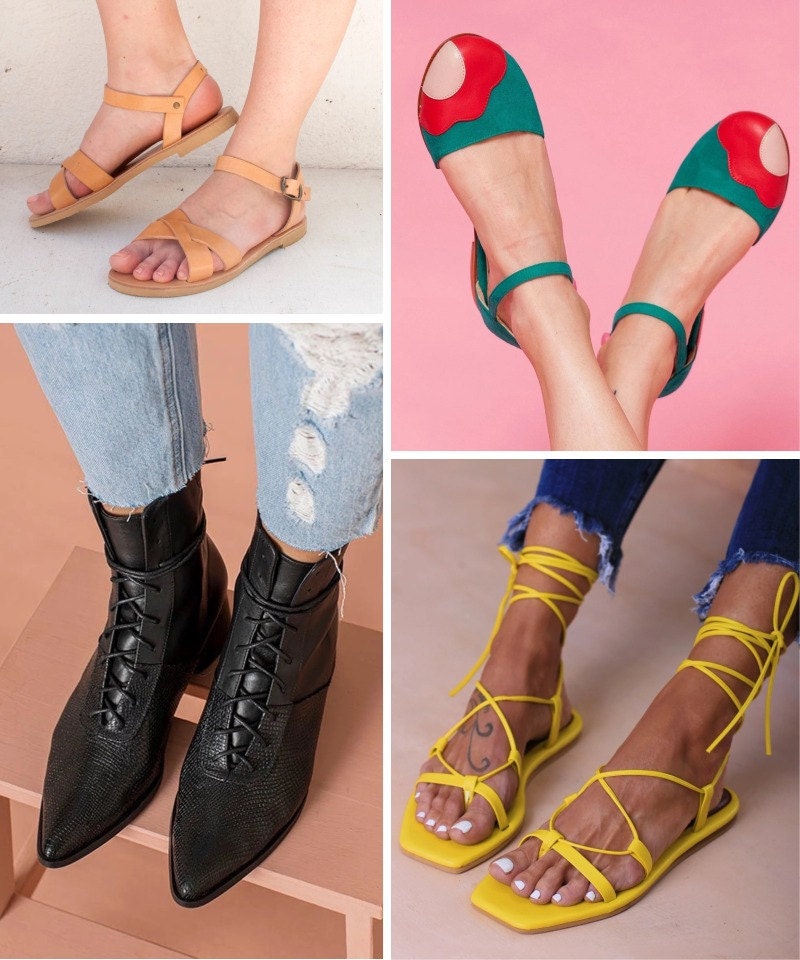 SHOP (clockwise from top left): Greek sandals from Nikola Sandals, $71; colorful suede flats from Quiero June, $290; strappy sandals from Dimitras Workshop, $150; black booties from Katz and Birdz, $449
A solid spring shoe collection will include sandals for sunshine and close-toed shoes for rain. A pair of dressier boots for cold evenings out make a fabulous all-season staple, and they bring stylish edge to sundresses. If you're an aficionado of flip-flops, invest in a couple of quality pairs that'll weather a few years' worth of walks around the boardwalk.
Spring jewelry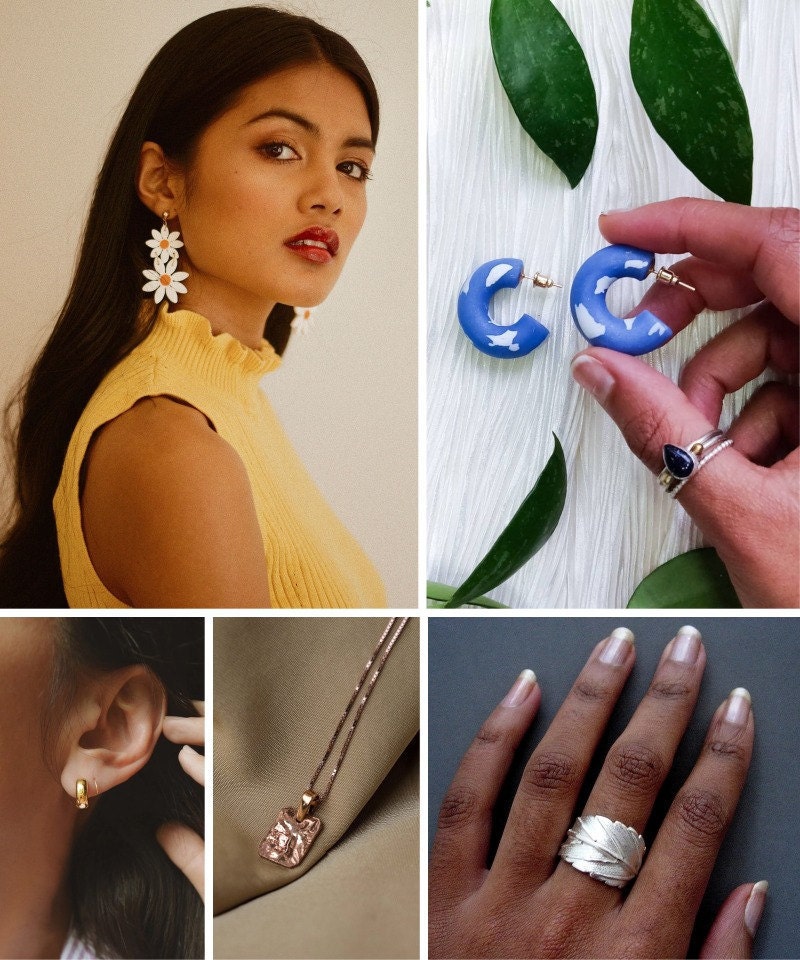 SHOP (clockwise from top left): Daisy earrings from Pepper You Studio, $36; chunky terrazzo hoops from KAMERIYA by Orit, $19; silver leaf ring from Michael Lionel, $50; textured gold necklace from Mair Berlin, from $48; chunky huggie hoop earrings from Gem Blue, $48
Nothing says spring quite like dainty jewelry, such as gold stud earrings, delicate chains and bangles, and infinitely stackable rings that give your everyday outfits a petite punch of polish. (Bonus points for picking springy styles with a subtle nod to nature!) But your spring jewelry checklist may also include a handful of statement pieces, like fancy danglers and pendants for dressy occasions, or bold, chunky rings and oversized hoops for those moments that call for making a mega splash.
Spring scarves, bags, and hats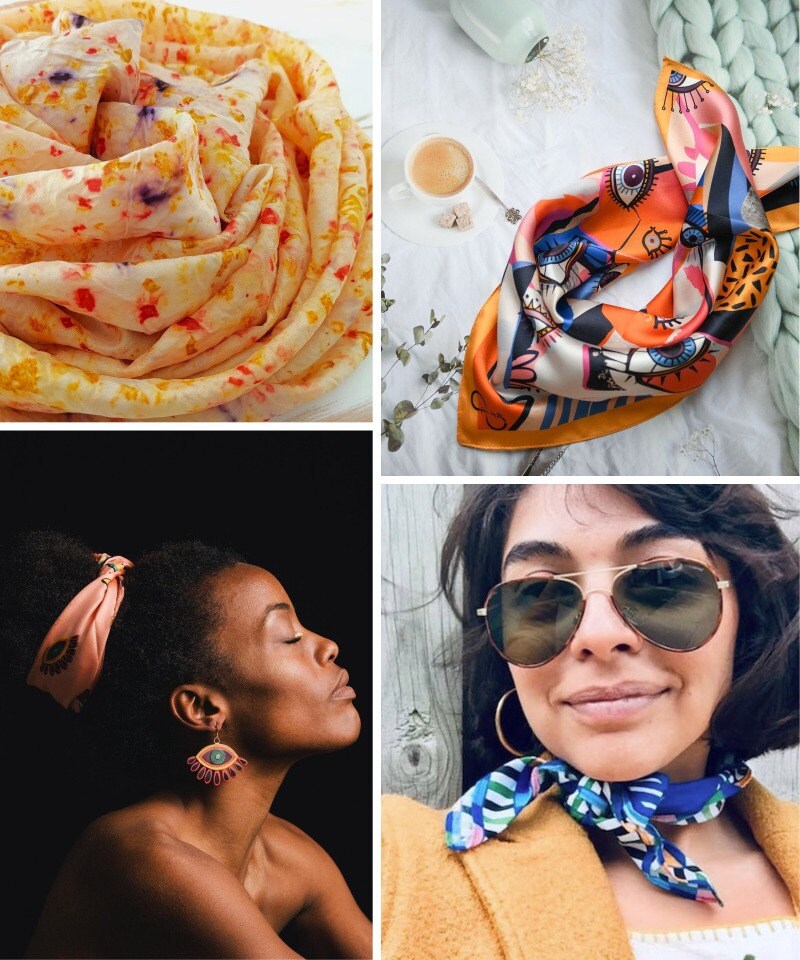 SHOP (clockwise from top left): Naturally dyed silk scarf from Alkanna Studio, $79; lucky eyes satin scarf from Mine Dogan, $47; blue cotton bandana from All Very Goods, $24; pink silk scarf from Little Ray of Sunflower, $56
It's all about breezy fabrics in spring, and silk scarves give your neck a light layer of protection while temps are in flux. Luckily they're also ultra chic, and come in endless colors and patterns, making them a cinch to style. Tie one in your hair for a 70s-inspired look, wear it as a belt, or tie it to your bag for a little extra flair.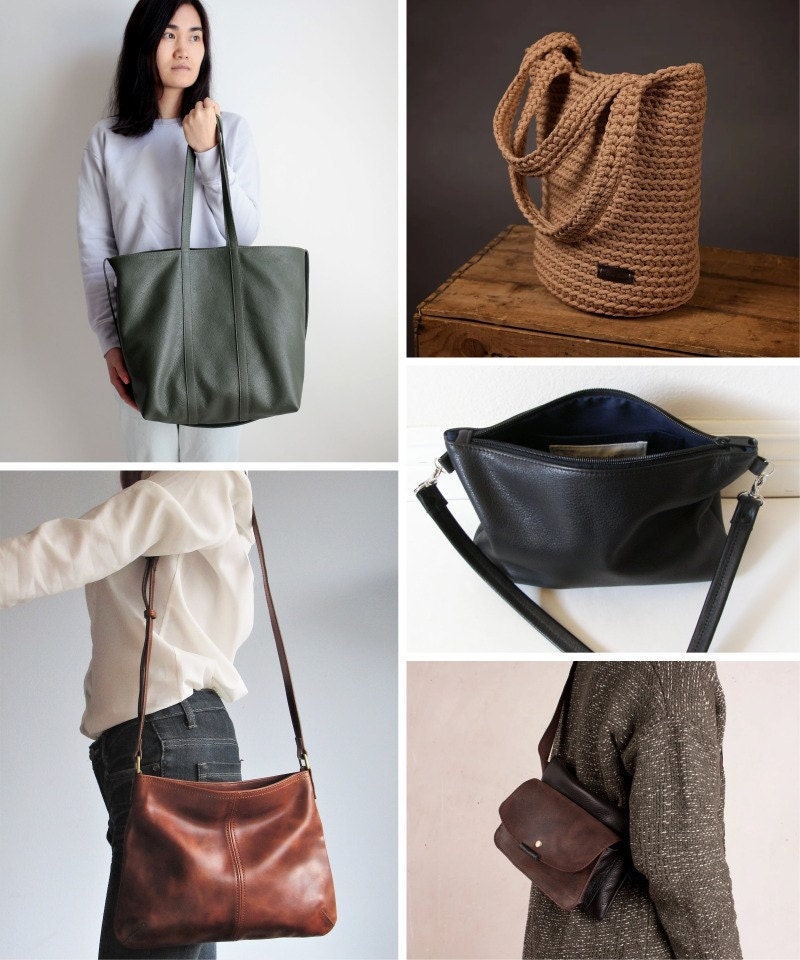 SHOP (clockwise from top left): Green leather shopper from Alex Bender, $346; crochet bag from Emi Crafts LT, $67; black leather crossbody from Handmadeso, from $49; leather hip bag from Nubuckcuir, $105; leather crossbody from Fidelio Bags, $173
Speaking of bags, no capsule wardrobe is complete without two classic carryalls: A tote bag and a crossbody bag. Totes are tried-and-true favorites for hauling your day-to-day essentials in any season, so look for quality leather or canvas totes that are built to last. Crossbodys come in numerous styles, from 80s-throwback fanny packs that'll hold your wallet and keys to large side-slung satchels you can fill with all your stuff. If you already have these basic bags but can't resist adding a new model to your spring lineup, choose a statement bag with a springy motif, or pick a hardworking handbag you can dress up with a sheer floral scarf.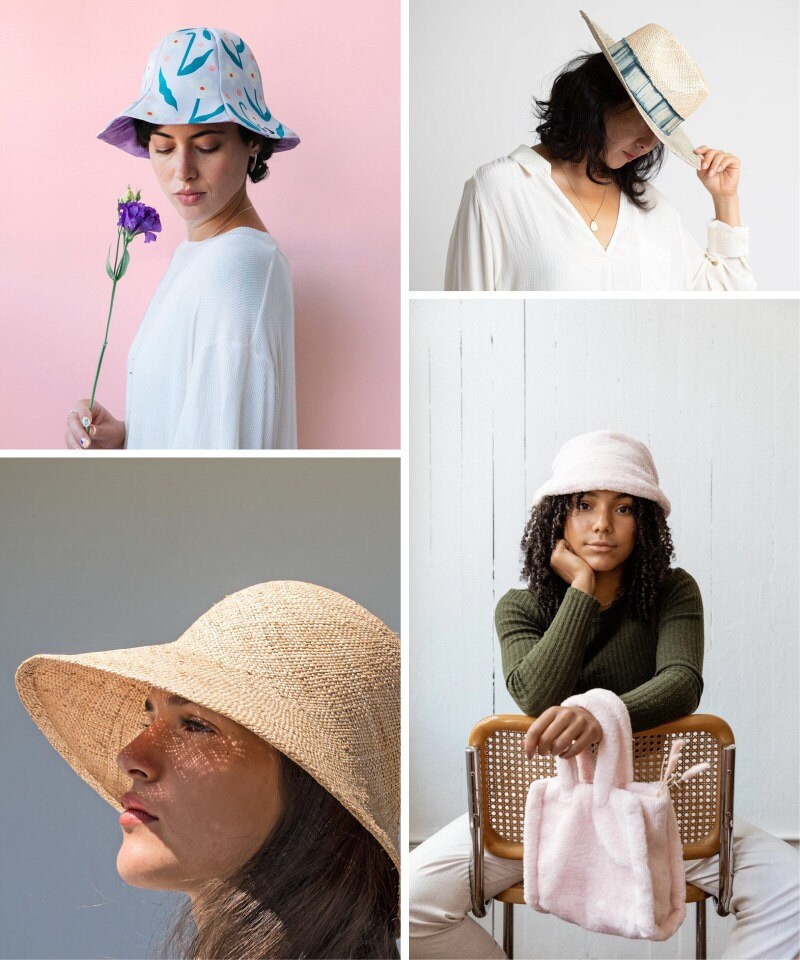 SHOP (clockwise from top left): Floral bucket hat from Nama Textiles, $62; straw fedora from Hagit Abar, $98; fuzzy bucket hat from Charlie and Paisley, $68; straw sun hat from Nada Quenzel, $256
For a fashionable final touch, top your spring capsule off with a handsome hat. There's perhaps no better way to welcome the warmer season than with a floppy, straw sun hat, but we also love fuzzy bucket hats and lightweight spring beanies to keep your ears covered on chillier days. Stick to neutrals, and switch up the look with interchangeable bands or playful pins.
Tip: Think timeless
Choose vintage pieces for the backbone of a one-of-a-kind capsule wardrobe—scout for classic vintage clothing and accessories that have long stood the test of time in quality and style. Bonus: Reusing or repurposing is a great way to ease your impact on the environment.