by Etsy Staff
Explore the limited-edition line of vibrant homegoods and everyday essentials, and meet the talented team of Etsy sellers who brought it to life.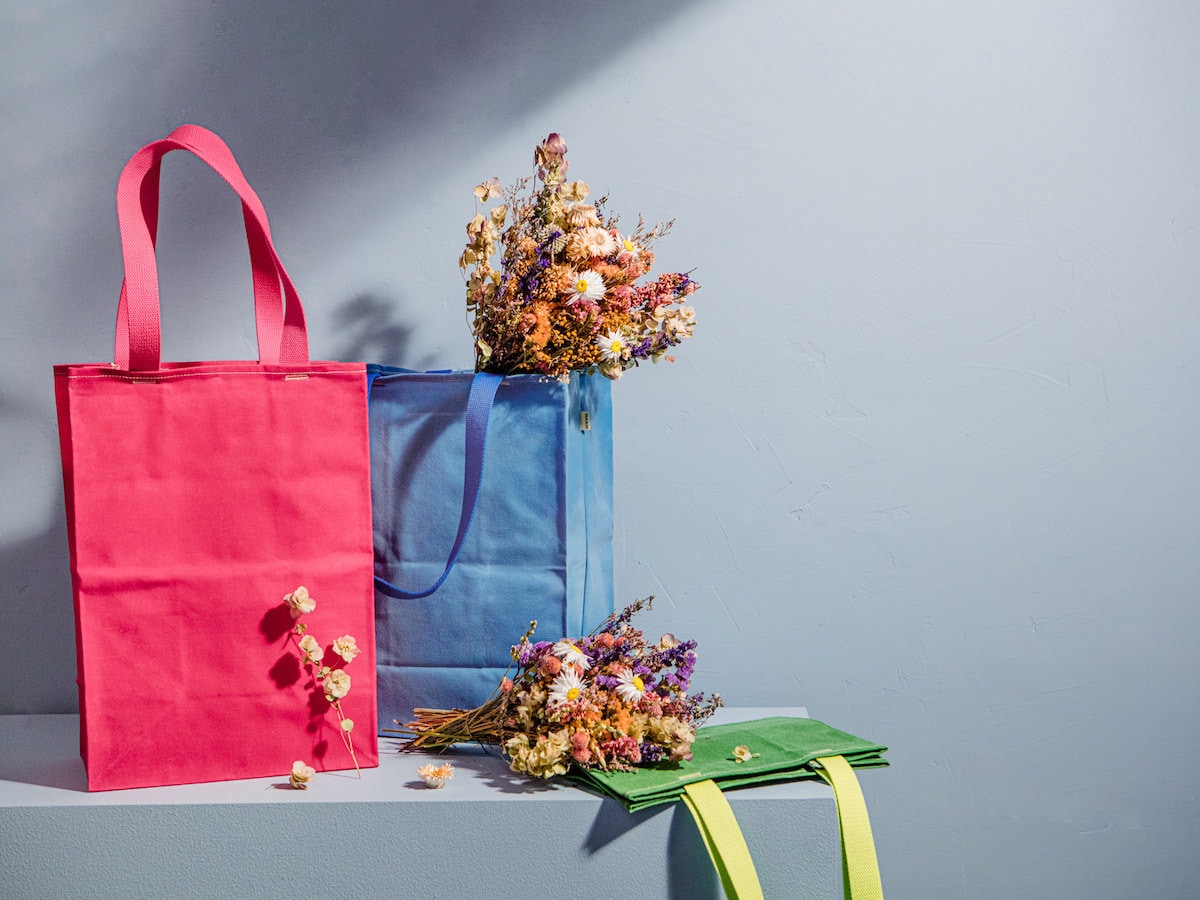 For world-renowned fashion designer Prabal Gurung, celebrating the art of living means infusing his eye-catching ensembles (which have been worn by the likes of Kamala Harris and the Duchess of Cambridge) with a vibrant, inclusive energy that spreads joy, inspiration, and goodwill to people from all walks of life. This spring, with the help of a global dream team of uniquely talented Etsy artists, he's bringing that same sunny spirit straight to our homes in the Prabal Gurung Creator Collab: a gorgeous, limited-edition line of handmade goods for everyday living.
From expressive ombré throw pillows to luxe, lively table linens and dip-dyed candles, each co-designed piece in the collection invites us all to slow down and soak in the beauty that surrounds us. "I thought about what I would want to see on my own dinner table when I'm making memories with family and friends," says Prabal of the only-on-Etsy line. "I wanted to create something that would be a part of those intimate moments. And as an independent brand myself, I know how important it is to feel seen—so I was excited to partner with small business owners and share our vision with the world." Scroll on to shop the delightful designs—and meet the 11 super-skilled sellers who brought them to life.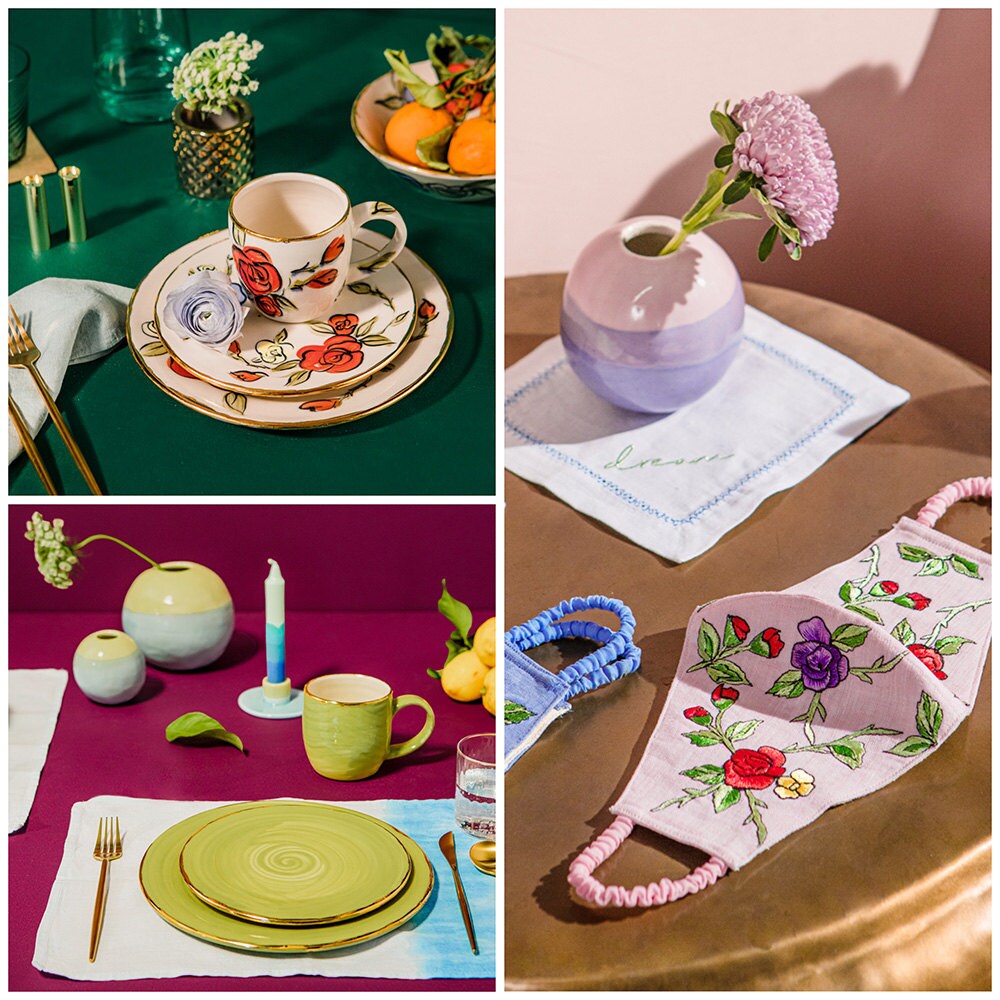 Rose-embroidered linen face masks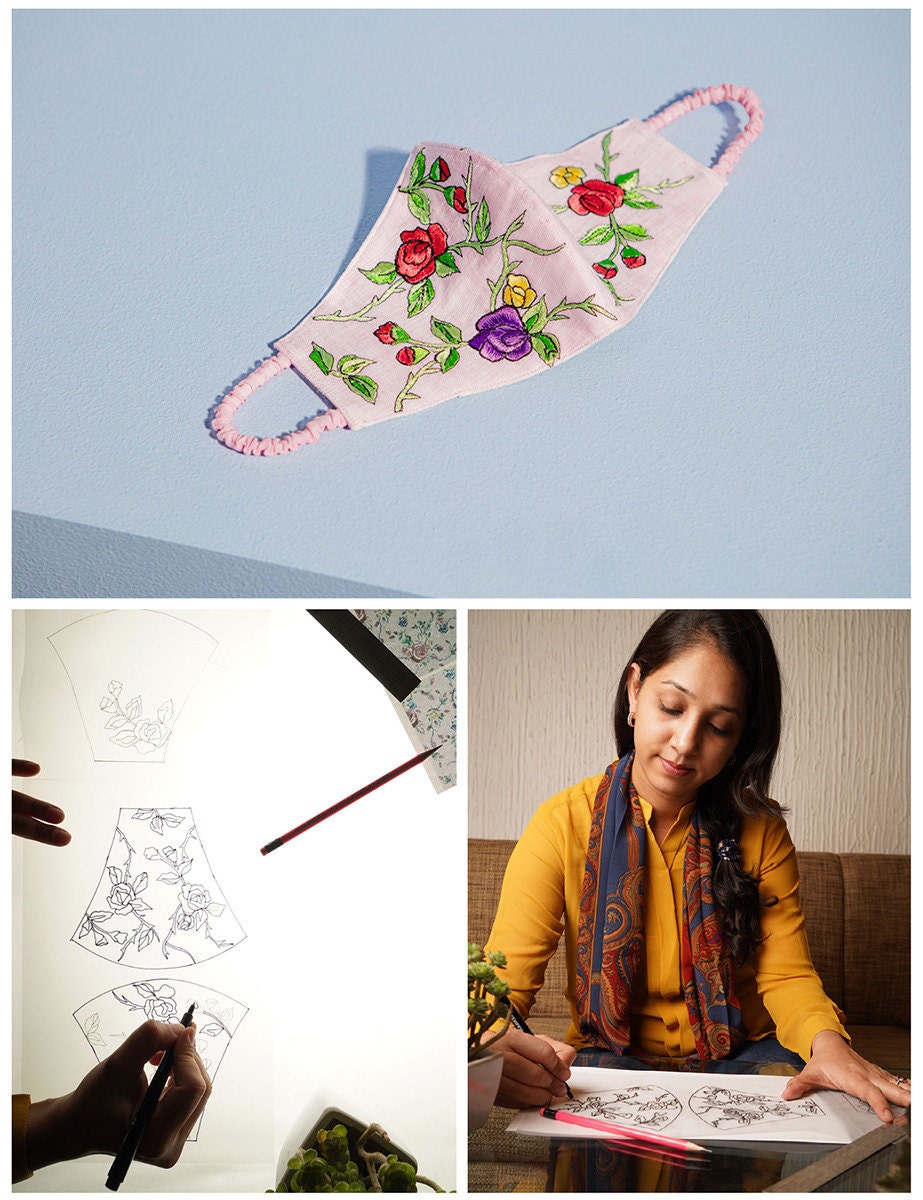 Every detail in these organic linen embroidered masks from The White Tree Designs is highly considered, from the sleek, tailored cut that lays flat on the face to the soft, fabric-covered ear loops. The result? A fashion-forward staple that combines form and function—and pulls in floral motifs from Prabal's 2020 Spring ready-to-wear collection. "This piece can act as a window to your personality and help reflect your creativity and mood," says designer Alifiya Husain.
Hand-painted velvet pillows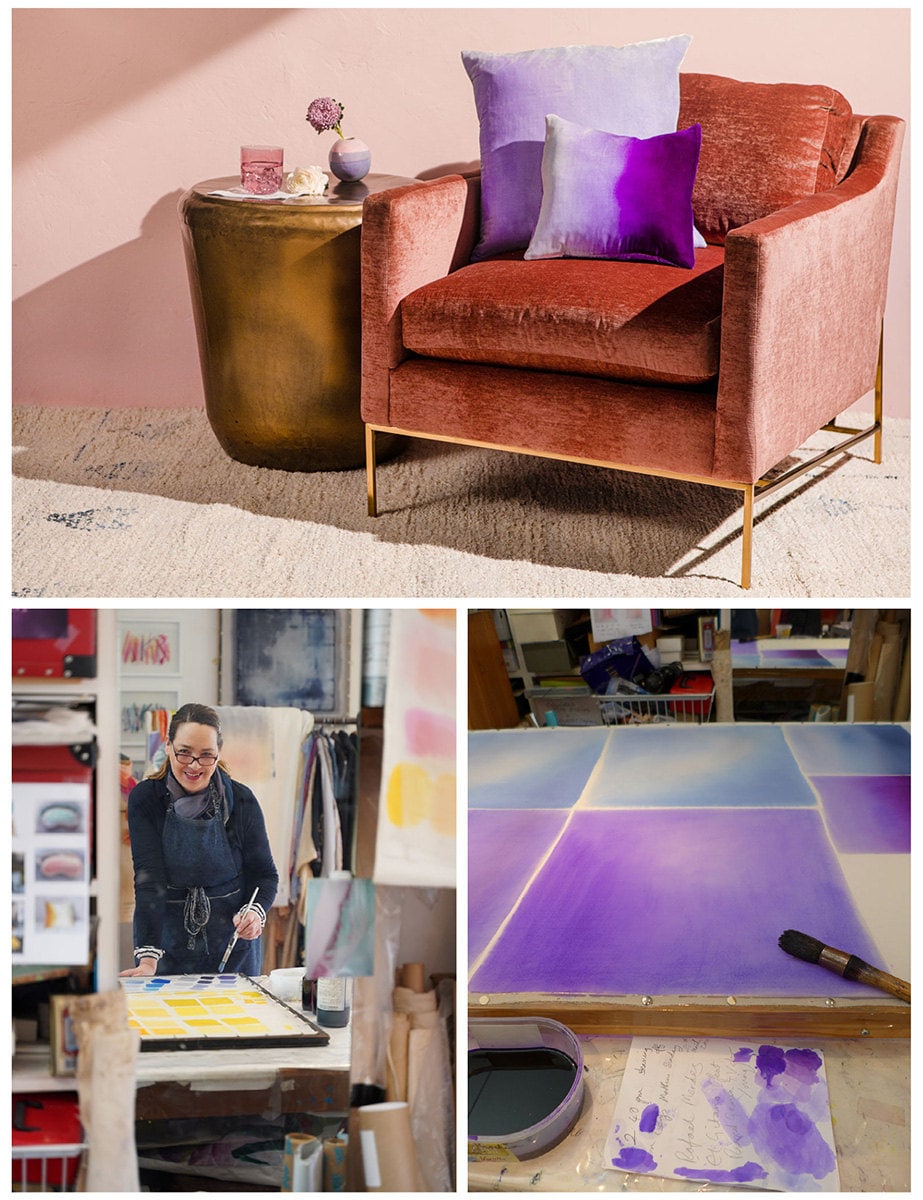 Patience, perseverance, and a penchant for pigments are the secret ingredients in Colorbloom's one-of-a-kind velvet throw pillows, which come in a range of striking gradients and swanky solids that will add a pop of positivity to any room. "There's a certain amount of alchemy that happens while painting onto fabric," says maker Fiona Pitkin. "Each one comes out different from the next—ultimately, that's the beauty of them."
Dip-dyed taper candles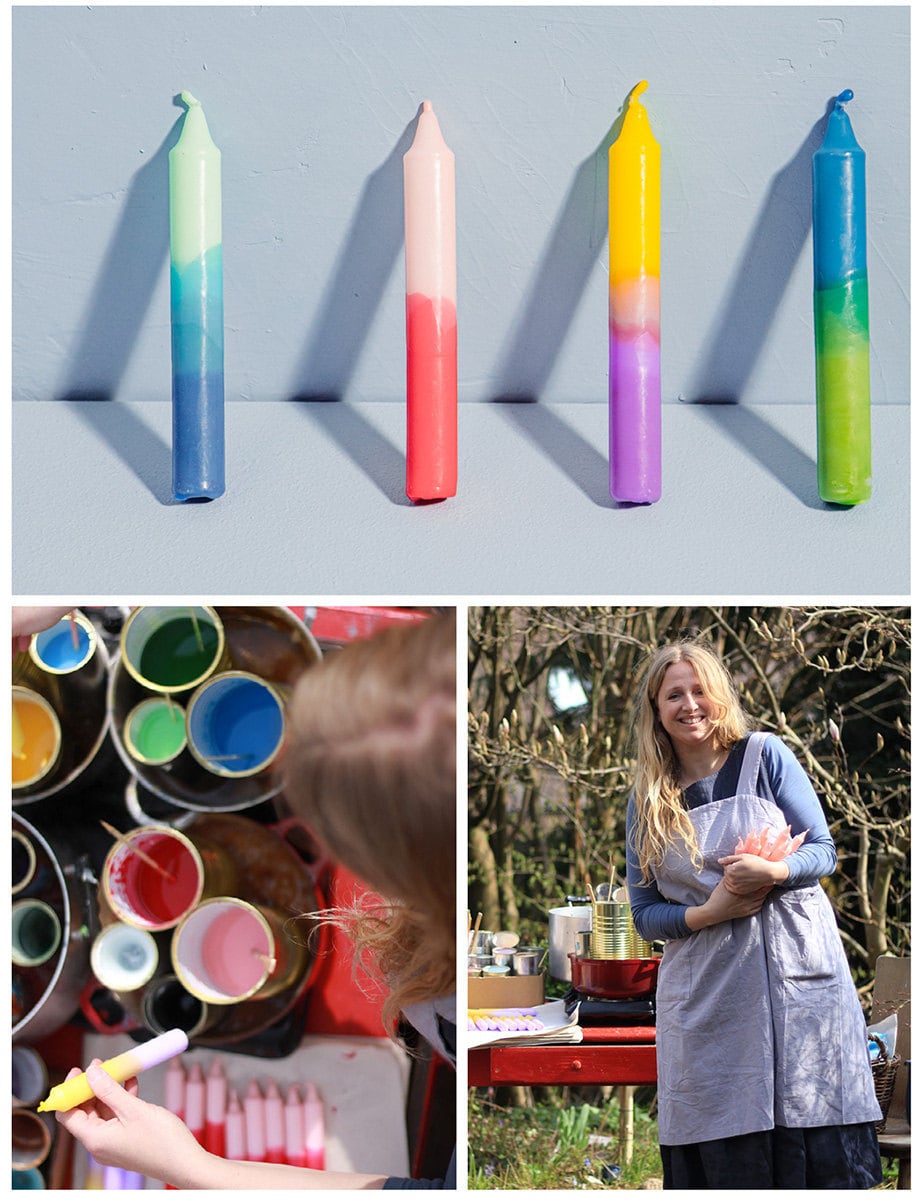 "I loved reinterpreting the hues from Prabal's moodboards through my medium of wax," says Felt Moon Studio maker Alenka von Engelhardt, whose dual-colored candles are deliciously dreamy eye candy for the dining room table—and anywhere else you want to add a festive flicker of lighting. Fans of Prabal's fashions might also recognize the ombré approach as one of his signatures: "Dip-dye has long been a cornerstone of my collections, and it was amazing to be able to bring that to life in a new way," he says.
Gold foil correspondence cards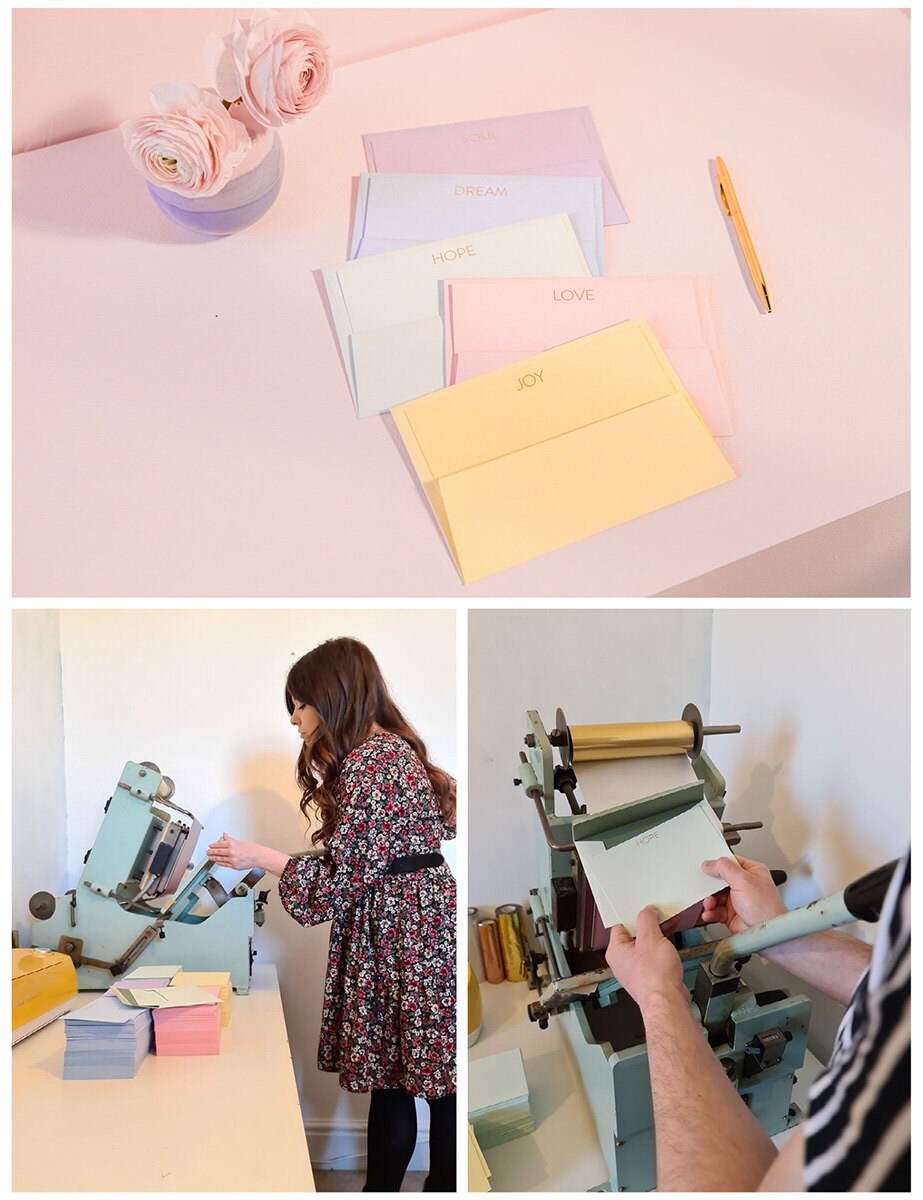 "Dream, hope, love, soul, and joy are more than just words to me—they're intentions that can guide and ignite us," says Prabal of the meaningful mantras stamped on these pretty pastel notecards from Anco Paper Goods. And shoppers aren't the only folks who'll be feeling inspired—makers Catherine Sawdon and Steven Thompson are feeling the love, too. "Working with Prabal has been a fantastic experience," say the duo, who branched out from their typically muted palette with his encouragement. "We had no idea where this journey would take us; we've enjoyed stepping into the unknown and going bigger, bolder, and brighter."
Saturated spring market totes
From the farmer's market to the flower shop, the hand-sewn waxed canvas tote bags from WAAM Industries will help you haul groceries and goods in style—while serving as a sustainable option designed to stand the test of time. "This is a 'go everywhere' bag," say husband-and-wife team Andrew and Hanna Vomhof, who've perfected their process over ten years. "It's inviting and universal, and the vibrant color scheme is certain to spark joy when you reach for the tote daily."
Gilded dinnerware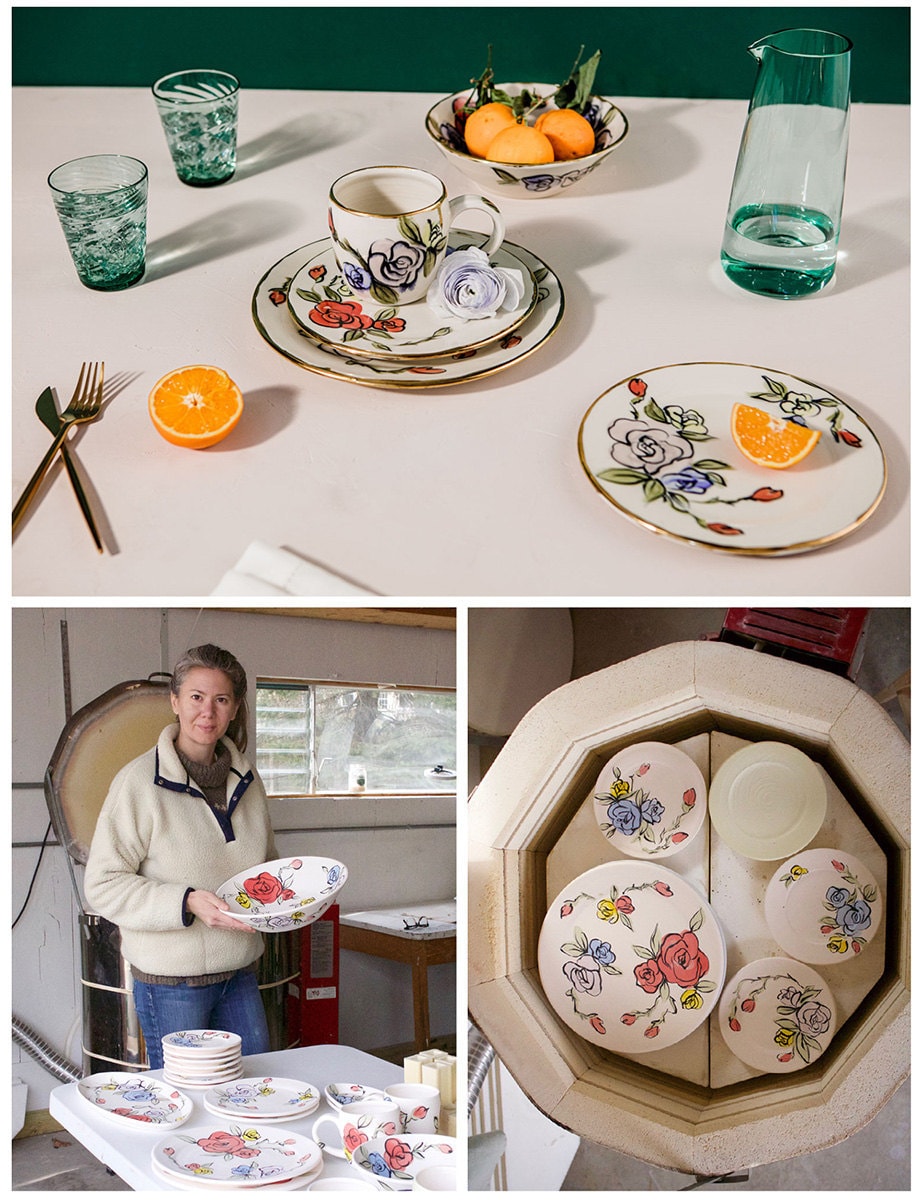 "The ceramics from Twinette Poterie were inspired by a print called Graffiti Rose from my spring collection last year," says Prabal of the hand-painted set, which also comes in two soft-hued solids perfect for transforming any tabletop into a peppy picnic. And as it turns out, maker Emilie Bouvet-Boisclair was uniquely well-suited to reinterpret the free-flowing floral motif given her artistic background. "I was an oil and ink painter before I fully committed to my pottery practice," she explains. "I treasure any time I can pull out my fine detail brushes and immerse myself into more illustrated pieces."
Pattern-splashed planters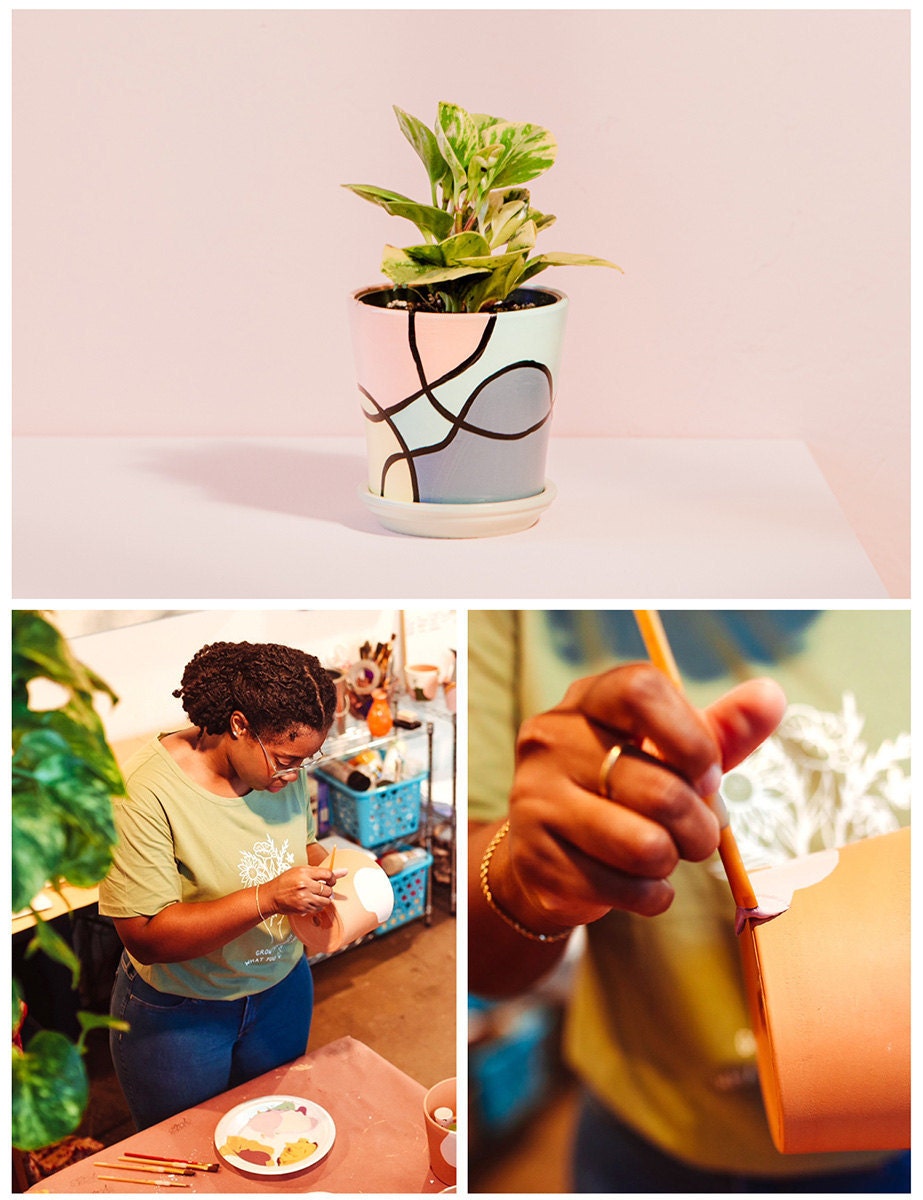 For an equally dazzling if slightly more abstract interpretation of Prabal's Graffiti Rose print, look no further than the loose, loopy waves of playful pastels that adorn the hand-painted planters from Pepper Palm. "I love how minimal the translation of the fabric to the plant pot is," says artist Pepper Sims. "The same colors are present and the curved lines wrapping the pot remind me of vining plants." What better way to display your own botanical bounty?
Porcelain glazed vases and candlestick holders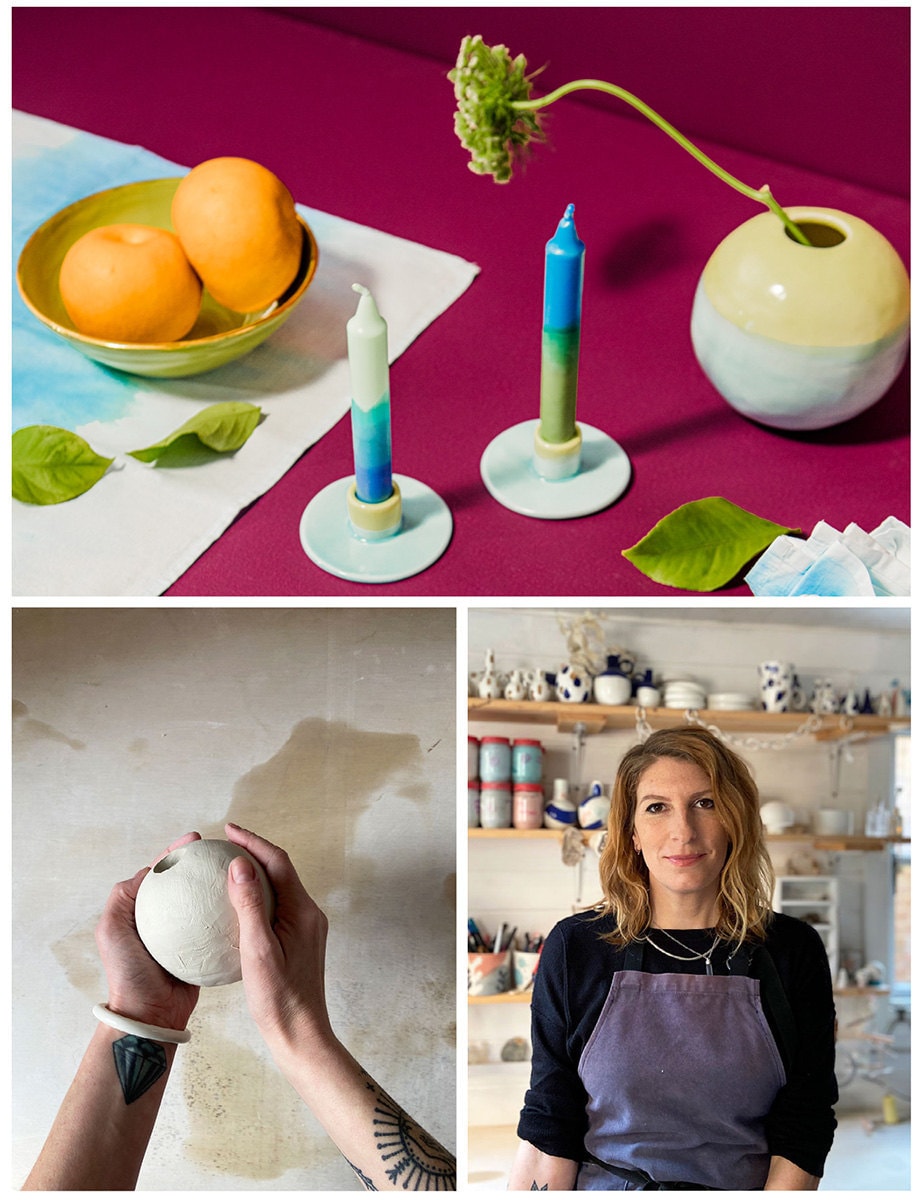 Hand-formed from fine-quality porcelain, Jade Gallup Studio's colorblocked candle holders and sunny spherical vases begin as unassuming balls of clay before being shaped, dried, fired, glazed, and fired again—a painstaking process that honors Jade's 20 years of hands-on experience as well as Prabal's deep affinity for craftsmanship. "Burning a candle or placing a vase of flowers on your table is just a small thing, but I'm a strong believer in appreciating the small things in life, and how they can brighten your mood overall," Jade says.
Cheerful dried flower arrangements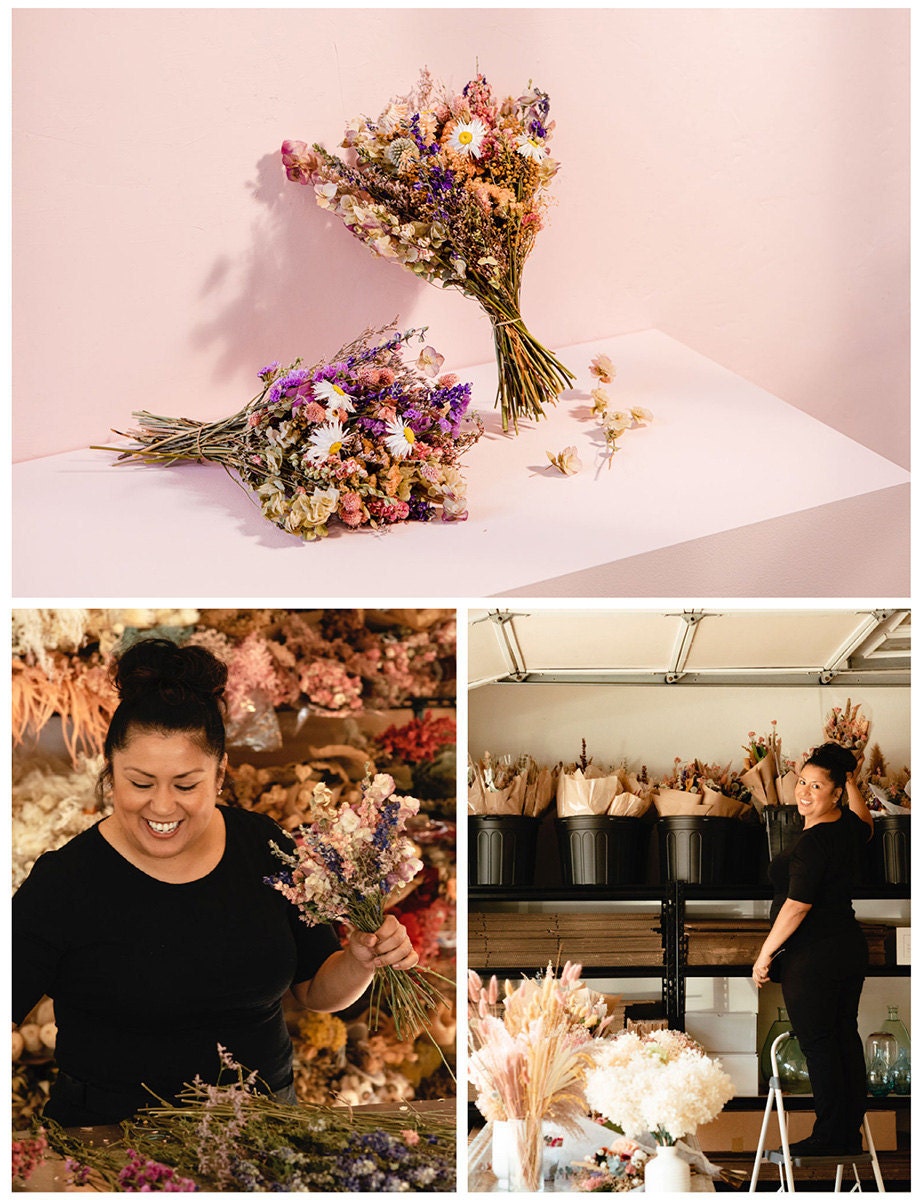 With their stunning saturated colors and perfectly preserved petals, the display-worthy dried flower arrangements from Lobo Floral invite admiration and inspire contemplation—and that's by design. "The world we live in is lightning-fast, and my hope is that these stems will compel someone to slow down," says second-generation floral specialist Nancy Lobo, who was influenced by the bountiful bouquets carried by models down Prabal's recent runways.
Hand-dyed table linens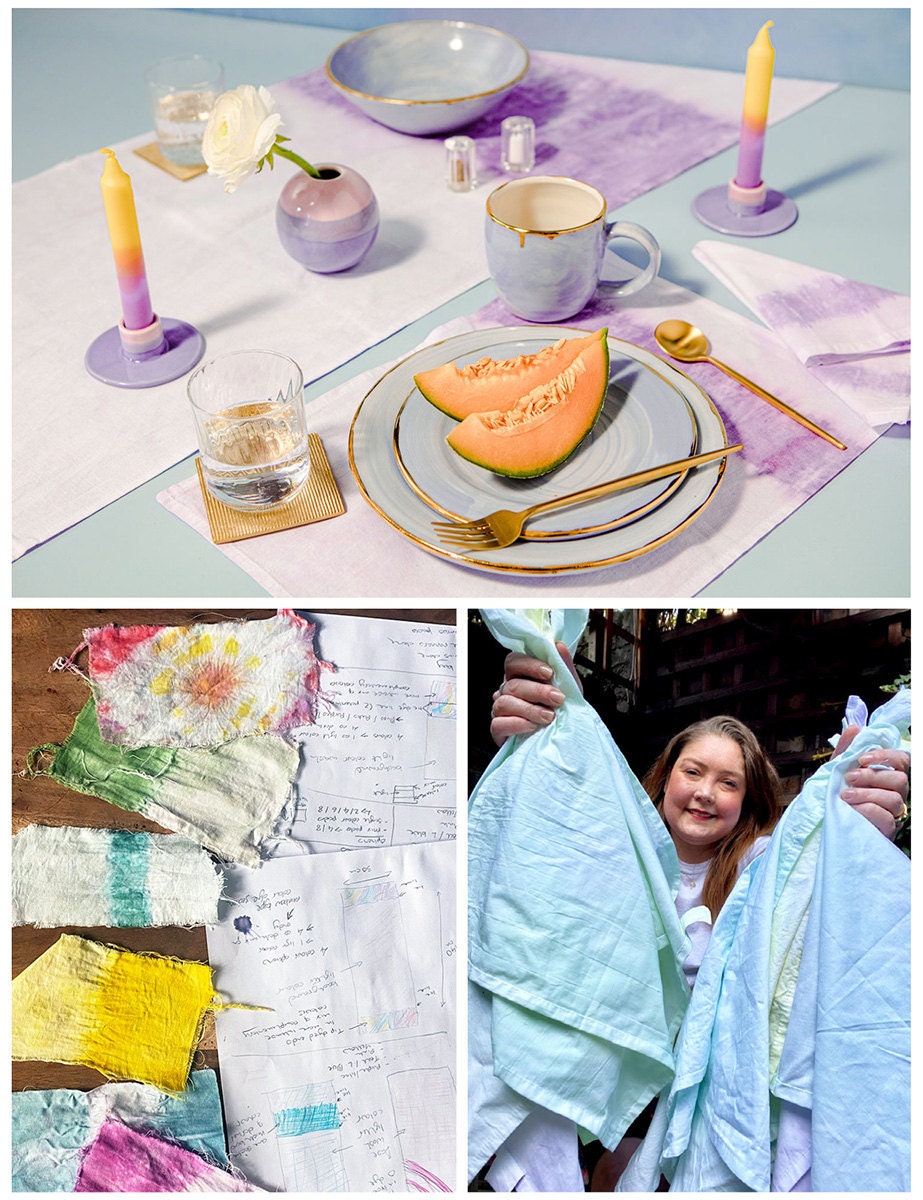 Make every meal feel like a celebration with perky placemats, table runners, and napkin sets from Now What Napkins, which draw on Prabal's trademark happy-hued aesthetic to put an elevated twist on tie-dye. "What I love about these products is that they can be used for special occasions, but they don't have to be saved for them," says maker Pippa Kent. "Why not spend five minutes setting the table to create meaningful moments every day?"
Embroidered cocktail napkins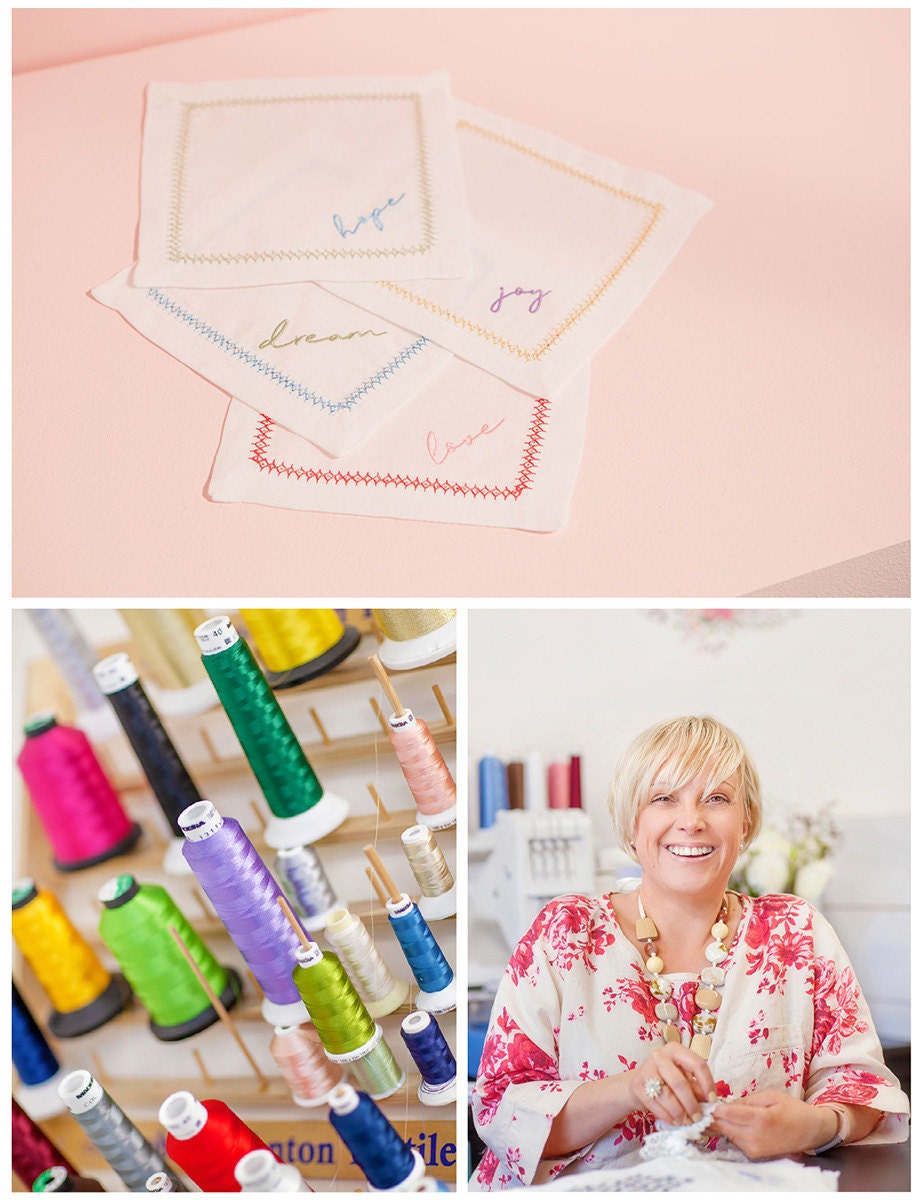 The delicate calligraphy on the coaster-sized linen cocktail napkins from Extra Special Touch strikes a brilliant balance between classic and modern, soft and graphic—a line that Prabal's known for nailing and one that maker Heidi Lawton found appealing as well. "I love the joyous colors and the inspirational words," she says of the set, which echoes the mantras found on the gold-foil notecards. "They're the home accessory that makes you feel positive every day."
Push play to go behind the scenes with Prabal:
...and be sure to stay tuned for the Prabal Gurung Creator Collab holiday drop, coming this fall!
Photographs courtesy of Anisha Sisodia.
*USD prices may vary day by day due to fluctuations in currency exchange from this seller's listing currency to your browsing currency.