These hunting-themed drinking vessels experienced a popularity boom in the 18th and 19th centuries, but their heritage goes back to Roman times.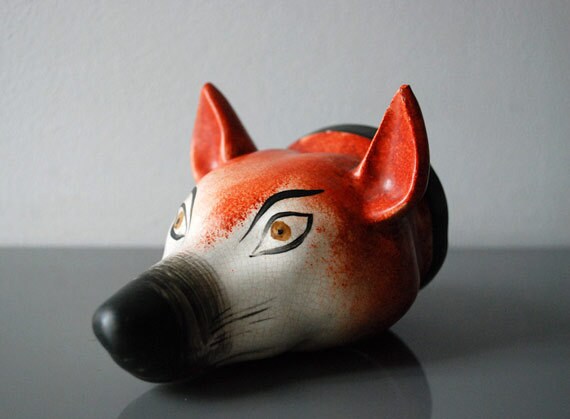 Jeni Sandberg is a dealer, appraiser and consultant in 20th century design. She has worked in museums, was a Senior Specialist at Christie's, and also appears on WGBH's
 Antiques Roadshow
. She writes about fun objects on her blog. In this series, she will explore the history of decorative objects. Today's subject: the animal-adorned historic cups integral to a good hunting party.
If you're a fan of PBS's
Downton Abbey
, you no doubt remember the episode in season 1 where the Earl of Grantham hosts a hunting party — the occasion where Lady Mary meets the handsome but ill-fated Mr. Pamuk. As guests gather on horseback to leave for the hunt, servants William and Thomas offer trays of punch and cake as refreshments. The punch is served to the riders in silver cups with what appear to be fox heads on the bottom, an appropriate motif for the event. This type of specialized drinking vessel was called a
stirrup cup
. While the form had ancient Roman precedents, they were most popular throughout the late 18th and 19th centuries. This type of cup was often presented to a rider on horseback — while their feet were in the stirrups of the saddle — when they were departing or arriving home, often from the hunt. Since stirrup cups generally have no base, the presence of servants to hand the cup (sometimes on a specially fitted tray) to the drinker was necessary and the recipient was required to down the contents fairly quickly.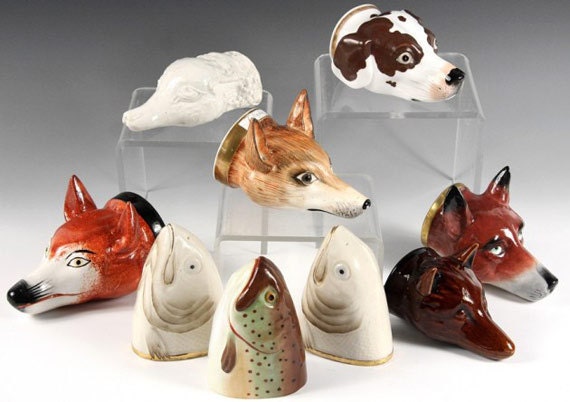 Thomaston%20Place%20Auction%20Galleries
Stirrup cups ranged from shot glass size to large, fist-sized cups. The beverage served in them was often a wine or spirit-based punch, watered down and spiced to taste. Alcohol was drunk by most on a daily basis, often at every meal, though drinking to excess was frowned upon. Still,
puzzle jugs
,
toby mugs
and other amusing cups were made to entertain those who imbibed. Elaborate, detailed examples of stirrup cups were made in silver, but less expensive versions were available in ceramic, most often made in Staffordshire, England.
"Staffordshire"
has become a blanket term for the many types of ceramic wares produced in and around the town of Stoke-on-Trent from the 18th century to today. Manufacturers ranged from large-scale producers such as Wedgwood, Minton, Spode and Doulton, to small individual makers who utilized the same local materials to create their pieces.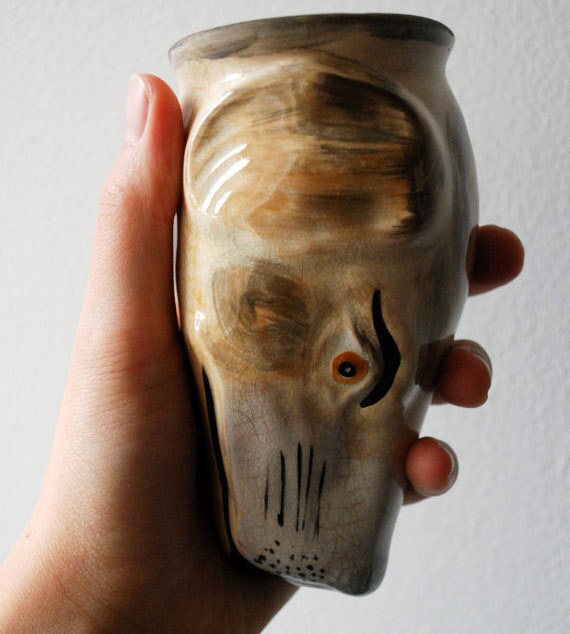 19th%20century%20Staffordshire%20stirrup%20cup%20of%20a%20hound.%3Cp%3E%3Ca%20href%3D%22http%3A%2F%2Fwww.etsy.com%2Fshop%2FUpcomingLegendary%22%3EUpcoming%20Legendary%3C%2Fa%3E%3C%2Fp%3E
Staffordshire manufacturers produced a wide range of stirrup cups, most often in the form of the heads of animals related to the hunt. Foxes, dogs, rabbits and fish all found expression in the form of stirrup cups with the molding and glazes lending life-like character to each piece. Fanciful, grinning human heads can also be found, evoking the boozy high spirits of Bacchus and his Satyrs.  Political and erotic motifs were created, too  — no subject was off limits.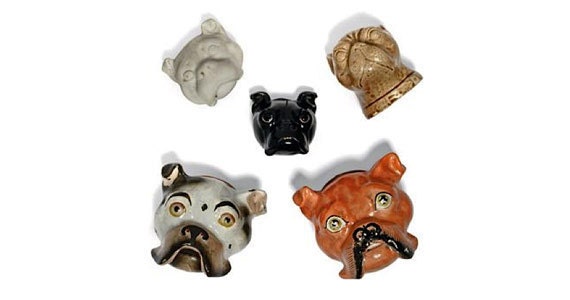 Group%20of%20Bulldog%20Staffordshire%20Stirrup%20Cups%2C%2019th%20Century.%3Cp%3E%3Ca%20href%3D%22http%3A%2F%2Fwww.christies.com%2Flotfinder%2Flot%2Fthree-english-pottery-bull-dog-heads-a-jar-5294218-details.aspx%3Ffrom%3Dsearchresults%26amp%3BintObjectID%3D5294218%26amp%3Bsid%3D2874e7aa-f380-46ca-99ef-a0e8c7228286%22%20target%3D%22_blank%22%3EChristie's%3C%2Fa%3E%3C%2Fp%3E
For more on antique drinking vessels, visit Winterthur Museum, Garden & Library's exhibition
Uncorked: Wine, Objects & Tradition
on view until January 6, 2013 and
online
.