by Katie Hawley
We're taking a page out of this grad student's book for our seasonal wardrobe refresh.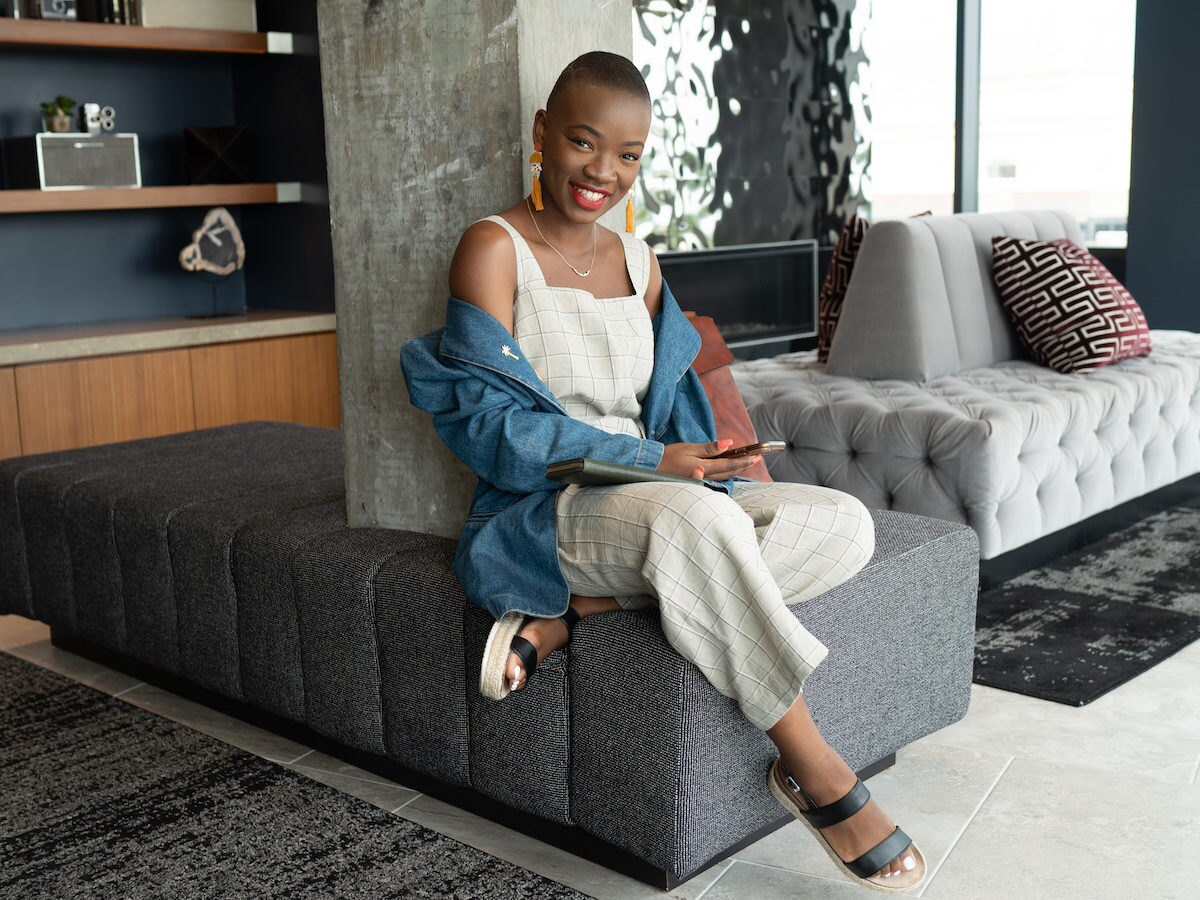 Instagram is one of our favorite places to turn for fashion inspo (along with Etsy, of course). And when it comes to back-to-school looks that make the grade—no matter your student status—we know exactly whose account and expertise to tap into: Sofiyat Ibrahim, a Virginia-based international affairs graduate student, lifestyle blogger, and effortlessly chic, Insta-cool girl, operating under the handle @the_odditty. We're especially enamored of her knack for assembling on-trend outfits that are both comfortable and eye-catching—the ideal combo for a busy student constantly on the go.  
To help get our closets in an autumn state of mind, we tapped Sofi to assemble her ideal back-to-campus outfit from her favorite Etsy finds, and share her style know-how with her fans (that would be us). "I want to be comfortable because people always underestimate what the first day of classes is going to entail," says Sofi of her approach to strategizing her look. "But I also want to be noticeable—especially at the start of a new semester!" Read on for more on Sofi's A-plus look, and discover the surprising accessory she's never owned until now.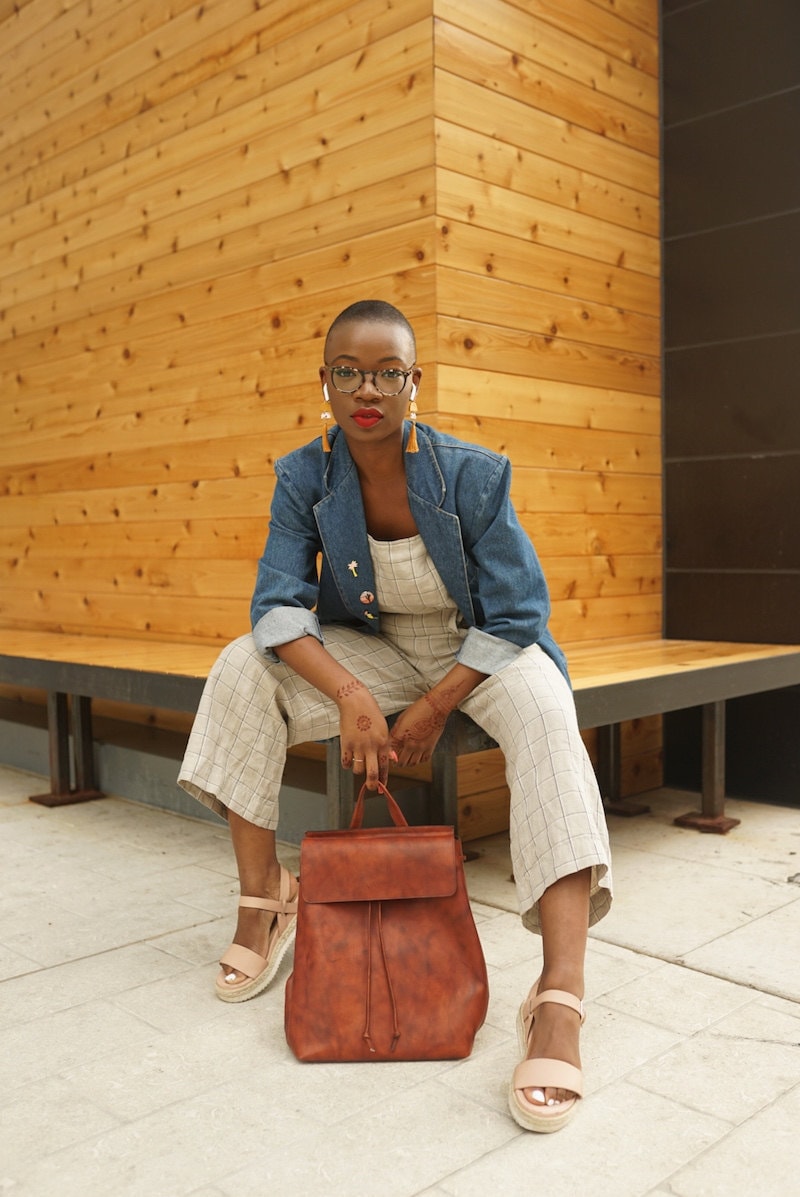 Besides comfortable, how else would you characterize your personal style?
Clean, feminine, and me. Whenever I'm shopping for an outfit, I try to picture myself walking around in it and going about my day at school. I always want to make sure that what I'm wearing feels true to my personal style. 
Tell us about the look you've put together.
Jumpsuits are one thing that works for everyone's style—plus they're comfortable, and you can easily dress them up with a belt or a little scarf. This one from Linenfox is especially great because of the transitional fabric! I also absolutely love vintage pieces, and when I saw this '80s denim blazer from Wayward Collection I just knew I had to have it. Everyone has a jean jacket, but they can also be very personal to your style depending on what kind you pick.
In terms of accessories, I think a lot of times people forget that your backpack can also be an accessory! When you're getting dressed for school, you don't want a boring bag—you want something that really speaks to you, but will still be useful. When I chose this leather backpack from Drina Crafts, I knew it would go with any outfit and also be fashionable. I can bring it with me to classes all day, then carry it to an event in the evening.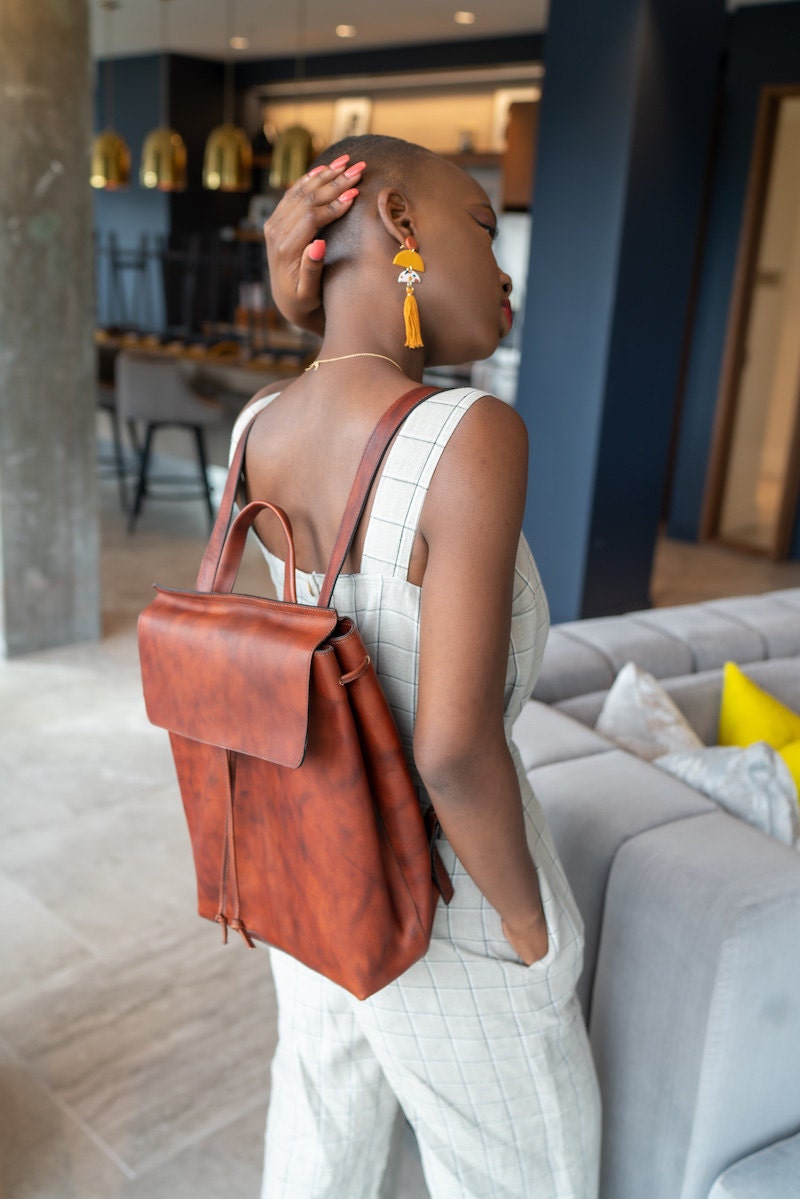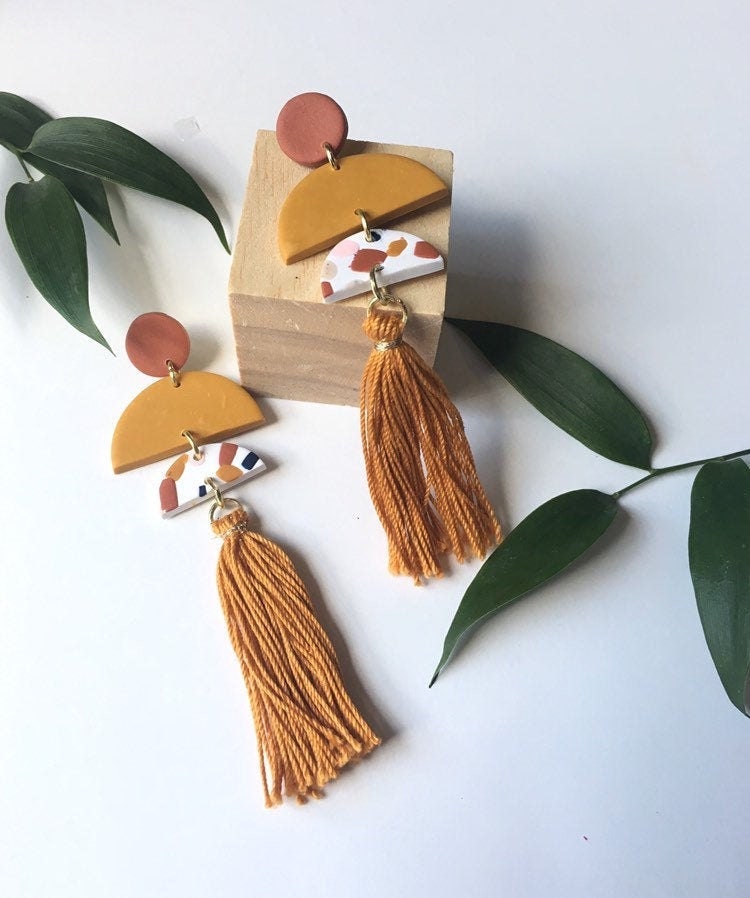 What's your go-to jewelry for adding a final flourish to an outfit?
Earrings for me are those finishing statement pieces. For this outfit I knew I wanted something that wouldn't be swallowed up by the jacket and the jumpsuit, and that would stand out on its own. These terrazzo tassel earrings from Analy Jewelry tie everything together because they draw people's attention to my face but they also don't overpower the rest of the look.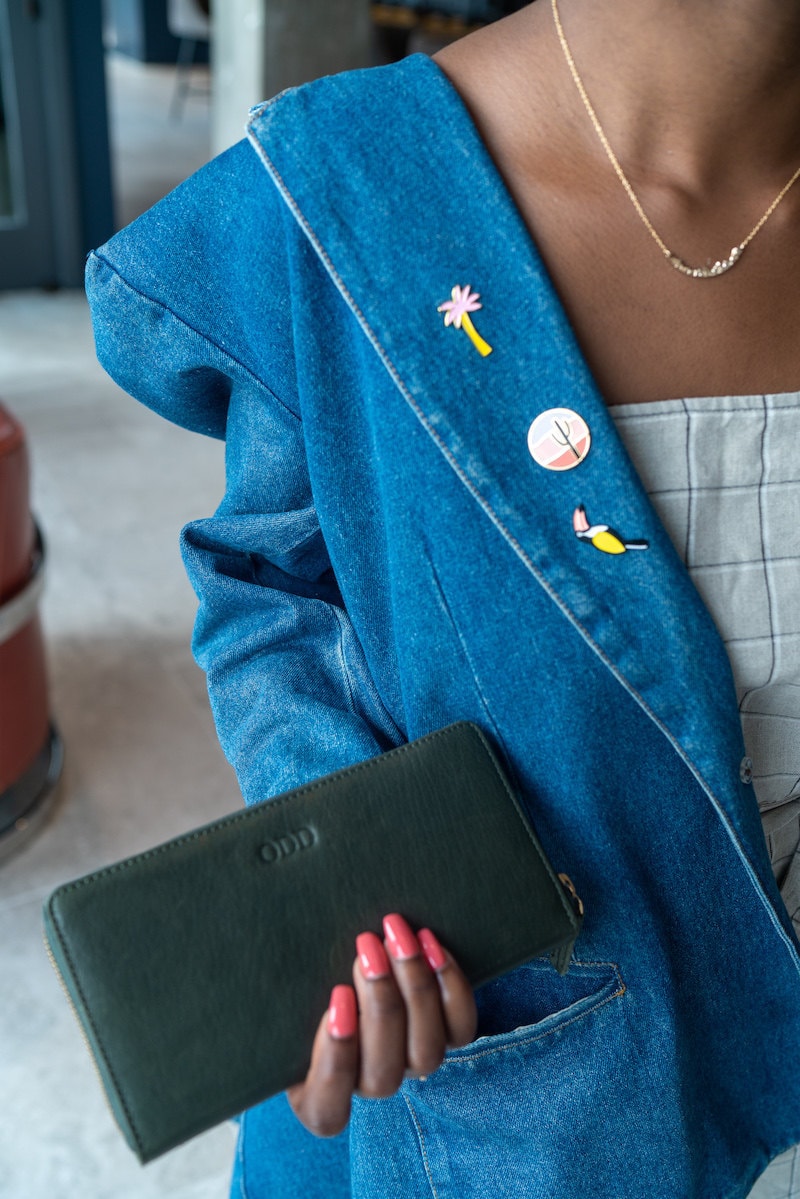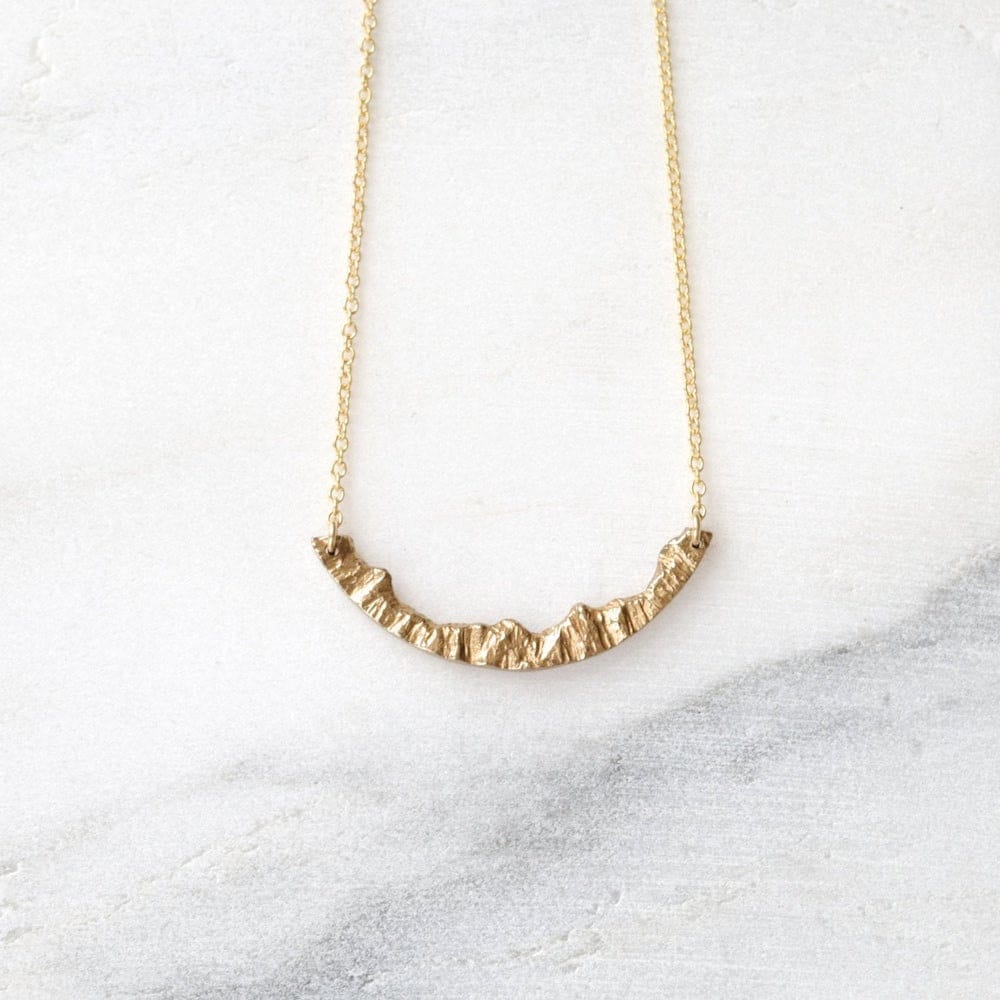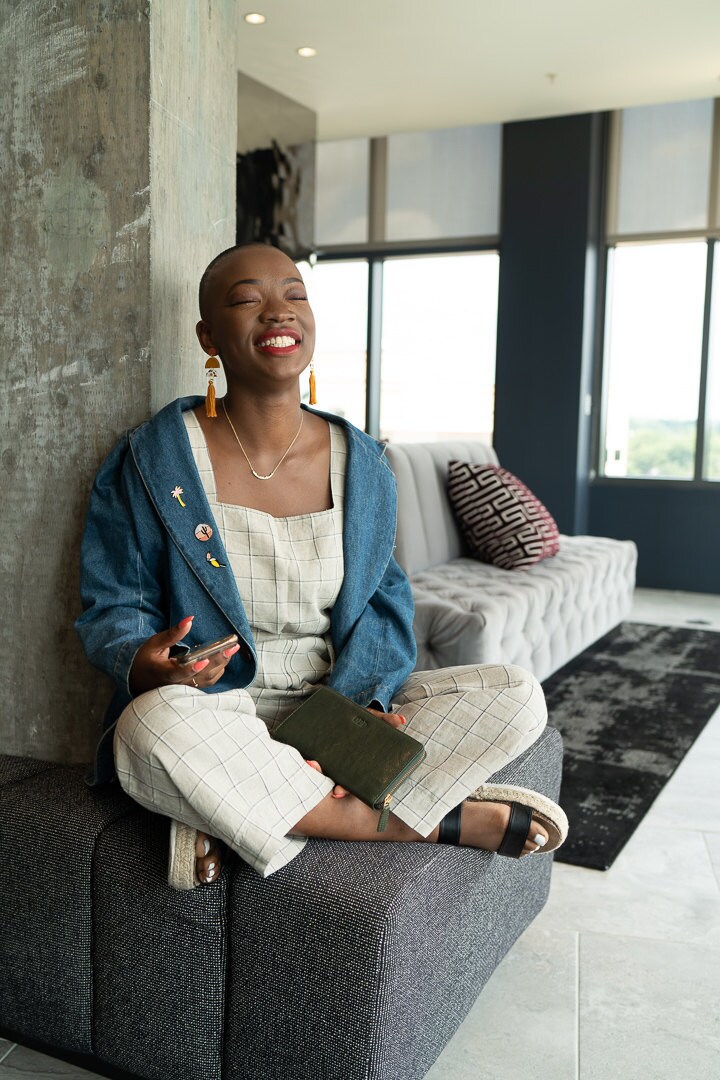 What's in your backpack on a typical day?
I always have my planner because it's essential to my entire life. My phone charger, headphones, and a small makeup case are in there, too, along with my keys, student ID, and now, this wallet. It's funny—I've actually never had a wallet before! My school gave me a little card carrier that I've been using but I've been searching for a good wallet. When I found this one from The Leather Expert I knew it was something I would treasure. I love the olive green color and I loved that I could personalize it. Now if someone ever comes across my wallet on campus they'll know it's mine.
Outfit photographs by Smallwood Holdings LLC. unless otherwise noted. Item photographs courtesy of Analy Jewelry and Everi.