by Dayna Isom
Etsy's in-house trend expert shares the year's top looks for a stylish summer season.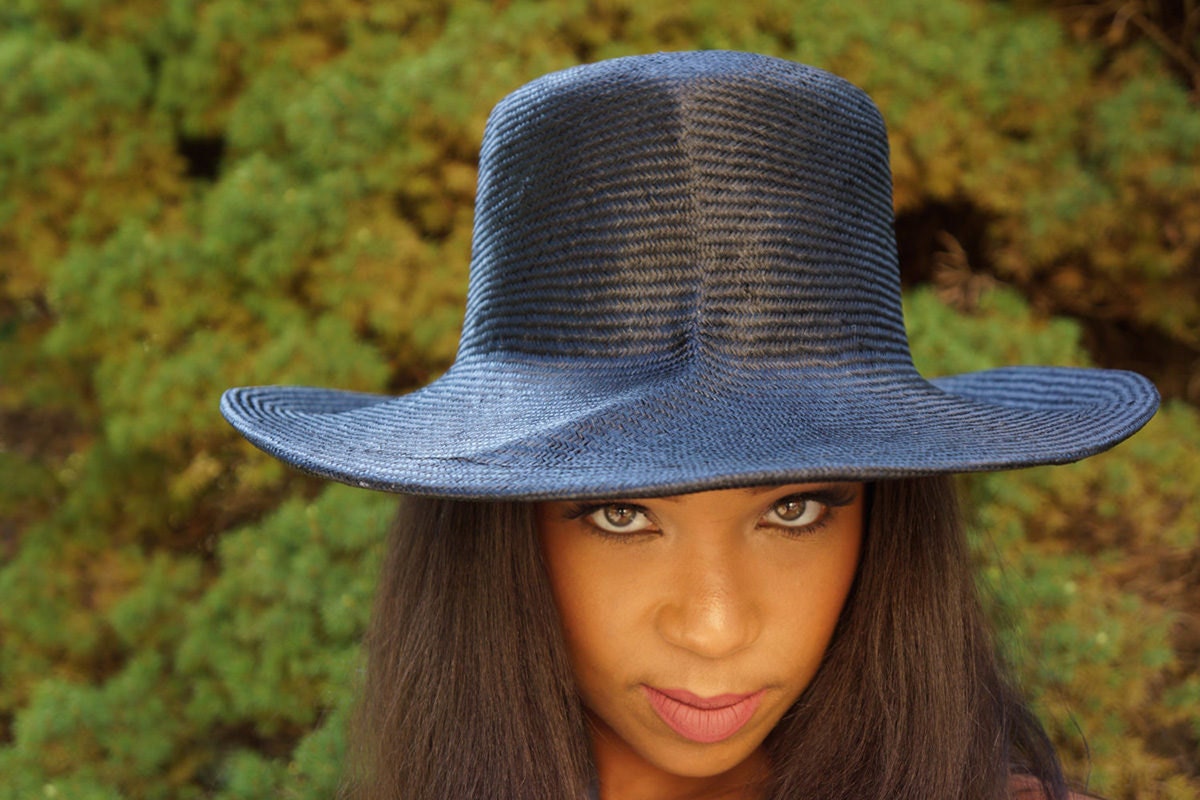 The monthly Etsy Trend Guide is a compilation of fresh trends our experts are noticing across Etsy and the industry as a whole: what sellers are creating, what shoppers are loving, and what's hot right now in the wider market. We gathered data, crunched the numbers, and tapped a few of our favorite tastemakers for insights. The result? This curated Etsy shopping guide to help you discover the next big things.
There's no season like
summer
for experimenting with your personal style. Whether you're
planning a big trip
 (and hoping to crib style cues and fashion inspiration from your destination of choice) or just looking forward to debuting some new warm-weather looks at backyard barbecues and potluck picnics closer to home, there are plenty of fun
summer fashion and beauty trends
headed your way. As Etsy's resident trend expert, I'm always searching for up-and-coming designers and
emerging trends
 from among the more than 1.7 million creative sellers* and millions of unique items on Etsy. Today, I'm here to share the top five summer style trends on my radar right now (and one big accessory prediction for 2018). From sparkly, outer space-inspired beauty to an understated take on iconic silhouettes from the '80s, we think you're going to like what you see. And if you don't find the precise pants or sculptural straw hat on our list to make your summer wardrobe complete, not to worry. There's someone on Etsy who shares your creative vision—or will take a custom order request to make your style wish come true. Read on to discover the trends.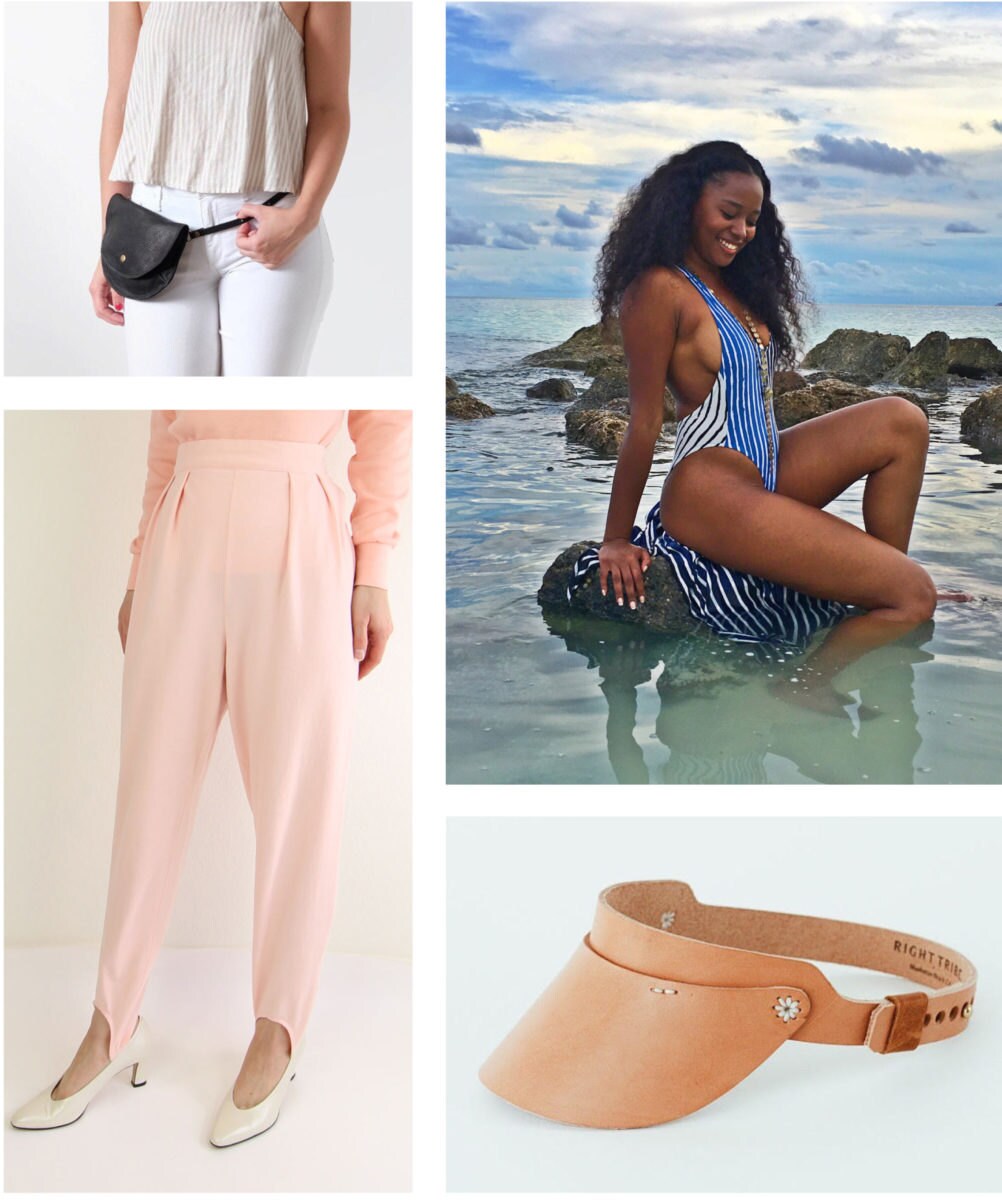 Clockwise from top left: Leather fanny pack by Awl Snap, $89; striped high-cut bathing suit by Tiara Richar Swimwear, $95; leather visor by Right Tribe, $78; stirrup pants from Wear It Well Vintage, $38
Minimalist '80s
Yes, you read that right. Our favorite decade for over-the-top everything is being reinvented in an understated palette and a grown-up aesthetic. Today's take is more effortless and tomboy-inspired than the typical '80s revival—less neoprene and neon, more muted, neutral hues and
natural materials
—but with many of the familiar silhouettes of the era. Instead of colorful, paint-splattered jeans, Etsy artists are hand-painting
vintage denim
in paler shades. Boxy culottes—the last big '80s pants craze—are stepping aside to make way for stirrup pants, which feel practically tailor-made for a streamlined modern wardrobe. Even the fanny pack is back, only now it's in smooth, flat leather and geometric shapes. In fact, fanny packs (sometimes rebranded as hip bags or waist bags) were among the top 20 most-searched
accessories
this month on Etsy. Perhaps no setting is a more natural stage for this reconceived '80s style than the beach. It's the perfect place to break out your updated, undyed leather visor and sporty, Baywatch-ready one-piece. (Think swimwear you can actually swim—or, yes, run—in.) Searches for one-piece
bathing suits on Etsy
rose nearly 140 percent from 2015–2016, and one-pieces continue to make big popularity gains over bikinis this year. Of course, whatever '80s style speaks to you most, you can likely find an original example for sale on Etsy, where there are more than 300,000
vintage
'80s items to shop.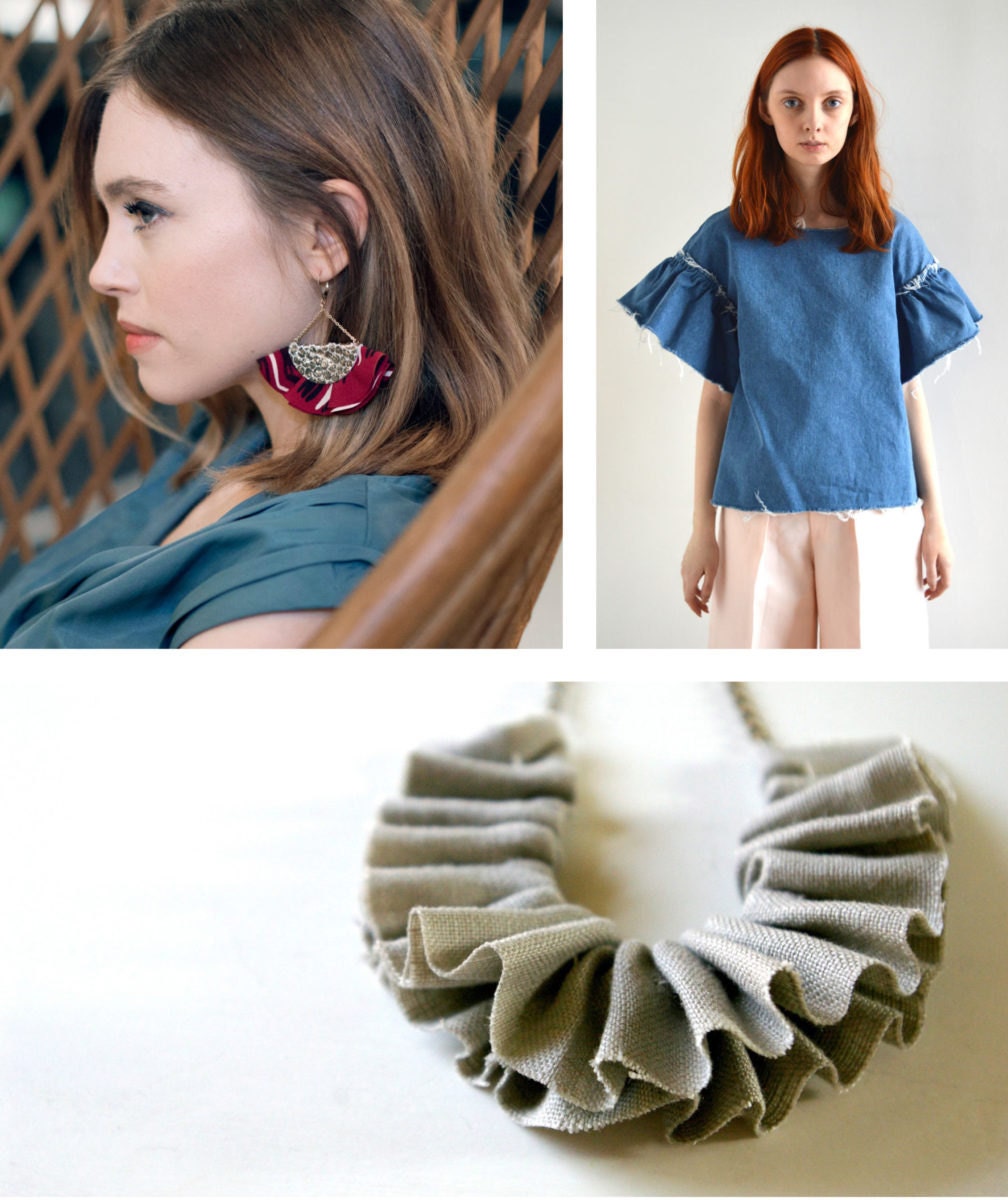 Clockwise from top left: Fan earrings by Toucan Bleu, $68; frayed denim top with ruffles by Eliza Faulkner Designs, $150; linen ruffle necklace by Pretties By Meg, $23
Redefined ruffles
Some years, everyone's talking about hemlines. In others, it's all about prints. For 2017, we believe the textile detail to watch is the ruffle. But not just any ruffle; these are not the froufrou flounces of your childhood Easter dress or the dusty bed skirt in grandma's guest room. This is a new ruffle, a contemporary ruffle, a—dare we say?—
sophisticated
ruffle. Here's what makes it work: It's bold. It's modern. It's got volume. And it's suddenly turning up everywhere. (Just not everywhere at once.) Placement is key: You might find ruffles finishing the sleeve of an artfully distressed top, hugging the neckline of an off-the-shoulder romper, or cascading asymmetrically down one side of a wrap dress or maxi. Even in its softer, more feminine iterations, today's ruffle is scaled-up and confident—no little-girl gathers here. And they're not just in your closet. Ruffles are equally at home in the world of interiors, too. Dreamy ruffled linen
bedding
(in solid colors, not patterns), is one way to keep things fresh. Whatever the category, the look is more versatile than you might think: Ruffles can read as romantic and retro, free-spirited and bohemian, or architectural and avant-garde, according to your personal style. The one thing that's certain is that they're on the rise. Searches for ruffles on Etsy this March increased by 50 percent compared to March 2016.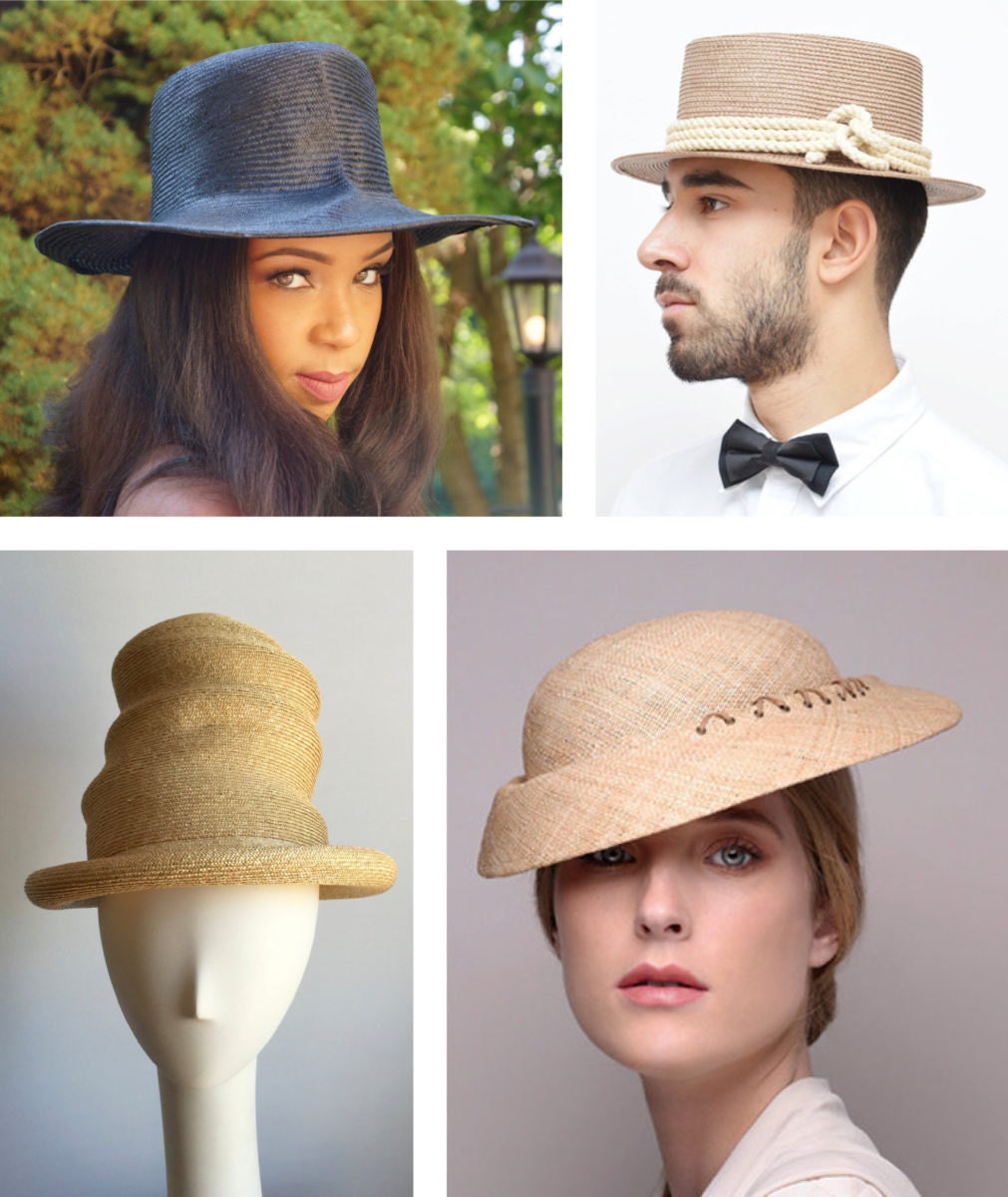 Clockwise from top left: Black parasisal straw hat by Geaux Chapeaux Hats, $245; flat-brim hat by Ricucci Millinery, $162; straw fascinator by Justine Hats, $140; natural straw Pagoda hat by Ignatius Hats, $165
The new straw hat
Lightweight, breathable straw hats have been a hot-weather staple for centuries—since long before crisp, flat-topped boaters and the fedora-like Panama hat attained icon status in the early 20th century. But
modern milliners
aren't merely recreating these classic styles to the letter—they're breaking the mold with shapes their creative forebears might never have imagined, for customers with eclectic, contemporary tastes. We've already seen the return of the floppy, wide-brimmed sun hat. Now we're ready for something a little more experimental. Designers on Etsy are turning out toppers with twisting, Möbius-like brims, offbeat details like grommets and lacing, and unconventional proportions that draw the eye up instead of out. And they're doing it all with the same time-honored techniques and careful handwork that have defined quality hatmaking since the beginning. Even if you prefer a traditional shape, there's something new for you this year: color. More and more, navy and black straw hats are appearing on the scene, and they look just as chic as natural straw with floaty dresses and summer suits—bathing or otherwise. You can even go fully custom, thanks to bespoke hat makers on Etsy, like New York City-based June Gumbel of
Geaux Chapeaux Hats
, who are keeping made-to-order millinery alive for a new generation to discover.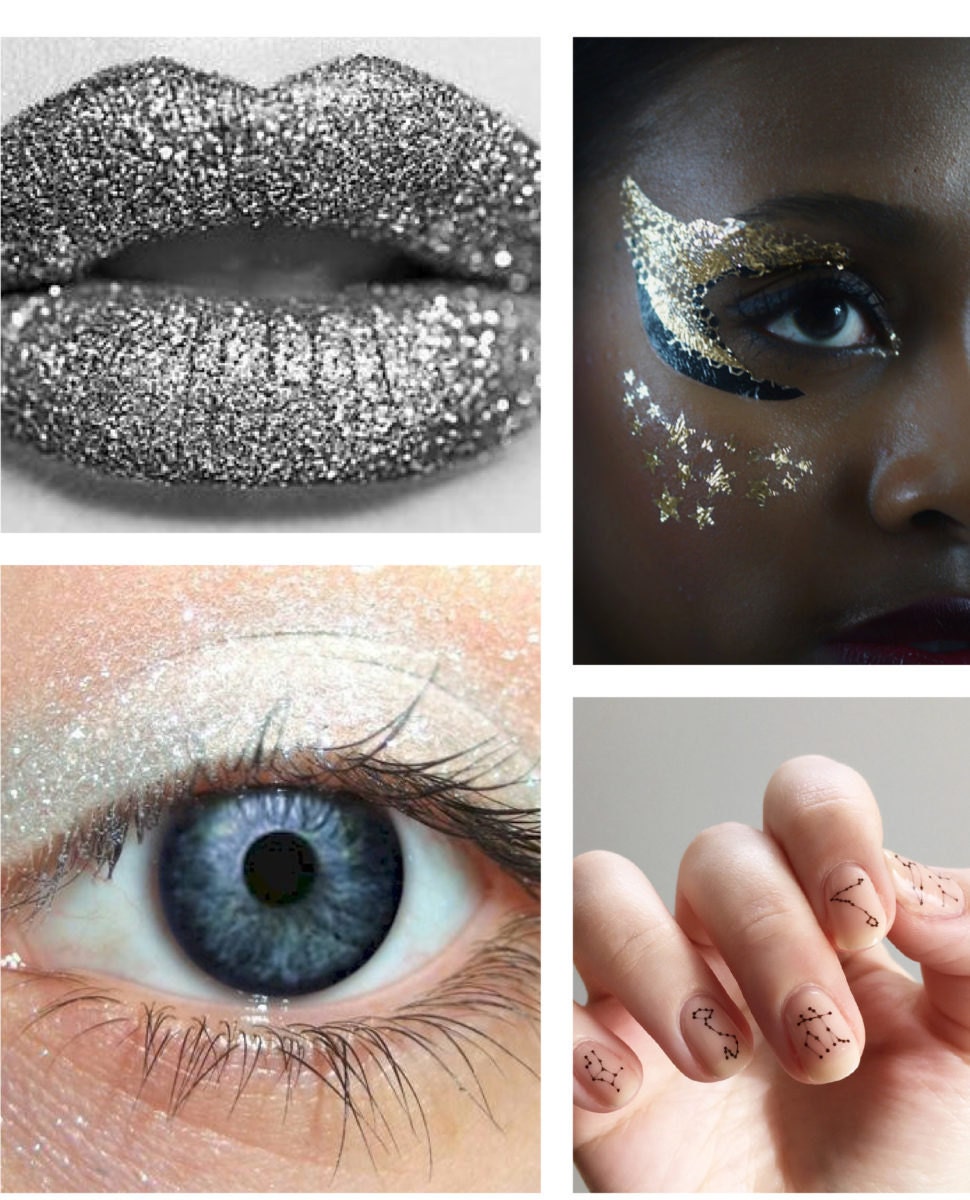 Clockwise from top left: Pewter glitter makeup by Orglamix, $5; star eye shadow tattoos by Tattoo Crush, $10; constellation nail decals by Jsfrnnailart, $10; twinkle-effect eye shadow by Orglamix, $12
Celestial beauty
There's something innately appealing about the all-things-celestial trend that's been spreading across the
jewelry
, apparel, and home categories in recent seasons. After all, what's more universal than, well, the universe? And the next big breakthrough area for this astro-inspired aesthetic is crystal-clear: the beauty realm. (Think of it as cosmic cosmetics.) The shimmery, glimmery style works on a lot of levels—it attracts festival goers, sci-fi fans, and anyone who's ever had her aura photographed. To get the look, there's no better place to shop than Etsy. Enter the search term "galaxy makeup" on the site and you'll find nearly 1,000 results. Obsessed with moon phases? Maybe an opalescent eye shadow will pull you in. (Eye makeup is one of the fastest-growing sections within makeup and cosmetics on Etsy; for January through March 2017, demand saw a nearly triple-digit increase compared to the same time period in 2016). More into zodiac signs? Constellation nail decals should do the trick. From glitter lipstick to cheek shimmer and even star freckles, a new take on the freckle tattoo 
trend
, there's something on Etsy to make your eyes—or any other part of your face—light up.
Clockwise from top left: 3-in-1 leather backpack by Art and Jill, $425; linen kimono jacket by Linen Fox, $60; picnic/beach blanket by Sewn Natural, $180
Summer style that won't fade
Today's shopper wants more than just a good-looking item: She wants to purchase handmade products that hold real meaning; adaptable objects that suit more than one purpose; and foundational pieces that last far longer than fast fashion. In short, she wants a return on her summer-style investment. Whether it's multi-functional furniture for her home or a versatile layering piece for her wardrobe, products that can be used year-round—and for years to come—are among the biggest cross-category trends for 2017. Picture a bag you can carry three different ways,
swimwear
that doubles as a bodysuit when paired with pants, or a floaty kimono jacket that goes from poolside to date night without missing a beat. And don't be afraid to use your imagination: A design doesn't have to be marketed as multi-functional to have potential beyond its primary role. All of these items are staples that will last not only through the season, but throughout the year. Putting your money toward timeless, seasonless, functional items that are made with care and quality by independent designers is always on-trend. We think this summer it will be bigger than ever.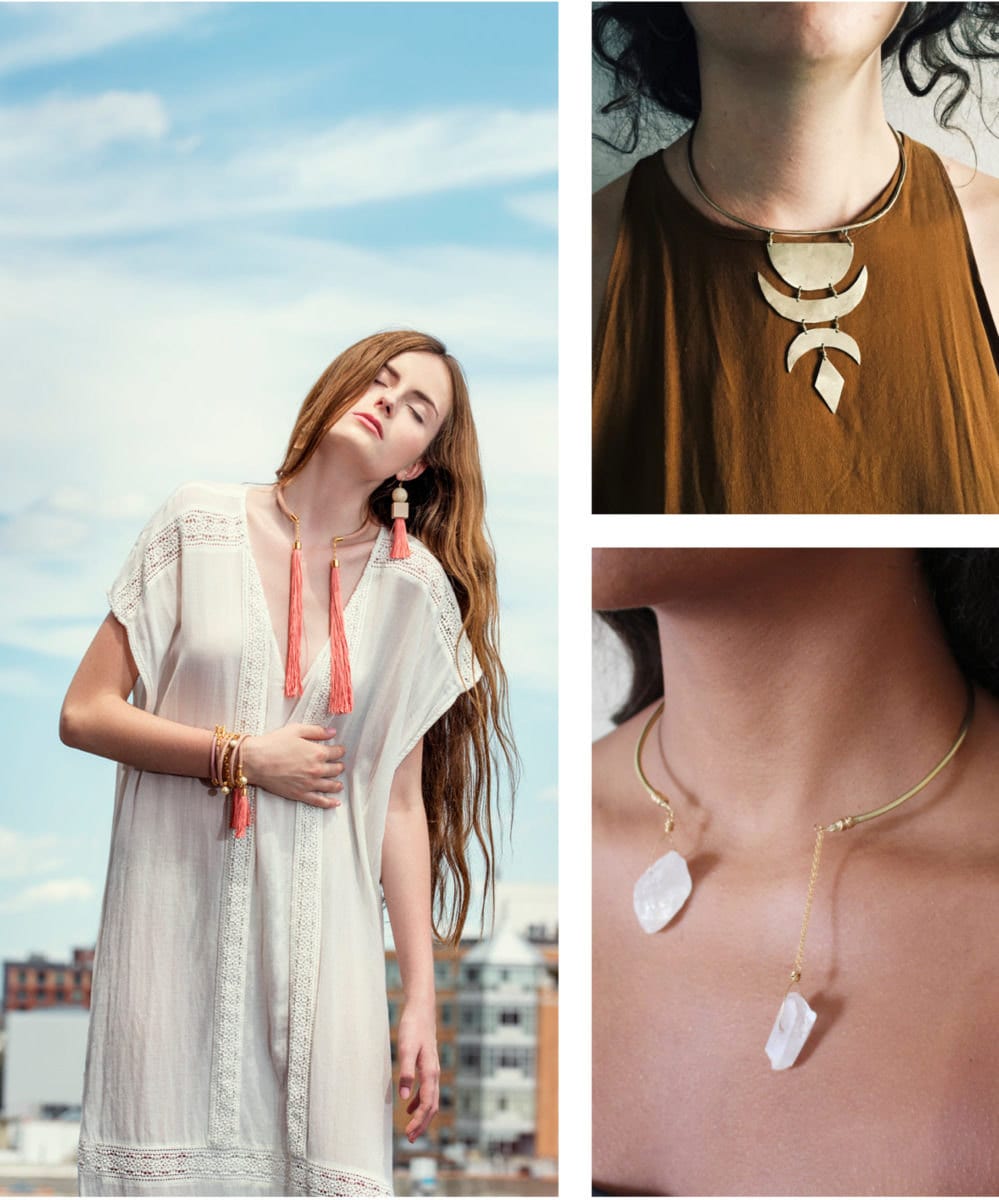 Clockwise from left: Tassel choker by Reason To Be Pretty, $85; brass moon-phase choker by Avilla Jewelry, $185; brass and quartz choker by ABAjewels, $90
2018 Prediction: Choker revamp
Starting in 2016 and continuing this year, we've seen a huge resurgence of '90s influences, from
slime
to scrunchies to chokers (one of the most popular jewelry styles of the year). Whether shoppers were tapping into their '90s goth-punk girl crushes on Courtney Love or going sportier, à la No Doubt-era Gwen Stefani, shoppers on Etsy searched the term "choker" more than 23,000 times during the month of March. My prediction for 2018 is that the choker isn't going anywhere—but it is undergoing a revamp, from the
minimalist
, slim chokers of the last few years to more playful statement pieces. We're already starting to see a few examples of this evolution on Etsy: The newest styles incorporate whimsical elements like dangling quartz stones, fringe, or medallion details. Some styles even offer the option to tie the loose ends. It's a great way to revisit the trend—while putting your own distinctive spin on it.
*As of December 31, 2016