Give your front door an instant summer glow-up with these cheery summer wreaths full of sunny pops of color.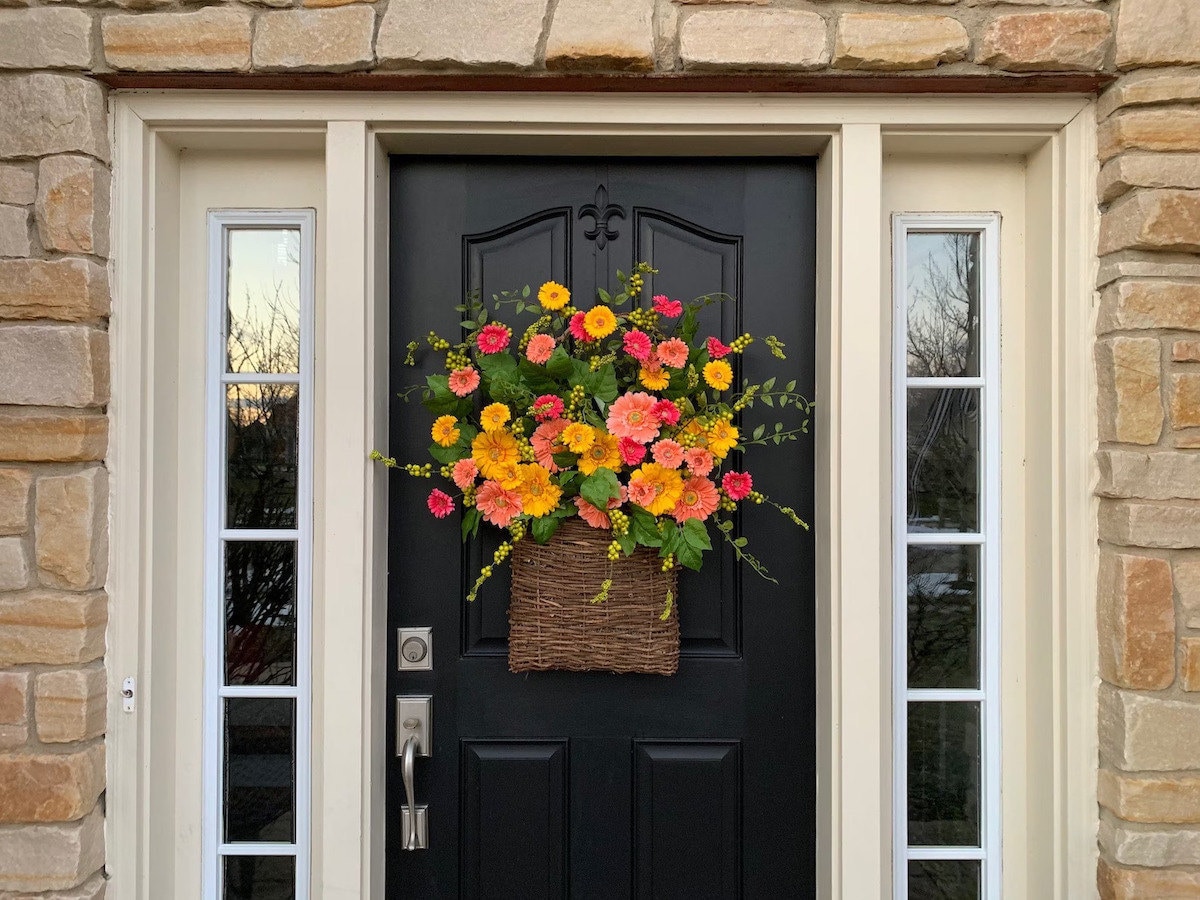 Summertime is approaching, and with it comes backyard barbecues, beach days, and greeting guests with summer wreaths for your front door. Whether you're touching up your patio decor for the warmer season or simply looking for a front door wreath to celebrate your favorite summer holidays, the best summer wreaths match your style and complement the decor you already have.
From patriotic summer wreaths fit for your Fourth of July festivities to a cheerful, nautical number to channel your coastal grandma aesthetic, creative artisans on Etsy have crafted the perfect door wreath that feels so you. So swap out your favorite spring wreath and read on for inspo and ideas for summer wreaths for your front door that pack instant curb appeal.
1. Citrus grove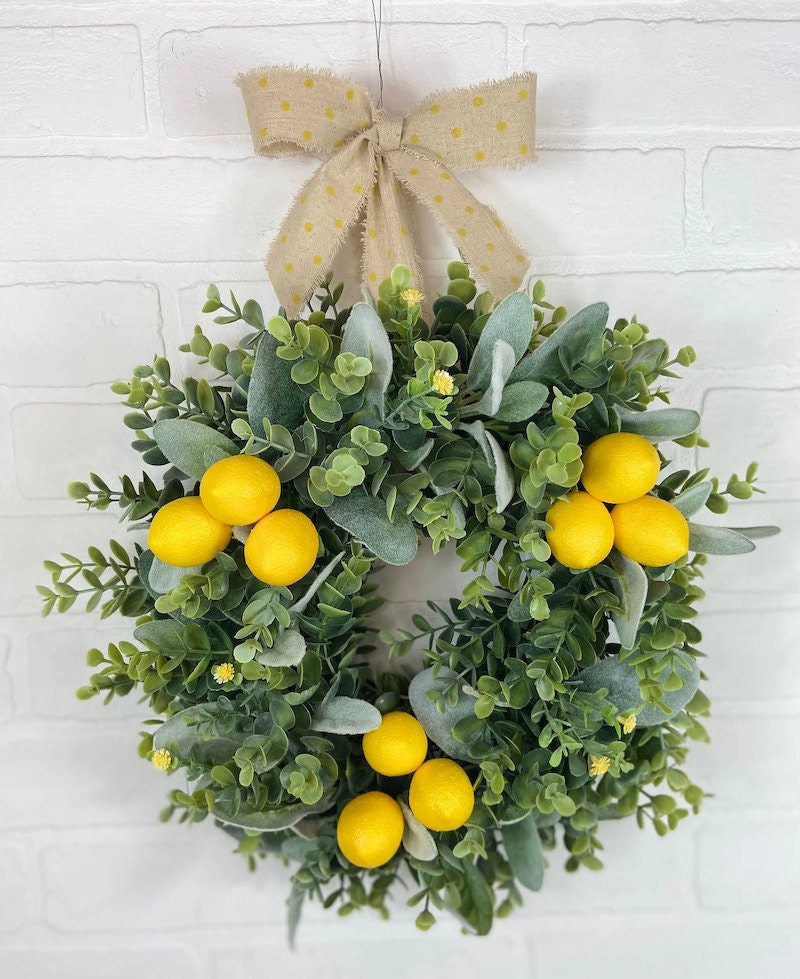 SHOP: Lemon Citrus Wreath from Twisted Pine Wreaths, $54
Let guests know the zest is yet to come with this front door wreath festooned with cheerful lemons, lush eucalyptus, and oh-so-soft lambs ear. Already have a summer wreath in your entryway? Hang this darling wreath in your kitchen and admire the excellent workmanship that buyers are raving about.
2. Berries and lemons wreath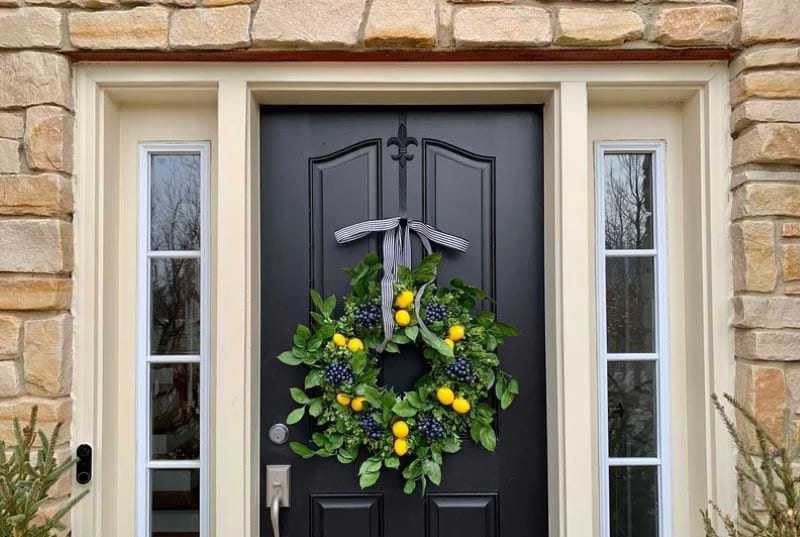 SHOP: Lemons and blueberry wreath from Twoinspireyou, from $205
The lemons on this exquisite artificial green boxwood summer wreath are so realistic, you can almost smell them! It's adorned with delicate and juicy-looking blueberry bunches, as well as leaves on a twig wreath base, and is available in three sizes. One thrilled shopper wrote, "It holds up very well on [the] exterior door, and brings a smile to my face when I come home from work and see it."
3. Sea glass wreath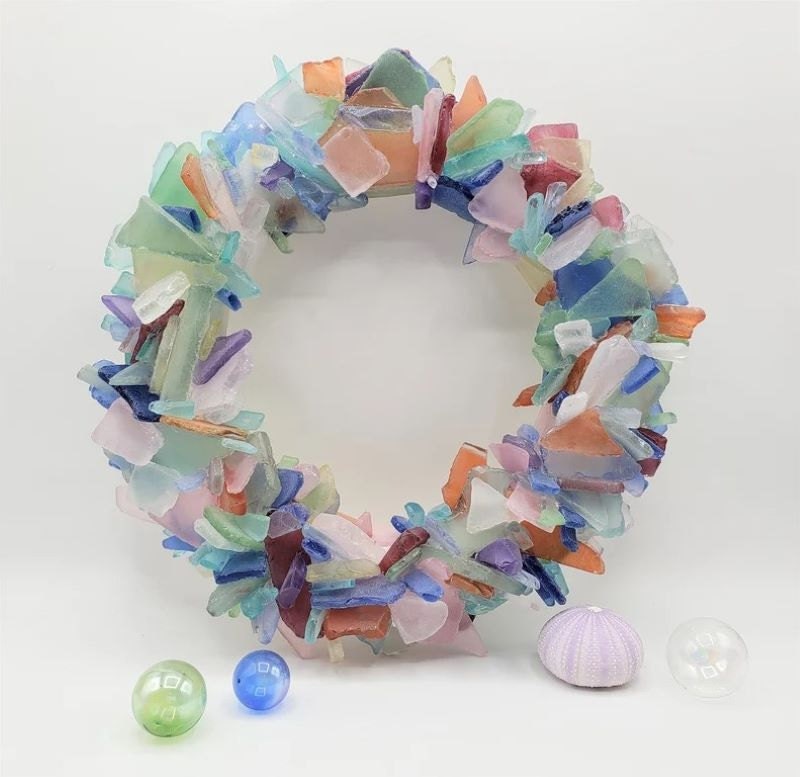 SHOP: Beach glass wreath from beach grass cottage, $165
If you'd like a break from the more familiar floral-style wreaths, but still want a welcoming splash of summer color in your home, this handmade sea glass wreath is a stunning alternative. Meticulously handmade from recycled glass in a choice of six main colorways, shoppers say that this indoor wreath is "absolutely beautiful" and "well made." One happy buyer explained that "the colors are brilliant and the sea glass looks real. The quality of [the seller's] workmanship is top notch."
4. July 4th burlap wreath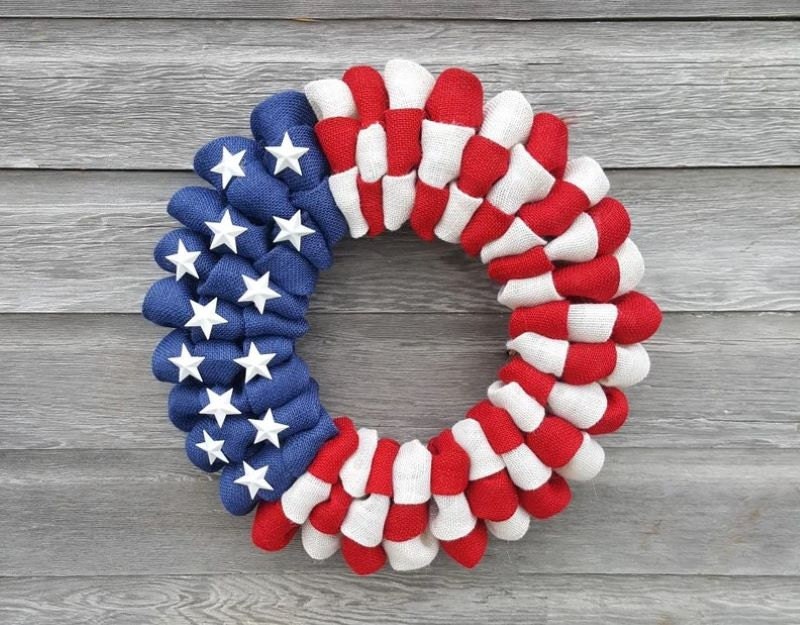 SHOP: Fourth of July memorial wreath from Burlap Blooms, from $46
If you're shopping around for summer outdoor wreaths to showcase your patriotism on the Fourth of July, this affordable burlap American-flag-style wreath does the trick nicely. "LOVE my new patriotic wreath," wrote a buyer. "It is high-quality material and made with great craftsmanship. I also love how [the seller] finishes the back of the wreath to secure the burlap in place."
5. Seashell wreath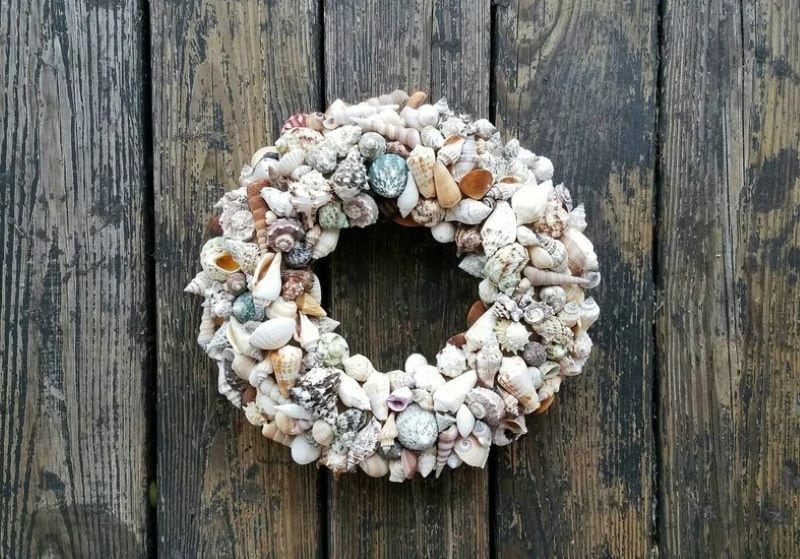 SHOP: Shell wreath from DyJo Designs, $112
As far as unique summer door wreaths go, this seashell covered option is incredibly original. Covered in an array of different shells, including arks, augers, and carrier shells, this handmade summer wreath offers gentle, natural earthy colors that go with just about any decor scheme. "I purchased two of these shell wreaths and they are amazing," raved one shopper. Another added, "It looks beautiful as part of my gallery wall."
6. Rainbow front door wreath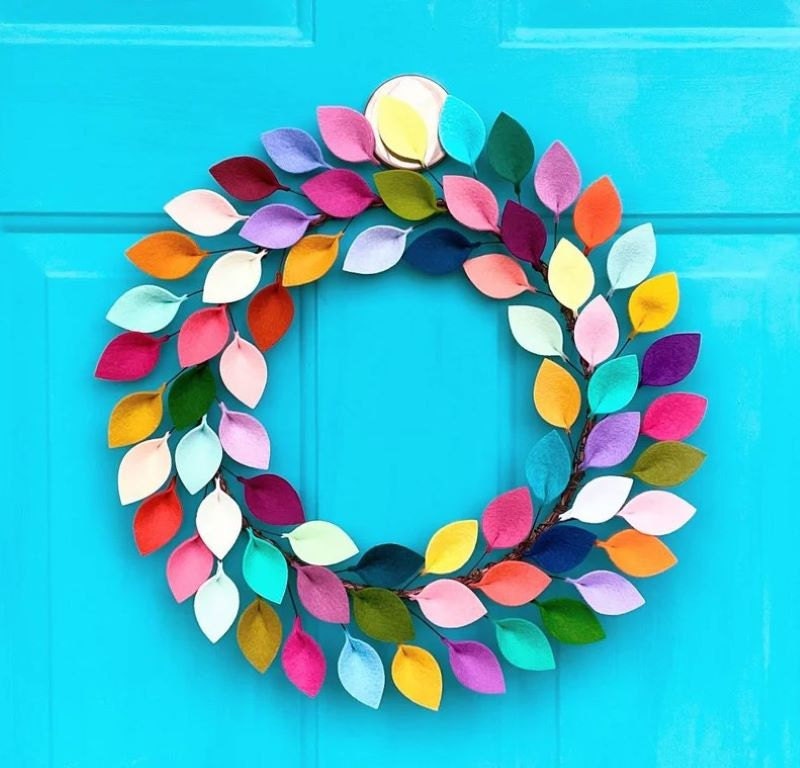 SHOP: Wreaths from Curious Bloom
As another unique option for those looking for summer wreaths for front door or indoor use, this incredibly colorful 16-inch wreath features 60 different colors and is made from high quality wool-blend felt. It's lightweight, and, although you can put it outside, it's better to keep it in a sheltered area so it stays protected from the elements. "It is worth every penny," wrote a buyer. "This wreath is gorgeous. Every time I look at it, it brings me joy."
7. Rainbow upcycled lobster rope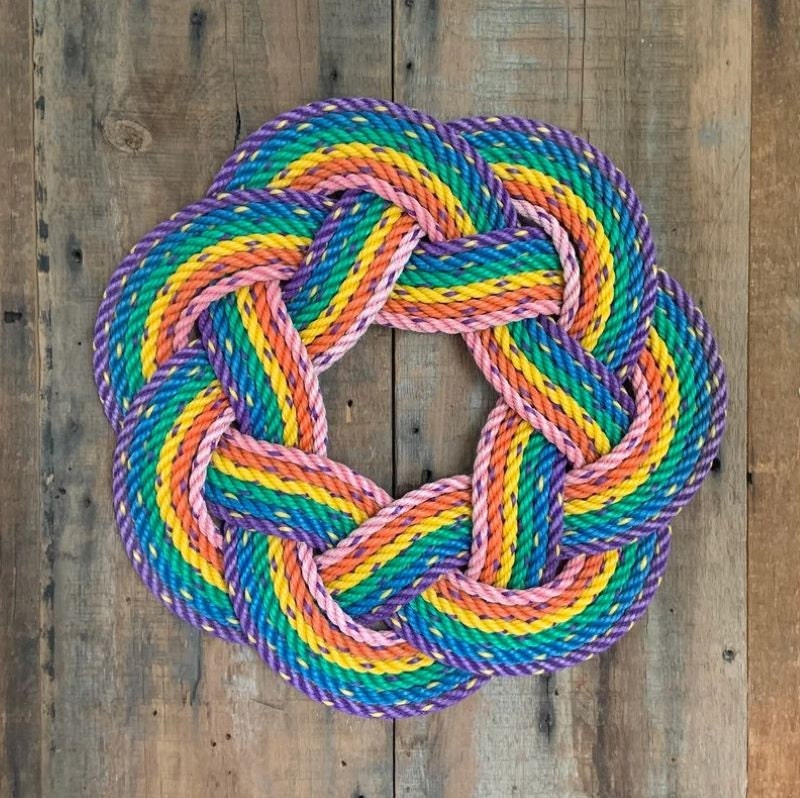 SHOP: 100% reclaimed lobstering rope wreath from WharfWarp, $69
For summer wreath ideas that are a little bit out of the norm, take a look at this colorful nautical knot version. It's handmade in Maine by the seller from reclaimed worn lobstering rope from their local lobstering industry. The wreath is thin and lightweight, making it a breeze to store away when it's time to take it down (although you may never want to).
8. Summer blooms wreath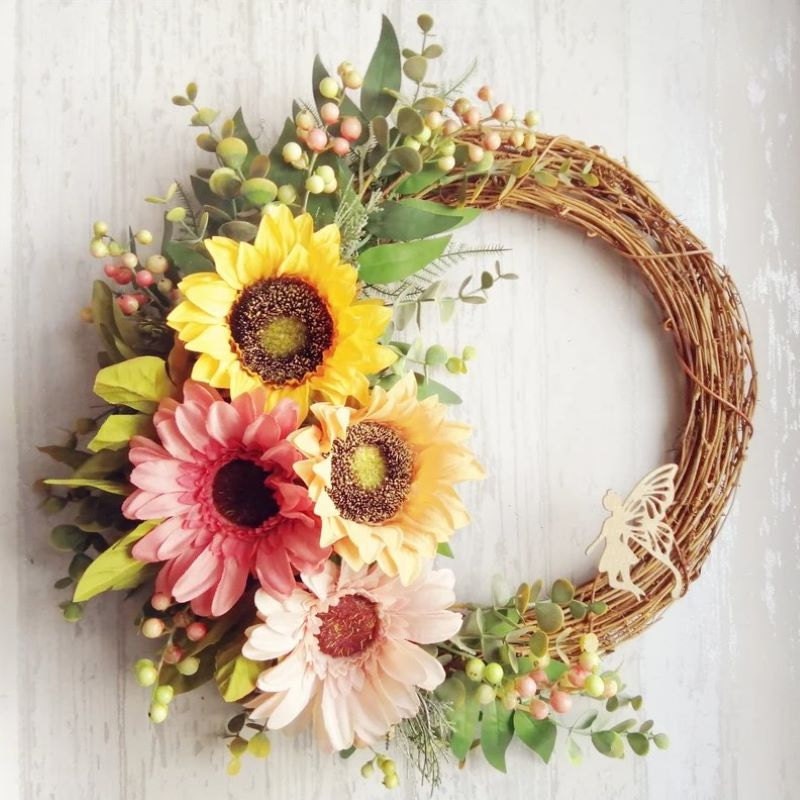 SHOP: Sunflower wreath from BloominLovelyCo, $105
Suitable for both outdoor and indoor use, this beautiful wreath is made in London, UK, and features big blooming flowers, as well as a selection of leaves and berries. Buyers say the wreath's foliage looks like the real thing with its bright, natural colors.
9. Tropical felt wreath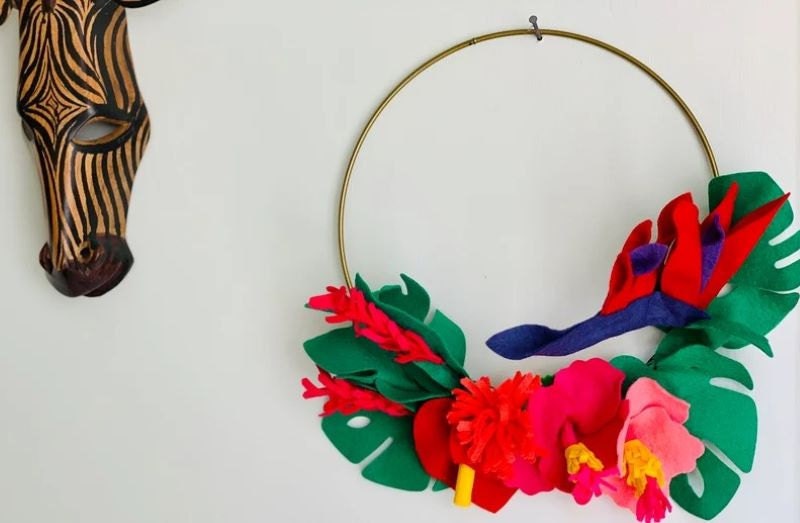 SHOP: Tropical Floral wreath from Felt & Fings, $68
This fun 10-inch floral hoop wreath, with its large, bright, and colorful blooms, is summer personified. It features wool-blend felt tropical flowers and heliconia or monstera leaves that are each designed and handmade by the seller. It's available in three colorways—purple and yellow, purple and red, or red and yellow—but the seller offers customization, too.
10. Rose wreath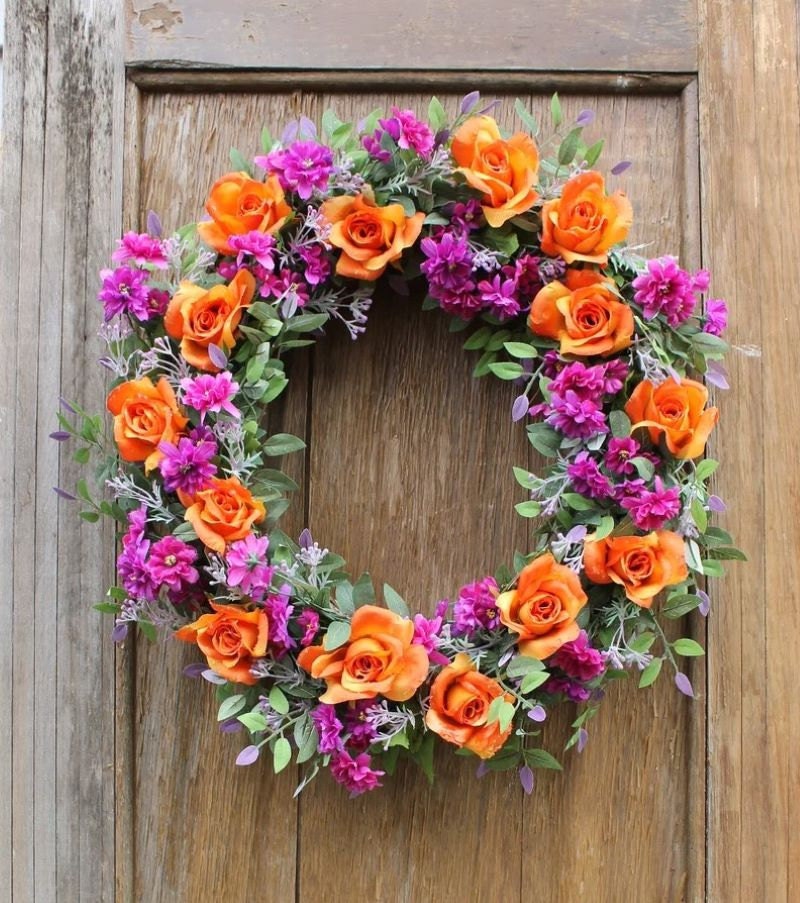 SHOP: Handmade wreath with silk roses from Heart Of Home Design, from $75
With realistic orange roses made with silk petals and an array of greenery, this wreath will add the perfect summer feel to any front door. You can add a bow for an extra-fancy aesthetic, and the seller also offers this wreath in other colors upon request. "BEAUTIFUL!" enthused one shopper. "Even prettier in person. Has little droplets of water on the flowers—such a nice touch!"
How do we pick the best summer wreaths?
As Etsy Journal editors and contributors research and curate shopping guides for some of the best-loved items on Etsy, we thoughtfully consider the creativity, customization, and craftsmanship that go into each product. We also consider buyer reviews, item ratings, and customer service, and tap the expertise of our in-house merchandising and trends experts to uncover high-quality finds for every budget. You can find more information about each item in the seller's listing details and can take a look at their individual shop policies and reviews, too.