Discover the most uplifting home decor trends of 2021, from cheerful checkered patterns to whimsical mushroom motifs.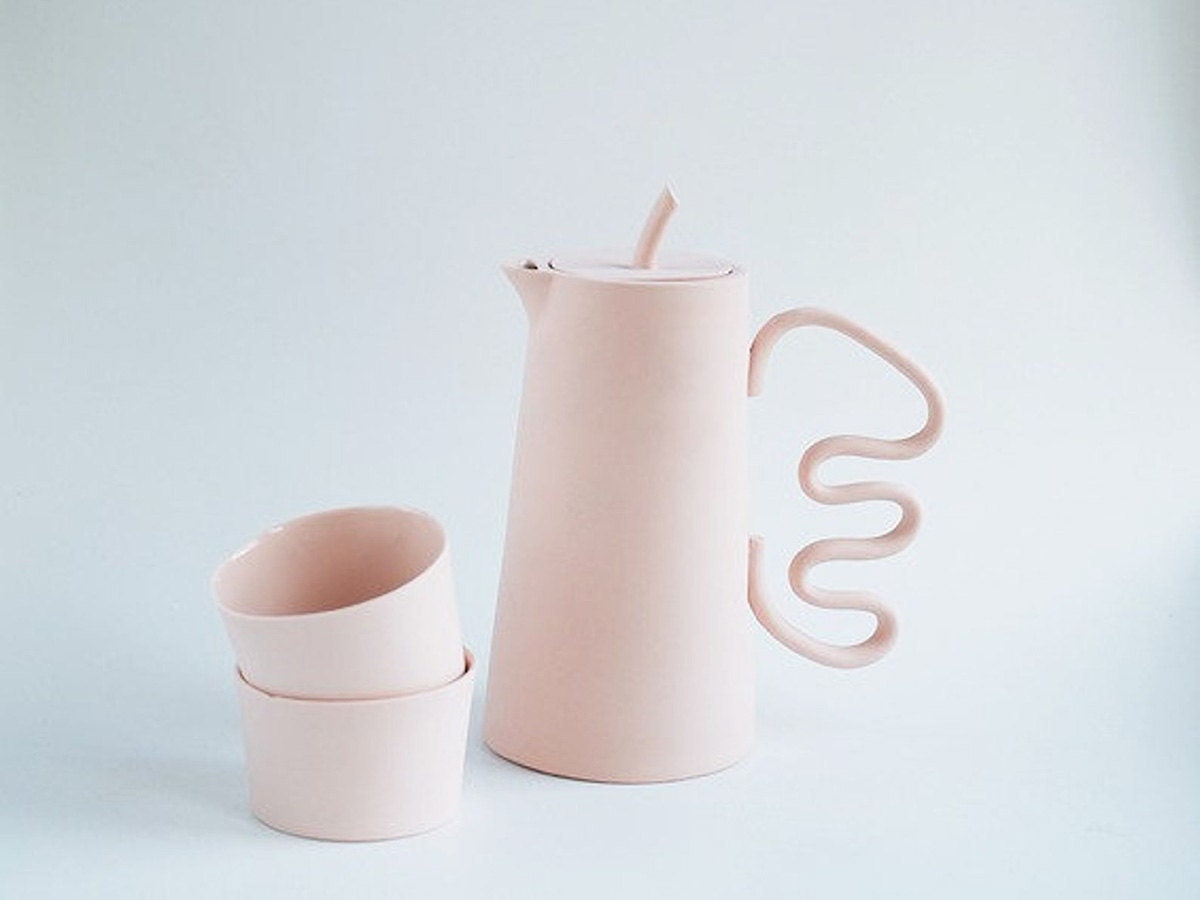 After many months hunkered down at home, we're seizing on the energy of the season and breathing new life into our everyday dwellings with some small but seriously impactful finds (think: whimsical vases, personality-filled pillows, and plush towels perfect for April showers). "Spring is all about renewal," says Dayna Isom Johnson, who regularly combs the site to see which styles are taking root in her role as Etsy's in-house trend expert. "Updating our spaces helps us lean into that by shedding the old and welcoming the new—whether that means lightening up with a quirky mushroom lamp or embracing sleek, stony travertine accessories as the new 'It' neutral." Ready for more sunny ideas for remixing your space this spring? Scroll on for fresh finds from Dayna, then shop them all in the spirit of new beginnings, indoors and out.
1. Wavy, squiggly, and curvy decor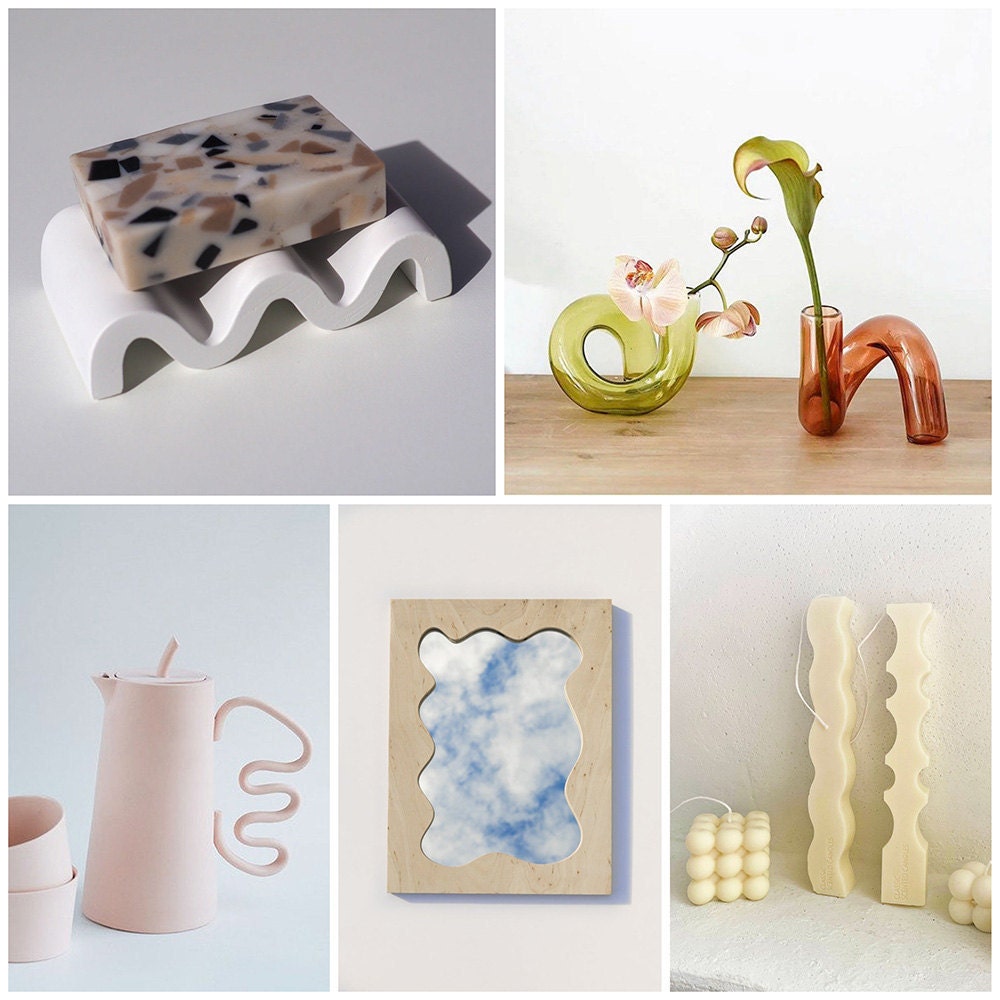 After a year that threw us for a loop, it's no surprise that squiggly, wiggly, and curvy motifs are having a major moment. From curly-cue candle holders that double as vases to wonderfully wavy mirrors, these spirited styles are equal parts cheerful and soothing with satisfying curves that evoke the undulating ocean tides. "What I love most about the wavy items I'm seeing is how much personality they pack," Dayna says. "Even something as small as a soap dish or taper candle can have a big impact on the overall feel of a space."
2. Peppy checkered prints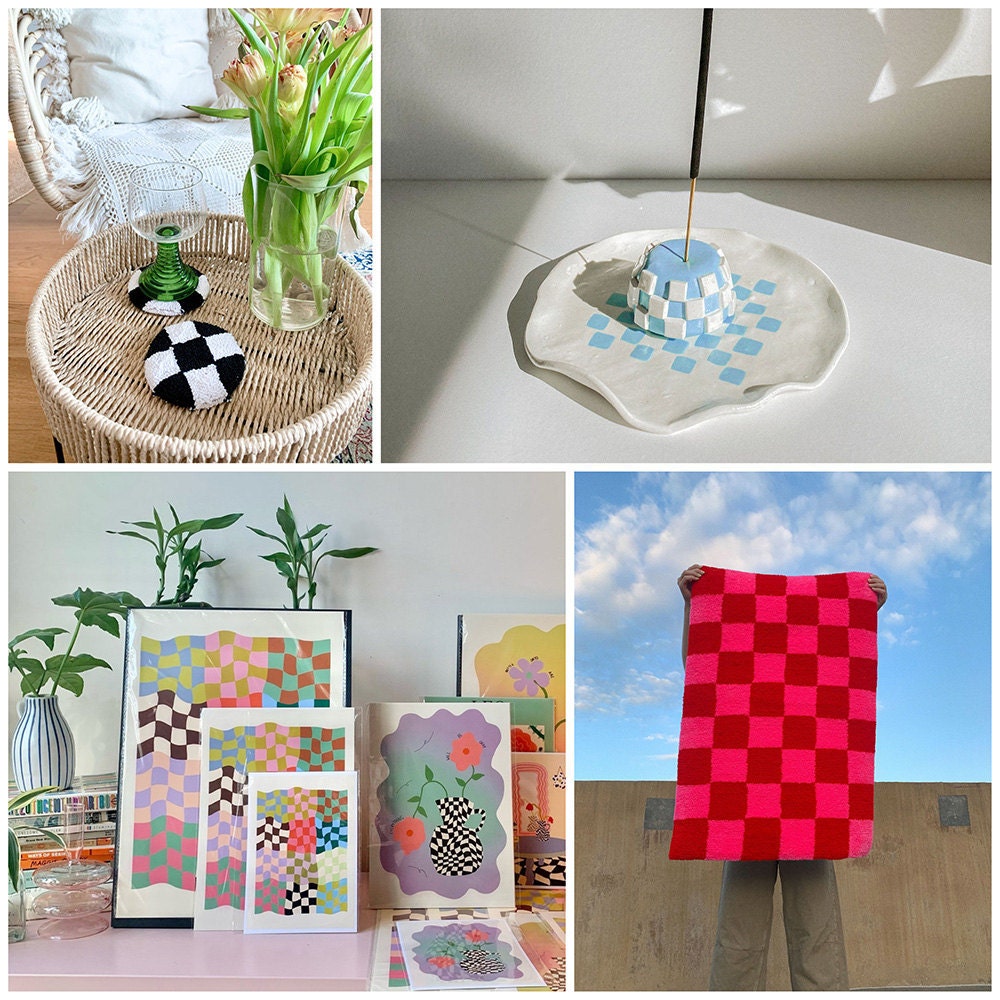 Do more than just tick the boxes with your decor—add interest with an energizing and playfully nostalgic checkered pattern that fits surprisingly well with a range of interiors. "There's something crisp and classic about this print," Dayna says. "It calls to mind board games, picnics, and retro skate shoes, but seeing it on pillows, rugs, and ceramics feels new and fresh." Put your digs on the grid: Go graphic with black-and-white coasters or opt for more modern flair with a fruit-punch-colored rug.
3. Totally travertine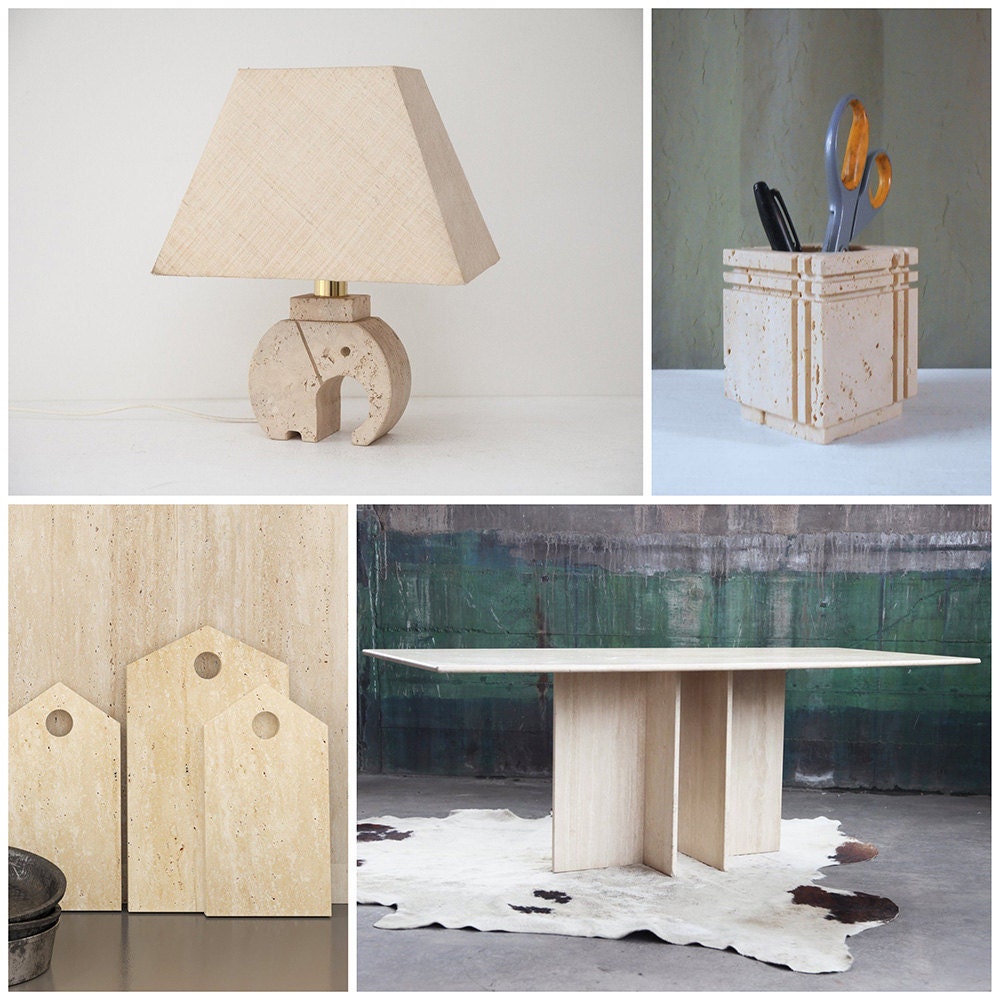 With its mineral-spring–made swirls of beige, tan, and rust-colored hues, the sturdy stone known as travertine has an earthy warmth that levels up minimalist, muted interiors and adds a layer of refined depth and dimension. "I love how this stone makes you look twice," says Dayna. "At first glance, it blends in with a neutral palette, but on closer inspection you find all of these rich, elegant textures." Incorporate travertine touches in your home with a luxe vintage lamp or a sophisticated pen holder—a little goes a long way towards elevating the space.
4. Freeform shapes and play-inspiring finds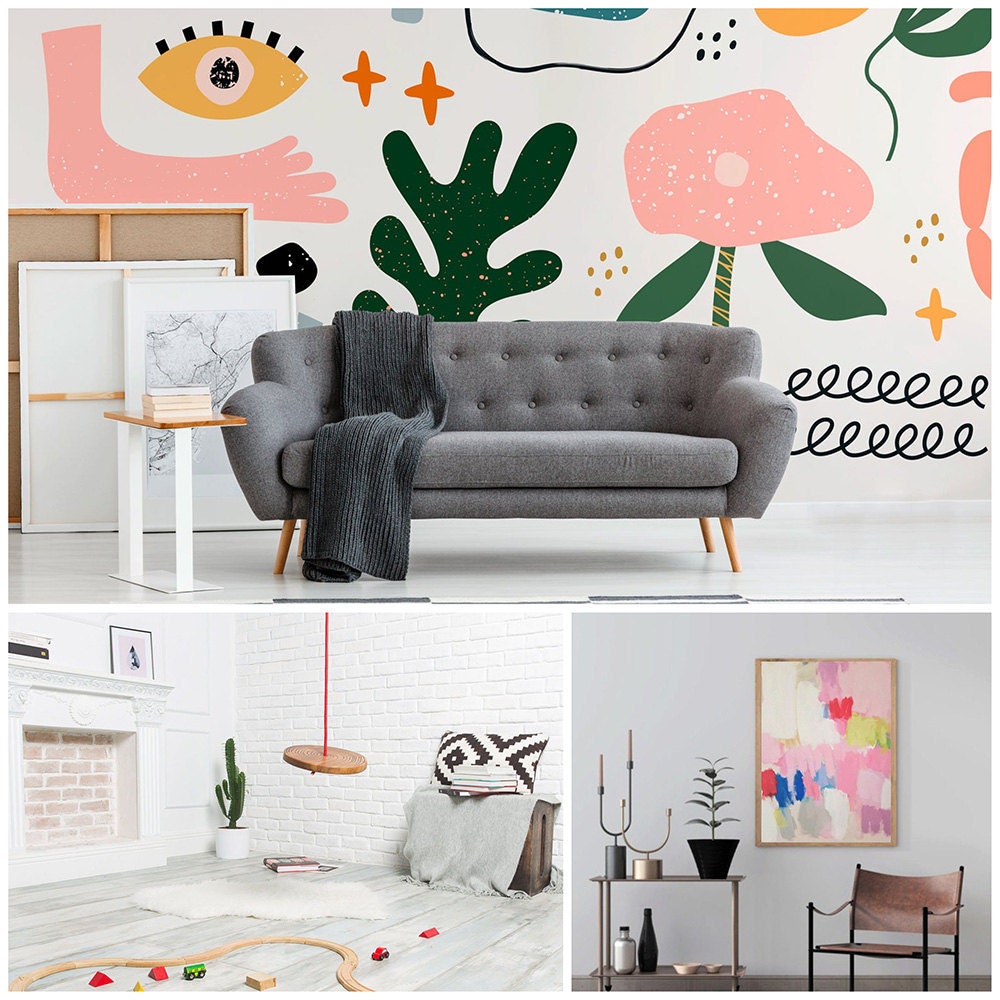 Bring the vigor and vibrancy of spring indoors with organic, freeform pieces that mirror the lively energy of Mother Nature and encourage some frolicsome fun. "I'm loving all of the new items on Etsy that celebrate playfulness," Dayna says. "They feel so light-hearted and inspiring for both adults and children alike." Ready to add some pep to your space? We recommend abstract art prints and drool-worthy doodle wallpaper that keeps things loose—plus a kids' playroom treat in the form of a handmade indoor swing.
5. Mushroom motifs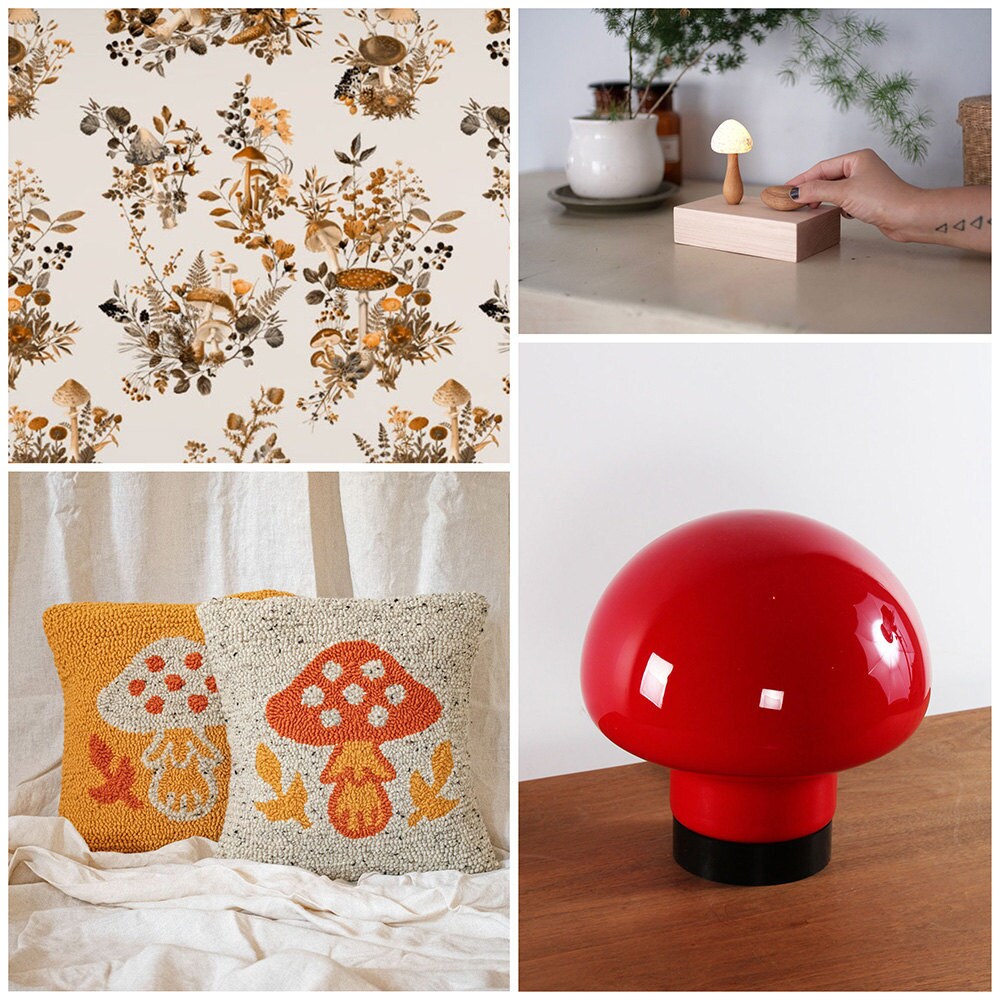 From detailed mushroom-print patterns to more subtle capped shapes, fairytale-esque fungi are popping up everywhere this spring, including on throw pillows, tea towels, ceramics, and more—and with good reason. "Mushrooms evoke a fantastical woodsy landscape," Dayna says. "We've all been dreaming about the outdoors for a year, and this earthy embellishment speaks to that." Go full cottagecore with storybook wallpaper, or try a throwback lamp that traces this trend back to its groovy '70s roots.
6. Serenity-inducing spa upgrades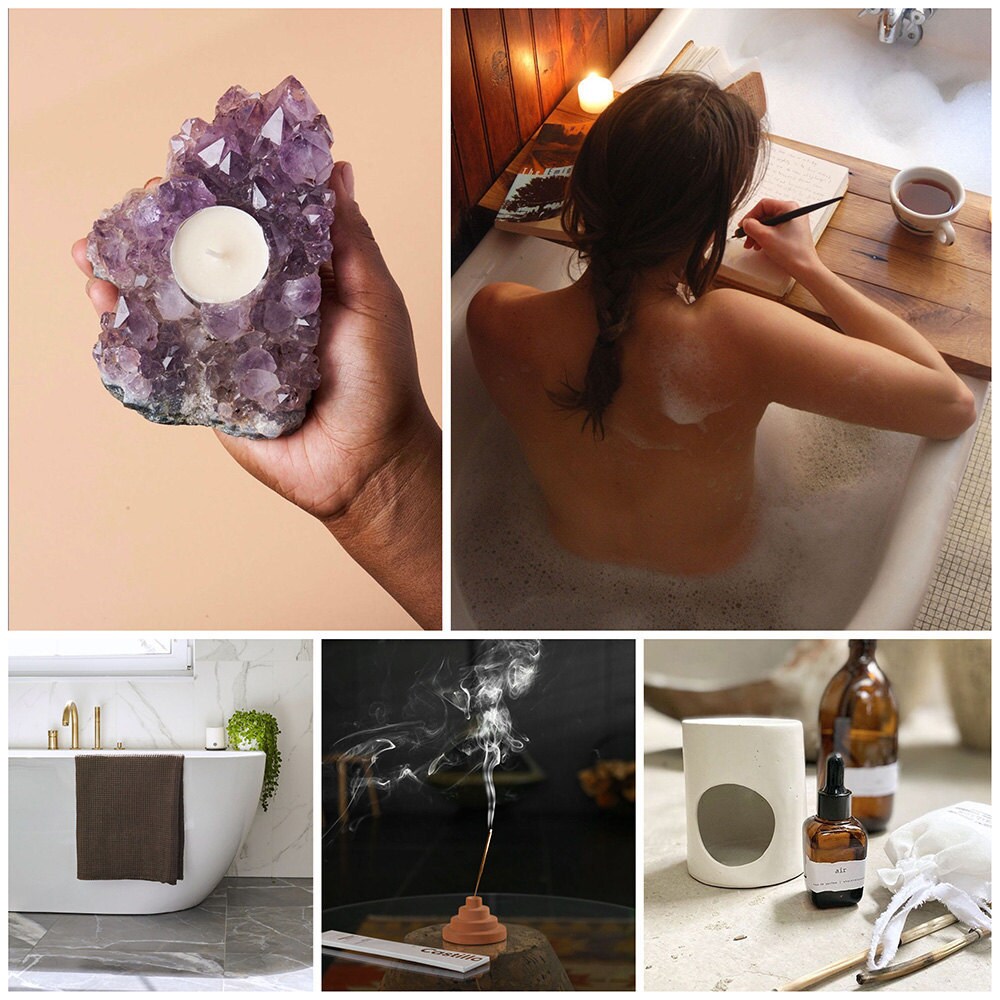 While you're at it revamping your space, consider upgrading your self care routine too: after all, you'll need a place to recharge after all that spring sprucing. "Candles, oils, bath towels—all of these little extras help us feel pampered," Dayna says. "And adding fresh versions to your home makes it even easier to incorporate nurturing rituals into busy schedules." Start small with a few luxe linen towels, or go full spa setup with gemstone candle holders, a modern ceramic incense burner, and a sustainable bath caddy. Spring renewal, here you come!