Comedian Nick Offerman talks woodworking, Home Ec, and blueberry pie (and gives us a sneak peek of his new book, "Good Clean Fun").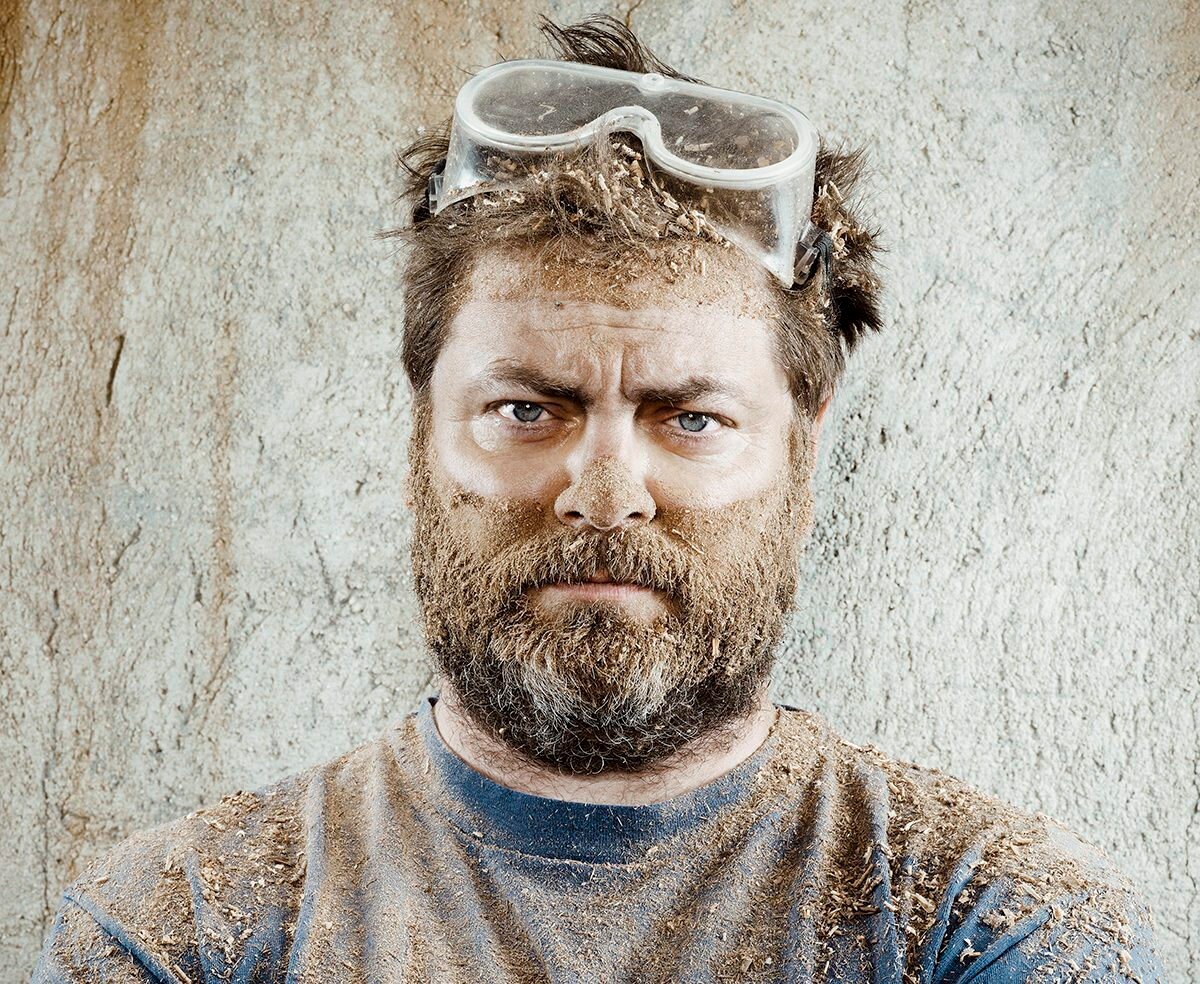 Editor's note: Today we're excited to share an exclusive announcement and cover reveal of Nick Offerman's next book, 
Good Clean Fun: Misadventures in Sawdust at Offerman Woodshop
 (available October 2016, Dutton). 
While it's been a little over a year since the series finale of
Parks and Recreation
, fans of
Nick Offerman
have no shortage of ways to get a fix of their favorite deadpan funnyman — from streaming old episodes of the show (or his 2014 comedy special, "
American Ham
") on Netflix and paging through his two books (
New York Times
bestsellers 
Gumption
and
 Paddle Your Own Canoe
) to perusing his hardwood handiwork as part of the collaborative East Los Angeles furniture building outfit,
Offerman Woodshop
. As of this fall, you can add one more activity to that list: tackling a DIY
woodworking
project from Offerman's new book, 
Good Clean Fun: Misadventures in Sawdust at Offerman Woodshop.
Good Clean Fun
, out October 18, 2016, is more than just a manual for making brawny bottle openers and three-legged stools. In addition to beginner, intermediate, and advanced projects with detailed instructions and step-by-step photos, the book, a group effort from all the members of Offerman's shop, also includes comic book-style guides to woodworking-relevant tasks (such as felling trees), profiles of woodworking heroes, and other unexpected extras. Read on for a glimpse of the book's cover and an exclusive Q&A with the man behind the mustache.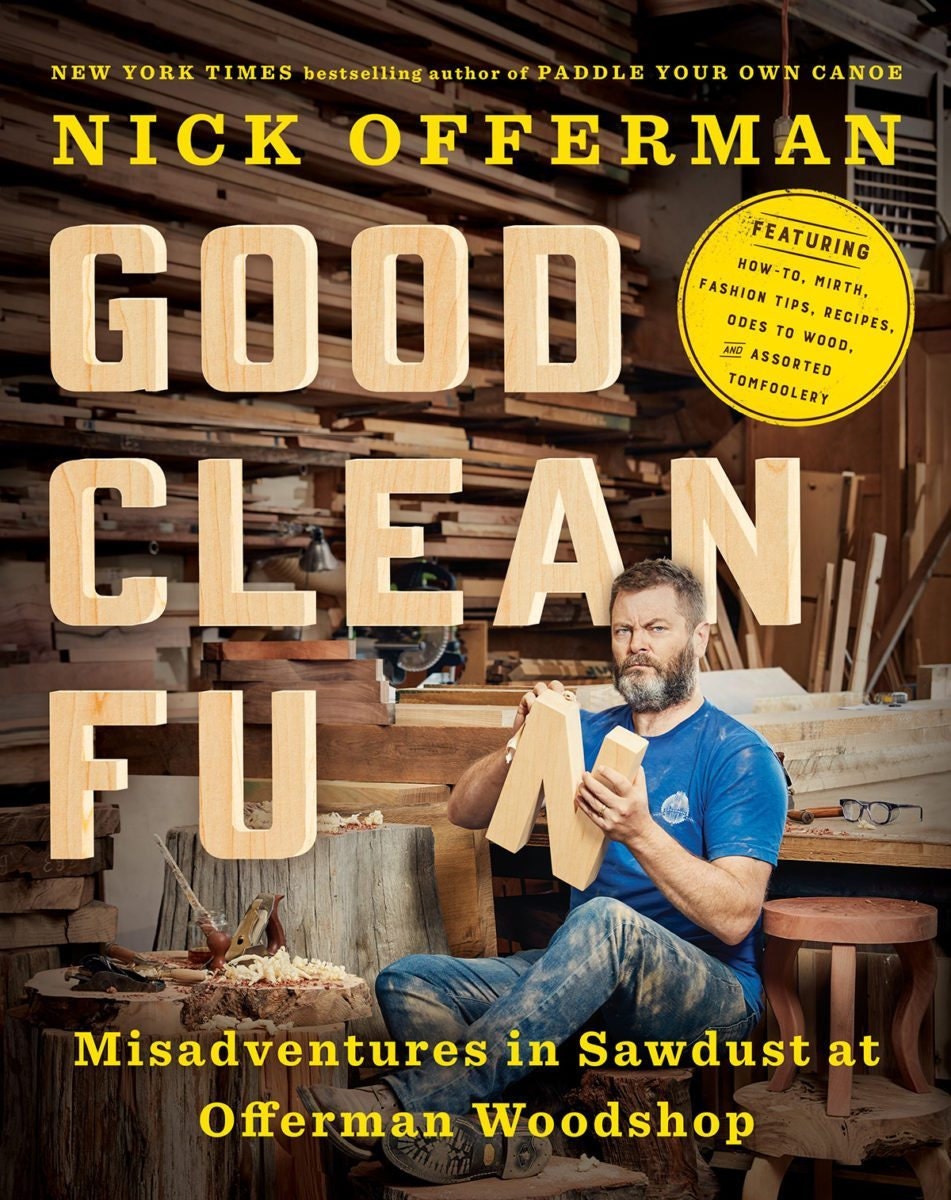 Of all the making activities you've dabbled in over the years, what is it about working with wood that has captivated you the most? 
I'm fascinated by the wizardry of the human race and our ability to
make things
 — to take raw materials and make them into useful implements and objects of beauty or practicality. I think that's our greatest superpower. I suppose, because my family depends upon the use of tools in many ways — my uncles and my grandfather were talented mechanics, and my dad's leaning is toward works of carpentry — I was bound to become either a mechanic or a metalworker or a woodworker. My dad and I built a lot of stuff out of wood around our house, including a small barn, and I was taken at an early age with the power of the hammer and nails and the saw. As a kid, being able to understand how a barn could be built felt pretty amazing. I think that magic stayed with me as I got into theater school and was able to use my hammering ability to work in the scene shop and actually make a living in the theater while I was waiting for my acting skills to improve. And it developed that way organically: Whenever my dreams of artistry as an entertainer were failing me, I was able to fall back upon doing something with wood and tools. Finally, building timber frame structures in people's yards in Los Angeles, I realized,
Holy cow, these are mortise and tenon joints; using this joinery, I just have to shrink it down a little bit, and I can make a table. By god, I'm a woodworker!
I sort of tricked myself into it.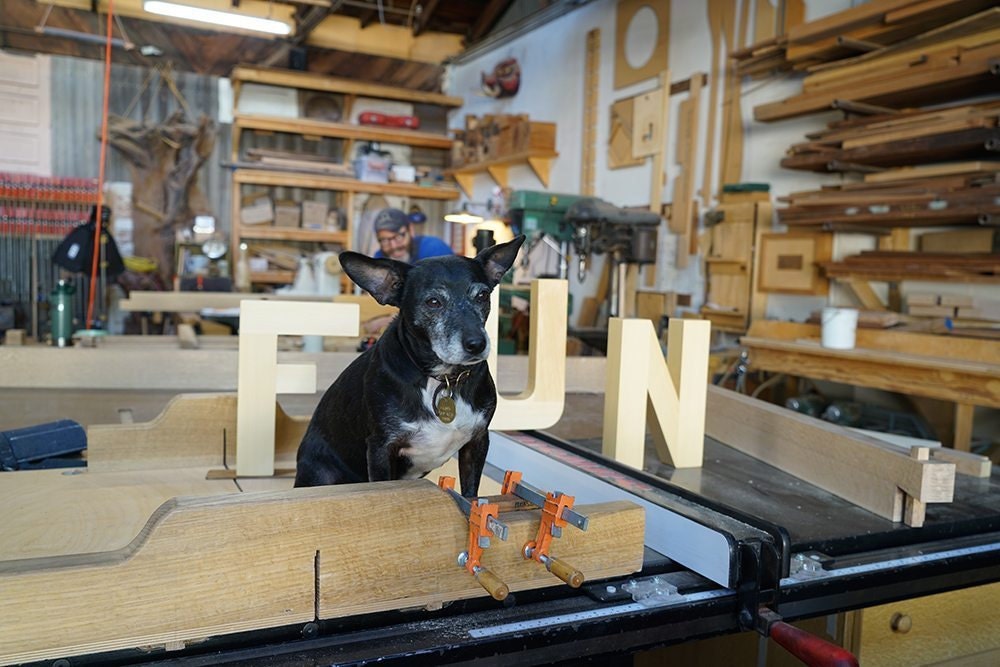 We take saw safety very seriously. Photo by Josh Salsbury.
What is the most valuable lesson you've learned from woodworking — whether about woodworking specifically, or life in general?
I'd say patience is the most important thing I've learned from woodworking. From the get-go, all my great teachers, many of whom have only communicated with me through the writing that they've left behind, have said: Slow down and do this one step at a time. My great teacher Ted Moores, who wrote the seminal canoe building book
Canoecraft,
says at the beginning of the book, If you look at this canoe, it can be very daunting; you might think 
there's no way I can do that
. But if you slow down and just learn one step at a time, even with beginner woodworking skills, you might be surprised to find that you can sharpen a chisel, and then you can cut out the patterns for this mold, and then you can apply the strips of the cedar hull to the mold, and before you know it, you've achieved these many steps and you're standing there looking at a finished canoe. And I love the way that lesson, sort of in
Wendell Berry
 fashion, applies to living a much more full and rich life by slowing down and taking your time achieving whatever your project is, whether it's raising your kid or building a table or writing a musical composition. If you can shut off the distraction of all the media channels and all the consumer messaging that we're constantly barraged with and just knit your scarf, the journey of the project is going to be so satisfying, and the end result is hopefully going to be remunerative. That, I find, is just a much more delicious way to live than if I'm, like, checking my social media: 
How many people like me today?
All of that has some impact, but it's small, so I give it just a small percentage of my time. I try to spend more time sharpening my chisels than I do sharpening my Twitter feed.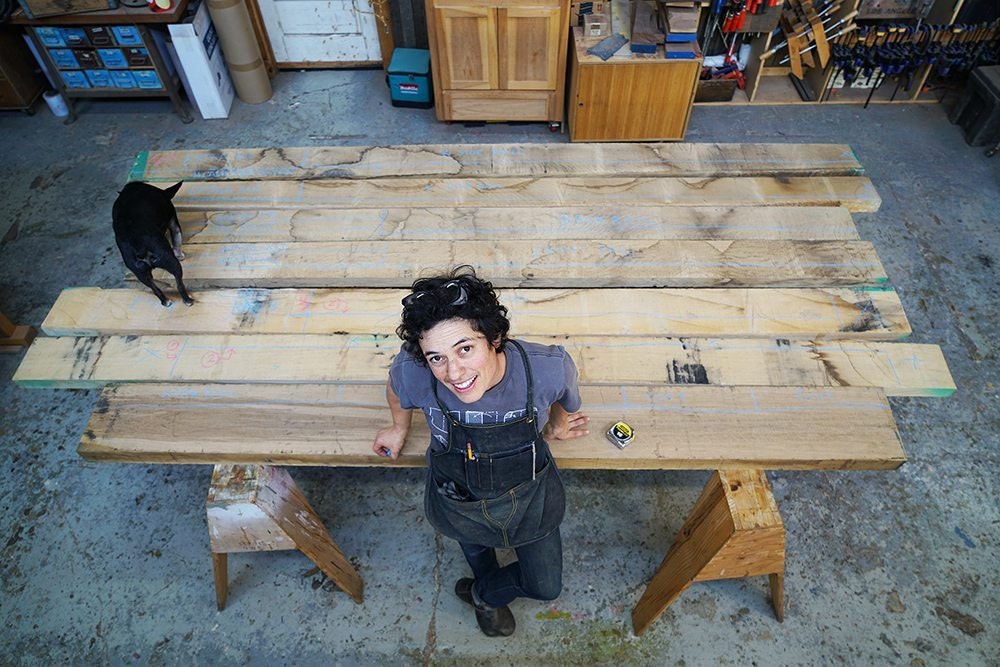 Lee ponders life's mysteries whilst her dog sniffs out the best grain pattern. Photo by Josh Salsbury.
Much like your woodshop itself, this book is the result of a group effort, with contributions from several members of your team (and your family). What do you see as some of the joys and benefits of collaboration in a creative enterprise?
I grew up in a big family — I have three siblings — and we all worked on the farm together, we all made our good times together for holidays and weekends, and I grew up learning to make my life with others. That translated easily to my small theater company in Chicago, the Defiant Theater, where all these people were working for little or no pay financially, but incredible spiritual and artistic rewards, to make something for others. Now, in the woodshop, there are seven of us, including me; working together, anytime you get to a tricky part of a project, it's like the old adage, two heads are better than one, but in our shop, three or four heads are better than one. And practically, it's great when you need to flip a table or move a slab or unload a truck to have many hands making light work. But then socially, I just love working together. One of my favorite things about working at the shop is sitting down to lunch every day like a family and keeping up with everybody's lives. There's something rewarding about a community and a fellowship and going through this life together, rather than sequestering ourselves in some sort of isolation, which only creates, I think, loneliness and depression. It's nice to have people to share the wealth with when the wealth arrives, and then those same people will help you bear the hardships when those happen to come your way.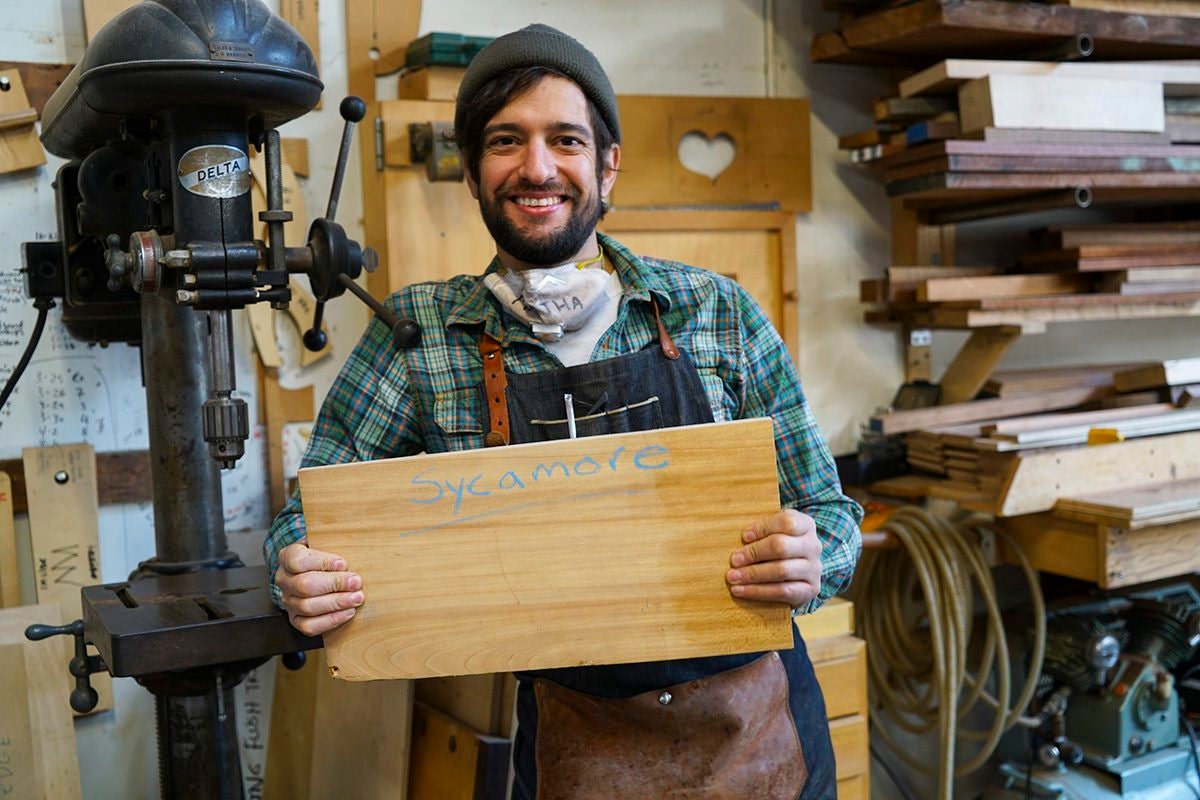 That's Amore! Syc-amore! Photo by Christine Fuqua.
You've often pointed out that you're not a "master woodworker," but a lifelong student of the craft of woodworking. Do you have a dream woodworking challenge? Something you don't have the skills to do yet but hope to one day?
As an actor, people often ask me, "What's your dream role?" or "Do you want to win an Oscar someday?" And I don't really operate that way, as an actor or as a woodworker. I'm not terribly ambitious, and I've been very well served by just following my gut as to whatever the next project should be, whether it's a play or a movie or a slab table or a canoe. That said, at the moment, I have all the wood cut out to make a big batch of
ukuleles
, so I'm going to try to become really good at ukuleles; that's on my way to making really nice acoustic guitars. If I achieve that goal in the next ten or twelve years — which I know is going to take several tries — then maybe I'll want to make a violin or a mandolin or a nickelodeon, I don't know. Something will occur to me, but I can't worry about that — I just focus on what seems to be the next smart thing to do. And if for some reason they take away my tools or they tell me I can't perform anymore, I'll just feel really good about how much I've gotten to do so far. I don't think I'll ever have regrets like,
Dammit, I never got to play a cowboy
, or
I wish I could have built a wooden Corvette
.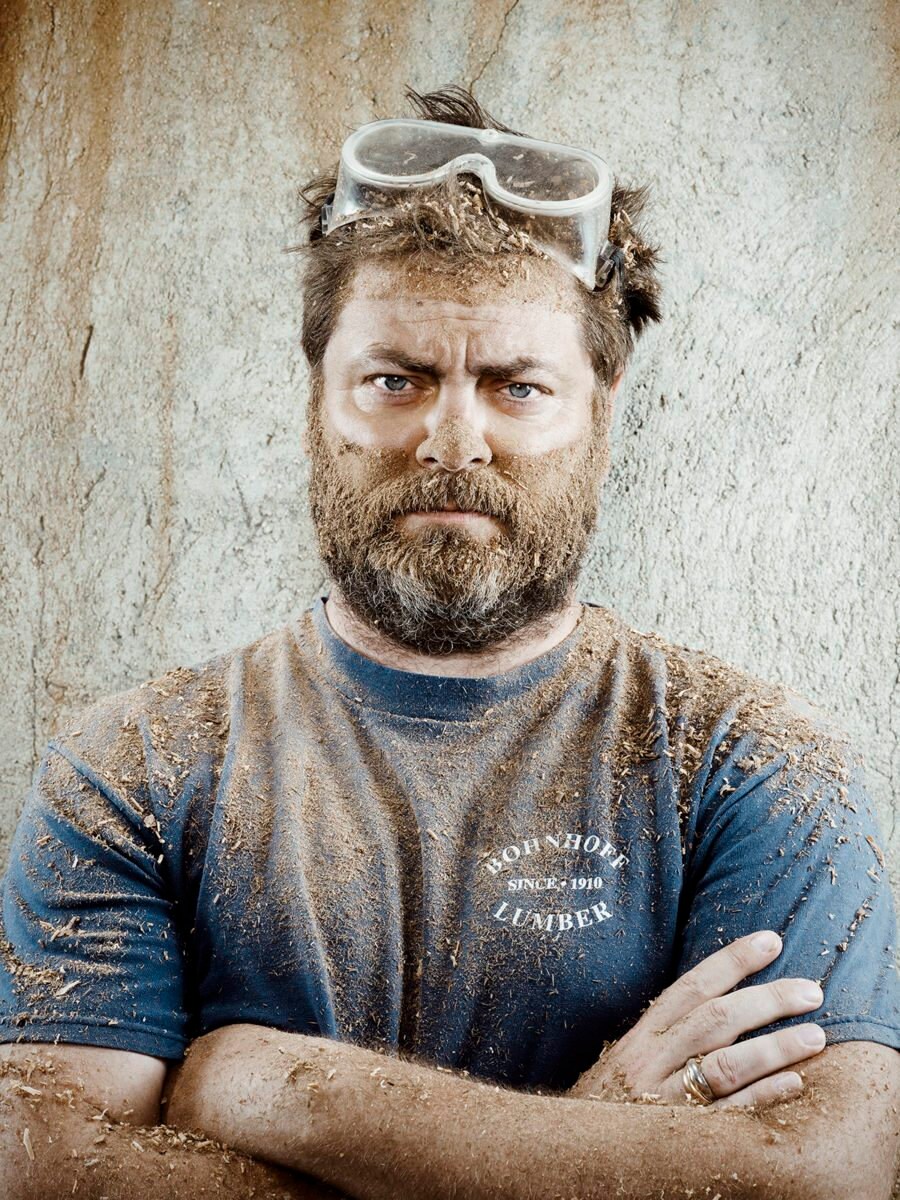 Nick Offerman; photo by Emily Shur.
What would you say to someone who was interested in getting started with woodworking but who felt intimidated or unqualified?
I personally had the good fortune of having great teachers showing me how to use tools, putting them in my hands, and saying, "Here, here's how to use a hammer, here's how to operate a crosscut saw." I think that is the most important thing by far. And so the best advice I could give, I think, would be to find someone near you — it could be a family member, someone in your neighborhood, someone in a school or a class — who will teach you to use tools in some way. Because once you see how to sharpen a piece of steel, and then see what you can do to wood with that steel, that says,
Oh, now my body has a feel for this, I have begun to learn the vernacular of affecting wood with tools
. That's something I'll be writing about in Good Clean Fun: celebrating many of the schools I've visited around the country that still teach the trades. Something that I consider so incredibly noble, that is constantly removed from schools' curricula, is that just teaching our population to be able to fix their own back porch is so important to the strength of our national character. The fact that I had Home Ec class, and still to this day take great pride in sewing my own buttons and being able to mend a rip in my clothing with a not-too-shabby whipstitch — I love it. I learned that in sixth grade. The fact that that is no longer considered valuable is so shameful. I had the good fortune to land this great part on
Parks and Rec
, and it gave me a big audience. I'm trying to use the opportunity to tell people to get back to the world of Home Ec and Shop Class, because that's a value of our lives that has been taken away in so much of the population. If everyone would read Wendell Berry, they would learn what I've learned, which is that the way to a really happy, fruitful, productive life is to join hands with those in your community and make your life together. And that involves gardening and building and making things. Not only do you save money and take much better care of your land, you also, at the end of your lifetime, say, "Look at what we've done, we've made a community — that family made our furniture, that other family made our boots, this other family got together and played at the hoedown every Saturday night." Nobody's going to care how many pairs of Nikes you bought or how up-to-date your BMW is, they're going to care about all those pies that you made and how delicious your blueberry pie was. That's my soap box: Everybody get together and make blueberry pie for each other.
Preorder your copy of Nick Offerman's Good Clean Fun: Misadventures in Sawdust in Offerman Workshop today.